We don't ski or snowboard, so while our friends were hitting the slopes, my husband and I hit the South Lake Tahoe beer trail!
A couple of summers later, we were back sipping craft IPAs in hip outdoor biergartens. Tahoe is home to a handful of really great breweries (and some not so great ones.) For this post, I made us our own South Lake Tahoe brewery crawl itinerary around the city to bring you the definitive guide on where to drink craft beer on the south shore. Keep on reading for our favorites along with photos and beer recommendations!
RANKED: Our Favorite South Lake Tahoe Breweries For Craft Beer Lovers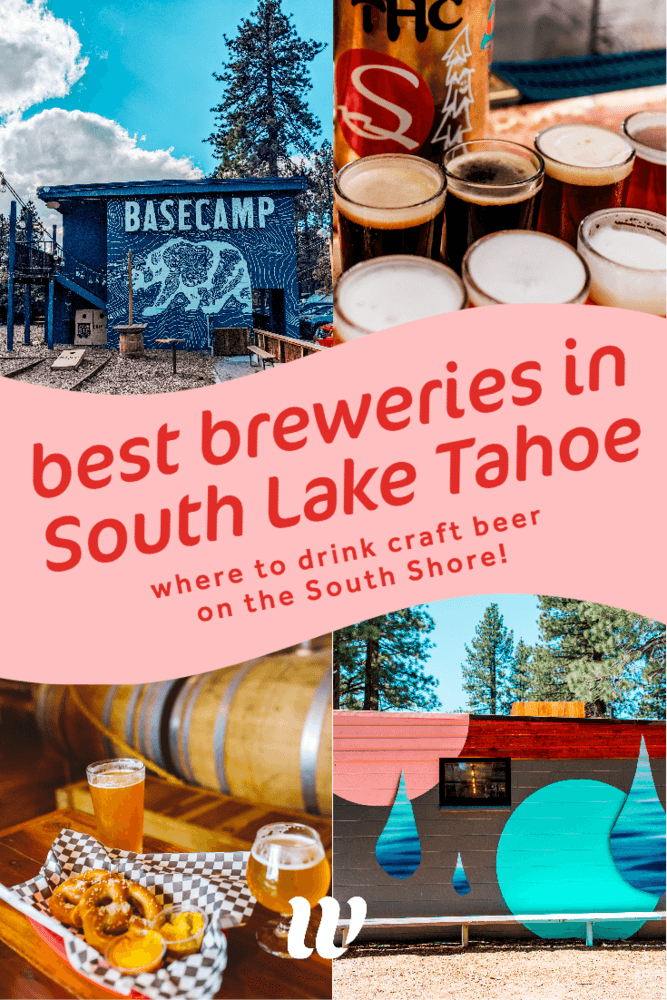 The South Lake Tahoe Area, which is split between California and Nevada lines, is home to 9 craft breweries and taprooms. That's more than enough to keep you busy between skiing, hiking or being out on the water!
We completed this guide between two trips, one in the winter and one in the summer. Some breweries are simply more suited for warm days and some are perfect for seeking shelter from snowy ones so it was important for us to visit in both seasons.
Maybe it's because we originally hail from Wisconsin, but my husband and I love trying new, local beers when traveling. It's a passion of ours. We ended up being able to visit 6 of the 9 in total and ranked them all from best to worst to make a handy guide for you.
How We Ranked The Craft Breweries In South Lake Tahoe
Breweries are being ranked out of 25 points. There are 5 categories each with 5 points that can be awarded. They are:
Unique design & decor of the taproom
Risk-taking in brews (the crazier the more fun!)
Price point & value
Taste of beers!
Staff & service
Ok, let's get started!
The Best Favorite South Lake Tahoe Breweries Rank From Best To Worst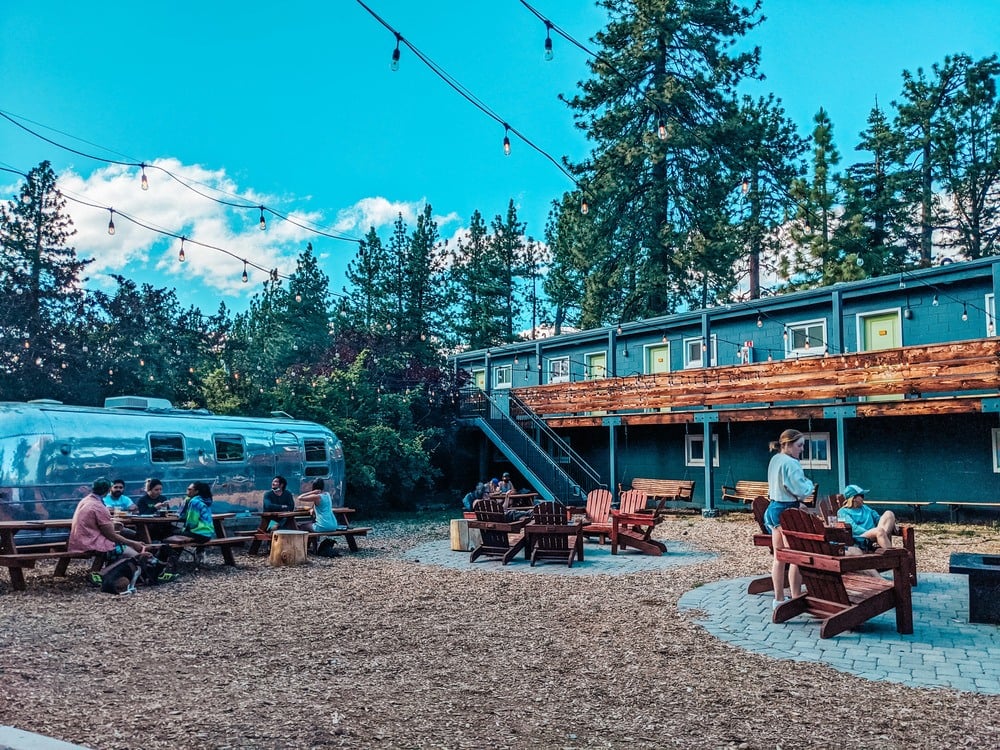 Location: 932 Stateline Ave B, South Lake Tahoe, CA (on Basecamp Hotel property)
Hours: Daily from 2pm-10pm
Favorite Beer: Blueberry Ale
Overall Score: 21.5
Design: 5
Risk-taking: 3.5
Price point: 5 (ranging from $5 a pint at happy hour to $8)
Taste: 4
Service: 4
We LOVED our visit to South of North Brewing. This brewery is attached to Basecamp Hotel, but it's not your average "hotel bar" in any way. They have a large outdoor patio with fire pits, string lights, chairs and games. Inside is roomy enough for winter seating (though I believe winter outdoor seating is still offered for those brave enough). When we visited there was live music playing for the perfect summer happy hour.
We recommend you order any of their unique fruit beers, like Little Red or Blueberry. Those brews really shine and are different from what you can find elsewhere. Come for happy hour to take advantage of $5 full pints. Oh, and this spot is dog friendly!
PS this visit REALLY made me want to book a stay at Basecamp Hotel during our next Lake Tahoe visit. Check this place out!
Location: 3350 Sandy Way, South Lake Tahoe, CA
Hours: Wed-Sun from Noon-7pm
Favorite Beer: Barrel-Aged Beers (small productions that change)
Overall Score: 21
Design: 5
Risk-taking: 4.5
Price point: 3 (ranging from $ 7 to $10 per pint)
Taste: 4
Service: 4.5
Sidellis has a super modern cool log cabin feel with tons of Biergarten style tables for cozy indoor seating along with outdoor seating. There's games and food so this makes the perfect happy hour or dinner spot to hit up after a day on the lake or the slopes. It's super cozy and fun!
In the winter, I recommend trying their Beer Cheese Soup which hits the spot on a cold day! In the summer, try their pretzel for a nice snack and take it to their back patio to enjoy the sunshine. This brewery is located near Safeway and easy to walk to from many areas of the city.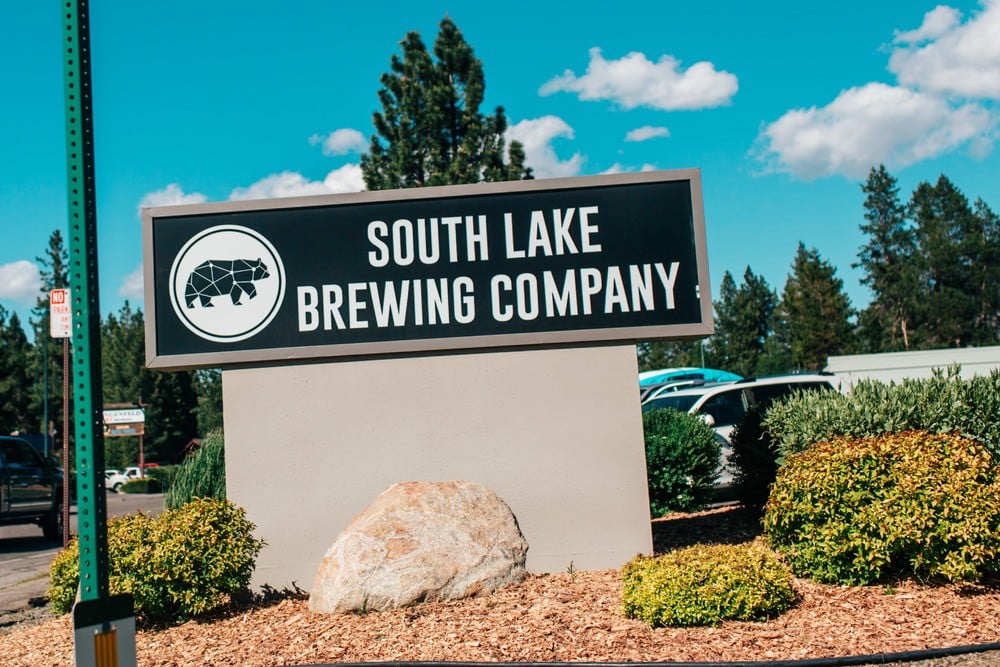 Location:1920 Lake Tahoe Blvd, South Lake Tahoe, CA
Hours: Daily from Noon – 9pm
Favorite Beer: Haribo
Overall Score: 21
Design: 4
Risk-taking: 5
Price point: 3 (ranging from $7 with $9, $17 flight of 5 pours)
Taste: 5
Service: 4
South Lake Brewing is totally that classic craft brewery with a large garage door that opens up in the summer to a patio, tall ceilings, minimal industrial decor. Oh, and the beer is really really good. We were super impressed with some of the fun risks they took – like a beer made with Haribo gummies (we took a growler of this one back to our cabin.)
The back patio is a bit bare at our visit but the patio is dog friendly so you can bring your pup during the summer! This spot is great for both seasons.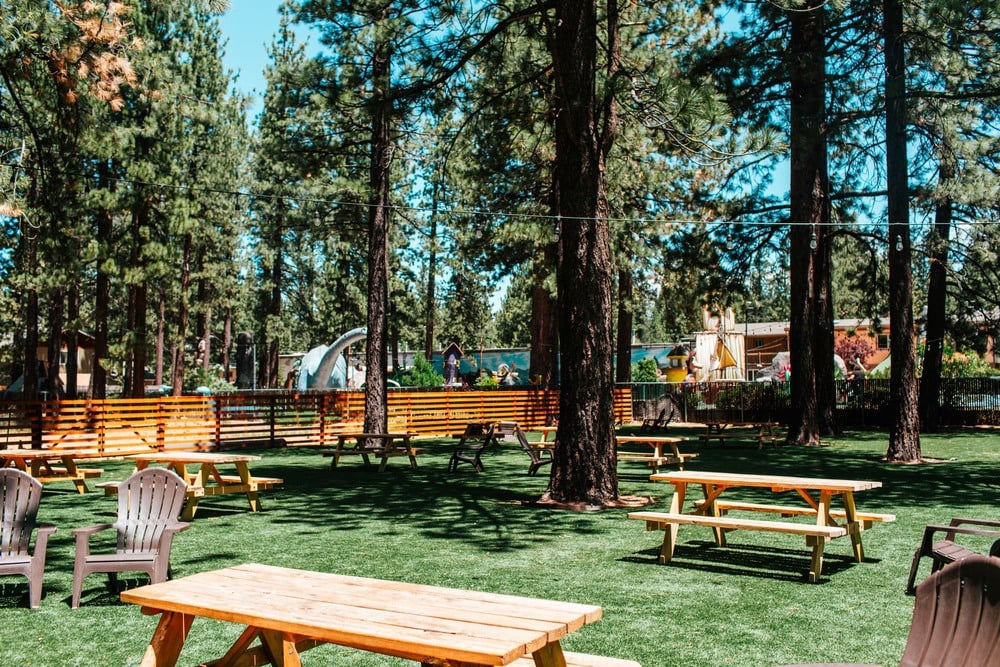 Location: 2401 Lake Tahoe Blvd suite b, South Lake Tahoe, CA
Hours: Daily from Noon to 10pm
Favorite Beer: Constantly rotating
Overall Score: 20
Design: 5
Risk-taking: NA (not their own brews)
Price point: 5 (ranging from $3 to $13)
Taste: 5
Service: 5
Wow, The Hanger is like THE SPOT to spend a warm summer afternoon in. This mostly all outdoor beer garden is sprawling, with tons of trees, tables, lounge chairs and string lights along with a cool statement mural. It's next door to a mini-golf course so there's a giant dinosaur and other quirky things visible at the end of the garden which adds to the fun.
The Hanger doesn't brew their own beer as they are a taproom. But this isn't your ordinary taproom – they're constantly rotating out interesting local and regional brews and also offer drinks like hard kombucha. I gave them a NA (or a zero) on the "risk-taking" score because they don't brew their own beer offerings.
No food is served here, but you can bring your own takeout and sometimes they work with local caterers or food trucks to get food on the property during the weekends. Dogs are allowed in some areas, so bring your pup!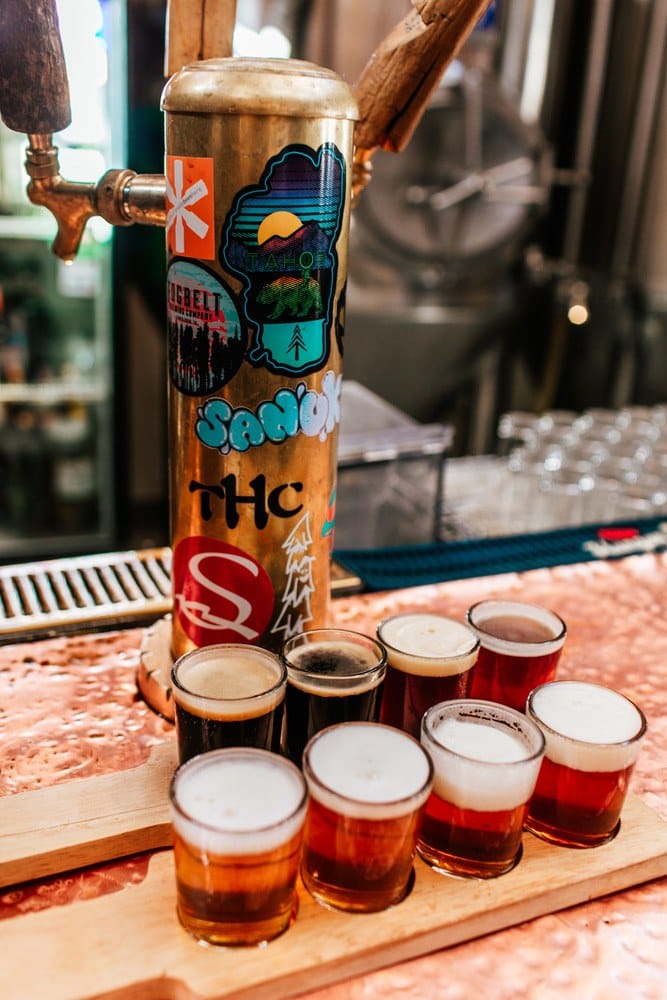 Location: 3542 Lake Tahoe Blvd. South Lake Tahoe, CA
Hours: Daily open from 11am-10pm
Favorite Beer: White-Out-Wit
Overall Score: 17.5
Design: 2
Risk-taking: 2
Price point: 4 ($6 a pint with $4 happy hour pints)
Taste: 4.5
Service: 5
The Brewery At Lake Tahoe is a friendly divey brewery restaurant right in the heart of South Lake Tahoe. While there is indoor and outdoor seating, I think this spot is best in the winter season at night when you're craving a hot pizza and a hoppy beer in a cozy atmosphere.
I don't remember their tap list to be particularly adventurous (no blueberry ales here) but dang, they do their flagships well and put out fantastic classics. You simply must try a pint of their White-Out-Wit before you leave Lake Tahoe!
Location: 4118 Lake Tahoe Blvd, South Lake Tahoe, CA (at Heavenly Resort)
Hours: Daily from 11am-11pm
Favorite Beer: Avalance IPA
Overall Score: 16
Design: 4
Risk-taking: 1
Price point: 3.5 (ranging from $7 to $8 with a $5 happy hour)
Taste: 3.5
Service: 4
I'll be honest with you: we were both super disappointed with our visit to Stateline Brewery. For starters, this place is hardly a craft brewery anymore. At our visit, they only had two of their own beers available (and our waiter told us they weren't currently brewing so once those kegs ran out, they'd be serving none of their own beers for a while.) And their two beers weren't being served on the patio which is odd to me, but thankfully our nice waiter was willing to go downstairs to grab us pints.
Stateline is attached to Heavenly Ski Resort. The interior is really cool – think polished log cabin mixed with industrial chic accents. There's also an outdoor patio for summer days with great people watching. But this is not a brewery anymore, it's just a restaurant with a standard American menu.
Word on the street is the restaurant is under new management who is keeping their master brewer working front management instead of making beer. I hope they get them back brewing soon. I do want to try Stateline again on a future visit to reaccess after new management figures things out. (If you are reading this and have visited recently, can you please give an update by leaving a comment below?)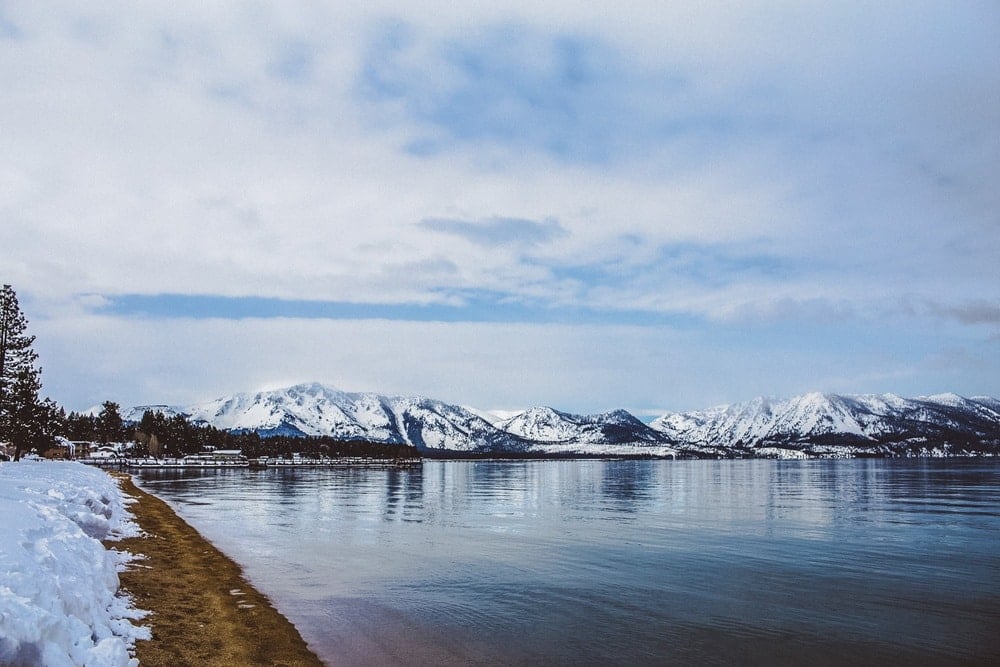 Other Lake Tahoe Breweries & Taprooms
As I mentioned, we didn't get a chance to visit all 9 South Lake Tahoe breweries and all the taprooms.
Lake Tahoe AleworX: A waiter highly recommended this hip taproom, it's on the Nevada side. They have one inhouse brew on tap.
Cold Water Brewery: Brewery & restaurant. All beer is brewed on-site!
FOLK Brewery: Nevada side. They make kombucha, with water from Lake Tahoe. Looks super cool!
Where is the best place to stay in South Lake Tahoe?
Looking for lodging recommendations? Try a cute AF cabin that's in walking distance to all the breweries and South Lake Tahoe restaurants! Here's my favorite 9 cabins in the area to rent.I haven't stayed in a hotel in South Lake but I want to book at Basecamp on our next trip because as I chatted about, their Biergarten is amazing and the hotel looks super fun.
We've been to the Hyatt at Incline Village on North Shore a few times and love it up there! (If you're looking for a North Lake gem!) Truckee also has some breweries to check out up there.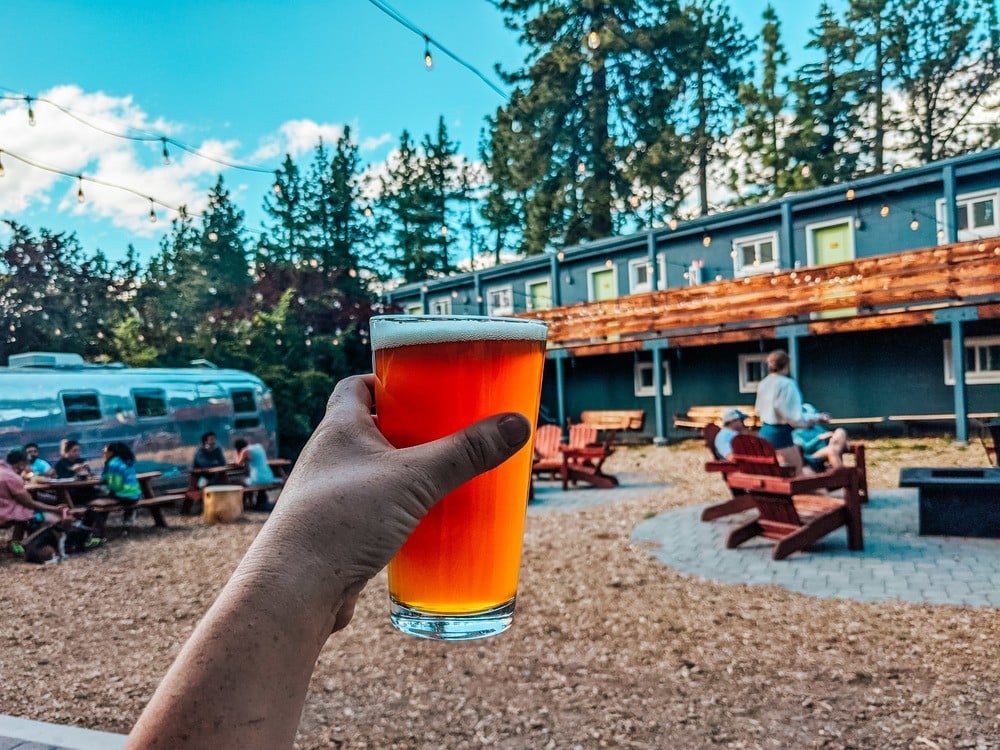 Have you done any self-guided South Lake Tahoe brewery tours or maybe live South Shore or the county and want to weight in on this list? I'd love to hear your thoughts on what you think are the best breweries in South Lake Tahoe!
Got any tips to add? Leave a comment below so everyone can see. Got questions? Comment below or DM me on Instagram @thewhimsysoul and I'll be happy to try and help!