So, you're wondering how to find free camping sites for your trip? Maybe, you have a tent or maybe you have a campervan like we did and are looking to cut the expensive costs of paid campgrounds by wild camping!
Also known as boondocking, free camping is a whole movement in the United States that we tapped into on our 9-day campervan road trip through Northern California and Oregon. Each day we traveled around and each evening we hunted for free campgrounds, parked our van & enjoyed sleeping under the stars. For free!
In the post, I'll be sharing all our advice & lessons that we learned will staying at free campsites, how to find free campgrounds, along with our favorite apps and other tools we learned.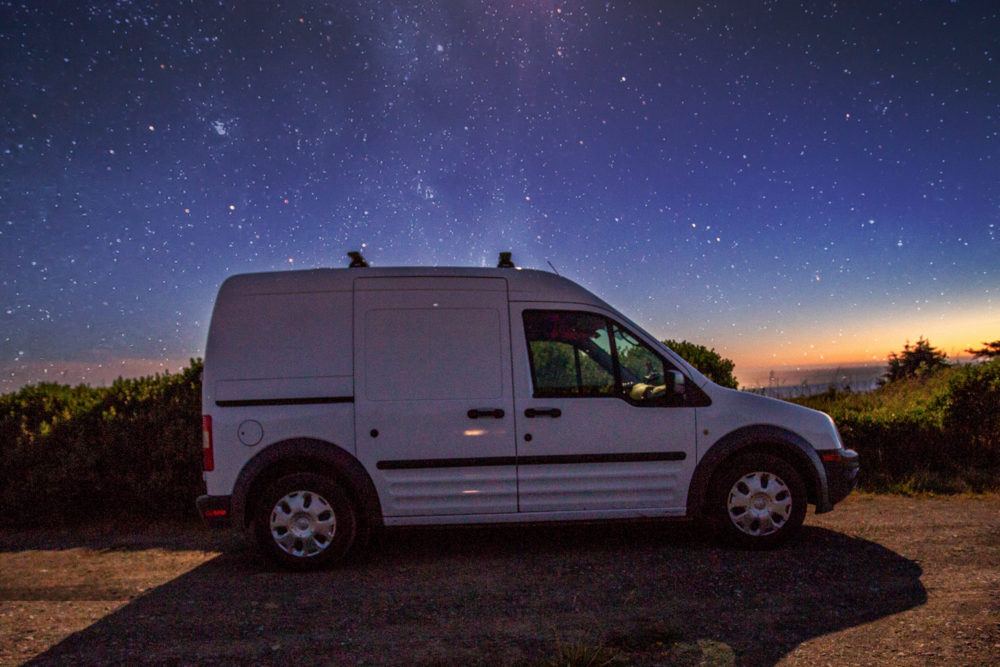 Most of the people we met on the road were in smaller campervans like we had. We ran across some people doing tent camping with a normal car or in RVs, but I think it's most popular to do free camping when you have a van.
Where To Find Free Camping (An Overview)
You can camp for free on any land managed by BLM (Bureau of Land Management) or the USFS (United States Forest Service.) This land is for the public and open for use!
Of course, within this land, you still may find signage about places you aren't allowed to camp or park. Respect these signs and move on to a different area of the national forest or park!
You usually can't ever camp for free in National Parks or State Parks, but it's common to be able to find free camping just outside these parks, so you should still be able to easily visit your favorite national parks.
For example, I'm told there's a lot of free camping near Yellowstone and we found some great free campsite sites near Crater Lake, so I know it's possible to free camp while visiting National Parks!
Need camping gear? Try this!


BLM or USFS is always the best place to start looking for a spot to find free camping sites. There's public land all across the United States. We used a few different apps to help us locate these spots on the road!
If you aren't on public land, look out for "no overnight parking" and/or "no camping" signs and don't stay there if the site has those signs. You can also sometimes spend the night in Walmart parking lots for free as a last resort, though the one Walmart we picked groceries up in Crescent City didn't allow it. Make sure to check!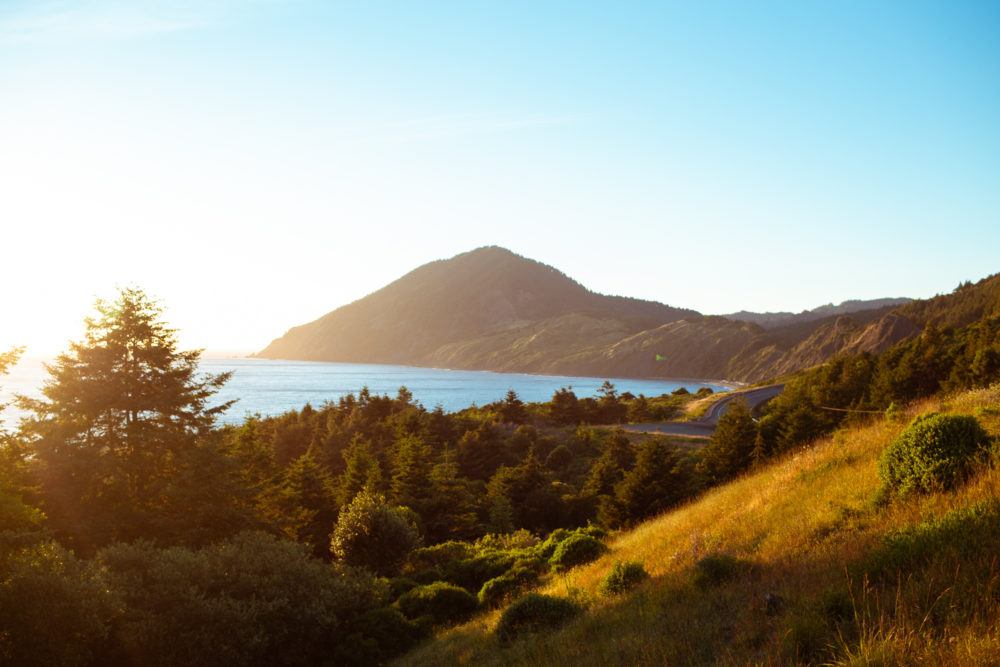 Best Free Camping Apps
I downloaded and used 5 different free camping apps on our trip and have narrowed it down to the best two in my opinion.
How these apps work is pretty simple. Let's say you are in Southern California and want to find free camping in the Santa Barbara area. Simply pull open your app of choice and you can toggle buttons to show "wild" or "free" sites.
You can also use these apps to find paid campgrounds or campgrounds with amenities you may need on the road, like places that have showers or dump stations.
Make sure to read the reviews from past campers. These aren't like Yelp where you get a wide range of rants, these reviews are usually pretty spot on. For example, if someone says it's not ideal for tent camping, you shouldn't try to bust out a tent. If people say you need 4WD to get to the site, you will 100% need a sturdy car.
These are the apps we used!
My favorite app! This is a free app where users can submit free camping sites they have stayed in and other users can also check-in and leave reviews. I found that this app always has the most sites listed. It also worked for me even in places I didn't have service, which was really nice as most of the California Coastline doesn't have good cell service.
It has a LOT of search functions, everything from wild camping to water to shopping to medical. This is what iOverlander looks like.
This is the other app we used daily. I like to cross reference iOverlander and Campendium as sometimes there's a site listed on one app but not the other.
What I liked about this app is that you can create an account online and favorite / save sites. This means you can do research prior ot leaving on your camping trip to find, let's say, the best free RV camping sites for your rig. This can save you using up data while on the road!
Not an app, but a site that can check as a last resort for locating known free campsites. The site is a bit janky on mobile and there aren't as many sites listed, but we did use it to look up free campsites in California one night when we couldn't find anything near us.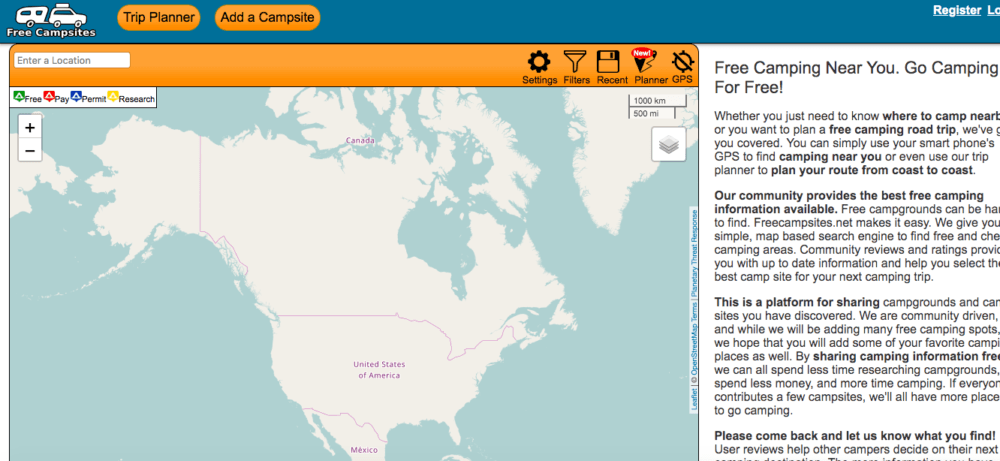 USFA&BLMCG
This app doesn't list free campsites but it DOES show you where the boundaries for BLM and USFS land. It'll still be up to you to hunt around for a safe and cozy area within these public land boundaries to spend the night in. It also shows you paid campsites, it looks like mostly KOA grounds.
If we were traveling around in a van full time, we'd probably use this app a lot more to help us located nearby BLM and USFA land!
Gaia App
This one came so highly recommended on other travel blogs but for the life of me, I couldn't figure out how to use it to find free campgrounds. It's also $20 a year so I opted to skip this one and I was just find. iOverlander and Campendium was all we needed!
As I mentioned, we were able to find free camping sites 5/9 nights of our trip.
When we parked for free, we didn't have any issues regarding safety or cops. Other than the site outside the Painted Hills, every free site we found did have other people nearby camping for free as well (it's like a whole little community!)
The first night on the road, I tucked a large knife next to my pillow just in case we got axed murdered on our trip but quickly forgot about it. I didn't feel unsafe once.
Tips For Scouting Free Camping Sites
Ok, so now you know what type of land you can camp for free on and the best apps to find known sites. Now I want to share my personal tips on scouting campsites and judging if they'll fit the bill on what you're looking for.
Read Reviews & Look At Photos
As I mentioned, the reviews on the apps are usually 100% accurate. If a lot of people say positive things about a site, it's almost a shoo-in for a nice place to spend the night.
Read these reviews carefully. If people mention it's "just a turnout" be prepared for small turnout on the side of the road. If they say there's trash or it's sandy, that's what you'll find that when you arrive.
If the listings have photos, look at those carefully to help you actually see the site! Sometimes the review sounded good, but when I looked at the photo I saw things wrong with the site so I knew it was a waste of time driving there.
Proximity To The Main Road
Is the site right on the highway or tucked behind trees or even further down the road? We personally never stayed on turns out directly on the highway for reasons I mentioned before. Whenever I saw free camping that had words like "turnout" or "it actually did quite at night" I knew it meant the site was near a lot of traffic and wasn't a good fit
Check Road Conditions
Is the road to the site safe for your car? We were in a Ford Transit that could handle bumpy roads better than our tiny Kia can, but it still couldn't off-road like large trucks are able to.
If a road is listed as not maintained, it may not be a safe road to drive on. I would hate if you got yourself stuck!
Don't Be Afraid To Drive Further
Sometimes, a certain city or region just doesn't have good sites. Don't be afraid to drive a few more miles down the road to reach one that has much better reviews.
While in Port Orford, we almost settled for a parking lot but decided to check out a site 15 miles down the road, just in case. This free camping site ended up being our favorite place we camped all trip, and we would have missed out if we settled!
Don't settle. The perks of having a van or RV is that you have total control over your trip. If you went a few miles out of the way to sleep at a great site, you can just double back the next day.
The only time to maybe not drive more is if the free site is WAY out of the way. You may burn through so much fuel it would have been the same price to just pay for a site.
A Nice Place For a Drink Rule
Finally, our main way of deciding if a free camping site was one we wanted to spend the night in, we asked ourselves "is this a nice place to have a drink?" If we answered no, we moved on.
For example, we read these great reviews about a free camping site in northern California near Crescent City. It said it was a small parking lot but private quite and had great ocean views. Sounded perfect! Expect when we pulled up, we instantly knew it wasn't going to be a good fit.
It wasn't the type of vibe/place where we could pull out our chairs and have a drink in peace. So we kept driving and ended up at this adorable free site next to the Smith River instead! We held out for the good sites!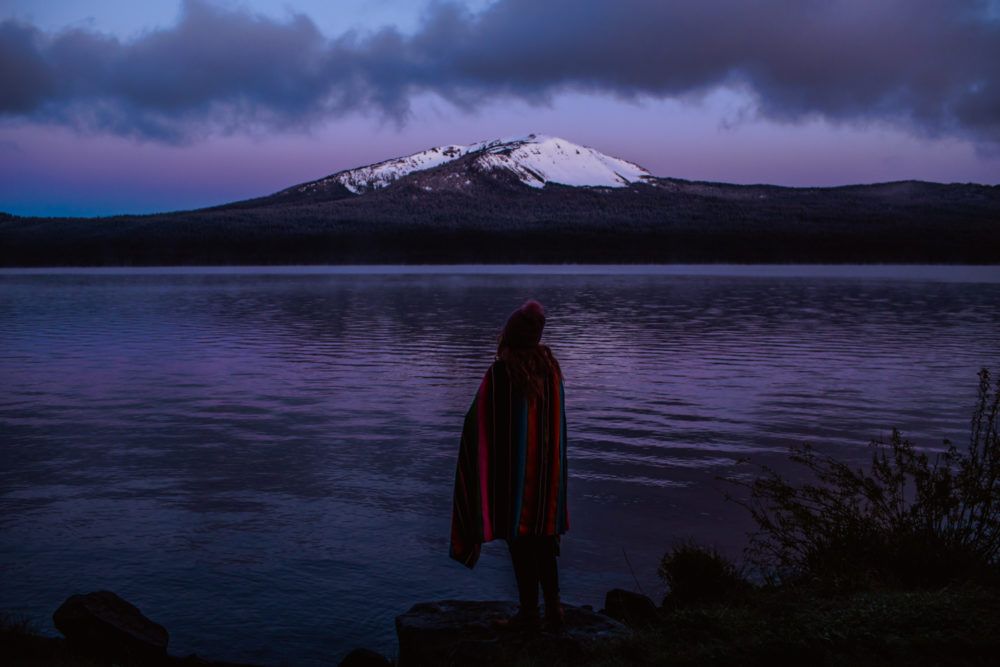 When is it time to throw the towel in and pay for a site?
Trying to find cheap camping site is California is hard, at least on the coast. Most of the boondocking we did were in Oregon or inland California where it was much easier.
For us, we knew it was time to pay for a site after we checked out about 3 wild camping spots nearby that we thought would fit the bill (and obviously weren't once we got there.) We were on a for-fun trip, so we put priority on not spending hours searching for a free spot.
If we were living in a van full time, I think we'd put more effort into never paying for a site, but this was a vacation after all!
California coastal camping grounds vary, a LOT. We found most on the coast ranged from $30-50, which is outrageously expensive in my opinion.
The best campground we paid for was actually in Oregon at Diamond Lake. It was $20 for the night at this large, beautiful site just steps off the lake. They hade free showers and the bathrooms were clean. Tons of water pumps. It was our favorite paid site of the trip.
And then in California, we were faced with smaller, dirtier sites for more money. The biggest rip off we found was at Navarro River. It was $35 a night for a TINY spot that barely fit our van. I could reach out and touch the people camping next to us. The outhouse clearly hadn't been cleaned for weeks and there weren't any water pumps on hand.
We stayed here because we loved the beach access. It was the closest thing to beach camping we could find. The sunset was stunning and we loved drinking wine on the beach, but the site itself was not worth $35.
The other times we paid for a campsite were when we needed to shower. That's how we ended up at the Diamond Lake campground! We were having trouble finding state parks with showers (usually you can pay $2-3 to shower at a state park without spending the night.)
Free Camping in California
As a heads up, free campgrounds California are much harder to find. We found most of our free campsites in Oregon. Once we crossed state lines, we had to resort to paid California campgrounds due to the lack of safe or decent free spots.
Free camping along Highway 1 I think used to be the norm. There are so many large, beautiful turnouts on the highway that must have been homes for road trippers for years. But, recently, many of these popular spots have been trashed and closed down or have no parking signs installed.
I think there's an art to camping California, at least on the coastline. Lots of stealth, guts, and time to locate safe places to spent the night. We had a campervan that required us to spend a lot of time outside of our van (stand outside to cook, couldn't sit up in the van, etc.)
Because of this, we couldn't just pull off and park on a narrow turnout that is approved by the apps. I wasn't keen on setting up my camping chair 2 feet from speeding traffic! But, if you have a larger van that you could sit inside, I think it would be a lot easier to do this.
So, let go of the idea of free beach camping in Northern California. Most of the beaches don't allow overnight parking. You may have better luck in Los Angeles – I haven't checked the signs at the beaches down there in person so I'm not 100% sure.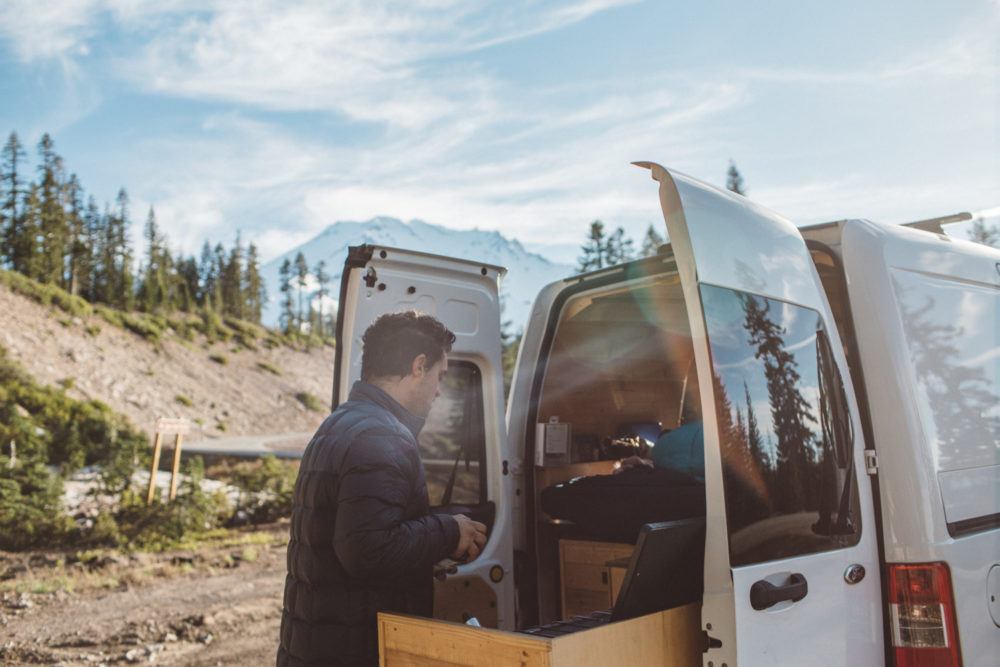 What To Bring With You
If you haven't figured it out yet, wild camping means you'lll be off the grid. You won't find ADA accessible ramps, dump stations, picnic tables or shiny bathrooms here. Some site may have fire rings but that's about it.
You'll need to pack in everything you need to use (don't forget to pack out what you bring and keep these free campsites clean!)
Camping List:
Drinking water
Food
Propane tank
Power (usually with a generator)
Wet wipes
Hand sanitizer
Trash bags
Camping chairs (if you don't have an RV to sit inside)
Spare tire
Tools

Also, keep in mind that many of the roads leading to these free camping grounds are ROUGH. They're usually dirt roads and are very bumpy. You should also bring tools with you to help get your car unstuck if that happens and a spare tire in case something gets broken.
Where To Rent A Campervan or RV
You don't need to buy an expensive RV or build out your own campervan to go free camping! We rented our campervan from Outdoorsy.
> Note: We had a great trip in our van and thought the van was well designed. But, we had a terrible nightmare return process with this company and felt like we were scammed. Short story, the van owner claimed we returned the van without the pots and pans and also with interior damage (which we didn't) We're currently fighting the claim with Outdoorsy to get our deposit back. You can learn more at the end of this IGTV video.
Sadly, this experience has totally put a damper on all my camping memories. I'm trying to not let it ruin or hold me back from renting other vans or going on a free camping trip again. But, I would recommend not booking from Outdoorsy. Instead, try one of the companies below which have been personally recommended to me by trusted friends who have used them before.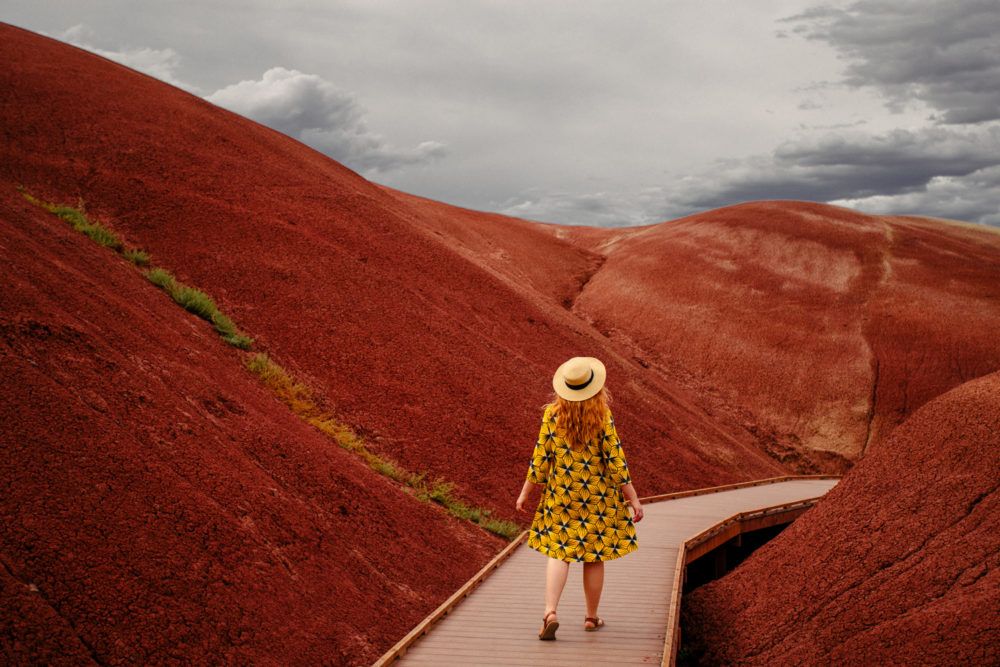 I hope this helps you have a great camping trip with totally free campsites! If you have any questions or tips to add, leave a comment below! You can also always DM me on Instagram @thewhimsysoul and I'll be happy to help.
Other Posts You May Like
What Nobody Tells You About Van Camping (good and bad!)
Top things to do in Yosemite National Park
How To Find the Umpqua Hot Springs in Oregon
Insider Tips For Visiting The Painted Hills
Our Favorite Campsite In Big Sur