(Updated October 2020) Yosemite National Park is one of my most favorite places on the planet. It's also a lot of other people's favorite places on the planet which means come summertime, it can get packed. That's why I love visiting Yosemite in the fall.
In this guide I'll be sharing what to expect when visiting Yosemite National Park in the fall or early winter, things to do, what trails to hike, where to stay, eat and more. Keep reading.
Things To Do In Yosemite In The Fall & Early Winter (What's Open, Where To Eat, Stay, Hike & More!)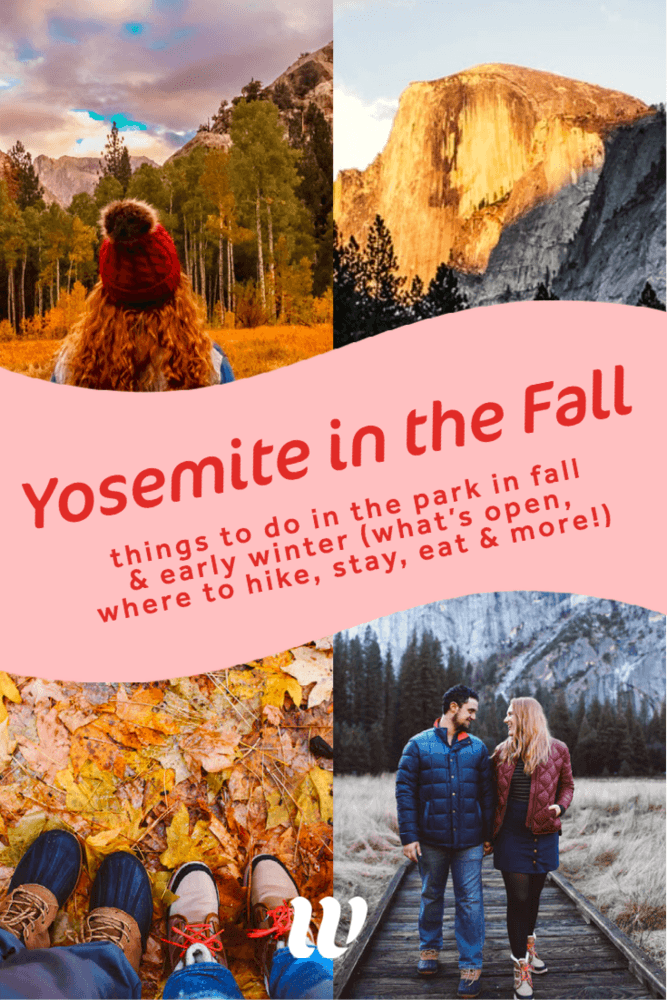 >> Got a question about Yosemite National Park that you need answered quickly? DM me on Instagram @thewhimsysoul and I'll be happy to help!
Robin and I first visited Yosemite years ago over Labor Day weekend and from my first glimpse of El Captian I fell in love with this national park. It's stunning no matter what time of year you visit, but fall and early winter is my favorite time of year to soak up nature without all the crowds.
The park changes so much with each season. Here's what to expect at each fall month:
Visiting Yosemite in September
At the end of September, expect crowds to still be high. After Labor Day they will decrease a lot compared to summer, but September still brings warmer weather and thus, more people. But, if you don't like the early cold weather higher elevations brings (or, perhaps you are trying to go camping in Yosemite) then the end of September is for you!
Visiting Yosemite in October
October is the best time to view fall colors in Yosemite. Sierra Nevada Mountain fall foliage peaks at slightly different times each year but you can usually find the valley painted with colors by Mid-October. Because it's such a great leaf-peeping spot you will probably find other fall lovers and nature photographers in the park (but less than in September!)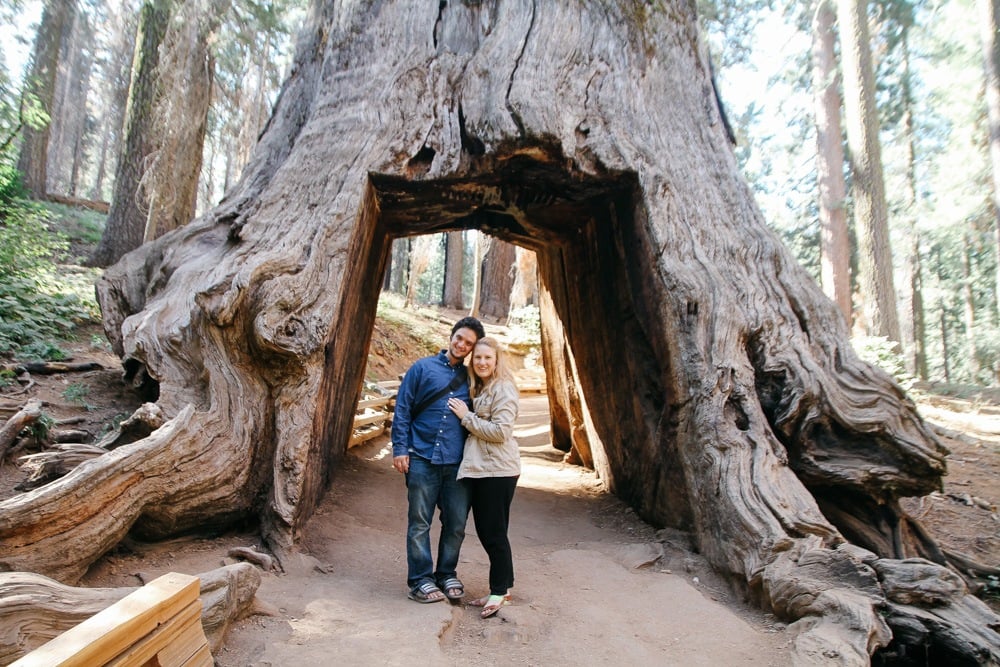 Visiting Yosemite in November
November may be the secret best time to visit Yosemite in the fall my opinion. Depending on when you go you still may catch some of the fall foliage, but by the time November rolls around the crowds are almost all gone AND the park is still open enough to widely enjoy. Hiking Yosemite in November is great because the trails are empty, we always see tons of wildlife up close and I don't overheat too much. Once it starts snowing most of the trails and roads like Tioga Pass Road will be shut down due to dangerous winter road conditions. It might snow in November so you have to keep an eye on updates.
Visiting Yosemite in December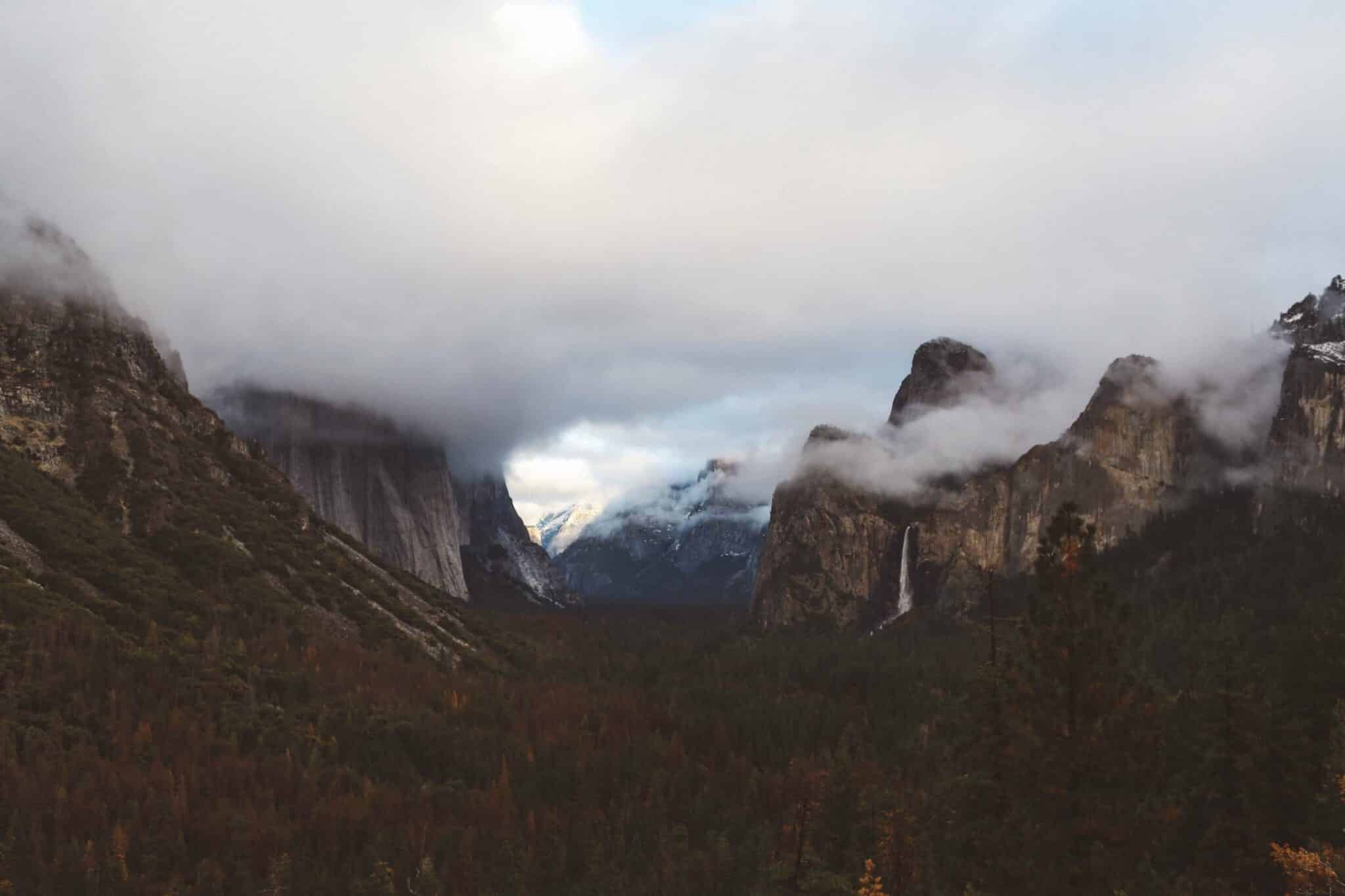 December in Yosemite can be super magical. It will be a bit uncertain about what will be open due to early winter Yosemite weather. Like Glacier Point Road may or may not be open and some longer trails may be closed, and there may or may not be snow on the ground. But, the valley decorates for Christmas. Camp Curry / Half Dome Village will usually have a Christmas tree and an ice skating rink. The Bracebridge Dinner at Yosemite is an immersive Chrismas dinner show that has been a tradition for almost 100 years.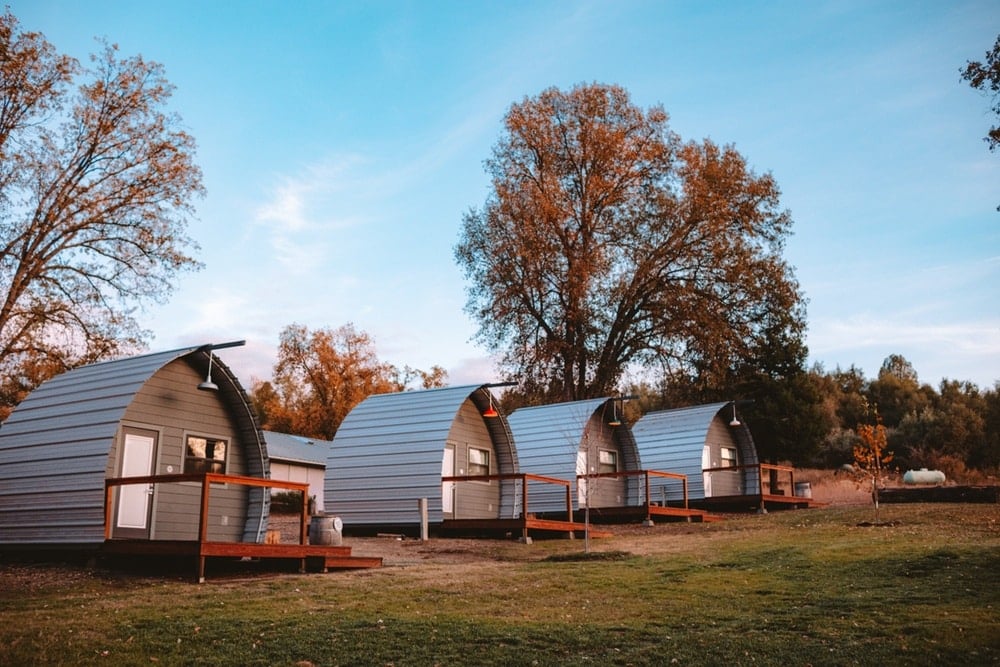 Yosemite Lodging In The Fall – Where To Stay In / Around The Park
Before we start chatting all my favorite things to do in Yosemite National Park during the fall, first you need to know where you are booking a hotel.
Camp Curry / Half Dome Village: This is my absolute favorite place to stay when visiting the park since these California glamping tents are smack in the middle of the valley, just footsteps from some of my favorite trailheads. Since these are safari tents, the village closes for the winter around Mid-October each fall.
Tenaya Lodge: Located outside the park on the Madera County side, Tenaya Lodge is a gorgeous mountain lodge hotel with tons of acres for hiking and fun activities to do in the fall and winter. We stayed here right after Thanksgiving a few years back and I loved their towering Christmas tree in the lobby and holiday activities like ice skating on property. It's one of our favorite Yosemite hotels!
Sierra Meadows Tiny Cabin: OMG, I still can't believe how dang cool this glamping cabin outside Yosemite South Gate was! It's perfect for a couple and it's also dog friendly, so bring your pup.
Historic Adair House: Looking for a cute Yosemite Airbnb to rent? We LOVED our stay at the Adair House, which is in the middle of Mariposa and within walking distance to their shops and restaurants. Mariposa is one of the entrances to Yosemite, it's this cute old mining town.
My Top Favorite Things To Do In Yosemite In The Fall & Early Winter
Now for the fun stuff – chatting my favorite things to do in the park during the fall and what you can expect to be open. Again, always check the park website prior to visiting to make sure that you are aware of any seasonal updates from the park service (like weather, road or trail closures, etc).
Hike Mirror Lake Trail
Mirror Lake Trail is my favorite hike in the park. It's 2.5 miles round trip and mostly flat, which is great for me since I'm not always in the best of shape (I love hiking but I can't handle a 9 mile round trip hike easily!) Mirror Lake dries up over the summertime and in the fall and early winter, you can walk out on the lakebed. That's why is makes a great lunchtime hike. Bring a picnic and blanket and stretch out in the middle of the lake bed!
Snap Photos At Tunnel View
Tunnel View is that classic photo spot that you probably recognize from Mac screensavers and Instagram posts. You access it via Wawona Road, which you'll be driving on if you are coming in from the Yosemite West Entrance (near Tenaya Lodge and Madera County.) There's a parking lot right there for you to park and walk over to the viewpoint! Come here at Golden Hour or sunset to see the whole valley flood with beautiful light before you.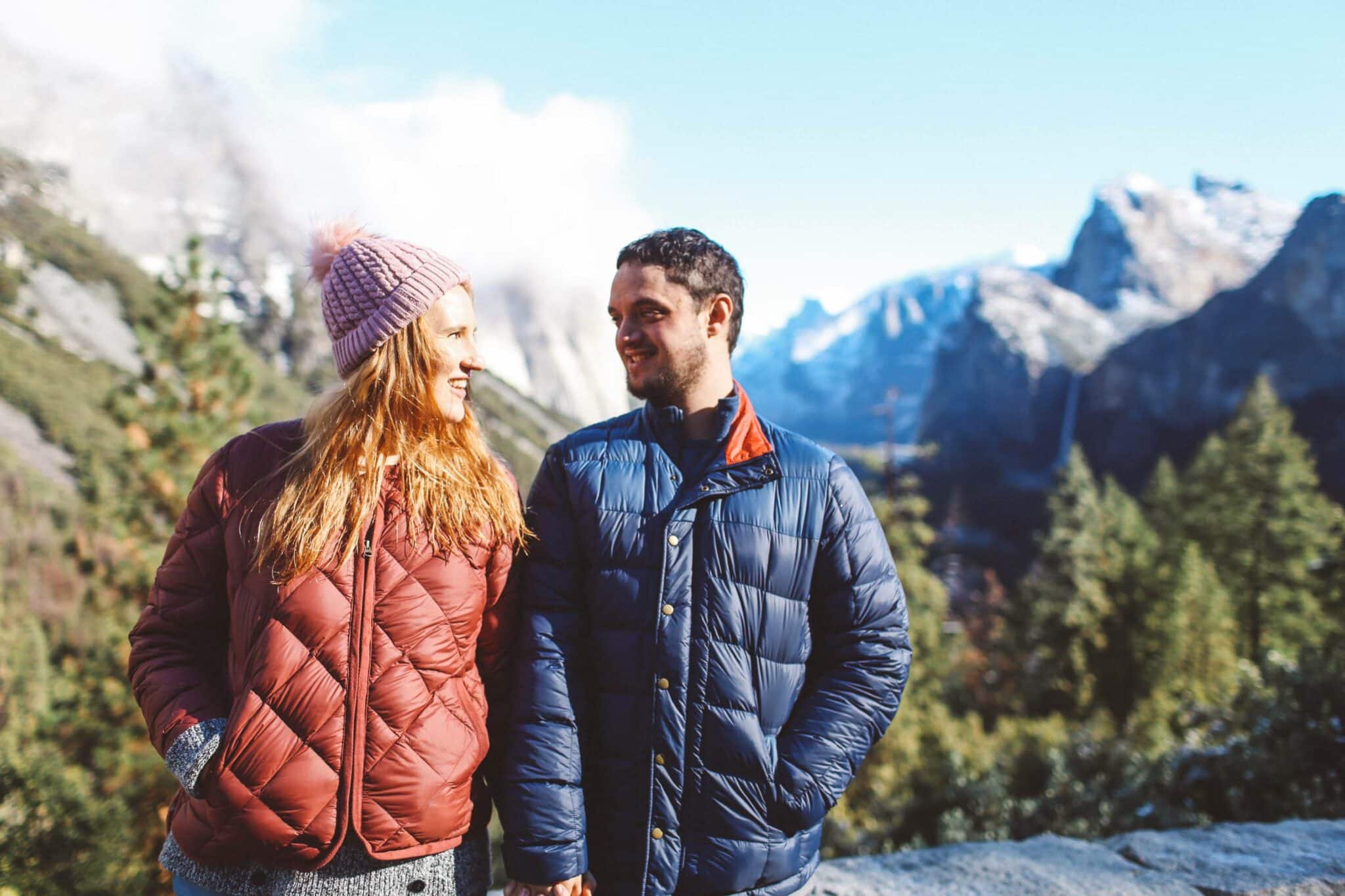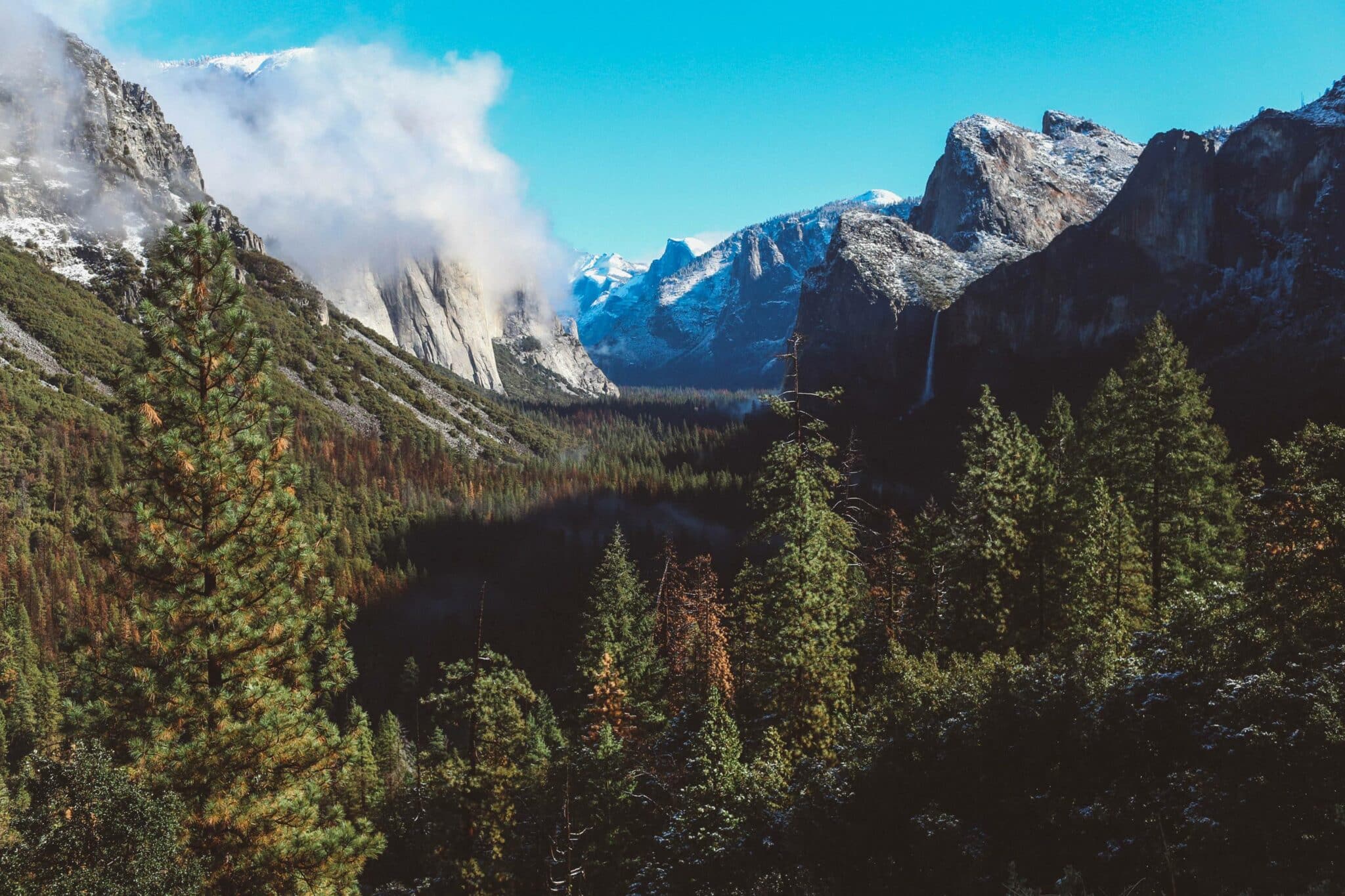 See Lower Yosemite Falls
Yosemite is full of waterfalls and Lower Yosemite Falls is one of my favorites to view, especially when the light hits it justtt right and you can see a rainbow through the water! It's a short 1 mile loop that's paved and more of a nice stroll rather than a hike, making this a great stop if you have kids or disabled family members with you. It should take 20-30 minutes so I always squeeze in a visit when I'm in Yosemite!
Another easy loop is to Bridalveil Falls, which is similar to Lower Yosemite Falls (easy hike in, stunning waterfall at the end!) This waterfall is super powerful in the summertime, it can be so wet that the trail is slippy and you might get soaked if you get too close. That's why it's nicer to visit in the fall!
Hike Upper Yosemite Falls
If you're looking for a harder hike, you can hike Upper Yosemite Falls Trail instead! It's 7 miles roundtrip and I've never done it personally but I'm told the views from the top are amazing. I bet in the fall you can see stunning foliage in the valley below!
Or, you can hike to Vernal Falls, which I have done and is my one of my favorite Yosemite hikes. It's a moderate hike about 2.5 miles round trip that leads you right up to the base of the falls, which is really pretty. In the summer this trail is very crowded which is why I love to do this hike in the offseason. If you have a lot of steam, stay on this trail and hike to Nevada Falls (it's a 5.5 mile roundtrip hike). This hike is also called the Mist Trail.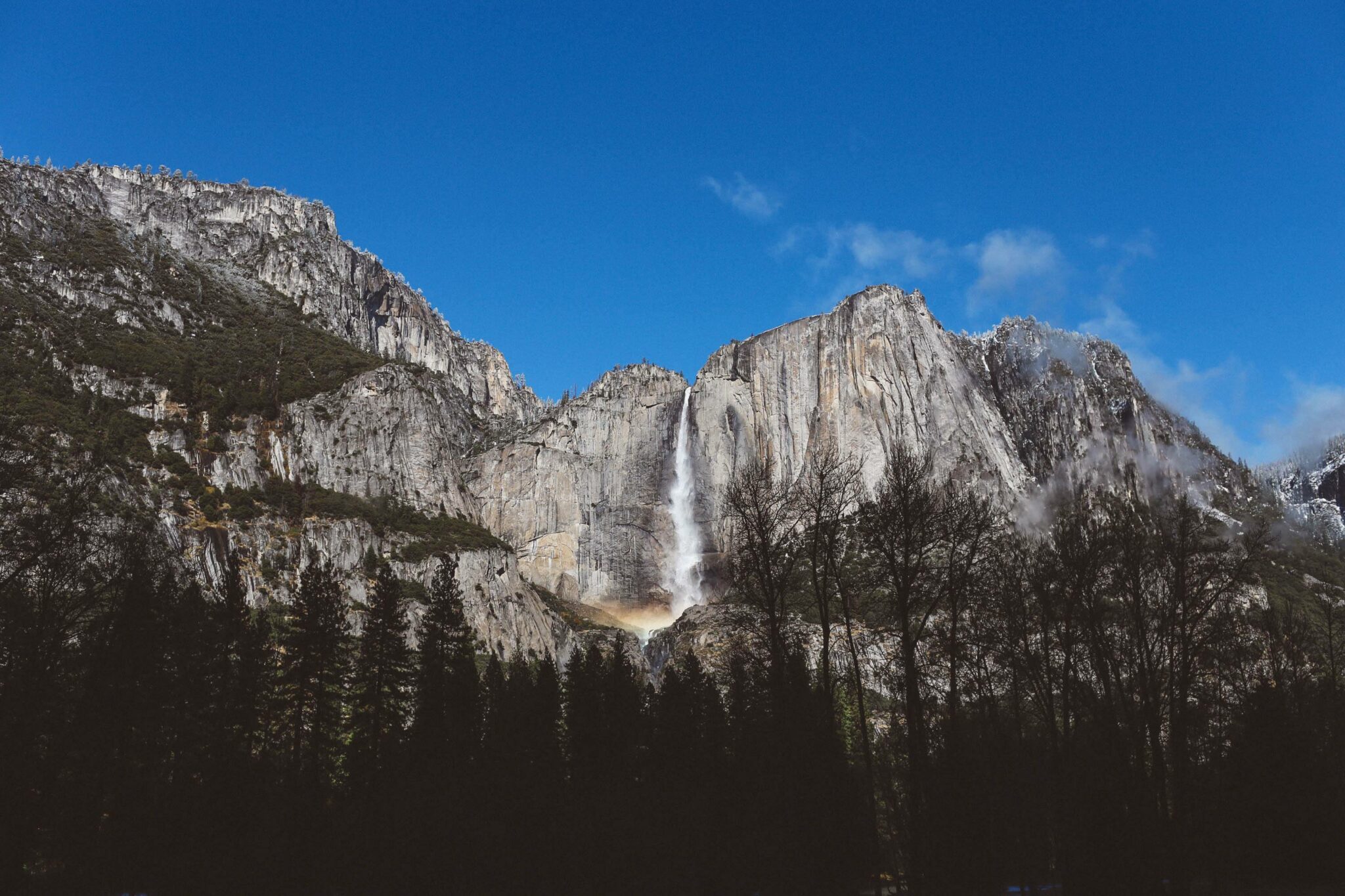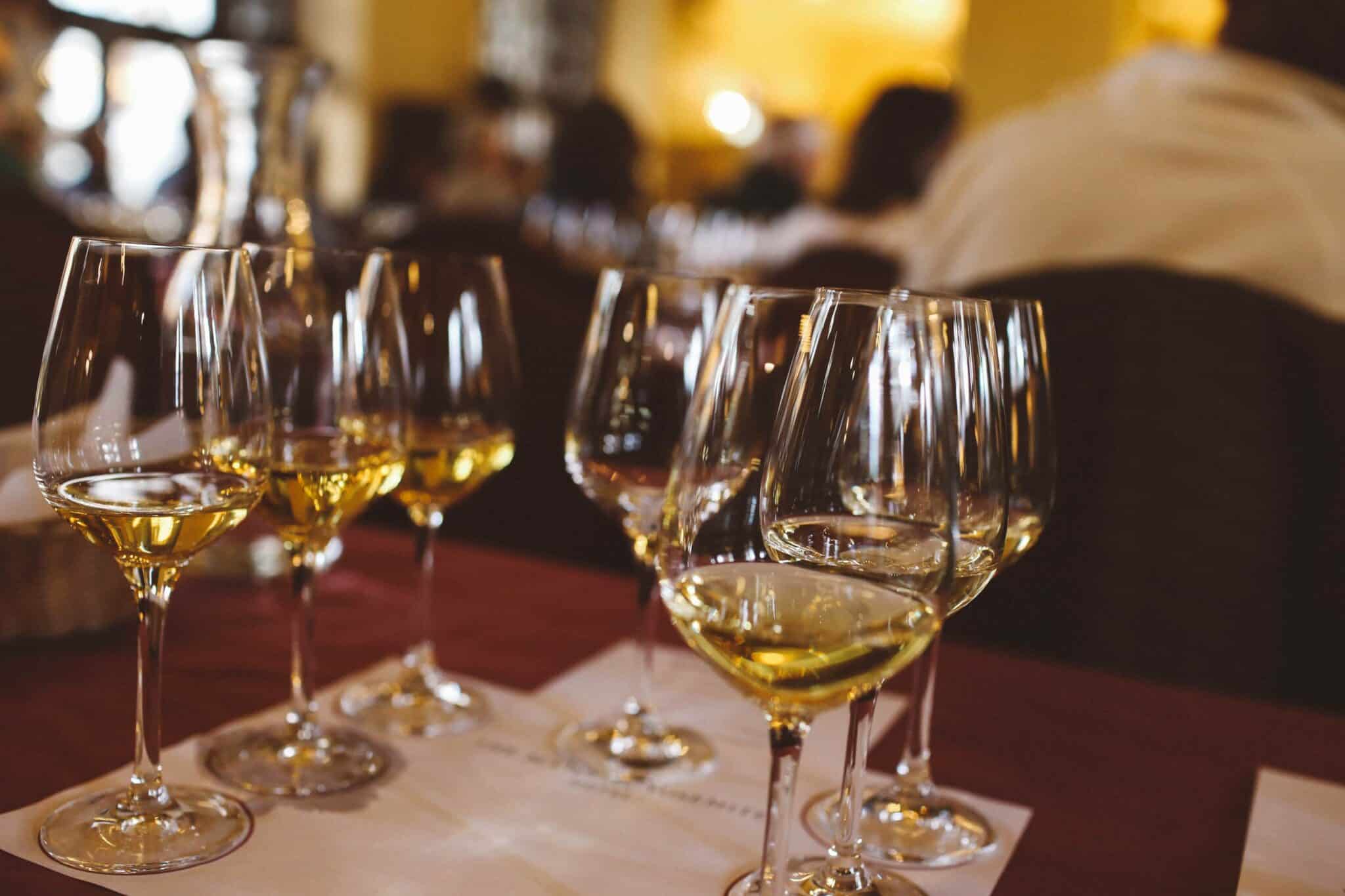 Wine Taste At The Grand Grape Celebration
Each November the Grand Grape Celebration is hosted inside the Majestic Yosemite Hotel. You can stop by for a free wine tasting session or stick around for a multi-course paid dinner. We popped in for a tasting during one fall visit and it was such a fun way to take a break from hiking!
Taft Point Trail & The Fissures
Taft Point Trail closes in the winter due to snow, sometimes as early as end of October, but if you hike it right before the season ends, you can probably catch the fall foliage in the park at peak. This trail is about 2.5 miles and rewards you with stunning views of the valley below. It's an easy hike if you are looking for views but not willing to hike Upper Yosemite Falls.
Visit The Chapel
You'll pass the famous Yosemite Valley Chapel on your way into the park and I always love to stop by to visit it and snap photos. This chapel is over 130 years old. You can't usually go inside unless they're having a service, but it's so dang cute and makes a great classic Yosemite photo opp! On a previous fall visit, it was snowing the morning we drove in and UG, the church was so pretty!
Eat Lunch At The Majestic Hotel Ahwahnee Dining Room
Treat yourself to a bowl of hot soup and salad at the Ahwahnee Dining Room in the Majestic Hotel. This restaurant has 30 foot high ceilings and huge windows so you can look out on the valley while eating lunch!
Top Things To Do Outside The Park
As you'll discover when you drive into Yosemite, there are 3 main entrances to the park and thus 3 small towns to choose from for activities after a day of exploring the valley. I have a whole guide to the old mining town of Mariposa packed with details on what to do there that you should view if you are planning on coming through that entrance. In the meantime, these are my other favorite things to do in the areas right outside the park!
Drink Craft Beer at The Grove House
The Grove House is the best craft brewery in Mariposa. The owners are actually from the Midwest just like my husband and I are. They started their brewery & have built a fantastic gem in the mountains. Start with a flight to see what beer you like best then stick around for another pint or two.
Mountain Sage Cafe in Groveland
If you are coming into the park from the Groveland Enterance, you can't miss breakfast or lunch at Mountain Sage Cafe! The food here is amazing and I love the vibes of this cafe house. IT's like an art gallery meets nursey meets cafe. I stop here every time I drive by.
Ice Skate at Tenaya Lodge
If you are visiting the park in late November or December, Tenaya Lodge will probably have their ice skating rink up! I had such a fun evening ice skating around and listening to holiday music.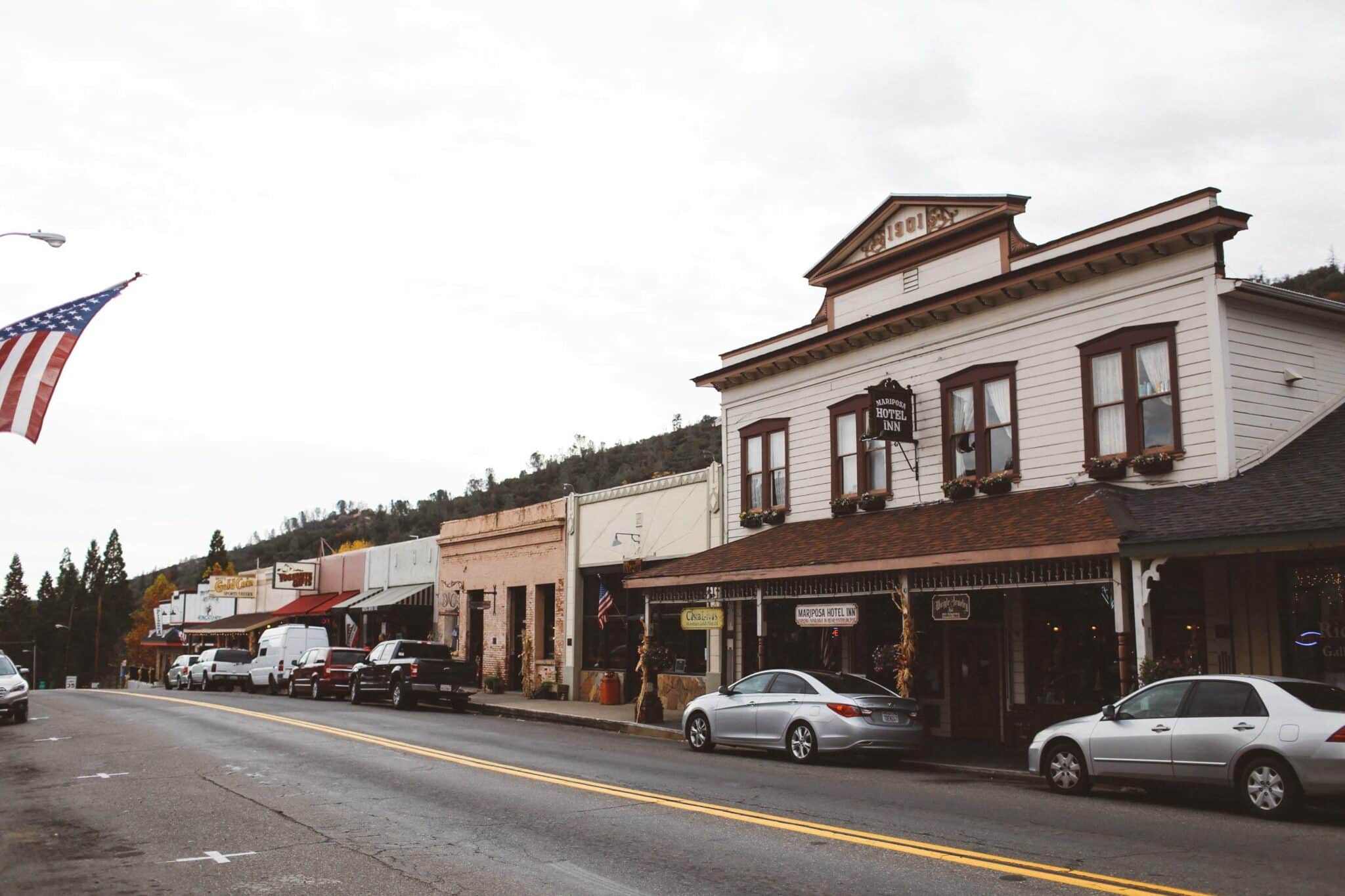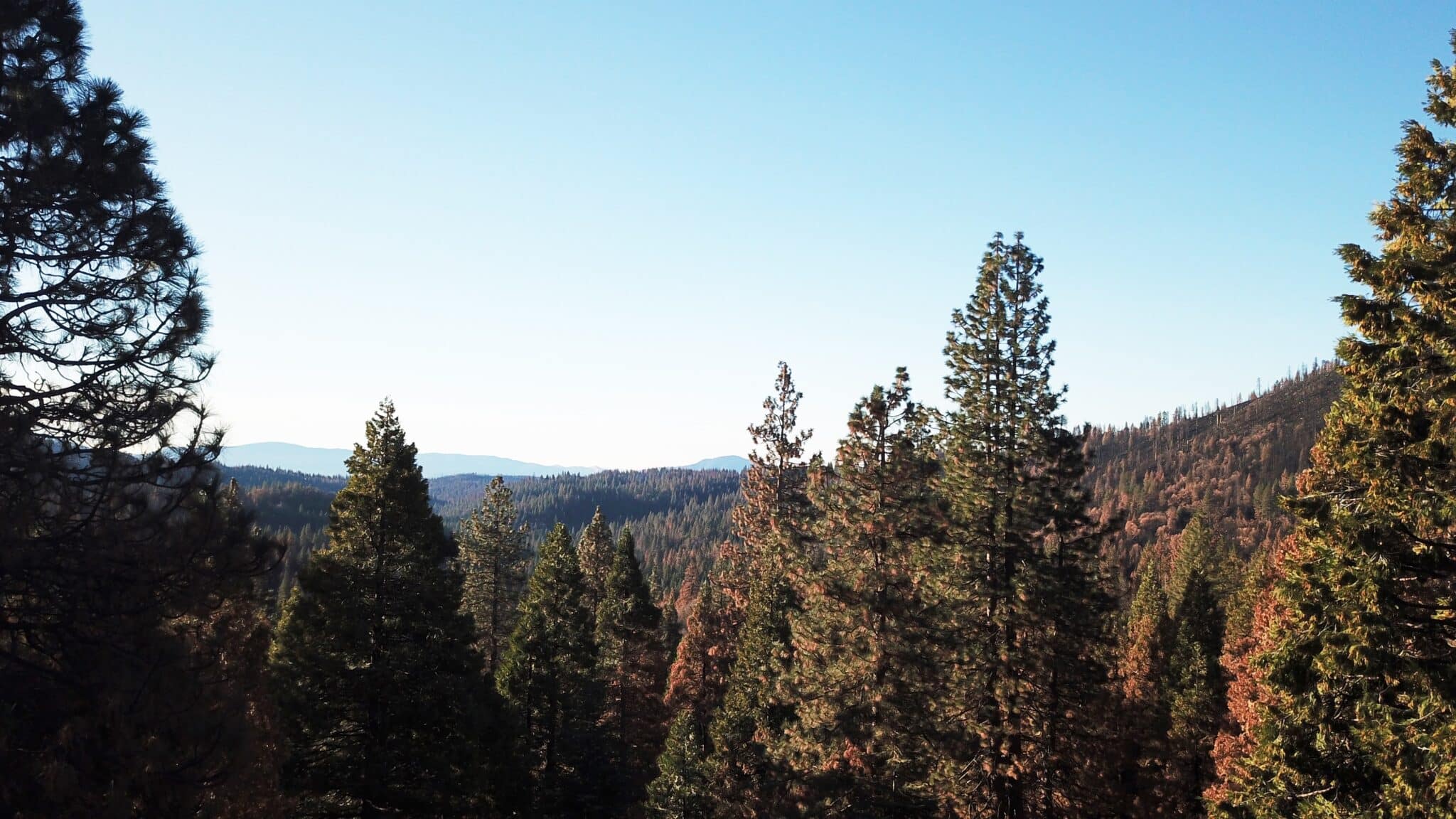 Frequently Asked Questions About Yosemite National Park In The Fall
Do I Need Tire Chains When Visiting In The Fall?
Probably not. But, as I've mentioned, weather in Yosemite can be all over the place and it could snow in November and December. Check the weather and chain advisories before you leave.
What Should I Wear For A Day In Yosemite in November / Fall Season?
Again, weather is all over the place so pack layers (kind of like if you are visiting San Francisco!) One time we visited in November and the day started out with snowfall and ended with 60 degrees and sunshine, so I was happy I wore layers! I recommend sturdy boots, a puff jacket, a hat, light sweater, leggings and of course, all the hiking things you need (like waterbottle, backpack, etc.)

Is there cell service in Yosemite?
Yes – there's actually wifi now, too. We find that we get service or wifi anywhere in the Valley, but no wifi and limited service once you explore beyond the valley.
Are Dogs Allowed in Yosemite National Park?
Leashed dogs are allowed on paved trails only, so you can take them to Mirror Lake and the two falls, along with other paved areas.
I hope this helps you plan an awesome trip to Yosemite National Park in the fall or winter season! There so MANY fun things to do in the park and so many trails. Did you know that 90% of visitors never see anything beyond the valley? That's because the park is HUGE! I've explored a bit of Tuolumne Meadows passing through on my way to June Lake Loop, but these high sierra areas of the park deserve a whole travel guide of their own.
Basically, if you have additional Yosemite travel tips to add, please leave a comment below so everyone can see it. If you have any questions at all, please leave a comment below or DM me on Instagram @thewhimsysoul and I'll be happy to help!