This dessert drink is inspired by Albus Dumbledore's beard. Yes – you read that right. His beard. Stick with me here.
This mocha white Russian cocktail is my new favorite dessert drink, especially sipping it around a Christmas tree while watching Harry Potter movies and all the cheesy Christmas Prince or Princess series. It's a fun twist on the classic white Russian – keep reading for the recipe!
Dumbledore's Beard: A Mocha White Russian Cocktail Recipe
Wait – you really named this Harry Potter Cocktail on Albus Dumbeldore's BEARD?!
Yes! Ok here's the inspiration: After watching Fantastic Beasts and Where To Find Them, we learn that Albus Dumbledore was a hottie, sure, but also – he didn't always have a long beautiful beard. I like to imagine he grew it for two reasons.
First, long white beards seem to be the go-to move for men in power. It envokes wisdom to the wearer, so I feel like once Dumbeldore started gaining even more fame and power, he grew the beard to match.
But also, his beard sorta looks like Santa Claus' beard and I feel like he also grew it to appeal to all the young witches and wizards at Hogwarts. It does make him much more approachable and grandfatherly. So, when it came time to concept another Harry Potter cocktail for our series, I was intrigued by honoring Dumbledore'd Beard with a twist on the traditional White Russian cocktail.
To be clear – I think Albus Dumbledore the wizard is a gin man. I could see him getting down with a sugary lemon drop cocktail with fresh lemon juice and botanical gin. Maybe next year when we start our seasonal Harry Potter series again we'll make an Albus Lemon Drop cocktail. But this one is all about the beard baby.
Making this cocktail is easy. Take a short glass and mix in the vodka, Kahlua and Starbucks' Mocha Carmel Creamer. Stir and add in an ice cube. Then top off with a flamboyant spray of whipped cream (this represents Dumbledore's Beard!) and then sprinkle with some cinnamon. Enjoy this post-dinner for an alcoholic dessert cocktail around the Christmas tree.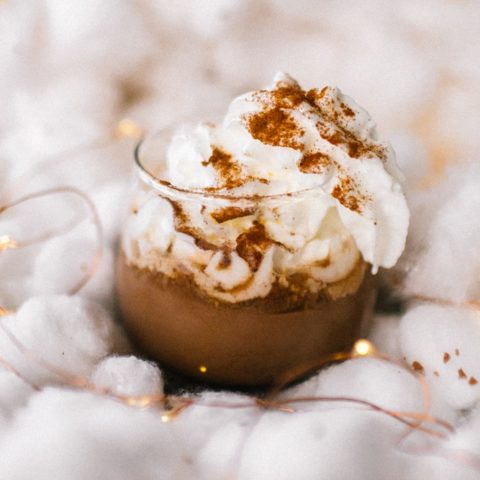 Dumbledore's Beard: Mocha White Russian Cocktail Recipe
This Dumbledore cocktail is inspired by Dumbledore's Beard. It's a mocha White Russian dessert cocktail perfect for the holidays that the Hogwarts Headmaster would love.
Ingredients
1 shot Vodka
1 shot Kahlua
1 shot Starbucks Mocha Carmel Creamer
Whipped Cream
Cinnamon
Ice Cube
Instructions
Mix the vodka, Kahlua and creamer into your glass and stir.
Add your ice cube.
Top with a good dose of whipped cream (aka Dumbledore's Beard!)
Sprinkle with cinnamon for garnish.
Enjoy!
Nutrition Information:
Yield:

1
Serving Size:

1
Amount Per Serving:
Calories:

344
Total Fat:

5g
Saturated Fat:

3g
Trans Fat:

0g
Unsaturated Fat:

1g
Cholesterol:

10mg
Sodium:

63mg
Carbohydrates:

31g
Fiber:

1g
Sugar:

23g
Protein:

2g
While you're here, check out my other Harry Potter-inspired cocktails!