My husband and I rented a campervan and took it on a long road trip from San Francisco up to the Painted Hills, then down Hwy 1 back into California. Since we spent so much on our campervan rental, we were set on finding as many cheap campgrounds or, even better, totally free camping sites as possible. Luckily, there are a couple of great free Painted Hills camping sites in the area that I knew I had to share with you all!
In this post, I'll share directions to the beautiful free Painted Hills camping site we stayed at, along with some other nearby ones with good reviews (and some tips for visiting the state park in general!) Keep on reading, traveler!
>>> got questions about the Painted Hills or boondocking? Shoot me a DM on Instagram @thewhimsysoul or leave a comment below!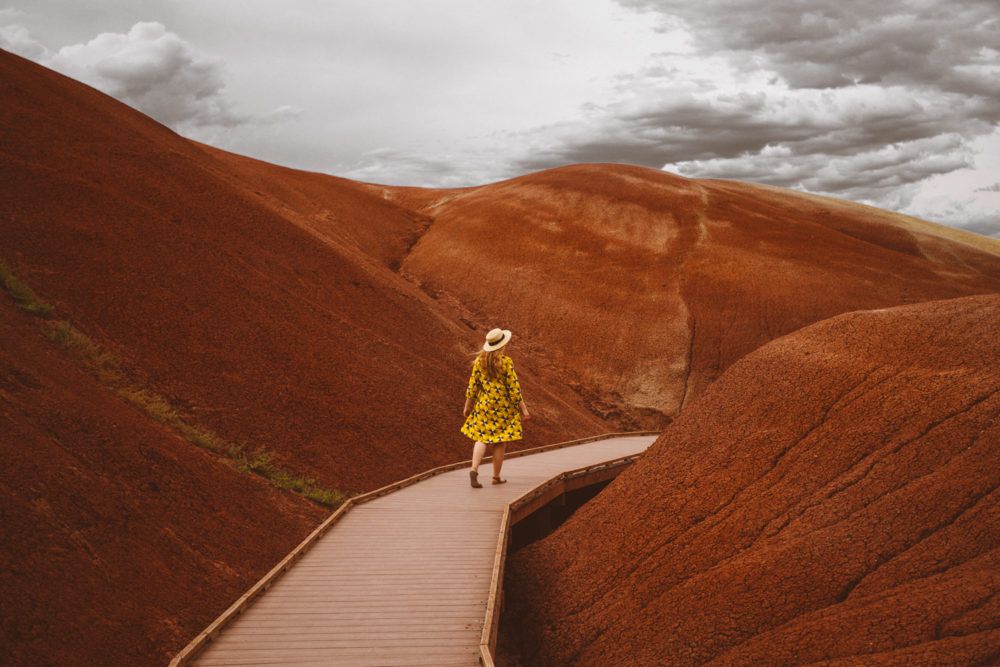 How To Get To The Painted Hills
I saw the Painted Hills on Instagram last year and knew we had to visit them on our Oregon road trip, even though they are a bit out of the way. They're about 1.5 hours drive into Eastern Oregon from Bend, but the recreation site is such a haul to get to, many Bend locals don't even know they are there! They are truly a hidden gem.
To get to the Painted Hills from Bend (which is the closest big city) you have to first drive through the Ochoco Divide / National Forest. We both quickly lost service upon entering it and didn't get cell service at the Painted Hills either – just an FYI that you'll want to copy down all of the directions to these free campsites BEFORE entering the dead zone so you can navigate still!
How to get to the Painted Hills at the John Day Fossil Beds National Monument
Take HWY 97 North from Bend
Connect to HWY 26 and drive through the National Forest
When you near Mitchell, look for the brown signs that say "Burnt Ranch Road" and "Painted Hills"
Take a left on Burnt Ranch Road. Keep driving! You'll see the Painted Hills park area a few miles at the end of this road.
Note: the campsite we stayed at overnight is on Burnt Ranch Road. Keep scrolling for directions to this site below!
We visited on a random Tuesday evening in the summer and there were maybe 7 other cars in the entire park. Very peaceful! I'm not sure if it ever gets busy here, I get the feeling it's not the most visited of parks but I think that's because most people don't know about it! It's not very big and most trails are meant for strolls around the hills, not intense hikes. I think the largest hike is about 2.8 miles roundtrip. Basically, don't plan on doing a big day hike here. It's not that kind of park!
The best time of day to visit the Painted Hills is in the evening and Golden Hour, when the hills light up in deep hues thanks to the warm light. The other best time to visit is right after a rainstorm, as the water helps bring out the colorful soil!
We stopped by around 4pm and spent a couple of hours in the park before heading out the find campsites nearby the Painted Hills.
Best Painted Hills Camping
Why pay for a Painted Hills Oregon camping site when you can spend the night for free on USFS land? There's tons of it around this area, and the site we picked is just a few miles outside the park! You can boondock (aka park and camp) for free on any BLM or USFS land. (Don't get that confused with National Parks, where you can't do this for free.)
As I chatted about in my post about What Nobody Tells You About Van Camping, it can be a challenge to find great free sites to spend the night. BUT, not here! We had no problem at all finding a great site. We used iOverlander and Campendium to located the site we picked.
Burnt Ranch Road Campground
We picked the " Burnt Ranch Campground Oregon " site as it had a lot of great reviews from past campers on the apps we used. It's also in a very convenient location as it's between the Painted Hills park and Hwy 26, so there's no need to drive further North and then backtrack the next day.
Note: there is another "Burnt Ranch Campground" site North of the Painted Hills. This is NOT that site! Same name, different places.
We loved this site because it was very large with trees that blocked the van from the view of the road. There's a small river nearby and literally made a babbling broke noise. We didn't make a campfire as our van has a kitchen, but there are a few established rings around if you are looking to build a fire. All in all, it was very peaceful!
Here's how to find the Burnt Ranch Road campsite:
From HWY 26, take a left onto Burnt Ranch Road.
About 1.5 miles in, look for a small gate on the left side of the road. This is the entrance to the campground! (You'll be able to see a very tiny sign on the fence that says it's USFS land, just to double check you got the right place!)
Turn onto this road. It's a bit bumpy but our Ford Transit made it just fine.
You're here! There is space big enough for RVs and nice spots for tents as well
Note: if you are coming to the campsite from the Painted Hills area, take a RIGHT out of the site and look for the fence on your RIGHT side. Basically, reverse the directions!
Just a reminder, you will not have ANY cell service over here so make sure to load your Google Maps and take screenshots of these directions when you have service so you can find the campground!
If you wanted to stay at the OTHER Burnt Ranch Road site, keep in mind people say the road to this one is janky and it also takes about 45-60 minutes to drive there. That's why I recommend this one, which is just 10 minutes away from the Painted Hills!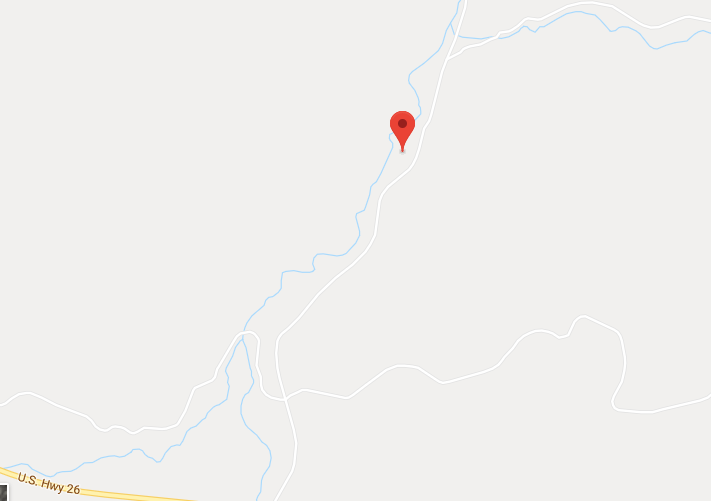 Priest Hole Recreation Site
Another popular nearby campsite is the " Priest Hole Recreation Site Oregon ", or the Priest Hole campsite. We didn't drive by this but did meet another campervan who was planning on spending the night here. It's right on the river, so if it's hot out you can go swimming!
How to Get to the Preist Hole Recreation Site:
You'll want to lock the GPS coordinates to your maps first, it's a bit tricky to find!
From the Painted Hills, take a left on Burnt Ranch Road
Take a right onto Twickenham-Bridge Creek Cutoff Rd
Look for the turnout. This is where you'll need your Google Maps to help guide you as there isn't an official logged road to call out. You'll have to look for it! I *think* there may be a sign, but not sure as we didn't visit this.
Priest Hole is a popular site, but past reviewers do have warnings. First, the road from Twickenham-Bridge Creek Cutoff Rd into the site is extremely rugged and may damage your car. Others say they wouldn't drive an RV down it.
The other warning is about the John Day River bed. This site is right along the river, which makes it beautiful, but this area is prone to flash floods. Before careful not to park too close to the river or you could be washed away with unexpected Painted Hills weather!
These are the two main free campsites near the Painted Hills area that have good reviews and seem safe. Other nearby paid sites are the Ochoco Divide Campground in the National Forest, which could be a good option if you are heading back to Bend (though I still recommend the free site we stayed at.) There's also the Mule Shoe Campground if you are heading East. This one is free as well, but is a bit of a drive from the Painted Hills.
>> When you are wild camping, there are no camping restrooms or showers. Remember to pack in what you brought and leave the site cleaner than when you found it! That means even picking up your toilet paper, don't be a dick and leave it on the ground.
I hope this helps you find great camping near Painted Hills Oregon! I love this park and hope to return again one day. Got any questions? Leave a comment below! You can also always contact me on Instagram @thewhimsysoul if you need a quick reply.
Other Posts You May Like
Oregon Road Trip Itinerary: From Mount Hood to the Coast
11 Road Trip Hacks You'll Want To Know To Save Money