Are you a Rory or a Lorelai? Or maybe you match with Sookie the best! Some might say Gilmore Girls is the ultimate fall show to binge on Netflix. It aired in 2000, aka y2K, which is making a huge fashion comeback, so it's great inspo for new fall outfits!
We reimagined some iconic Rory Gilmore outfits for the present day so you can have that Gilmore Girls aesthetic all season long.
Gilmore Girl Outfits: Reimagining Rory Gilmore's Style for Fall
Grab your PSL (or black and in an IV like Lorelai), and let's take a look at Rory's iconic style.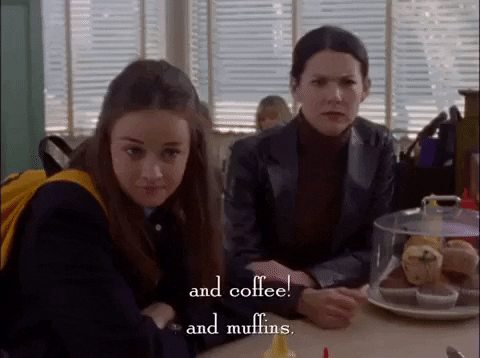 What is the Aesthetic of Rory Gilmore?
The thing about Y2K is it's on the brink of the 90s and 2000s. When we're introduced to Rory in the Gilmore Girls pilot, she's wearing the iconic white wool fisherman sweater with jeans. Very, very 90s.
In these early episodes especially, she follows 90s fashion almost to a tee with low-rise jeans, t-shirts over long sleeves, and eclectic color combos. She's honestly got some fantastic outfits that just need a minor tweak to fit into 2022.
Rory Gilmore Outfits ReImagined
After digging through her most iconic outfits, like the Rory Gilmore white sweater fit, and binge-watching all the seasons, we took to the internet to turn the Rory Gilmore style into modern outfits you can shop and wear right in time for fall! Let's start with a favorite – Rory's school fit.
The Chilton Private School Uniform
We're introduced to the Chilton Uniform early on when Lorelai is hemming Rory's skirt. While many wear unwillingly wear school uniforms, Rory's vintage private school outfit is a look and we turned it into something you can wear on a sunny day!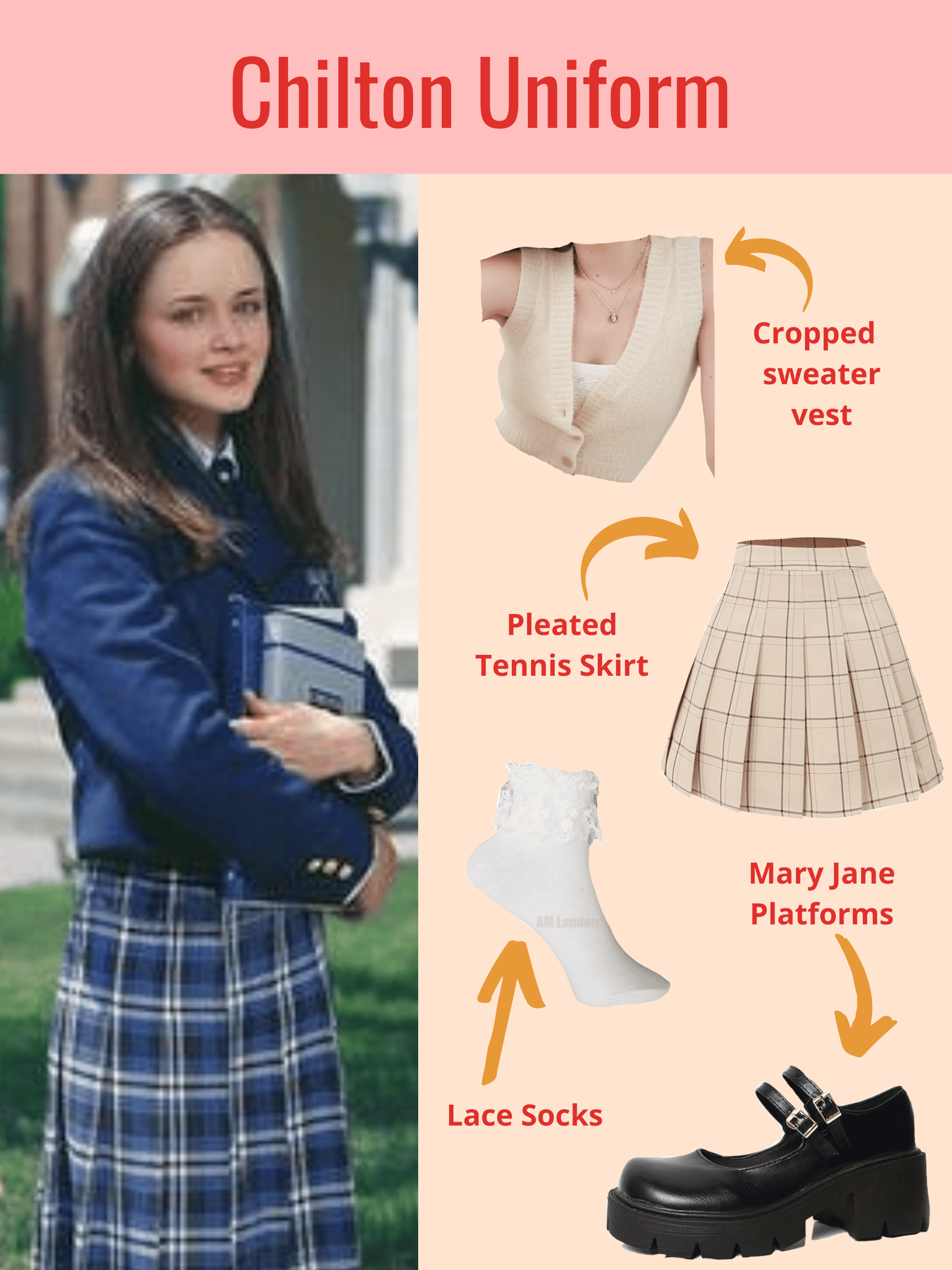 Plaid Pleated Skirt
The 21st century is obsessed with pleated tennis skirts, so it was a no-brainer that we needed to keep that energy going. We swapped Rory's old-school skirt for a short beige one (as beige is all the rage).
Blazer and Collared Top
Following the color theme, we swapped her stifling top and jacket for a cropped, knitted sweater vest that shows a little more skin. You can easily layer this piece with a long sleeve shirt or turtleneck underneath as the weather gets colder.
Saddle Shoes
On her first day at Chilton, all the focus is on Lorelai's cowboy boots, and you might miss Rory's black and white saddle shoes. We swapped those for a chunky Mary Jane shoe in black and little lace socks that make the whole thing pop!
To be fair, this Gilmore Girls outfit isn't very fit for school, but it's a cute style for autumn, and so versatile – you can layer as it gets colder or mix and match with whatever else you've got going on in your closet.
I's a perfect outfit for heading to a coffee shop or bookstore for some Insta pics! Caption it with one of Kara's 70+ fall Instagram captions.
Shop The Private School Outfit Now

The Iconic Sweater Fit
The Rory Gilmore sweater outfit is one of the first outfits we see her in on one of her last days at Stars Hollow High School, and one of the first things you'll see when you search for outfits on the show. It's a great ensemble that can easily make its way into 2022 with some minor adjustments.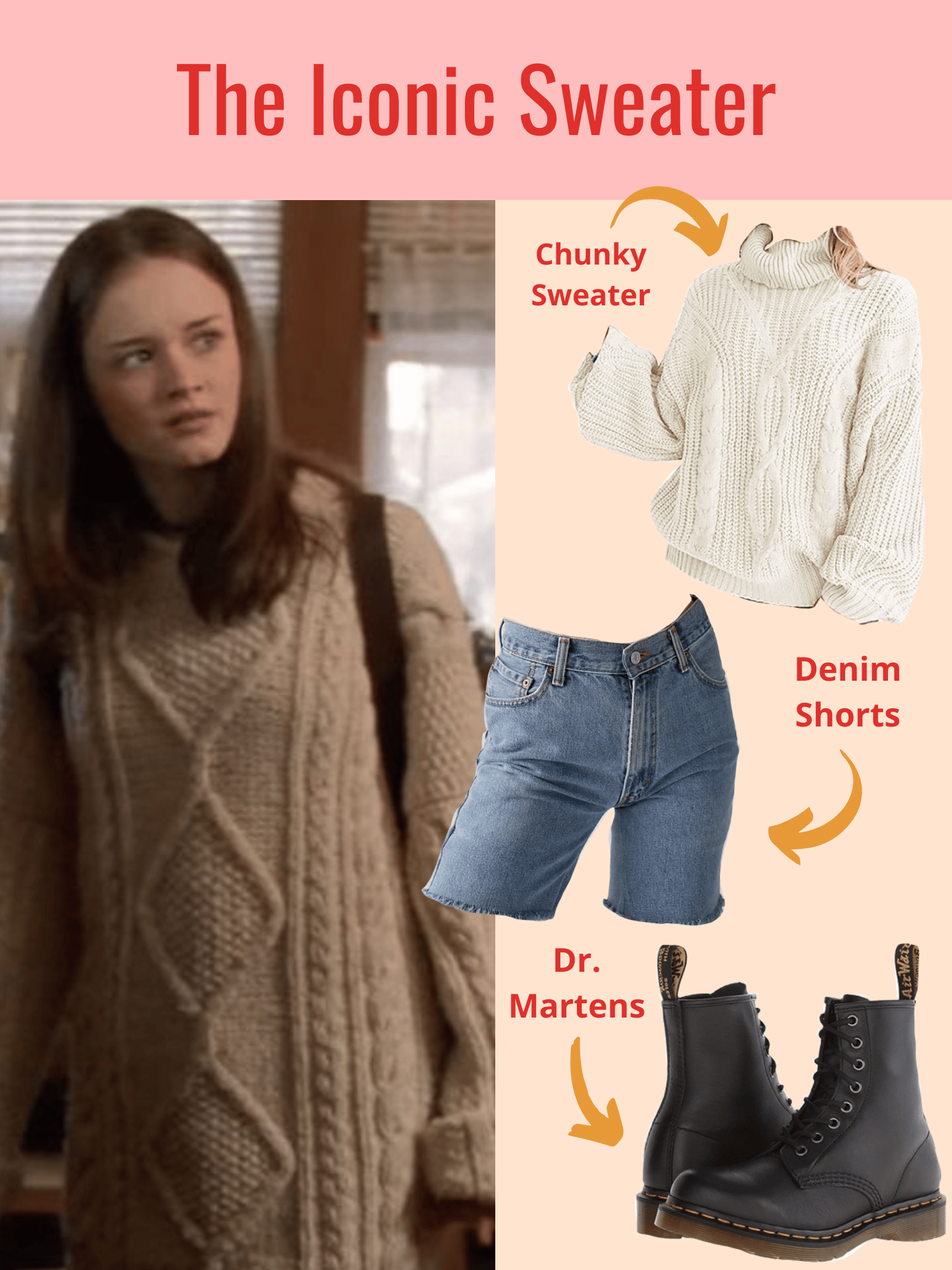 If you're asking yourself, "how do I dress like Rory Gilmore?" you'll want to start with this Gilmore Girls style.
Chunky Sweater
Rory's giant white cable knit sweater is the star of the outfit. We wanted to keep it, but maybe not all of it. We swapped the Rory sweater for a smaller, cable knit sweater that holds around the waist, but still gives you that nice, baggy feeling of an oversized sweater. The sweater Gilmore wore was cute, but looked insanely heavy – so we lightened the load.
Jeans
Rory paired the giant sweater with long black jeans, but we're going for denim shorts to give the whole outfit a little more oomph. It's the perfect choice for the season of apple picking! Psst – check out Kara's article on 12 cute outfits for apple picking this fall!
Shoes
While we don't get a clear look at Rory's shoes, we imagine a dark boot would pair well, and of course, Dr. Martens are making an appearance – the perfect leaf-stomping shoes. Everyone and their mother loves Dr. Martens and they're perfect all year round for every season. Yes, the price is up there, but these puppies sure do last.
This knit sweater outfit is a lovely little three-piece to add to your closet and wear at home or out on fall adventures!
Shop The Iconic Sweater Fit Now


The Life & Death Brigade Poppins Dress
It's unclear if Logan Huntzberger was going for a Mary Poppins look when he chose Rory's look for her introduction to The Life & Death Brigade festivities in Season 5, but the photo we grabbed screams spoonful of sugar!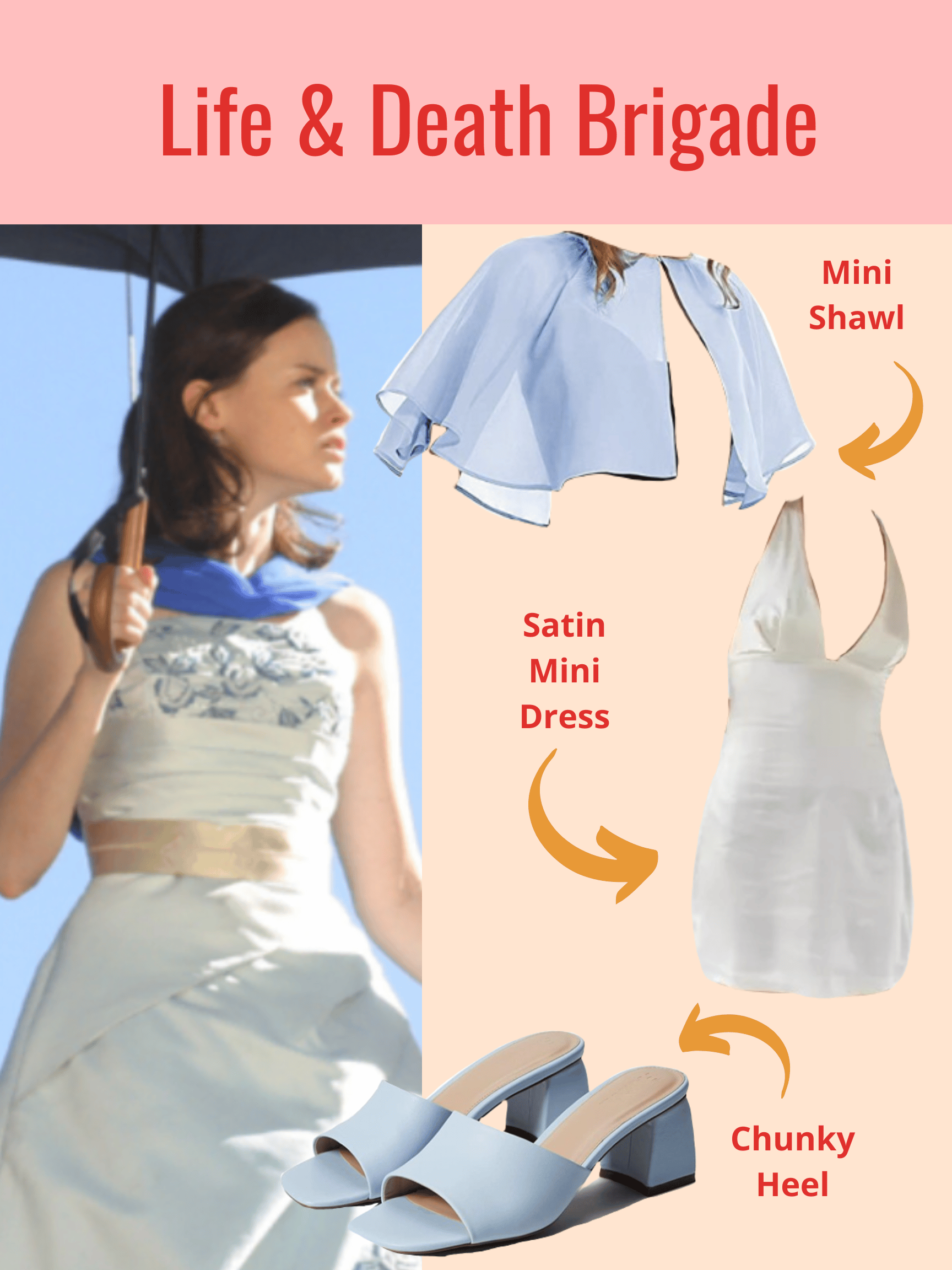 This fit was one of our faves, so let's get into how we modernized it.
Blue Shawl
Starting with the blue scarf, we decided to switch it up with a sheer, light blue shawl. Our upgrade gives the outfit a youthful glow from the original ensemble while also brightening the whole look! For something warmer, match it with a light cardigan instead.
Formal Dress
Rory wore a stunning dress on the show, but we wanted to add a little spice. We traded her long, formal gown for a satin mini dress. This piece gives the whole look a facelift while keeping the elegance and adding a hint of sexiness!
Heels
We finished with a light blue chunky heel to match the shawl and tie in the whole outfit. These shoes are to die for, and would also make a great gift!
If you want to spice this look up even more, swap the shawl for an underbust corset. Etsy has some incredible corsets with adorable flower embellishments that add a little sweetness! This outfit is great for a Friday night dinner date or party. In omnia paratus!
Shop The Life & Death Brigade Outfit


The Casual Everyday Look
You can't wear a fancy dress every day in Rory's hometown, Stars Hollow, so we picked out one of her day-to-day outfits to even it out. This piece has some great colors and not-so-great body framing, so we took it and rearranged it.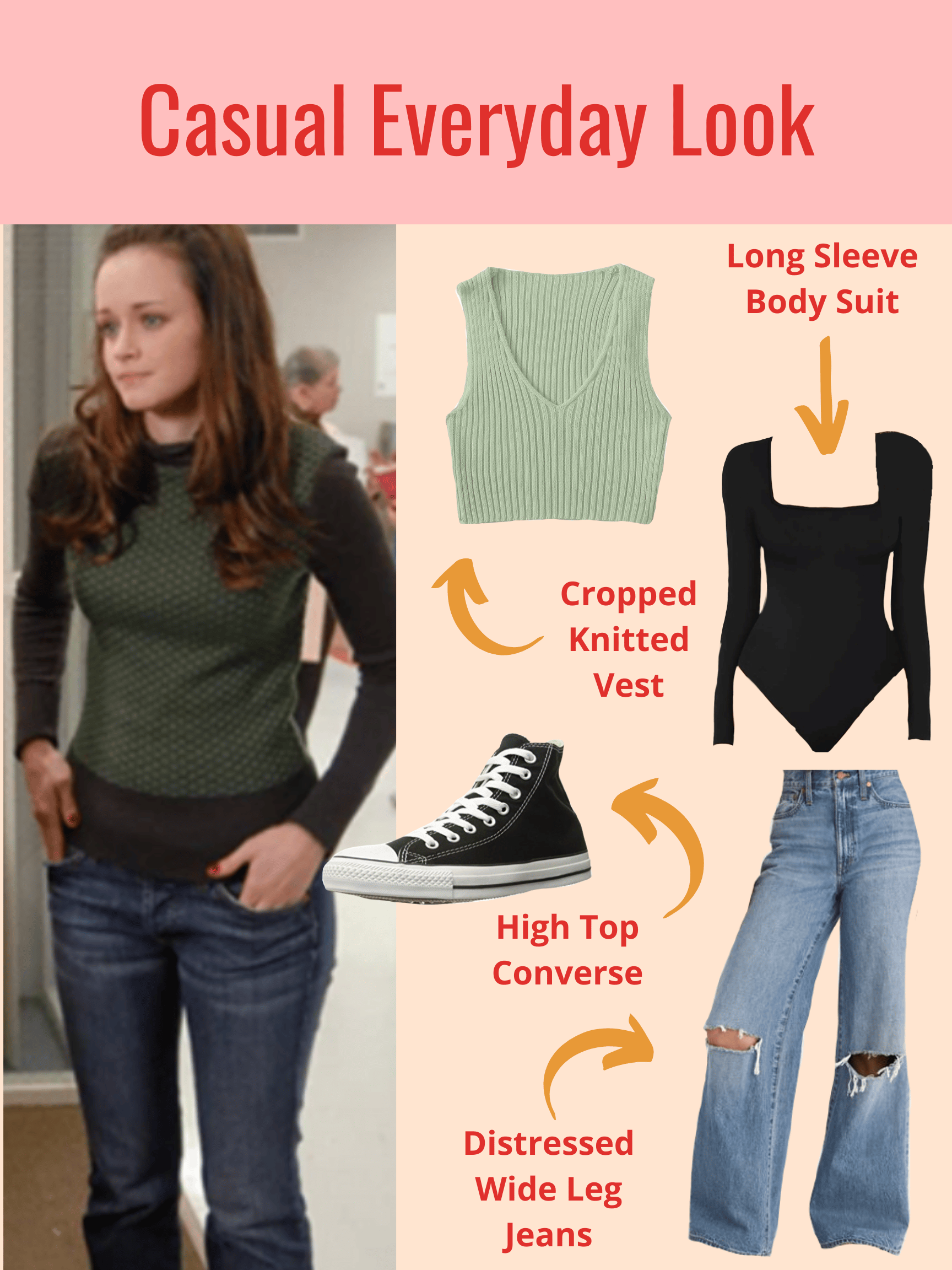 Let's dive in!
Top
It's not 2022 if we don't include at least one body suit. We picked out the perfect long sleeve, black body suit to start off this outfit! It has a great square framing around the neck, and sits snugly under the vest.
Sweater Vest
We kept it simple by replacing her full, short sleeve sweater with a cropped knitted vest. This vest's v-neck is a perfect twist to Rory's original. And if you get too warm? Just pop off the vest and you still have a stellar outfit!
Pants
No more low-waist jeans. Please. Let's leave them in the past. We subbed her low rise for wide-leg jeans that sits on the waist, giving you a great shape with a little distress at the knees for that "cool girl" aesthetic.
High Tops
Ending on a 90s classic, we stuck with the high top black converse to complete this look. This shoe is timeless, casual, and works for almost anything.
Shop Rory's Casual Everyday Look


Looking for something else comfy and casual for fall? Check out Kara's 14 fall fashion staples!
Gilmore Girls Outfits: Bonus!
Let's not forget the other women contributing to the Gilmore Girls fashion. Lorelai Gilmore is a style icon. We redesigned a few of her ensembles for the modern day that you'll love!
Lorelai's Party Dress
This look was featured in the episode with Rory's teary high school graduation, and Lorelai was stunning (per usual).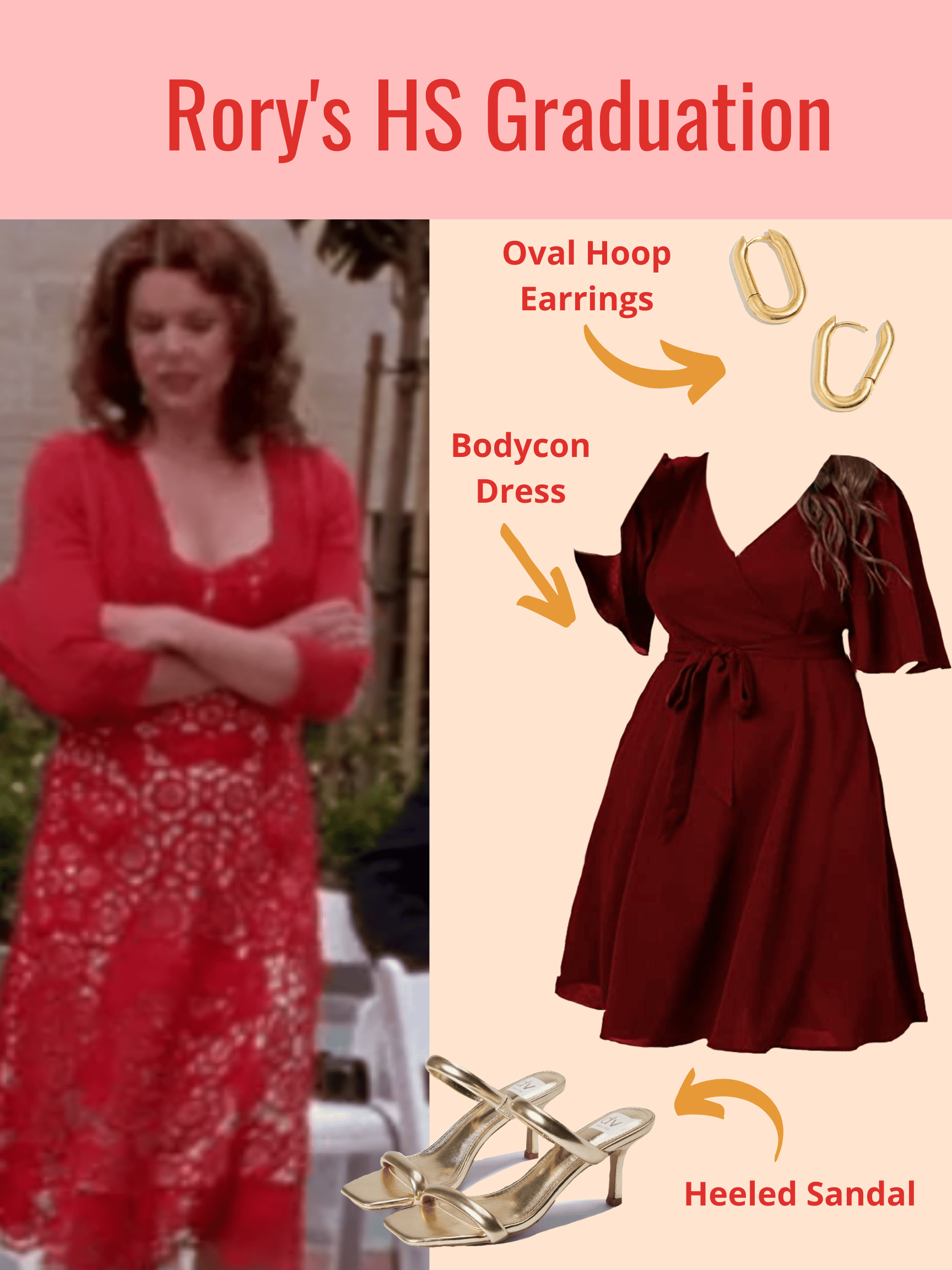 Earrings
We added some simple gold hoops because this outfit is fairly simple, and needed some good accessories.
Red Dress
Great for every size and figure, we subbed Lorelai's dress for a sexy, bodycon wrap dress in deep rouge.
Sandals
We wrapped up the outfit and included a pair of bold gold sandals with a little heel.
Shop Lorelai's Graduation Outfit


Lorelai's Perfect Fall Outfit
This ensemble was pretty much perfect already. We just made it easier to get the pieces yourself!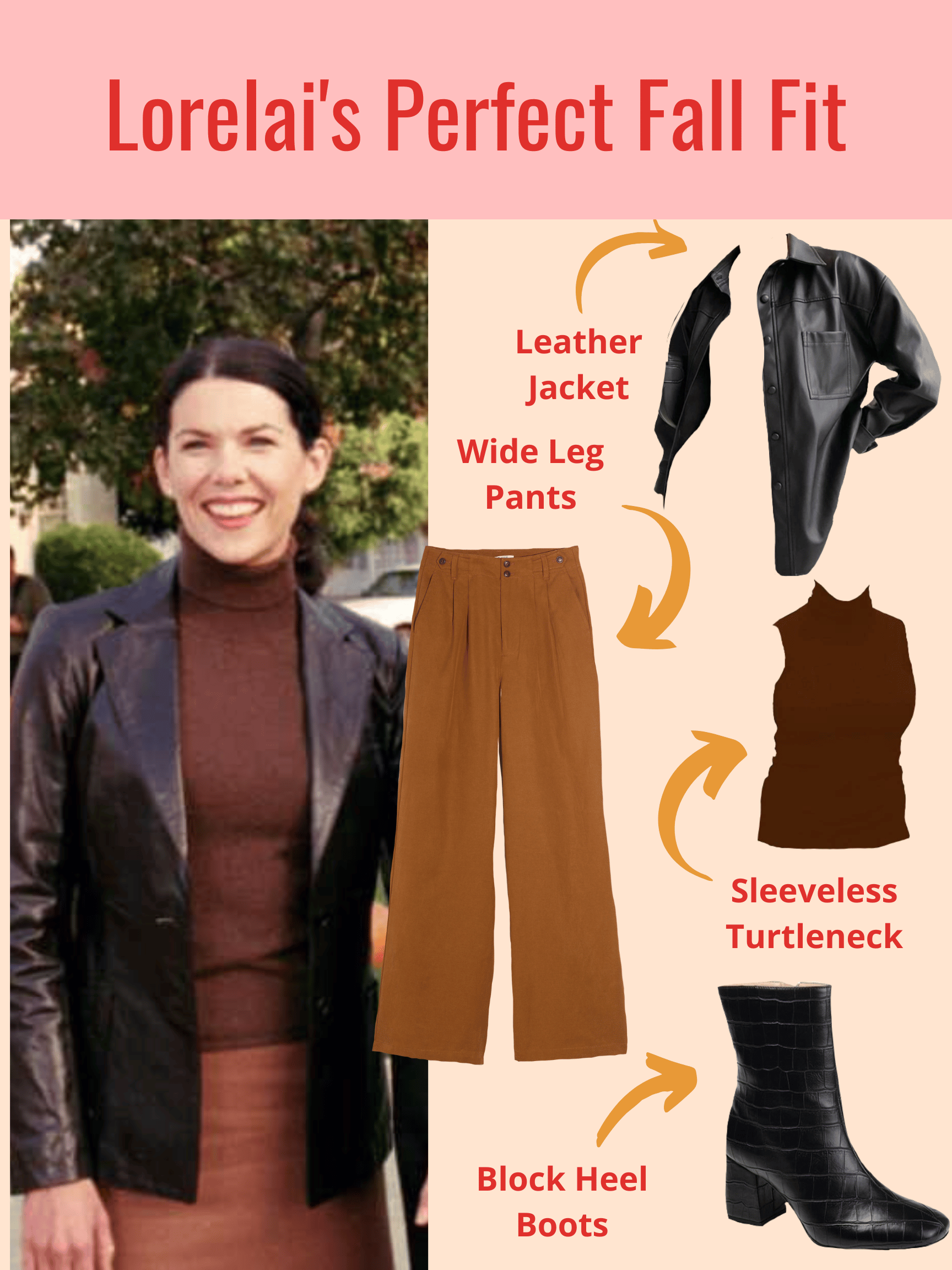 Jacket
An oversized leather jacket to match Lorelai's because hers was already *chefs kiss.*
Turtleneck
We found a sleeveless turtleneck that goes perfectly with the pants and leaves your pits room to breathe.
Pencil Skirt
The only change we made. We swapped the skirt she wore for some sleek, wide-leg pants!
Heeled Boot
Nothing says fall more than a black, heeled boot which is exactly what we added! A nice crocodile print bootie with a chunky heel to pull the outfit all together.
Lorelai's fall fit is a must if you want to dress in real Gilmore Girls style. Follow it up with your hair slicked back into a low pony, and you'll have Luke Danes knocking on your door.
Shop Lorelai's Perfect Fall Fit

Add to Cart!
We've given you the lowdown on Gilmore Girls' outfits you'll love; now it's time to add to cart and look like a modern day Gilmore Girl!
Let me know what other characters I should recreate fashion looks for in the comments below!
And, honestly, when in doubt you can usually always find a lot of Gilmore Girls clothing and New England college girl style at companies like Sezane, Shop Cider, Old Navy and Anthropologie.