"I spoke about the hole at the center of this donut… A donut hole in a donut's hole. But we must look a little closer. And when we do, we see the donut hole has a hole in its center—it is not a donut hole but a smaller donut with its own hole, and our donut is not whole at all!"
When Detective Benoit Blanc delivered this mind-bending, pastry-based metaphor, I knew Knives Out wasn't your typical whodunit.
If you've seen Knives Out, you know exactly what I mean, and you're probably as excited as I am for the sequel! Glass Onion: A Knives Out Mystery was released in select theaters this November and will premiere nationwide on Netflix come December 23.
Keep reading to learn more about the Knives Out mystery series, what Glass Onion has in store, and how to make a Knives Out 2 cocktail recipe (yes, it has onions).
The Knives Out Mystery Series and Rian Johnson
In 2017, writer director Rian Johnson had it rough. Star Wars fans either loved or hated his new film, The Last Jedi. But as is always the case with geek fandoms, the haters screamed the loudest, lambasting Johnson on social media for his take on the Star War franchise.
Fortunately, Rian Johnson bounced back in 2019 with Knives Out. This offbeat, darkly humorous detective story was universally loved by audiences and grossed over $312 million worldwide at the box office.
Knives Out also received critical acclaim for its screenplay, direction, and outstanding performances from an all-star ensemble cast, including Daniel Craig, Chris Evans, Ana de Armas, Jamie Lee Curtis, Michael Shannon, Don Johnson, Toni Collette, LaKeith Stanfield, Katherine Langford, Jaeden Martell, and Christopher Plummer.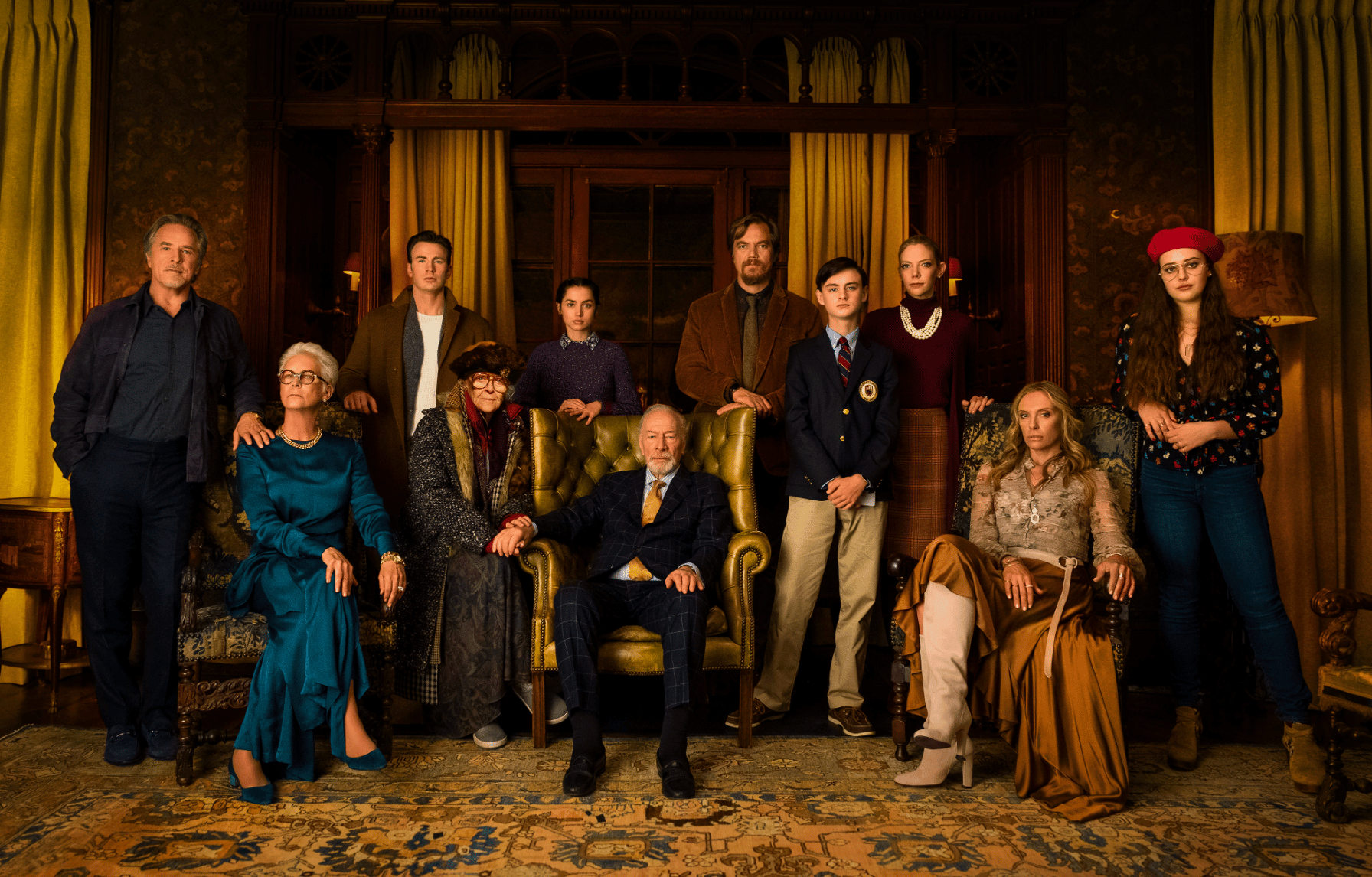 The story follows master detective Benoit Blanc (Daniel Craig) as he investigates the mysterious death of the patriarch of a wealthy, dysfunctional family. Knives Out is suspenseful, full of twists and turns, and best of all, it's really frickin funny.
It may not look like it at first, but original Knives Out is also the perfect Thanksgiving film. It's got autumnal vibes, cozy sweaters (lookin' good, Chris Evans), and argumentative, eccentric family members—what could be more Thanksgiving? I highly recommend watching it with the fam next Turkey Day.
Benoit Blanc: The Gentleman Sleuth
There's a lot to love about Knives Out, but Daniel Craig steals the show as Detective Benoit Blanc. His amiable and sometimes impenetrable "Kentucky-fried Foghorn Leghorn drawl" belies a sharp mind and quick wit. Like many fictional detectives before him, Blanc is not to be underestimated.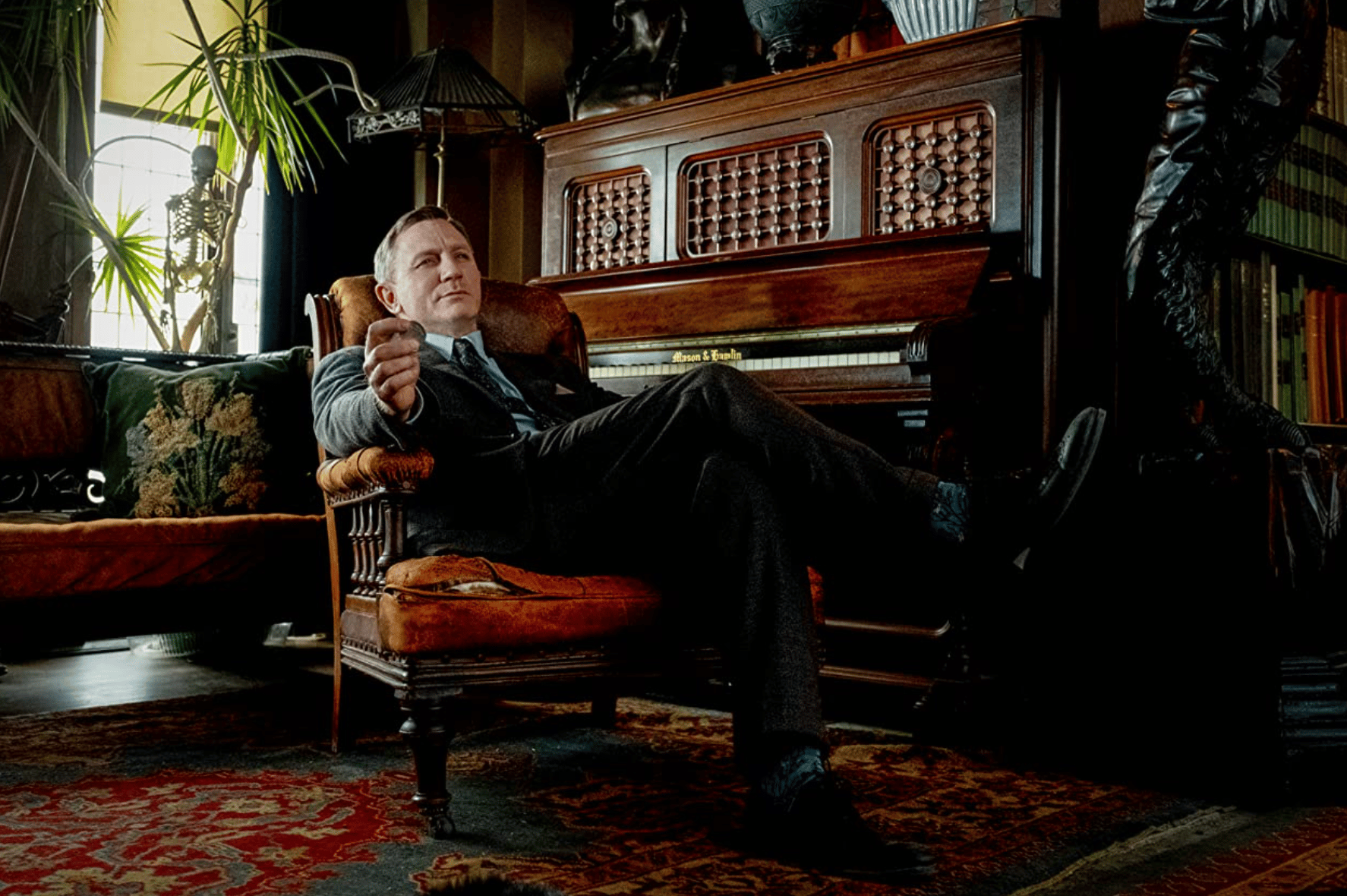 Also much like Agatha Christie's Detective Hercule Poirot, Benoit Blanc has proven quirky and charismatic enough to launch an entire series of globetrotting murder mysteries with him as the central character.
What Is Glass Onion About?
Glass Onion is the first of two standalone Knives Out sequels optioned by Netflix, all written and directed by Rian Johnson and starring Daniel Craig.
This time, Detective Benoit Blanc heads to Greece to solve a puzzle surrounding tech billionaire Miles Bron and his eclectic crew of friends when a murder mystery game goes horribly wrong. Glass Onion also features a star-studded cast, including Edward Norton, Janelle Monáe, Kate Hudson, Dave Bautista, Kathryn Hahn, Leslie Odom Jr., Jessica Henwick, and Madelyn Cline.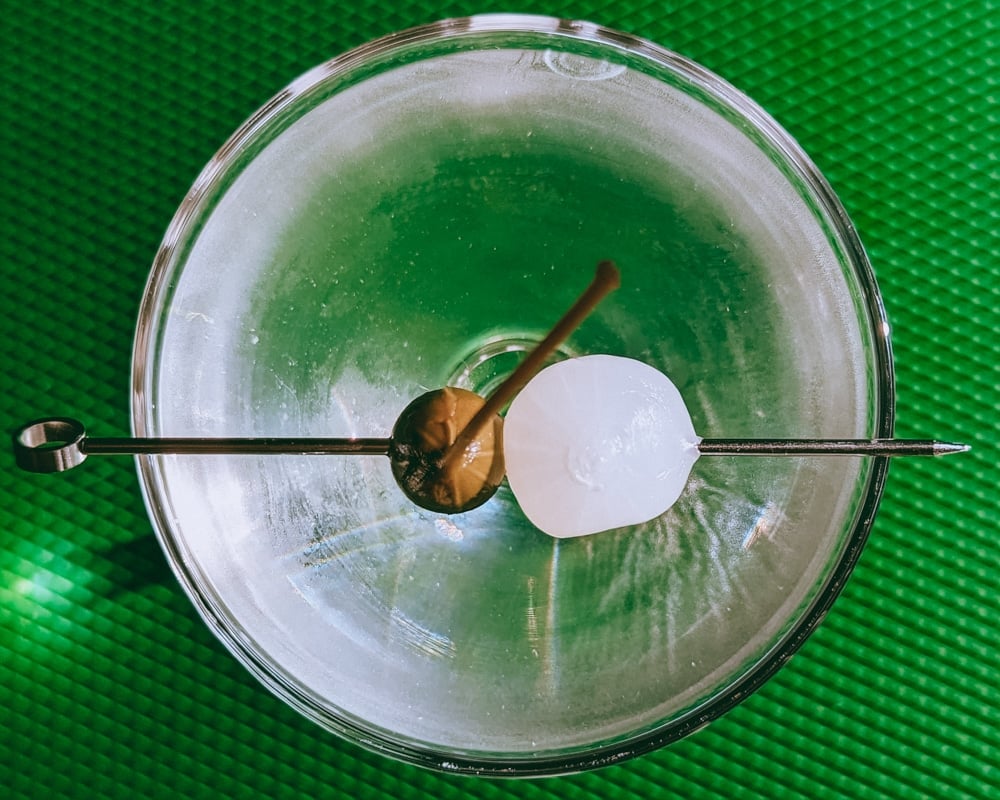 I'm dying to see this movie, but it didn't come to any theaters near me 🙁 So I'll be watching Glass Onion along with everyone else when it hits Netflix on December 23. (Merry Christmas to me!)
But what is a glass onion? And what does a glass onion have to do with a murder mystery? I predict it may be one of Blanc's wacky extended metaphors, much like his donut hole monologue, but I guess I'll have to watch to find out.
In the meantime, I'll be making an onion cocktail, and you can too!
How to Make a Knives Out 2 Cocktail
The inspiration for this Knives Out cocktail is pretty straightforward: glass… onion… onion in a glass! And when it comes to an onion cocktail, you can't go wrong with the Gibson.
The Gibson is the underrated cousin of the martini (it's often referred to as the Gibson martini). Both combine gin (or vodka) and dry vermouth, and that's about it. So what's the difference between a Gibson and a martini? Well, it's all in the garnish. The Gibson is garnished with pickled onions, not olives.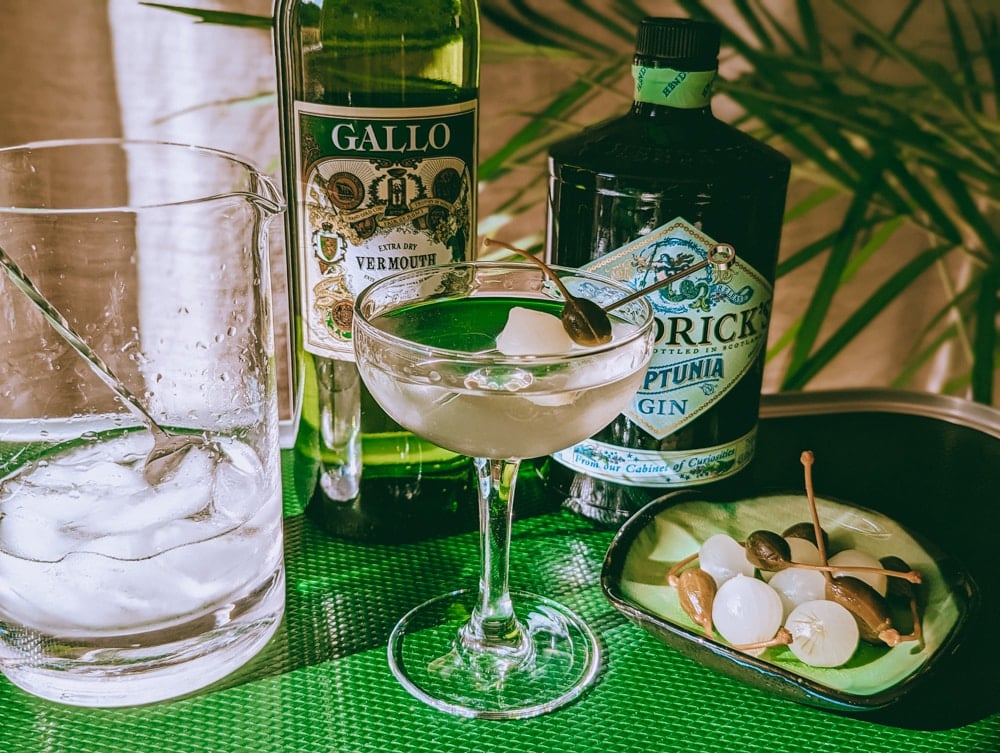 Because the Gibson is so similar to the vodka martini, I thought it'd also be a nice nod to Daniel Craig's best-known role as James Bond. But this cocktail is stirred, not shaken. Sorry, Bond.
The exact history of the Gibson cocktail is unknown. Some say the inventor was Charles Dana Gibson, creator of the popular Gibson Girl illustrations, while others believe it was Walter D.K. Gibson, a San Francisco businessman who claimed to have created the drink at the Bohemian Club in the late 1800s.
To put my own spin on the classic Gibson cocktail, I'm making it dirty. I've added pickled onion brine and caper berry brine to the mix—because Knives Out is a crime caper, after all.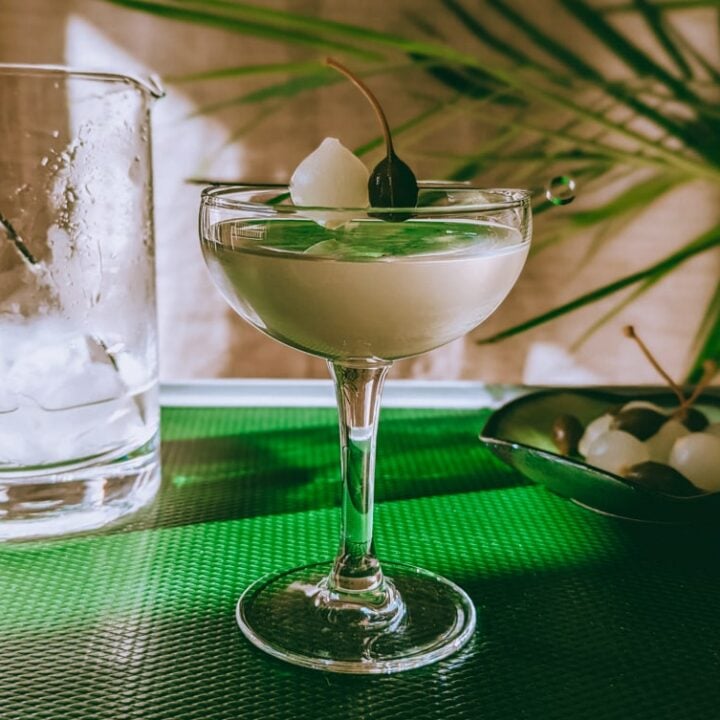 The Glass Onion: A Knives Out Cocktail
Briny, tangy, and umami, this Knives Out gin cocktail is to die for.
Ingredients
2 oz gin (or vodka)
1 oz blanc dry vermouth
1/4 oz cocktail onion brine
1/4 oz caper berry brine
cocktail onions to garnish
caper berries to garnish
Instructions
Combine gin, vermouth, cocktail onion brine, and caper berry brine in a mixing glass or cocktail shaker.
Add ice and stir gently until well-chilled, about 20 seconds.
Strain into a chilled cocktail glass.
Garnish with cocktail onions and caper berries as desired.
Notes
Nonpareil, Capote, or any other variety of caper brine is a fine substitution if you can't find caper berries. But because caper berries are big, they make for better garnish.
To kick this simple cocktail up a notch, you can make pickled pearl onions yourself!
I know what you're thinking: an onion cocktail sounds weird. But it's not, I promise! What's really weird is my Everything Bagel Cocktail, and it's one of my most popular drinks, so give the unusual ones a try sometime.

Or if you're looking for savory drink recipes similar to this twist on the Gibson cocktail, check out my Tomato Water Dirty Martini recipe.

Unconventional cocktails suit an unconventional murder mystery (or the wacky interdimensional adventures in the case of my Everything Bagel Cocktail) – I'll definitely be making myself this Knives Out drink to sip and enjoy alongside the premiere of Glass Onion at home on Netflix on December 23!
What's on the menu for your movie night? Any good eats to pair with the Glass Onion? Let us know in the comments!