Boy do I have a love affair with the Golden Gate Bridge.
I love how at the top of almost any hill in San Francisco, you can see the towers peeking out between the fog. I love how giddy driving under it still makes me even though we moved to San Francisco over 5 years ago.
I'm constantly taking Golden Gate Bridge photos, my husband probably thinks I love the bridge more than him and chocolate combined (I don't, but she's up there for sure!) I think I finally have tracked down all the best Golden Gate Bridge views so keep reading to discover my favorite overlooks and spots for photos.
The best views of Golden Gate Bridge: A Local's List For The Prettiest Golden Gate View Points.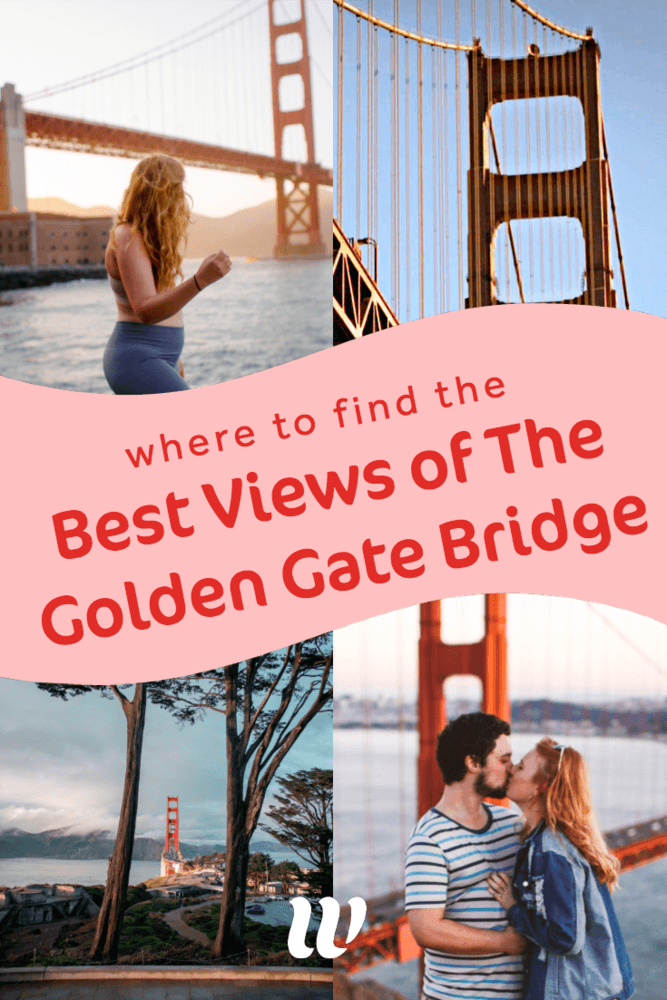 >> Got a question about San Francisco or the bridge that you need answered quickly? DM me on Instagram @thewhimsysoul and I'll be happy to help!
My Favorite Golden Gate Bridge Overlooks
Before I share my top 10ish favorite spots peep at the old gal (the old gal is my loving nickname for the GG Bridge) I wanted to quickly cover some super important things to note when you are trying to view and/or photograph her.
Karl the Fog.
Yes, the fog in the Foggy City has a name. His name is Karl. And Karl is a whole personality here in San Francisco (and has an Instagram account.) I personally yell at him all the time when he spoils sunny day plans. Ahh, 'tis the struggle of living in the Bay Area.
When Karl the Fog is town (which happens more days than not) he'll gobble the bridge up and you won't be able to see anything but a thick wall of grey.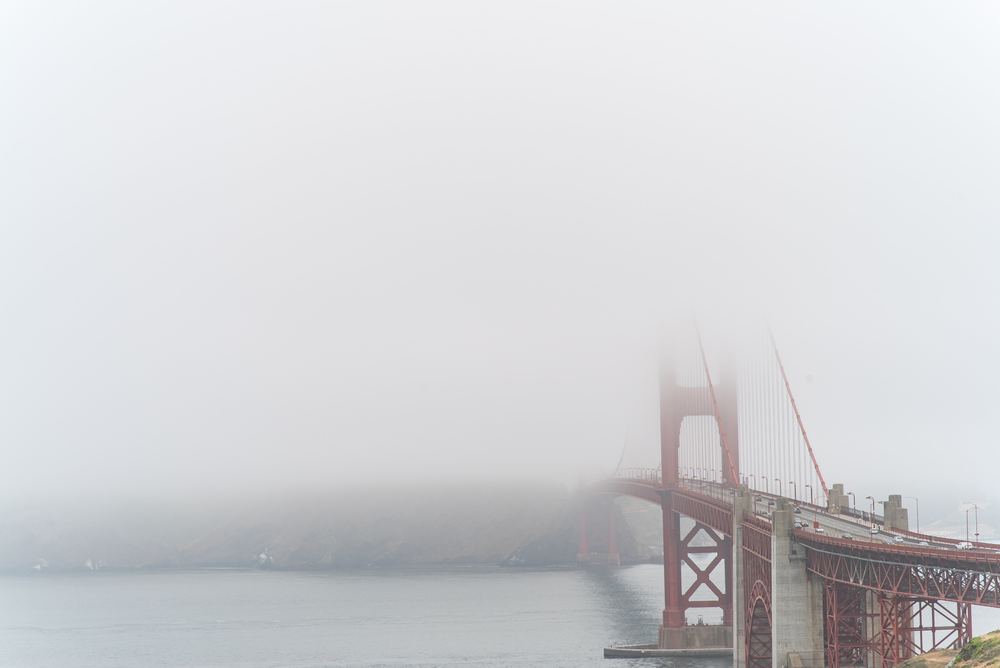 That's Karl. Say hi!
The fog moves a lot quicker than you think it would (I have watched it move from the ocean to 40 block inland within minutes.) As you can imagine, this makes it super difficult to view the Golden Gate Bridge sometimes.
I've seen tourists look like they are on the verge of tears before since they have waited years and years to finally see the bridge in person, only for it to be totally covered in fog.
Golden Gate Bridge Cam Is A Lifesaver!
Good news is, there's a Golden Gate Bridge cam that you can use to see what it looks like in real-time! Whenever we plan on shooting the bridge, we always check this cam first to see if the bridge is even visible.
The summers in San Francisco are our foggiest. It's normal for Karl to totally blanketed the city from about June (June Gloom) through August (Fogust) so if you are hoping to get a stunning sunset shot behind the bridge, don't come until October. That's our Indian Summer and we have the most clear days!
Also, at most of the good Golden Gate Bridge viewpoints, it's really chilly and windy. Make sure to wear warm layers and bring hair ties!
Ok, let's go onto the list!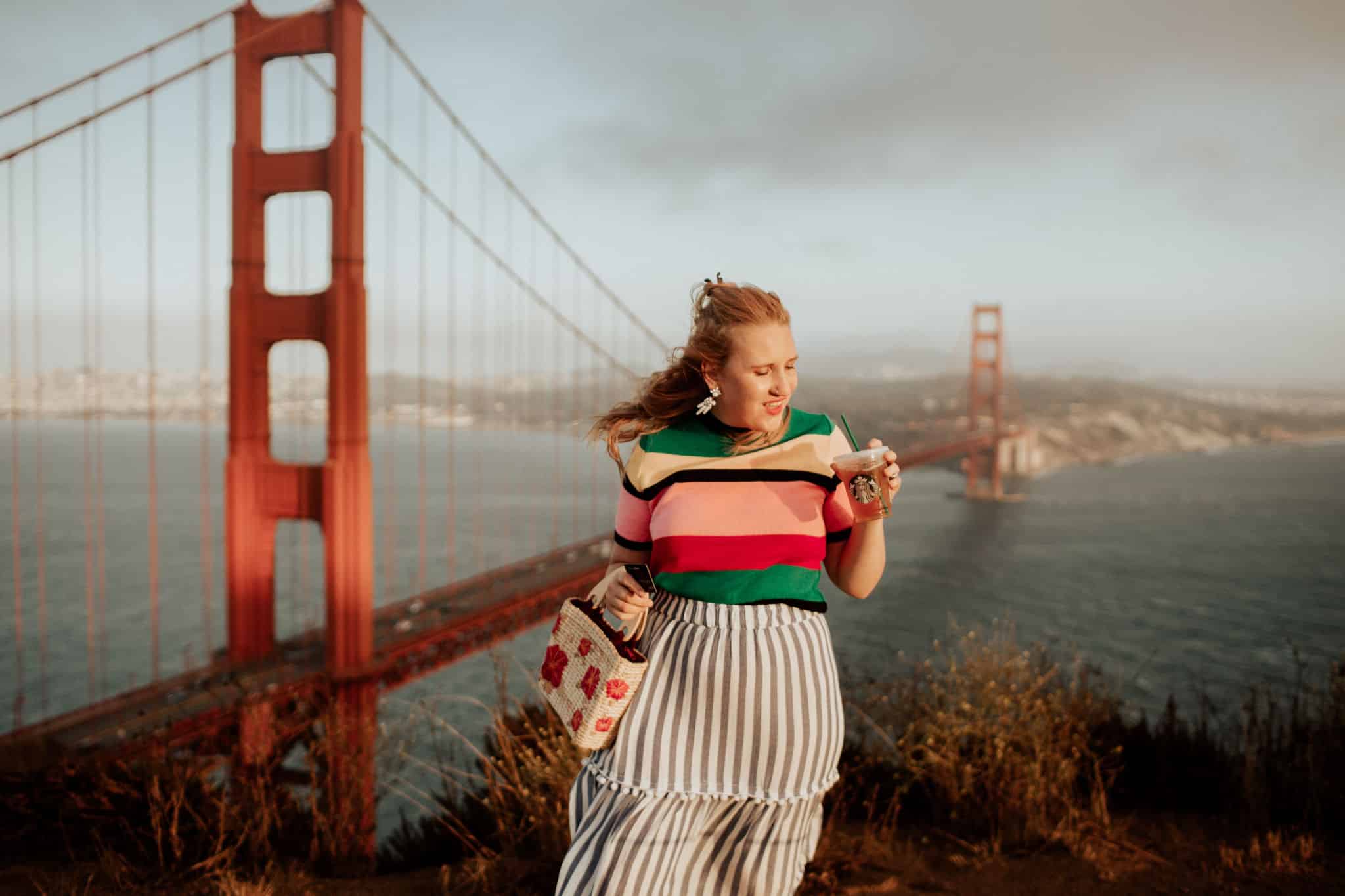 Battery Spencer Golden Gate Bridge
This Marin Headlands Golden Gate Bridge spot will always be my favorite. It almost feels like you can reach out and touch the bridge from here, you're that close.
Battery Spencer is by far the most popular spot for taking Golden Gate Bridge photos as it's easy to drive to and walk to. Plus, just look at this view!
I personally love to visit at golden hour/sunset on a warm and clear day (emphasis on warm otherwise it's usually chilly and very windy up here!) But on a nice day, it's really romantic (we even saw a couple get engaged here once!)
A have a friend who usually shoots at this spot at sunrise and those photos also look stunning. The bridge runs North to South so it's never really backlit too much from this spot and makes it awesome to photograph at both sunrise and sunset.
There's been some work and rerouting on the road to this area (for the better!) so you have to take a new way to get here. Just follow your Google Maps, it knows the new way to access Conzelman Road!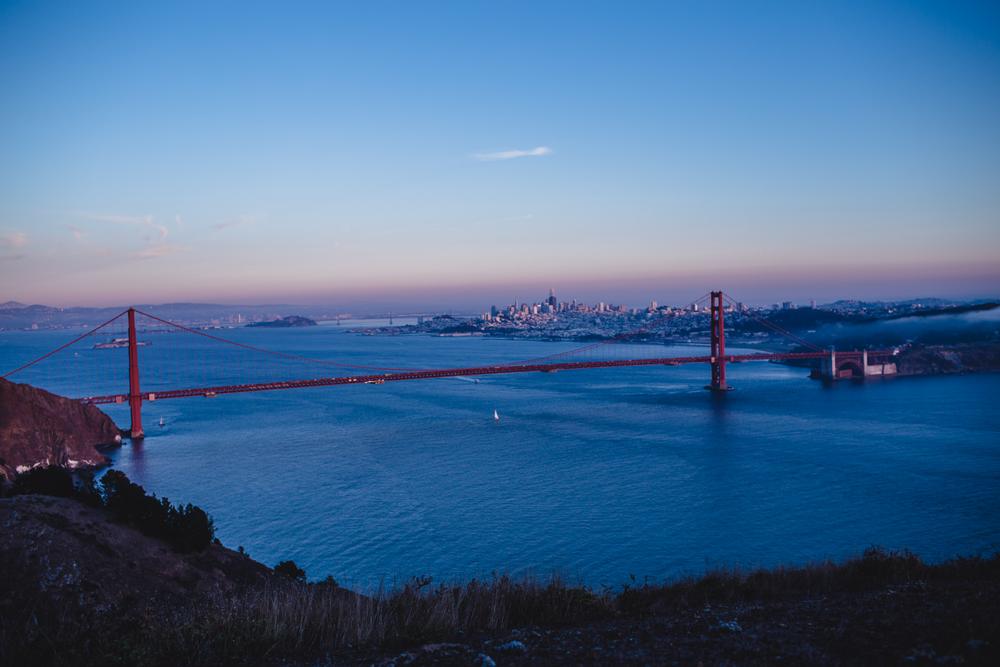 Hawk Hill Golden Gate Bridge
Marin County is awesome. The headlands behind the bridge on the Northside are so vast and sprawling. And also home to my super-secret (but I guess not secret because I'm telling you right now) spot to see the bridge.
Hawk Hill!!
This super-hidden Golden Gate Bridge vista point is my favorite spot when I want to get away from all the tourists. It's off the radar because most people don't even know it's here.
When you drive up to Battery Spencer, you encounter a roundabout and while most people turn left towards the bridge, you have to turn right to access this viewpoint. I have a whole post detailing how to find it (with photos) but basically, this spot it lit.
You can see the Point Bonita Lighthouse from here. If it's clear enough, you can even make out Land's End and parts of the Sunset Neighborhood (where I live.) The trail down is short but steep, so make sure to wear sturdy boots and you'll be fine!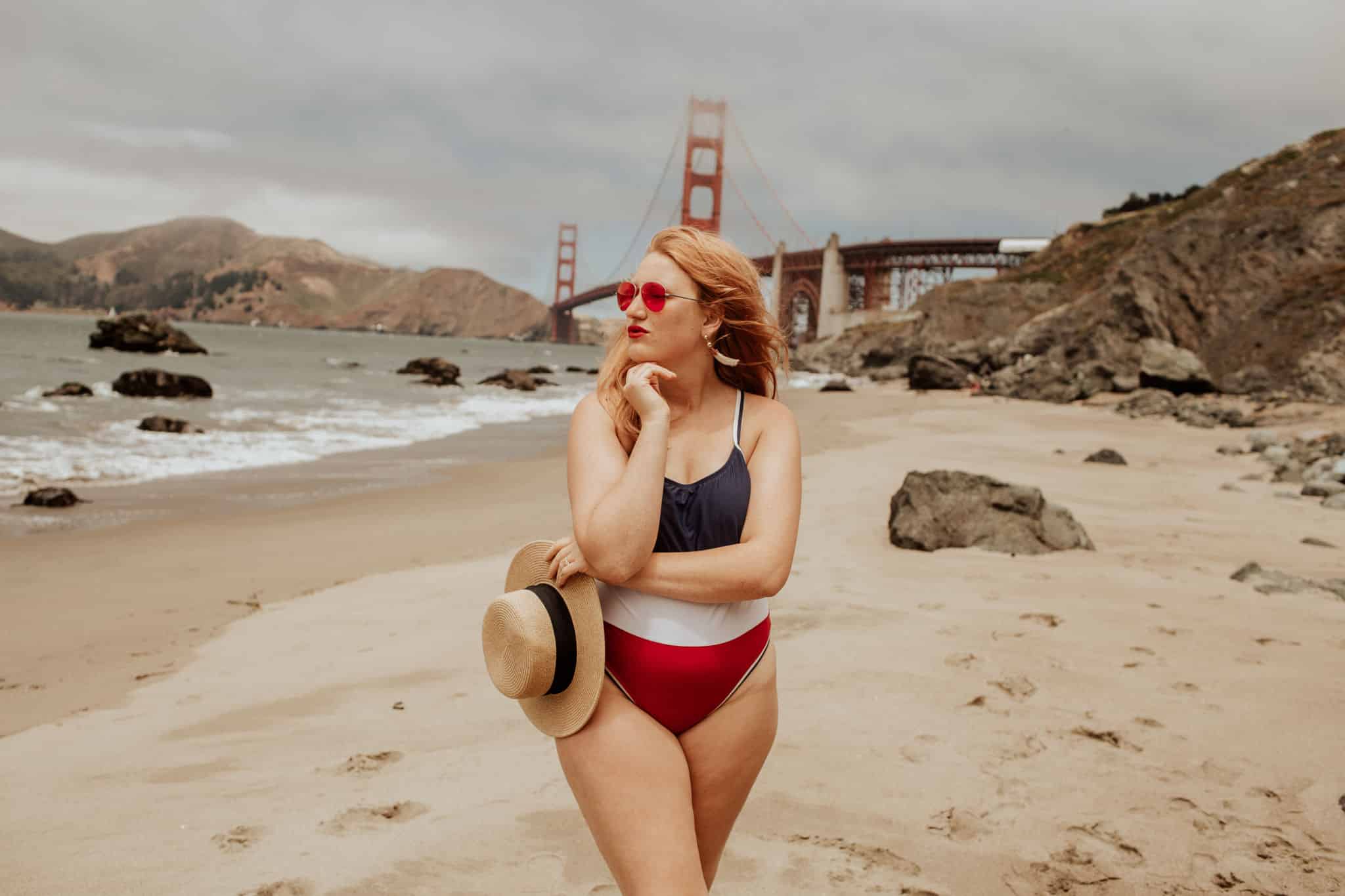 Marshall's Beach
When I'm in the mood for a hike and a view of the Golden Gate Bridge that I don't have to share with anyone, I head to Marshall's Beach!
This beach leads right up to the base of the bridge and is usually the spot nature photographers head to at dusk to take photos of the bridge. You've seen those – the ocean is always really smooth and the bridge lights are twinkling.
It's also famously a spot where nudists like to hang out. I didn't believe that (it's usually too chilly in the city to go nude!) but low and behold, the first time I hiked here, we ran into a naked guy frolicking in the ocean and taking photos of himself with a tripod. I mean, those are WAY more elegant nudes than I've ever taken, so good for him.
While I'm a sucker for sunset here (the light will fully illuminate the bridge!) this spot is actually the prettiest in the daytime on a sunny day. The trial down is usually full of flowers. Paired with the green bluffs, blue sky and red bridge, this spot is simply stunning.
PS if you aren't in the mood to hike, Baker Beach is super easy to get to and is just down the way a bi. You will have to share the beach with others, as it's popular and usually crowded.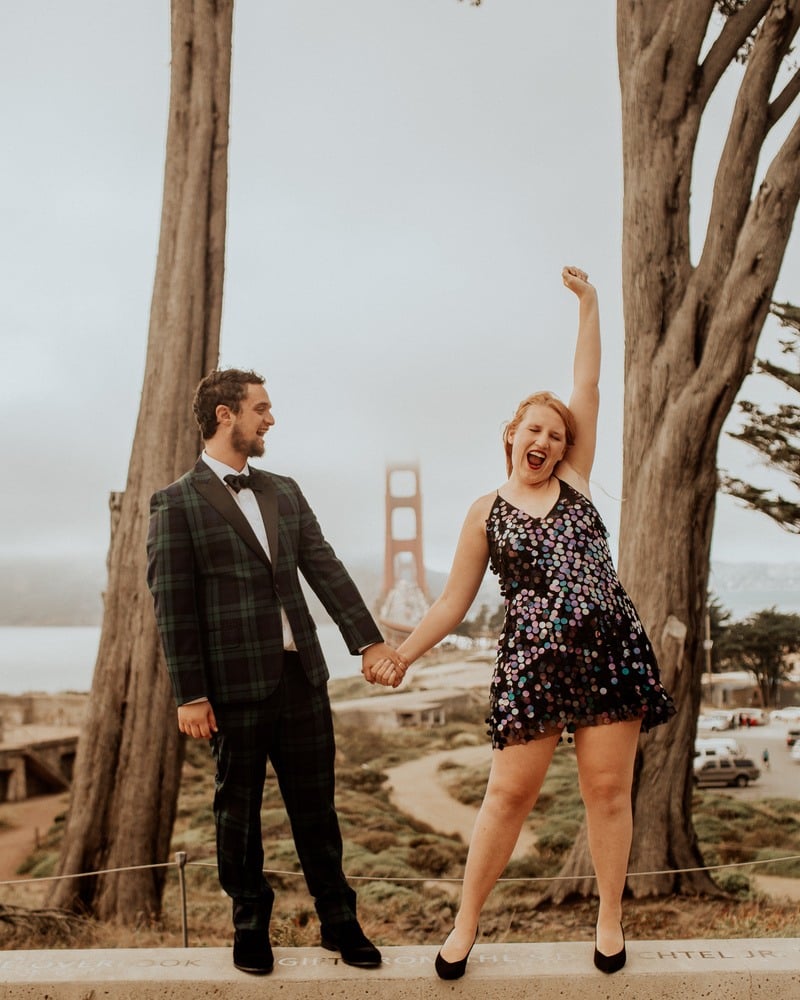 Battery Cranston
Battery Cranston is that spot photographers camp out at to take photos of traffic driving over the golden gate bridge with the help of a telephoto zoom lens. Seriously, whenever I come here in the evenings there's always at least 2 guys with tripods ready for dusk.
And it makes sense. This really might be the best place to see Golden Gate Bridge at night because the lights of the cars sorta turn rainbow-like. I'm not as intense as those photographers are, but the photo above of me and my husband is our take on this famous spot!
But there's more to Battery Cranston than this spot between the trees. There's also a coastal trail that winds downs literally under the bridge. So, I love coming here on a clear, warm night to walk it and snap some photos.
I've spotted pelicans soaring around over the San Francisco Bay at sunset here before and it's really pretty! There's a couple of different parking lots here so it's usually easy to grab parking on weeknights (weekends are tough and crowded!)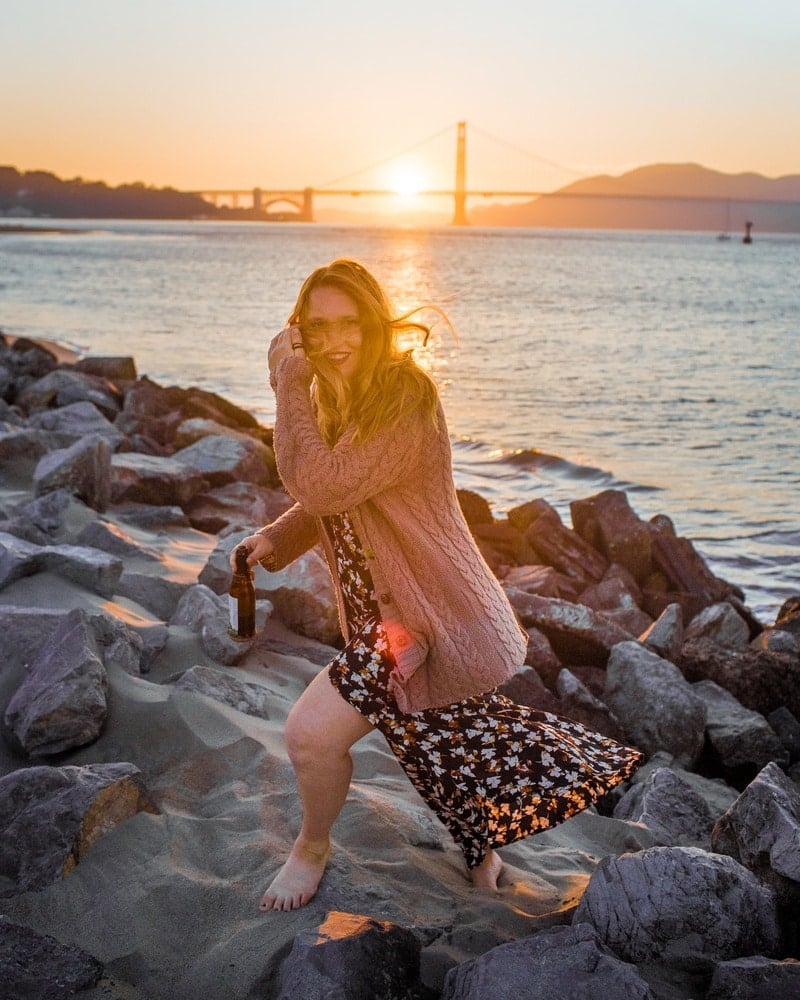 Crissy Field & Fort Point
Crissy Field is a long beach and nature area that stretches all the way from the Marina to Fort Point, another old military building that literally sits beneath the bridge.
I adore strolling along the beach, it's really fun to watch all the windsurfers sail by and there's also a lot of dogs to pet. You can get so many good views of the Golden Gate Bridge from various points in this walk, so take your pick!
At the end of the trail is Fort Point, which is totally free to visit. To get an epic shot standing under the bridge, head to the rooftop of Fort Point (warning, there are a LOT of stairs!) It's also ALWAYS very windy up here, so bring a hair tie and a jacket.
My favorite time to photograph this spot is at golden hour because it makes the sky behind the bridge glow in the best way. There's a parking lot here, too, so it's easy to drive up for a photoshoot!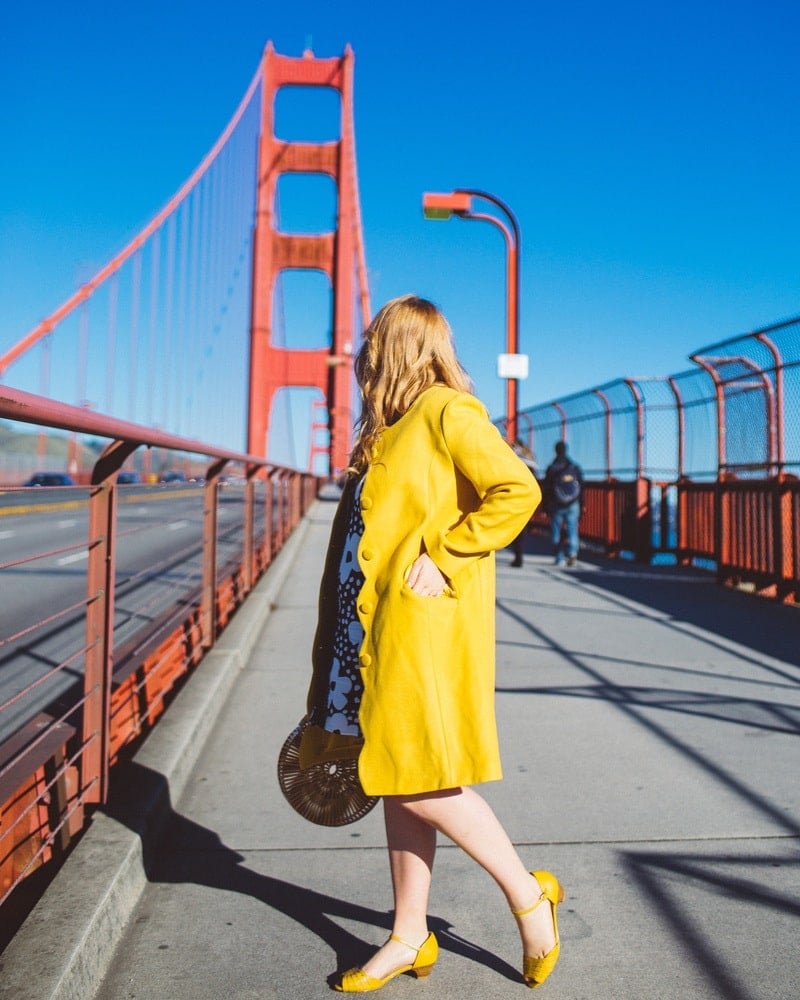 Walking The Bridge
Of course, you can always walk across the bridge if you want to snap an iconic photo under the tower.
But fair warning: it's always chaos. The only reason it's not chaos in the above photo is because I took this photo at 7:30am on a random Tuesday.
Tourists start showing up in packs around 8am sharp (that's when a lot of the San Francisco tour companies start drop-offs.) The welcome center is on this side with a coffee shop, restroom, etc, so tourists love hanging out.
The Golden Gate Bridge parking lot is always crazy but you can usually get a spot if you come super early, but forget about it if it's later in the day. I recommend you do a Golden Gate Bridge walk before 8am so you can park for free and get the bridge to yourself before all the tourist show up!
Looking for good Union Square Hotels?
THIS
is one of my favorite hotels in the city.
Cruising The Bay
Ok lies, this may take the cake for the best view of Golden Gate Bridge, or maybe the most original Golden Gate viewpoint at least! Sailing under the bridge is a bucket list experience for sure.
Bonus points if you book a sunset sail around the bay!
We've done a few different sunset sails around the San Francisco Bay and this one is my favorite because they have a huge rooftop deck that offers sweeping views of everywhere you sail. Of course, my favorite part is when they take the boat under the Golden Gate Bridge. It's simply stunning!
If you choose to do a sail, make sure you wear really warm clothes!! The Bay is always freezing and on the last sail, my fingers went numb by the end of the trip.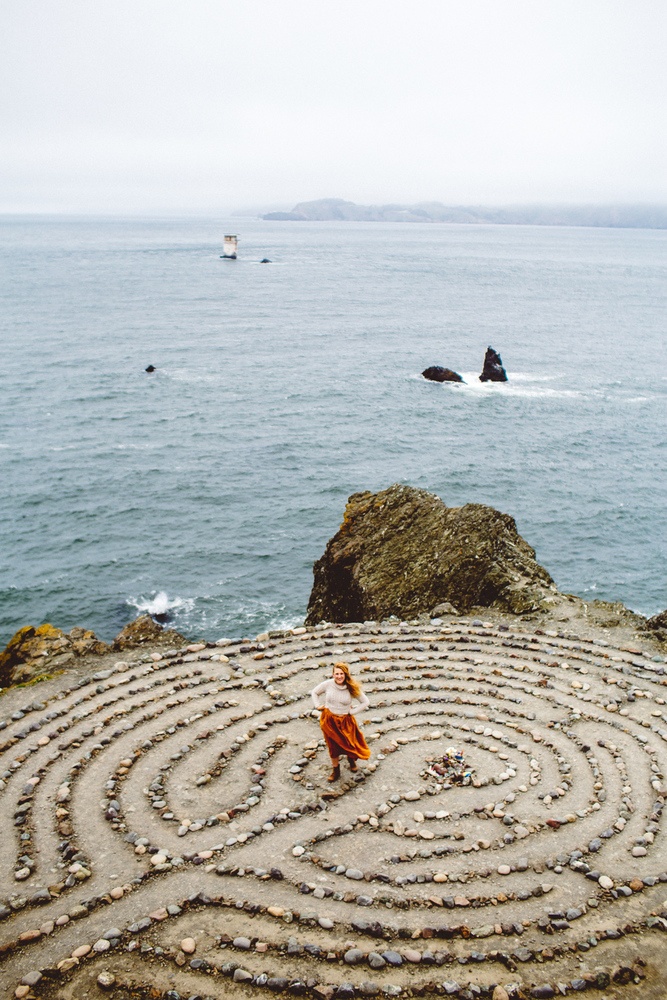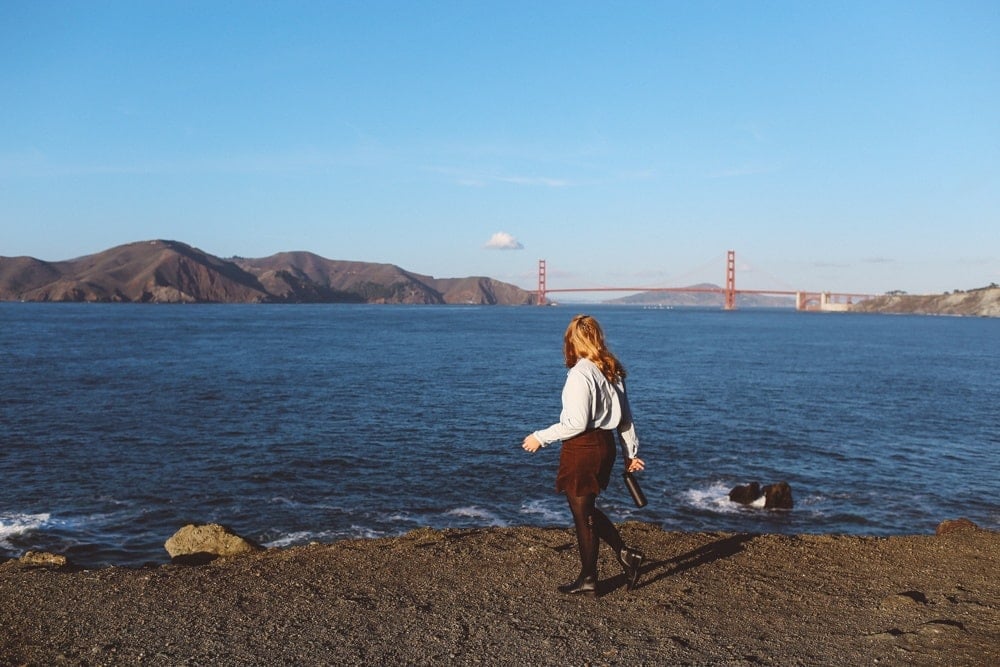 Land's End Labyrinth
Of all the Golden Gate Bridge parks, this one is my favorite. It's part of the Golden Gate National Recreation Area, so this park is really cool and well maintained.
It's on the West Side of the city and thus usually pretty foggy. But, when it's clear, you can a fun view of the Golden Gate Bridge in the distant. It's not the best view but there's some cool hidden gems in this park that are totally worth a visit regardless.
Like the Land's End Labyrinth! Yes, there's a whole labyrinth hiding on the edge of the city! There's also tons of trails, a secret beach and even old ruins from former bathhouses. It's a fun spot to hike.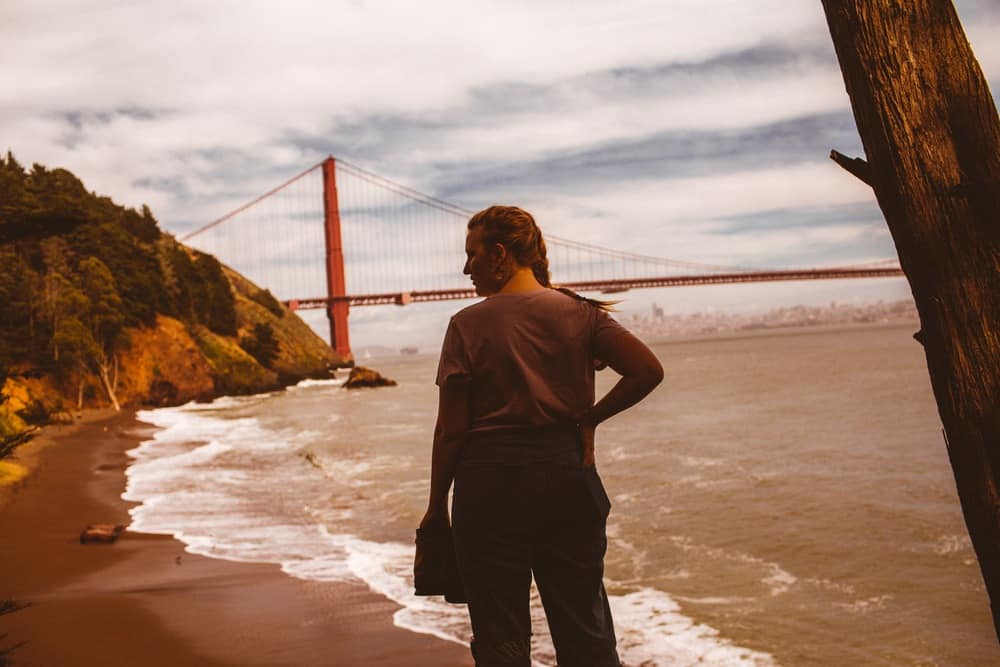 Kirby Cove Beach
Kirby Cove is famous for its rope swing (that sometimes gets cut down by rangers but people all put it back up eventually.)
This beach is also in the Marin Headlands, but this one is between Hawk Hill and Battery Spencer. (I have a whole post detailing how to find the trailhead that you can reference if you want to visit!)
You have to start at the top of the thill and walk down to the beach, but don't worry, it'll only take you about 25 minutes to walk down and it's all paved. The beach itself is small but offers a fun view of the Golden Gate Bridge.
But, there's also some bluffs on the trail down that make for stunning Golden Gate Bridge viewpoints. I specifically like the bluff near Battery Wagner, but I encourage you to do a bit of exploring here on your own to find a cool photo opp!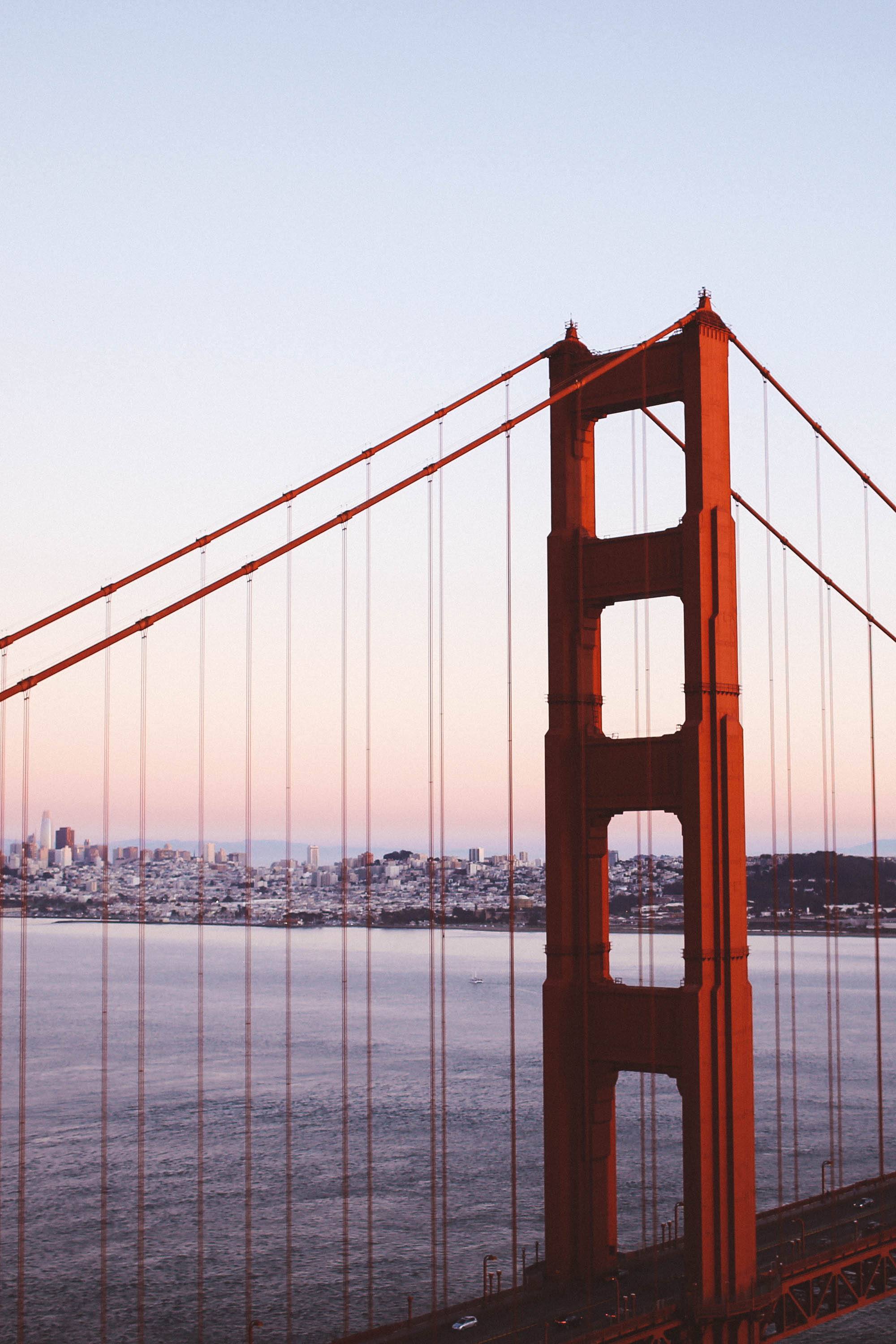 I hope this helps you find beautiful Golden Gate Bridge viewpoints for your photos! If you end up visiting any of these, make sure to tag me on Instagram @thewhimsysoul so I can see them!!
I love San Francisco, this city is so dang beautiful and there are so many cool things to see that aren't the Golden Gate Bridge. Here's some cool San Francisco blog posts you should check out!
And make sure to visit my Plan A Trip tool to find more United States travel inspiration!