January is one of my favorite months to take a trip in the United States. Everyone is still slowly creeping out of their holiday daze, so there's usually fewer crowds to deal with.
And the threat of cold weather keeps a lot of people home, though you don't have to visit a cold destination. There's tons of warm US destinations in January if you're set on getting a winter tan.
16 Best Places To Visit in the United States In January
These are all the best places to visit in January in the USA. Get ready to pack your bags (leave room for a puffy jacket, or maybe a swimsuit, depending on what your vibe is)!
No matter what you're looking for, these are the best places to visit in January in the USA.
1. Zion National Park
Utah has more to offer than just Salt Lake City, Park City slopes, and the Sundance International Film Festival.
Breathtaking canyons and snow capped peaks make Zion National Park one of the best US vacations in January. It's the perfect time to beat the crowds!
Zion is notorious for long lines of cars sitting just to get past the front gate. This is not the case in January, when wait times are close to nonexistent.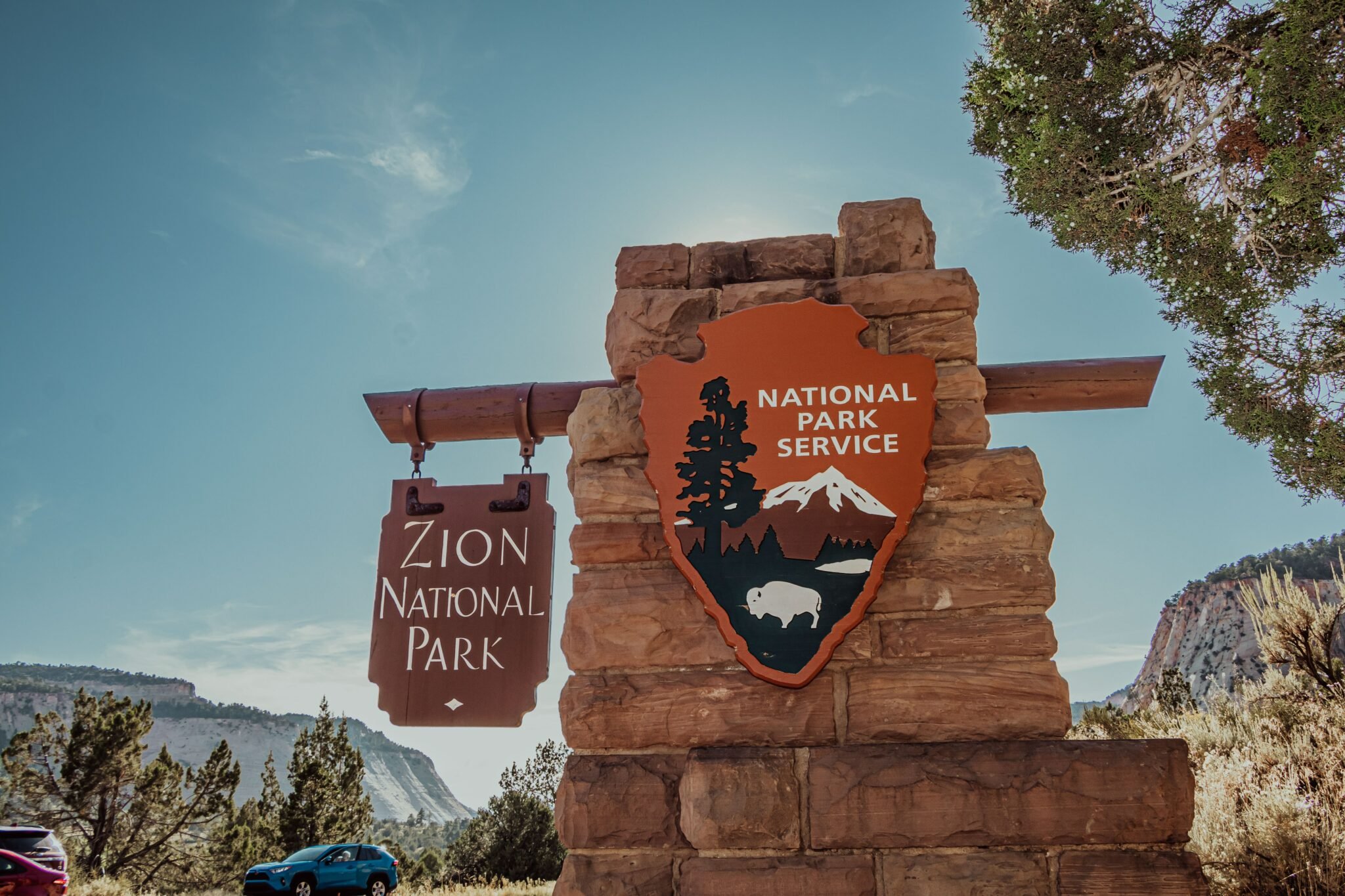 There are more than enough outdoor winter activities to keep you busy. Visitors of the National Park can book a horseback riding tour and go camping in the park. Hiking is a great way to get a bird's eye view of the landscape, with plenty of trails to choose from.
Zion can get chilly, with average temperatures dipping to the mid 20s at night. If that sounds a little too cold for outdoor camping, you could always glamp in a heated canvas tent surrounded by mountains and prairie at Zion Wildflower.
2. Sun Valley, Idaho
Sun Valley is best known for having the first ever ski chairlift, but there is plenty to do in Sun Valley if you decide to skip the ski resorts and winter sports.
Snowshoeing in Galena is straight out of a fantasy book. It's like stepping into the pages of Narnia. I recommend booking with a guide, especially if it's your first time.
I also recommend you go up to the Roundhouse for fondue.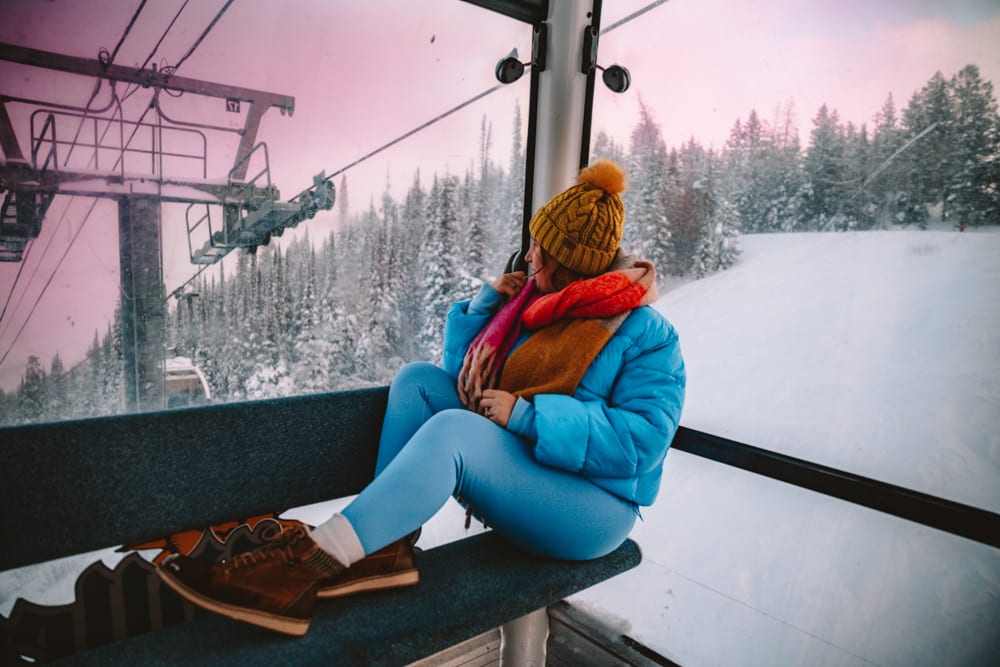 When it's time to thaw back out, head over to Frenchman's Bend Hot Springs. There are a couple different hot springs in the Sun Valley area, but Frenchman's is an especially popular tourist attraction due to the soaking tub nearby that's used for cooling off once the hot spring lives up to its name.
Do note that 4WD is best if you are visiting in the winter! And if it recently snowed, the road may not be plowed yet. I tried to visit with a friend on the day after a snowstorm and we had to turn back for safety. Just to keep in mind!
Another hidden gem of Idaho is Payette National Forest that offers a bunch of winter recreational activities!
3. Oregon Coast
Just off the coast of Oregon is a sleepy beach town called Bandon. Here you'll find some of the best, freshest seafood, gorgeous sunset views, fat tire beach biking, and just outside of Bandon, wine tasting!
Your best bet is to fly into Oregon City or Portland, and enjoy a scenic four hour drive filled with massive green trees and winter landscapes on your way to the coast.
Don't forget to stop off in Willamette Valley on your way– this is Oregon's wine producing region, and if you can carve out time to stop at a few wineries, it's well worth it.
Check out Tony's Crab Shack for fish tacos that will rock your world, or the Fish Market next door if a warm bread bowl of salmon chowder is more your speed. Redfish will hook you up with not only delicious fresh seafood, but an unforgettable ocean view as well.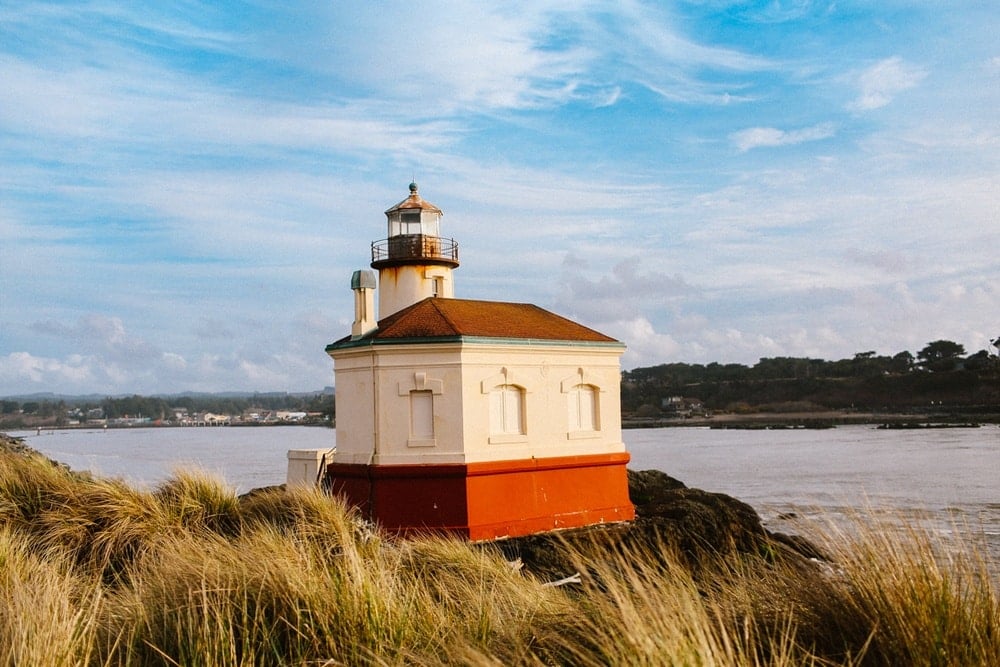 For activities, historic lighthouses such as the Coquille River Lighthouse are sprinkled down the coast, and are an amazing opportunity to get that perfect coastal living photo op.
Make sure to check out the fat tire bikes– the thickness of the tires makes it super easy to coast down the beach for some incredible scenery!
4. Pensacola, Florida
Okay. Finally, here it is: a hot destination. If warm places to visit in January are what led you here, you've made it! Pensacola should be top of mind as one of the best places to visit in January in the South.
Start your trip off with a sailing tour of the Florida coast. The weather this time of year is perfect– it's warm enough to wear a dress or shorts, but you'll avoid the summer heat. We booked a two hour boat tour for just a little over $200. The best part: wine and beer were included.
For those who perhaps get a little seasick, but still want to get out on the water. Try your hand at stand-up paddle boarding or kayaking. You can rent either by the hour, and will see lots of birds and other wildlife while slowly paddling around the bay.
Check out Seville for a late-night piano bar and a full menu of delicious Southern treats, or George's Bistro in the morning, a hipster weekend brunch spot with uniquely tasty cocktail options.
5. Yellowstone National Park
You probably won't run into Kevin Costner (or any of the cast of Yellowstone for that matter), but Yellowstone National Park is still one of the best winter places to visit in January. The average January temperature in Wyoming is 25ºF.
Strangely enough, this makes it the best time to see the wildlife. Animals come down to the warmer lowlands in the winter, which will be the perfect time to snag pictures while hiking or on a snowy guided winter tour.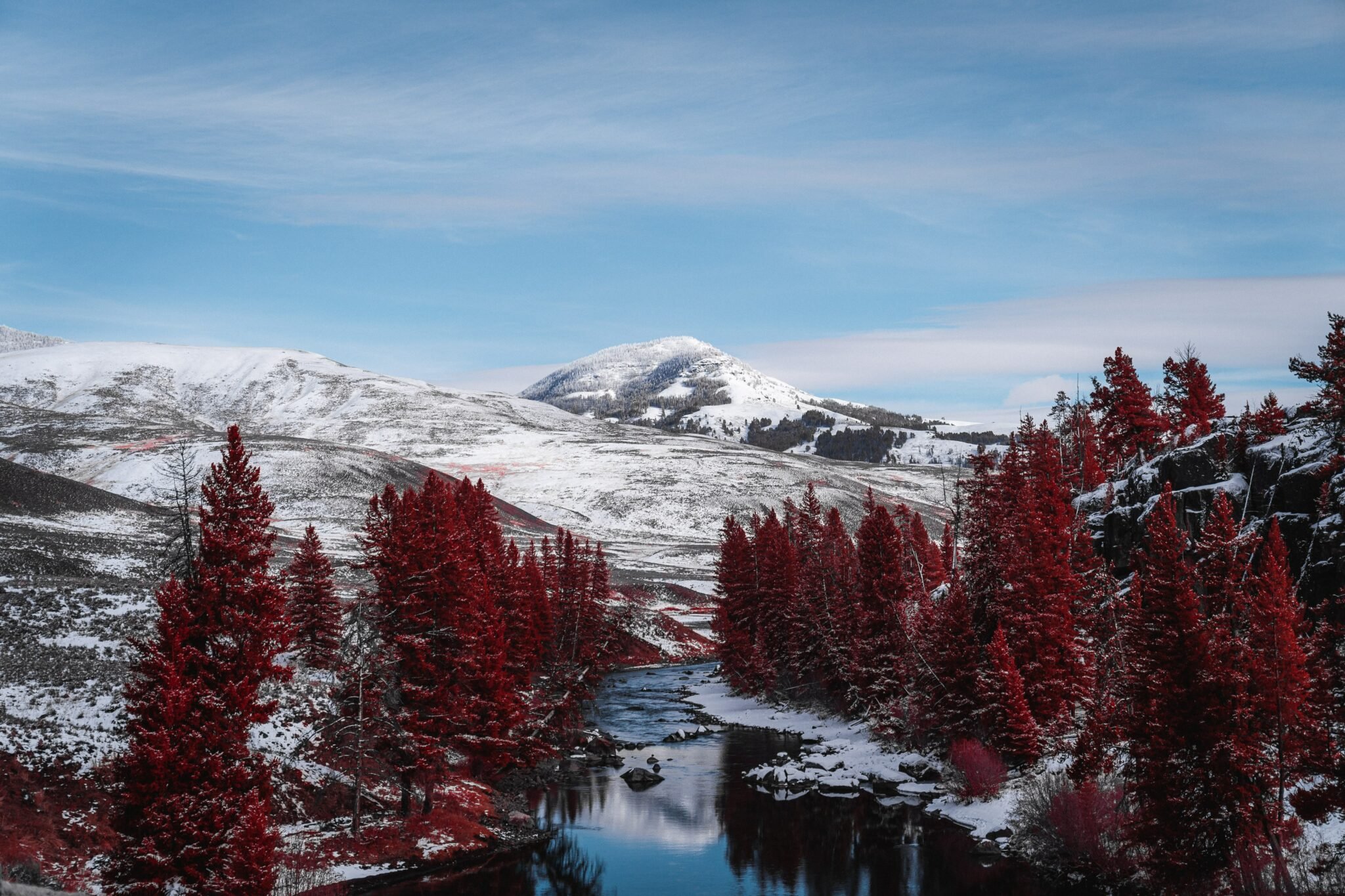 The roads to Yellowstone are closed to vehicles. in January to protect this UNESCO World Heritage landmark, as well as those who visit. However, the alternative way to get into the park is part of the reason it's made the list.
Most visitors have to snowmobile into the park, which is a once in a lifetime experience for all the adrenaline junkies out there.
Once all the sites of Yellowstone have been seen, it is about an hour long drive to Jackson Hole, where there are tons of fun winter activities to enjoy.
6. South Padre Island, Texas
The hidden gem of the Rio Grande Valley! South Padre Island is home to what some would say is the best beach in Texas, as well as enough activities you'll wish you had more vacation days. It's one of the best places to visit in January with family, as there is something for everyone.
Start your trip with the famous South Padre Island birding. You'll be up close and personal to a large variety of birds in this area as you walk through the water on boardwalk planks in the birds' natural habitat. For a small additional fee, you can also attend a class on baby alligators!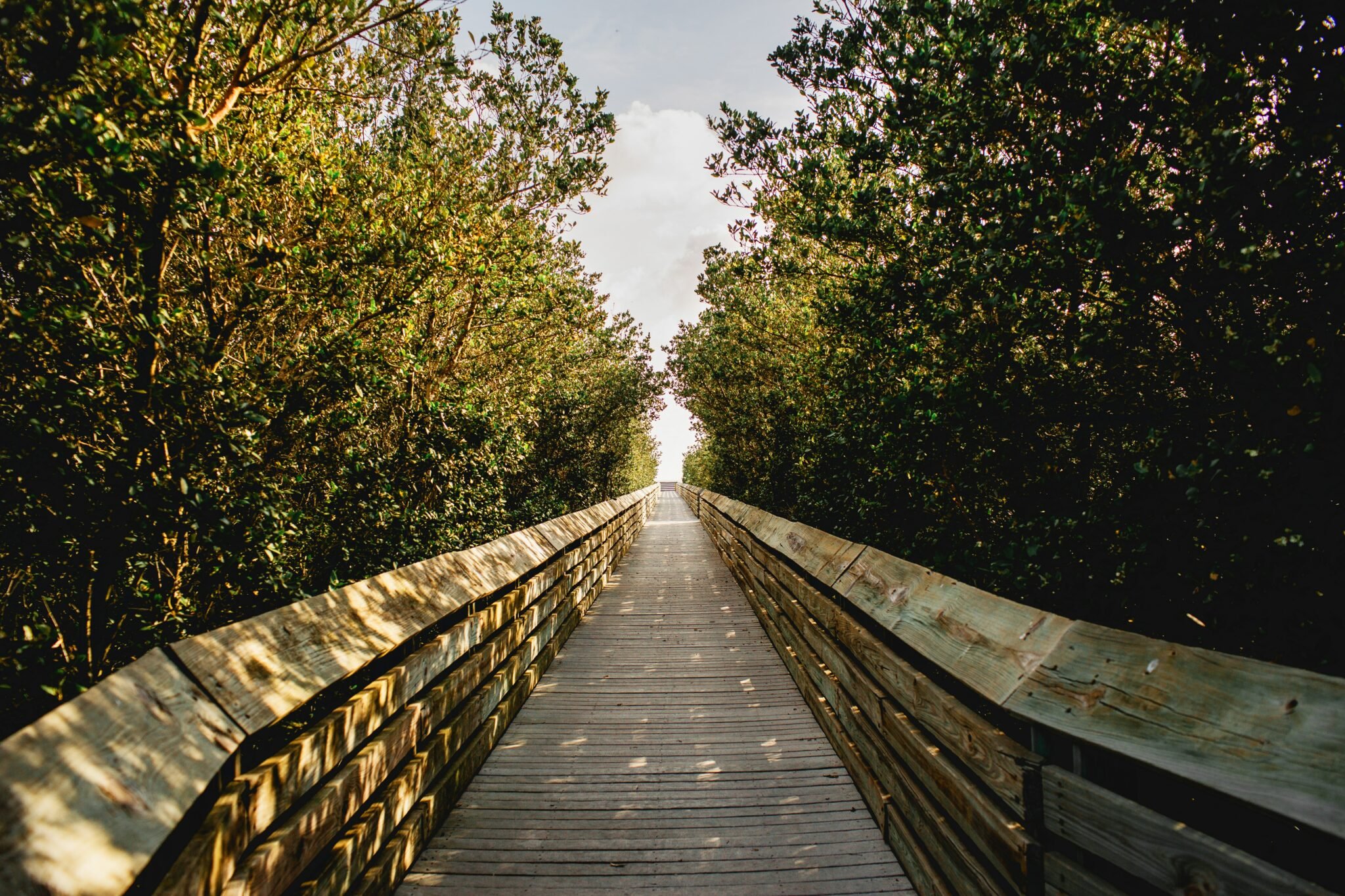 The beach has to be your next stop. There are a couple different possible beaches, but definitely check out South Padre Island Beach. The Isla Grand Beach Resort is located right on the beach, and includes amenities such as a giant pool, tennis courts, and of course, a poolside bar.
If you're not too busy relaxing on the beach or by the pool, head over to the 90 minute dolphin tours, or try parasailing for a bird's eye view of the entire island!
For the more adventurous types, consider camping in Padre Island State Park or Padre Island National Seashore. The National Seashore Reserve is the longest undeveloped barrier island in the world at 70 miles long along the Gulf of Mexico.
7. Tucson, Arizona
January hiking in Tucson is a million times better than any other time of year. Otherwise, it's just too hot! Tucson is home to some of the most astonishing desert scenery in the US. And the biggest cacti.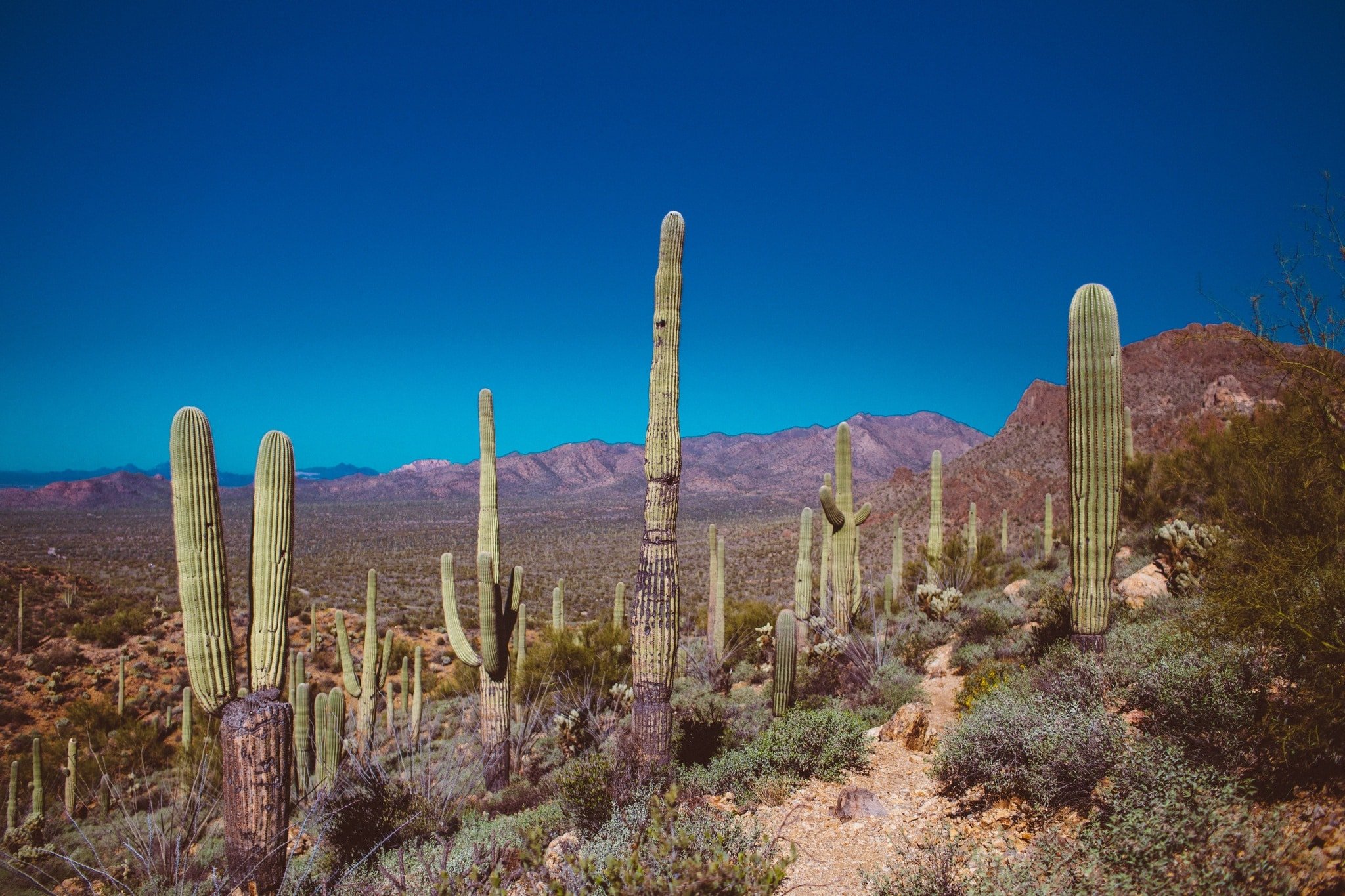 Check out Saguaro National Park for some of the most popular hiking in the area. Gates Pass Trail and Madera Canyon are equally as accessible, and just as gorgeous.
If you're in search of family fun activities, be sure to stop by The Gaslight Theatre. They do live, wild west themed performances that are sure to be fun for any age. After the show, head over to El Taco Rustico for authentic Tex-Mex tacos and housemade horchata.
8. Hilton Head Island, South Carolina
One of the things that makes Hilton Head, SC famous is its beaches, so of course, this is going to be one of the USA's best beaches to visit in January.
If you fly into Savannah International Airport, Hilton Head Island is just a short 45 minute drive. While the weather is a little too chilly this time of year for laying out on the beach (it's typically around 60-65º), it is the perfect time of year to beat the crowds for other amazing activities.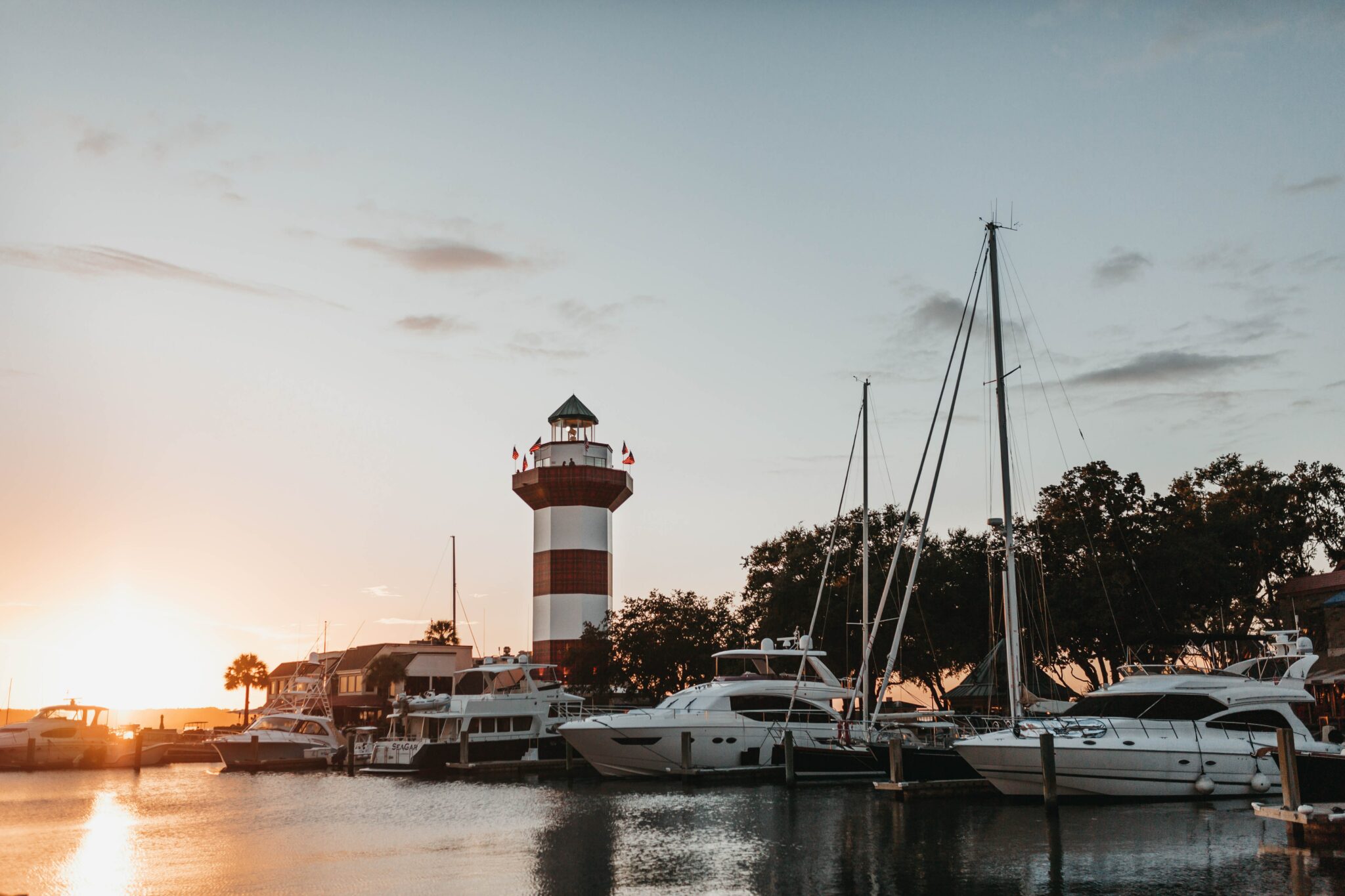 Take a bike tour through the island for beach front views and stops at stables, gorgeous historical churches, and the lighthouse. The paths are paved so you can focus on your surroundings rather than keeping your balance.
The Hilton Head Distillery is known for delicious hoppy IPAs and excellent tour guides showing behind the scenes of the beer making process. And grab some fresh seafood from Hudson's Seafood House on the Docks!
9. Mammoth Lakes, California
Located in the Sierra Nevada mountains, Mammoth Lakes is a California treasure. It's a real song of fire and ice, where you can choose between skiing down icy slopes, or soaking in hot springs.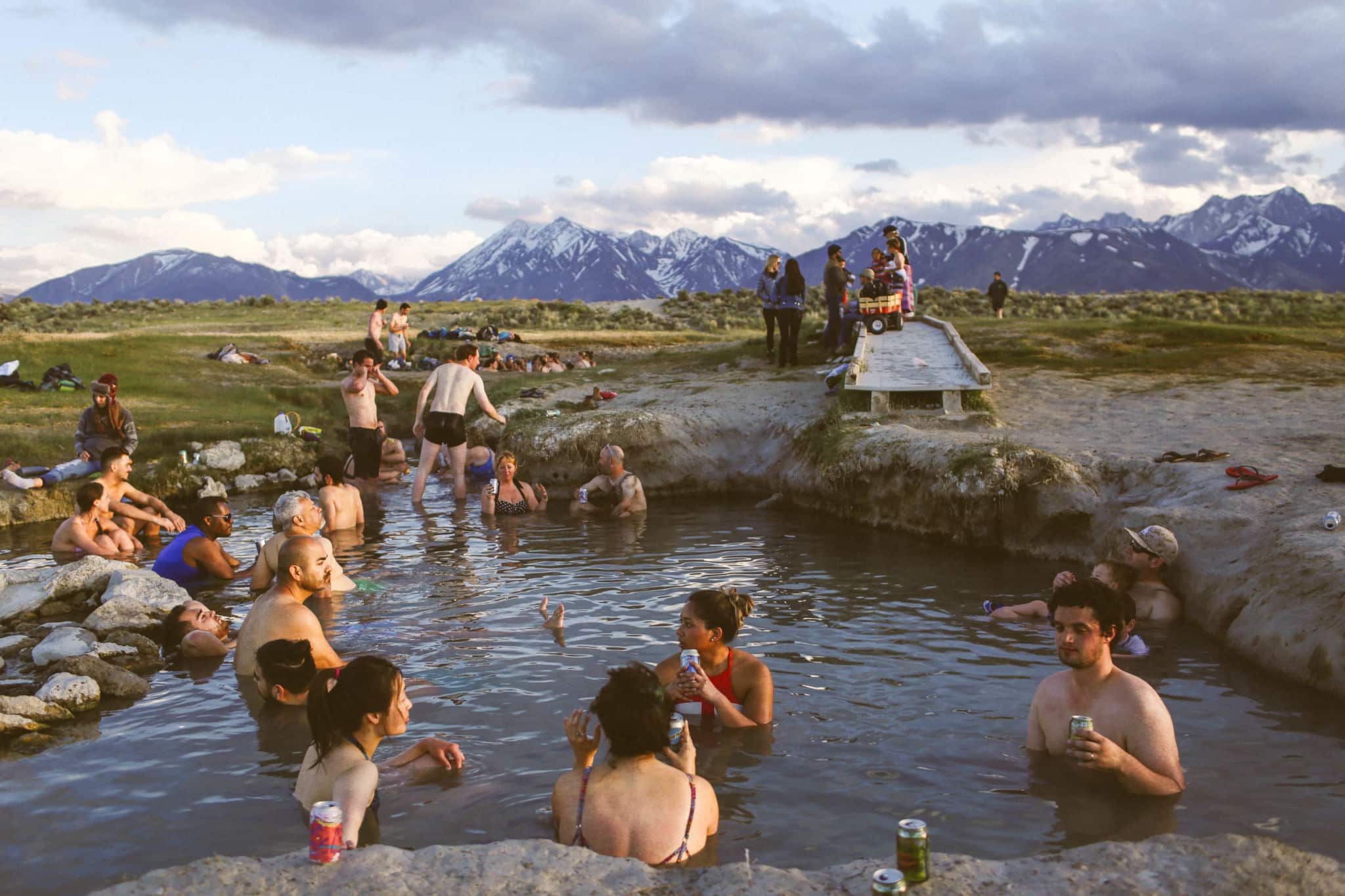 Go to a wine tasting at 9,000 feet at DAOU Lounge (a Paso Robles-based winery), or enjoy the flavors of Spanish-Cuban-Puerto Rican fusion at Dos Alas.
Don't forget to check out the vibrant ski town Mammoth Lakes Village for tons more places to eat, shop, and explore. If you felt like a day trip, nearby Mono Lake is worth the trek (it looks like an alien planet!)
10. Death Valley National Park
Death Valley has got to be one of the best warm places to travel in January without a passport. It's just too hot to visit any other time of year. Plus, you'll beat the crowds if you visit during the winter.
Death Valley National Park is an astonishingly scenic desert that you can hike or sight see in. Parts of Star Wars were filmed there, so try the self-guided driving tour if you want to geek out.
The Saline Valley Warm Springs are in the park, and would be the perfect way to unwind after a long day of exploration.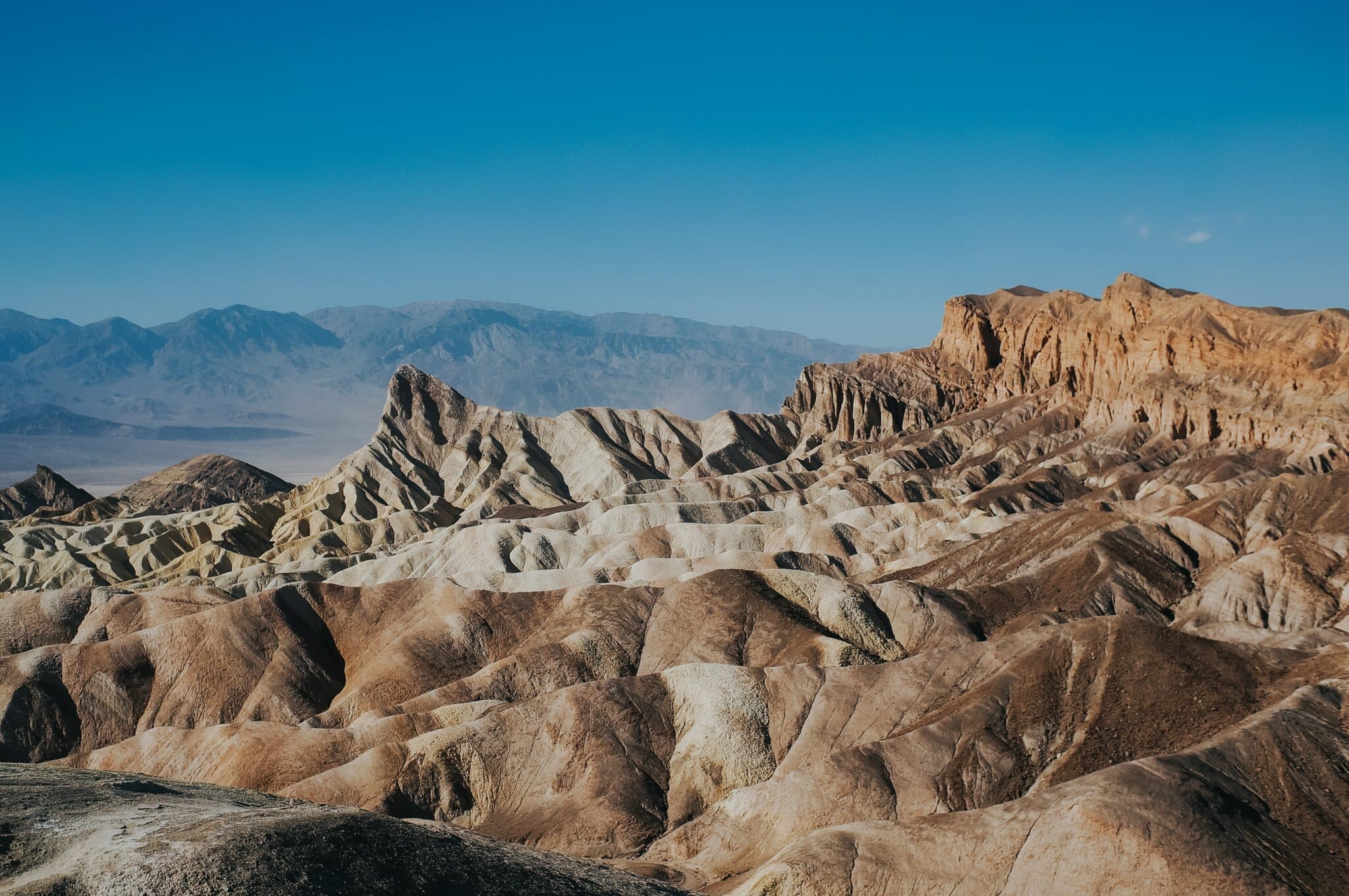 Don't forget to stop at the Mesquite Flat Sand Dunes during sunrise or sunset to catch an unforgettable view of the park.
For lodging, Delight's Hot Spring Resort is regarded as one of the best hotels for its proximity to the National Park, and its ample hot springs on site.
11. Palm Springs, California
For SoCal vacations this January, skip San Diego and head to Palm Springs instead. Palm Springs is one of the best cities to visit in January in part because of the weather: you'll be in the clear mid 70's all January long.
Visit The Ice Cream & Shop(pe) for retro vibes and creamy ice cream. If a cozy date night is more your speed, make a reservation at Tiro. The mac and cheese and patio seating are next level.
In terms of activities besides shopping along the El Paseo shopping district, Joshua Tree is a must. Hiking is an option, as is a ride along with a tour guide through the park with stops at some of the most iconic landmarks.
Be sure to check out the San Andreas fault Jeep tour in Palm Desert. This famous fault line travels all the way from SoCal up to the San Francisco Bay Area!
12. Moosehead Lake, Maine
The only apt description for Maine's Moosehead Lake in January is "winter wonderland." Snow sports are the name of the game in Moosehead.
You can rent a snowmobile for the day (with or without an instructor), ski at Big Squaw Mountain, or go snowshoeing in the groomed trails of Lily State Park.
Warm up at The Dockside Inn & Tavern, a cozy pub serving classic American dishes. Don't forget to look up when you get out of dinner; Moosehead Lake has some of the cleanest air on the east coast, and the stargazing can't be beat.
There's also just a lot of fun free things to do in Maine to check out.
13. New Orleans
I think it's safe to say New Orleans is always a good idea. If you've never been before or are looking for a city vibe (but not quite New York City), it's a must add to your bucket list.
There's no better time than January, just before the Mardi Gras crowds of February, and without the sticky heat of the summertime.
This city is a foodie's dream. Besides their world famous beignets, (Cafe Du Monde and Cafe Beignet are always vying for the position as top dog– you be the judge).
The Big Easy has enough restaurants that deciding where to eat will be your toughest challenge in the New Year.
I recommend Dat Dog for a casually delicious gourmet hotdog overlooking Frenchmen Street. If you're feeling more of a sitdown meal, check out the inventive cocktails and Cajun inspired contemporary menu atKingfish.
Once you've had your fill of beignets, gumbo, and po'boys, it's time to head to Bourbon Street to give yourself a scare.
The French Quarter has some of the spookiest ghost tours in the US, with haunted houses that include some of the more somber histories of New Orleans. Check out Ryan Murphy's Coven for a sneak peek.
14. Key West, Florida
Key West, Florida is consistently warm, making it one of the best islands to visit in January when you're searching for white sand and clear blue water (plus getcha mid-winter tan)!
Besides beaches and pools, there are tons of surprising activities in this island town. The famous Key West cemetery has a deep history with lots of spooky anecdotes, walking ghost tours, and notoriously funny gravestone inscriptions such as "I Told You I Was Sick."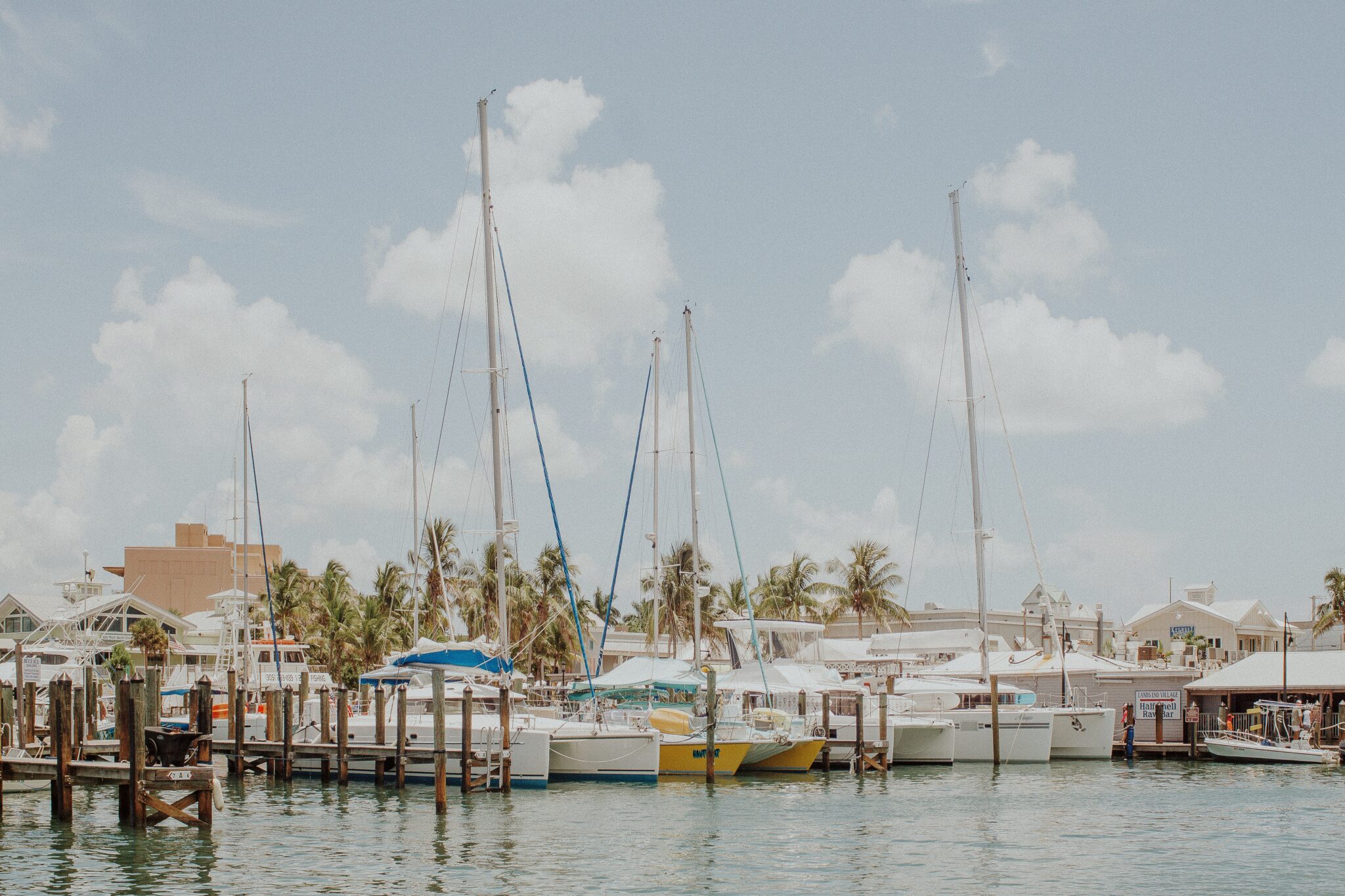 The Lobster Shack is a must for all the shellfish fans of the world, with buttery lobster rolls, cold beer and limeade, and of course, key lime pie. Should you tire of seafood, head to Blue Heaven for a laidback back patio meal that stands supposedly where Ernest Hemingway used to box.
15. Sonoma, California
Sonoma is a good idea any time of year, but if you want to avoid crowded vineyards and booked wineries, January is going to be your best bet.
Your schedule should prioritize wine tastings, as there are just too many good vineyards to choose from.
My top two January recommendations are Foley for their cozy indoor fireplace seating, and Reeve, which has a farmhouse chic tasting room out of a small barn.
Just about an hour from the Golden Gate Bridge, Sonoma is a coastal dream destination as well. Book a room at Timber Cove for beautiful Pacific Ocean views and a delicious in-house restaurant.
16. South Lake Tahoe, California
If you're skipping Breckenridge this year, then South Lake Tahoe is your place for all things skiing related and more (like brewery hopping).
Heavenly Mountain is the most popular ski spot, and lift tickets are refundable should your plans change. If skiing isn't quite your sport, visit the outdoor ice skating rink in Heavenly Village.
Once you're ready to thaw out, check out Sidellis Brewery and Restaurant. It has a cool log cabin feel with fun, yummy food such as Beer Cheese Soup.
There are plenty of resorts to stay at in Lake Tahoe, but nothing can top the off-the-beaten-path feel of a cabin stay! We made a list of South Lake Tahoe cabin retreats that we think beat staying in a standard resort.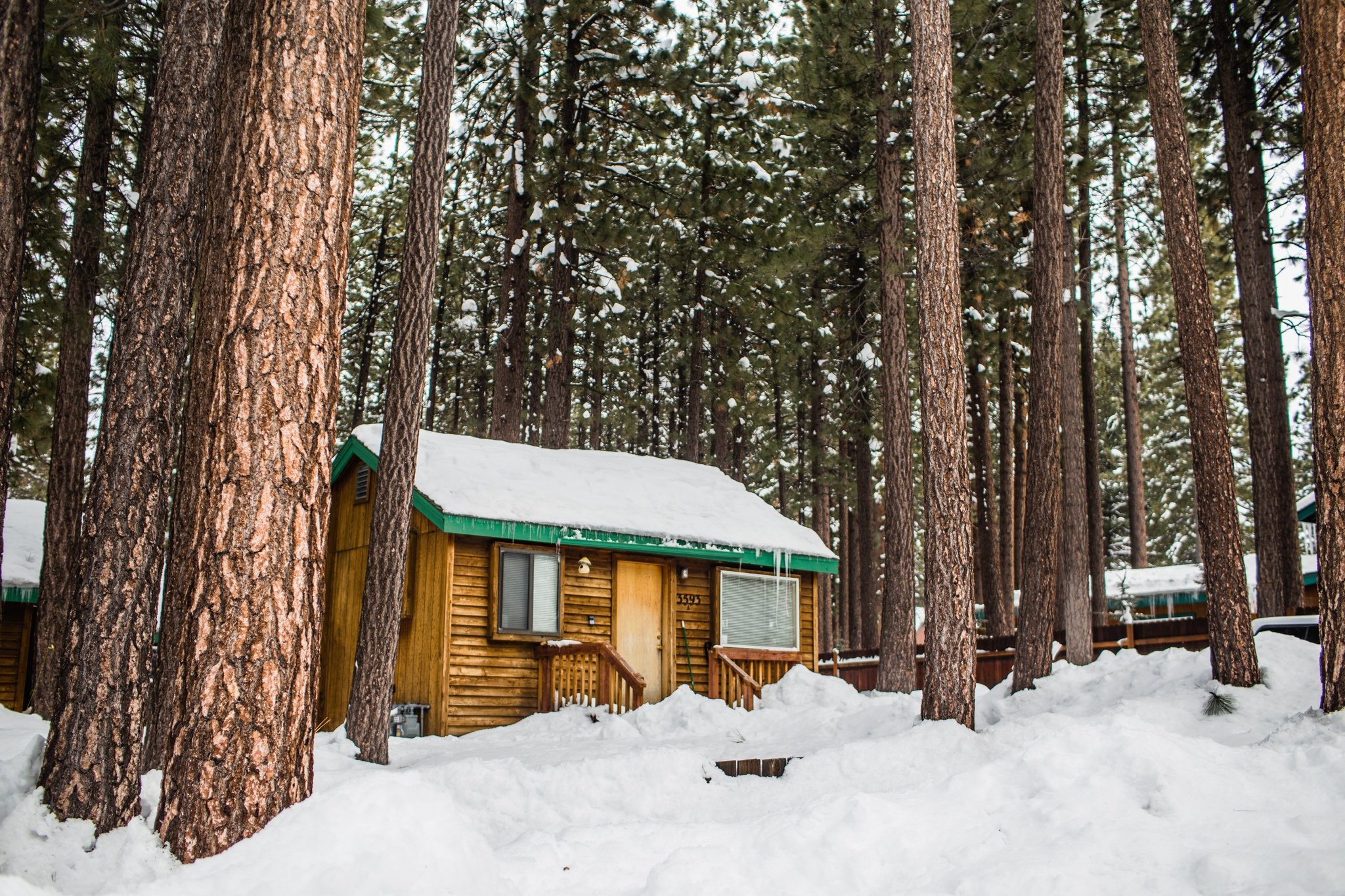 I hope this helps you find where to travel in January. This month is in the full swing of winter weather so depending on where you decide to go, you may need to have some winter travel tips up your sleeve.
Travel Tips Traveling in January
Here's some lessons and hacks I've picked up over the years of running around the country on winter trips:
Always rent a car with 4WD if you're heading to the mountains and make sure to check chain requirements daily. Chains are easy to install (I promise!!) but it's just easier all together if you don't have to carry them.
If you do need chains, it's best to buy these online in advance as local stores will jack up the prices. I love to buy chains from Walmart (fast shipping!)
Always pack a few extra pairs of socks if you're heading into a snowy area (trust me, wet shoes from snow sneaking into your boot is not fun!)
Always carry a pack of playing cards. These are handy no matter what, but in winter sometimes there's snow storms that cause you to cancel your outdoor activities (and sometimes cause the power to go out!) so these are a good entertainment backup.
On that note, don't forget to grab some travel insurance in case a huge snowstorm causes you to miss a flight or planned trip, or in case you get injured while exploring. I love the World Nomads.
Take advantage of Martin Luther King Day to get a 3 day weekend.
We use this!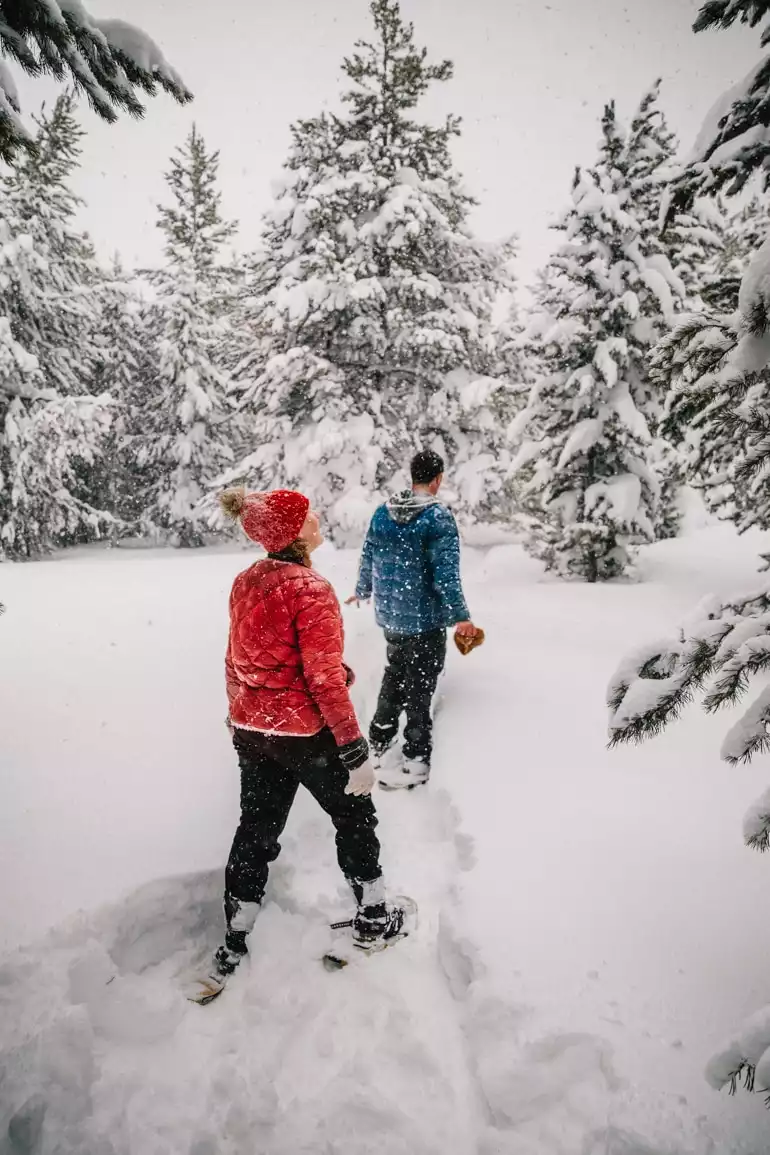 World Nomads Travel Insurance
I adore World Nomads for travel insurance, especially when I know I'll be doing something outdoorsy like snowshoeing or sea kayaking. They cover those activities and not all travel insurances do! They're affordable, fair and easy to use.
Pros:
Easy to buy before a trip

Plans are tailored to your needs

Covers adventure activities
Buy Now
Happy adventures!