Finally, a fashion trend that I've already been low-key living my entire life: COTTAGECORE!
I grew up in a 100+ year old Wisconsin farmhouse on 16 acres of land. The cottagecore aesthetic was basically made for me. While I do still love a good trendy piece of clothing my favorite dresses will always be my vintage and vintage-style ones.
In this post I'm rounding up all the best cottagecore dresses that you can buy online to live out your farmhouse on the English countryside dreams!
62 Whimsical Cottagecore Dresses You Can Shop Online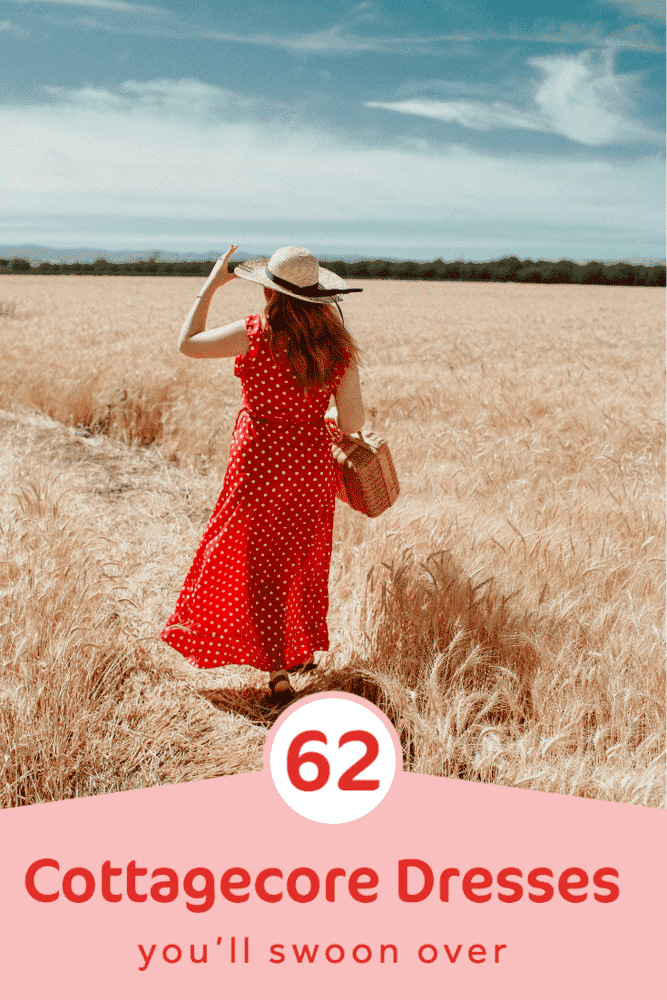 >> Got a question about dresses that you need answered quickly? DM me on Instagram @thewhimsysoul and I'll be happy to help!
Wait, What Is Cottagecore Fashion?
Cottagecore (or, sometimes spelled Cottage Core) is a fashion and lifestyle aesthetic that emerged from TikTok this year. It's a trend that's always been around but hasn't quite been named or as popular as it is in 2020. It's generally seen on women & womxn free-spirited folks.
This aesthetic is all about the prairie dresses, farmhouse girl, cottage living vibes. Think: floral prints, puff sleeves, cotton fabrics, thoughtful lace accents, flowy skirts & cuts on clothing. On the home decor side, picture a modern twist on a little house on the prairie style (wicker and straw baskets, milk jugs, fresh flowers, vintage vases, quirky accents…)
Where To Buy Cottagecore Dresses?
So, there's two ways to shop cottagecore dresses. There's the classic option of thrifting or buying second hand at great sale price. My favorite farmgirl dress from the 80's was thrifted for just $10 at vintage shop in Austin. But with 2020, many thrift stores aren't open right now. Plus, you never know what you'll find when you head to a second-hand shop – you can easily walk away empty-handed. So, the second option is to buy online from a cottagecore clothing brands or other fashion labels that carry this style!
Don't worry, I did all the hard work for you on this post!! I spent almost a whole day digging around the interwebs hunting down the prettiest, most whimsical cottagecore dresses for you. They're broken down in style categories (maxi, midi, etc.) Dresses range in all sizes (including plus size dresses) since yas queen, we're inclusive over here, and also range in prices but I try to keep them under $150 since who has more than that to spend on a dress?
Let's go!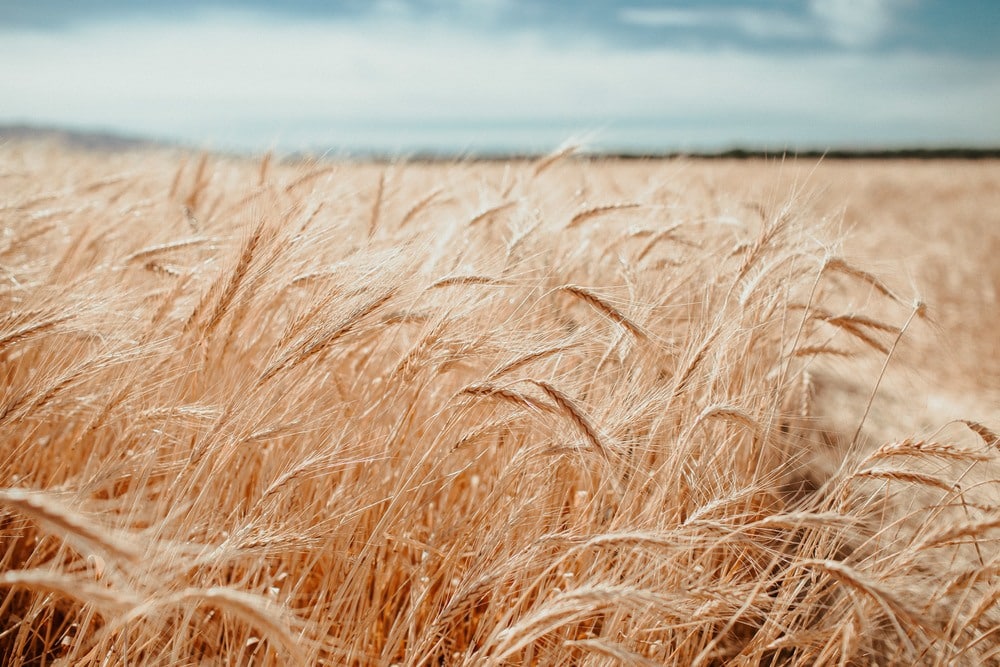 Cottagecore Maxi Dresses
Maxi dresses always scream summertime frolicking in a field of flowers to me. How cute are these dresses?! Gosh I love cottagecore clothes.


Cottagecore Mini & Midi Dresses
My favorite cut of dress is Midi since I love the length. I'm a curvy gal and 5'5″ so Midi cuts always fit me best. But Mini is also fun for summer on hot days!

Dark Cottagecore Outfits
Oh yes, dark cottagecore fashion is totally a thing! I feel like all the witches I follow on TikTok already have this style nailed down so I took inspiration from them when sourcing these dresses.

Cottagecore Wedding Dresses
Cottagecore dresses for women don't stop at streetwear! If you're planning a wedding & looking for that boho meets farmgirl style, shop my faves below! These prices are a bit higher since wedding dresses are just more expensive. BUT – I found my wedding dress for $500 on sale ($2000 off the original price!) so you don't need to spend a lot for a whimsical wedding! Check out my real-life boho wedding post for more decorating ideas, too.

Cold Weather Cottagecore Dresses
Hey winter cottagecore babes – you can rock this style in January, too! I spent a whole week in Wisconsin in -20 degrees wearing dresses like these. When it comes to winter cottagecore dresses, I look for either thicker fabrics or a more solid color dress that looks good styled under a chunky sweater. I love layering these dresses with tights and boots under a fun coat to stay warm. Skip the short cottagecore dresses and stick to longer ones.

And, when in doubt, you can also visit a local thrift store to find something. I always find vintage gems that just scream "cottagecore" to me. But, there's also a secret place you may want to check if it's near you: Amazon bin stores! These are stores were all the overflow products goes and you can get things at a massive discount and can probably find a great dress or two, along with cottagecore home decor and accessories.
I have to quickly share the story behind these images. Last summer my friends and I were driving around Yolo County looking for California sunflower fields. BUT, we arrived a few weeks too early and nothing was in bloom yet (it happens!)
But then we drove past this random field and pulled over. I'm not sure if this is wheat or grass but hot dang, it was beautiful. Of course we happened to have a bunch of cottagecore stuff in our trunk, like hats and straw baskets, so we had a little dreamy photoshoot.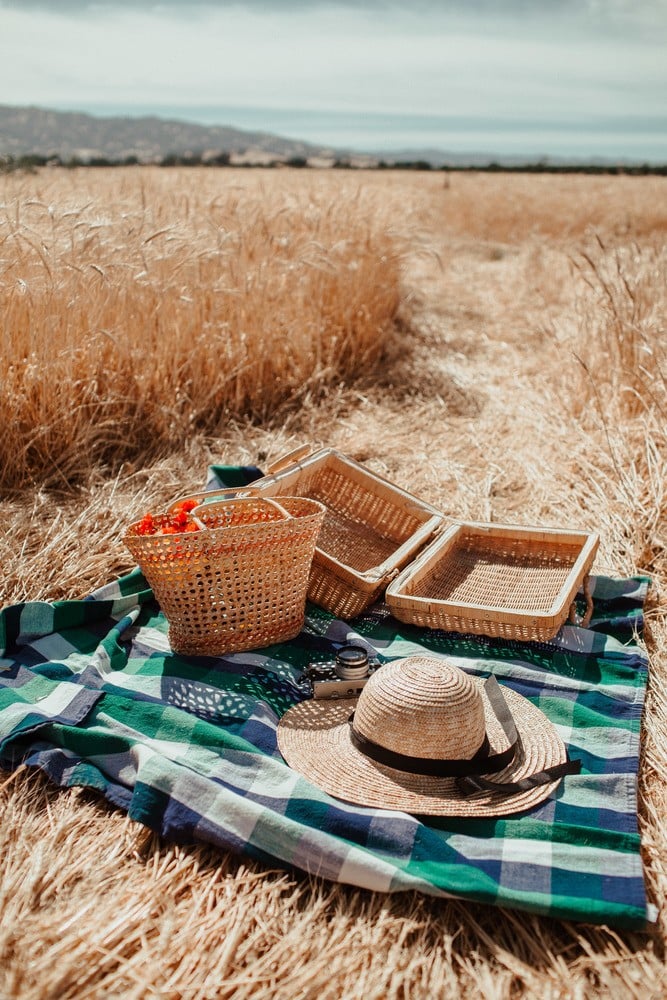 Why is cottagecore the hottest new home trend and fashion trend? Well, if you made it this far into the post OBVI you can see why: this style is dreamy AF. It also connects you to the past, a slower way of living and a time when people were more connected to the land. You can wear a fairy dress and feel like a magical woodland goddess, or just wear a simple summer mini dress to picnic in.
And in 2020 when more and more people have the option to work from home, it makes total sense to me that the urge to go back to the land is appearing. And while most people can't up and buy a cabin in the mountains and start a garden & make homemade pickles, they can wear clothing that makes them feel likey they, along with swapping to sustainable products in their home, more plants, etc.
I always lean to a vintage inspired summer dress (think Little House On The Prairie but modern!) or a flowly floral dress. Bonus points if it's a linen dress to keep me cool in the hot months! Cottagecore dresses Target has right now are getting a lot of laughs but I'm here for a lot of them – ha
I hope this post helps you find the perfect cottagecore dress for you! If you shop one and post to Instagram, I'd love to see how you rock that style! Tag me @thewhimsysoul so I can see 🙂 When in doubt, Free people is always a good spot to start with. They have so many types of cottagecore dresses and have fast delivery or head to your local thrift store.
Got any favorite cottagecore style dresses that didn't make this list? Drop a comment below so everyone can see!