originally posted in 2021, updated in 2023 after a new round of orders!
After weeks of being bombared with TikTok ads for Halara clothing,I finally broke down and decided it was time to do a formal review on them for you guys.
As with all my brand reviews, this is 100% not sponsored. I used my own monies (almost $100 to be exact) to test out these TikTok-famous dresses and activewear. Keep reading for my honest The Halara reviews!
I Tried Halara So You Don't Have To (Honest Halara Review) 2023
This is part of my Saw It On Social series where I review Insta-famous brands and give you the real tea. Find more past reviews here.
UPDATE: I'm awaiting another order from Halara since they have added new items since I last reviewed them! Gotta keep this post updated.
What I Ordered From The Halara Clothing
I got free shipping with my order since it was almost $100 for the 3 pieces. The second order was about $70 for two pieces.
First Impressions From The Online Site
As with most fast fashion companies, my first impression was "wow, what a bunch of skinny women." I will give Halara credit for featuring black and brown models front and center, but all of their ads on TikTok and their models are size Small, thin women.
There's a lot of fatphobia and racism with fast fashion stores these days. As always, I'll never stop advocating for truly diverse representation. Halara, let's see some plus size babes on the front page ok?
They also are huge offenders of the fat tax (more on that later).
I also knew from poking around the price points is that my main goal from this would be to determine if Halara makes the same quality materials as a company like Outdoor Voices, since their price point is kinda high and closer to OV prices.
Or, are they more like an Old Navy? If that's the case, they are overpriced. Over $40 for a pair of leggings is too much unless it's top-shelf made with recycled material like my favorite place to shop activewear, Girlfriend Collective.
I picked out a top, leggings and the famous Halara dress and checked out. It was a secure checkout process, which was great. I still didn't give them a real phone number, though.
First Impressions From Physically Trying The Clothes
My estimated delivery time was 11-14 days. I placed my order on September 3rd and it arrived on September 13th, so the shipping was pretty fast.
The products arrived and I immediately put them on. And, it wasn't what I expected….
Halara Activewear Reviews In My Feels Tank Top
So, first I tried on the In My Feels Tank Top. This is a mix between tank tops and sports bras. I love to wear tops like this with high-waisted pants and skirts and I don't have one that's white so I thought this would be great.
First impression was the fabric was really soft and stretchy, which I love. But the top is a bit tight. I can fit into it but it's just tight enough around my rib cage it was a bit hard to breathe.
As a reminder, I ordered their XL, their largest size, but this fit more like an L. It is a really nice tank top, though, and if it were a size bigger I would keep it.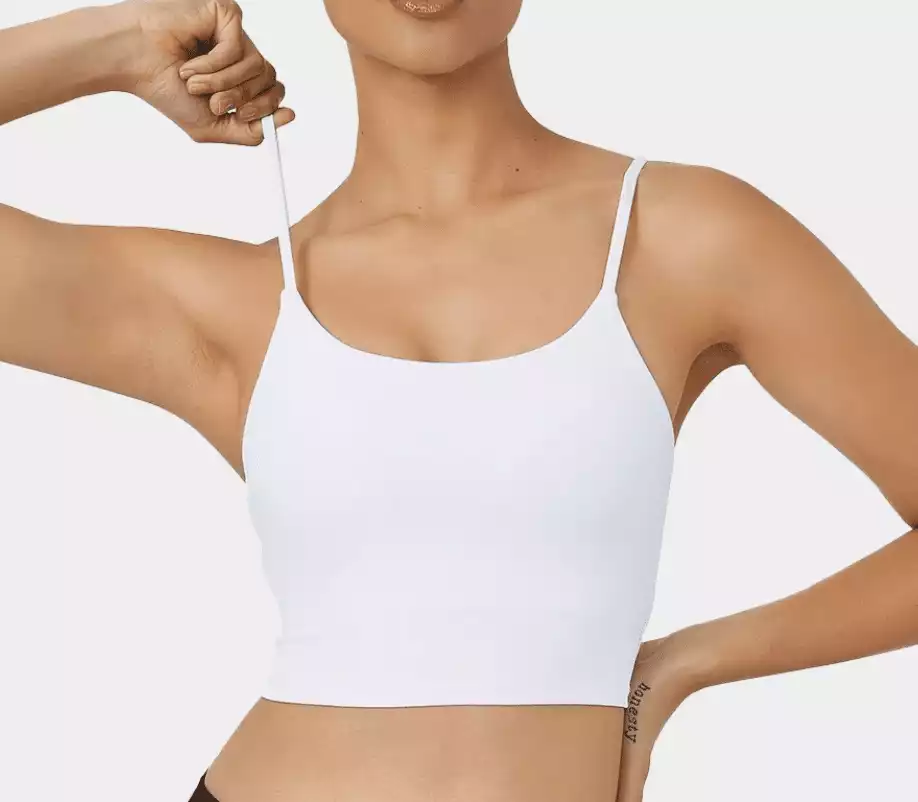 Halara Leggings Reviews Everyday Leggings
A true test is if you can make good black leggings. They aren't that hard. But Halara F*d their leggings up. I ordered an XL which they consider to be a US 16 on the leggings. I can't even pull the leggings up past my thighs.
Normally I wear a US 12 or 14, so these are 100% not a 16. These have to be a size 8 or smaller leggings. I have no tolerance for companies who refuse to size their pieces honestly and it's frustrating these leggings run so incredibly small.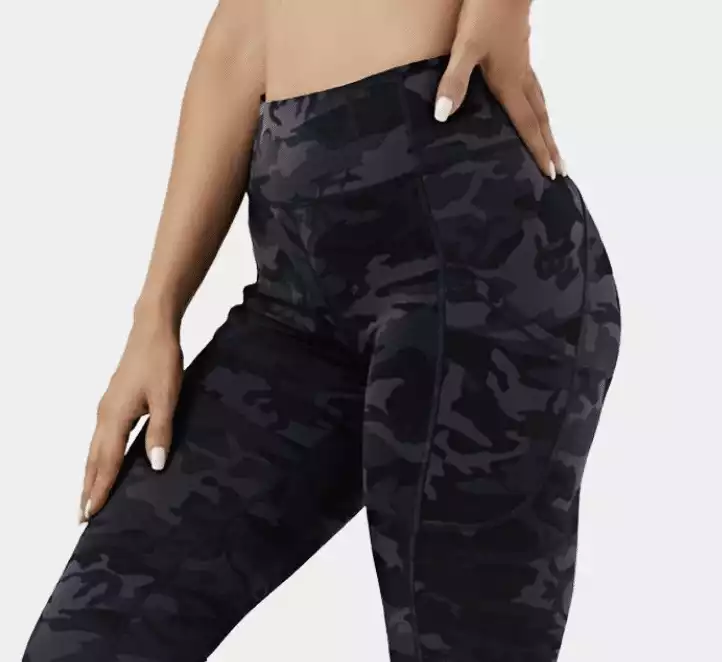 Everyday High Waisted 7/8 Leggings
Halara considers an XL to be a USA size 16, but I couldn't even get these past my thighs they run so incredibly small. So frustrated and obvi couldn't even put them on.
Buy Now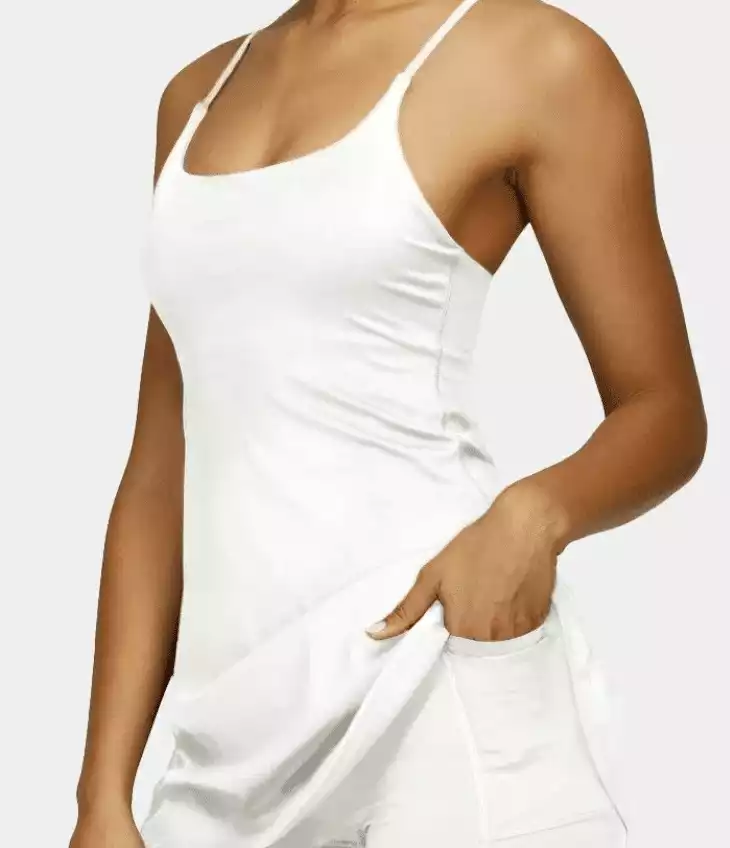 Everyday Cloudful Activity Dress
This dress ran a little small but I could tell it would be perfect if I actually did tennis or another sport that required an activity dress like this. It's heavy materials, so maybe not best in the summer.
Buy Now
Halara In My Feels Dress Review / Cloudful Dress
The everyday dresses (now named the Cloudful dressed) are the ones taking over the internet! They are basically dressed with tennis skirts / skorts ( shorts underneath). It's the perfect dress for summer since you don't have to worry about flashing anyone.
Just like with the top and leggings, this dress runs really small. It hugged me too tightly and isn't at all flattering. The material is really stretchy, which I liked and I knew it would be a comfy tennis dress if it actually fit correctly.
It is a thicker material (more like what a swimsuit feels like but with a few layers) so you can't see underwear through it.
But it also may be a little too thick on hot hot days. No loose threads or anything, so that was a good sign. Plus, I liked the pocket on the shorts.
Some people say the Halara dress dupe is spot-on for Outdoor Voices' activewear dress. My official Halara dress review? It's cute. But not like Outdoor Voices because the size chart is all out of whack. Also, the cups built into the dress are a little wonky and lumpy.
They may smooth out during the next wash though.
Halara Corduroy Pants Review
During my update order in 2023, I grabbed a pair of Halara's famous new corduroy pants in orange in XL. As a San Francisco girlie, I kinda always live in autumn so I was eager to test these pants out.
Good news – I can get them over my butt, unlike those leggings!! And they have pockets which are a big win.
That being said, I don't feel like these pants sit on me the same way other brands of pants fit me. It's hard to explain, but it feels off. I hate saying "these pants don't flatter me" since I think the idea of flattering clothes is very subjective but they don't hit me in the right places.
And, when I'm bloated or on my period, these pants are too tight to sit and be comfy. That being said, they are nice pants and I will keep them. I think they'll be fun to wear in the fall this upcoming year.
I can't provide a Halara shorts review s I did not buy those.
Halara Cloudful Plus Size Leggings
The main purpose of my re-order and second round trying Halara was to see if they've improved sizing on their leggings.
This time, I ordered a 1X instead of an XL, my normal size, since last time that ran super small. And I was super happy to find that these Cloduful leggings in plus sizes actually fit me. I could get them over my bum and they even have pockets!
They're super comfy and stretchy and I was like "wow, these are my new favorite leggings! Good job Halara on doing better with inclusive sizing!" (Well, they still run big 1 size so they only go up to 3X but much better offering than before).
Until, I logged online to update this post and saw the most horrifying use of Fat Tax i've ever seen. The Cloudful Leggings are $49.95 in plus sizes. The same exact leggings in straight sizes (XS-XL) are $29.95. That's a $20 difference for fat people.
Seriously Halara? What the actual F? Usually when I flag the fat tax being used it's a few dollars difference but this is a huge profit margin increase they've slapped on the plus size leggings. Morally, that's just not ok, no matter how well they fit me.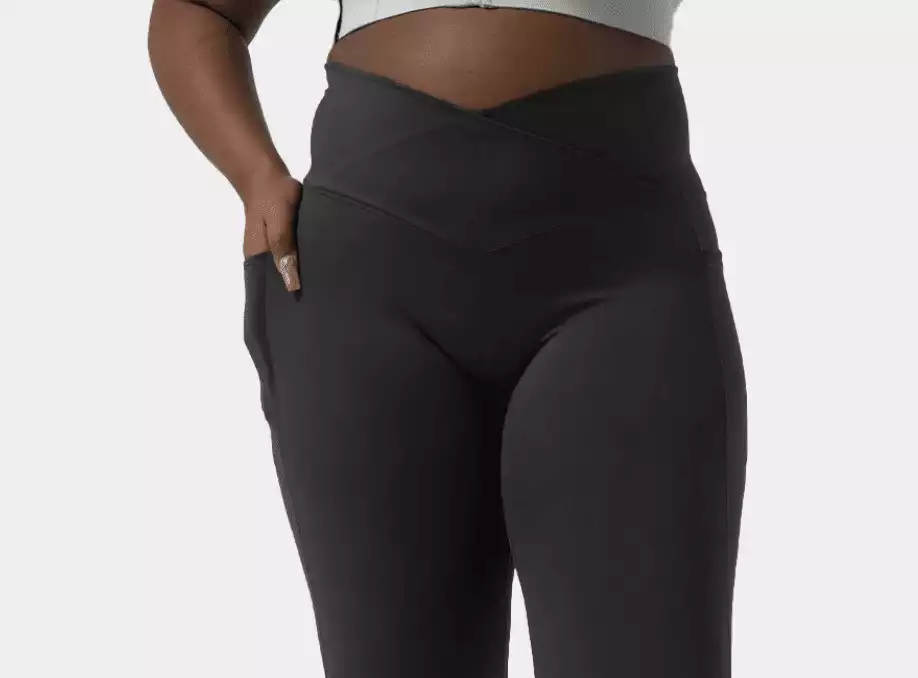 Cloudful High Waisted Crossover Leggings
I ordered up for a 1X and was happy to find these leggings are super stretchy and comfy. the pockets are well sized and I like these. I feel like the waist could be slightly higher though but mostly was super sad to see the extreme use of fat tax on this item.
Cons:
they charge $20 for this sample style in sizes XS-XL (extreme fat tax!)
Buy Now
A Closer Look At The Halara Clothing
A deep dive into the company!
Halara Sizing Review
Halara's size chart is awful. On the Halara Dress, an XL is considered a US Size 12 ( wrong size, should be a 14) but on their leggings, an XL is a US 16. That experience makes it really hard for the customer to shop and shouldn't be a problem that customers have to deal with.
And, when I got the clothes, what I thought would happen did happen: most things were too small and didn't fit. Because they actually only go up to a US 10.
So, our Halara sizing reviews are pretty bleak.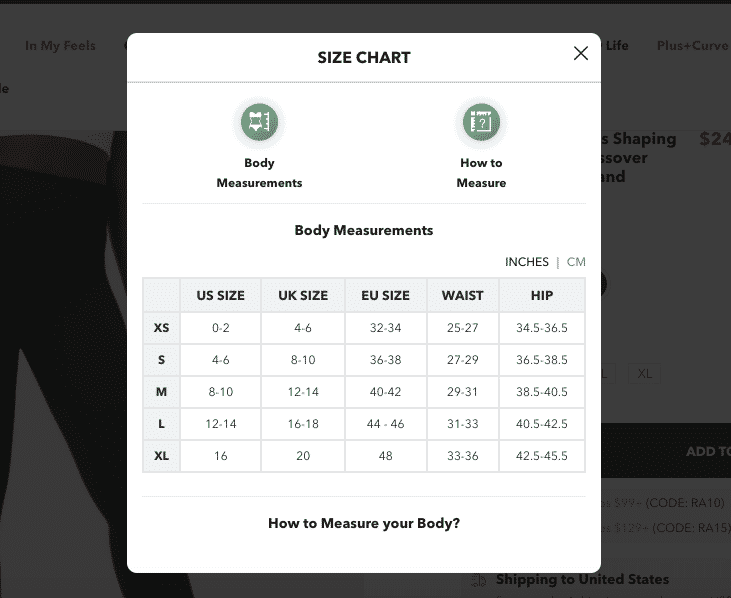 Halara REALLY Uses The Fat Tax
As I chatted about before, Halara is using the Fat Tax and are pretty big offender. The Fat Tax is when a clothing brand charges a lot more on plus size pieces than straight size pieces. Most brands do this (even my beloved Target) but usually it's just a few extra dollars for a pair of underwear in 1X vs XL.
But here, I found that Halara is charging $20 more for the same pair of leggings in the plus sizes. They do the same thing with the sports bra I tried — it's about $8 more for the bra in plus sizes.
I have zero tolerance for brands who pull this move. It's unacceptable and a gross embodiment of thin privilege and how the fashion industry hates fatness. Do better, Halara.
Halara Customer Service Review
Halara uses a Zendesk chat feature but nobody is actually there to chat with you. I have emailed the team to ask for a return but haven't heard back from anyone yet.
I'll up date this post if I do hear back from them to let you know how that interaction is, but so far it's not great.
Update: I never got a reply lol!
Halara Return Policy Is Sketch
As with many of these overseas fast fashion companies, their return policy is sketch. You are required to email the customer service team first and they get to decide if your reasoning for returning items is valid. And they get to say no even if there are loose threads, the item looks different than it did online, or if the fabric isn't what you expected.
I emailed them to return my whole order since everything was too small and haven't yet heard back from them but I'll let you know how it goes.
Halara Is A Dropshipping Company?
Free shipping on orders $49
Free express shipping on orders $159+
This messaging looks very similar to Shien... do my radar went off. Is this company owned by Shein? I did some digging and they aren't owned by Shein. But I did discover through Halara clothing reviews Reddit forums have wrote stating that Halara is just a dropshipping company that sources all of its clothing from Aliexpress but marks up the prices.
I wasn't able to quickly find the same dress on Alibaba but I also didn't shift through the 65 pages of "white tennis dress" options on it. But, I would give a strong guess that they are a dropshipping company that puts all of its marketing dollars into original photos and TikTok ads and product reviews.
Is Halara Fast Fashion?
Actually not really? They aren't on the same level as Cider or Shein since they aren't dropping new styles every single day. I first wrote this post in 2021 and all the styles I tried and featured are still on the site.
Honest Halara Review – Are They A Scam Or Legit?
So, Halara is legit in the sense they skip pretty fast and seem to sell what they are actually selling online. Like, all the stuff I order from Shein doesn't look like the photos online, but Halara clothing looks the same. So no, they are not a scam.
But, they aren't for everyone. They aren't for anyone over the size of 10 and I personally think you can find similar quality clothing at Target or Old Navy for cheaper. But, if you want a cute tennis dress and are small enough to fit into it, I think you'll like the Halara Dress.
If you're curvy and this is your first time shopping workout great from viral tiktok ads, you may be disappointed by sizing and you will be disappointed by their blatant use of fat tax. Be prepared to spend more money, too.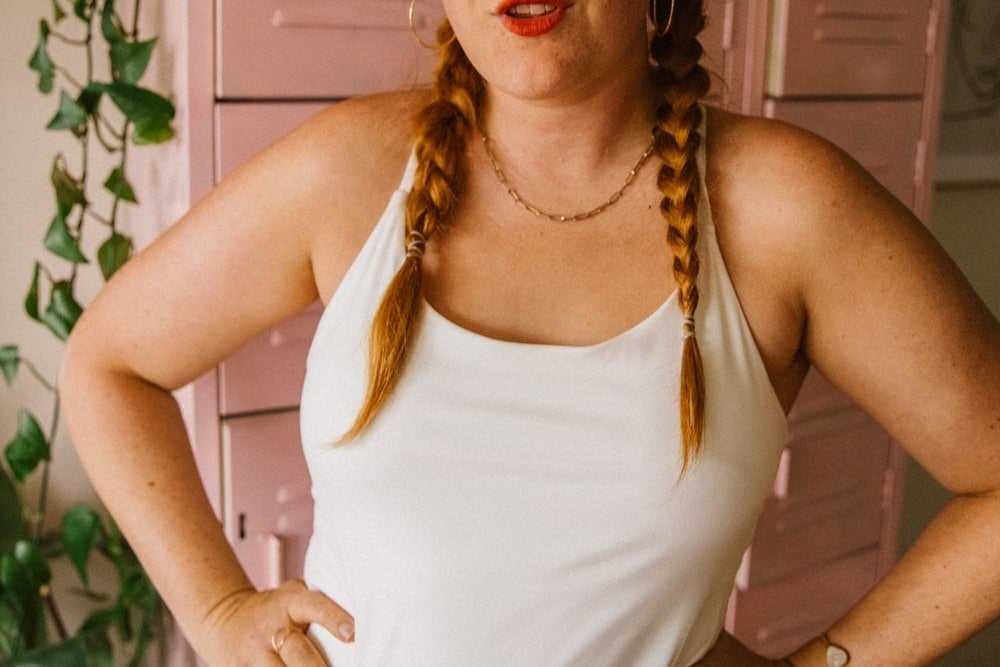 Tips For Buying Halara Clothing
That being said, Halara still is a Chinese company and you always have to protect yourself a bit when shopping those guys as they don't always have to abide by the same consumer protection laws as EU or USA based companies. (Actually maybe based in Hong Kong? A little hard to tell). Here's my helpful tips:
Do not use your real phone number for the discount code pop up
Use a credit card that can protect you from fraud or return issues (not a gift card or debit card!)
Pay close attention to the size charts for each individual item
Look at past Halara clothing reviews from customers to verify fit
Size up!
Use your "spam" email address (not your main one) since they WILL send you a crazy amount of email marketing updates
Share this with anyone who is thinking about buying from Halara!