Outdoor Voices: the chic, colorful athleisure brand that I feel like popped up overnight and is now everywhere I look. Online and in real life, too.
But, are they worth the high price tag? Are Outdoor Voices leggings and bras REALLY truly better than what you can find at Old Navy or Target? And, can they fit curvy or plus size ladies? In this totally unsponsored, honest Outdoor voices review I'm taking a deep dive on this brand, sharing all the things I love and hate about the product so you can decide if you want to shop a pair or not.
Curvy Girl's Outdoor Voices Review + Why I'm Returning My Order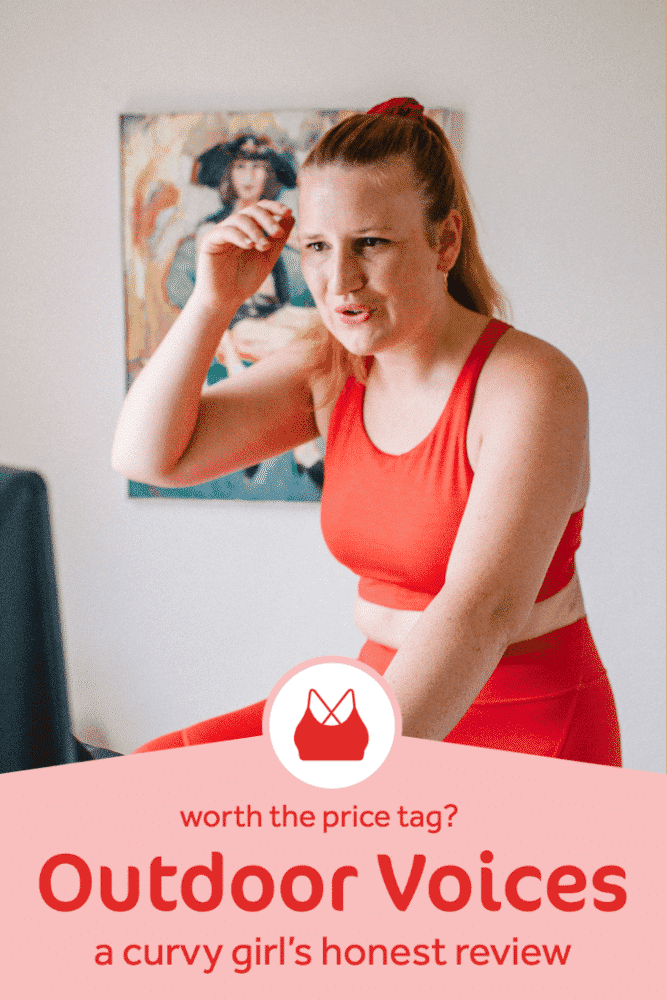 Welcome to another edition for my "Saw It On Social" review series where I try out all the brands and products I see on Instagram or flaunted by fellow influencers, but I give you the REAL, unsponsored tea on them. I judge a brand or product on the style + fit, value for price point, shipping, return policy and customer service.
Introduction To Outdoor Voices
Outdoor Voices sells athleisure and workout clothing. Their staples include leggings, bras, crop tops and shorts, though they have also expanded into accessories, dresses, shoes, etc. All items are fairly expensive. Leggings are just under the $100 mark and bras are around $70, making a simple set total come out to around $180.
I know that sometimes you have to pay a premium for a truly premium product that will last years. Outdoor Voices is that kind of brand. I've been itching to try out for probably over a year now. People here in San Francisco LOVE their Outdoor Voices workout sets. I was ready to invest!
Outdoor Voices Leggings Review
I feel like every time I leave home I see somebody wearing this iconic legging, whether it's for running an errand, walking their dog or doing an intense workout in the park. Outdoor Voices has a certain style that you can recognize, but I've been seeing knock-off styles pop up recently at places like Old Navy and Target, but at a fraction of the price. So that lead me to finally pulling the trigger on some Outdoor Voices clothing.
What I Ordered From Outdoor Voices
I ordered the TechSweat 7/8 Leggings in Scarlet (size Large) and an Apex Bra in Scarlet (size Large) since I love that matching-set style when it comes to gym wear and wanted something in the high-performance category. I do a lot of hiking and sometimes when my neighbor is on business trips, she'll let me use her Peloton which gets you sweaty AF.

SPOILER: I'm returning my entire order and I will explain more why towards the bottom of this post. Because I decided to return my order, I did not work out in the pieces (just took photos!) Ok, first let's go over each piece.
Overall, I was pretty impressed with their Apax bra. I loved the support of the girls. It was a bit tight on the band, but I knew I could live with it if needed, perhaps get it stretched out a bit over time. You can adjust and take the pads out if needed as well. Because the pads are adjustable, I found they did move around a bit and could sometimes get lumpy (as you can see in the photos) but were easy to readjust upon putting on.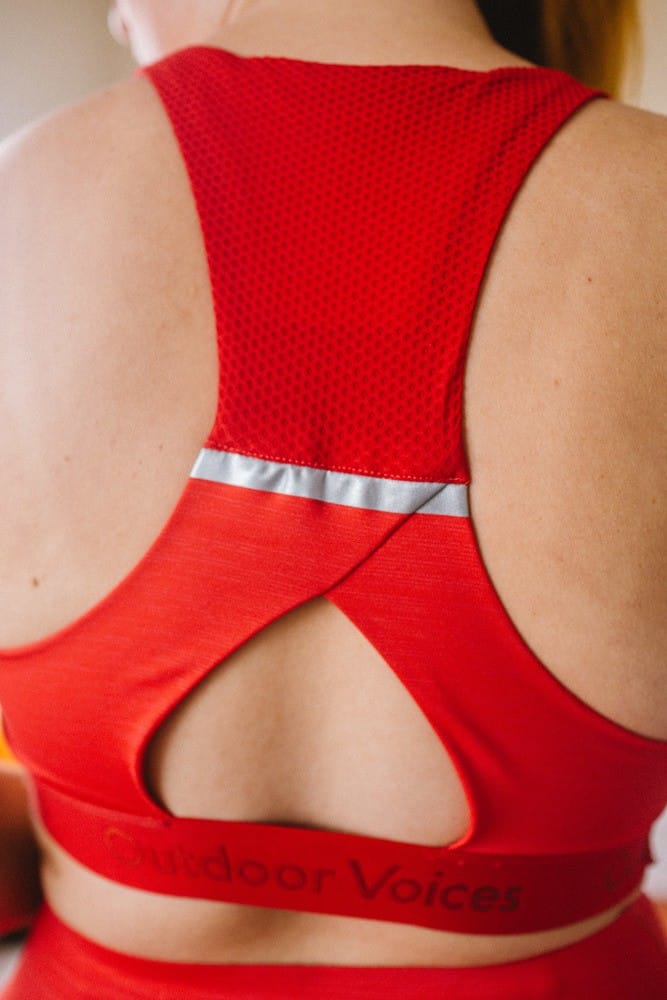 Outdoor Voices TechSweat Leggings Review
My initial thoughts when holding these leggings for the first time was "WOW, these are lightweight!" These leggings are made for high sweat, high-intensity activity. I was expecting a thicker fabric, but this feels thin.
It hugs your body really well but is stretchy and breathable. I know that if I took these out for a 6-mile hike in the headlands, that these would help control all the sweat and keep me cool.
BUT they were way too small, so much I felt very squeezed while sitting down in them. Not at all what you want with $100 leggings. I'm a size 12 and normally I wear a size Large, so I ordered a large bottoms. I felt like their Large fit more like a Medium.
I mean, their Large is VERY tight on me, tight enough that I'm not sure their XL would be comfy enough for me and that's a problem because they stop at size XL. Running small is a big problem when you stop at XL.
Insight from a follower: high activity gear tends to run small (this is what I ordered) but their regular leggings are more true to size and stretchier.
The moral of this story is to check the sizing chart and size up if you are ordering high activity gear. Or if you can swing it on your credit card, order two sizes to make sure you get a good fit on your leggings.
Outdoor Voices Problematic Sizing Problem
I can totally forgive a company for running small. It happens, everyone's fit model is different. Apparently not all their leggings are off base for sizing. BUT, this case felt a bit icky and out of touch…let me explain why.
First off, the average American woman's waist is about 37 inches, which is around a size 18. Keep that in mind while you read Outdoor Voice's mission statement that you can find on their website: Outdoor Voices was founded to inspire happier & healthier lives by making daily Recreation fun and accessible to all. We set out to show that moving your body is for every body, regardless of gender, size, or race.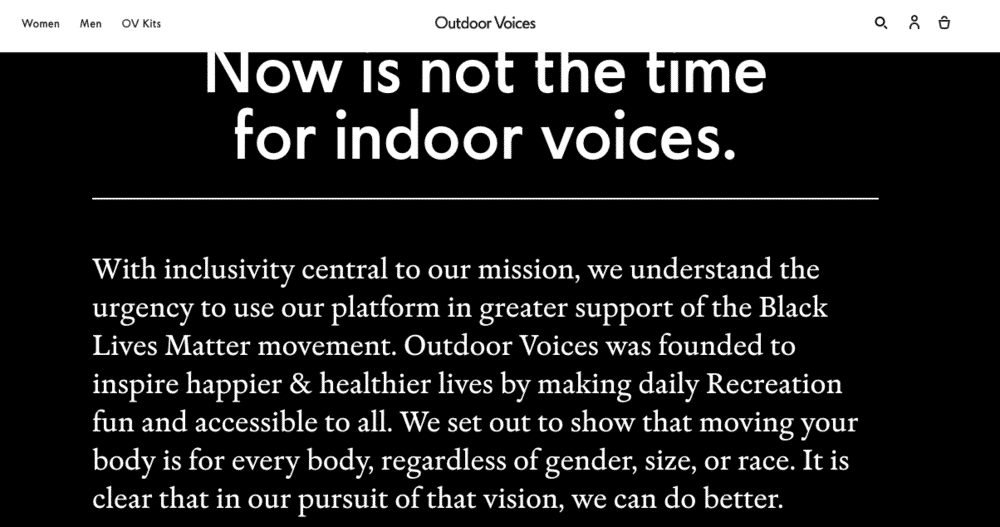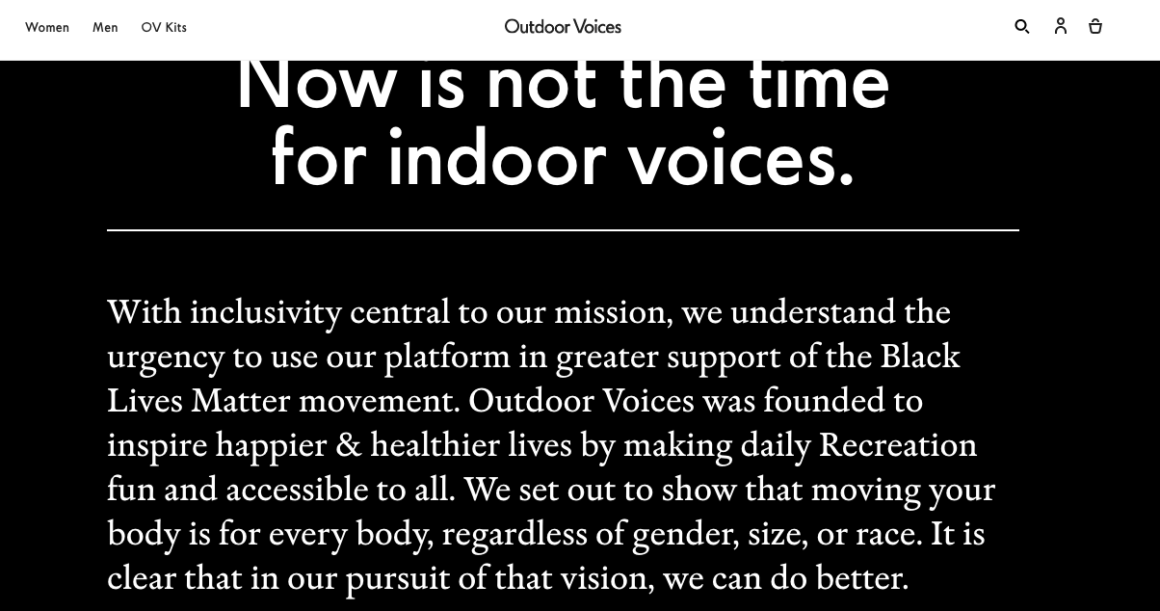 Well, the truth is they seem to only care about the bodies that can fit into a (questionable) XL or smaller. Not exactly "every body" now is it? This is especially frustrating because Outdoor Voices posts a lot of "body positive" type of content on their Instagram, like models with cellulite, all to adhere to their preformative "body-positive" brand.
I do want to be clear – I do really appreciate Outdoor Voices' racial diversity in models. The cover image on their homepage right now is a black woman, natural hair and all, and even in 2020 after BLM that's something many clothing companies haven't chosen to do yet.
But she is still a thin woman. At the end of the day, stating "we want recreation accessible to all" BUT not offering sizes that fit the average American is very conflicting in a problematic way. It's all just performative. And for that reason, I'm choosing to return my order and not support Outdoor Voices until they expand their sizing to TRULY fit every body like they state their company is all about.
Check out Summersalt – this swimsuit company has a similar brand to Outdoor Voices (diversity in size and race of models, founded to empower women, etc) but they actually offer swimsuits up to size 22.
Outdoor Voices Return Policy + Shipping
Like with any Saw It On Social review, time to chat about Outdoor Voices' shipping and returns. My order came pretty quickly and the packaging was minimal (one envelope that looked like it was recycled, top and bottom each in individual plastic, one paper shipping label and one piece of paper padding.) Not too shabby on the waste, which is really great!
BUT, notice how I didn't include a pre-paid label in that list? Outdoor Voices Return Policy does include a free shipping label… but you have to print it out yourself. There's no scanning at UPS or USPS option so they can print a sticky label and no label provided for you. I
It's 2020, we live in a paperless society. Especially now when most people aren't at their offices (which let's be honest, is where most people used to print their things) figuring out to return packages is a major pain point.
For a brand whose average cart size is probably at least $180-$200, it's a strange customer experience to have to scramble to print a label yourself (or risk exposure to COVID by paying a UPS to print, etc), then having to cut it out and tape it to the outside of a package. Not a deal-breaker, but is something I wanted to make sure you are aware of so you can plan ahead on how you are printing a return label if needed.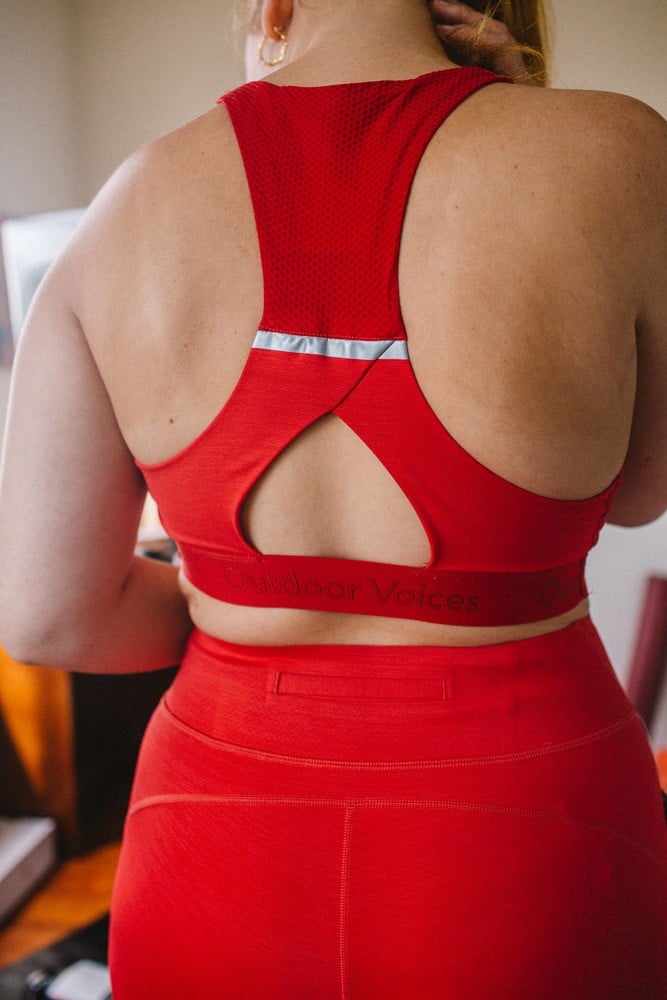 Is Outdoor Voices Worth It?
Here's the thing: I loved the fabric of my leggings and bra. It felt far superior to the leggings I've bought from other companies, and it should because Outdoor Voices are easily 2-3 times more expensive than my other leggings. (If you want to buy from them, you may want to wait for an Outdoor Voices sale to get a discount! I'm sure they have holiday sales coming up. )
For the price point, you get great product. They ship fast and in minimal packaging. They're fashionable. Their return process is a bit outdated, but that's not a deal-breaker, just a pain point.
What is a deal-breaker their sizing issue. If they expand into inclusive sizes in the future, started actually practicing their mission statement of serving every body no matter size… I would give them another shot. But for now, I'll be returning my order & purchasing new athleisure elsewhere.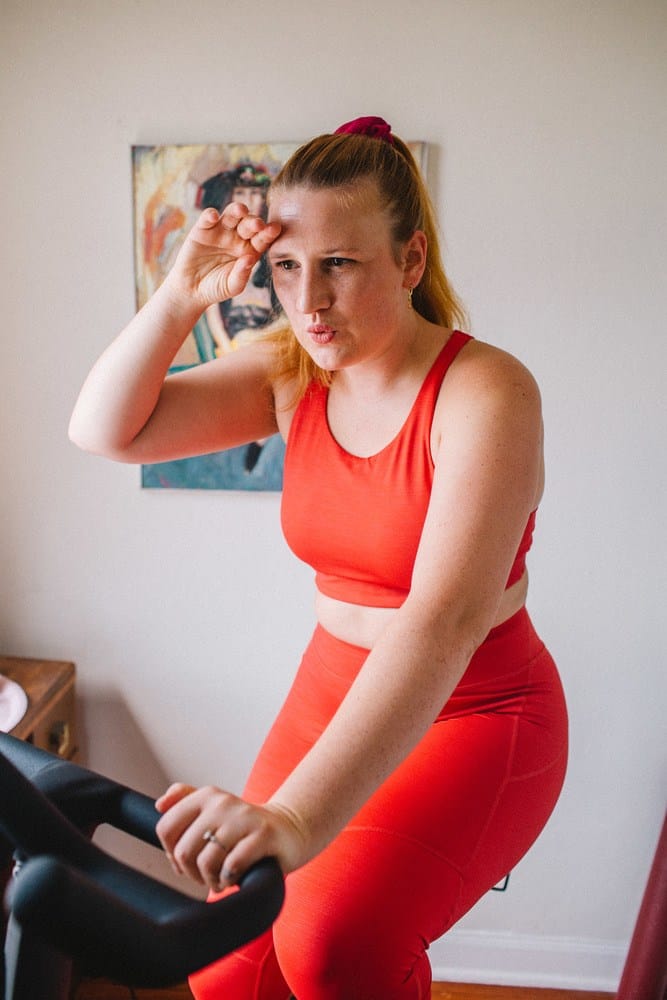 Well, so that's my Outdoor Voices review!! I hate feeling obligated to share not-positive reviews, but that's my honest thoughts on the brand at this time. I wanted to love them – I really did. And I think they have potential. Their product, at the core, is really high end. But they need to expand the sizing of their product (and like, maybe start sending return labels, too.)
Have you tried Outdoor Voices leggings or bras before? How did you feel about them? I'd love to hear your thoughts, let's get a convo going in the comments! You can also drop questions or DM me on Instagram @thewhimsysoul if you have any questions!