Leavenworth is an adorable mountain town in Washington state that just happens to look like a tiny village plucked from Bavaria in Germany. Each fall, they throw a big Oktoberfest. Each holiday season, visitors travel from all over the country come to see the Leavenworth Christmas Lighting Festival.
Come spring, flowers are everywhere along the hiking trails. After a trip to Leavenworth for Christmas this year, my husband and I completely fell in love with this town. These are the top things to do in Leavenworth, your ultimate city guide for year-round visits!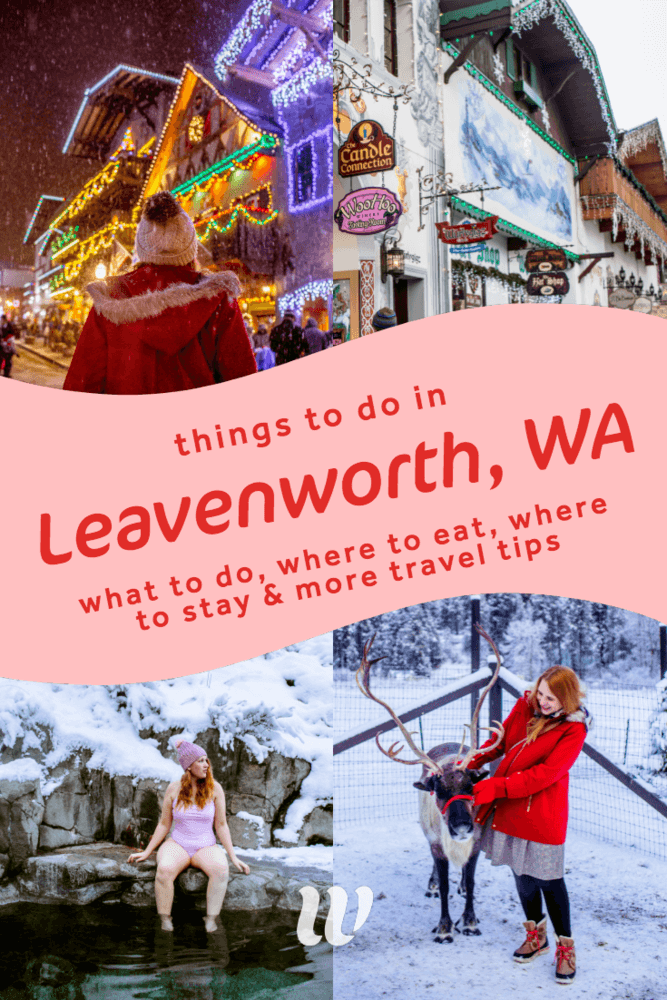 >> Got a question about Leavenworth that you need answered quickly? DM me on Instagram @thewhimsysoul and I'll be happy to help!
Leavenworth Christmas is undoubtedly more popular than Leavenworth summer ( I mean, who doesn't want to hang out in a Bavarian village that's closer than actual Germany?!) but Washington state is stunning year around.
From craft beer, farm to table dining, history and plenty of outdoor activities, they have it all here.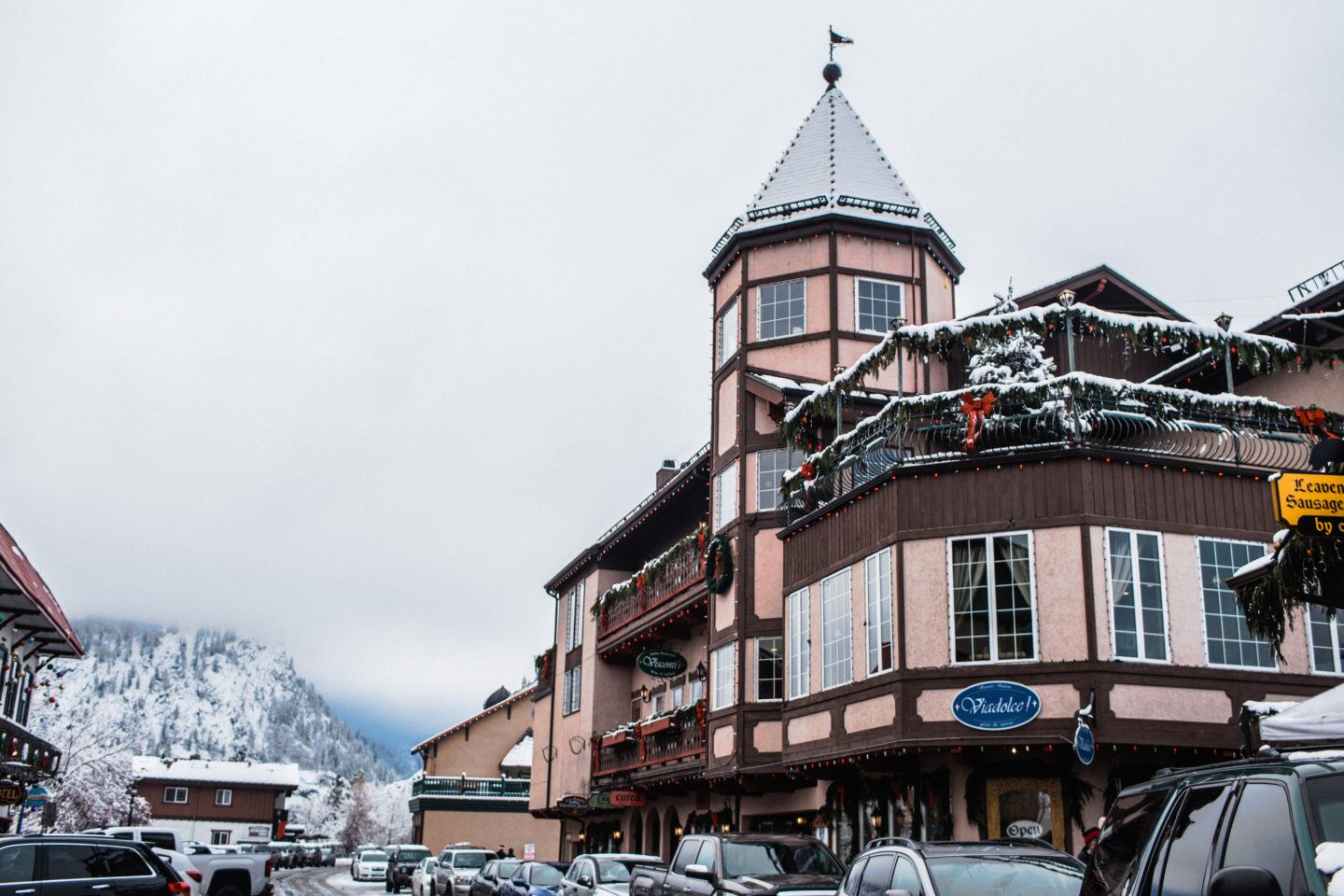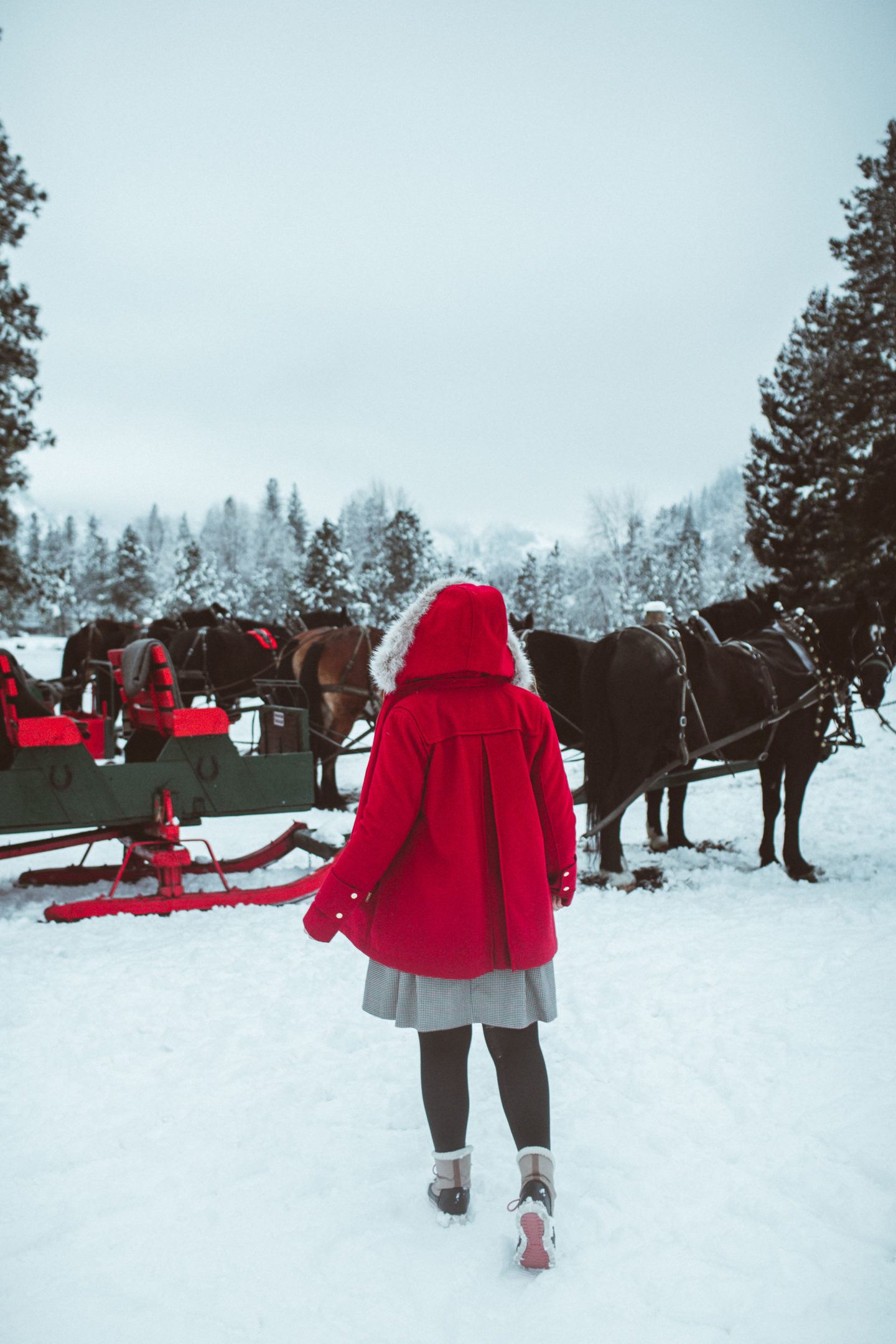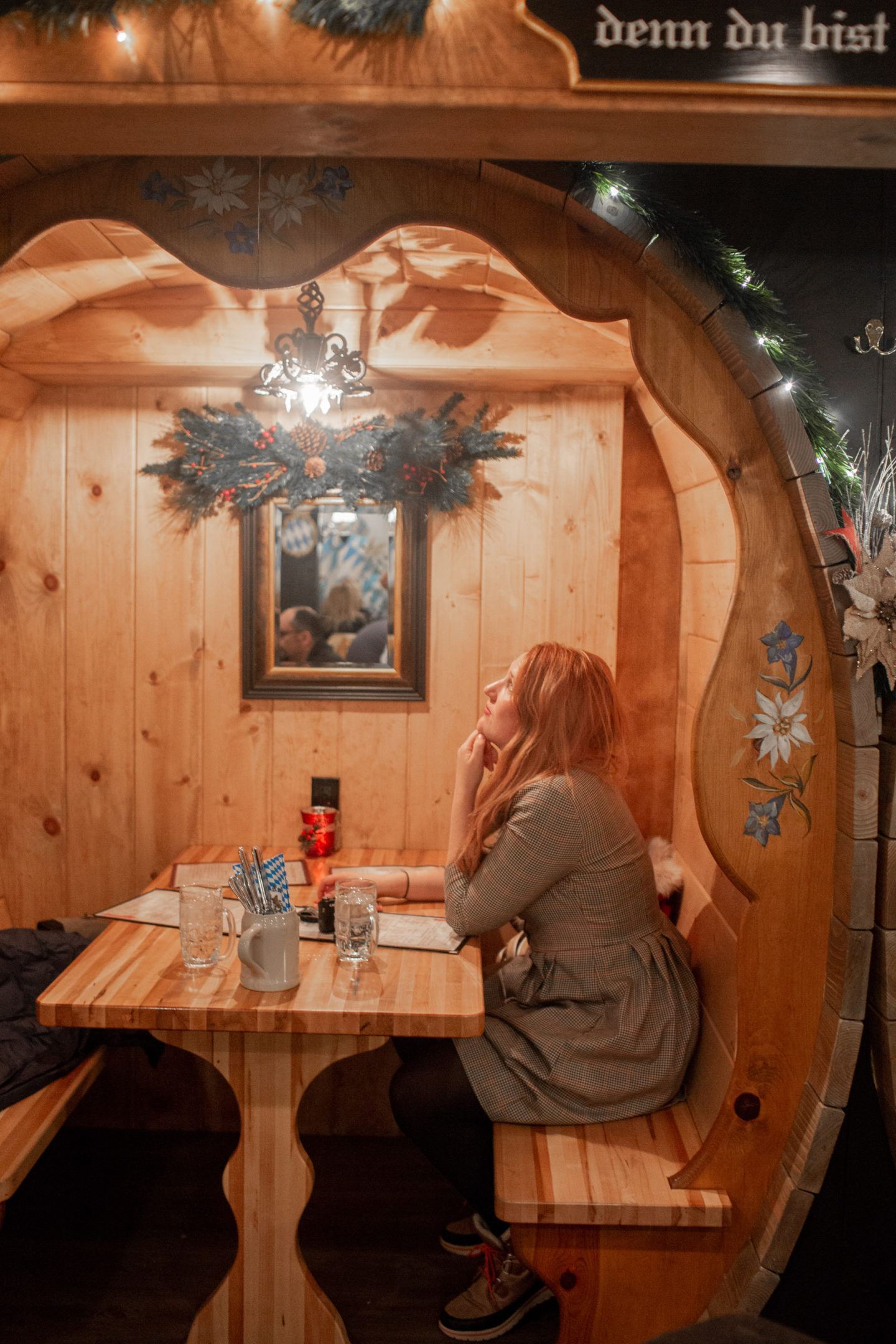 *A star means we did this thing, stayed at this hotel, at this restaurant… basically it means we put our personal stamp of approval on it!
HOW TO GET TO LEAVENWORTH
Leavenworth is only about a 2-hour drive East of Seattle. To get to Leavenworth if you don't live in the state is pretty easy. We flew from San Francisco to Seattle-Tacoma and easily rented a car.
We arrived in December on a very rainy day – it was actually the first real snow of the season in the Cascade Mountains! We didn't need chains for our drive, which was a blessing because our rental car did not have them. If you are visiting in the winter, I highly recommend renting a car with traction tires as they'll mandate those before requiring chains.
Check the WSDOT for weather conditions and chain requirements in the mountain passes!
The drive was quick, beautiful and easy – even in the rain turned to snow. We took Stevens Pass there and Snoqualmie Pass back so we could see different parts of the famous Cascade Loop and parts of the Wenatchee National Forest and the Wenatchee River.
If you are used to driving around California and the Sierra Nevadas, you'll be able to easily handle the Washington mountains as they are smaller and lower elevation in most areas.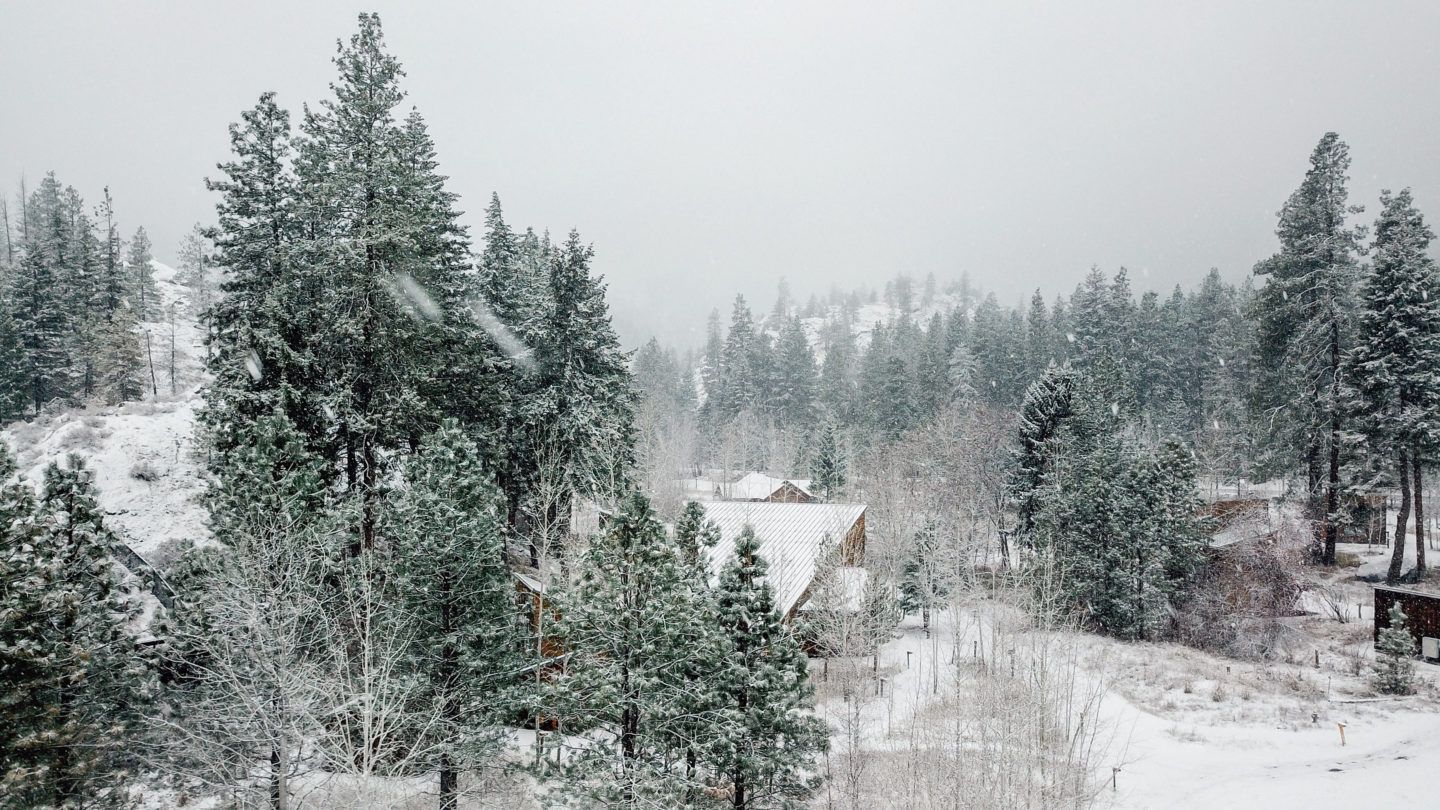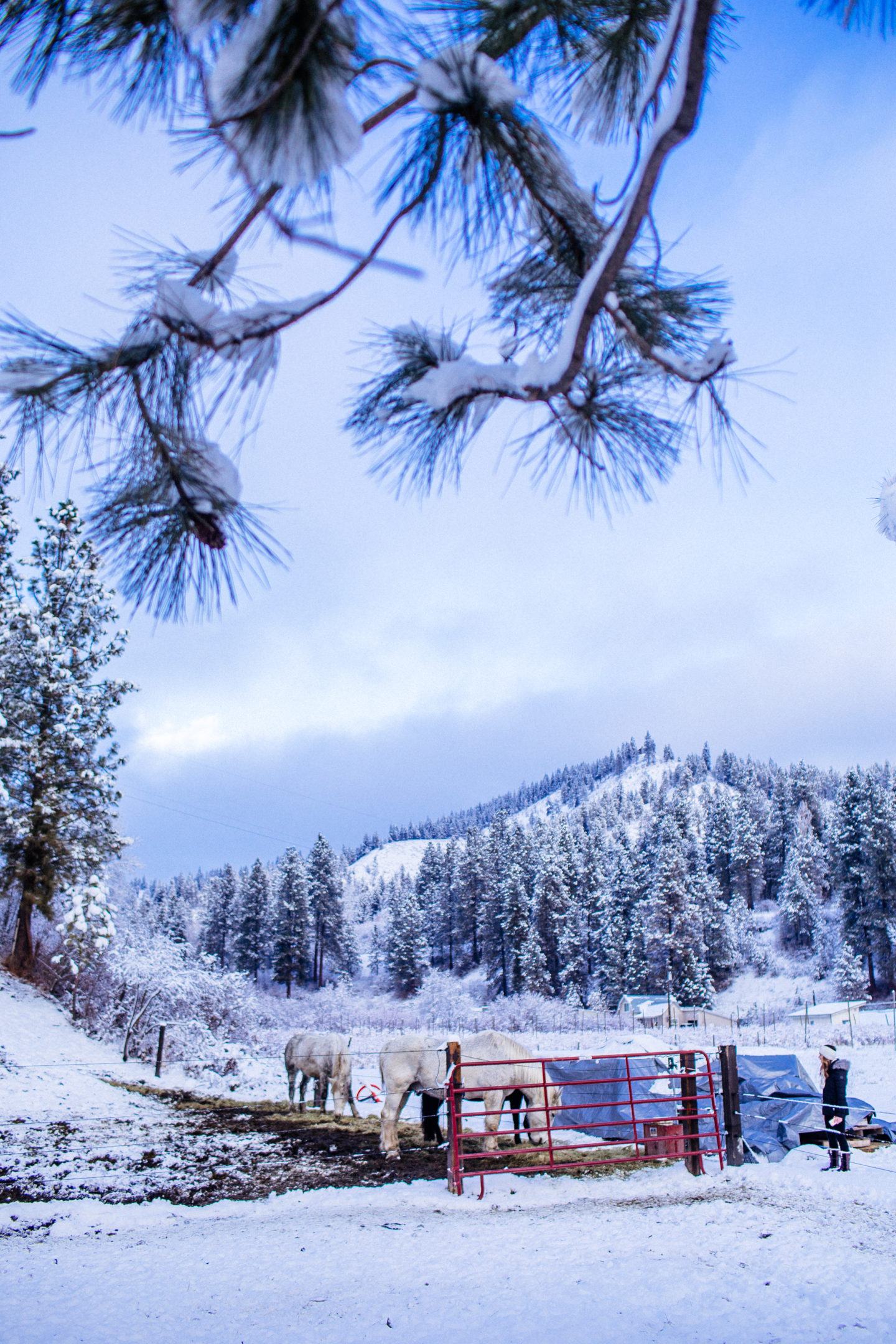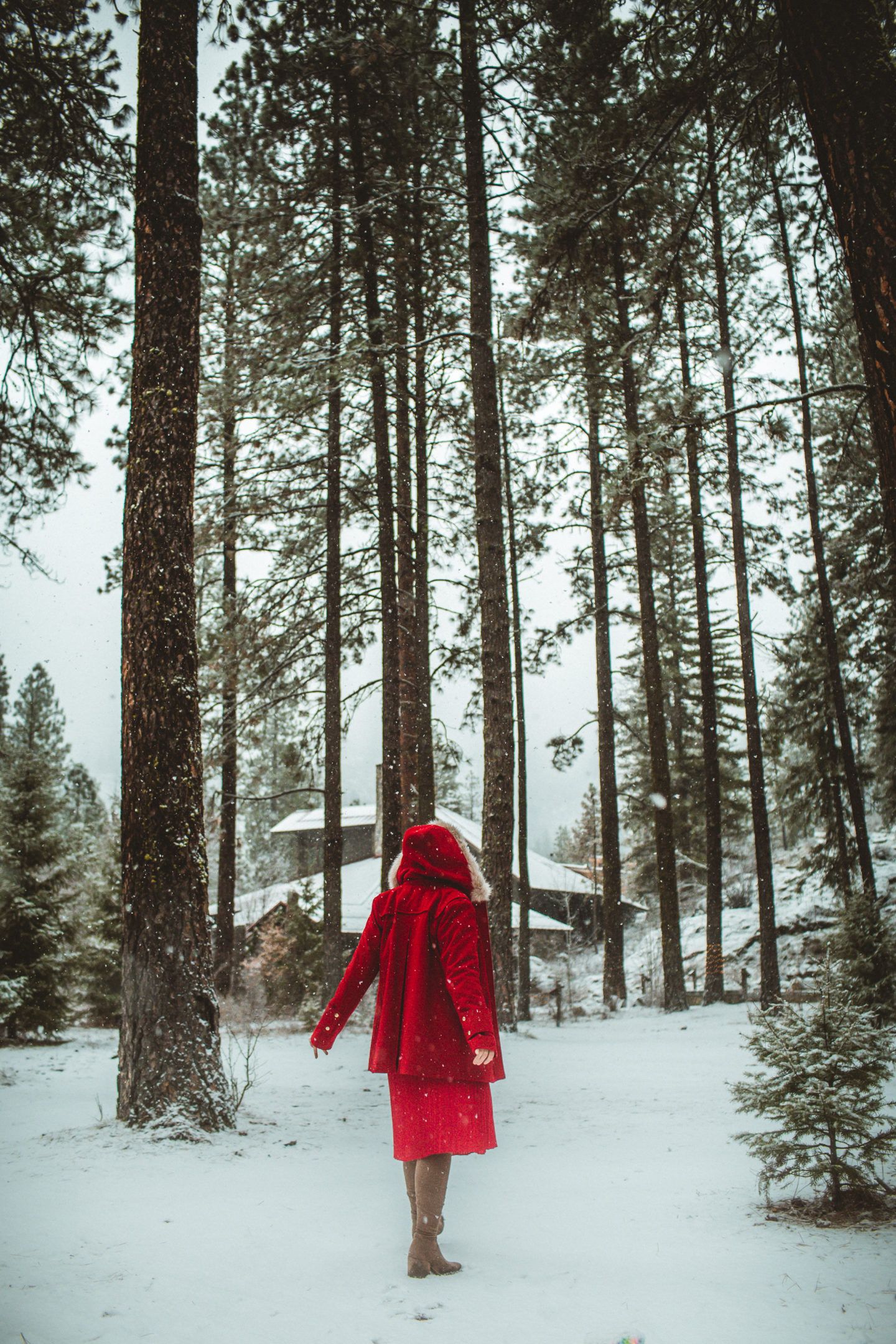 BEST LEAVENWORTH WA HOTELS
Despite being a small town with about 2500 people, there are a lot of Leavenworth hotels here! I learned after our visit that there are some better ones than others.
This is the resort that we stayed at during our visit and I couldn't have imagined our trip to Leavenworth Christmas at any other hotel. The Sleeping Lady Resort is tucked a few miles outside of town near the Sleeping Lady Mountain (hence the name!) Its a large resort that's integrated into nature nicely.
For example, your room will be in a cluster on one side of the resort, and the hot tub will be on the other, allowing you the freedom of wandering through the trees to get there. A very refreshing take on the traditional hotel model. I fell in love with the place, especially the hot tub which was so dang magical!
Pro tip: Make sure to book a spa treatment here!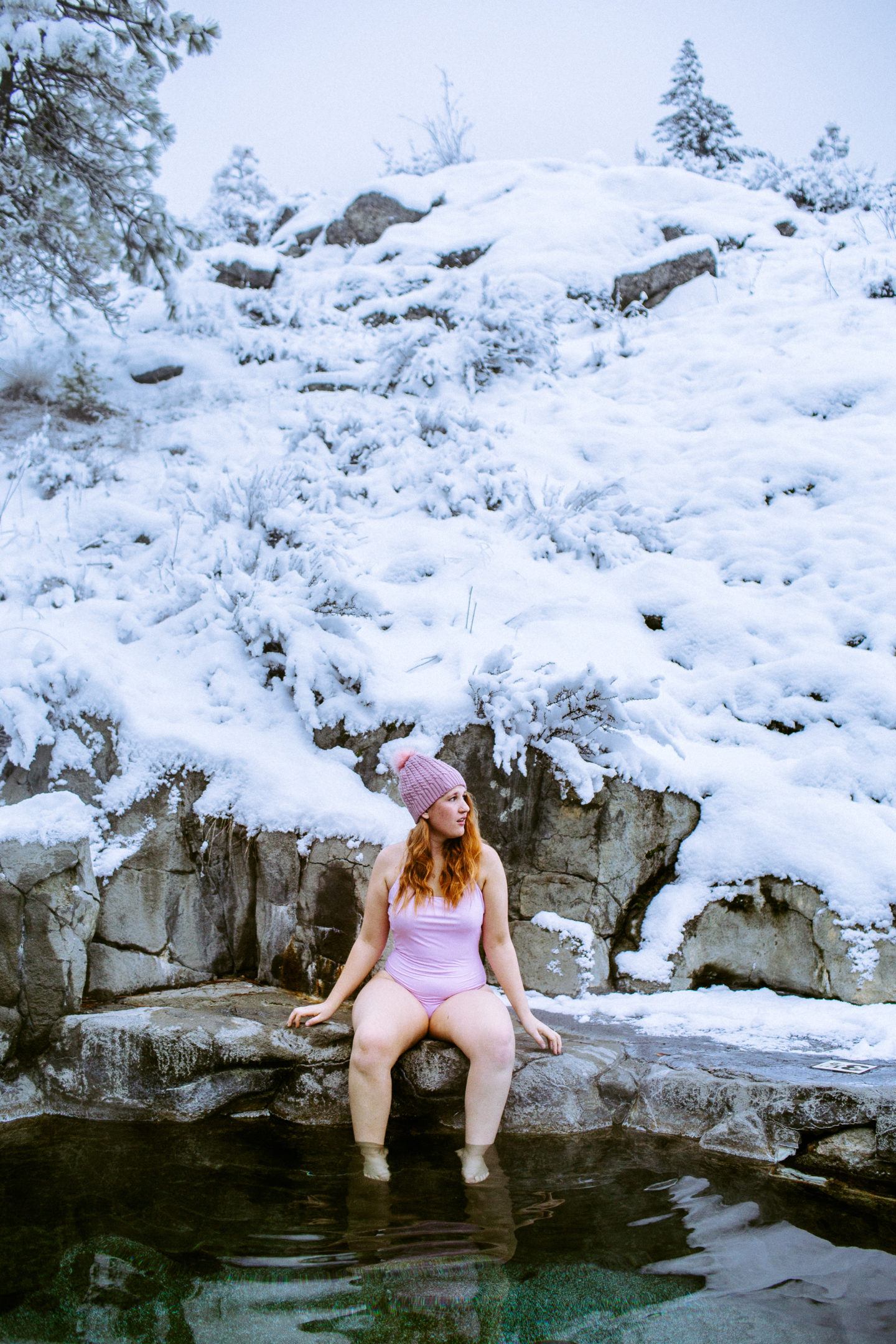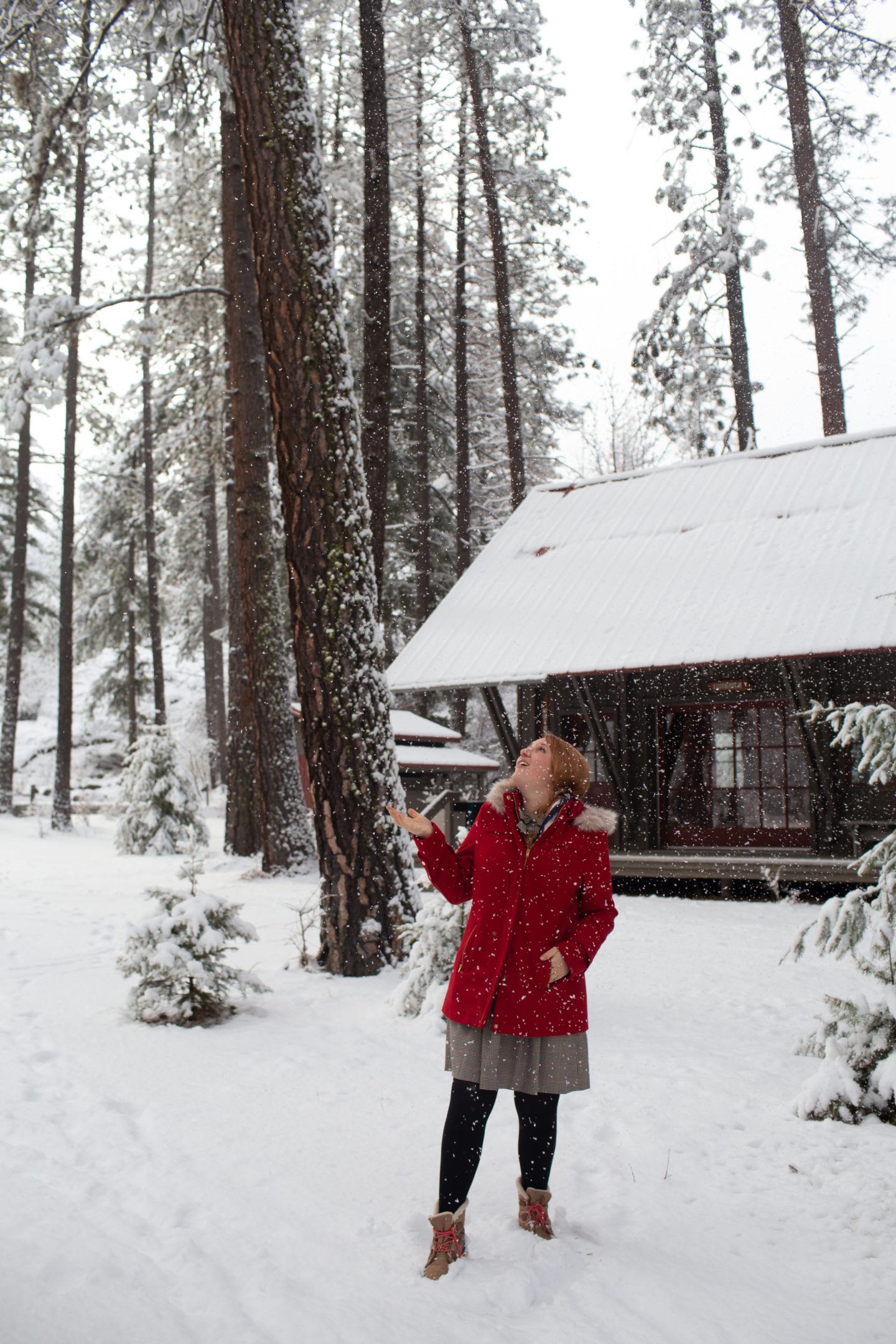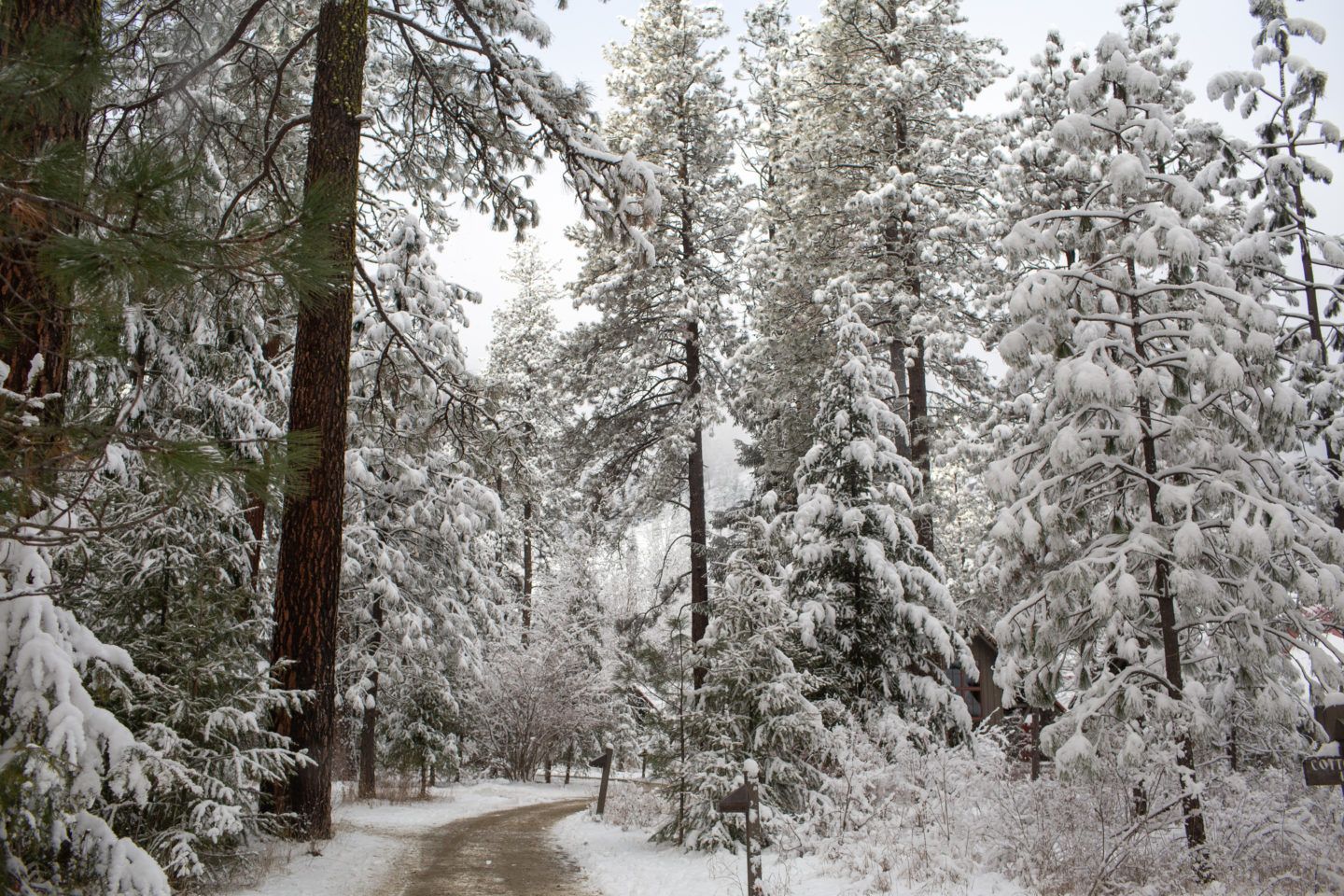 I actually first heard about Leavenworth after discovering a photo on Instagram of the indoor/outdoor pool at the luxury Posthotel (I have a thing with pools, clearly!) This your luxury Leavenworth lodging option that's right downtown for easy access to the shops, waterfront park, and dining.
If staying at a hotel in downtown Leavenworth is a must for you (perhaps you aren't bringing a car, etc) then this is the one I'd recommend.
Looking for Leavenworth cabins to live out your cozy winter or summer cabin dreams? When traveling for extended stays or with larger groups, my husband and I love using Airbnb to book vacation rentals. We noticed a lot of cute A-frame cabins in the area, along with other types of rentals (like this cute house!)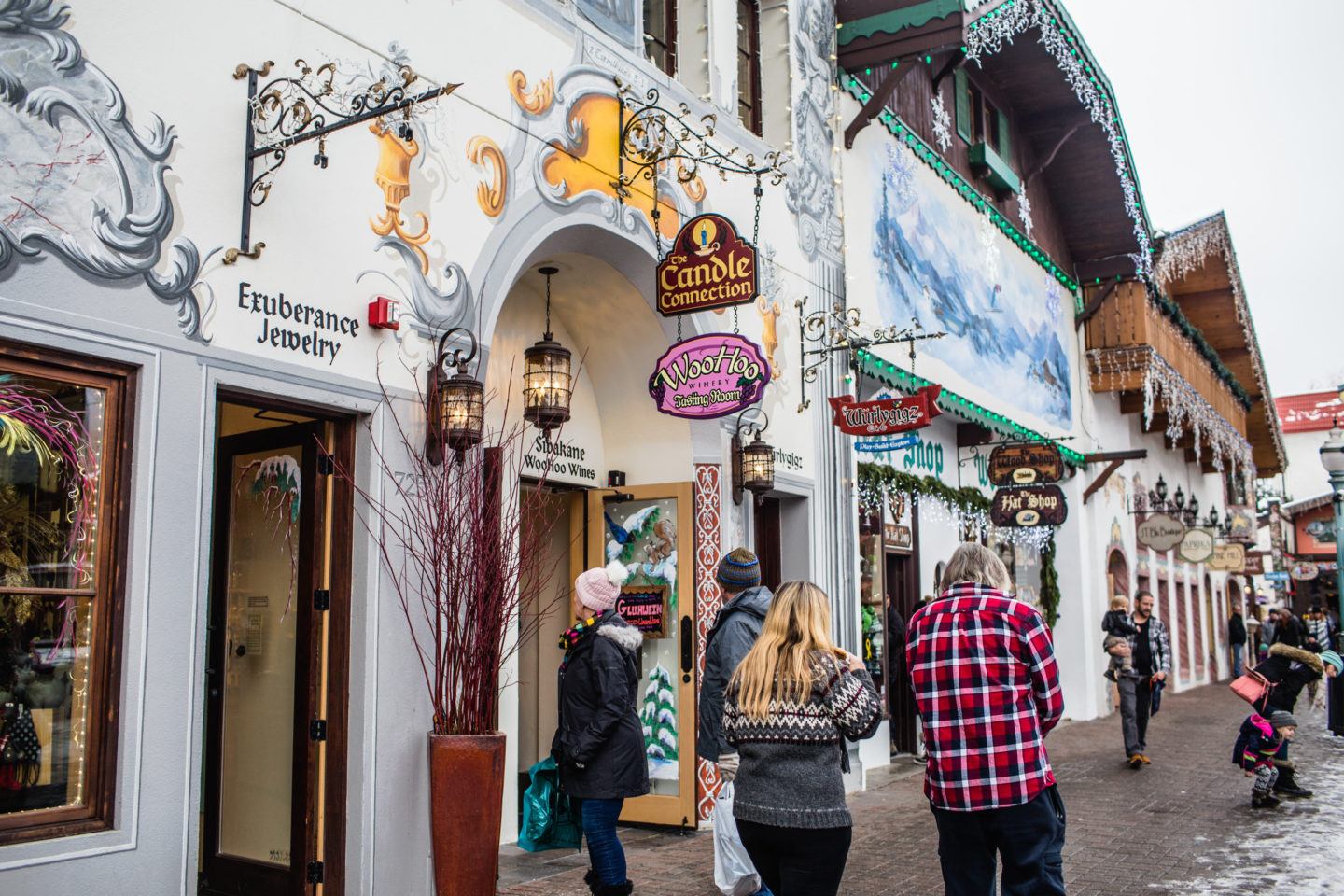 PLACES TO EAT IN LEAVENWORTH
Again, this is a small town but they do not lack dining options!! There's about 60 different restaurants here (for a town of 2500 people!) Most of the food in Leavenworth has a German twist, which I love! These are the places I recommend.
Mana is only open during Friday-Sunday. It's a special restaurant that serves 8 courses (5 on Sunday) that's all sourced from local farmers. It's a truly fine dining experience that blew us away. I'd fly back to the city just for another dinner here! You MUST do reservations (no walk-ins!) so make sure to place those in advance. I recommend wine tasting downtown, then dinner at Mana, then an evening walking around the city after.
These guys take the classic schnitzel and transform it into unique sandwiches at a great price point. I loved my Toyoko Roadhouse, which had a delightful Asian twist. My husband, Robin, gobbled up his Cuban Pork sandwich so quickly I barely got a photo before he finished! We also got one of their chocolate chip cookies to top the meal off. The decor is modern inside and, paired with the food, this is the best lunch spot in Leavenworth!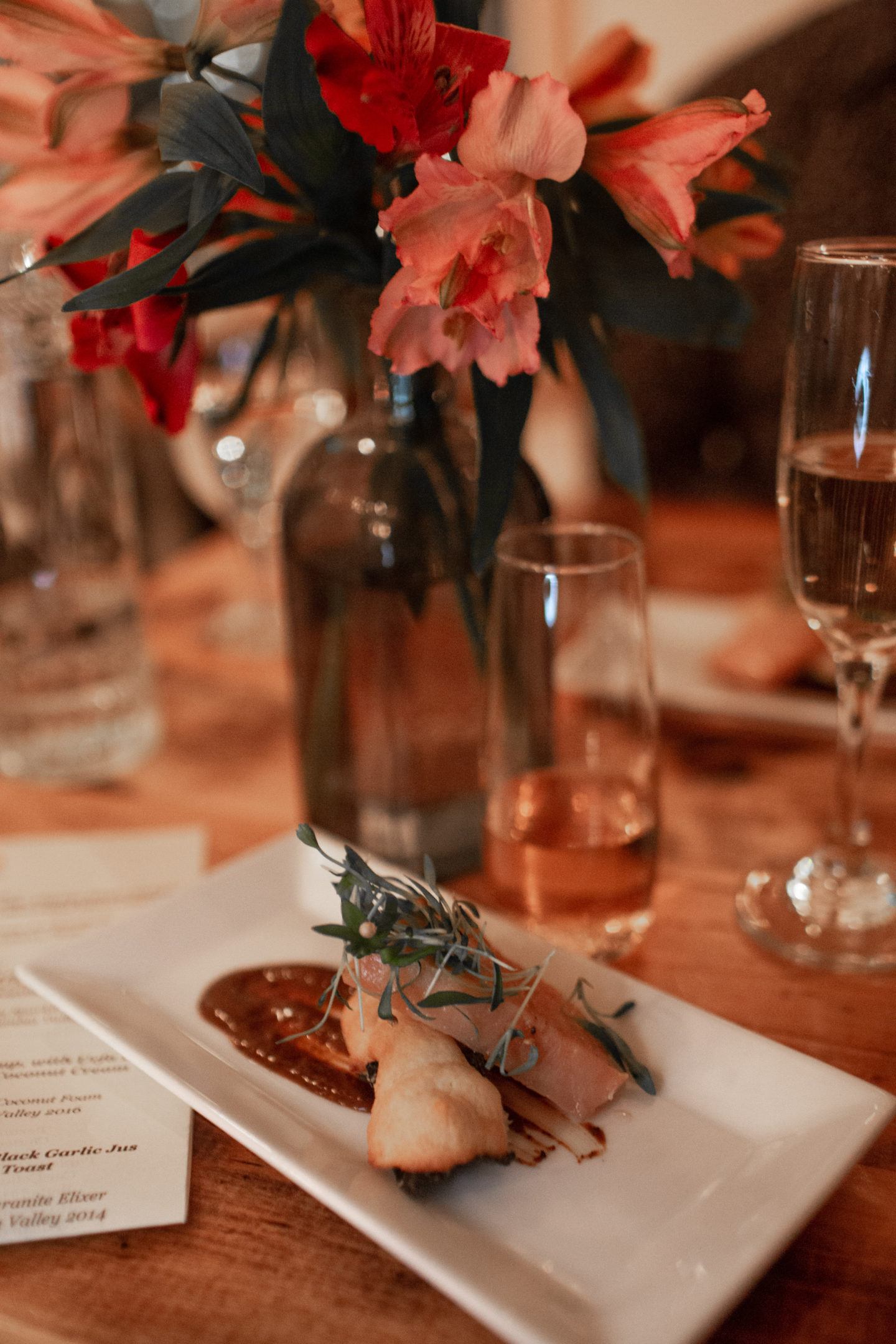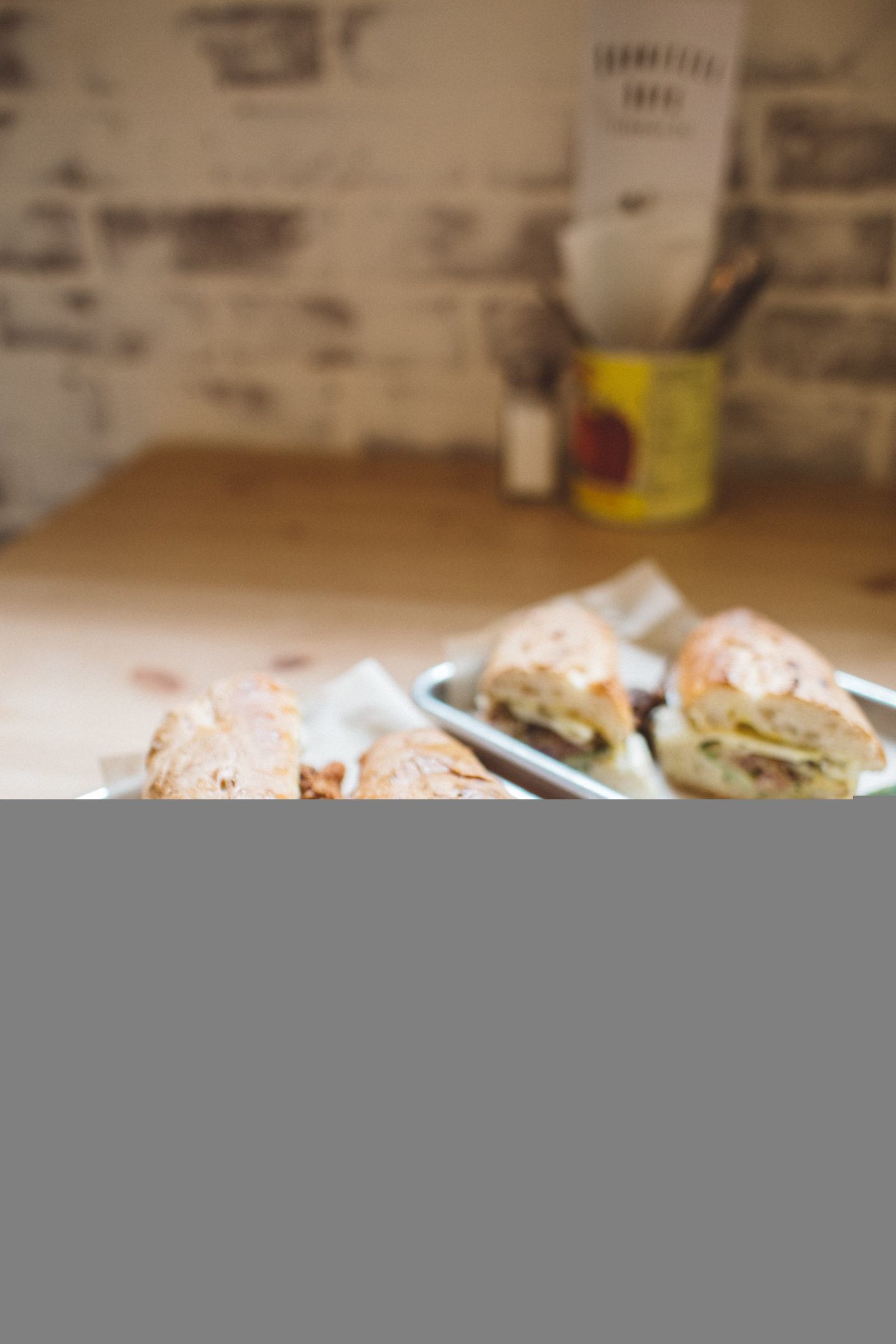 We didn't have a chance to visit Gustav's, but we heard from multiple people (and a few readers!) that it's a tradition to dine there at least once a holiday season. It's also one of the first restaurants you'll when coming into town with a big tree out in front. I loved all the holiday feels!
Hands-down, probably the best pretzel I've ever had. Seriously. Munchen House is an all-outdoor restaurant that mostly serves beers and pretzels, aka your standard Oktoberfest cravings. Some tables have fire pits to stay warm during the winter. The line always seems to be long, but it's worth the wait! It's a must-stop in Leavenworth.
O' Grady's is a restaurant on the Sleeping Lady property and, even if you aren't staying there is worth the trip out of town for! We loved the laid-back vibes, but above all – the food! O' Grady's gives a good bang for your buck. I ordered the house-smoked bacon (drool-worthy) and pancakes, which were as big as my head. Robin loved his avocado sandwich, the best way to start the day.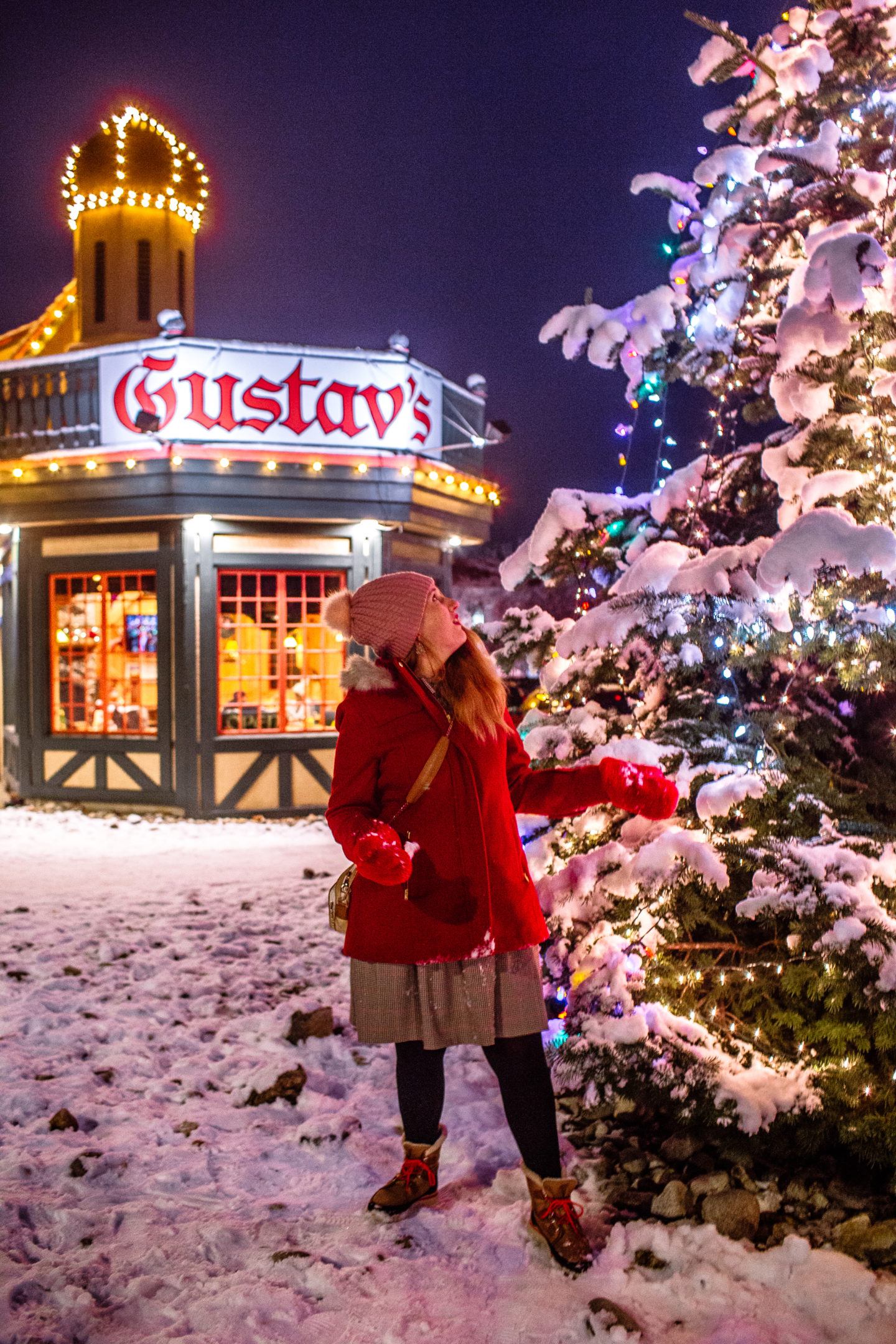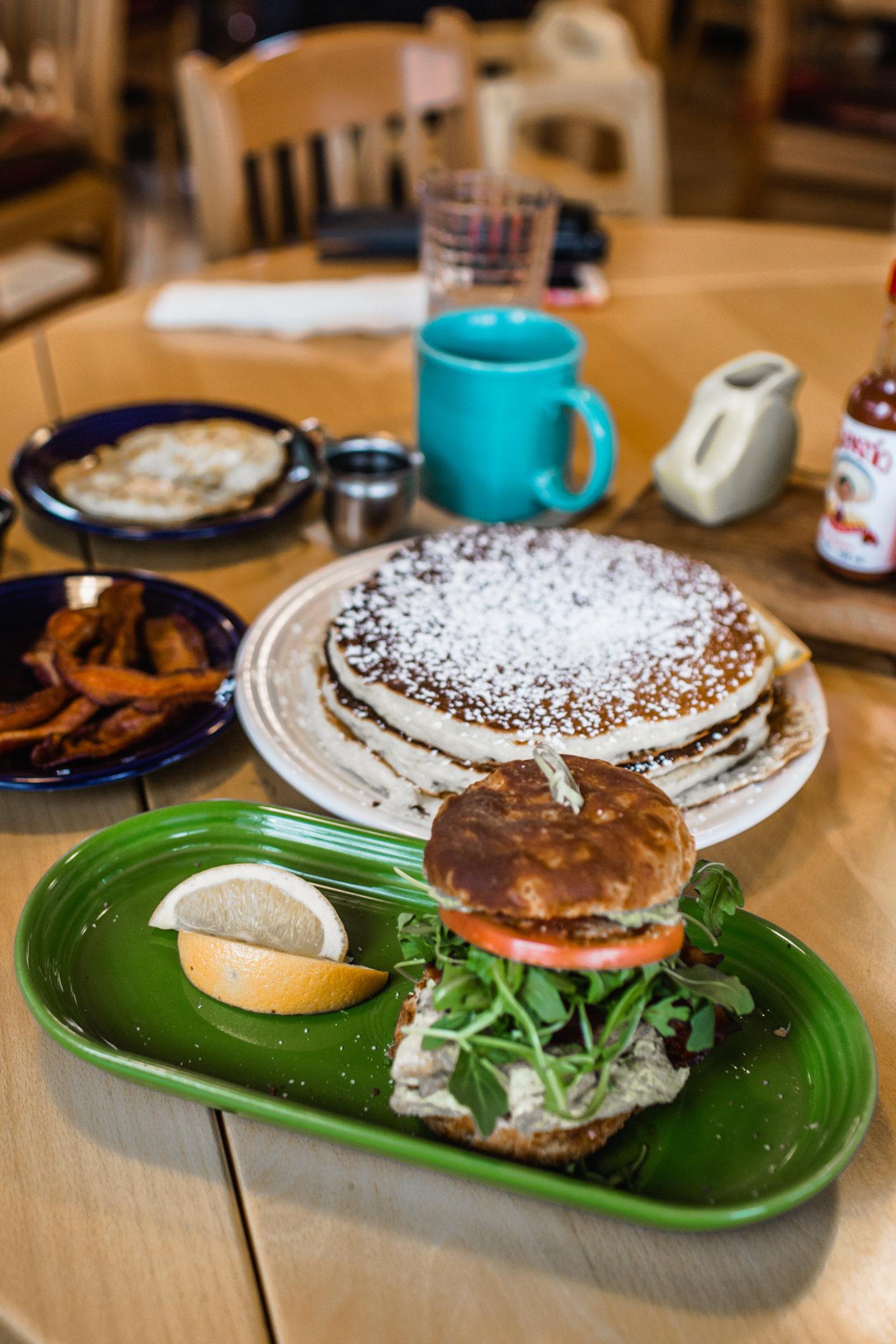 One of the first breweries in town, Icicle is a staple among locals and visitors alike. I personally LOVED their outdoor patio (they have fire pits for the winter time) and the inside upstairs was also very cozy. Come for a flight of craft beer and watch a Seahawks game.
Craving a cheesesteak? A couple of locals said nothing but great things about the Leavenworth Cheesesteak Company that's just right off the main street in town. They have outdoor seating.
A cozy bar that clearly all the young locals love to hang out in. There's an impressive beer menu with lots of local brews, along with board games indoor and outdoor seating and live music some nights. We adored ending our night here with a nightcap (or two!)
I saved the best for last because this place truly stole my heart! No matter if you are coming for Leavenworth Christmas or a summertime visit, Andreas Keller is a must-stop for everyone. Downstairs a level right across from Front Street Park is this Bavarian-style restaurant – walking in instantly transport you to Germany thanks to their decor and barrel tables.
Everything on the great, but I especially recommend trying their schnitzels which – I 100% mean this – was better than the schnitzel I had in actual Bavaria last year. On a busy night, they may have some live accordions and other Polk-style music. It gets busy so make sure to reserve a table in advance!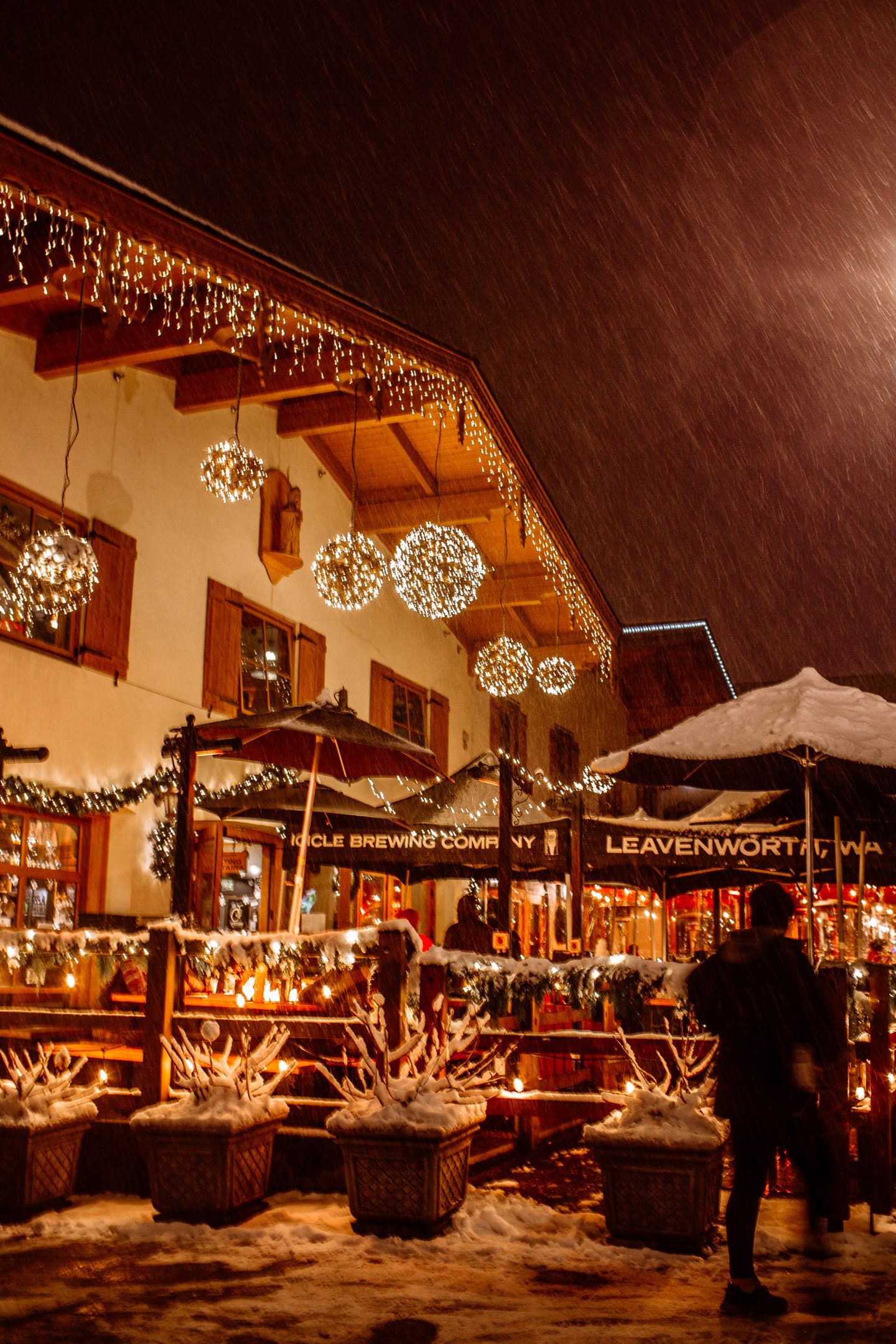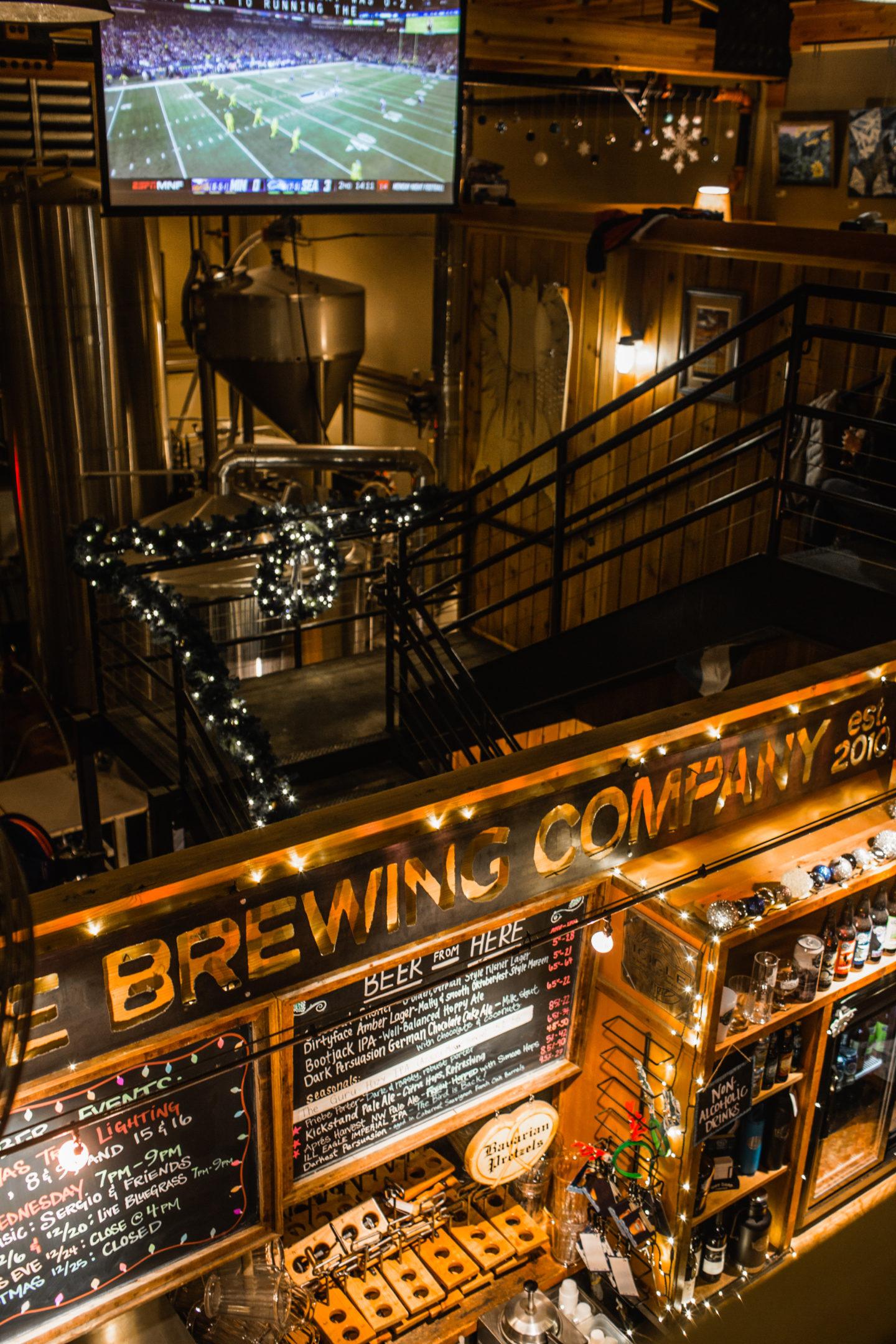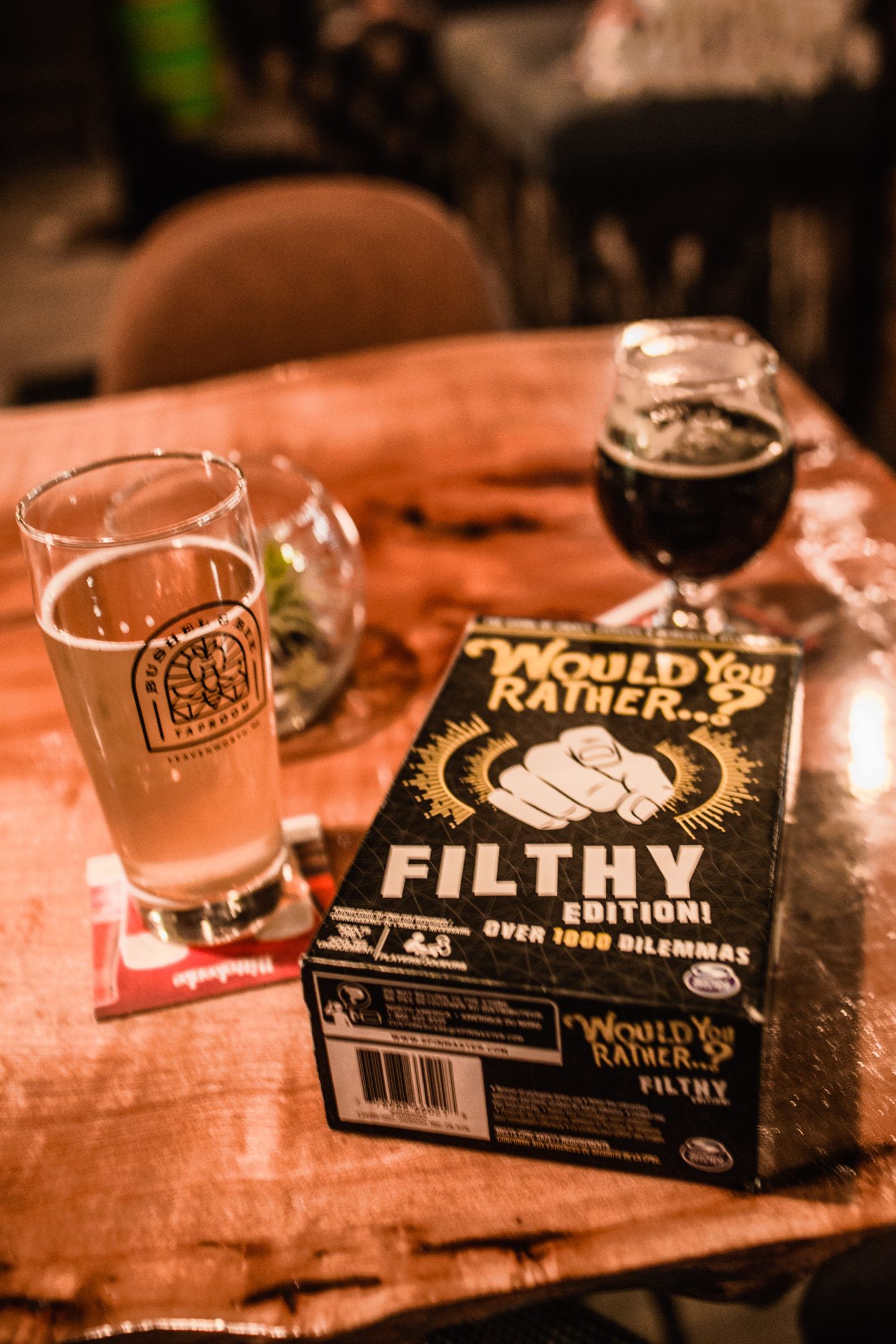 TOP THINGS TO DO IN LEAVENWORTH WA
Leavenworth, WA is the cutest little town that is worth a visit year-round. Winter for the Christmas Lighting festival and winter sports like a day at the Leavenworth Ski Hill. Spring to see all the trails bloom with flowers. Summer for warm-weather festivities and the fall for Oktoberfest! No matter what time of year you visit, you're sure to find fun things to do in Leavenworth. These are my top recommendations Leavenworth things to do!
Wine Tasting at Tasting Rooms
Did you know that Washington state makes fantastic wines? Especially Syrahs and merlots, but they boast top-notch wine regions (like Lake Chelan!) There are a handful of wine tasting rooms in downtown Leavenworth. Make sure to block off a couple of hours to try some local wines! We stopped by Icicle Ridge Winery, tastings are only $10 (much better than in Napa Valley, let me tell you!)
Vacation is all about a balance of adventure and relaxing. While on a visit to Leavenworth, I highly recommend booking a treatment or two at Aspen Leaf Spa, the spa at the Sleeping Lady Resort. We did a couples massage which left me feeling so dang relaxed. We loved their bubbly and chocolate start to the massage which makes it stand out compared to other spas out there.
Mana is only open during Friday-Sunday. It's a special restaurant that serves 8 courses (5 on Sunday) that's all sourced from local farmers. It's a truly fine dining experience that blew us away. I'd fly back to the city just for another dinner here! You MUST do reservations (no walk-ins!) so make sure to place those in advance. It's an event for sure!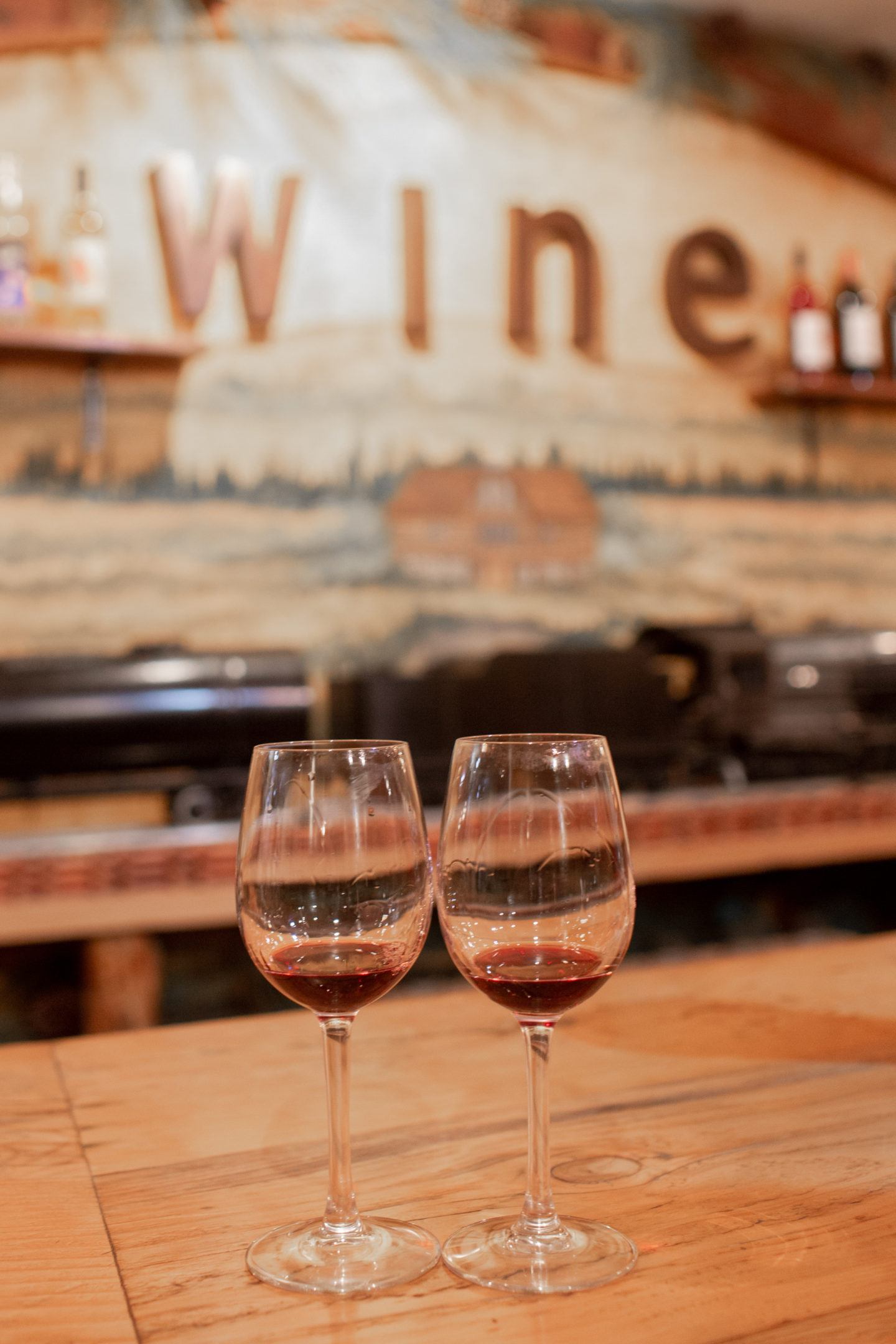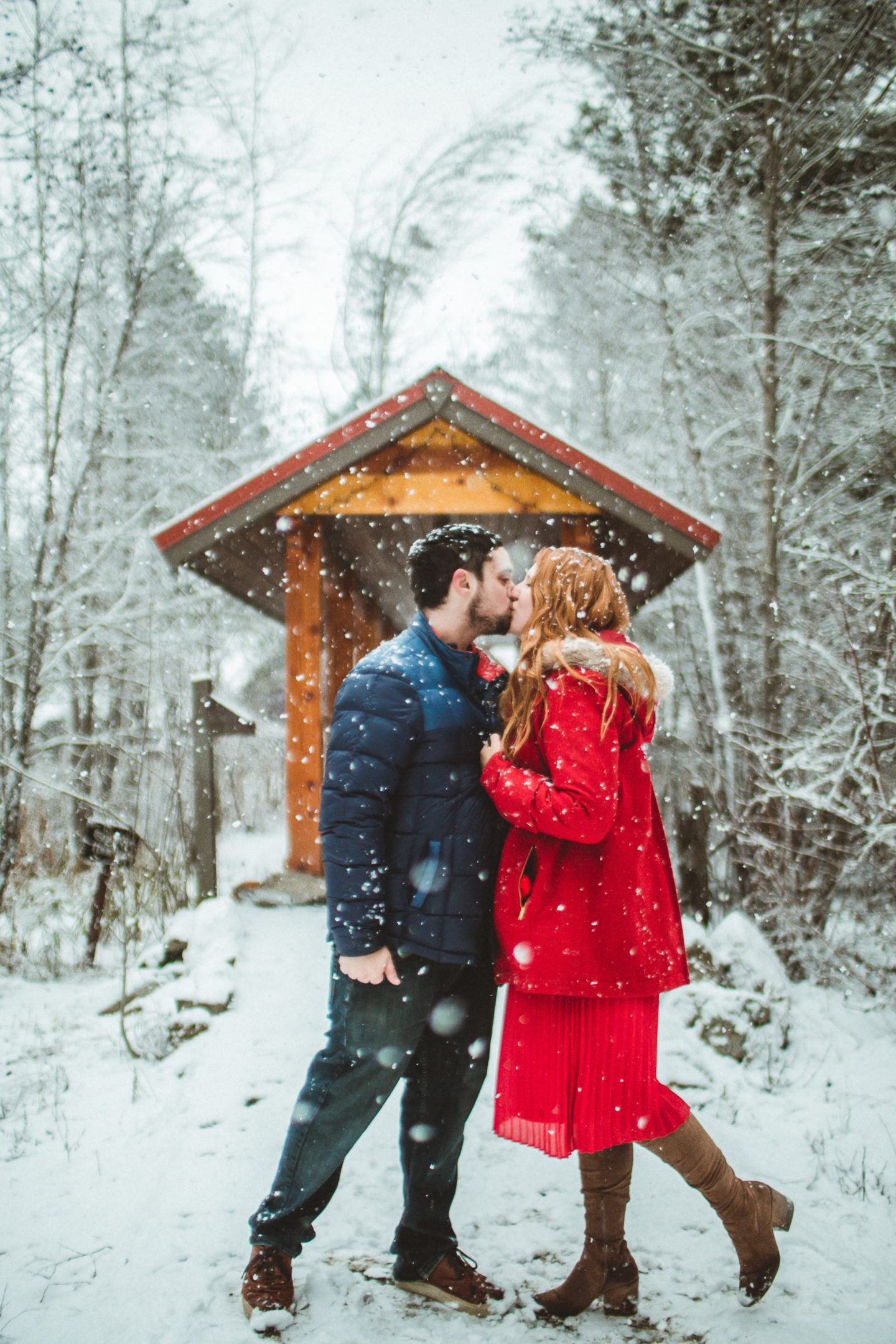 *Sleigh Rides
Nothing like a sleigh ride during the holiday season! Gotta hear those bells jingle, eh? We lucked out with snow during our visit and were able to do a sleigh ride at Icicle Outfitters, but note that if there's no snow on the ground, they may not be running! But, if they are, I highly recommend adding this to your Leavenworth WA Christmas list of things to do – so festive, and you'll get free hot cider afterward! This route is near Eagle Creek and the Leavenworth National Fish Hatchery, making it a beautiful place to sleigh around.
Hiking
Leavenworth is home so many stunning hiking trails, especially Icicle Creek / Icicle Gorge trail. From easy beginner trails to advanced day trips, check out this site for more info on trails and get out exploring nature!
Visiting during the summer? Leavenworth summer brings sunshine, hot temps, long days and nights under the views of the mountains. A popular summer activity is the Leavenworth summer theater which is all outdoors so you have a great view of stars while watching a play! Learn more here.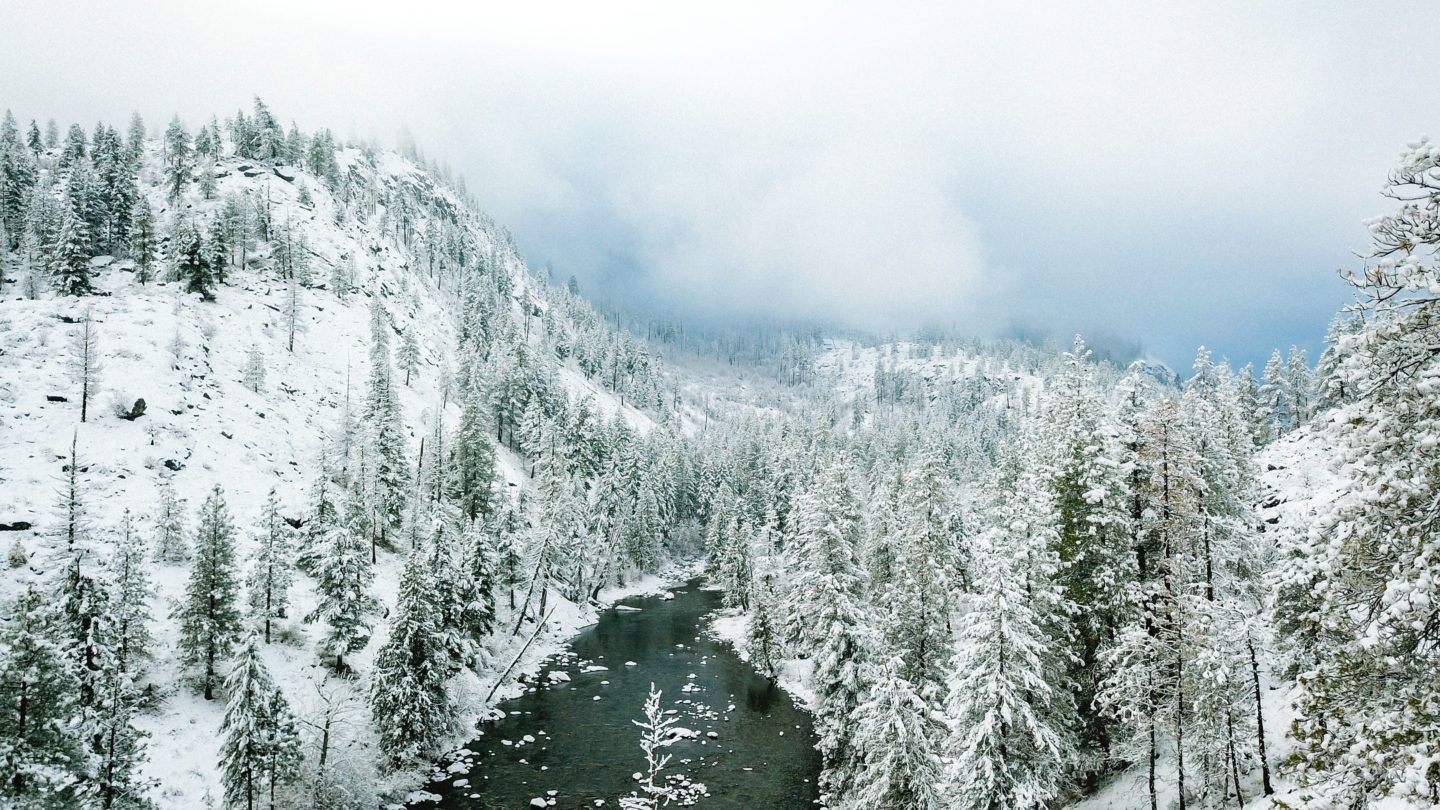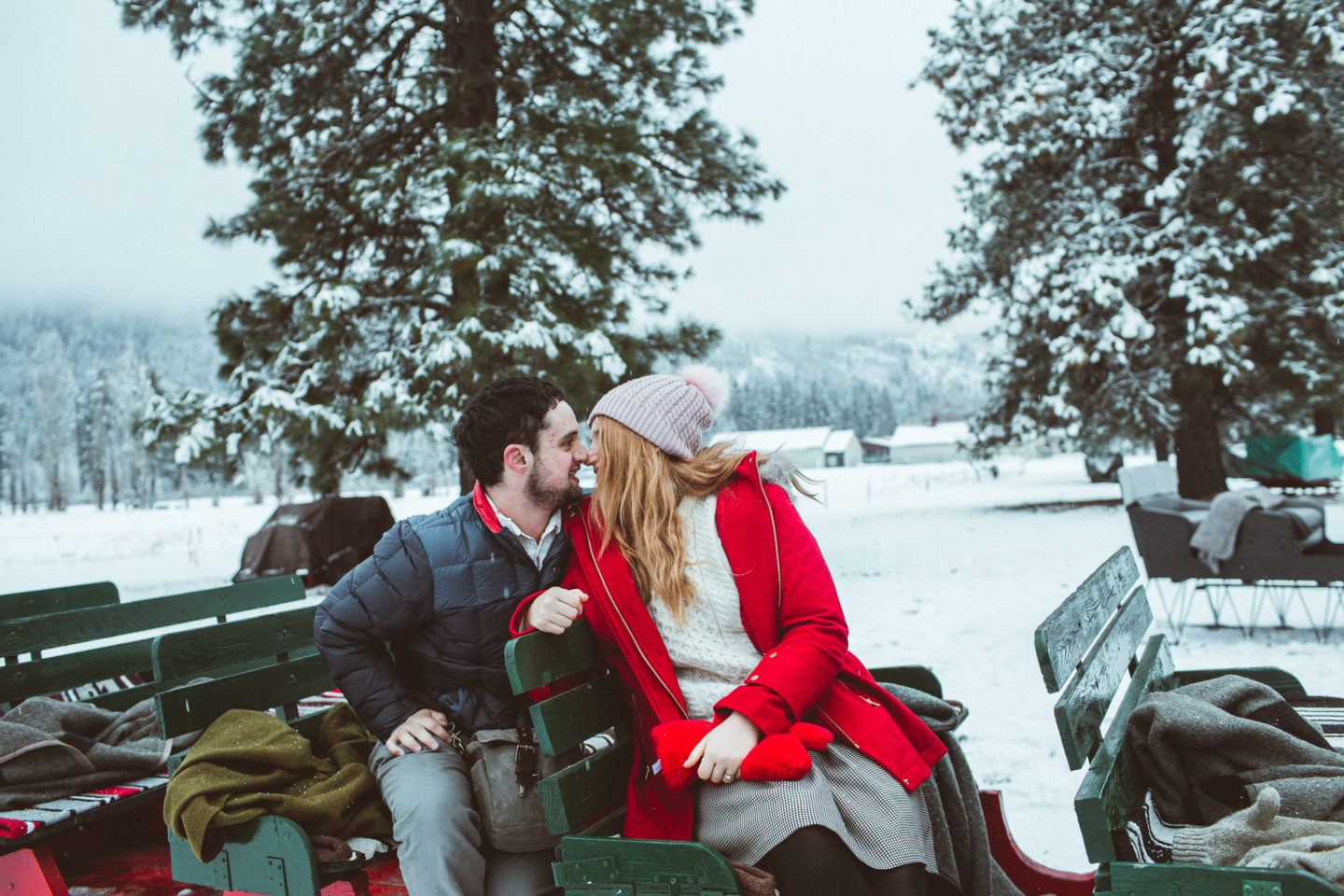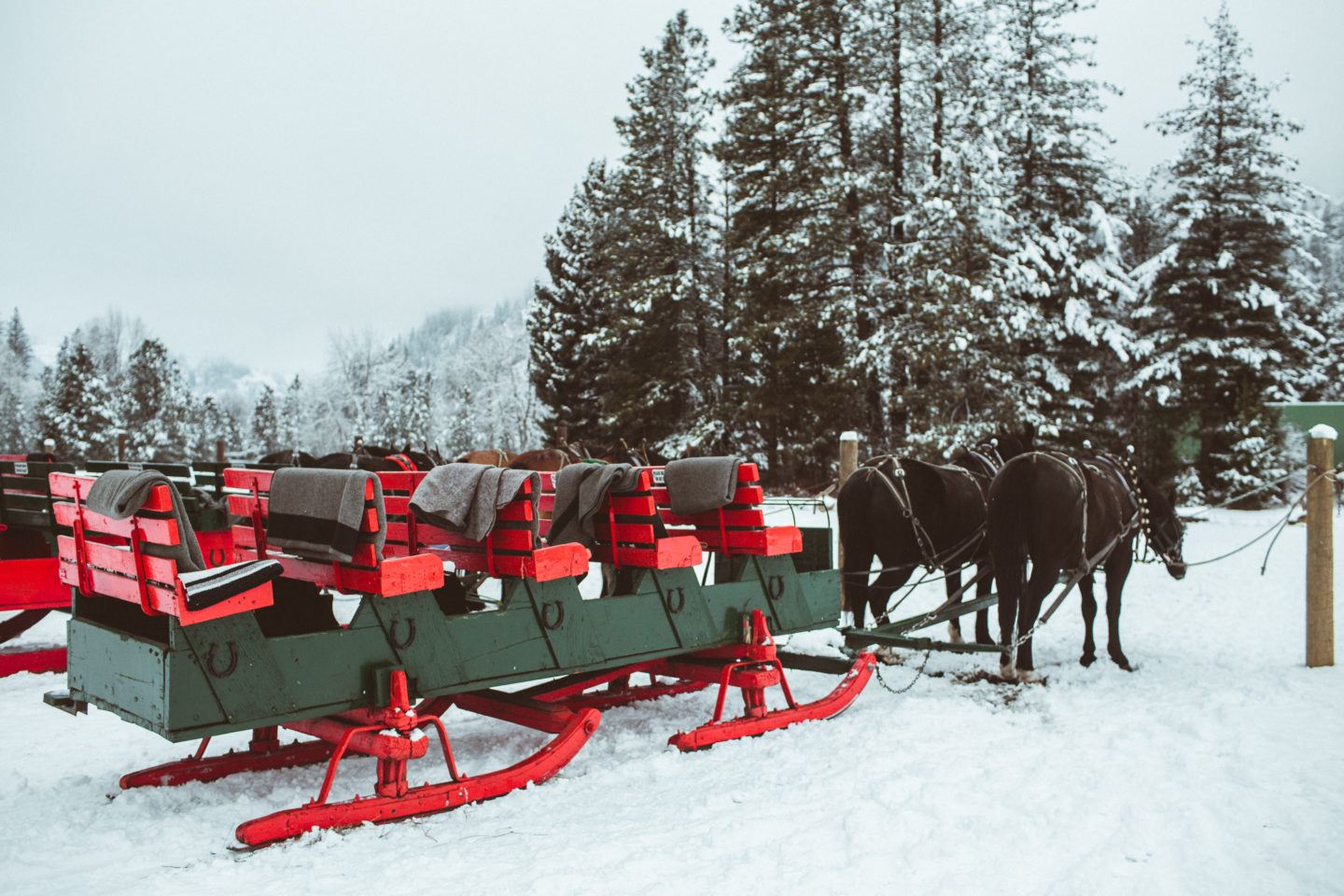 *Day Trip to Lake Chelan
Lake Chelan is just about 1.5 hours away from Leavenworth and it a stunning place to visit year-round! It's a huge lake that is home to over 40 wineries, making it a hot spot to go wine tasting. Head out in the morning, swing by wineries, eat at Blueberry Hills farm and head back to Leavenworth that evening!
*Leavenworth Reindeer Farm
No Leavenworth Christmas vacation is complete without a stop to the Leavenworth Reinder Farm! I died of happiness after petting these cute reindeer at the farm!! They're open year round, but it's extra fun to visit during December. They have Santa!!! Make sure to buy tickets in advance. You can learn more about the reindeer farm here!
Upper Valley Museum
If you are a history buff, you'll probably like the Upper Valley Museum which covers the area's history. The museum also offers a walking tour of the city!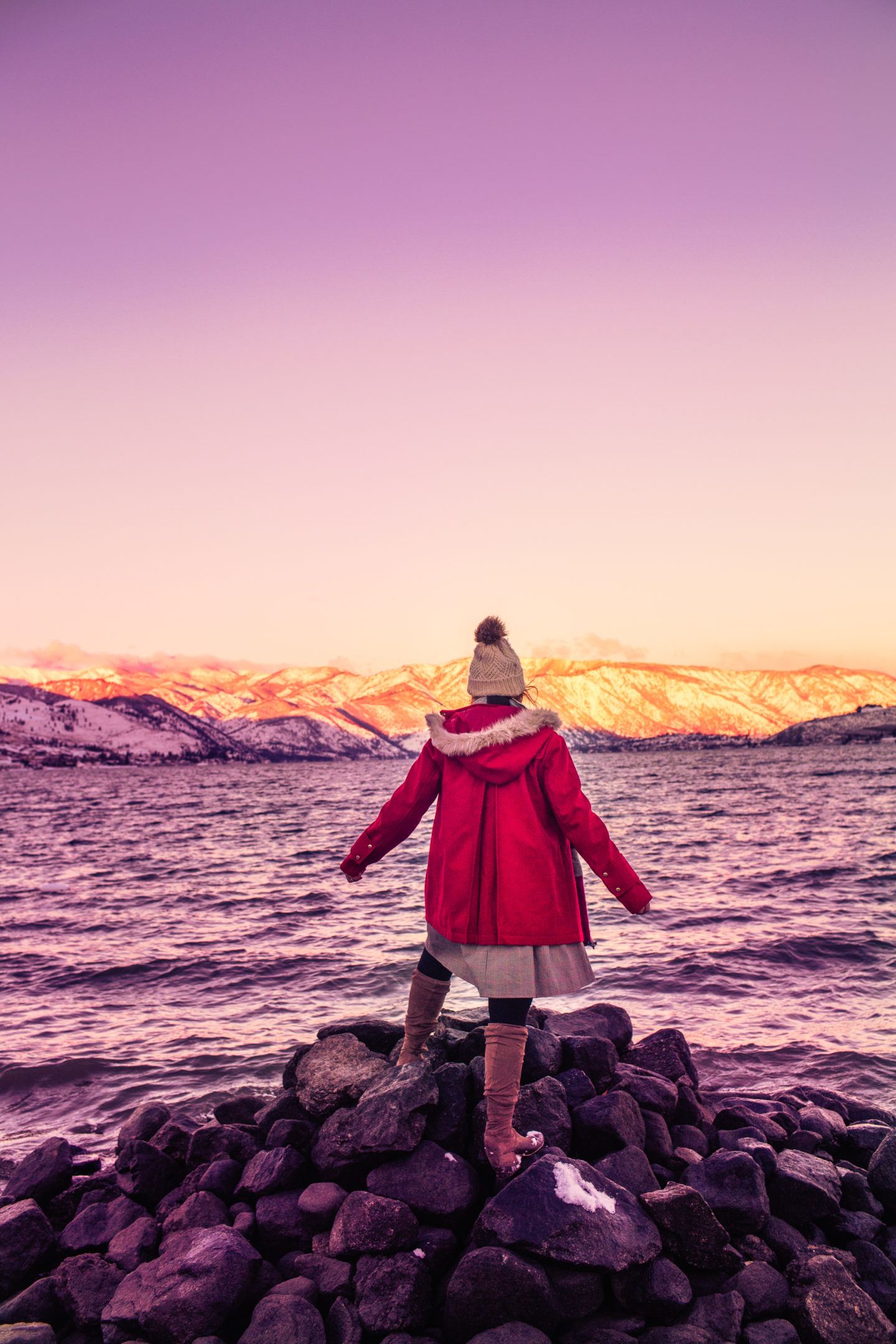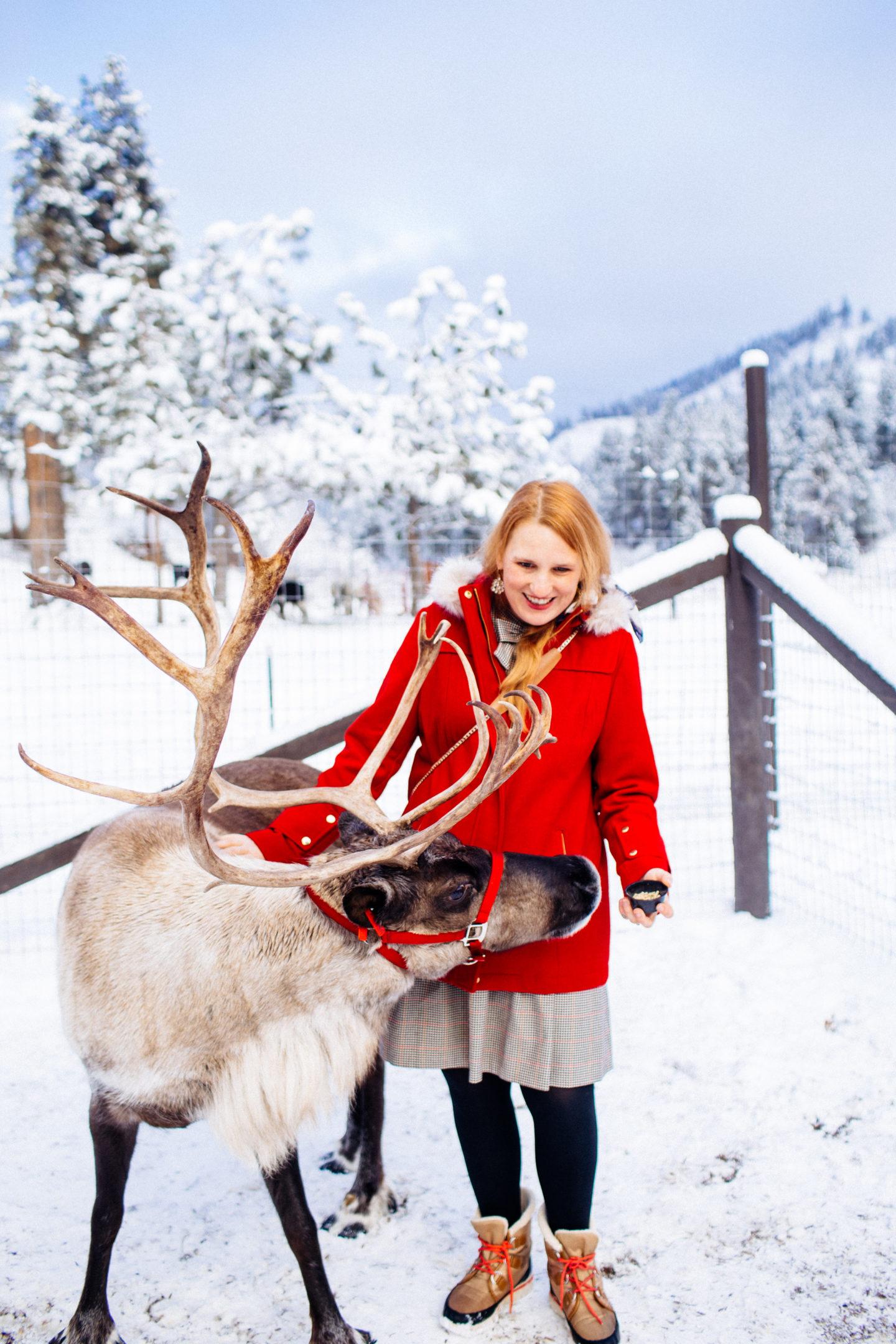 Leavenworth Nutcracker Museum
Of course, any visit to town requires a stop by the famous Leavenworth Nutcracker Museum! Even in July! They host hundreds of nutcrackers from all over the world. We sadly didn't get a chance to visit the museum part, but we did pop into the nutcracker store next door.
Tickets are just $5 for adults, the catch is that they're only open for four hours a day (1pm-5pm) which we didn't realize, so we missed our window for visiting (next time!) We hear from the locals that it's an actually cool place to stop by (and good for the family!)
*Shopping
Lastly, there are so many cute local shops in Leavenworth that it's worth it to spend an afternoon wandering the town on the hunt for treasures. From candy to German steins to antiques, you can find so many gems on a Leavenworth shopping trip!
During the warm months, explore the mountains by horseback riding at Eagle Creek Ranch! Guided rides take you through the Wenchatee National Forest and other trails. They have everything from a 2-mile ride to a 5-mile ride, plus some activities for children!
LEAVENWORTH CHRISTMAS
Leavenworth is probably most famous for their Christmas lighting festival every holiday season. While it's a great United States vacation destination for any time of year, most people flock to the mountain town to see all the holiday lights, pet some reindeer and feel ~all the festive vibes~.
There are so many things to do in Leavenworth in December because of the festivities. You can find my whole blog post all about the top 12 things to do in Leavenworth for the holidays here to help you plan all your holiday Leavenworth activities!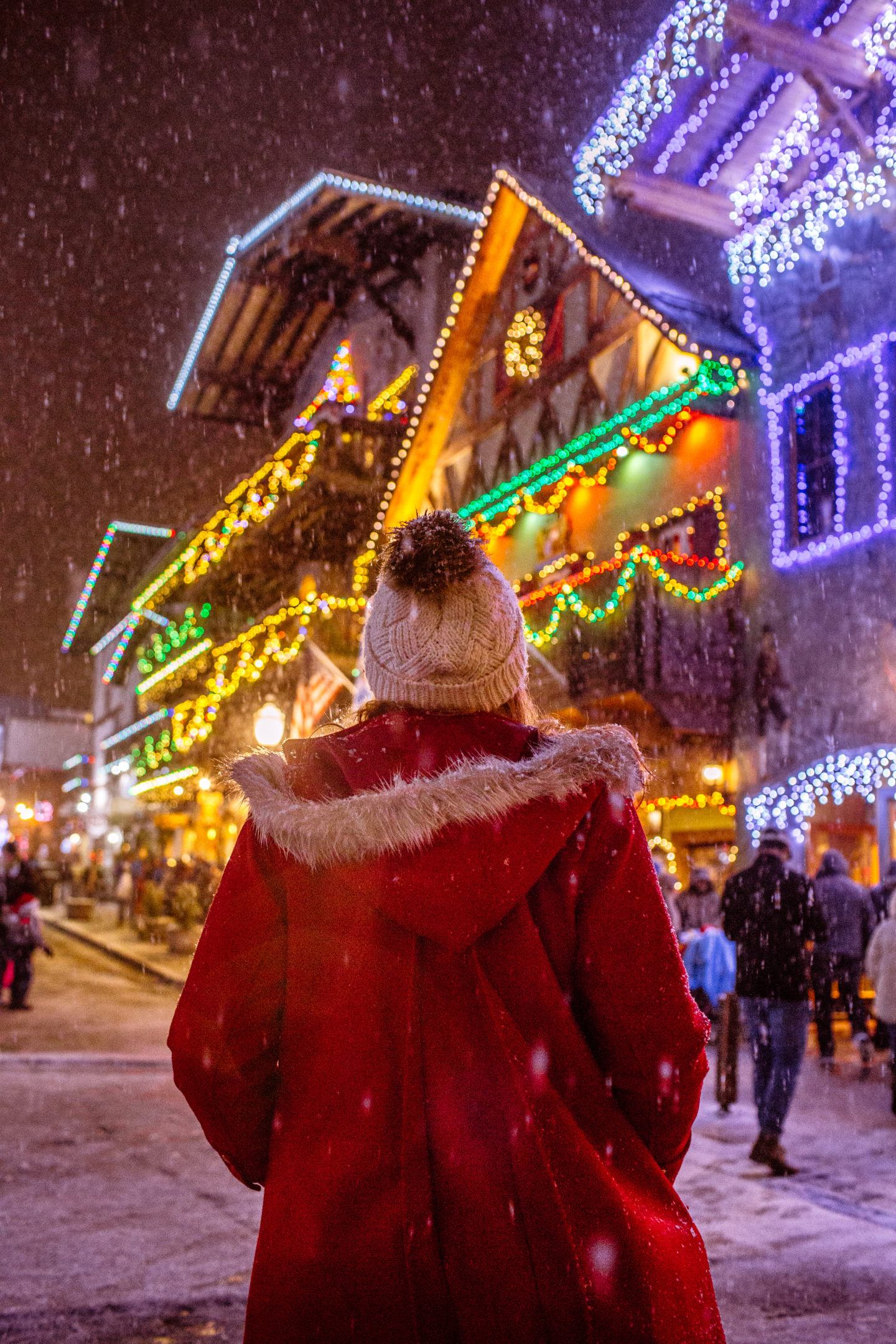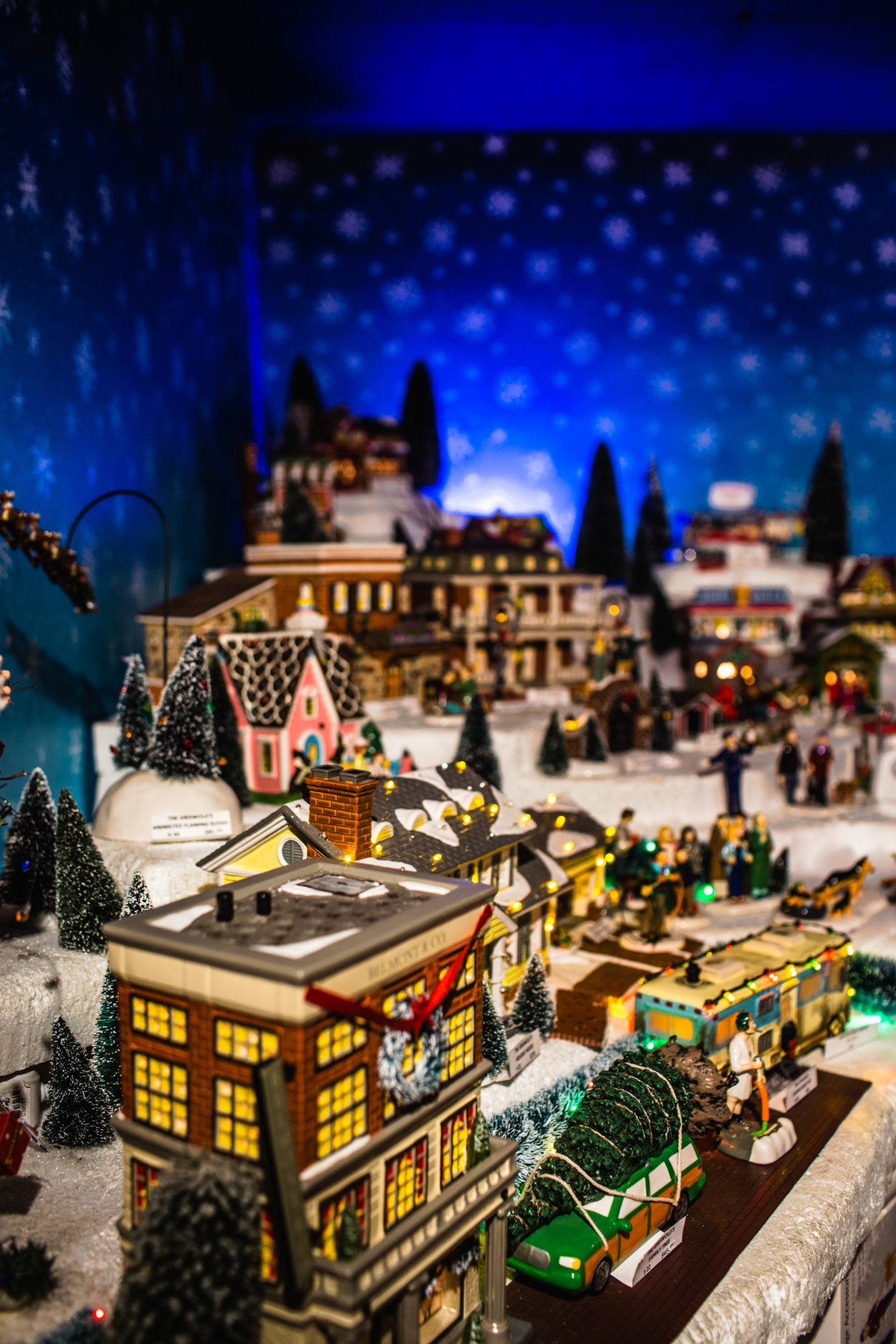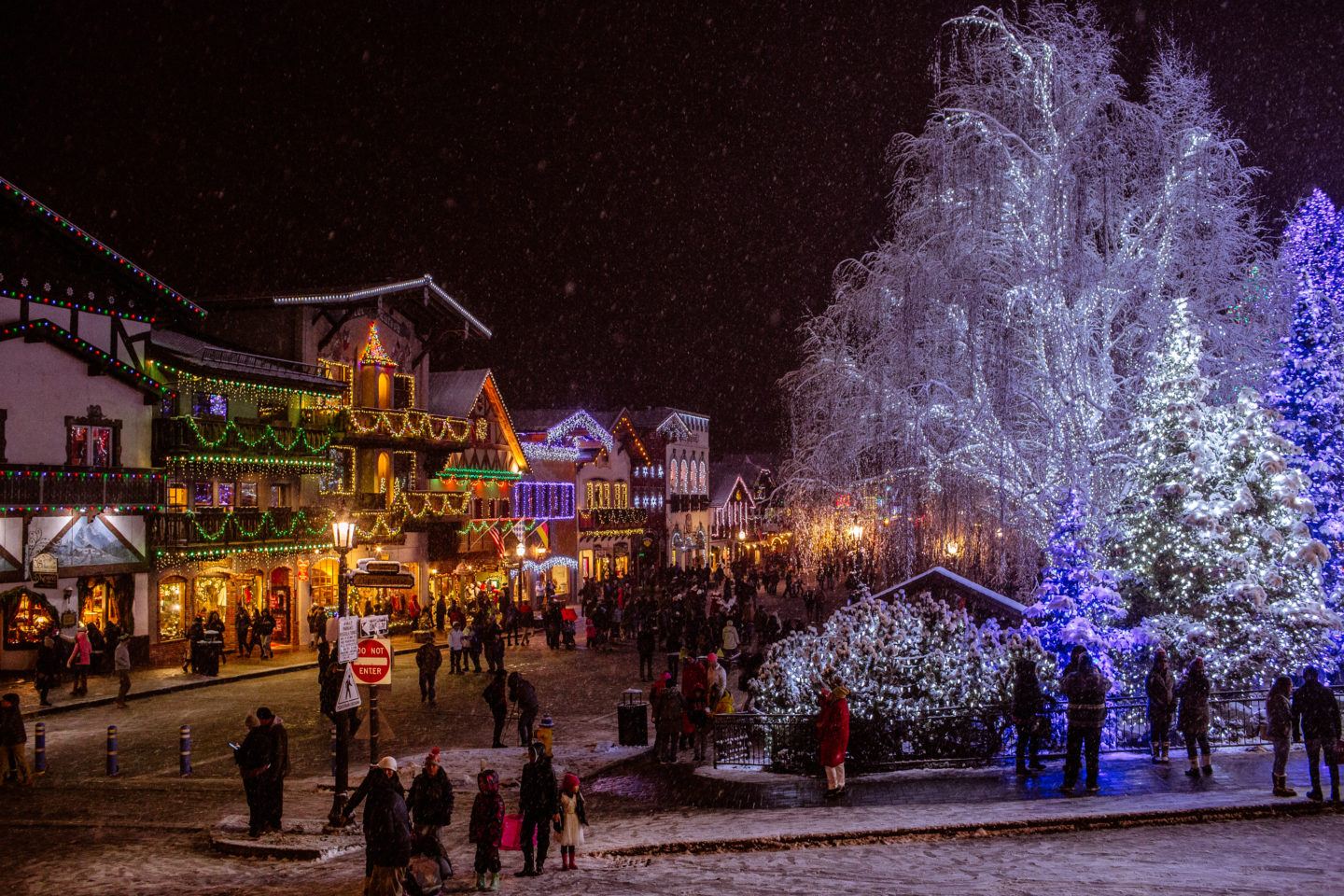 What to do in Leavenworth, you ask? Anything you want! From fine dining, happy hours of local craft beer, hiking, horseback riding, spa treatments, shopping… there are so many things to do in Leavenworth!
I hope this travel guide helps you plan your trip to this cute Washington state town. If you have anything to add, please leave a comment below! Also leave a comment if you have any questions or you can reach me directly on Instagram @TheWhimsySoul and I'll be happy to help!