Leavenworth, Washington is a Christmas winter wonderland during the holidays. As we drove through the Cascade Mountains from Seattle to this charming town, it started lightly snowing. And it didn't stop. Soon, the entire village was covered in a light dusting.
Paired with the Christmas lights, mulled wine, Bavarian architecture Leavenworth looks like it was plucked out of the North Pole. Oh, did I mention the air just smells like Christmas trees, like, everywhere???! These are the top 12 festive Leavenworth Christmas activities you'll love while exploring this cute Bavarian town in Washington state!
Keep on reading for the best things to do during a Leavenworth Christmas!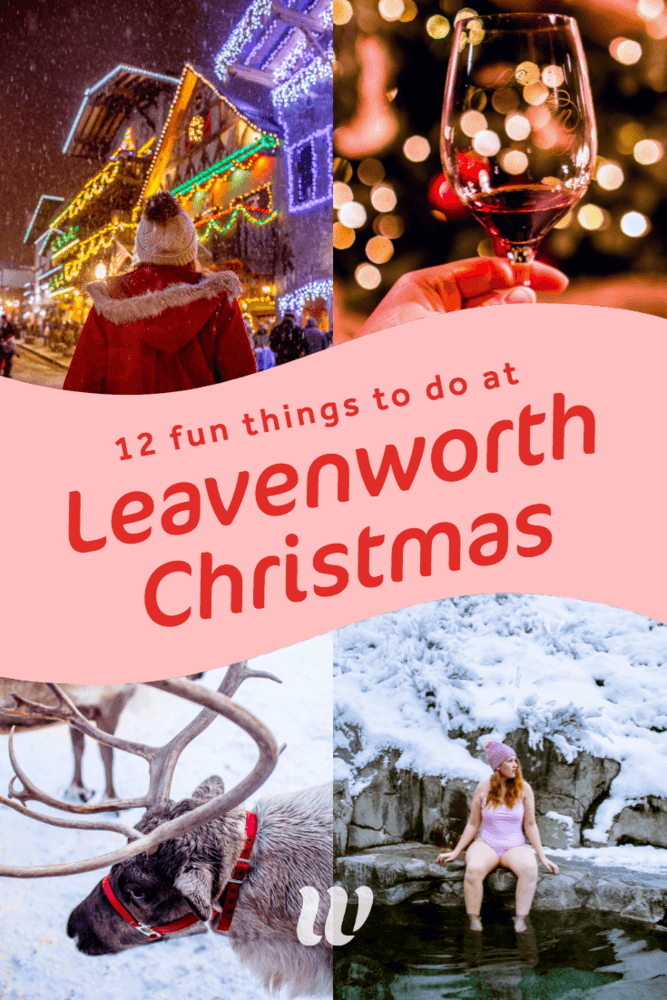 Leavenworth Christmas 2019
My husband and I visited our first Leavenworth Christmas this year. We both grew up in Wisconsin but now live in San Francisco, and we missed a white Christmas! A short flight and quick drive later, we found ourselves wandering the Bavarian-style streets of Leavenworth Washington.
I didn't want to leave after our short 48-hour trip there!!! (Read my full Leavenworth travel guide for tips on how to make the most of your Seattle day trip or weekend getaway year-round in this cute mountain town!)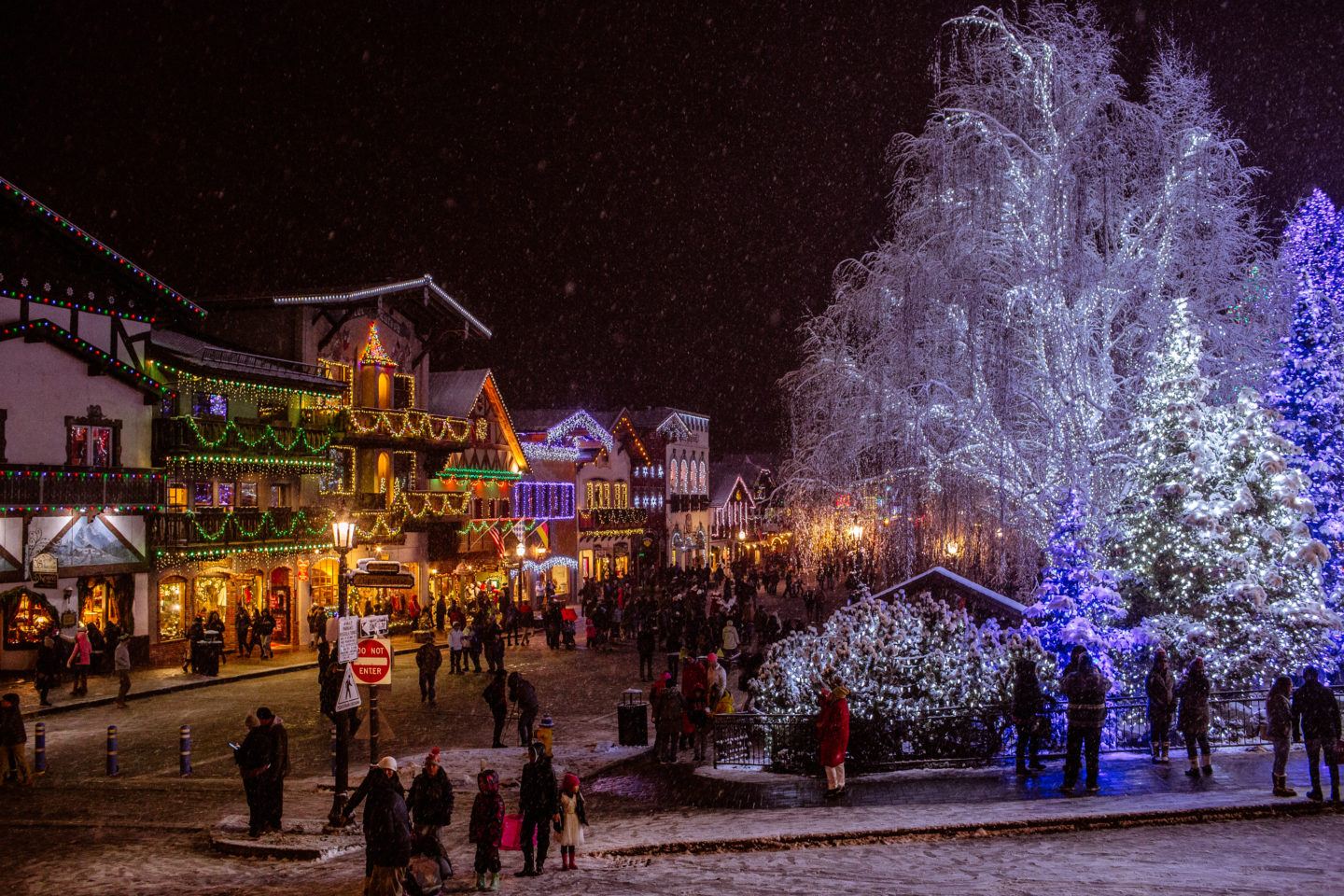 Christmas Lighting Festival
The Leavenworth Christmas lighting ceremony is famous! The Leavenworth Chamber of Commerce helps host it each year in the downtown area right on the main road. They host this weekend lighting festival every weekend in December until Christmas.
Friday and Saturday nights are usually the worst in terms of crowds – the streets get PACKED and it can take up to 2 hours to get into the downtown area. For that reason, I recommend arranging a shuttle instead of driving and getting into the downtown area in the mid-afternoon instead of right before the festival starts.
It's not long, maybe about 20 minutes but it's so beautiful!!! I don't want to spoil it for you if you haven't seen it before, but you can read all about the festival in my full city travel guide if you are curious!
Sleigh Rides
Nothing like a sleigh ride during the holiday season! Gotta hear those bells jingle, eh? This year in 2018, the area had a late snow. Usually, Leavenworth in December (and sometimes November!) gets a lot of snow, but in 2018, it didn't start until December 9th. Just in time for our visit!
We lucked out and were able to do a sleigh ride at Icicle Outfitters. We had a whole sleigh to ourselves and it was such a romantic way to spend an afternoon. Note that if there's no snow on the ground, they may not be running! But, if they are, I highly recommend adding this to your Leavenworth WA Christmas list of things to do – so festive, and you'll get free hot cider afterward!
Dinner at Mana
Mana is only open during Friday-Sunday. It's a special restaurant that serves 8 courses (5 on Sunday) that's all sourced from local farmers. It's a truly fine dining experience that blew us away. I'd fly back to the city just for another dinner here! You MUST do reservations (no walk-ins!) so make sure to place those for the evening you'll be attending the Leavenworth lighting festival.
The lighting event will probably end around 5:15pm, then you'll have until the 6:30 dinner to wander the downtown area, look at all the Leavenworth Christmas lights, toss a snowball or two, try to spot Frosty…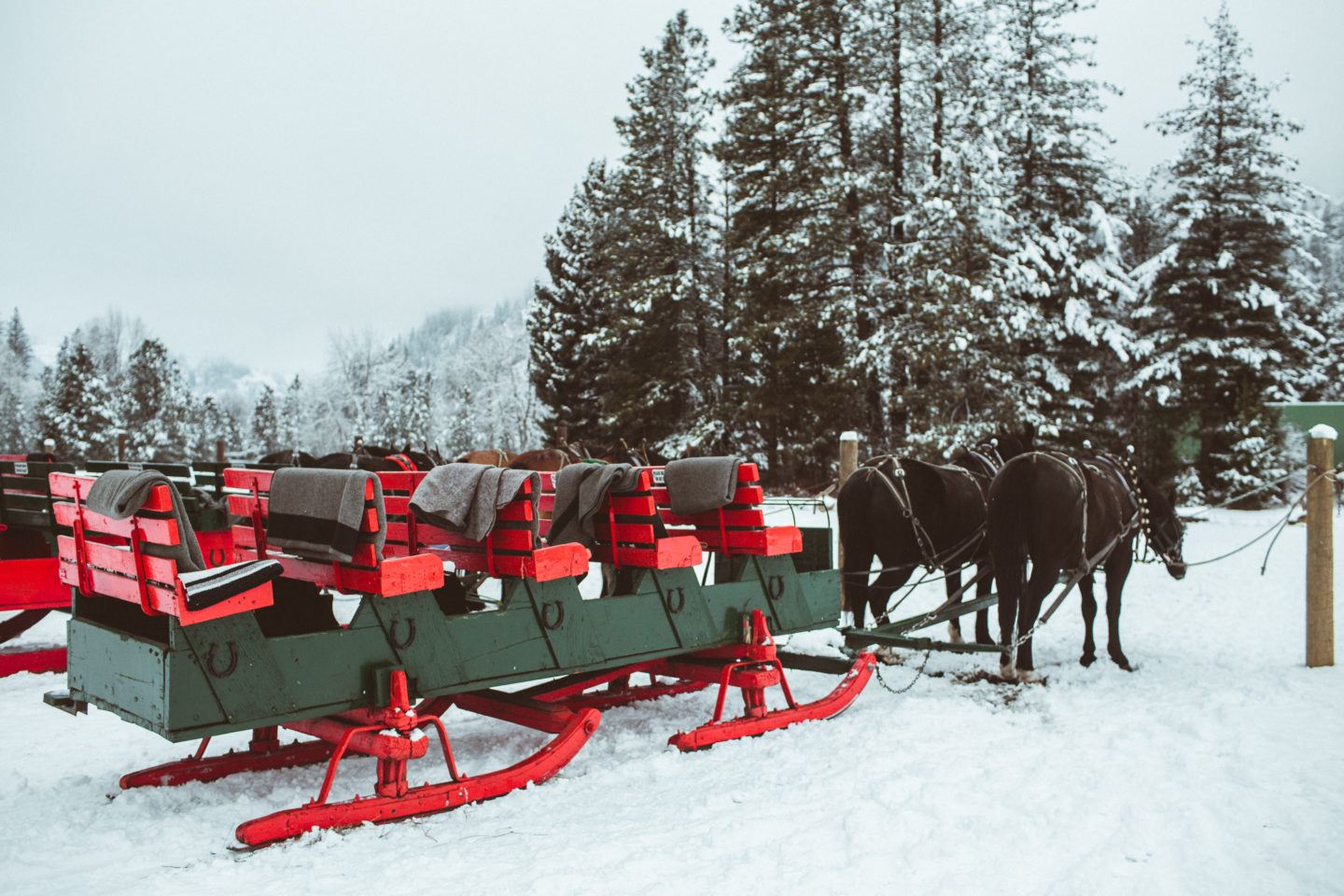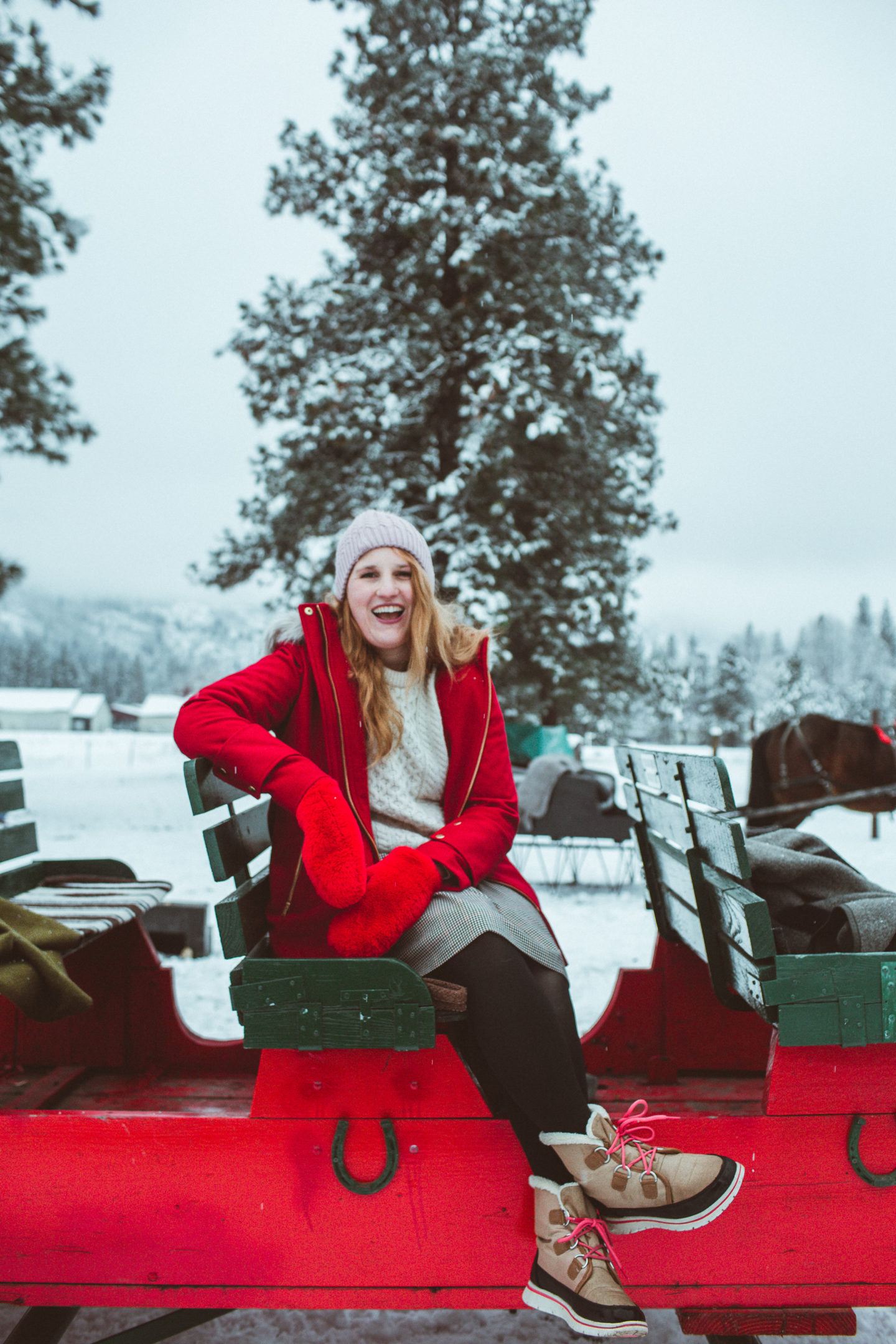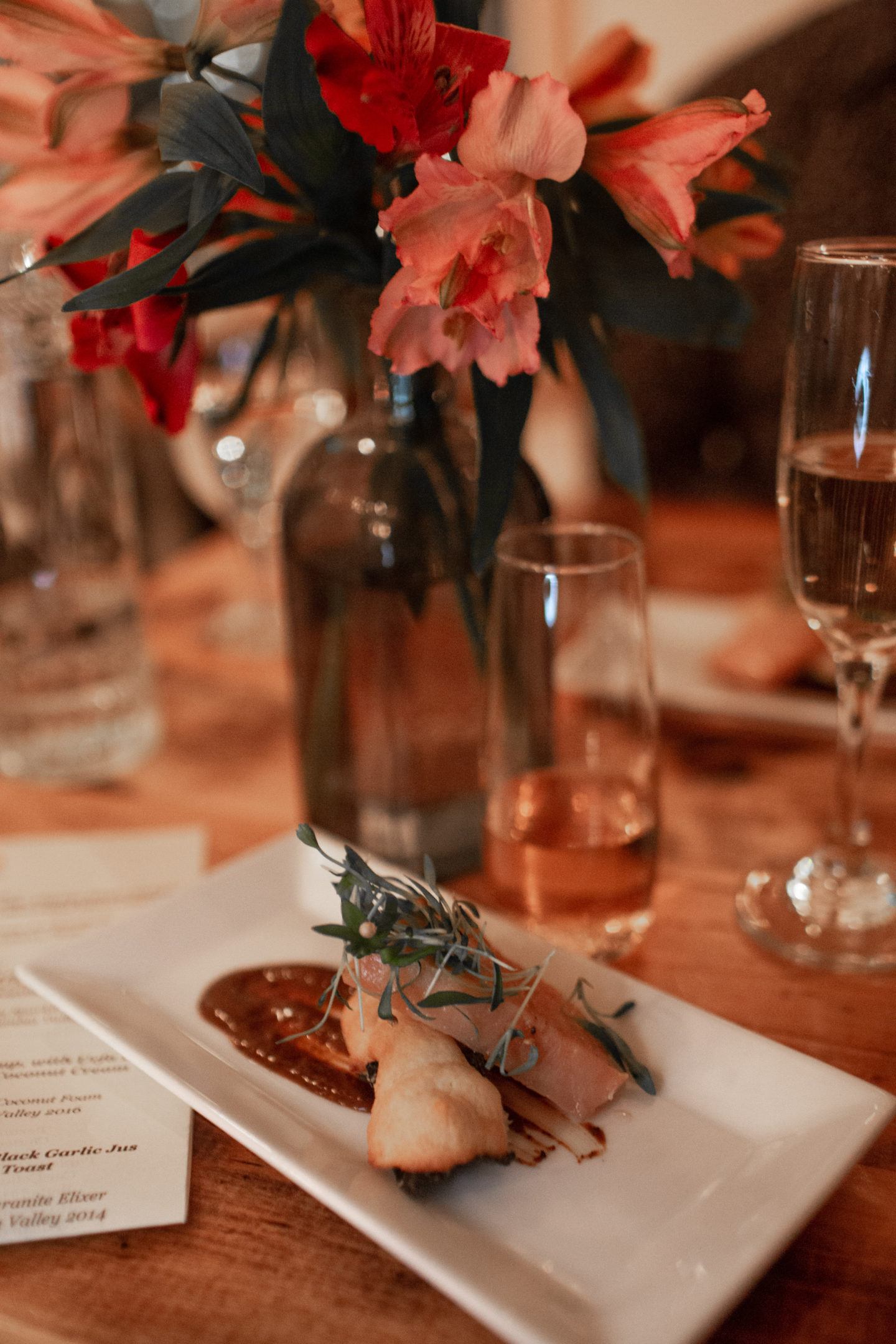 Wandering Downtown Leavenworth at Night
That brings me to the next thing on the list… just wandering this beautiful city at night! Most small towns die once the sun sets, but this Bavarian village comes to life!! After the Christmas tree lighting in Leavenworth, all the lights stay up and the town is out having fun. It's so beautiful.
We lucked out – it was snowing that first evening which made for an extra festive way to explore the town! There are a few shopping centers that you can pop into to escape the cold and then shops with street access as well.
Sledding Down the Hill
Got kids? (Or are a kid at heart?) The hill next to the gazebo is a popular spot to go sledding! If you didn't bring your own sled, you can buy one at Outdoor Sports around the corner. Bring your mittens and hat to enjoy an evening sledding under all the lights on the trees!
Wine Tasting at Tasting Rooms
Did you know that Washington state makes fantastic wines? Especially Syrahs and Merlots, but they boast top-notch wine regions (like Lake Chelan!) There are a handful of wine tasting rooms in downtown Leavenworth.
Between your holiday shopping or before the Leavenworth Christmas lighting festival, make sure to swing by a few tasting rooms to sample some local wines! We stopped by Icicle Ridge Winery, tastings are only $10 (much better priced than in Napa Valley, let me tell you!)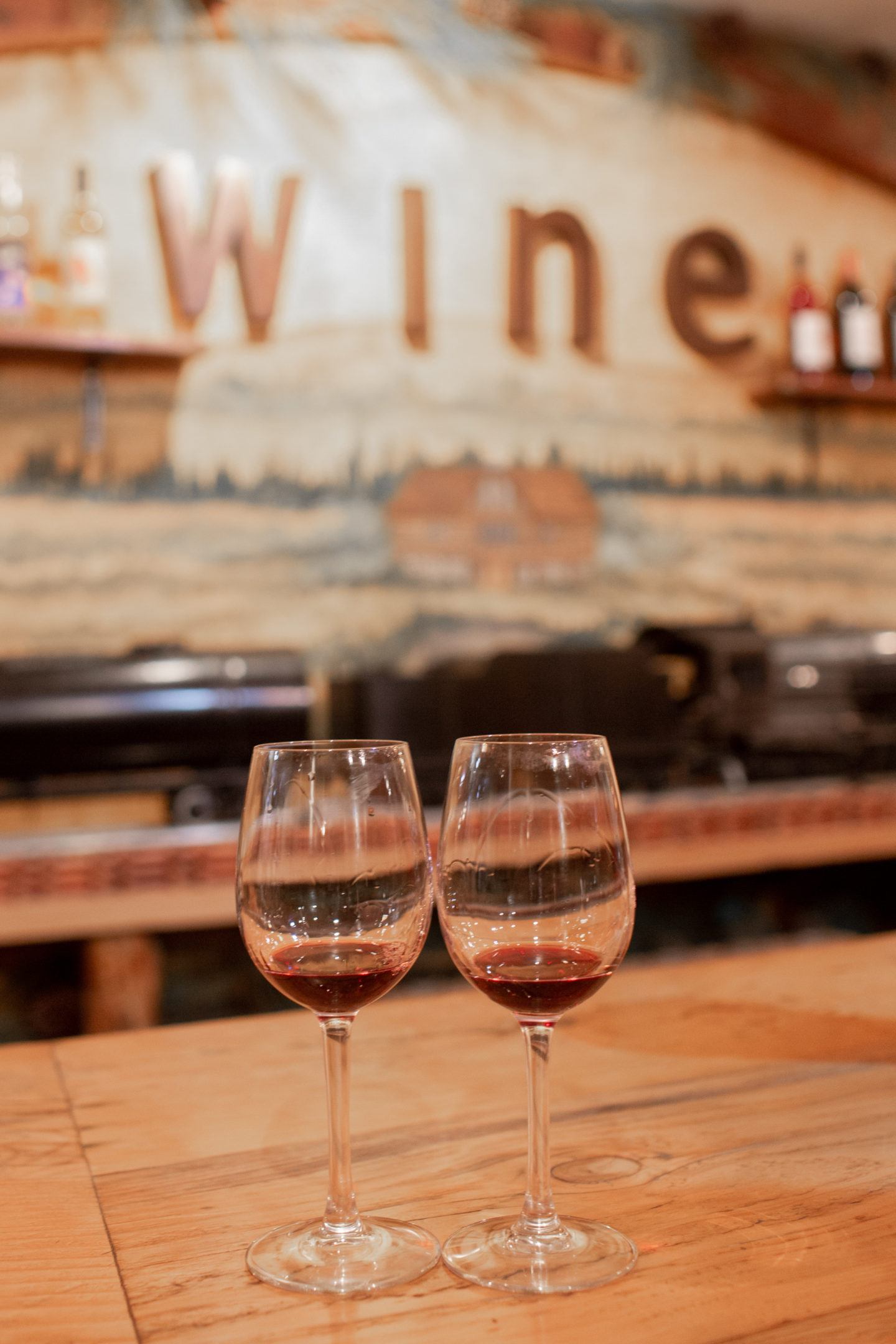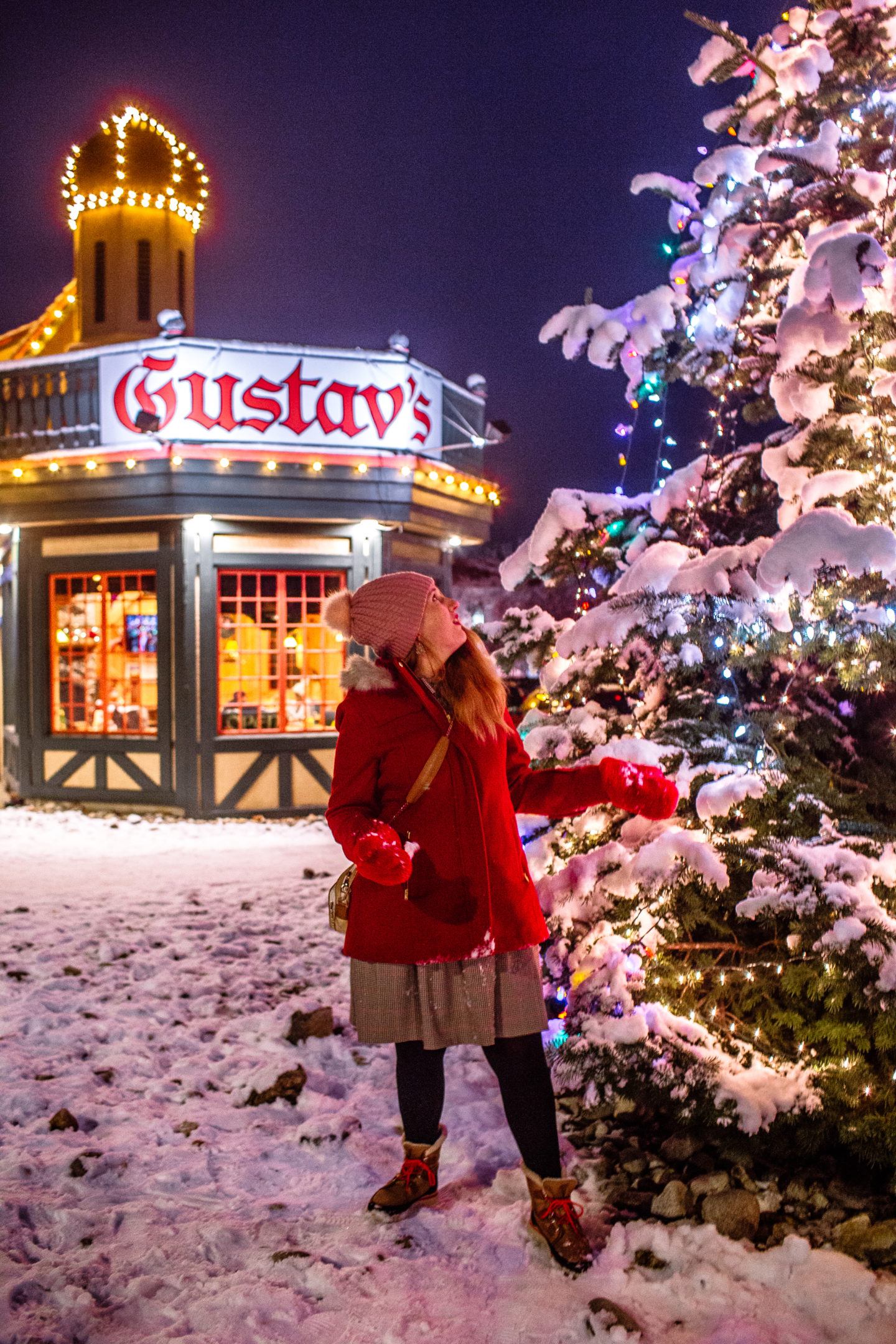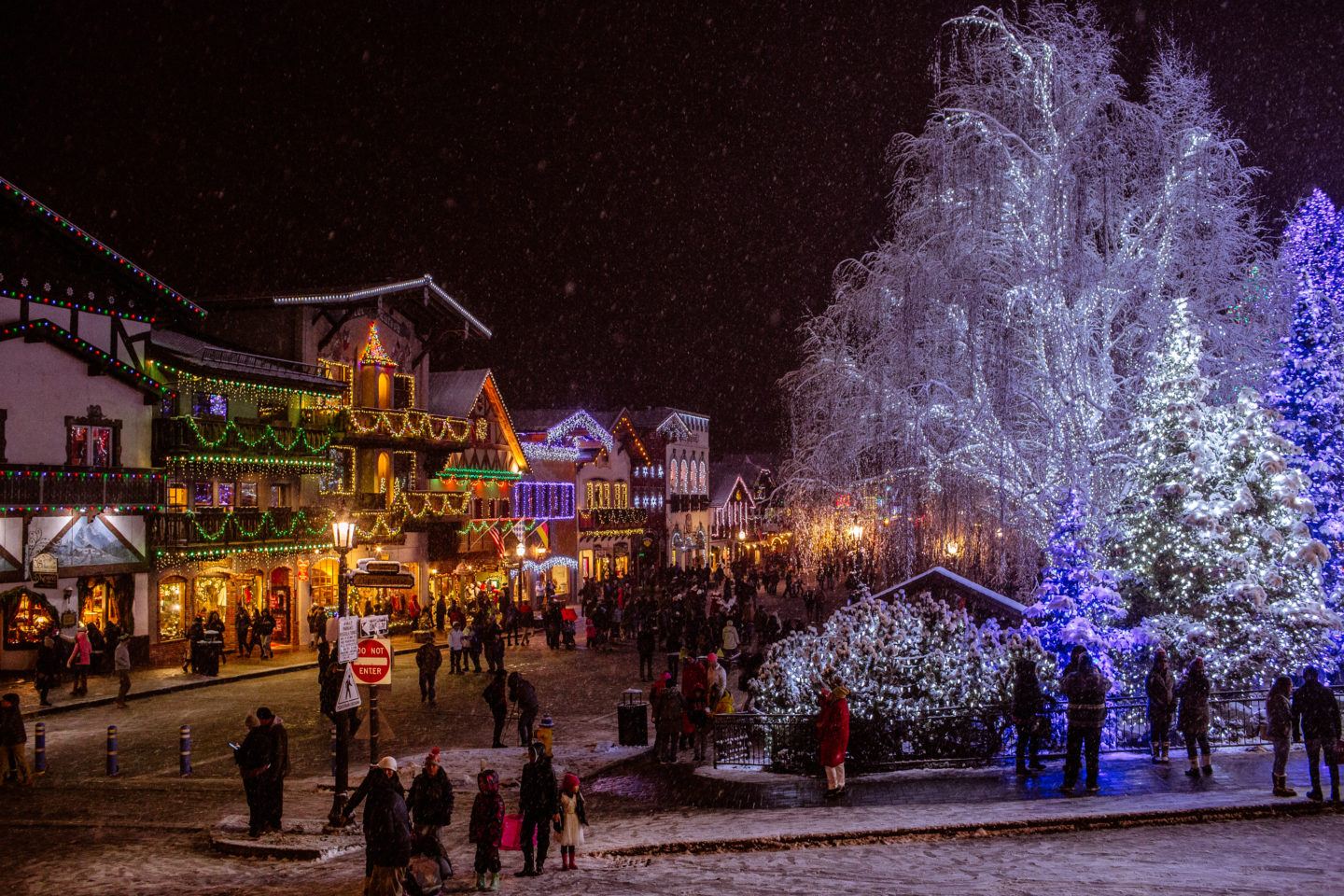 Winter Hiking
Sometimes winter offers the best trails and views! When it's not snowing or foggy out, you can see the mountain peaks, like the Sleeping Lady mountain poking out on the horizon. Winter hiking, with the right equipment, is so much fun and the perfect thing to do during the day before you hit up downtown at night!
Leavenworth WA in December usually has a fair amount of snow – not a crazy amount, but enough for snowshoes if you want to hit the trails. Icicle Creek trail is a popular place to head for winter activities. Check out this site for more info on trails!
Leavenworth Reindeer Farm
No Leavenworth Christmas vacation is complete without a stop to the Leavenworth Reinder Farm! I died of happiness after petting these cute reindeer at the farm!! They're open year-round, but it's extra fun to visit during December. They have Santa!!!
Make sure to buy tickets in advance as this is a really popular spot and can get crowded. The team takes you through some reindeer facts and teaches guests about things like what reindeer eat, where they come from, etc. And then, you get to go pet them! And of course, take the most epic Holiday selfie. You can learn more about the reindeer farm here!
Schnitzel
German food isn't exactly famous, but I personally swoon over a good schnitzel! The schnitzel at Andreas Keller is to DIE FOR and a must for any Leavenworth Washington Christmas visit. Make sure to book a table in advance as it can get rather busy.
We ordered the Schnitzel Cordon Bleu (drooling just thinking about it!) and the Jägerschnitzel which was perfectly cooked and – I do dare say it – better than the schnitzel I had in Germany!! These guys do it right. Make your tummy happy by eating here.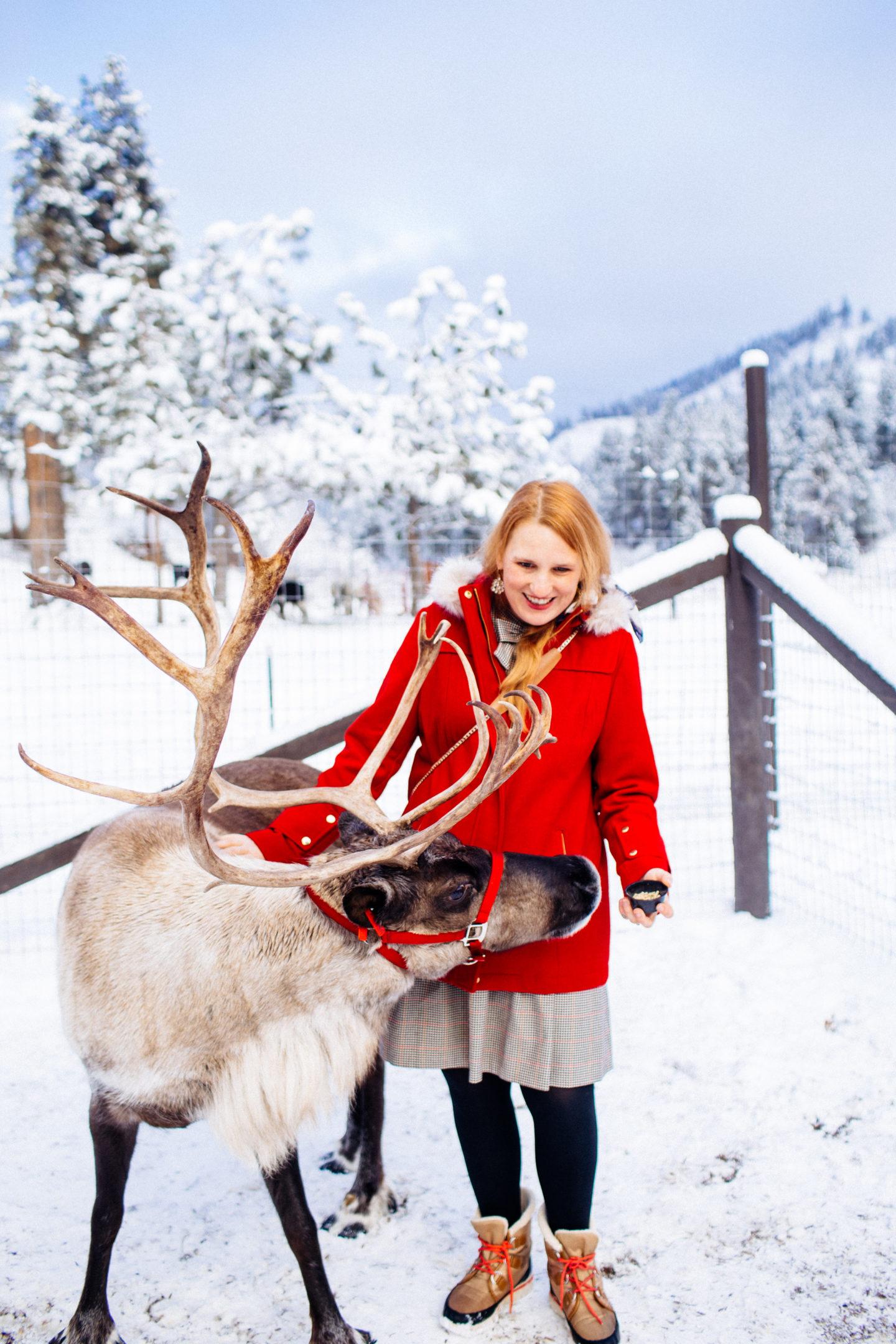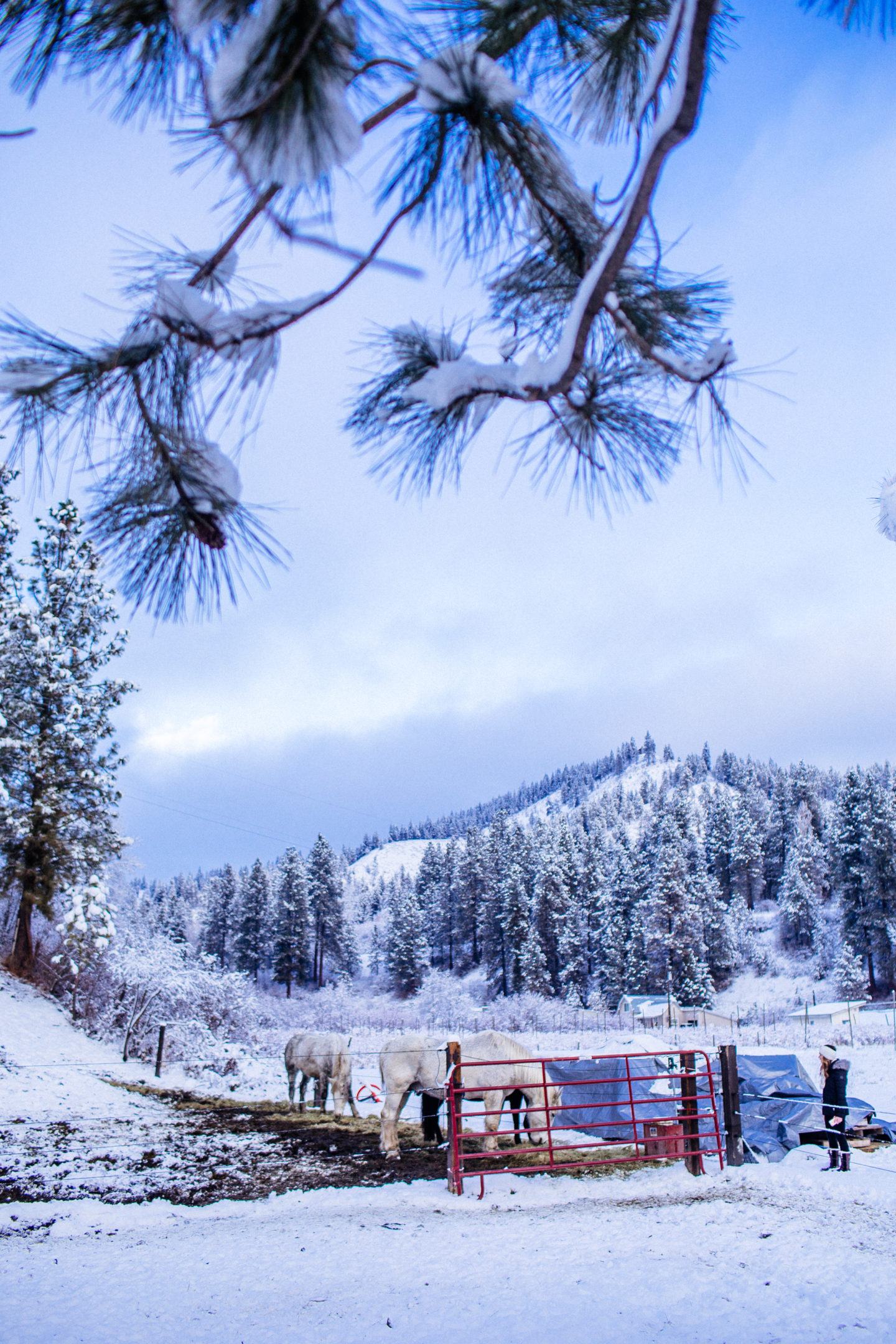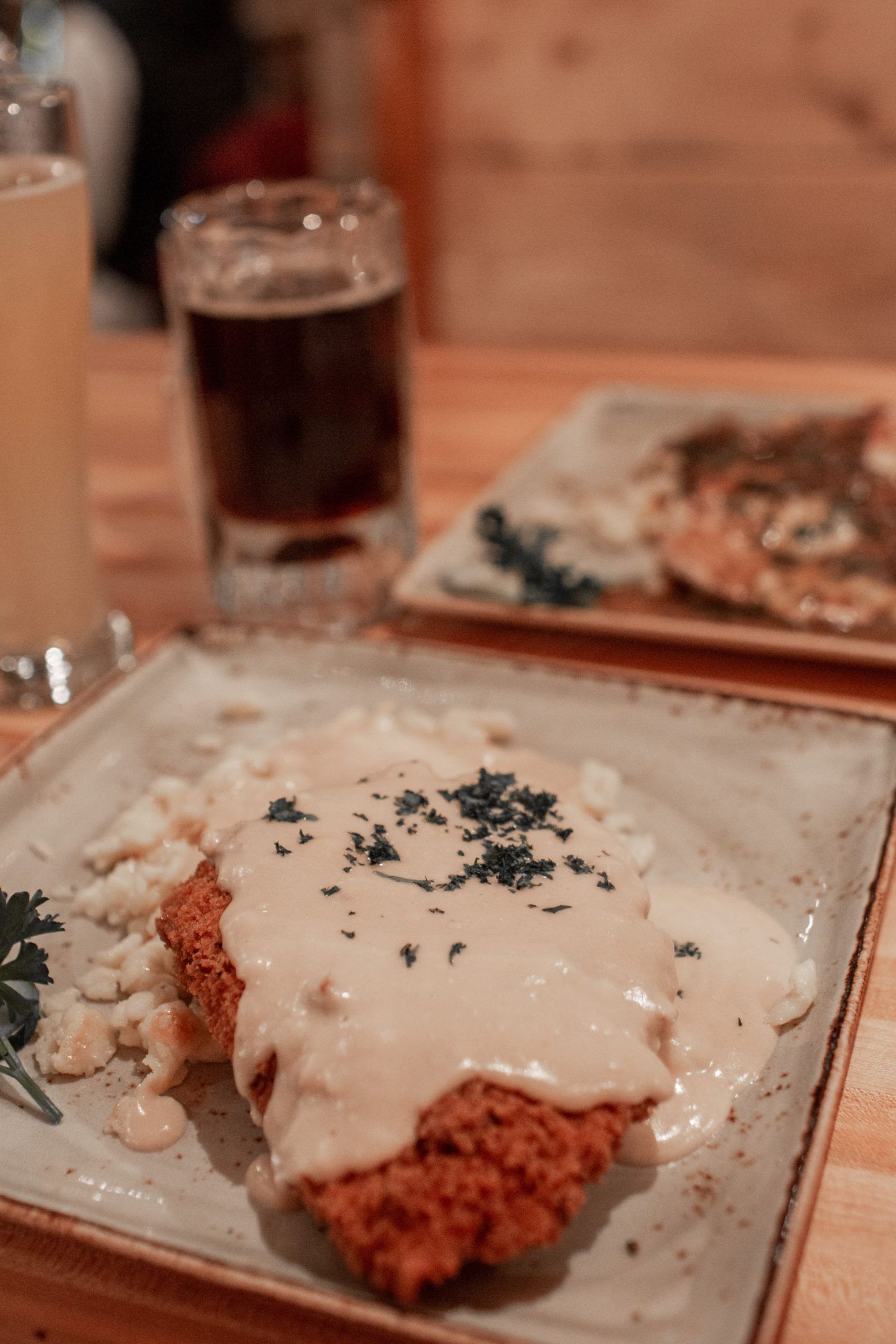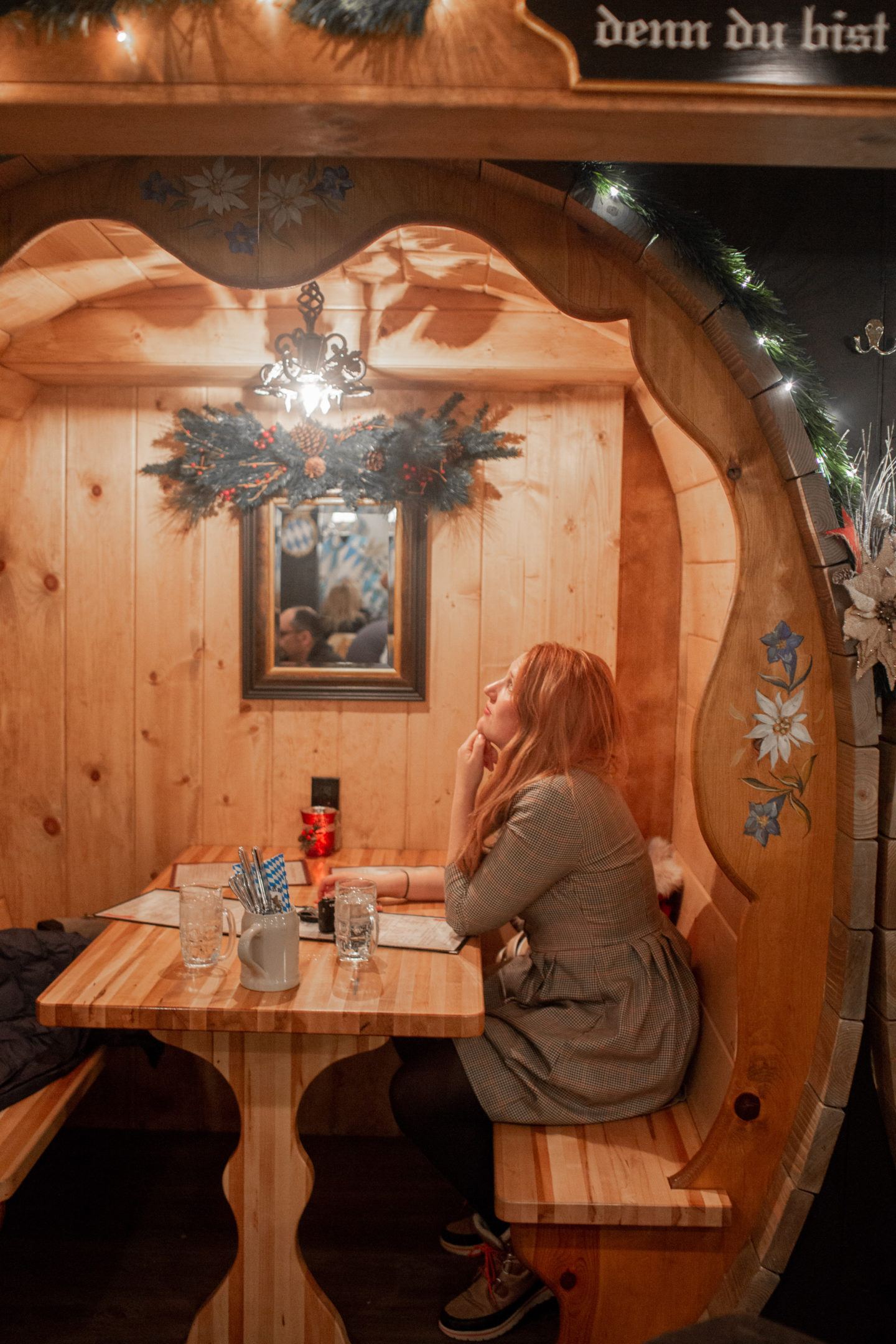 Nutcracker Museum
Of course, any visit to town requires a stop by the famous Nutcracker Museum! They host hundreds of nutcrackers from all over the world. We sadly didn't get a chance to visit the museum part as they closed for the day before we could wander over, but we did pop into the nutcracker store next door.
Tickets are just $5 for adults, the catch is that they're only open for four hours a day (1pm-5pm) which we didn't realize, so we missed our window for visiting (next time!) We hear from the locals that it's an actually cool place to stop by!
Outdoor Hot Tub
Outdoor hot tubs in the mountains while it's snowing… um, yes, please! When booking Leavenworth WA Christmas hotels, make sure to stay at the Sleeping Lady Resort and Spa. It's a magical hotel and while I fell in love with so many parts, I really loved their outdoor hot tub. A dip in that thing, while it's snowing, is seriously the best way to ease into a day of Christmas festivities! Or, book a cabin with a private hot tub!
Gluhwein
German for spiced mulled wine, this is what you'll find at every Christmas market in Germany during the holiday season! While there isn't a proper Leavenworth Christmas Market like in Bavaria, you can find gluhwein pretty much at any bar or restaurant in town. It's tasty and keeps your hands warm during the chilly weather – a must!!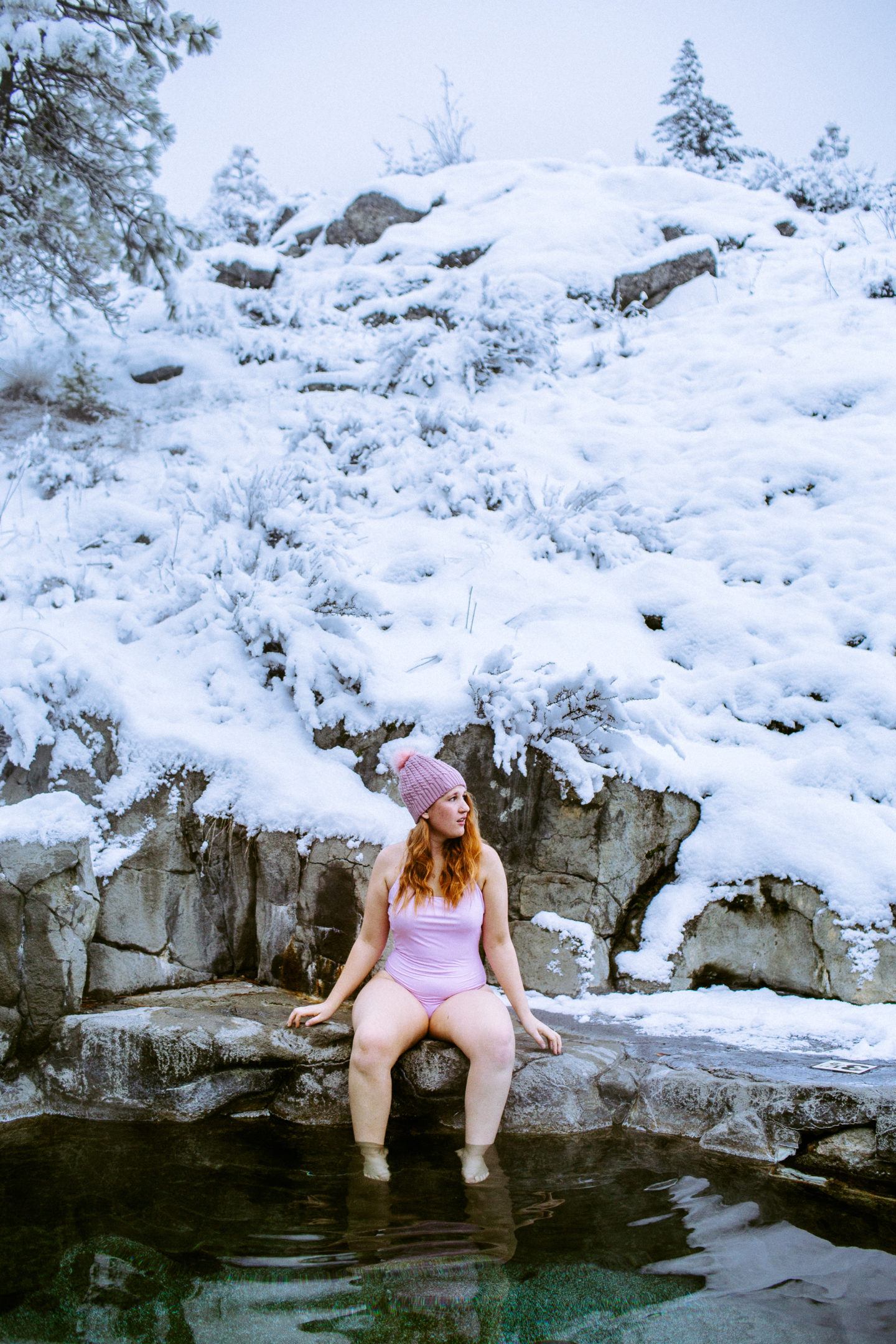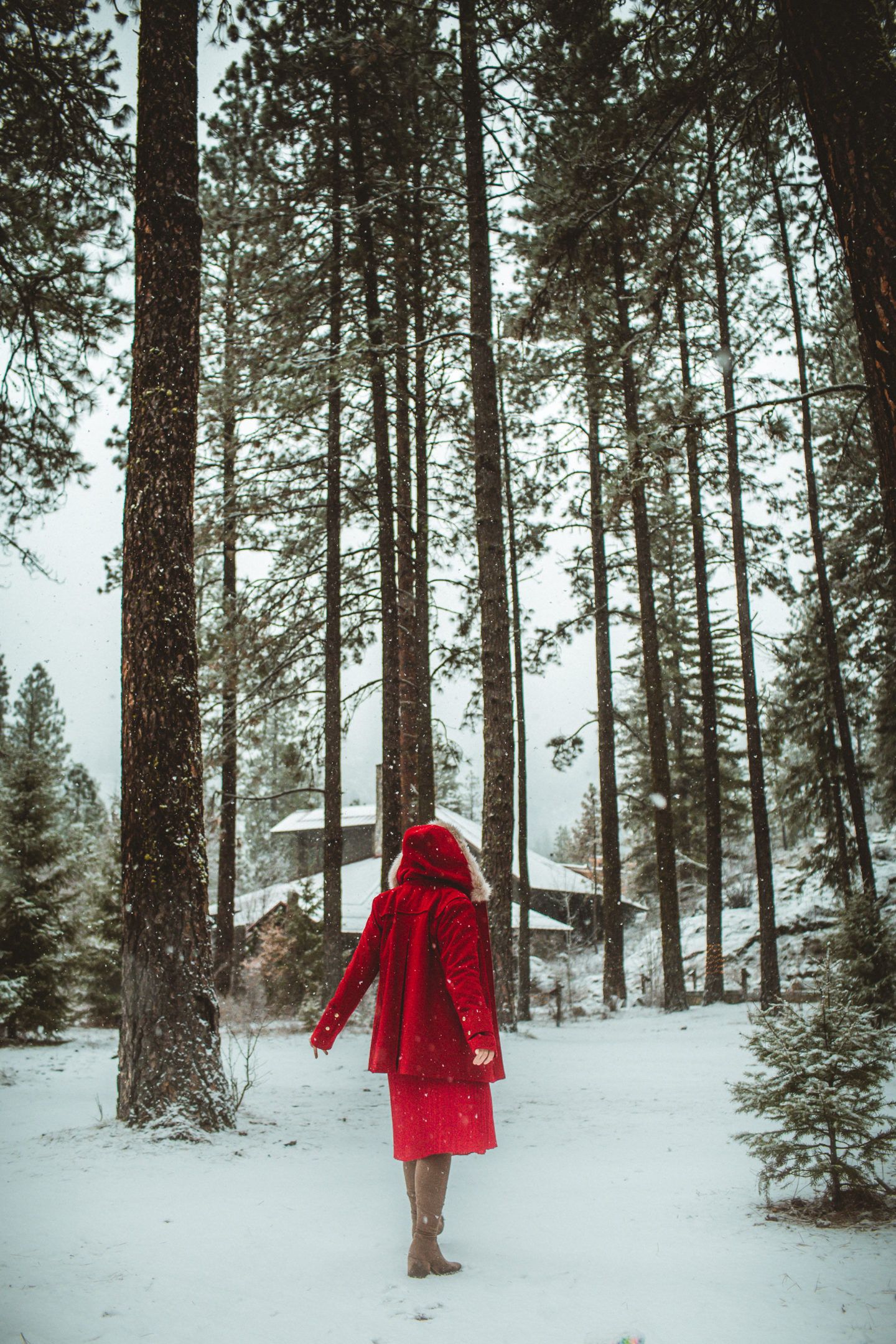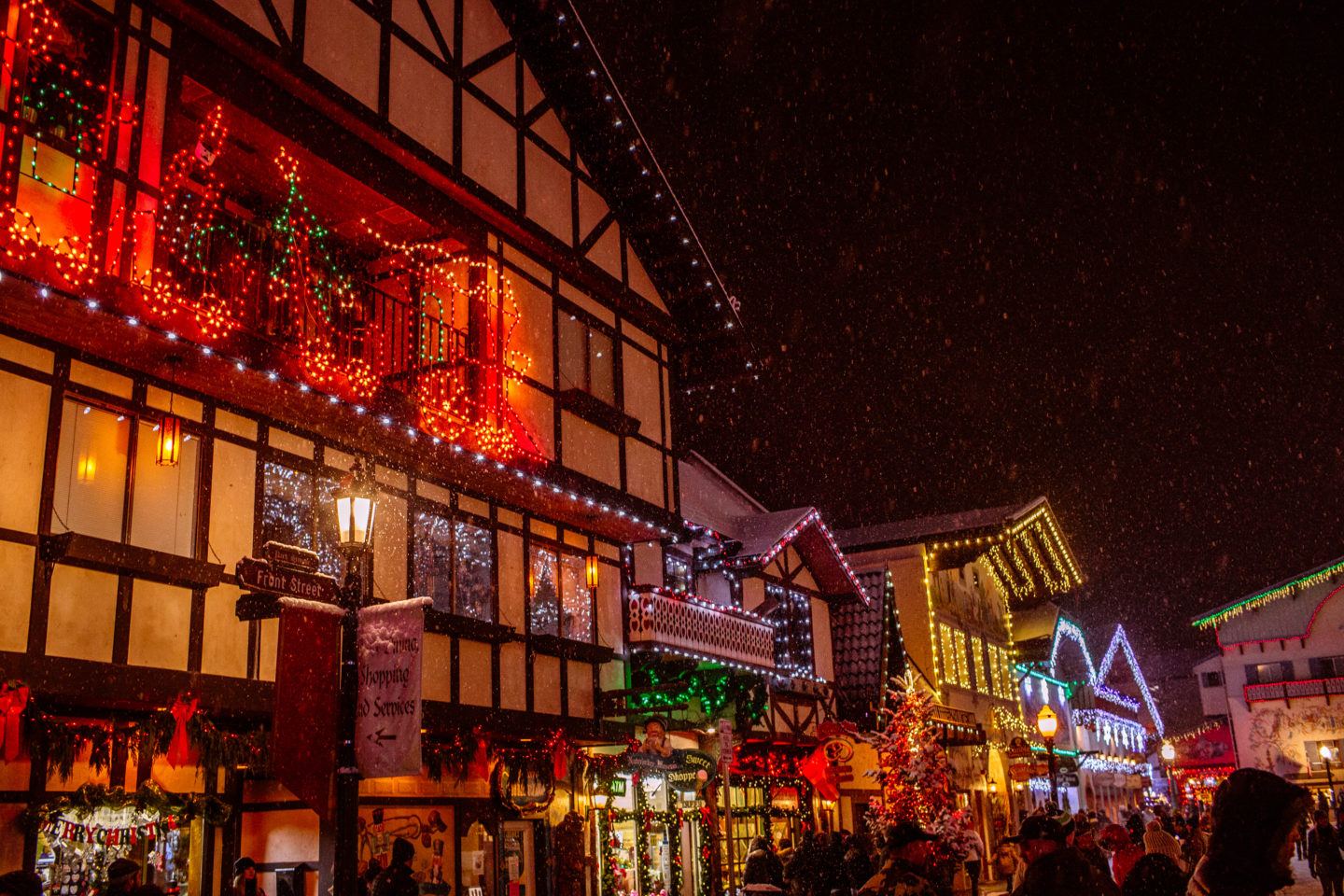 The Leavenworth Snow Train is not in operation in 2018, but it says it'll be back up and running in 2019, so the Leavenworth Christmas train is that secret 12th thing to do once it's running! Take the train to Leavenworth if you don't want to rent a car and drive in the mountains. Plus, street parking can be a pain in the snow anyways.
If you're looking for a Christmas town Washington State, then Leavenworth is IT, my friends! This Bavarian village is a gem in the mountains, truly magical in every way. Plus, the locals are incredibly nice and made the duration of our visit even better! A true Leavenworth Christmas vacation is made by being festive, drinking lots of mulled wine, playing in the snow, looking at all the Leavenworth lights and being merry!
This is my new favorite place in the entire United States to celebrate the holidays!
Don't forget to check out my full Leavenworth, Washington city guide if you need more ideas. If you have any questions at all, leave a comment below or DM me on Instagram @thewhimsysoul!!