From the moody Pacific Northwest rainforest to the sunny beaches of San Diego, the West Coast is easy to fall in love with. It also makes for one hell of a fun road trip.
I moved to San Francisco from Wisconsin 5 years ago and ever since, I've been exploring the West Coast visiting the famous cities and parks, but also hunting down all the special corners you don't usually see on Instagram.

If you're planning a West Coast road trip, you came to the right spot! In this post I'll be sharing a detailed road trip itinerary around the West Coast including the major cities everyone should see in person, but also hidden gems that only seasoned travelers and locals know about. And of course, tons of area tips to make this the best adventure ever!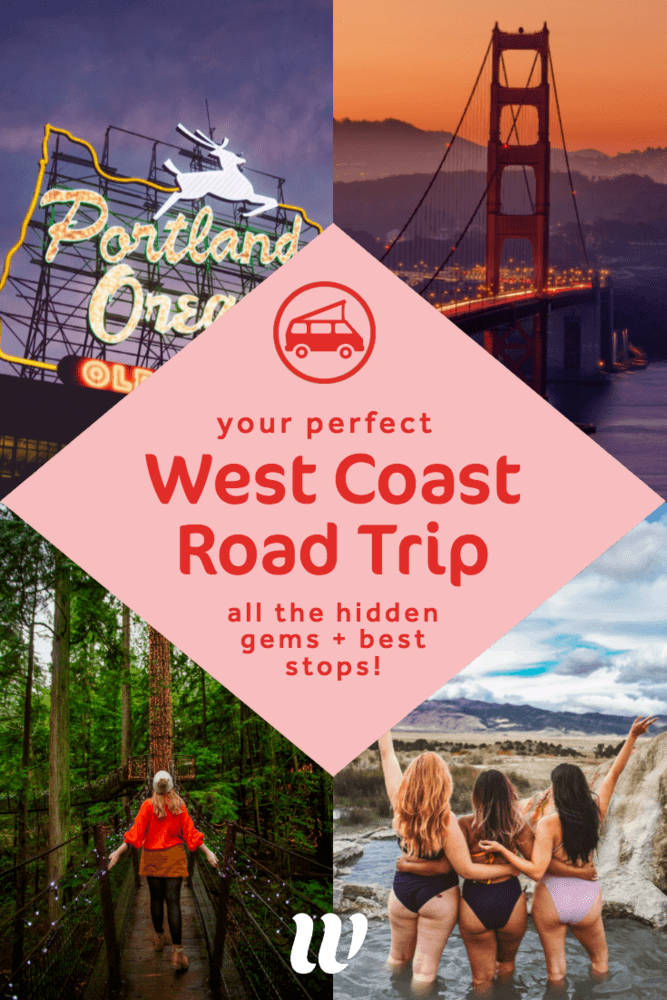 >> Got a question about the West Coast that you need answered quickly? DM me on Instagram @thewhimsysoul and I'll be happy to help!
How Many Days Do I Need For A West Coast Drive?
Honestly, that's totally up to you. You can power through this road trip planner if you want to (skip a few stops and drive from Vancouver to San Diego in a few days.) But that's not as fun as taking it slow.
Originally I put this as a "10 day West Coast road trip itinerary" but then I realized 10 days is still not a lot of time to explore the West Coast and I didn't want to limit my readers with a strict timeline. I know you all have different vacation plans.
I recommend at least 10 days for a proper west coast road trip, but 2 weeks would be better.
The Best Time For West Coast Road Trips
Another question I get a lot is" Kara, what time of year should I go visit?" Honestly, anytime is a great time to visit the West Coast. The winters aren't as harsh a the midwest winters I grew up in, so you aren't really limited too much by seasons.
That being said, I'll quickly walk you through the pros and cons of each season:
Winter: I love traveling around the West Coast in the wintertime because it's noticeably less crowded and many hotels have good discounts since it's the low season. The downside of winter travel is that many of the national parks on this list have closed roads due to snow. They don't close down entirely, but it's extremely hard to visit places like Yosemite in the winter.
Spring and Summer: The major perk of a spring and summer road trip is that the weather will be super nice and the parks will be open. You won't be limited by weather (maybe just some heat in Southern California.) The downside? Everyone else is traveling this time of year, too! So it's more crowded and hotels can have a higher price tag depending on where you are.
Fall: I think the Pacific Northwest and Sierra Nevada Mountains have AMAZING fall foliage and a road trip this time of year is going to be simply stunning. The only thing I want to get on your radar is possible wildfires during the month of October. We've been having those lately and they can cause problems for travelers. Just something to keep in mind!
Let's get your West Coast trip started! Here's how it's going to go. I'll be starting you off in Vancouver and taking you down the West Coast to San Diego. This is NOT a Pacific Highway road trip guide – there are SO many hidden gems on the West Coast that are inland and shouldn't be missed.
Obviously, there are a lot more things to do than I mentioned in this post, but I don't want you reading for an hour. I'll be highlighting the stops I think are worth it for those looking for a unique West Coast road trip.
If something doesn't pique your interest, just skip it. I'll also be recommending alternatives in the area you can choose from, too. If you're new to road trips, check out my post about road trip hacks for saving money on the road (you'll be surprised by some of the tips!)
Another major hack that's new to me (but a total game-changer) is Rocketmiles. They are a hotel booking site that helps you supercharge your rewards points when you book through them. For instance, I could book a stay at a hotel in Seattle and earn thousands of Southwest points to use for future trips. I've even seen deals like booking a $250 hotel stay and earning a $150 Amazon gift card in return.*mindblown*. (You can choose to earn other rewards instead, like AAdvantage or Alaska miles, too!)
I partnered with them to bring Whimsy Soul readers an extra 25% on rewards when they book through Rocketmiles using THIS LINK. You can earn up to 12,500 Southwest points per night JUST by booking your hotels with this link, ya'll! Copy it, bookmark it for any future vacay planning.
Victoria & Vancouver, British Columbia
Let's start your West Coast road trip off in British Columbia, Canada! Robin and I visited for the first time this past December and totally fell in love. Unlike Seattle (which is about a 2-hour drive away from Vancouver), British Columbia is part of Canada and thus it still has that noticeable British influence.
Think castles and European-feeling architecture amongst the classic Pacific Northwest forests.
Victoria is on Vancouver Island and is about a 90-minute ferry ride from the city of Vancouver. We spent a few nights here to soak up the holiday festivities, but you can make it a day trip if you are short on time.
Highlights of Victoria include the Butchart Gardens, Hatley Castle, Fisgard Lighthouse and the historic downtown harbor area. If you spend the night, I highly recommend the Fairmont Empress, dubbed the Castle on the Coast.
It's a hotel that's over 100 years old and is deeply rooted in the history of the city. Plus, it's right on the harbor kitty-corner to Parliament. Booking a stay on Rocketmiles can earn you tons of miles or points to your favorite rewards program!
Top Things To Do in Vancouver
On top of making a day trip to Victoria, there are tons of hidden gems in Vancouver that are worth a stop on your West Coast road trip! Highlights include:
Where To Stay in Vancouver
I recommend you stay in downtown Vancouver, which is extremely walkable to most of the must-do things. We stayed at Shangri-la and LOVED our stay there. I adore their rooftop hot tub, especially after walking around all trip (my legs were so sore!)
No matter where you book a hotel, make sure you do it on Rocketmiles!! I just checked on the site and a two-night stay booking through Rocketmiles would earn me a $100 Amazon gift card (their rewards aren't just limited to points to airlines!!) These rewards are totally subject to change and vary by hotel but in general, you can expect a huge bonus on future trips or spending with Rocketmiles and that's why I love them so dang much!! #travelhacking is a sport to me.
Seattle, Washington
I swear I've been seeing so many zombie movies & shows taking place in Seattle lately. Rest assured, this ocean-side city is zombie-free and makes for a super fun weekend trip. Robin and I have been a few times and are constantly falling in love with The Sound, the beer scene, fresh seafood at Pike Place, the moody PNW vibes and everything else to love about Seattle.
You can read my Seattle tips in detail in my Seattle city guide, but here's some of the most unique stops in the city!
Where To Stay in Seattle, Washington
When we visit Seattle, I prefer to be within a 5-10 minute walk from Pike Place Market. I'm an early bird, and the mornings are the best time to visit Pike Place before it gets super crowded. Robin and I love to have our coffee and breakfast at Pike Place Market. There's a bagel shop inside that makes THE BEST lox bagels in town, so we grab those and find a spot with the view of the Sound to enjoy our meal.
We like to stay at Hotel Max, but there's a new hotel called Palihotel that opened last year that we want to check out. We'll be booking on Rocketmiles to supercharge our points, for sure!
Leavenworth, Washington
If you are doing your trip in fall or December, you simply MUST add Leavenworth to your West Coast road trip itinerary, even if it's just for one night!! A couple of hours drive from Seattle, Leavenworth is a Bavarian-style village that looks like it was plucked out of Germany.
I hear they host a fun Oktoberfest (and the fall foliage is popping in September and October) but I think Leavenworth is the most fun at Christmas!! We went a few years ago, lucked out on fresh snowfall, and had a blast petting reindeer, drinking German beer and tossing snowballs in the village.
My favorite things to do in Leavenworth:
Robin and I lodged at the Sleeping Lady Hotel outside of the city. It's a resort tucked in the woods and simply beautiful in the winter. The only downside is you have to drive into town which can be dicey when it snows. So, if that sounds scary to you, book a downtown hotel, there's plenty!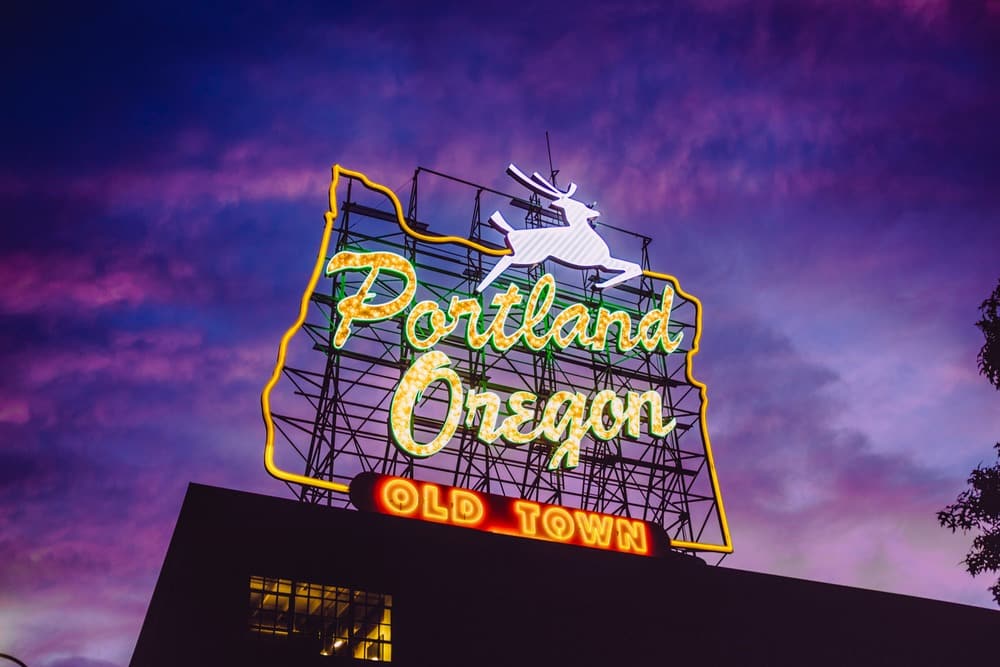 Portland, Oregon
If it's not Christmas time, just head right on to Portland, Oregon! This city is a mecca for hipsters, coffee lovers and all things quirky. The first time I traveled to Portland was on a girls trip during October and I was blown away by all the orange, yellow and red trees.
Portland is a LOT smaller than you think it is and I think you can squeeze in the highlights and hidden gems into one day. Some of my favorite gems are actually outside of the city, but don't worry, you won't be driving a ton. For instance, the top of Mount Hood (the mountain) is just a 45-minute drive from Downtown Portland. Traffic isn't very nuts over here.
Don't forget that the PNW gets a lot of rain! No matter what time of year you visit, pack a rainjacket and rainboots (these are my favorites, btw!)

Where To Stay in Portland
I can't stress this enough: Portland is smaller than you think it should be. And street parking is really easy, even downtown. Thus, you can book a hotel pretty much anywhere in the city. Don't forget to book on Rocketmiles so you can earn points or gift cards to use on future trips!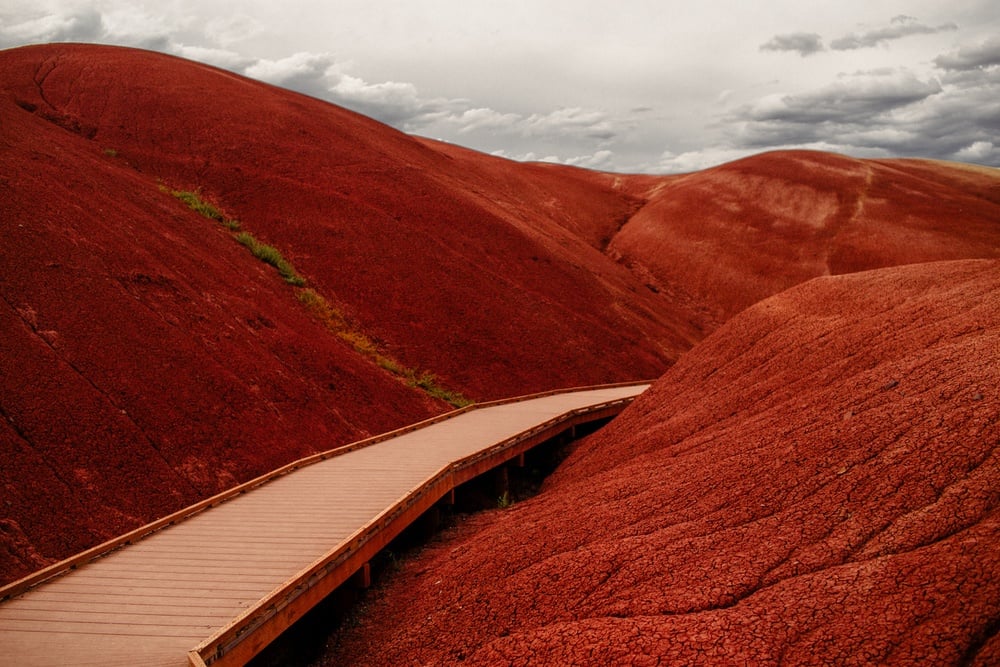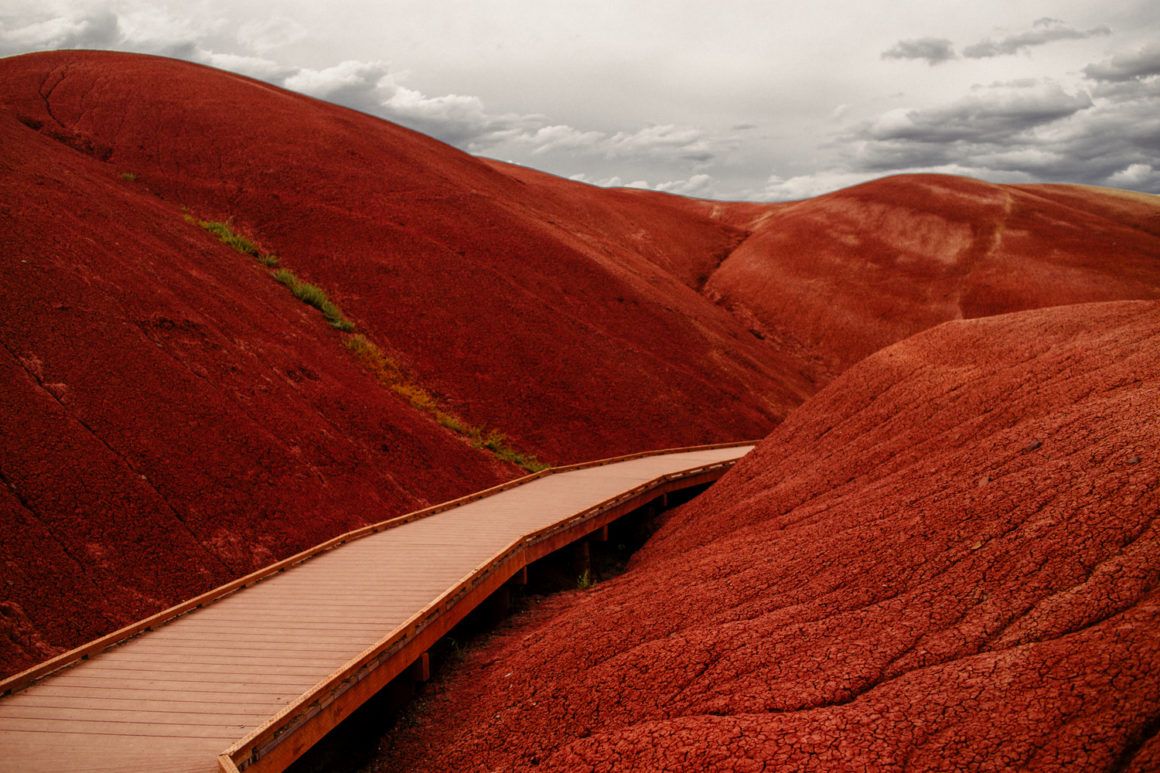 Bonus: Painted Hills, Oregon
If you have extra time on your itinerary, after visiting Portland, drive out to see the Painted Hills!! They really do look this red in real life! The drive is about 5ish hours from Portland, and there isn't much to do around the Painted Hills, which is why I'm mentioning it as optional.
But Robin and I had a super fun time running around this unique state park on our visit last summer. It's best viewed right after it rains when all the sand color is extra bold. Read more in this post.
Umpqua Hot Springs + Crater Lake National Park
Robin and I discovered Umpqua Hot Springs during our summer van trip last year. I'm low-key obsessed with soaking in hot springs after our trip to Mammoth a few years ago and now I look for them whenever we travel in the mountains.
Umpqua Hot Springs require a hike into the woods but you are rewarded with multiple pools on a cliffside and stunning views of the gorge below. They're also located right next to Toketee Falls, an easy hike to a waterfall. Read all my tips for the hot springs here.
Despite visiting Oregon in June, most of the roads up to Crater Lake National Park were still closed down due to snow. We met a couple who went and they told us it was a whopping 2 degrees at the basin of Crater Lake. So, we decided to skip it on that trip and come back again later. But, if you're visiting and the roads are open, this national park is a West Coast must-see!
Where to Stay Near Umpqua + Crater Lake National Park
Since this area is mostly National Park or National Forest land, there aren't many hotels. We personally ended up camping at the Diamond Lake campground and loved it. If you're looking for a hotel, you may have to stay outside the mountains and drive-in. Find a hotel here!
Redwoods National Park / Avenue of the Giants, California
Now, onto the famous Redwoods of California! You can find Redwood groves in a few different spots in California (like Muir Woods, Yosemite, even here in San Francisco!) but driving the Avenue of the Giants is a top West Coast road trip bucket list stop!
As your driving down from Oregon, cut over to Highway 101 through Humboldt County so you can drive through the famous Avenue of the Giants. It's a stretch of road with thousands of Redwood trees. There's a lot of stops along the way, like hiking trails, lookout points, even a tree that has survived a lightning strike, wildfire AND flood.
Best part? It's totally free!!! Learn more about each of the stops in my detailed Avenue of the Giants map and guide!
Where To Spend The Night
There aren't many hotels in this area as it is pretty remote, but you can find a few that service fellow Redwood lovers. I recommend the Benbow Historic Inn, but you can find the perfect hotel for your group here on Rocketmiles and earn rewards for the stay.
Calistoga, California
Welcome to Napa Valley!!! It's time to do some California wine tasting! I love wine country and my favorite part of Napa Valley to do tastings in is Calistoga! It's in the Northernmost part of Napa Valley and known for hot spring waters, healing mud baths, woody wineries and course, really really great wine.
Robin and I live close to wine country so we get to go a few times a year and it's such a treat. Here's my favorite unique things to do in Calistoga:
If you need more Calistoga tips and ideas, check out my weekend guide to this adorable wine country town!
Where To Stay in Calistoga
Calistoga is full of boutique hotels and luxury resorts. If you've never been to wine country before, I think you need to go big and do it right. A wine tasting weekend is supposed to be fun, relaxing and a little boujee! Plus, after driving literally thousands of miles you deserve to chill out at a nice place for a couple of nights.
My favorite luxury resort up there is Solage which has not one, not two but three pools (two which are mineral pools with that famous hot spring water!) Next door is the Indian Springs Resort & Spa, another stunning property that'll make your wine tasting trip extra perfect.
When you book your stay on Rocketmiles, you can earn back points or gift cards to places like Amazon to offset some of the cost and help you make your dollars go further on your next trip! I just checked and if I stayed at the Solage or Indian Springs tonight, I would earn a thousand points to Southwest that I can use on my trip to the East Coast later this year!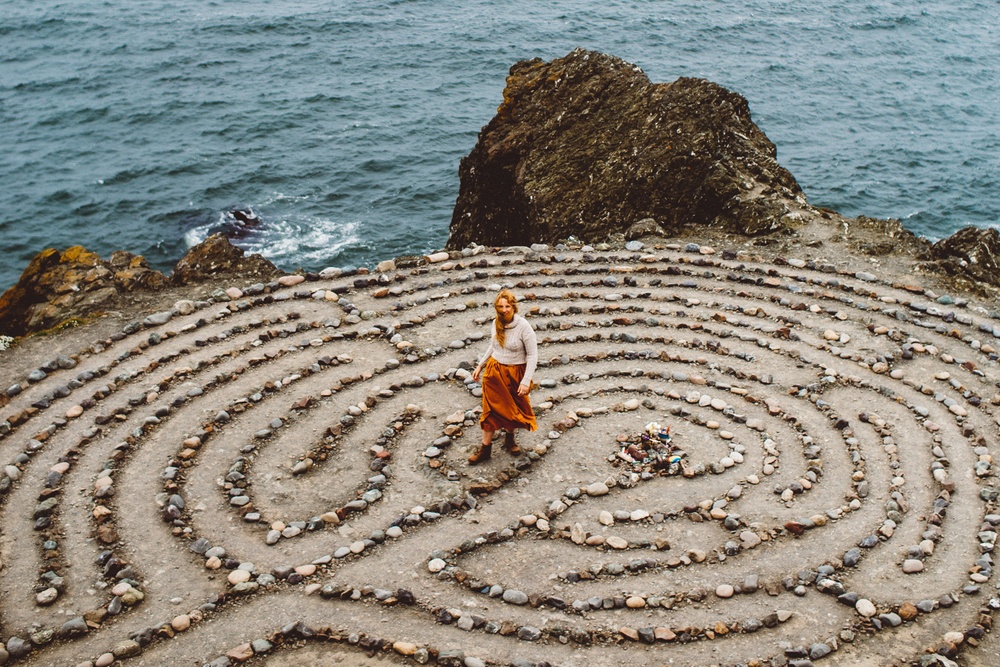 San Francisco, California
AHHH! Time for my favorite city in California!! I'm a little biased since I live here, and while you may think San Francisco isn't "under the radar" enough to be on a hidden gems West Coast trip itinerary, let me show you why it is.
While San Francisco is 7×7 miles, there are a TON of strange, unique things hidden in the city limits. Like bison in Golden Gate Park (yes, seriously) a secret labyrinth, a wave organ made from tombstones, the home of the cronut, rope swings, speakeasies, and so many more hidden gems. I write about fun things to do in San Francisco all the time as I'm discovering them.
Skip Fisherman's Wharf and head to some of these unique things in the city instead!
I actually wrote a whole One Day In San Francisco guide that you'll probably want to check out, as it helps guide you through tons of fun things to do in the city if you only have one day. It's a perfect way to see this city during your long West Coast road trip!
Where To Book A Hotel in San Francisco:
As you can imagine, San Francisco has a TON of hotels. Since this city is old, be prepared for smaller hotel rooms, much like you'd find in Paris or New York City. They also tend to be at a higher price point but don't let that deter you from spending the night here in the city. Just use Rocketmiles to book your hotel so you can earn rewards or gift cards back!!
After a quick search, I could earn up to 5,000 Southwest points per night in San Francisco. Some notable hotels that'll provide a really fun experience are The Marker, The Fairmont, Palihotel and Hotel Zeppelin. I recommend a hotel near Market Street or Union Square since it's easy to get to other parts of the city from those spots as they are central.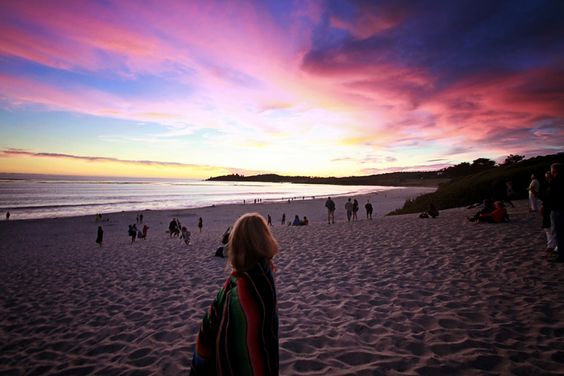 Carmel-by-the-Sea, California
Heading down to Carmel is your chance to drive a bit of the Pacific Coast Highway! Carmel-by-the-Sea is a town that looks like it was legit pulled out of a fairytale book. It's just south of Monterey, which you may know of from Big Little Lies which takes place there.
I think Carmel has some of the BEST sunsets on the West Coast. They've always extremely colorful (see the photo above!) On top of awesome sunsets and fairytale charm, Carmel is known for luxury hotels, fancy restaurants, shopping, wine tasting and golf, as it's next door to the famous Pebble Beach. Here's my favorite things to do in Carmel:
Where to Stay in Carmel
Carmel is extremely walkable so I suggest you book a hotel in downtown Carmel. There's a lot of cute, fairytale looking hotels in the area. Check out L'Auberge Carmel for luxury, or Pine Inn for a mid-range boutique property. Don't forget to book on Rocketmiles here to earn rewards!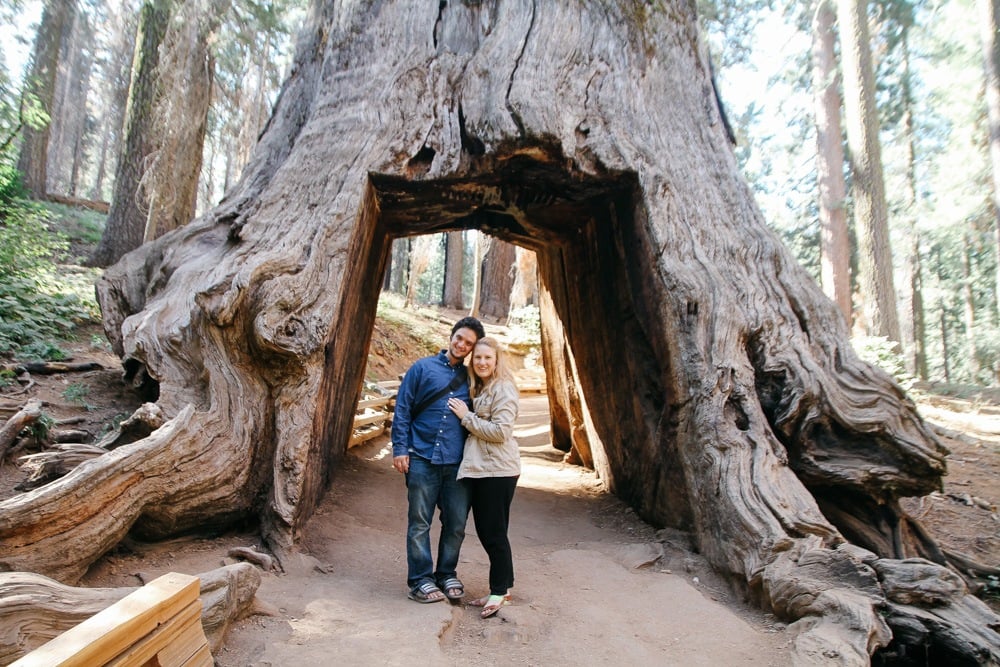 Yosemite National Park, California
Ok, so Yosemite National Park is far from a hidden gem, but it's my favorite national park in the United States so I wanted to include it. Plus, it's HUGE and there are plenty of hidden gems inside that a lot of visitors totally miss during their trip, so I'm here to walk you through those.
Where To Spend The Night In Yosemite
I highly recommend you stay inside the park and it's simply magical to fall asleep under Glacier Point and wake up already inside the valley. Driving in and out can take hours depending on the season, so it's way more relaxing if you're already inside the gates. My absolute favorite spot is Half Dome Village, which is a bit like glamping and a totally unique way to lodge in Yosemite.
But if you can't find a hotel available inside the valley, the town of Mariposa is just outside the park and it's very cute! Mariposa is an old mining town and it's packed full of historic charm, local shops, breweries and restaurants. Find a historic hotel here.
Other parks on the way you may want to stop at on your drive to Palm Springs (the next stop!):
Sequoia National Park
Death Valley National Park
Bryce Canyon National Park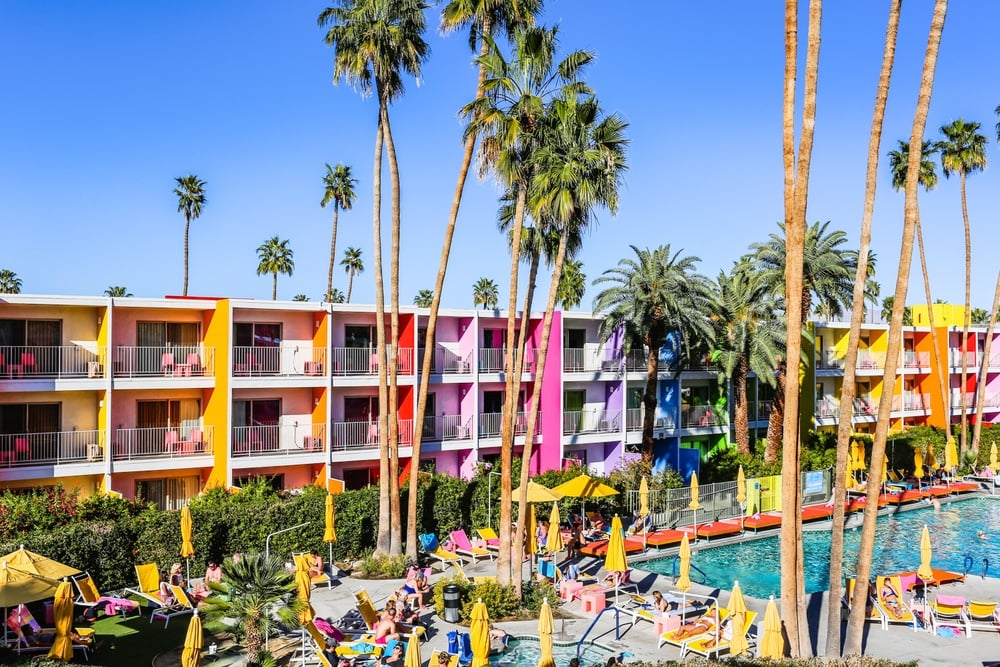 Palm Springs, California
This is a long drive day, 380 miles to the city of Palm Springs! But it's going to be a stunning drive through the Sierra Nevada Mountains. On the way you'll even pass by the Mammoth Hot Springs if you want another go at natural hot spring soaks!
Palm Springs is such a whimsical, colorful city. It's full of quirky hotels, Instagram-worthy corners, famous houses, relaxing pools and fun. It's just a whole lot of fun, like a rainbow turned into a town in the middle of a desert. I have a whole Palm Springs city guide you can check out, but here's some of the more unique things to do in the area.
Where To Stay in Palm Springs
Oh boy, there is no shortage of awesome hotels in Palm Springs. Much like Calistoga, this is a place to camp out for a couple of days a nice hotel with a good pool. Here, the hotel can be the destination itself so it's worth it to spend a bit more for a nicer place.
If you're looking for whimsical luxury, the Parker Palm Springs is one of the most unique hotels I've ever been to (and you can earn up to 5,000 Southwest points per night by booking on Rocketmiles!!) Other notable spots are the Riviera, ACE (pictured above) and Korakia (which is a Morrocan style property!)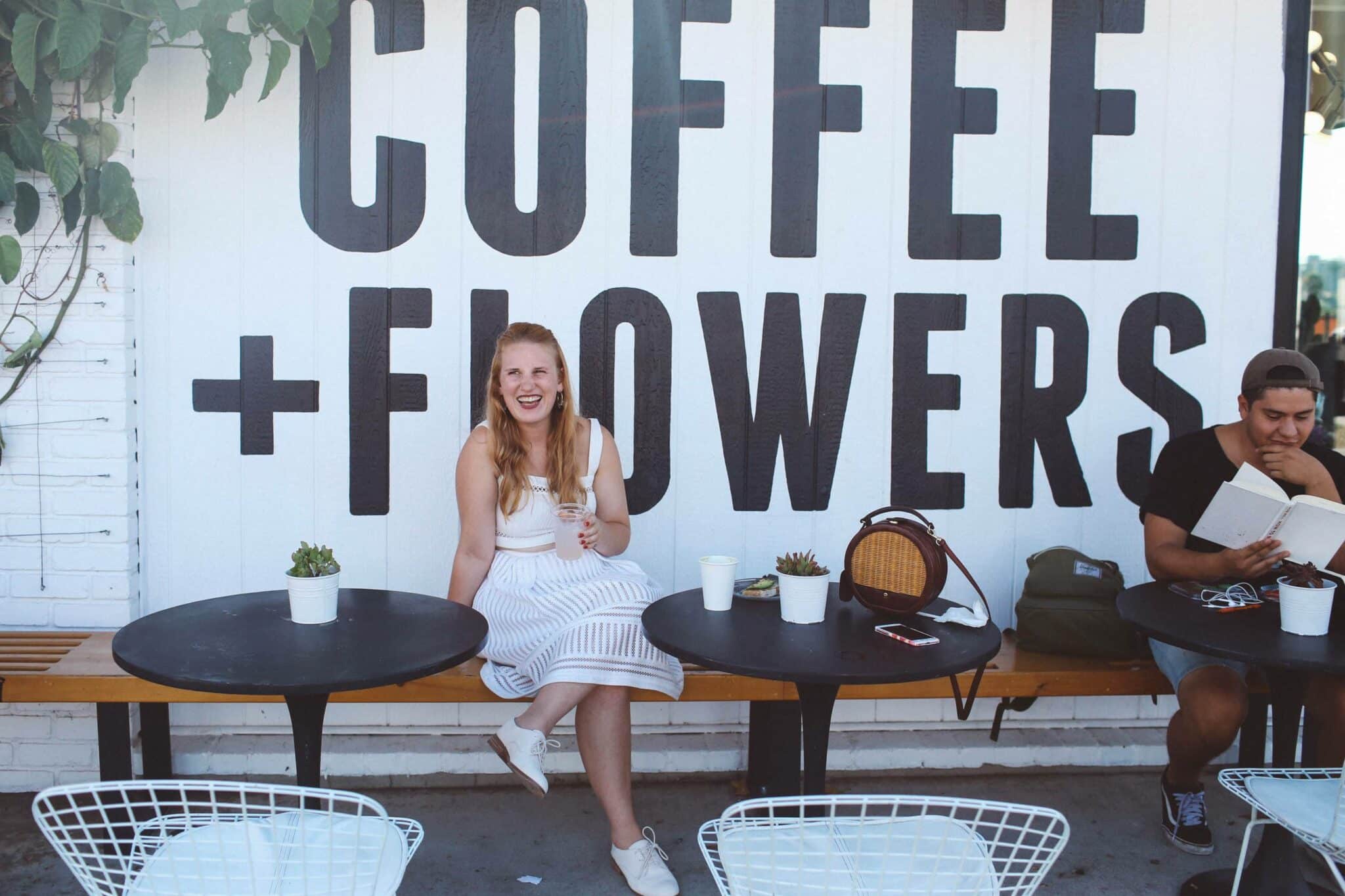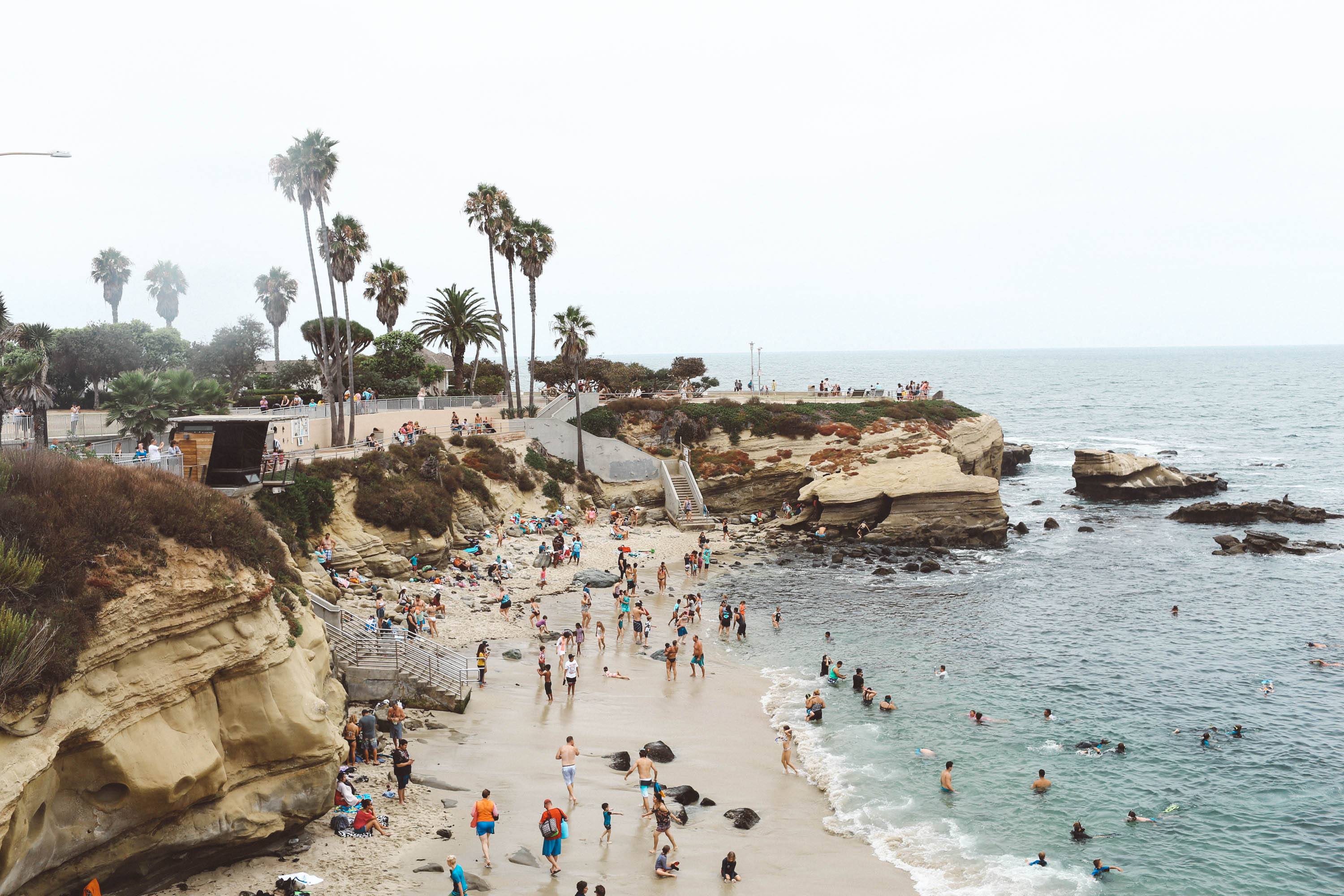 San Diego, California
I know you've heard of San Diego, but it commonly is overlooked for Los Angeles, just 2 hours up the coast. And I'm not sure why, I think San Diego has better beaches, more culture and like, WAY better tacos.
I've been a few times since moving to California and never get bored of this laid back beach city. I spent a whole week here and did fun, different things each day but these are at the top of my hidden gems list you should check out.
Where To Stay in San Diego
San Diego is HUGE. My favorite area to book a hotel is La Jolla, as I find this area to be more laid back without skimping on SoCal charm. I once spent a week in La Jolla and walked to the beach every morning, had lunch at beachside shacks and then spent more time on the sand… ahh, magical!
Another cool spot to check out is Hotel del Coronado which is a historic (and supposedly haunted) hotel on Coronado Island. I think it looks like it belongs on the East Coast, as it has pinstripe cabanas and red and white paint. I've only hung out on the beach next to it, but spending a night here is on my West Coast road trip itinerary bucket list! And you bet I'll be booking on Rocketmiles so I can earn rewards points towards future trips.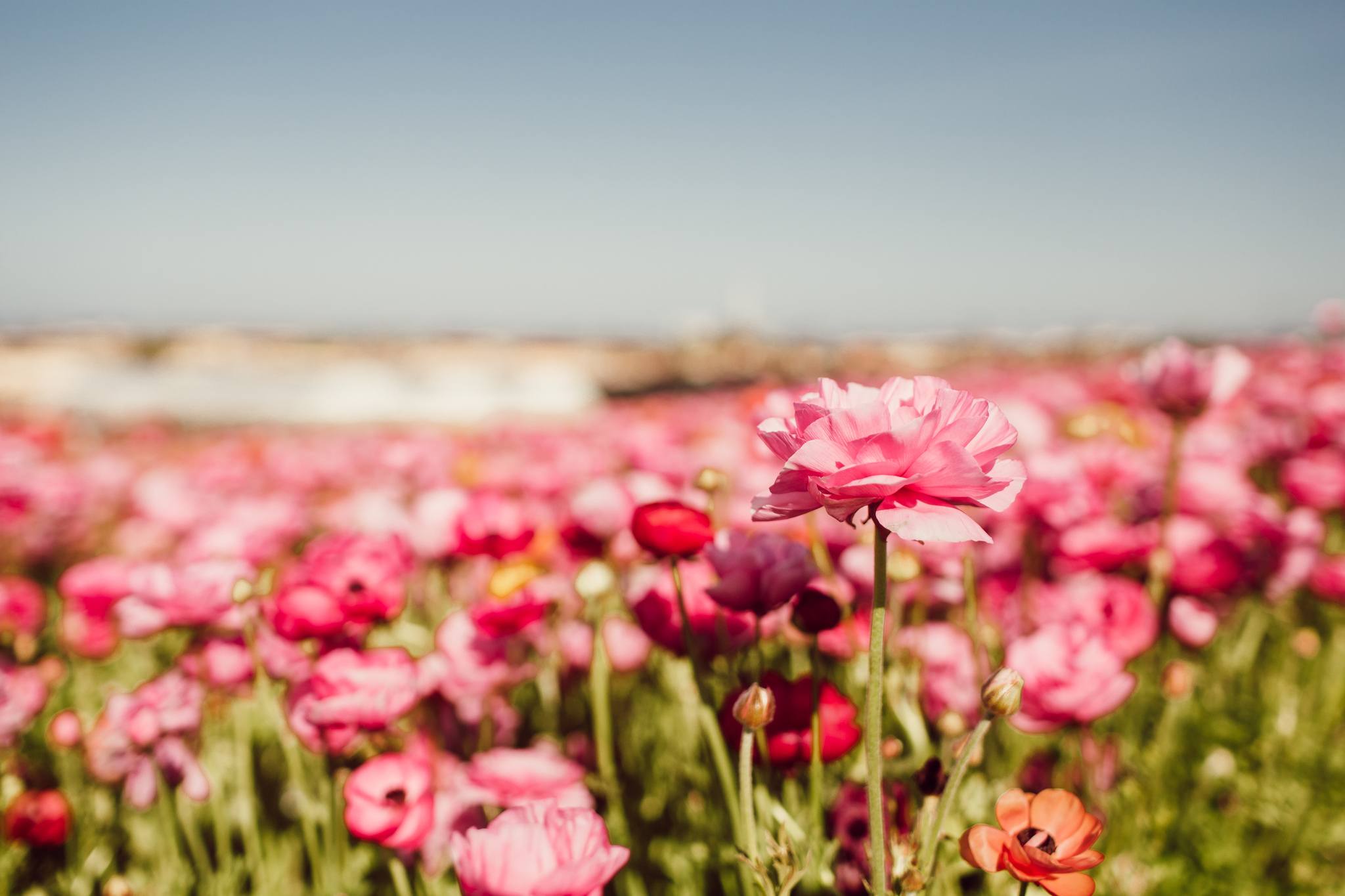 Bonus: Carlsbad, California
If you're doing a springtime West Coast road trip, make sure to visit the Carlsbad Flower Fields!! Only open seasonally, this company allows visitors to wander through their flowers. They are STUNNING in real life as the blooms come in all colors (pink, white, yellow, orange!) The best time of day to visit is right away in the morning before the crowds hit.
Learn more about the Carlsbad flower fields in this post!
West Coast Road Trip Map
I hope my West Coast road trip planner post has been helpful! I put everything mentioned on this list into a Google Map so you can pull it up on your road trip and use it on the go!
Looking for more USA road trip ideas? Head to my
Plan A Trip
page to discover more fun things around the United States!
So, that's it! That's my mega local's guide to my favorite hidden gems in British Columbia, Washington, Oregon and California. Obviously there are a LOT more fun, hidden gems on the West Coast. But I meant it when I said you'd be reading for hours if I listed them all out. But these are some of the best for a road trip.
Got any questions about a West Coast USA trip? Leave a comment below or DM me on Instagram @thewhimsysoul and I'll be happy to help!