Vaxed and ready to get off my couch, I suddenly had an incredibly packed social calendar. Horseback riding in vineyards, a girls trip to Paso Robles, a girls trip to Healdsburg… ok basically the pandemic ended and I proceeded to drink wine all across California.
It's going to sound cheesy, but I've been feeling such a pull to transform myself lately, especially when it comes to my personal style. 2020 ~changed~ me ya'll. With trips coming up I decided it was finally time to try out clothing rental subscriptions. After all, my favorite excuse to buy a new outfit has always been a trip.
In this post, I'll be sharing my honest Nuuly review (is it worth it or should you save your money?) along with tips to know before, and a promo code. Let's go!
This post is part of our
Saw It On Social series
where I try out all those Instagram-famous brands you see all over you feeds and give you the honest tea. This post is not sponsored by Nuuly in any way – and I shed an honest light on them in this post for you!
Nuuly Review 2022: 7 Essential Tips Before You Order + A Promo Code
I'll be honest, I've never really been into the idea of clothing subscription boxes. I see them all over Facebook Pinterest and Instagram but they're a bit pricey, usually running at around $75-100 a month, and up until recently I've been in the mindset that I'd rather own clothing than rent it.
And then I spent 6 grueling hours running around the mall hunting down for an outfit for a last-minute photo shoot at Filoli Gardens. Granted, photoshoots aren't something the average gal is doing (#bloggerproblems) but I do believe everyone has been that a situation where you desperately want a fresh outfit for an event, a dinner, or a trip, and just didn't have ANYTHING that worked for your vision.
And, if you're like me, these events are going to sneak up on you so fast after a year of hanging around the house. Time hits different now. Plus, I literally have no room left in my closet for new clothes. A clothing subscription service suddenly has a really nice appeal. If I don't have to worry about last-minute shopping for all the things I have planned for the summer, AND I can try out new clothing styles risk-free, that's amazing.
How Does Nuuly Work?
Nuuly clothing rental works a bit like Stitch Fix or Rent The Runaway, but I think they have way better brands.
like Urban Outfitters, Free People, Anthropologie, along with high-end designers. Unlike Stitch Fix, you can actually wear these items out and about. Nuuly will take care of washing and repairing them so it's literally all risk-free. And unlike Rent The Runway, Nuuly is more focused on everyday wear vs luxury ballgowns.
You get six items a month and you can pick anything you want. You can pick 6 dresses, or build a few different outfits, it doesn't matter. You can even add on extra items if you know you'll want 8 vs 6 that month. You pick out your pieces, they send it to you within 2 days of ordering and include a return label so it's easy peasy to drop back in when you're done.
6 Tips To Know Before Trying Out Nuuly Clothing Rentals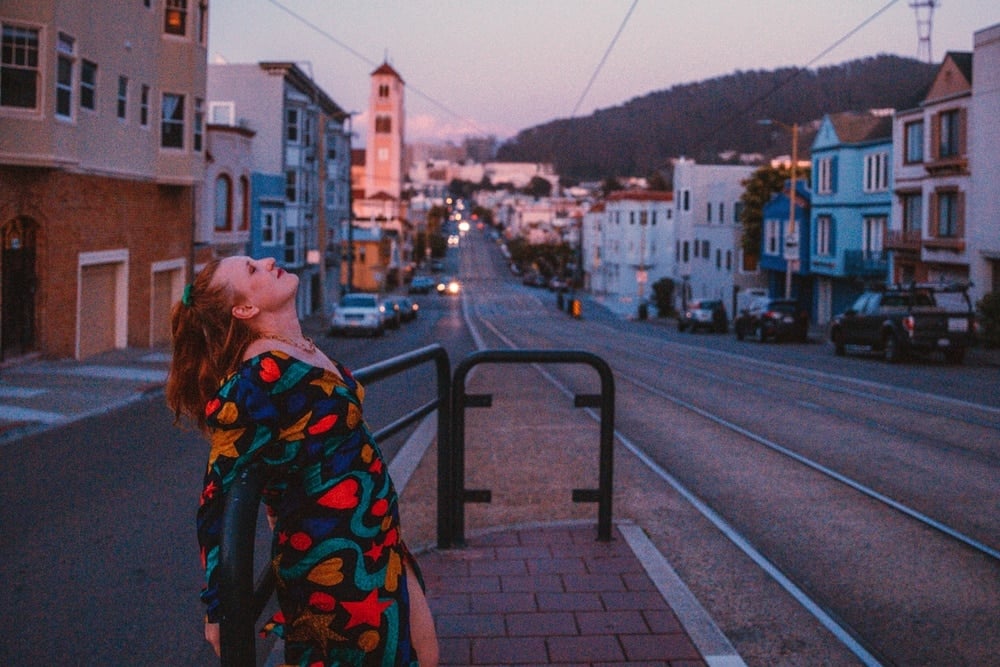 Your Billing Date Is When You Order Your First Nuuly – So Time It Right
I found it really annoying that the system doesn't tell you when your first order is shipping out. As I'll chat about below more, I wish I could have selected a different date. It turns out, whenever you hit that "rent" button to complete your very first Nuuly box is your forever monthly ship date.
So, choose it wisely. My box shipped in about a week so take that in consideration when deciding when to order.
Always Check New Items Before Ordering
I always check out the new arrivals before placing a new order to see what catches my eye. Usually, these items are booked out fast, but I'll save things I like to my account and try to snag them in a future order. While I usually know what I want to rent next, It's still great to check back the new arrivals page to see if anything fun just came back in my size.
Sign Up For Their Newsletter – Then Wait For A Better Discount Code
You could use a Nuuly discount code on your first order but I found they will send you an even better discount. Wait for their newsletter popup and put in your email address. Then, don't order anything. Wait for about a week or two and Nuuly will probably email you a better discount code than whatever promo code you got.
But, if you wanted a promo code, you can use mine for $20 off: It's a link, click here. Discount is applied at checkout.
Read The Past Reviews To Size Correctly
Just like when you are online shopping at retail stores, Nuuly has a customer review section and it's SUPER important that you read this section carefully before putting something in your box! These reviews are really accurate and will help you understand if something runs bigs, small, will fit your curves or not.
It's especially helpful when there is photos and you can find a gal who is shaped similar to you. It sucks when a piece of clothing is new to Nuuly and there's no past Nuuly review data to look at. If there aren't any past reviews, be prepared for the item to possibly not fit.
On that note — I don't love how if something doesn't fit, you're out of luck. Like these black pants I got: I can put them on but I can't sit down in them. It sucks I wasted an item. I wish they offered credit for a future order or something.
Try A Different Size Category If Your Size Is Out ( is 12 Petite vs a 10 Standard)
The downside of Nuuly is that there's not an unlimited supply of clothing pieces. The good pieces are competitive and it can be hard to snag things in your size that you want to try. If that happens, try size hacking.
For instance, this yellow top I really wanted was out in a standard size 14. I was bummed, it was perfect for a shoot I wanted to do! But it was in stock in a size 12 Petite, so I ordered that even though I normally don't wear Petite sizes. And it fits great! You may have to do this trick to get items you want.
Always Try At Least 1 Risky Piece Per Order
Hey, what's the point of Nuuly if you aren't trying new styles? In every box I like to put in a few safer pieces that I KNOW I'll love and wear. But then I like to toss in at least one risky piece. Something that I normally wouldn't grab on a clothing rack or even think to wear.
I find these pieces help me challenge my personal sense of style and I learn a lot about myself in this process. I tried this 80's style designer dress that retails like, $500. It's not something I would ever try on my own, so I had to put in my box! It's fun to take safe fashion risks with the help of Nuuly.
I also tried this white dress (above) with an open back that I normally don't wear, but it worked so well for wine tasting in Texas. Compared to Rent the Runway, this clothing rental service has much cooler streetwear in my opinion!
You Can't Switch Items After Ordering
Should be self-explanatory but good to point out that there's no window of time to make modifications to your box. Once you hit order, it's locked in. I found this out after I placed my first order, I refreshed the New Arrivals page and found like, 3 other pieces come back online that I really wanted.
I reached out to Nuuly customer service right away and they let me know nothing could be done. So, again, choose wisely! (I was impressed by how fast the customer service agent replied, though!) It's one of my biggest Nuuly complaints.
Rent My Favorite Nuuly Pieces

Nuuly Pros and Cons (aka Is It Worth It?)
Is Nuuly worth it? Overall – yes, I think Nuuly is the best of the clothing rental subscriptions out there. They're focused on street style and
The cons? The cost of a Nuuly rental, which is $100 per month. That's not an obtainable price for everyone out there. And it's the same price as Rent The Runway 8 piece plan, but you get 6 pieces instead of 8. But when I break down how many hours I spent at that mall trying to find a new outfit plus the time I'll take to return things I couldn't even try on in the dressing room, that totally offsets the Nuuly cost. (And I still like the styles at Nuuly better than Rent The Runway.)
I also don't like how I couldn't pick my first ship date, or my future ship dates. I have a lot of back-to-back trips I want to wear Nuuly things on and sadly I can't time those orders the way I want, you are stuck with just one box every 4 weeks based on the first time you order. You can return you box early and get a new one to change the date but that means you can't wear your things as long and have to pay twice in a month.
The pros is pretty much everything else. I can try new styles and new designers. I really loved wearing this fancy $500 dress out and not freaking out about the price. It's also helped me experiment with clothing I wouldn't try on my own and I've discovered some new things about myself.
I also love how it's risk-free in the sense you can wear the items and they'll wash them for you. Literally, as I type this post I'm wearing this lime green top and dropped a piece of mango on it. No worries – they'll take care of that for me. WINNING.
PROS
Tons of street style finds from top brands
Goes up to size 40W
Great discount code offering
Fast customer service
Easy UX / easy to use platform
Can try new styles
You can buy the items you like
CONS
Only goes up to 40W in some brands and styles (so not truly size inclusive)
Not all items you order will fit and you can't swap them out
Not affordable to everyone ($100 per month)
No window to alter order
The cutest pieces are hard to rent since everyone else wants them
Frequently Asked Questions About Nuuly
How Often Does Nuuly Get New Clothes?
All the time! I swear every time I'm on the site they have new stuff. About 1/5 of the items I order still have their tags on them. I
What's Nuuly Thrift?
This is a cool new concept introduced this past year where they thrift high-quality vintage pieces that normally would run hundreds of dollars (or just be impossible to find!) They lack good curvy and plus size vintage pieces so i haven't been able to try any yet, but they look cool.
I especially love their vintage sweaters which would be perfect for cute Christmas vacation clothing that you may want to pack along on your winter cabin trip.
Nuuly vs Rent The Runway
What's the difference? Rent the Runway offers a few different memberships, starting at $99 for 8 items. So they are a bit cheaper compared to Nuuly. I find that Rent the Runway is a great spot to rent luxury dresses or curvy couture clothing for a wedding, or special event. Personally, I'm drawn to the streetwear style of Nuuly better with designers like Anthropologie or Farm Rio. Just more my style!
If you're looking for Rent The Runway alternatives, Nuuly is going to be your favorite. You'll see me sporting a lot of Nuuly pieces this summer as I get back to the swing of normal life!
I hope you like my Nuuly clothing rental reviews. Got comments to add? Leave a comment below so everyone can see! Got questions? Comment or DM me on Instagram @thewhimsysoul and I'll try to help.
More Saw It On Social Posts You'll Love