No matter the season, whenever I step into the gardens of Filoli, I feel like I'm instantly whisked back in time to a Victorian countryside estate. Or the set of Bridgerton. Sadly, there's no hot duke waiting for you in the drawing-room, but the estate is still a jaw-dropping sight to behold.
In December, the whole house is covered in Christmas trees and holiday lights. Come spring and you'll find wisteria, tulips, and the rose garden blooming. Filoli is truly a magical gem just outside the city. Keep reading for tons of photos and tips for visiting!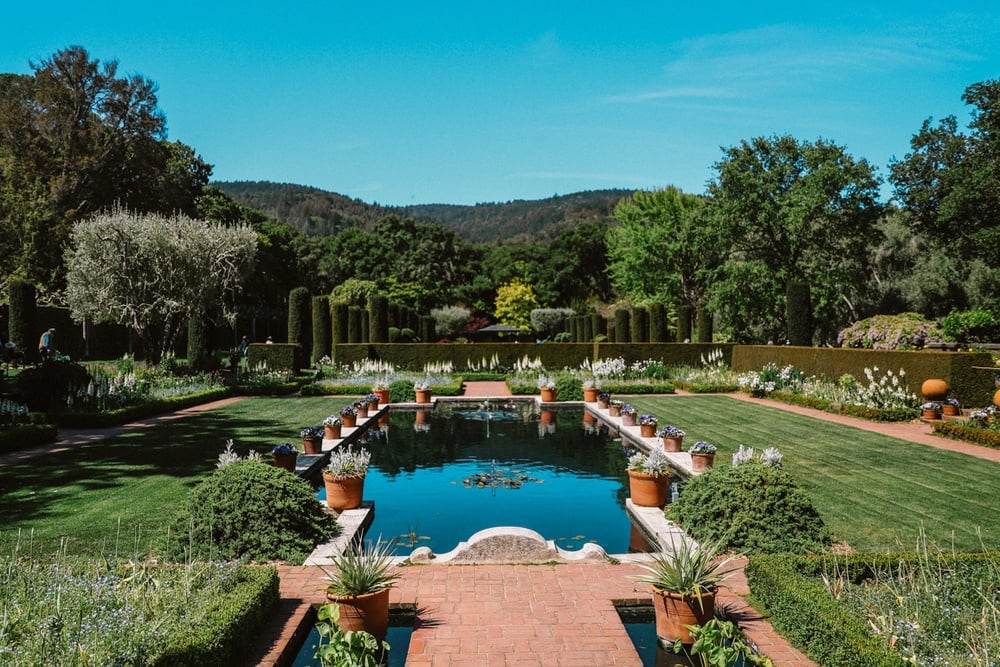 Filoli Gardens: Escape To Bridgerton In This Fairtytale Estate Near San Francisco
I've been to Filoli many times over the years and most recently with my girlfriends Justina and Bri. We got wind that the flower gardens were popping off so we bought last-minute tickets to go visit and holy cow – the rumors were right. I thought the Wisteria up here in San Francisco was a hidden gem, but the wisteria all around this historic mansion is on a whole other level.
Since we're all big fans of Bridgerton, I *attempted* to find a corset to wear for my visit to really channel those Victoria vibes, but alas, I failed. We still all got dressed up in spring dresses and straw hats to make our visit extra special (and more fun, let's be honest!) This is the purple dress I wore and the boat hat. The heels I'm wearing in these photos are from my wedding 4 years ago and no longer in stock.
Ok, now onto all the good stuff about the garden and house!!
Who Used To Live At Filoli Manson?
Filoli has a vast history. The land once was home to the Ohlone people, but Spanish colonization and mission groups murdered the local natives. The land in the Bay Area was parceled out in a Mexican land grant and later broken up into smaller pieces, one of which is where the estate now stands.
In 1906 after the massive earthquake pretty much flattened San Francisco, all the rich people dipped and moved to the Penisula, including the Bourns family which bought the land. (Jokes on them – it's literally right on top of the San Andreas Fault Line.)
The historic house took three years to build and was completed in 1917 by architect Willis Polk. It cost like, 8 million in today's money and sits on 23,000 acres of land so holy cow, I can't even begin to calculate how many millions it's worth now. The family and their staff lived here until 1937, the house was bought by the Roth Family and eventually made its way to the National Trust for Historic Preservation.
And thank goodness – it's so amazing that the public has access to this magical property, all the estate trails and gardens, and a little piece of Bay Area history.
Best Time To Visit Filoli Gardens Estate
Honestly, Filoli Estate is stunning no matter the season. Even in the dead of winter, you can still find a few things blooming and there's something really surreal about a foggy, misty day walking around the gardens.
But, of course, spring and summer are lively with new spring flowers blooming every day. The staff puts out lawn chairs under trees, and if you wander to the back corner of the gardens, you can find a secret little wine and cocktail bar to enjoy a spritzer under the sun.
Here's a breakdown of what to expect at Filoli at every season:
Spring at Filoli Gardens (Spring Blooms!)
I think April and May is the best time to visit for beautiful flowers. March-April will see tulips in the gardens, but the wisteria won't be in bloom yet and the days may still be chilly.
Come May, the roses and wisteria will start to bloom! I'm to sure what the name of the white flowers dripping over the main entrance area called, but those aren't in bloom in March but were in full force for our visit in early May. Spring temperatures are my favorites, as it probably won't get above 75-80 degrees, so it's much more enjoyable to wander around the gardens this time of year.
Summer Filoli Gardens (Back Garden Parties)
Many flowers will last throughout the summer. combined with the hot sunny days of South Bay, the mansion turns into a luxurious way to relax on the weekends. Grab wine at the back patio inside the gardens to kick back and relax amongst the magical gardens with a few drinks. Stop by the cafe for lunch and make a whole slow day out of soaking up the summer vibes at the estate.
It will get really hot in the summer though, so plan ahead by wearing sunscreen and packing yourself water bottles to stay hydrated!
Fall at Filoli Gardens (Fall Foliage)
Did you know vines get fall colors, too? Not just trees! Hence, the gardens are always a secret California fall foliage spot. I actually haven't been during the fall yet, but friends tell me the weather cools down around November and it's fun to see the transition of the garden from summer to fall with the new set of colors.
Winter at Filoli Gardens (Misty & Calm)
January through Mid-March is quite on the flower front, but the estates hold a lot of fun events, like a bonsai show and a Lunar New Year Celebration. This is also your best time to visit to avoid large crowds and really feel like you have the estate and gardens all to yourself. BUT, December is different….
The Filoli Gardens Christmas Lights & Holiday High Tea
Christmas is an amazing time to visit Filoli!!! They go all out with holiday lights all over the place for evening tours, and they put Christmas trees in almost every room in the house. You can come for Holiday High Tea and then tour the mansion after.
I went a few years ago with some friends and was absolutely swooning over all the holiday decorations. Filoli Christmas decor makes the house come to life in a way that's totally unique to what you normally see there in the other seasons. Put this on your holiday bucket list, you'll love it.
Tips For Visiting Filoli Gardens
Now onto all the tips I've picked up over the years from visiting Filoli!
Get There At 10am
You'll be surprised by how fast time will fly when you're exploring the house and gardens. Plus, if you're visiting in the Spring or Summer, the day will only get hotter. It's best to arrive right at 10am when they open so you aren't rushing to see everything before they close, and are avoiding the afternoon heat.
Dress Up (But Wear Comfy Shoes)
I LOVED dressing up for visits to the gardens. It's a fancy place and it's fun to reflect that with your fashion. I suggest a cute cottage core dress, or maybe a Victorian-inspired one, to channel your inner Bourns Family heiress. But whatever you do, wear comfy shoes!
I got a massive blister on my last visit from the heels I wore. Plus they got really dirty from walking around the dirt trails in the gardens. We ended up walking about 2.5 miles in total so learn from my mistakes: wear comfy shoes. But note that wedding dresses aren't permitted so don't wear anything that looks like one, you may be denied entry.
Shop My Favorite Garden Outfits


Bring Your DSLR to Take Bomb Photos
DSLR cameras ARE allowed without an extra fee, so bring your camera and take all the photos you want! That being said, professional photoshoots like senior portraits or engagement shoots are not allowed without an additional special permit.
I've always come with a group of like, 4-5 girlfriends so we've never had any trouble taking a lot of photos and portraits of each other. But I have heard of stories from other bloggers who came with a ton of outfit changes and eventually got in trouble since that boarded the "professional photography" line. So play it safe, wear your outfit and don't plan on changing into 2-3 different dresses.
I've listed out my favorite Instagram spots at Filoli below in a little guide, so scroll for that if you want more photo tips!
Mansion First, Then Gardens (Vice Versa If Taking Photos)
It's recommended to tour the inside of the mansion first thing so you can read all the signs and learn about the history of the house. And then move onto the gardens, the outdoor bar, etc. I agree with this unless you are coming to take cute photos. Then you'll want to switch that.
Since the gardens open at 10am, you'll want to utilize the light before it gets really harsh to take photos in the garden. Then you can tour the inside of the mansion when the high Noon sun is just too harsh outside.
Stop by Clock Tower Shop for Plants
The Clock Tower is not just a gift shop with saps and towels, though you can totally find those things there. They sell tons of local plants so if you're also a plant lady addict like myself, swing by at the very end and pick up more plant babies!
Check Bloom Reports For Specific Flowers
The Filoli website will usually update what is in bloom in real-time so if you're hoping to see something specific, like tulips or the roses, make sure to monitor that before you go.
Get lost!
Sure, you can ask for a Filoli Gardens map but it's so fun to just let yourself get lost. There's so many hidden arch doorways, surprising plants, intricate details on walls… give yourself the time to really get lost and wander the whole proptery. Also make time to pick a seat and plop down for 20 minutes and people watch. This isn't an experience to rush.
Grab Lunch At The Cafe
There's a little cafe in one of the side buildings at Filoli! The salads are pretty good (the soup is meh, skip that.) We were STARVING after walking around for a few hours and so happy to snag an outdoor seat so we could have a slow lunch under the shade of an oak tree.
Take A Hike On The Estates Trial
If you still have energy after touring the house and gardens, take a hike on the Filoli Estates Trail! These winding trails take you through the meadows, orchards, and past wild California poppy fields. You'll probably encounter some wildlife like deer, or turkeys.
Favorite Photos Spots At Filoli Gardens
Here's all my favorite photo spots at the gardens!
Front entrance of the mansion (best photographed around May when the white flowers are hanging down, or at Christmas where there's a tree out front!)
Wisteria on the North West side of the house
The "Secret Garden" Doorway on the West side of the gardens near the wine bar (it looks so much like the door from the book)
Outside the Ladies Bathroom near the wine bar/pool (trust me on this – it's super gorgeous!)
The Tea House
The Rose Garden during May (best photographed at 10am or 4:30pm right before they close)
Wisteria near the Clock Tower Garden
I love the inside of the mansion, they styled it so well to reflect the time it was built. But it's not the best for photos with people in them due to the lower light and how you are restricted in the walkways to preserve everything. So, plan all your IG-worthy photos for the outside and just soak up the history on the inside.
PS – the Filoli Mansion is near Crystal Spring Valley Water Company where you can find the near Crystal Springs Reservoir Water Temple! This thing looks like it was plucked right out of Italy and makes for a fun area hike after you explore Filoli. I haven't gone yet but I'll update this post when I do!
I hope this helps you learn more about Filoli Gardens and inspires you to visit! I've loved every trip I've taken to the mansion and gardens — it's such a special California gem that I'm thankful I live close to for whenever I need a break from the hustle and bustle of San Francisco.
If you have any questions, drop a comment or DM on Instagram @thewhimsysoul and I'll be happy to help!