When I tell people that Paso Robles area is a truly underrated gem, most people I'm talking about someplace in Texas. And then when I tell them it's on the Central Coast of California, the next question is usually: well what the heck is even down there?
For some reason, San Luis Obispo county is generally overlooked, but I think it's an incredibly diverse and fun part of the state. And, that's where Paso Robles is, which just happens to be a major wine district and makes one hell of a weekend getaway. In this post, I'm sharing all my favorite things to do in Paso Robles that are seriously cool and fun.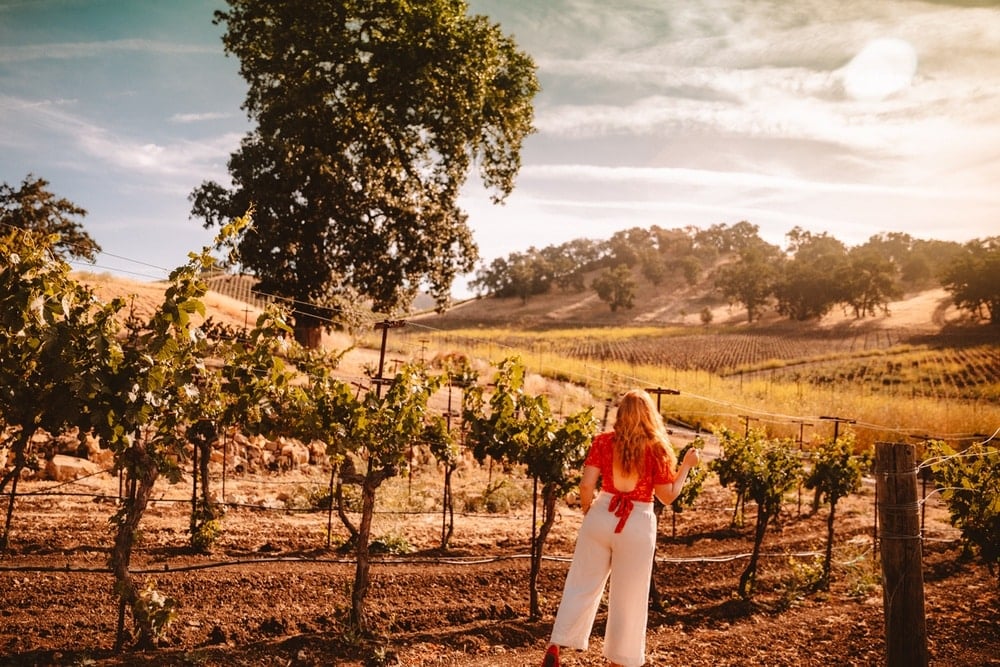 >> Got questions about your Paso Robles trip? Leave a comment below or DM me on Instagram
@thewhimsysoul
and I'll be happy to help!
Guys, I can't stay away from Paso Robles and San Luis Obispo. I live up in San Francisco, so it's only about a 3-hour drive for me and lately, I've been taking a lot of road trips down to the area. There's just a plethora of fun stuff to do – from outdoorsy activities like hiking and kayaking sea caves, to relaxing days at luxury spa hotels, art events, and of course, it's a foodie paradise with to-notch restaurants, breweries, and of course, Paso Robles wine country.
How Do You Pronounce Paso Robles?
First up – let's chat about how to pronounce Paso Robles since it's probably not what you think. It's pronounced Paso Row-bulls, and if you speak Spanish it's gonna make your head hurt. (Don't even get me started on San Rafael up in the Bay Area).
How Many Days Should I Spend In Paso Robles?
As with any place, you can make your trip as long as you want, but I recommend at LEAST 3 full days to really soak up all the good Paso Robles vibes. It's honestly a great long weekend getaway destination. But if you can spare an extra day or two to take it a bit slower you'll be able to see more places and totally fall in love with Paso as I have.
12 Actually Cool Things To Do In Paso Robles (Wine Tasting, Art, Hiking, Tours And More!)
Now onto the top highlights you should try and hit during when you tour Paso Robles!
1. Wander Sensorio Field Of Lights
EKK! I can't express how dang cool the Sensorio Field Of Lights is! Dreamy, magical, ethereal are all words that come to mind when descrbing this art event.
Sensorio is a light-art installation covering 15 acres right outside Paso Robles. It went a little Instagram famous when it first arrived a few years ago which makes sense. It is one of the most romantic things to do in Paso Robles, but really cool with friends as well!
Pack a jacket, as Paso Robles weather can be chilly at night. It was really nice when we started, but ended up with a cold breeze (and this was in June!) The event was suppoe to be only for one year but they keep extending it, but who knows how long that will go on. If you want to visit, make sure to head down to Paso Robles sooner rather than later.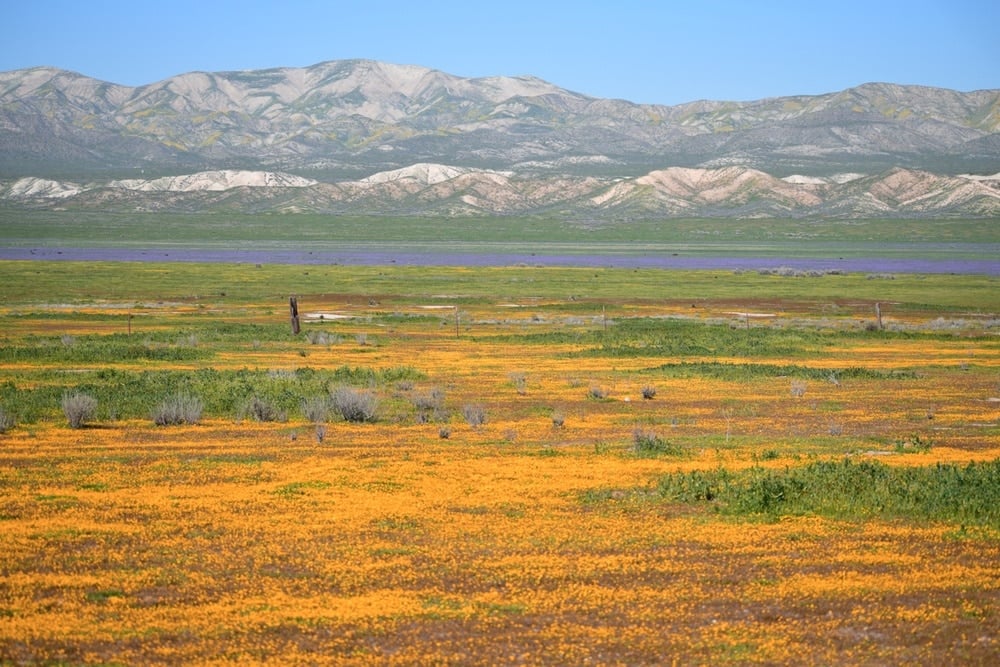 2. Go Hiking At Carrizo Plain National Monument
Yes – there are things to do in Paso Robles besides wineries! Carrizo Plain National Monument is a nearby park and just happends ot be the largest single native grassland remaining in California. It's best to come hike during the spring around March-May because that's when all the California poppies are in bloom!!
3. Sleep At A Winery Hotel
Some of the coolest Paso Robles hotels can be found at the wineries!! I'm sure this is a practice all over the world, but it's the first time I've seen a LOT of wineries offer lodging right on the vineyards.
While visiting, we stayed at JustINN, a cute luxury boutique inn right on the Justin winery property. It's about a 20-minute drive out from the town of Paso Robles, so you're really just surrounded by vineyards and nature. I adored how peaceful the winery got at night when all the wine tasting visitors left and waking up next to the vineyards was magic. They even let guests roam the property so I did a morning hike next to a bunch of Merlot vines!
Justin Winery isn't the only spot that has hotels on the vineyards. You can also book yourself a night or two at one of these other gems, too:
Looking for a standard hotel room?
I loved my stay at
Allegretto Resort!
It's in the town of Paso Robles. It oozes Tuscany vibes, has a charming garden and a great restaurant on-site for dinner after a long day of vineyard hopping.
4. Dine On A Castle Rooftop
One of the coolest restaurants in Paso Robles is Tooth and Nail Winery (two doors down from Niner Wine Estates). IT'S A CASTLE!!! WITH A MOAT YOU GUYS!!
I think it's best to do a wine tasting here that's immediately followed by dinner on the castle's rooftop. I'm still drooling when I think about their amazing menu, you can't go wrong with anything but the tacos, beet hummus and sliders are especially tasty.
And, if you want to be really extra like I am, dress up a bit for your visit! I rented this princess dress from Nuuly that made me low-key feel like I lived in Game of Thrones (but like the happy parts with feasts and parties without bloodshed.)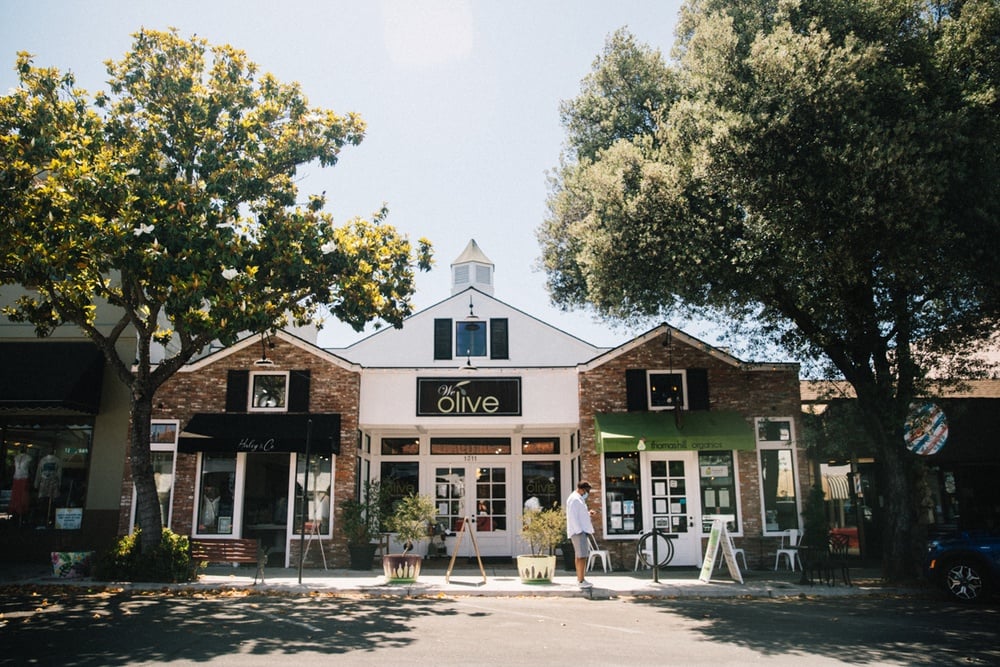 5. Boutique Shop Downtown
Downtown Paso Robles has so many cute small boutiques and stores. Set aside an hour to stroll around the Square and pop into anything that catches your eye. Make sure to stop by We Olive to pick up a bottle of Halter Ranch Vineyard olive oil, or other local products to bring home!
6. Wine Taste A Paso Robles Wineries
At the end of the day, the best things to do in Paso Robles is wine taste, It's what the region is known for after all! I found Paso Robles to have the hot weather of Napa Valley with the laid-back vibes of Healdsburg. I loved it.
There are over 300 wineries in Paso Robles which is too many for anyone to visit in a decade let alone a weekend. But don't worry – I have a whole Paso Robles wine tasting guide for you! In this post, I share my favorite 11 wineries so you have a more trusted, narrow list to choose from.
That being said in case you don't want to click over (you should) a few highlights include:

7. Or Wine Taste By Foot In Downtown Paso Robles Tasting Rooms
I'm guessing you have a car if you are visiting Paso Robles. It's pretty hard to get to without one. You should be able to easily drive to tastings but sometimes, it's nice just to wander by foot. (Nobody has to be a DD!)
Some of the best wineries in Paso Robles have downtown tasting rooms so it's easy to have a great day in town. These are the top places to stop by: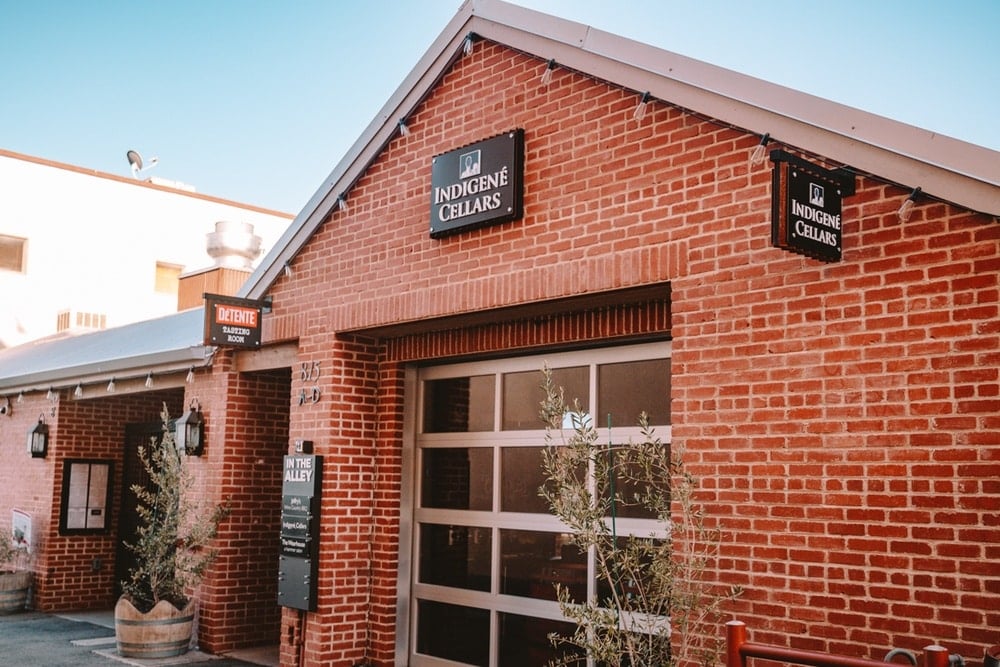 8. Explore Tin City
When you visit Paso Robles, swing by Tin City for happy hour one day! It's an industrial makers market full of local artisans, wineries, breweries and more. It's kinda like the Barlow in Sebastopol if you're familiar with that. Set aside an afternoon to stroll around and taste all the things!
Stick around for farm-to-table dinner at the Tin Canteen and, if you're lucky, there will be live music happening somewhere during your visit.
9. Sip Craft Cocktails At Alchemists' Garden
On a whim, my friend and I grabbed happy hour drinks at Alchemists' Garden and HOLY COW, this place is awesome! It's a new craft cocktail bar that opened up during 2020 and is thriving (for good reason!) The interior is bright with fun neon signs and greenery decor.
The cocktails are lovingly made with wild things like dry ice and burning rosemary. I suggest trying their Zodiac cocktail of the month. My Gemini cocktail drink was to die for!
10. Paso Robles Hot Springs
One of the more unusual things to do in Paso Robles is hot springs! As a hot spring addict, I love hunting down natural swimming hotels and mineral pools to soak in. There are two options for you:
12. Horse Back Riding
At the end of the day, Paso Robles is really just a farm town (with a major focus on wine instead corn). And because it's a farming area, that means there are some really neat stables and opportunities for horseback riding in Paso Robles!
Picture this: You wake up at a beautiful vineyard hotel and then have a morning tasting. After lunch at Opolo or a winery picnic, you head off to the stables for a horseback ride through vineyards before another afternoon tasting. And then you wrap it all up with cocktails, dinner and hot tub time. That's a perfect day in Paso Robles.
Top Horseback Riding Paso Robles Spots:
13. A U-Pick Farm
Come fall, one of the top Paso Robles activities is stopping by a farm for apple picking or pumpkin patches! Jack Creek Farms and Avila Valley Barn are the most popular spots. Both have apple picking along with a huge selection of locally grown produce and locally made jams, honey, etc. The Paso Robles is also great at growing walnuts, unlike other areas of California. Make sure to buy a bag of walnuts locally, too!
Dinner On The Square: My Favorite Paso Robles restaurants
There are a LOT of amazing Paso Robles restaurants and I know I didn't get to try all the best spots during my last visit. That being said, these are the highlights that you'll love for your weekend in Paso Robles! (Didn't include Tooth and Nail since it's already on the list above, but that's 100% needs to be on your list, too!)
Day Trips! 7 Awesome Things To Do Near Paso Robles
Paso Robles is just about a 30-45 minute drive away from some of my favorite things to do in SLO county. Set aside a full day or half-day to explore a few of my favorite gems in between your wine tours. Here's the top highlights:
Sunrise At Morro Bay Rock
One of my favorite memories of all my time on the Central Coast was catching a sunrise at Morro Bay Rock. My friends and I were racing against the sun as we drove out to the beach. We arrived as the sky was turning a soft pink and had the whole place to ourselves (minus a few dogs and shell collectors). It was magical.
Explore Central Coast Hearst Castle
Founded by William Randolph Hearst, the famous Hearst Castle is a must-see stop for any Central Coast road trip. This massive estate took over 20 years to build, ending in 1947. It's a truly wild place with grand Roman-feeling columns and pools, gardens, huge ornate rooms and more. It'll take at least a half-day to properly visit this, but you could spend all day here and not be bored.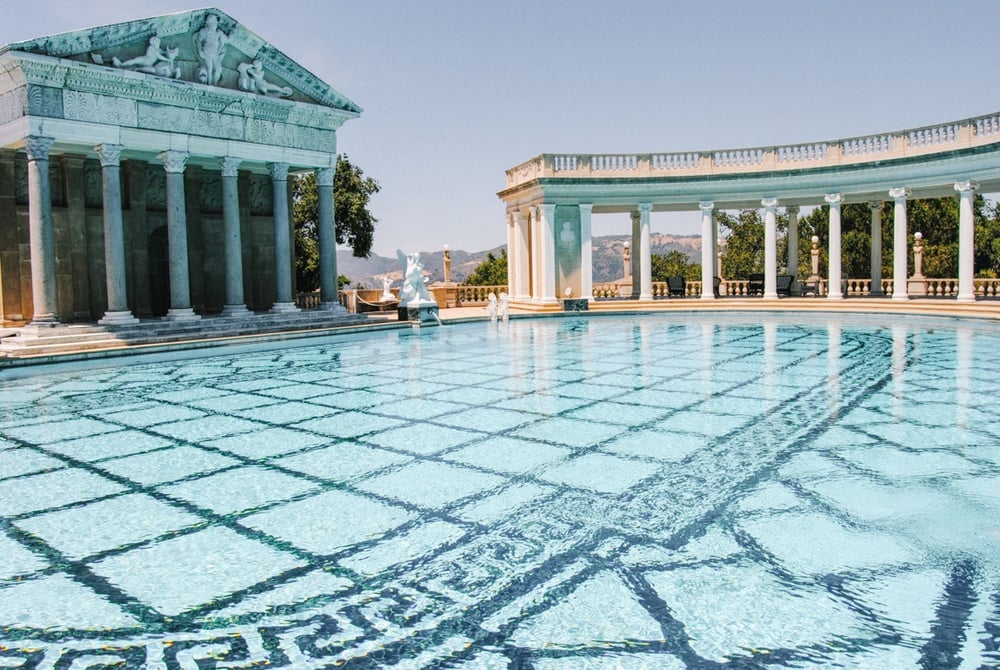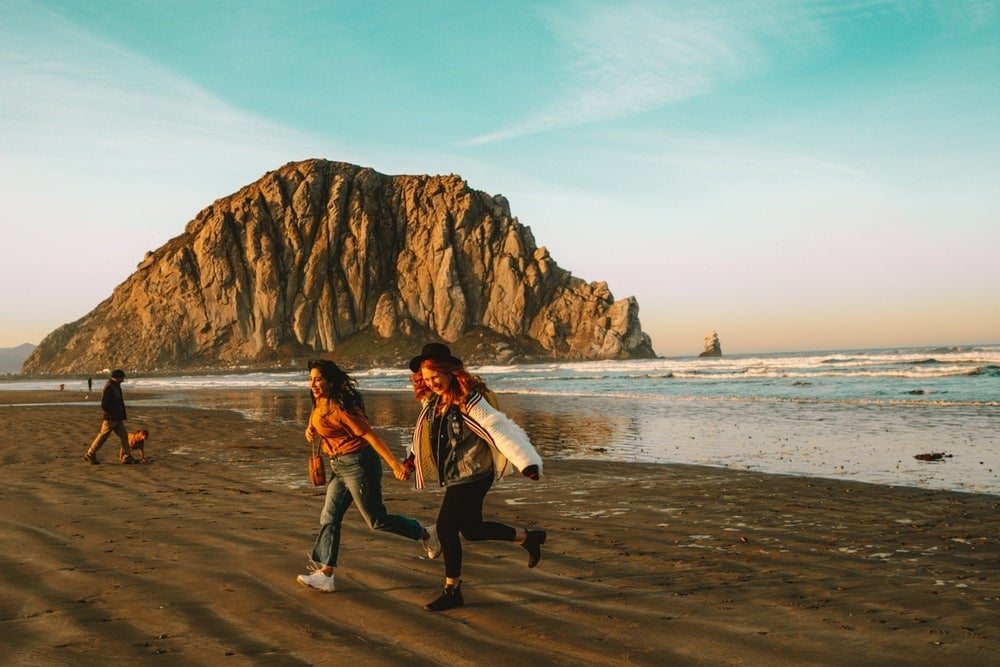 Downtown San Luis Obispo
Hot dang, I fell in love with the cute town of San Luis Obispo when I visited. It's so charming and filled with cute local shops, amazing restaurants and breweries. There's a Misson right downtown along with a modern art museum and, the Bubble Gum Wall (yes, there's a Bubble Gum Wall in Seattle but also one here!)
I actually spent a few days in SLO after our time in Paso Robles, so if you have time I recommend doing that. Otherwise, plan a lunch over here one day!
Pismo Beach Sand Dunes
I can't explain how wild the Oceano / Pismo Sand Dunes are. It truly felt like I was wandering around in a scene from Aladin. These massive coastal dunes stretch for miles and make for a unique hike. You can also drive dune buggies there if that's your thing! I have a whole guide for visiting the Pismo dunes you should read first.
Tour An Old Mission At San Miguel
The Mission San Miguel dates back to 1797 and is open for the public to tour and visit for $5. They still also hold services in the building if you want to attend. The inside of the Mission has never been repainted, so it's a great glimpse at what life was like 200 years ago.
Reality Check & Land Acknowledgment: SLO county is on Salinan land. I grew up in the Midwest where we did not have Missions so I like visiting them to soak up history. But it's important to recognize that the Spanish were not kind to the Natives. Not only did they bring disease and murdered Natives, they also frequently enslaved them. The San Miguel website states the Salinan people worked at the mission, but in reality, they were forced to work there.
Soak Up Whimsy At The Madonna Inn
You probably have heard of the Madonna Inn – it's famous for having over 100 rooms that are all decorated in totally unique, whimsical ways (think a glitter room and one that looks like a Flinston cave.) You don't have to spend a night here to experience the Madonna Inn — their Cooper Cafe restaurant looks like Barbie threw up all over it and it's perfect.
Come for breakfast one day. It's diner food but the room makes it all worth it. Note: the front room looks plain and brown, so ask to be seated in the back/pink room!
Kayak Avila Beach
I LOVE to go kayaking at home in Sausalito and was so happy to find kayaking rentals at Avila Beach. This particular spot is perfect for beginners. It's about a .75 mile paddle to a secret beach, where you pull up and hike up to the San Luis Point Lighthouse. There's a rope swing up here! Then you can paddle back. Takes about 2 hours in total.
Classic Tourist Paso Robles Attractions
If you can't tell already, I personally would much rather go hiking amongst wildflowers or wine tasting at epic wineries vs wander a war museum. But hey, we're not vacation shamming here. If you're looking for more classic tourism activities (or maybe have a kid with you), check these Paso Robles activities out!
I hope this helps you plan an amazing trip to Paso Robles! I just can't stay away from the Central Coast, so I'll be updating this blog post with fresh ideas whenever I come back from future trips.
That being said, if you have suggestions of fun things to do in Paso Robles or the nearby area that didn't make the list, please drop a comment so everyone can see! Got questions? Comment or DM me on Instagram @thewhimsysoul and I'll be happy to help.