The 2023 OSL lineup just dropped and I screamed when I saw one of my favorite artists (Noah Kahan) listed.
Outside Lands Music Festival is a not your average music festival and even if you are a regular festival person, spending 3 days running around the Golden Gate Park in the summer is probably going to through you for a loop.
Trust me – I've lived in San Francisco for almost a decade and come August when Outside Lands arrives, I can always peg who lives in the Bay Area and who is from out of town and woefully underprepared. This ain't Coachella.
In this post I'm sharing all my Outside Lands tips (what to wear, when to get passes, what passes to get, what to expect and more) so you can have a bagin' weekend.
Why Trust My Outsideland Lands Tips?
As I mentioned, I live in San Francisco, and I'll be vague on exactly where but I live close enough to the outside lands festival grounds that I can hear the music every summer in my apartment.
Like, 2 years ago I could hear word for word of Lizzo's "Good As Hell" and you bet I did a little dance in my living room (I had to in order to not feel insanely bitter that the odds were not in my favor and I wasn't able to score tickets that year).
Tickets can be insanely hard to get, but sometimes insanely easy. We'll chat more about that later.
Anyways, every summer I watch hoards of people flock to Golden Gate Park, often walking for blocks and blocks in tiny little festival outfits and shivering their butts off. I do giggle at them. We'll make sure you aren't one of those silly gooses.
Oh, and I've actually been to the Outside Lands so I come bearing all the tips San Franciscans wish you knew so you have a good time. Let's get to it!
How To Get Outside Lands Tickets
The best way is to either follow Outsidelands on Instagram or sign up for their email newsletter. They'll email a lineup for that year around March and then usually 3 Day Passes go on sale the day after the lineup drop. Always buy directly from the website (unless you are buying off a friend).
Depending on the year and who is playing, 3 day passes may sell out within a couple of minutes or may be available for a few days or weeks.
In 2021, I tried to get a single day pass for Lizzo and they sold out in like, 10 seconds. Last year I easily scored 3 days passes for the weekend to see Green Day and they were still on sale for a bit. You kind of have to make that judgment call and decide if they will be hot-ticket items or not.
If you cannot buy tickets before they sell out, keep an eye out for resale on local Facebook groups or Craigslist and you can sometimes get lucky! Always be smart about this, as there are scammers.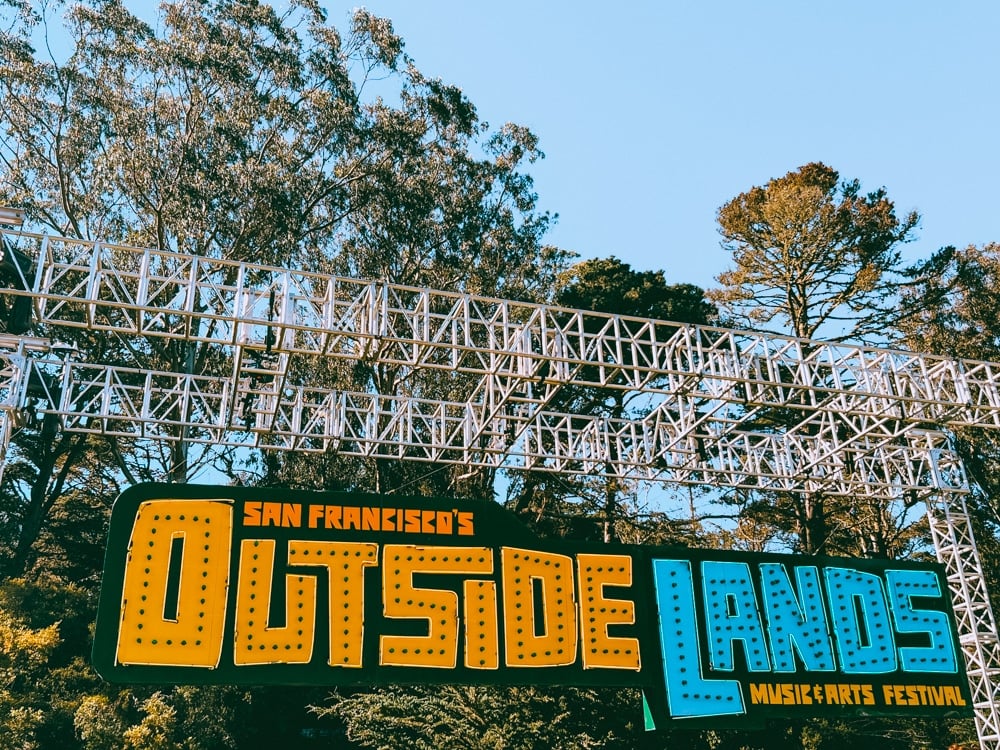 What OSL Pass Should I Get?
If you want to spend every single day out in the Golden Gate Park weather and stages, then get the 3 day pass! Otherwise, you'll have to wait until the specific days each artist is playing is released so you know which day one to purchase.
Sometimes they announce this too late and you have to take a gamble to get the 3 day pass, sometimes they are better at announcing that so you can plan.
For 2023, I personally plan on just getting an Outside Lands One Day Pass for the day Noah Kahan plays to save some money, but also since I'm not that keen on the headliners so I don't need to attend their days.
But last year I had a 3 day pass and had a blast running around listening to all my top picks of the line up, seeing all the booths, eating all the food and having a great time.
If you have a LOT of money to burn, or are on the geriatric millennial age side (hey, I feel ya) you may want to invest in a VIP ticket. This comes with a private section just for VIPs that have better views, but the real kicker is a nice lounge area and better / cleaner bathrooms.
I honestly may fork out for a GA+ One Day Pass this year (we'll see) since I my biggest grip each year is always how long the peasant bathroom line takes. It's not VIP but is a step up from General. If I do, I'll report back if Outside Lands VIP Tickets are worth it but if you have the cash, I think they are.
Don't Forget To Register Your Bracelet!
You won't get a Outside Lands tickets as a QR code or anything here, but instead a festival bracelet. They mail it about a few weeks before the start of the festival and you have to register it when you get it.
The Outside Lands Register Portal will open closer to the festival date and you'll need to activate your bracelet before you head into the festival grounds.
16 Essential Outside Lands Tips To Survive The Weekend (From An SF Local)
Now, onto all the tips and tricks for surviving Outside Lands music festival in Golden Gate Park!
1. Download The Festival App
Prior to heading into the festival, make sure you download the festival app. It's a well made and handy tool. Inside you'll find the lineup, can flag which ones you want to go to and you'll alerts at which stage they are happening at so you don't miss shows and there's a map.
The grounds are HUGE and even myself who spends a lot of time walking around Golden Gate Park gets lost sometimes (especially at night). But they have a handy map to help you navigate around all the locations so you can get to the Twin Peaks Stage, Beer Lands and Eco Lands easily.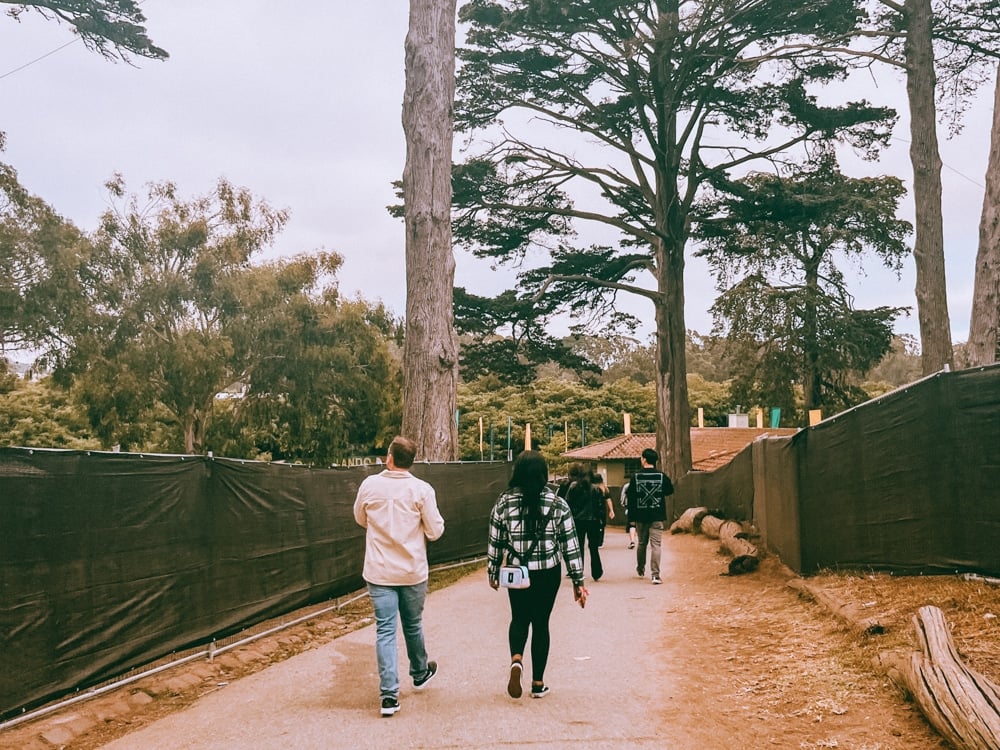 2. Come On Foot, Bus Or Via Shuttle
For the love of god, do not try and catch an uber directly to the entrance to Outside Lands. It's a traffic nightmare every year and will cost you hundreds of dollars. For real.
Instead, you have other options:
Shuttle Pass: For about $24 a day, you can head to the Civic Center and catch the shuttle from the Bill Graham Civic Auditorium shuttle stop. I think there is also one that drops off in the Marina. But this at the time of purchasing tickets.
Walk: if you live close enough, or have friends that do, just walk over. Some people will walk a mile in as it will take less time than sitting on the shuttle.
MUNI Bus: There are two bus lines that service the Outside Lands grounds on the North and South end of the park. You can use the Mobile app to get tickets and they drop you off right at the gate.
Bike Or Scooter In: You can lock your bike up nearby or rent one of those Lyft scooters to get closer.
3. Expect A Chill Vibe
San Francisco in general has this chill, low key sort of vibe and that translates to Outside Lands. Of course you'll find the stages that are a party, and the SOMA tent is basically a rave, but people tend to me more chill and welcoming here.
I've been to music festivals before where everyone is really hardcore or snobby. But San Francisco has a neat park culture and on any given sunny weekend locals flock to Dolores Park and other areas of the city to spread out blankets, drink wine and hang out.
That's what Outside Lands is, but larger, over 3 days and with tons of live music. I love it. The first time I went I was worried the scene would be to much for me, but you can always find a chill corner or slip into dance parties. They have it all.
4. Pack For Cold
OSL is NOT Coachella. I can't stress that enough. San Francisco in August is dubbed "Fogust" since it's so dang foggy and cold. And no, 50 degrees doesn't sound cold on paper but trust me, there is something about this fog that gets right into your bones and is CHILLLY.
Your Outside Lands outfits should cater to the expectation that days will be mild (maybe sunny, maybe foggy) but the nights the fog WILL roll in and cool everything down 15 degrees in a flash.
You can be surprised sometimes of course. Last year we were shocked by sunny and hot days so everyone carried around their coats all day and I even got sunburnt. But that's not normal.
This is San Francisco, after all, not the Southern California desert. We have fog and it will come for you in your tiny festival outfit if you aren't prepared.
So, What Should You Pack For Outside Lands?
Wear layers and maybe even bring a warm coat if you get cold easily
A fun festival outfit but not one that is way over the top. Most people step up their street style a bit here vs going all out. I rent outfits from Nuuly!
Boots you don't care about as the festival grounds WILL get muddy and your shoes will get destroyed. You'll also be on your feet all day so make sure they are comfy shoes.
A clear backpack if you want to carry things around. OSL has strict backpack rules and large bags have to be clear. You can get them for cheap on Amazon.
Fanny pack if you like to travel lighter. Last year I wore my Baggu bag which could hold a lot of things and sat in the front of me so I could keep an eye out it in the crowds.
Tissues or toilet paper, trust me on this, the bathrooms will run out sooner than you want. Just bring a little of your own.
Hand sanitizer, for all the germ from those bathrooms.
Sunscreen for the rare chance the sun comes out (I got a bad burn last year since I was expecting it!)
External phone charger since you'll be out all day and there aren't usually charging booths.
Ear plugs because BABY hearing loss is a b*tch and you should protect your ears. Older you will thank you.
Trash bag to sit on if you need to sit down as the field can get muddy. Or, a small waterproof blanket if you want a picnic vibe.
Pain killers in case you get a headache since there won't be anything inside the grounds.
Electrolytes to keep you hydrated… or sober up.
Foldable water bottle for the water stations. Unlike other festivals, they do a good job at making water easy to access and it's free! I like a foldable bottle so I can squish it down when I'm not using it.
5. You Don't Have In And Out Priveledges
Like with most festivals, you can't just pop in and out. Once you're out, you're out. So you have to bring everything you want for the day in.
I wish this wasn't the case. I have a friend who likes like, 3 blocks from the entrance and last year I wish I could have popped back to her place to restock up and rest. It is what it is!
6. Bring cash for Grass Land
If you plan on heading to Weed Lands to get the goods, as of last year they are 100% cash. There is one ATM do you can either use your debit card to withdraw or just bring cash.
Better yet? Just bring a small vape in so you don't have to drop $$ inside.
7. Pregame Ahead Of Time
Beer Lands and Wine Lands are expensive!!! Like, expensive even for San Francisco and the pours are not very big. One regret I had was not pregamming more ahead of time last year… well, one day one.
On day 2 I went too hard and then was too drunk in the park which I also do not recommend. But, plan ahead so you aren't dropping tons of money inside the grounds.
8. Look For Credit Card Lounges
Aka the Chase or Amex booth. Last year Chase Sapphire Reserve had a swanky club lounge for cardholders. Everyone and their mom in San Francisco has the Sapphire Reserve so the line was long at times, but it was great on the inside.
Comfy chairs, free coffee, nice bathrooms, fruit-infused water and a break from the outside. Which you will need at some point if you're going for a 3 day festival.
9. Invest In A Locker With A Group
Outside Lands Lockers are a thing! They are limited and you have to book them in advance but you can store things all day or even overnight in them. This is super handy if you live on the far side of the city or are from out of town, that way you can leave your gear overnight instead of lugging it around.
You can also pack away your jacket or other things for when you don't need them instead of carrying them around all day. Since they are expensive, I would go in on a locker with friends.
10. Expect Amazing Food
Outside Lands food is off the hook. Local restaurants come in to service the booths and last year there were 90 restaurants, 35 wineries and 30 breweries so you can find anything you're craving.
Korean, Tahie, Native, Mexican, deserts, boba, Southern, BBQ — everything under the sun. And it's all really really good so you should come hungry.
The Outside Lands best foods last year was the booth with the quesabirria which cured my hangover from the day before perfectly.
11. Support Small Businesses At West Coast Craft Fair
The West Coast Craft Fair is a giant tent packed full with small businesses and artisans that's open all 3 days. I got a cute mushroom hair clip that I wear all the time.
They sell jewelry, clothes, thrifted items, home decor, stickers and more. Some of them come in from Southern California and some are local but everyone is a small business who thrives off your sale, so go support them!
12. Spend Time Exploring Sponsor Booths
Guys – the sponsor booths are cool here. Probably the best out of all the festivals and conferences I've attended. They vary year by year but set aside some time to explore them.
You can probably rack up a lot of free things like drinks, snacks, swag and some even give things away you can enter to win. My favorite swag piece I took home last year was a screen-printed tote bag that said San Francisco on it.
Pro-tip: sometimes these sponsor booths have phone chargers for you to use for free if you need it! Keep an eye open.
The key for these booths is hitting them up on day 1 or 2, by Sunday they tend to run out of stock of items.
13. Take A Photo With Ranger Dave
You can't go to OSL and not take a photo with Ranger Dave! He's the beloved mascot of the festival dressed as a park ranger since the whole thing goes down in Golden Gate Park.
You can find his giant statue usually near the North entrance for a photo opp! Sometimes Ranger Dave also walks around and you can ask for a photo then.
14. And At The Windmill
And you also need to grab a photo at the famous Dutch Windmill sculpture. It used to be two of them to model after the two real windmills on the outside of the festival grounds but last year they only had one up. Not sure what happened to the other!
These are usually in the main field / the center stage area. You can't miss them!
15. Get To A Stage Early If You Like The Artist
The Outside Lands lineup times vary year by year but if the artist is popular, their stage will attract crowds early. If you want to be close to the action, you may have to arrive at the tail end of the previous artist and hang out until the next one starts.
This is especially true for the main headliner each night! Their stage will start to fill up in the late afternoon. It's a big field so you can't really no get a spot but closer is better.
16. Walk 6-7 Blocks Away To Call An Uber
Hey, over 200,000 people attend the festival each year. It's hard to get out of the grounds and it's a madhouse when everyone leaves at once at the end so expect it to take a while to get home or to your hotel.
If you do insist on hailing a ride share to or from the festival, it's best to walk at least 6-7 blocks away to avoid surging prices and traffic.
I thankfully can always just walk home but sometimes people walk as far as my apartment to catch a ride share to get out of the surge zone, which looks sucky.
How To Win Free Outside Lands Passes
You CAN win free passes!! There's no specific place to sign up but the key is keeping an eye on the sponsor's Instagram pages or email list, along with local businesses.
Brands always have various Outside Lands contests happening leading up to the festival. Sometimes these are brands that are sponsoring the festival, sometimes they are just local businesses doing promotions. But, you can win bracelets.
More Frequently Asked Questions About Outside Lands
What can you NOT bring into Outside Lands?
Alcohol
Non-clear backpacks or large bags
Clothes you don't want to get muddy
DSLR cameras (unless you are press)
Should I Bring A Blanket To Outside Lands?
I wouldn't recommend it unless you have a locker, otherwise you'll be carting it around everywhere which is annoying.
How To sneak into outside lands?
The only way I have heard of people sneaking in is via a wristband swap, which is risky if they catch you. You can twist it off easily each night and give it to a friend for the next day, but my hands are always too small for that.
Can I Share My Outside Lands Wristband?
On that note – no. You aren't supposed to share your wristband.
What time does Outside Lands start?
Times can vary year by year but usually at 11am!
Is Outside Lands VIP Worth It?
I've never done it yet but honestly, I'm in my 30's now and a peaceful place and clean bathrooms sounds lovely. It's probably worth it.
I hope this helps you plan an amazing time at Outside Lands!! If you have more questions or tips to share, drop a comment below.
Happy dancing.