Vacations are meant for discovery, adventure and relaxing. What's not relaxing about long trips? PACKING! How are you supposed to fit weeks worth of clothes into one tiny suitcase? Packing for long trips is something I had to get really good at after I started traveling blogging.
My husband and I basically live out of a suitcase and hotel rooms! Packing for a long trip overseas or a long vacation within your home country is never an easy task. I'm spilling my guide to packing for long trips in this post, so keep on reading to learn all my tips and tricks for getting it all in that suitcase! Warning: you may have to use some muscle to get it zipped up, but it will fit in with these packing tips!
This is my long term travel packing list – aka how to pack for a long trip like a pro!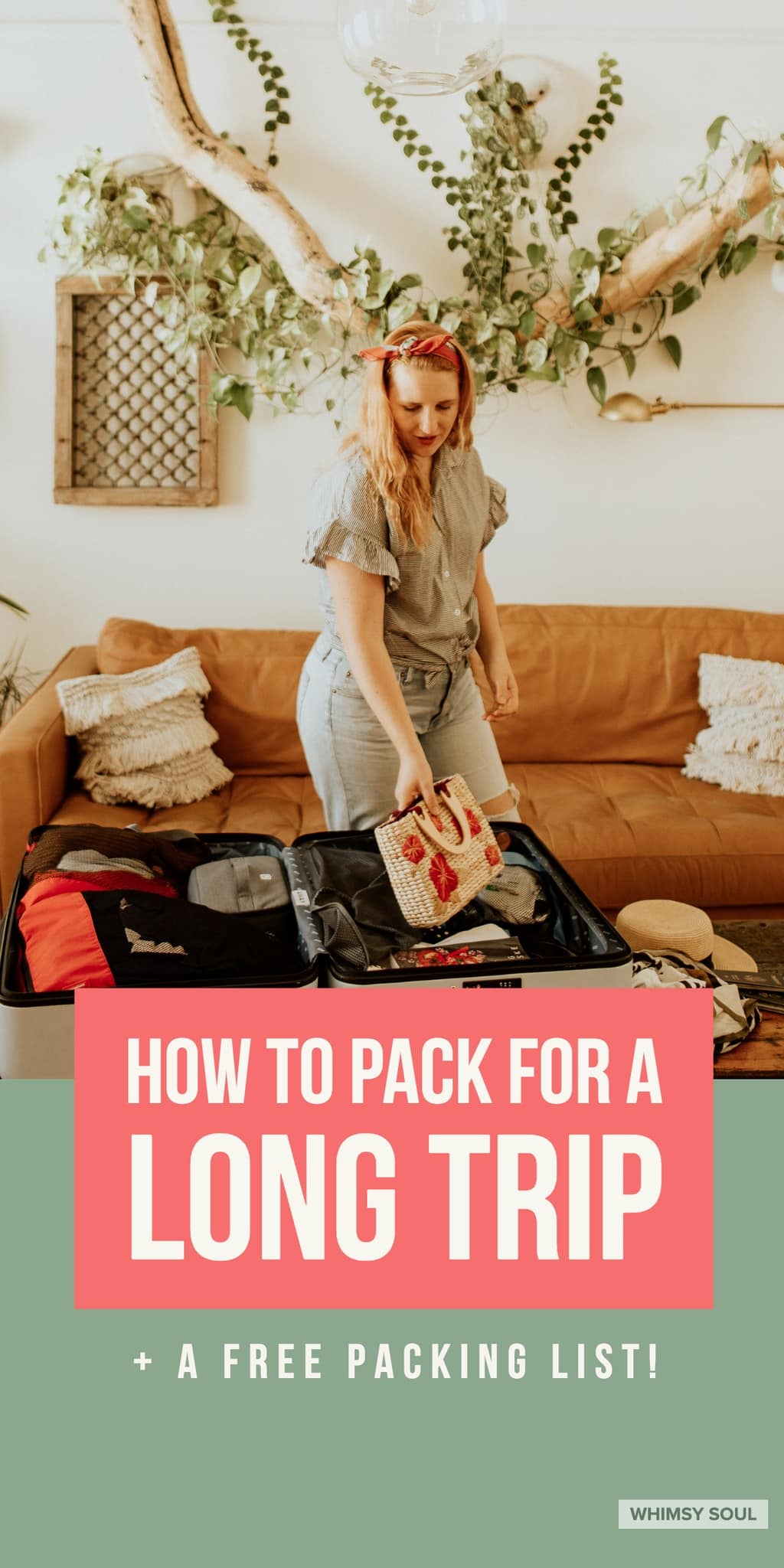 When it came time to pack for my honeymoon last fall, I learned the travel essentials for women and a lot of travel tips for a month-long trip. I had to ask myself what things to pack for a vacation and what I needed on my international packing list. My husband and I each brought one large suitcase and a backpack on our month-long road trip through Europe.
We went to Germany, Ireland, Scotland and England! (Click each country's name to read my local travel guides!) We rented a tiny car and knew we had to be strategic about how much stuff we brought.. and yes, this was mainly my challenge as I like to pack a lot of clothes, especially for cold weather.
No matter if you are hiking the Inca Trail in Peru, stuffing your face with pasta in Italy or having romantic days exploring Paris, my travel checklist and packing guide will help you save space, stay organized while traveling and prioritize what to pack when traveling for a long period of time.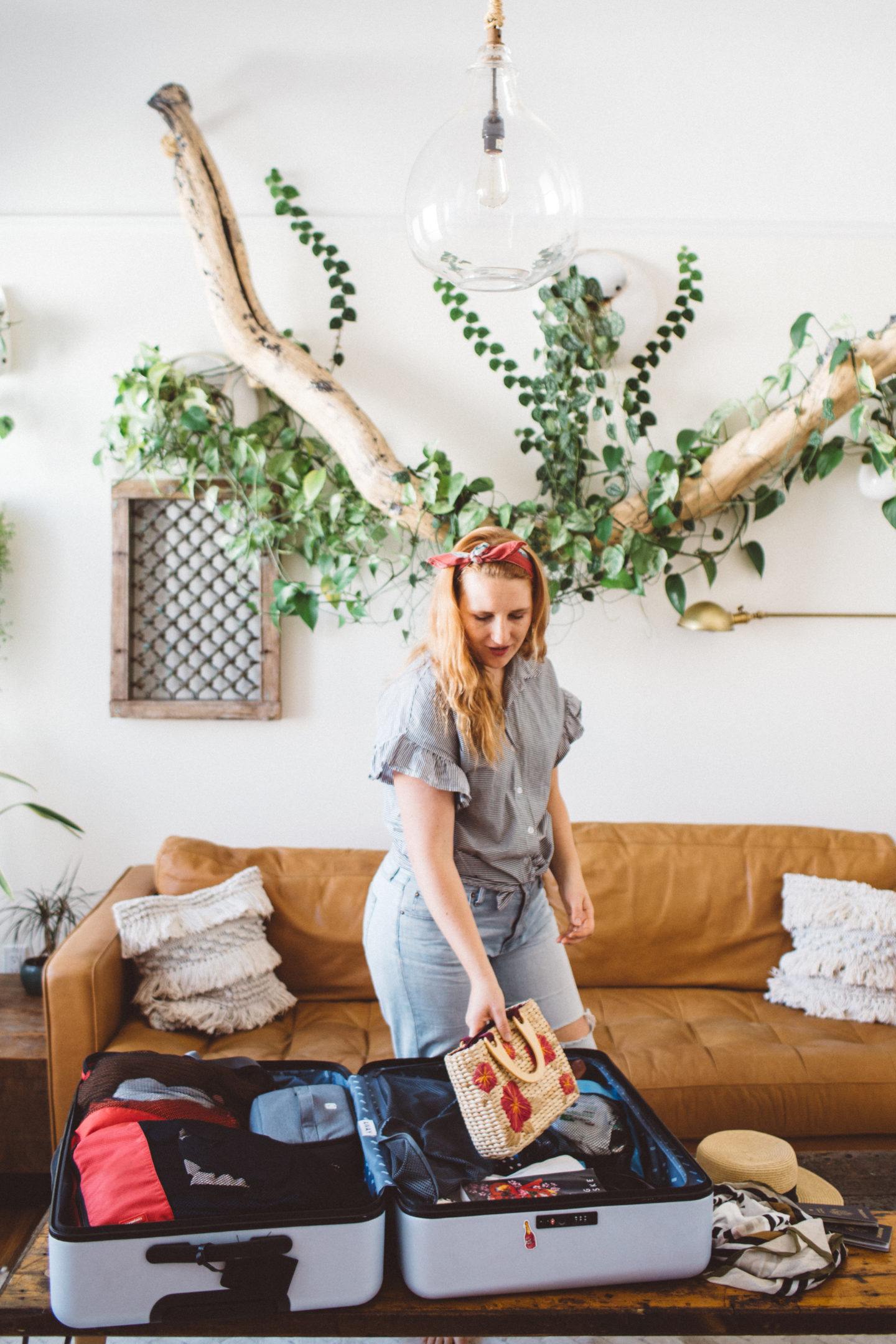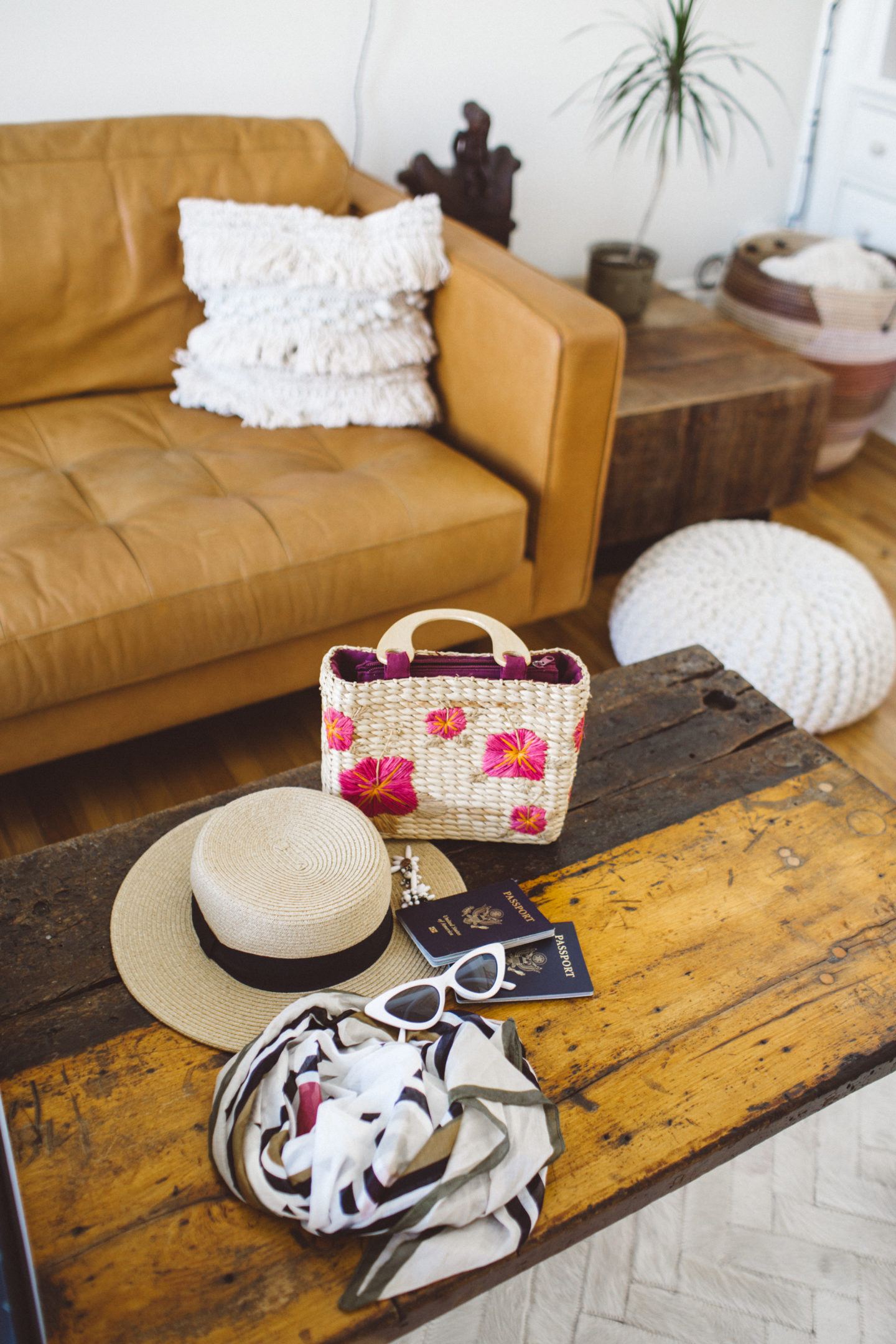 BEST BACKPACKS AND SUITCASES FOR A LONG TRIP
I've done all sorts of traveling in my lifetime. Did you know I once spent 2 weeks backpacking around Ireland when I was 18? I lived out of a backpack for that entire trip and it was glorious! While studying abroad in Italy, I did a lot of short weekend trips where I packed everything into a carry-on only.
Of course, I didn't just have to figure out what to pack for a month-long trip to Europe – I had to figure out what to pack for 6 months!! That was probably the hardest packing list I've ever had to whittle down!
From a week trip to 2-month trips, long-term travel packing lists are never easy, but before I start rambling on about the best travel packing list for long trips, first you have to decide… should you use a large suitcase or a backpack?
I think the decision about using a backpack or a suitcase is actually pretty easy to make. Do you need to be mobile and travel light? Or can you be less mobile and pack heavier?
You have to ask yourself where you are going (a first-world major city vs a tiny third world country) but it also depends on your travel style. Will you be staying in hotel rooms or hopping from hostel to hostel? Will you be spending more than a couple nights in each city or bouncing around wherever the wind takes you?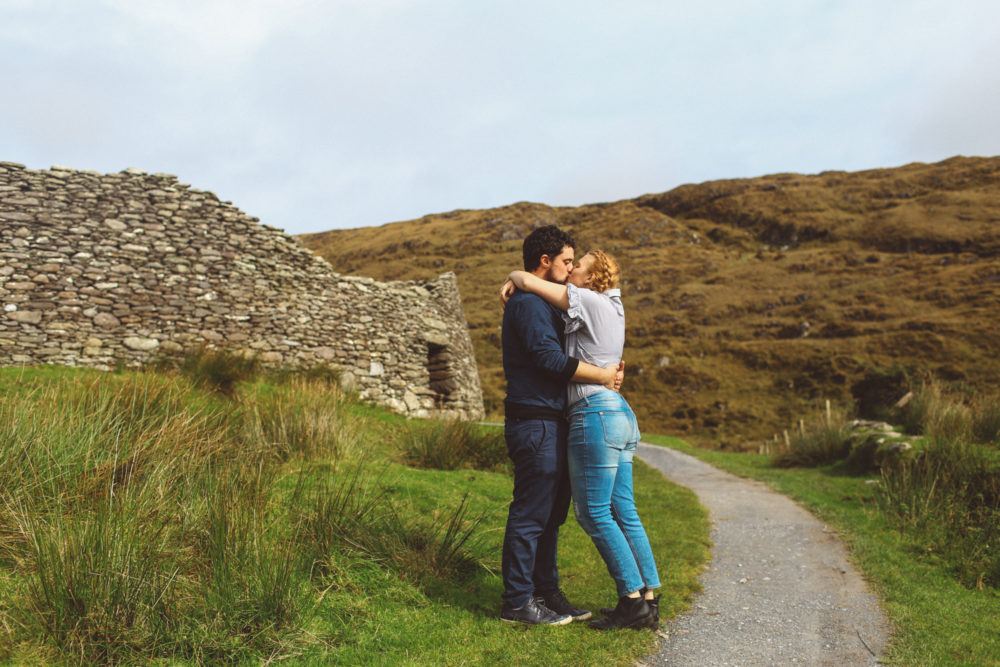 When we went on our month-long honeymoon, we chose to take suitcases for the following reasons:
We were staying at nicer hotels and most of the time for multiple days, so we weren't switching locations frequently and I knew the hotel rooms would be secure
We rented a car, so we could easily transport our suitcases (instead of wrangling them on a train!)
I wanted more room so I could bring more clothes!
When I went backpacking around China with my sister, I brought a backpack for the following reasons:
We didn't spend multiple nights in the same hotel, so we were always moving
We used public transportation, so having a backpack was easier to navigate the streets, trains and buses in China compared to a huge suitcase
I went in the summer when it was HOT, so I needed less clothes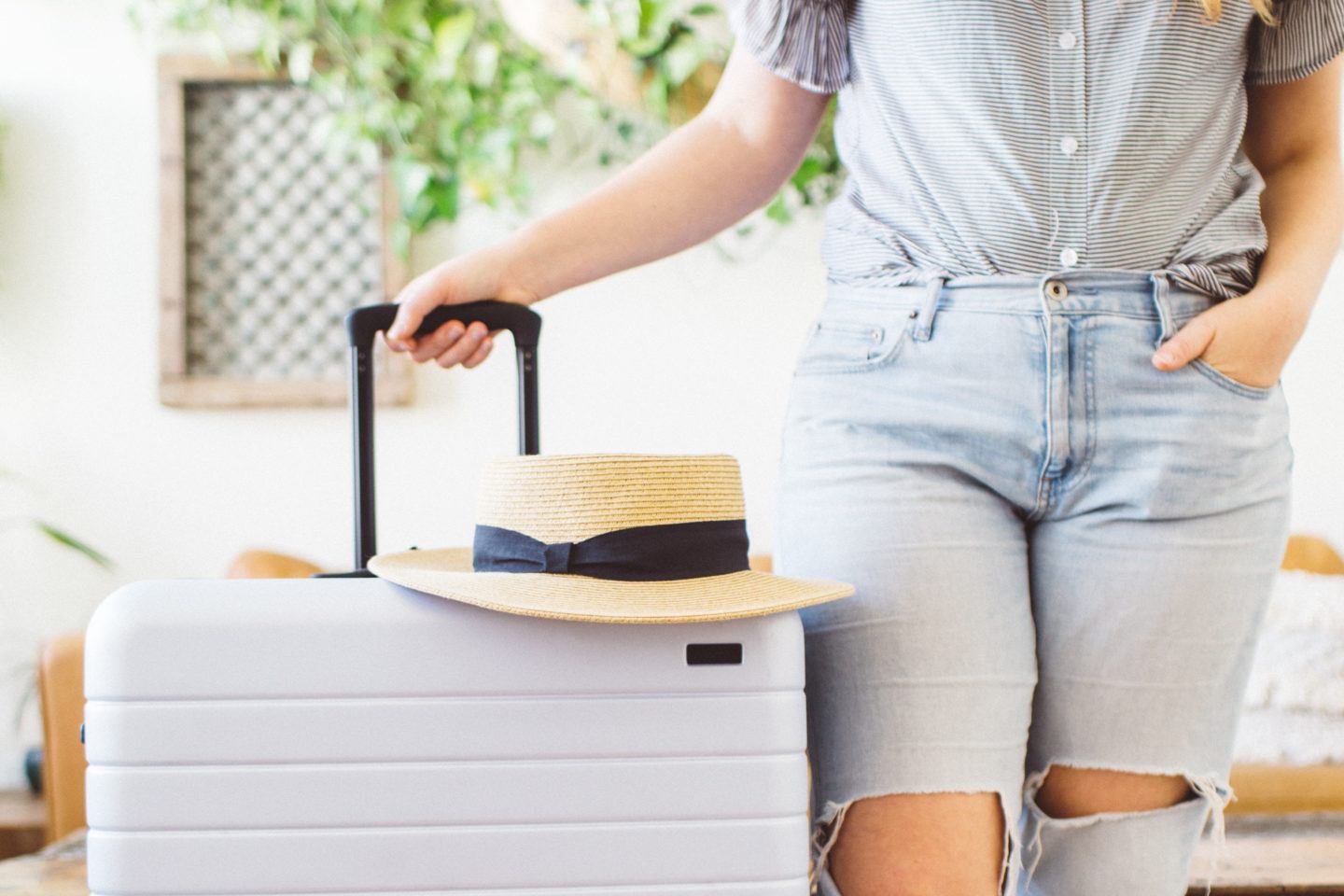 BEST BACKPACKS FOR LONG TRIPS
So you picked a travel backpack! Awesome. Backpacks are ideal for South America, Asia and hostel-based trips, or any trips where you plan on being mobile vs staying at one resort. On of course, if you're doing a RTW Trip (round the world) you should totally have a backpack.
If you are asking yourself how to pack for a long trip overseas, a backpack is probably your starting point. The things you need to consider are how much it can fit, how the weight feels on your body and how secure you can keep the backpack. Unlike suitcases, you can't easily lock your backpack up at night, which could be an issue if you don't have a locker in your hostel room to secure it.
I traveled around Europe and Southeast Asia with an REI hiking backpack that I still use to this day but mostly for camping trips now. A backpack like this is the best travel backpack I've ever used. It has adjustable straps to fit your body perfect, front zipper pockets for you to store things like your phone or passport and can hold up to 69 liters of stuff.
BEST SUITCASES FOR LONG TRIPS
How to pack for a long trip in one suitcase you ask? I stand by Away luggage. My mother gifted me with a fabric suitcase when I turned 18 and I used it for close to 10 years before I had to call it quits. I loved that suitcase, but I always wish I had a hardshell suitcase because my fabric one was really beaten up.
Airplane crews can really manhandle suitcases and I ended up with so many rips on mine. Plus, I hated having to carry around a TSA approved lock which I ALWAYS lost at some point in my hotel room.
That's why I love Away suitcases – they all come with a built-in lock! The large suitcase is smaller than my fabric one, but has a mesh side to help separate clothes and shoes and also has a built-in laundry bag to help you keep the dirty stuff contained.
The carry-ons even come with a phone charger (wahhhh!) They look sleek, come in a variety of colors and the wheels turn 360, making this the best luggage for long term travel. I have this suitcase and I want to get this carry-on.
The price point of Away is not budget-friendly, though. When Robin needed a new suitcase, instead of paying the price of a whole vacation on new travel gear, we opted to get him a suitcase set on sale from Macy's instead. We got this one and I love the carry-on bag! It's not as sturdy as Away but does the job for domestic travel.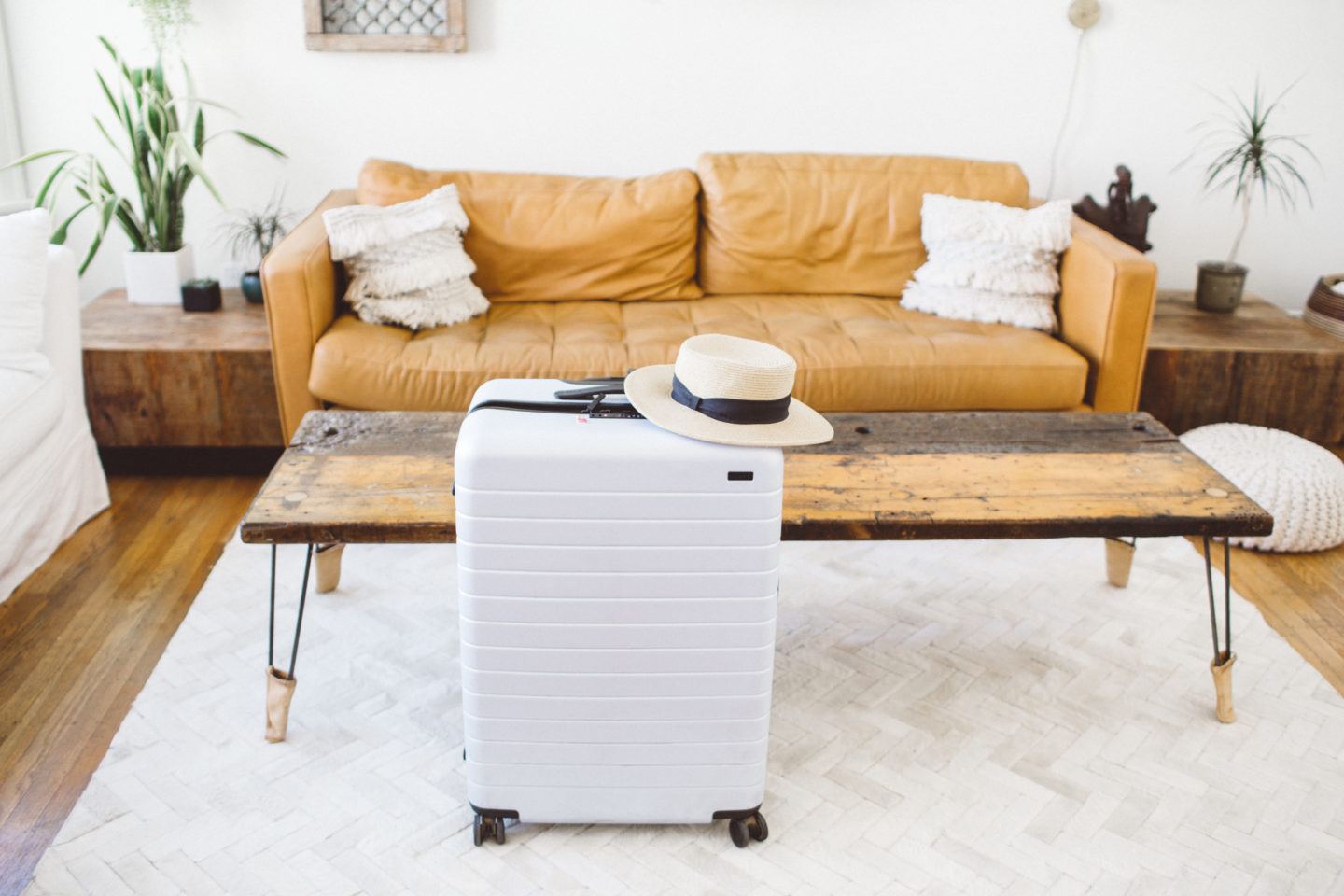 MY FAVORITE PACKING CUBES
I held out on using packing cubes while traveling for years. I honestly didn't believe they'd make a difference. My rolling the clothes trick was doing just fine thank you. Well, I was extremely wrong you guys. Packing cubes are a travel packing GAME CHANGER! Especially if you are packing for long trips. They have been so handy in helping us pack for long trips and helping us stay organized while traveling, especially so on international travel.

My husband and I both have a packing cube set, we never leave home without them (We got this one for each of us as it's under $20 on Amazon!). I have the red ones and he has the blue set. Since we travel together and frequently put stuff in each other's suitcase or even share a suitcase, immediately knowing who's stuff is in what packing cube based on the color is wonderful.
I also like to organize my clothing. One cube will have all bottoms, the other tops and sweaters. That way, when I'm looking for a specific piece of clothing, I avoid tearing apart my suitcase looking for it because I know exactly where it is.
I even put things that can't fit into my toiletry bag into a packing cube so all my toiletries and other supplies (like my steamer and extra socks) have an organized home within my bags.
Packing cubes helps me save space while packing for a long trip – now I never travel without them!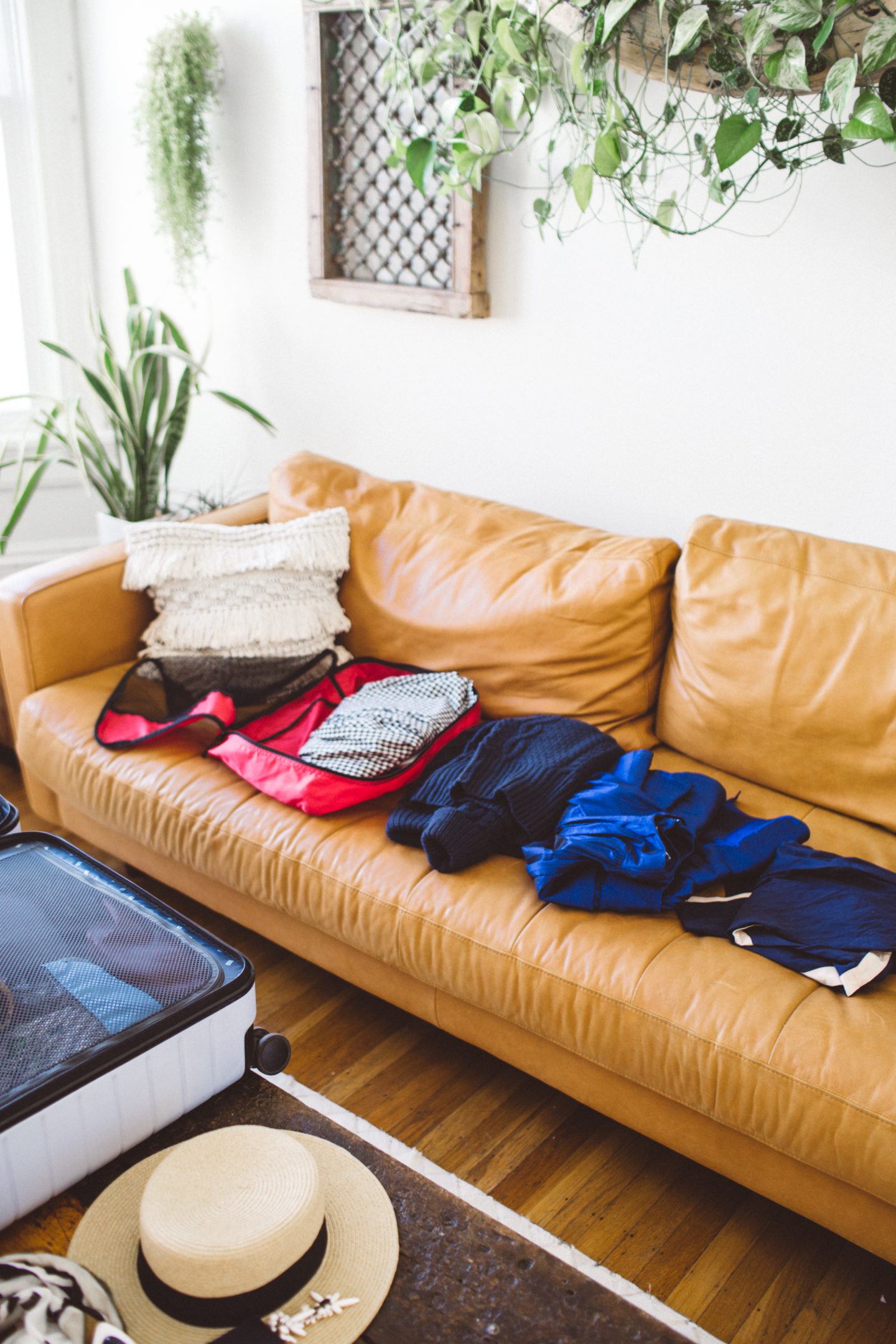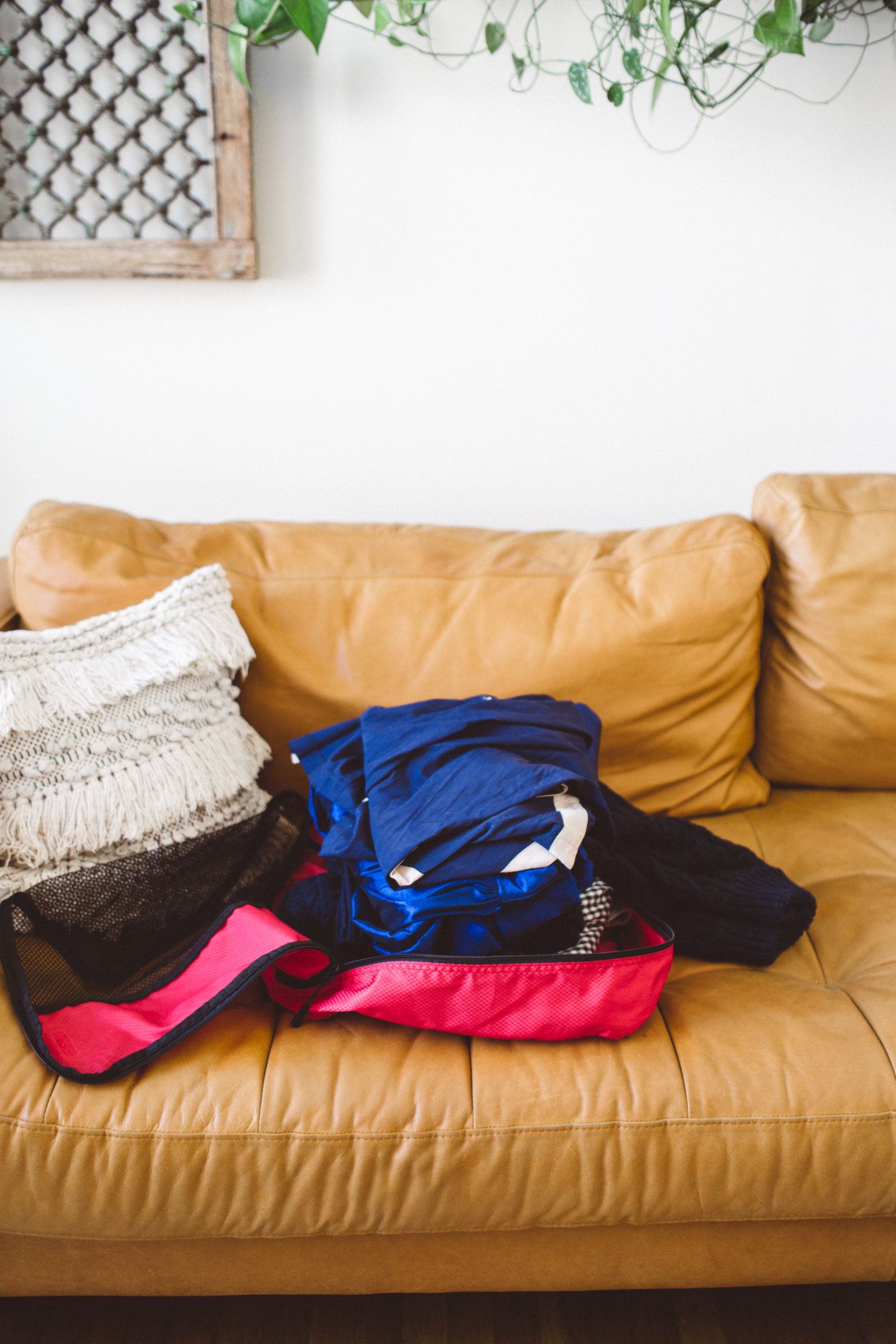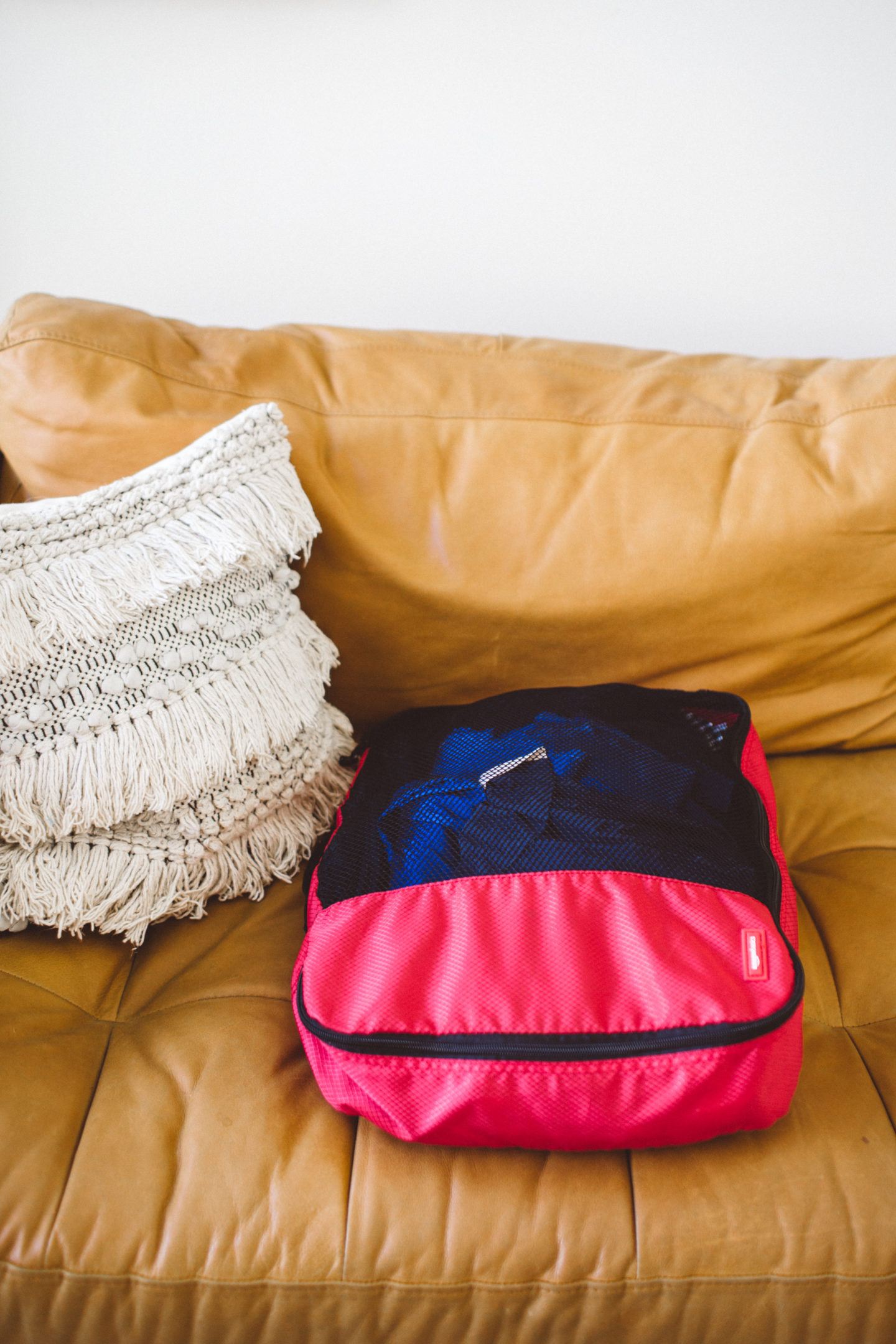 PACKING FOR LONG TRIPS – THE HOW TO GUIDE
Ok, now for the good stuff. How to exactly pack for a long trip. Below I have a printable travel packing list for you to help guide you on exactly what should and shouldn't be in your suitcase or backpack. But before we dive into the long-term travel packing list of items, we have to chat about the core secret all travel bloggers use when packing.
The "Half Rule" is something I use for every trip I pack for. Ok, here's how it works:
When I start thinking about what to pack for vacation, I always end up grabbing a shit ton of clothes, makeup, shoes and accessories from my closet and dump them on my bed. I honestly usually end up with a mountain of clothes that my cat likes to snuggle in (clothes fort, yay!) But, I don't actually need to bring all those things on my trip and I also shouldn't. The goal for packing for long trips is to always pack as little as possible.
That's where the "half rule" comes in. I let myself pick out as many things as I want and put them on the bed. Then, I go through, hold everything up and decide if I really need it. The goal is to end up with half the things I started with.
Then, I do that process again. Sometimes 4 times if I'm really struggling to trim the packing list down! Chipping away little by little with the goal of only packing half the things you pulled from your closet helps you thoroughly think about each item you may bring, if you really need it, if you can wear it multiple days, etc. This is how to pack for a long vacation hack for people like me who struggle with whittling down that packing list.
It's a move that has helped me so much! Ok, now you know the trick that all travel bloggers use when packing for a long trip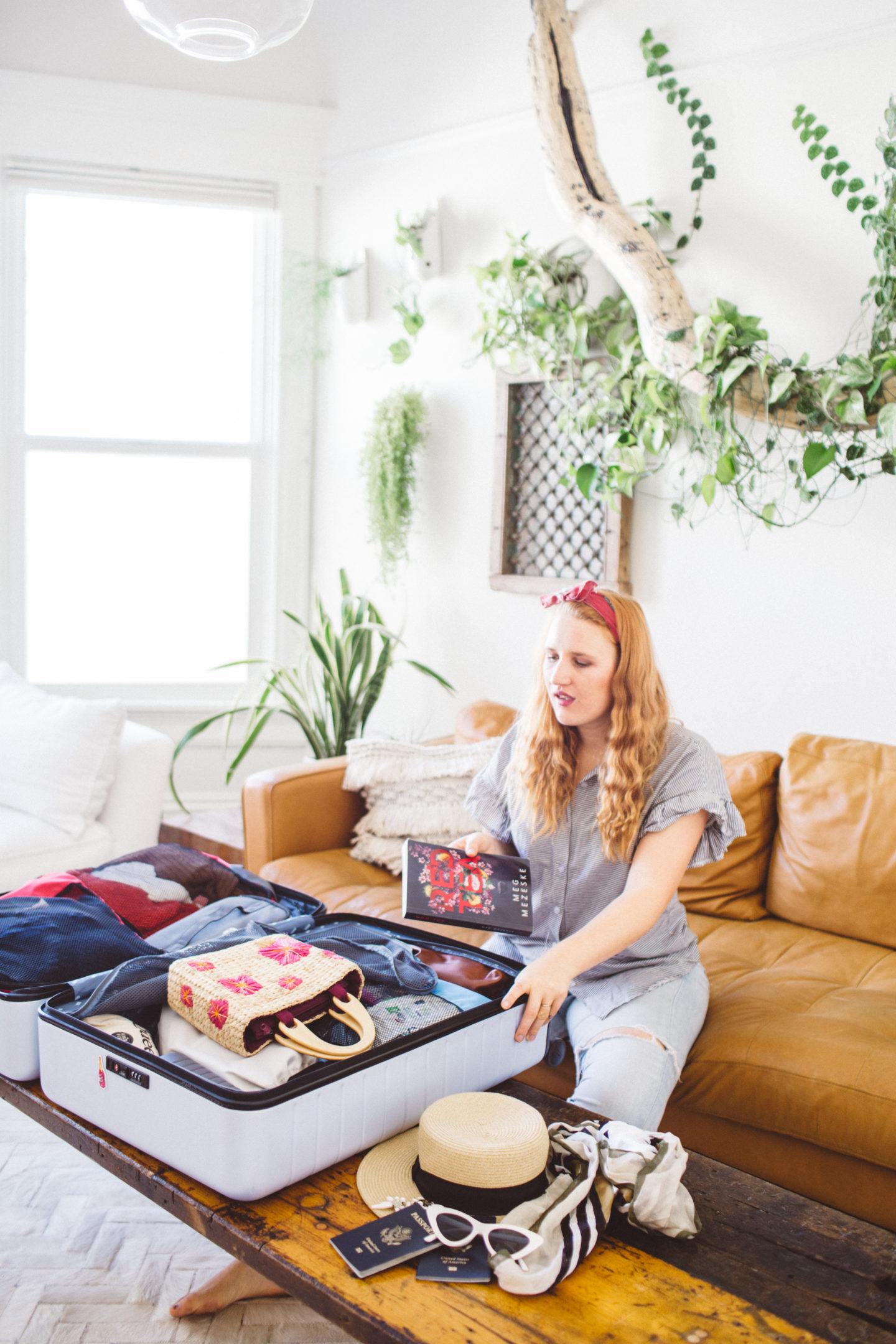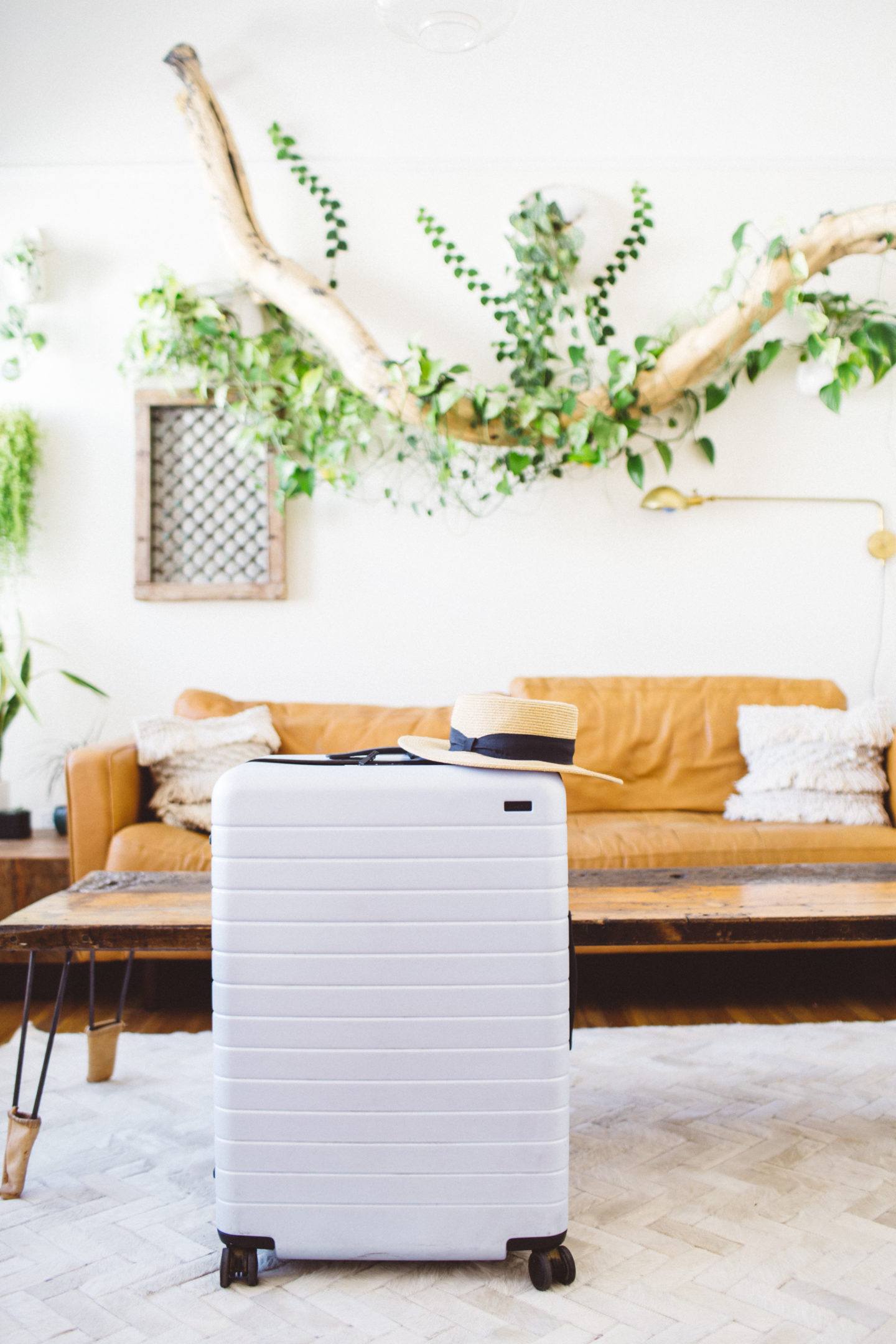 PACKING LIST FOR LONG TERM TRAVEL
Lastly, these are all the all the best things you should pack for a long trip! As someone who basically lives out of a suitcase, I have a master packing list DOWN like the back of my hand.
I actually have a to-go bag within my suitcase that has double of all my favorite makeup products and things like socks, undies, flip flops, a swimsuit, extra chargers, etc – all the travel essentials for women that I found myself packing on every trip.
Now, I just have to nail down my clothes when I pack for a trip, which makes packing so much easier! Here's what to pack for a trip and what my personal packing list looks like!
Click links to shop my personal favorite products that I travel with!
TOILETRIES LIST
Travel size toothpaste
Travel mouthwash
Floss
Hairbrush with wide bristles to double as comb
Shampoo + Conditioner (full size for long trips)
Body lotion
Nail clipper
Contacts + Solution
Glasses
Hair ties
Your favorite makeup
Dry shampoo (full size for long vacations)
Travel or roll-on Perfume
Tampons, pads or Diva Cup
Tums
Painkillers
Birth control + other daily meds
Melatonin
Earplugs
Motion sickness meds (if you need them)
A few packets of diarrhea and nasal decongestion pills
Bandaids
Razor (1 per week of trip)

ELECTRONICS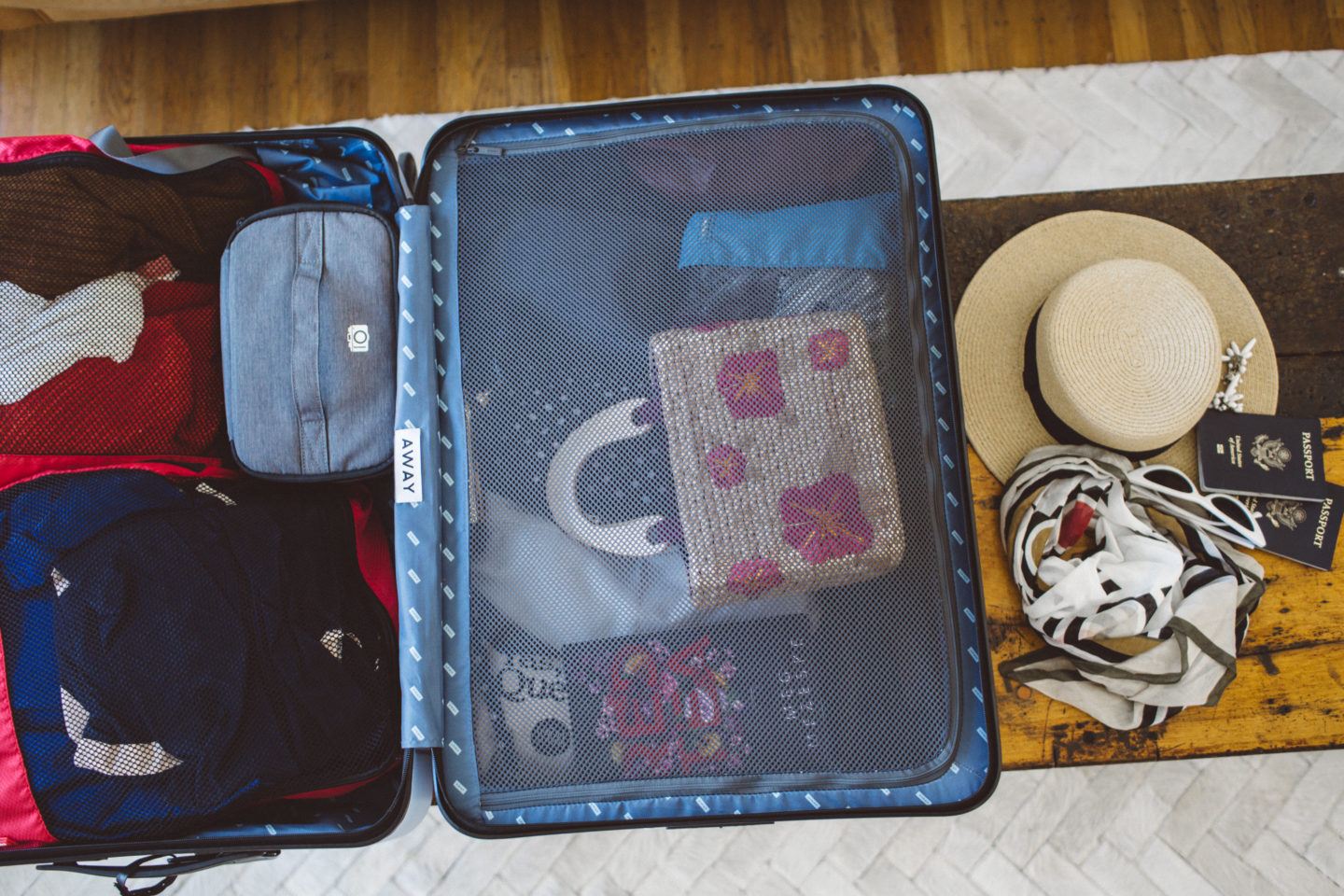 CLOTHING
Please adjust your list based on your destination and time of year. Build in time to wash your clothes or be prepared to wear things more than once.
Socks (7 pairs)
Undies ( 7 pairs)
Bras (1 sport, 1 regular)
Walking shoes (1 loafer, 1 pair of sandals)
Rothy (the best travel shoes because you can wash them!)
One pair of boots (ankle or high)
Sweaters (1-2)
Tops (2-3, tank tops and nice blouses)
T-shirt (2. Avoid shirts with logos or teams that peg you as a tourist)
Yoga pants (1 pair for sleeping and hiking)
Beach towel
Sunglasses
Hat with brim (this one is foldable!)
Headscarves (1-2 as they have many purposes!)

Bonus travel packing list! This is what I always keep in my purse when I travel on short trips and long trips alike.
FOR YOUR PURSE /DAY PACK
This is my favorite anti-theft travel purse, btw! Skip the money belt and travel with this purse.
Travel sized tissues
Travel size Hand sanitizer
Chapstick
Hand lotion
External phone charger
Credit cards (I have the Chase Sapphire Reserve Card & highly recommend it for travel!)
Debit card for emergencies
Local currency
Sunglasses
Don't forget your passport if you are traveling internationally! I always keep this in my hotel room in the safe. I NEVER take it with me during the day in case my purse gets stolen.
Looking for a printable packing list for long trips? Use the form below and I'll email you a printable travel packing list. It's cute, I promise.
[convertkit form=5259129]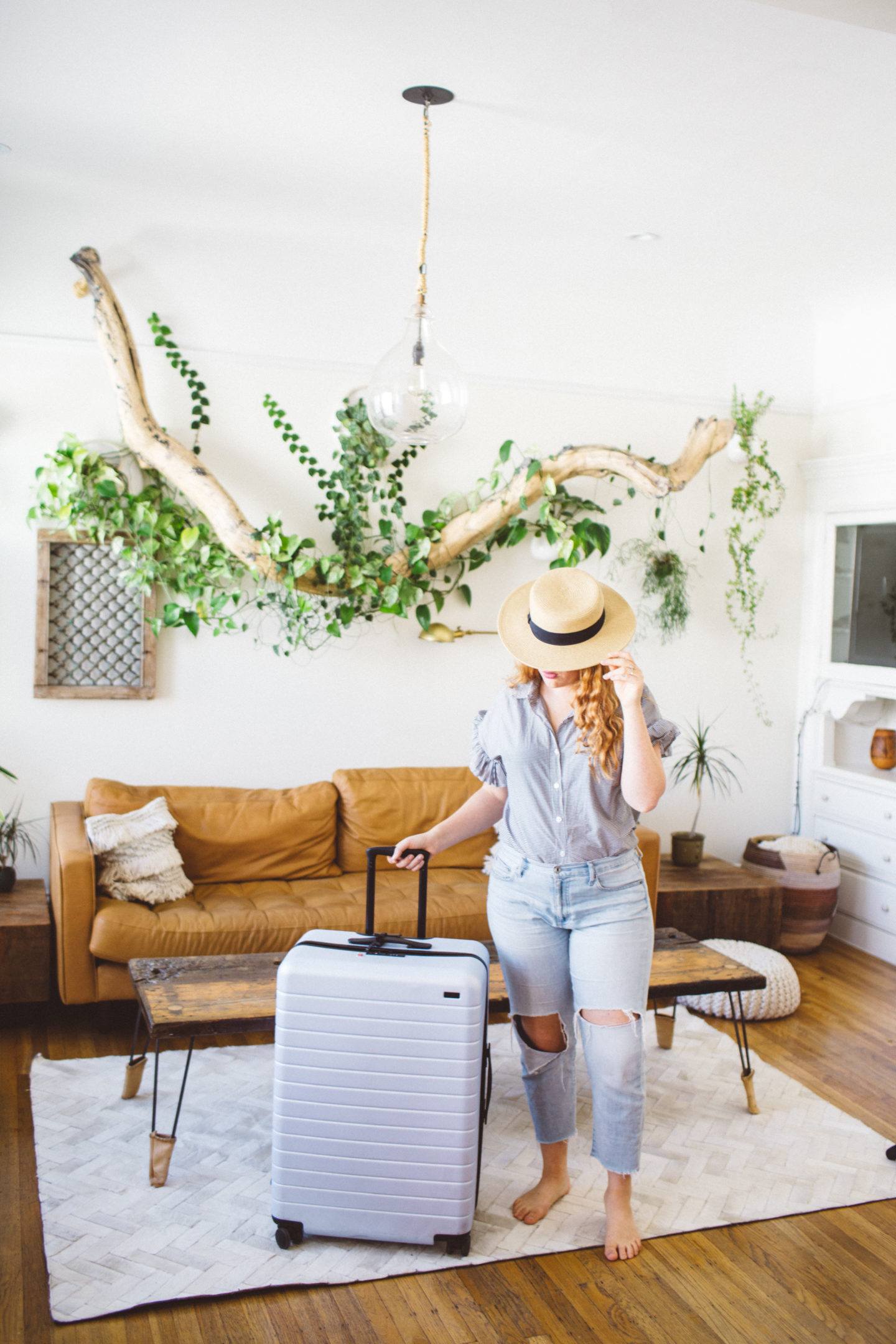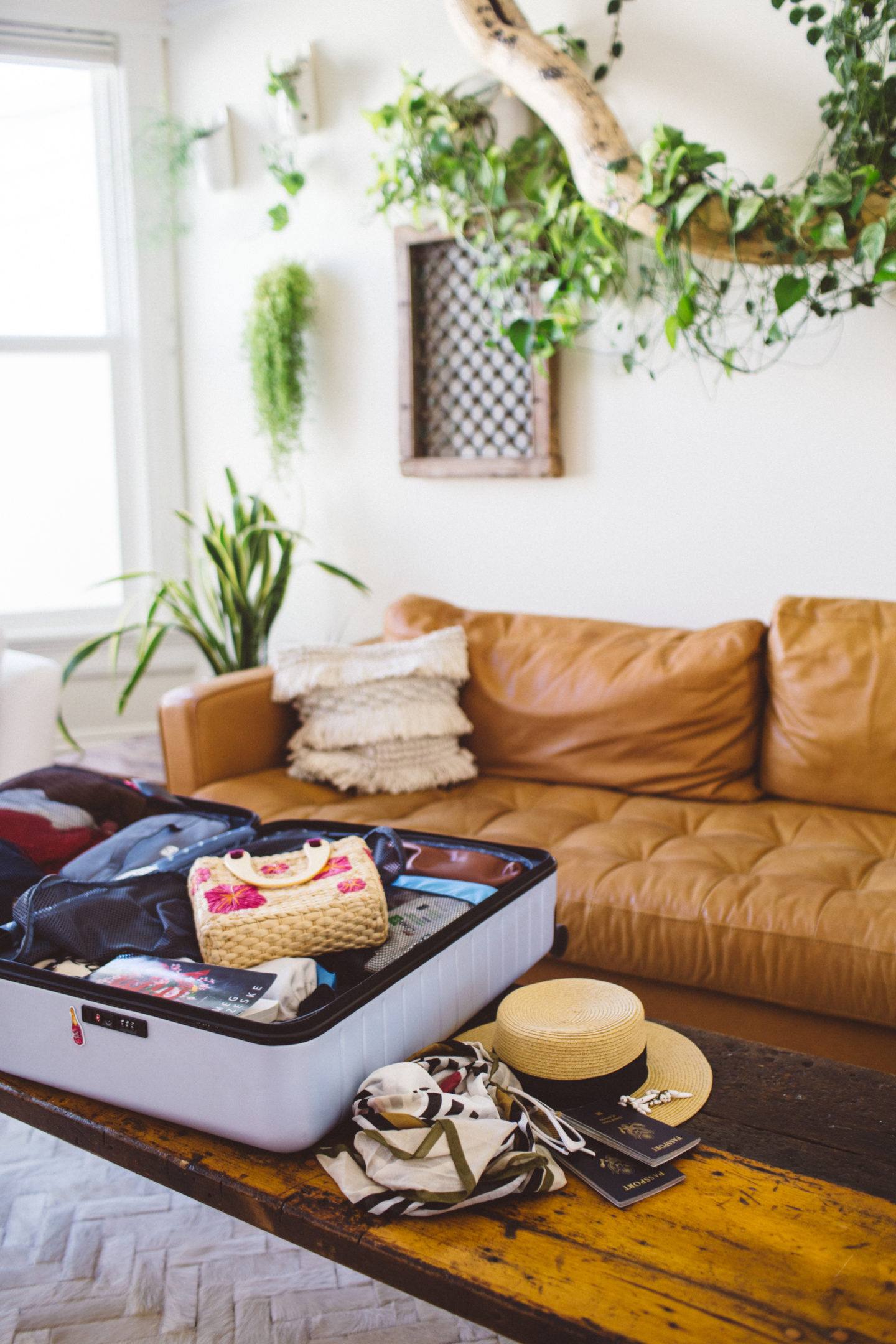 I hope this helps you pack for your long trip! If you have any questions or travel tips to add, leave a comment below! You can also always DM me on Instagram @thewhimsysoul and I'll try to help you!
Pssst – Pin these for later!