Everything you've heard about Ireland is true. The landscapes are just so dang green, the locals are friendly, the beer flows easy and there are just random castles everywhere. Picture driving through the Midwest, but for every barn you see in the distance, it's a castle instead.
For my second trip to Ireland, I decided to do a big road trip around the country to see all the sights properly. If you follow me on Instagram @thewhimsysoul, you know that our Ireland road trip was part of our 3-week long honeymoon around Europe. (We also went to Germany, Scotland and London!) We drove all over Ireland and picked up a lot of "do's and don'ts" along with handy tips to share with you.
Grab a Guinness and sit back. In this post I'll be sharing my epic 7 Days in Ireland Itinerary – it's So Good You'll Want To Move Here!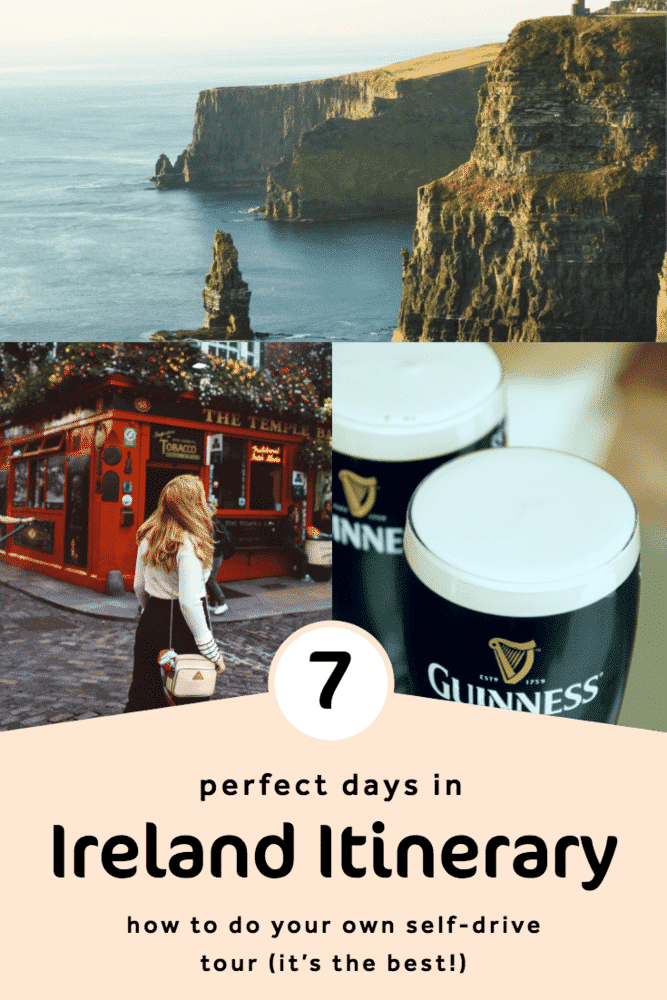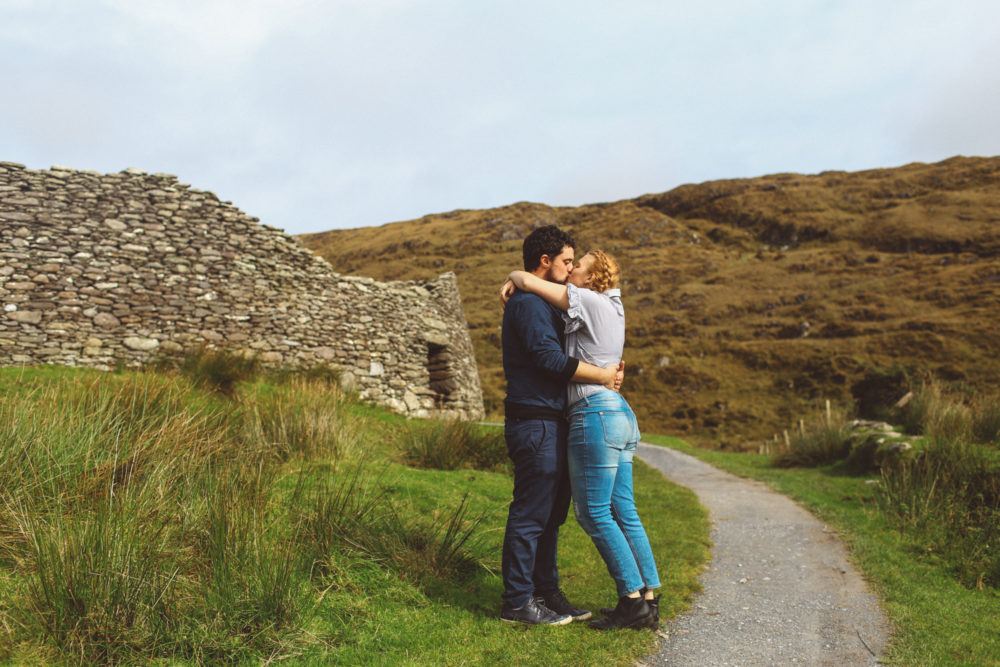 Seeing the country by car is THE BEST way to get that authentic Irish experience. I wouldn't have put it in all caps if I weren't so passionate about your renting a car to explore Ireland. IT'S THE BEST!! There are just too many hidden gems, cute towns, and natural wonders to see that you won't be able to get to on a tour bus or public transportation.
You can't do 7 days in Ireland by train, a train simply doesn't go to most of the smaller towns. There are buses but it's an Ireland roadtrip is the way to go! Renting a car can be tricky, though.
How To Rent A Car In Ireland
Renting a car in Ireland was a little confusing for us. We read in many places that there is a big thing around car insurance and such. We have the Chase Sapphire Reserve credit card, which covers car rental insurance and this extends to Ireland. This was so helpful has car insurance for rentals can run as high as $1,000 – which is crazy! I recommend checking your credit card perks and printing out a statement before your Ireland trip, stating that you are covered with your card to present to your car rental agent. Or, be prepared to pay an arm and a leg for insurance.
We used Hertz and loved it. We found it easy to rent a car online and the checkout process was very smooth. We picked our car up in Dublin and returned it to Belfast. We then caught a ferry to Scotland and picked up another car there from Hertz so we could start our Scotland road trip!
Driving in Ireland is a little daunting at first, but you get used to it quickly. Ireland is in km and Northern Ireland uses miles – just keep that in mind if you go across country lines so you don't end up speeding!
Don't rent any GPS unit as they are pricey. Instead, while you're planning a trip to Ireland, make sure you set up internal data plan from your cell phone carrier. You can pop in a destination to your Google Maps and then turn your phone to airplane mode. Google Maps will still work and you won't use up much data this way – a sneaky trick I learned!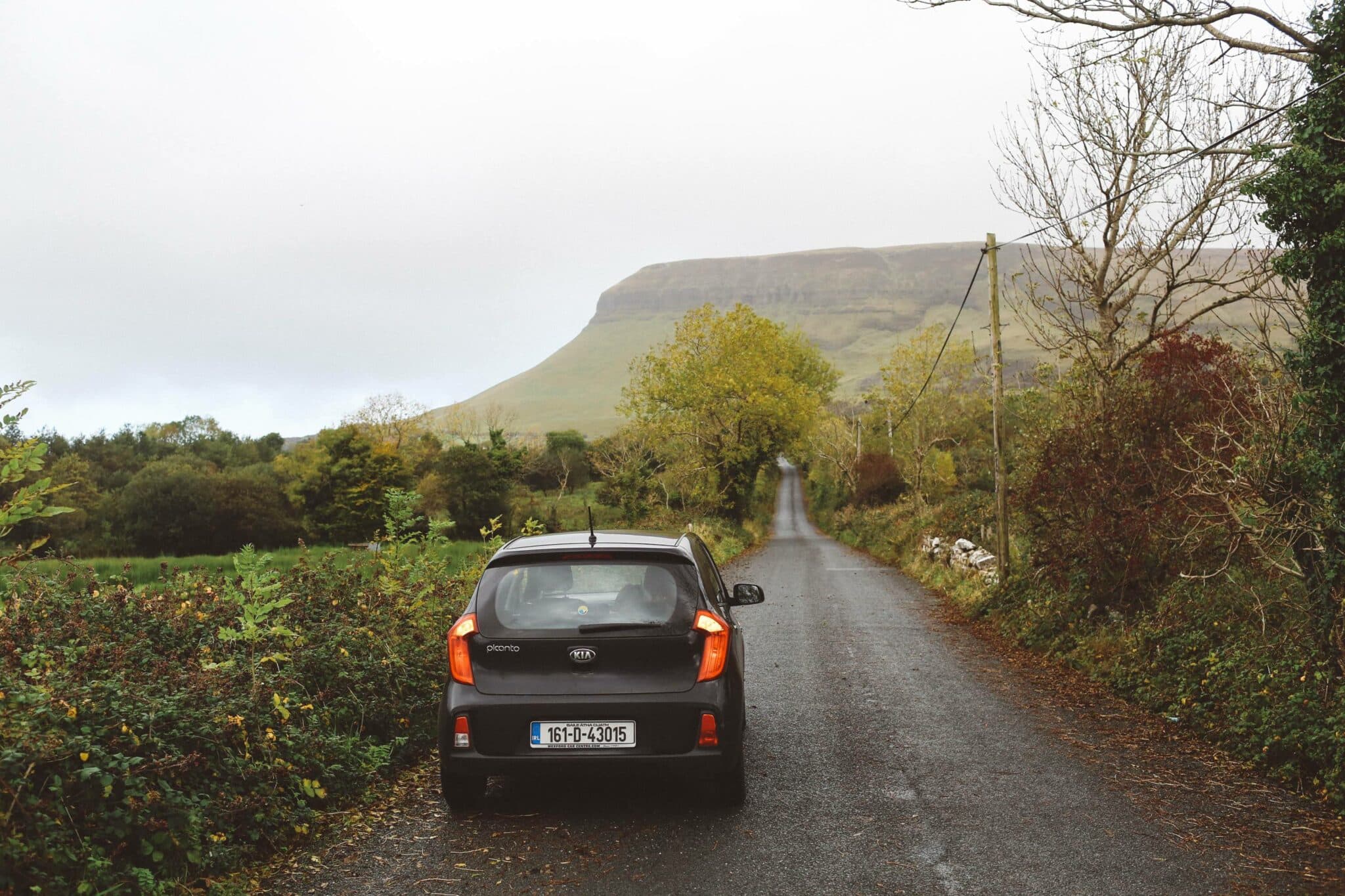 Is A 7 Day Trip to Ireland Enough Time?
I'm not going to lie, I could spend weeks if not months or years exploring Ireland. I'm utterly in love with the charming towns, the live music in pubs each evening and the natural beauty. I think I spent more of my 7-day self drive tour of Ireland with my jaw hanging open.
If you're looking at how to spend a week in Ireland, don't worry – you CAN see most of the good stuff in 7 days. You'll be a bit rushed but it's perfectly doable (we did Ireland in 7 days!)
Ireland Packing List
Ireland travel packing list (the must-need stuff!)
Lightweight suitcase, as many hotels don't have elevators.
Euros
Anti-theft travel purse (this is my favorite one!)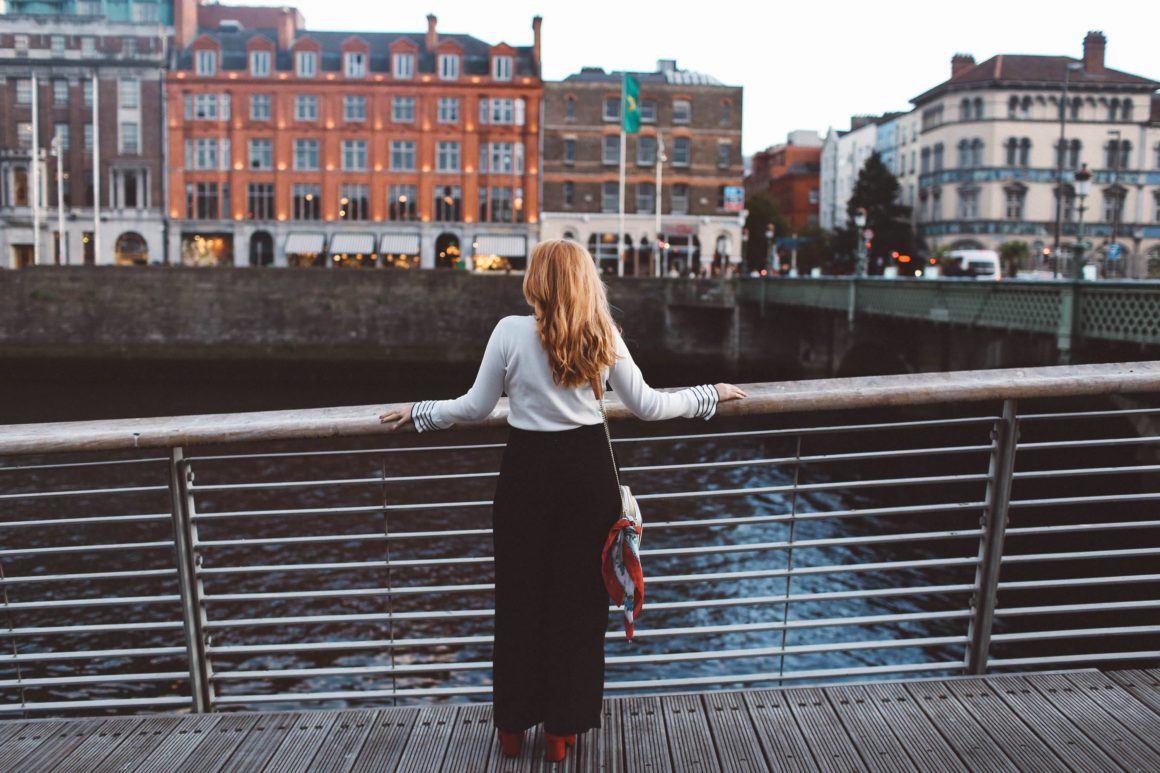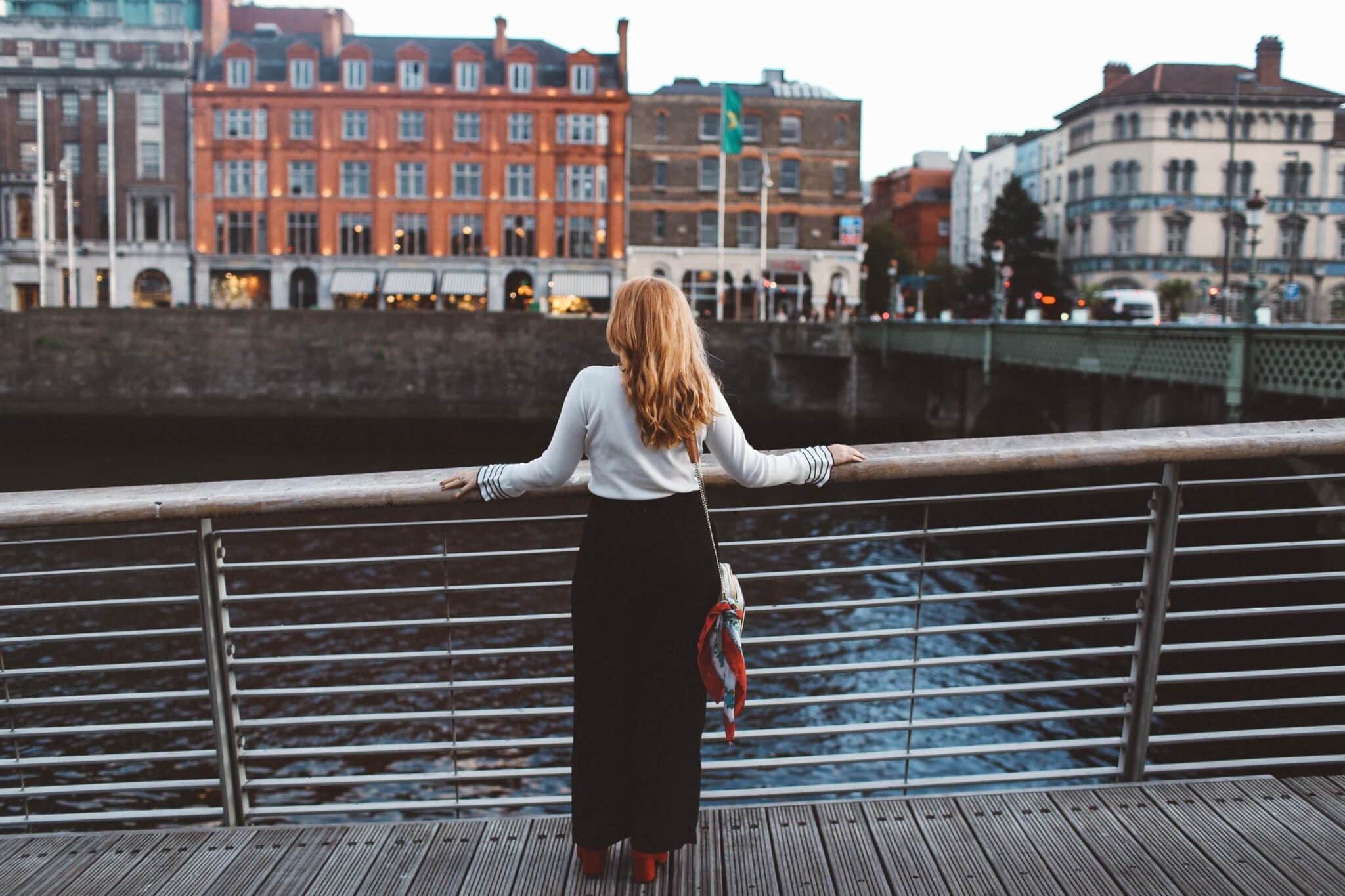 Ireland itinerary 7 Days – Self Drive Tour of Ireland!
*Note, that for the purpose of this guide, I've lumped Northern Ireland into "Ireland", though when you visit, remember it's a totally different country, part of the UK and they use pounds instead of Euros.
We started in Dublin and ended in Belfast since we ere continuing on to Scotland. You can choose to end in Belfast (fly out there or hop over to the UK), or you can end in Dublin. There's not 100% best way to see Ireland, it's up to you if you make a full loop or not!
Let's dive into my 7 day Ireland itinerary!
Day One – Dublin
Dublin is probably the city you'll fly into. You can grab flights for pretty cheap from New York or O'Hare. My favorite place to find cheap flights are Expedia and CheapOair.
How to get from the airport to Dublin city center: Skip Uber or a taxi as it'll run you easily $60. Instead, follow the signs for the bus and take the Airlink into town. You can buy a one-way pass for 7 Euros with a credit card at the bus stop. The bus has wifi and takes you right into town in about 30 minutes!!
Find a hotel near Temple Bar, Trinity College or Stephens Green. This is the downtown area and everything will be in walking distance. If you have a high budget, stay at The Westbury. Low budget, head to Abigail's Hostel (stayed here my first time to Ireland and loved it!)
You probably won't be settled into your hotel until the afternoon on your first day in Ireland, so just take this time to walk around and explore. Visit the Trinity College Library where they have the famous book of Kells. Walk around the Temple Bar area, pop your head into shops and get the lay of the land in Downtown Dublin!
If you like whiskey, my husband adored his whiskey tasting at the Whiskey Museum across the street from Trinity College. Skip the museum tour and instead sip on Irish whiskey while overlooking the campus!
Next door is the Aran Island Sweater Market which is a MUST STOP! They make some of the best sweaters in the entire world, no joke. I bought my second one on this trip (it's that chunky wool white sweater that I'm wearing in a lot of these photos!) and it's so nice. It keeps all my body heat in, which is handy for windy days exploring the West Coast!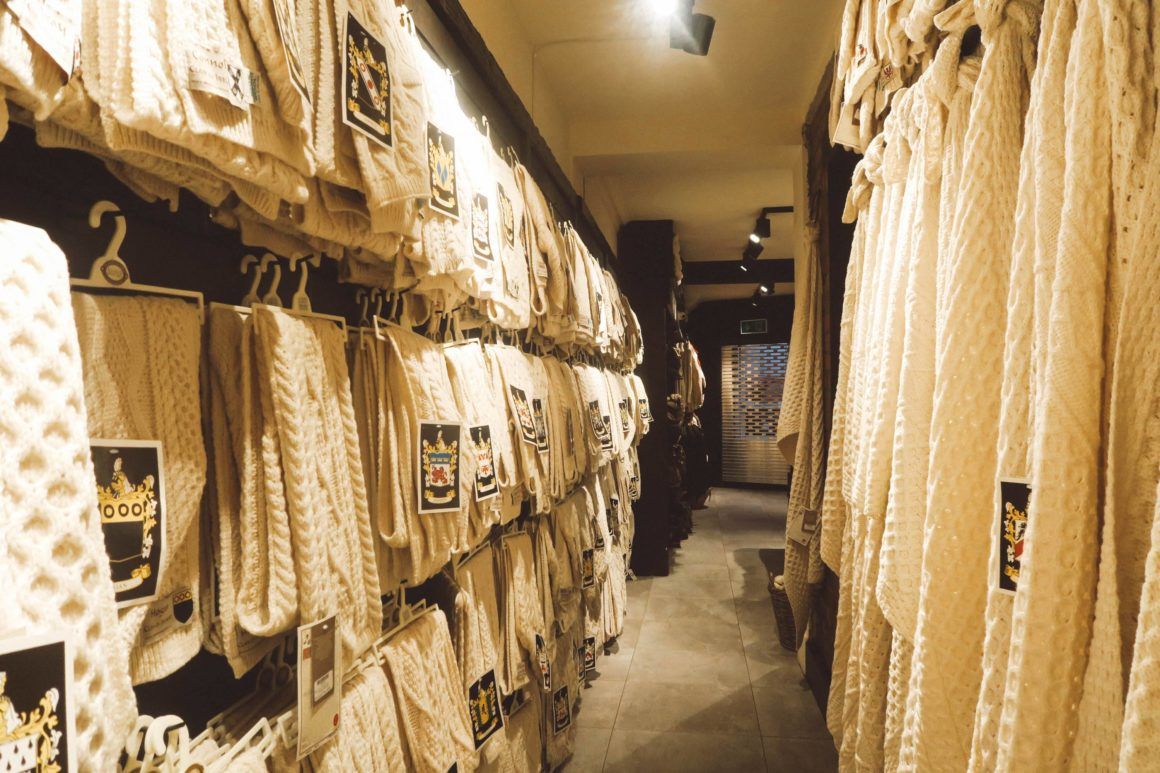 Dinner, head to Cleaver East (or The Pig's Ear if you're looking for upscale dining.) We choose Cleaver East – get there between 5:30-6:30pm to take advantage of their crazy affordable happy hour food deal to save serious $$ on your dinner.
For low-key and affordable dining, just head to one of the many pubs around the city. Order the fish and chips or stew of the day! You can just sit tight in the pub as it'll most likely start live music.
On my first trip to Ireland way back over 10 years ago, I booked a pub music crawl tour and had so much fun! We visited 3 pubs and listened ot live Irish music at them all.
Day Two – Dublin
For breakfast, walk over to the Bakehouse along the river. They have an excellent homemade breakfast, plus the decor is very cute! Think 1950's style.
Today is all about touring the famous Guinness Storehouse! Yes, it's touristy but dang, this is the best brewery tour I've ever done. It's 7 floors, they really go all out on this. Make sure to purchase your tickets ahead of time online so you know you can visit that day (it sells out quickly!)
Instead of checking tickets, you can redeem them for beer – either at one of the bars or at Guinness school. We chose the school so we could learn how to properly pour a beer (and drink it after!) They have a skybox, which has the most stunning view of Dublin. It gets crowded in the afternoon, so perhaps go in the morning if this is important to you.
Don't forget to try a Guinness pale ale, which is only available in Dublin.
I suggest walking to the Storehouse and back so you can soak in the sites along the way. That's how we stumbled upon the Christ Church Cathedral, probably the most famous church in Dublin. It's huge and beautiful and I would have missed it!
For dinner, I suggest you visit a pub somewhere in Temple Bar or on your walk home! If you flew over from the States you probably also have killer jet leg, so take it easy if you need to.
Time to leave Dublin and head into the countryside (this is where it gets really good!) If you're on the hunt for more things to do in Dublin, check out my whole Dublin City Guide!
Day Three – Killkenny
Touring Ireland isn't complete without a trip to the countryside. Grab your rental car and hit the road! Just over an hour from Dublin is the city of Kilkenny. It's famous for the castle that's plopped right in the middle of the city. We knew that at this point in the trip, we'd want a little relaxing time after the bustle of the city, so we looked outside the city for an estate. I highly recommend doing the same!
We ended up at Lyrath Estate which was SUCH a great hotel. It sits on a large portion of property just a 5-minute drive from Kilkenny city center. As you drive up, you'll be welcomed by three friendly dogs and a beautiful old estate covered in ivy. The dining is top-notch and we ate there a few times. Make sure to spend a few nights here for affordable luxury in Ireland!
The Lyrath Estate thermal pool is so worth the extra $15 and the highlight of our stay!
For lunch, head into town to Willoughby's, small cafe right downtown with great food that isn't too expensive. Grab some soup, a sandwich, and tea here. The farmer's market by the castle is every Wednesday and has great food trucks and fresh goodies as well. Looking for beer? Take the Smithwick's tour and tasting!
When you want to stroll around Kilkenny proper, I recommend visiting the Kilkenny Castle and then wandering the cute, colorful streets. Or, Relax at the estate! Walk the grounds, go horseback riding, soak in the fresh air, sit in the spa. My time in Ireland was magical thanks to this place!
You can swap Killkenny for a night in Cobh instead! Due to driving time you can't make both Killkenny and Cobh (outside of Cork.) So, you decide which one to do! This will take you past Cork and the famous Blarney Stone at Blarney Castle, so if that's on your bucket list, you may want to do this instead.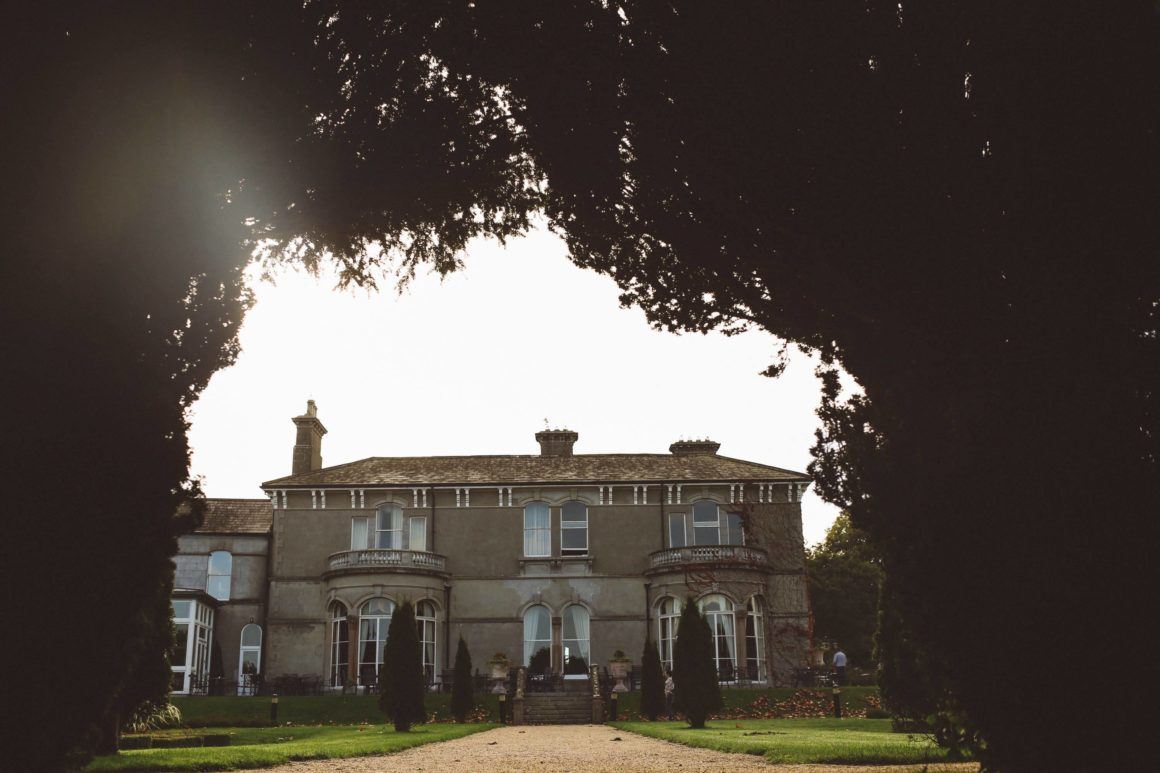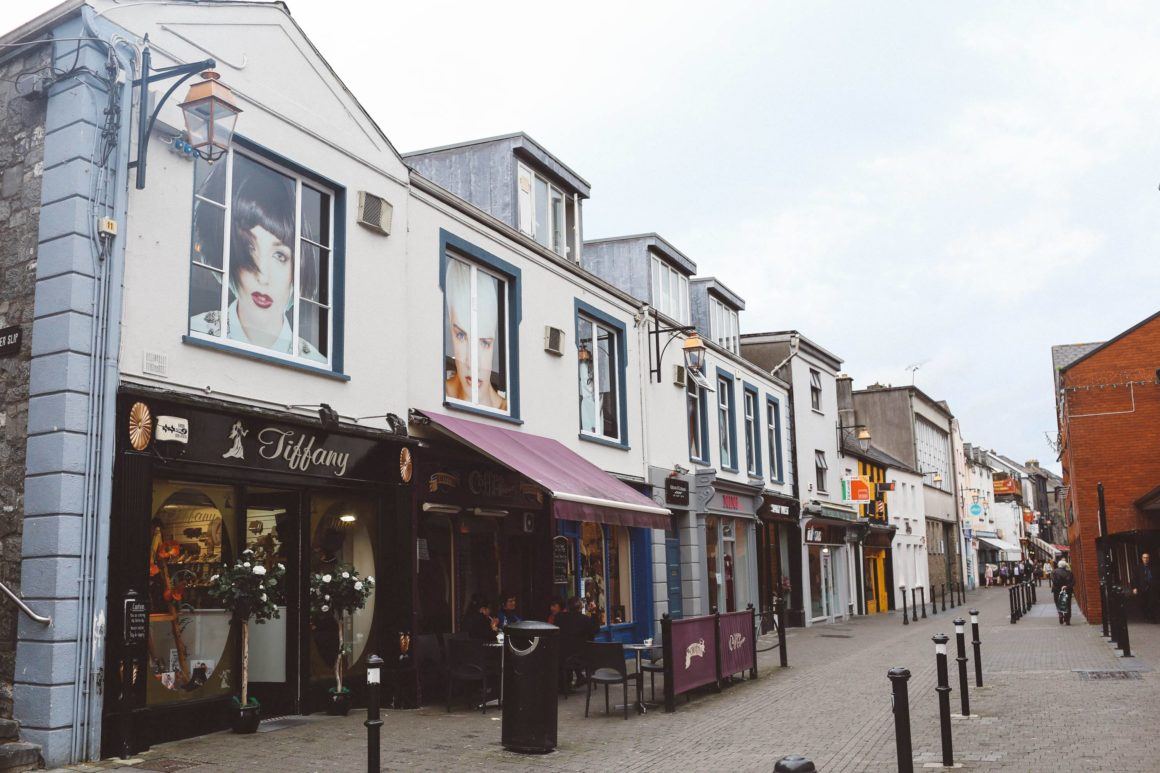 Day Four – Dingle Peninsula
Dingle is a town we've heard a lot about and was so happy we were able to squeeze it in. I now wish we had stayed one night there, as it's far out on a peninsula and takes a while to drive to. There are so many fresh seafood restaurants and water activities to do that it would have made a good pitstop for a night.
Plus, this is where you can find the famous Slea Head Drive! It's a bit like the Ring of Kerry, which you'll do tomorrow, so you can skip it unless you're eager for more nature. You can easily walk around Dingle, and there are a lot of cute stores to stop by, so make sure to do some exploring. There is also the Dingle Whiskey Distillery, the ruins of Gallarus Oratory and boat tours.
For dinner, the port area has more restaurants than I can count. Below is a list of some of the better ones, though perhaps the best thing to do is wander the streets and find something you like.
Murphy's (best ice cream in Ireland)
Out of the Blue (seafood only!)
Murphy's Pup (great fish n chips)
Goat Street Social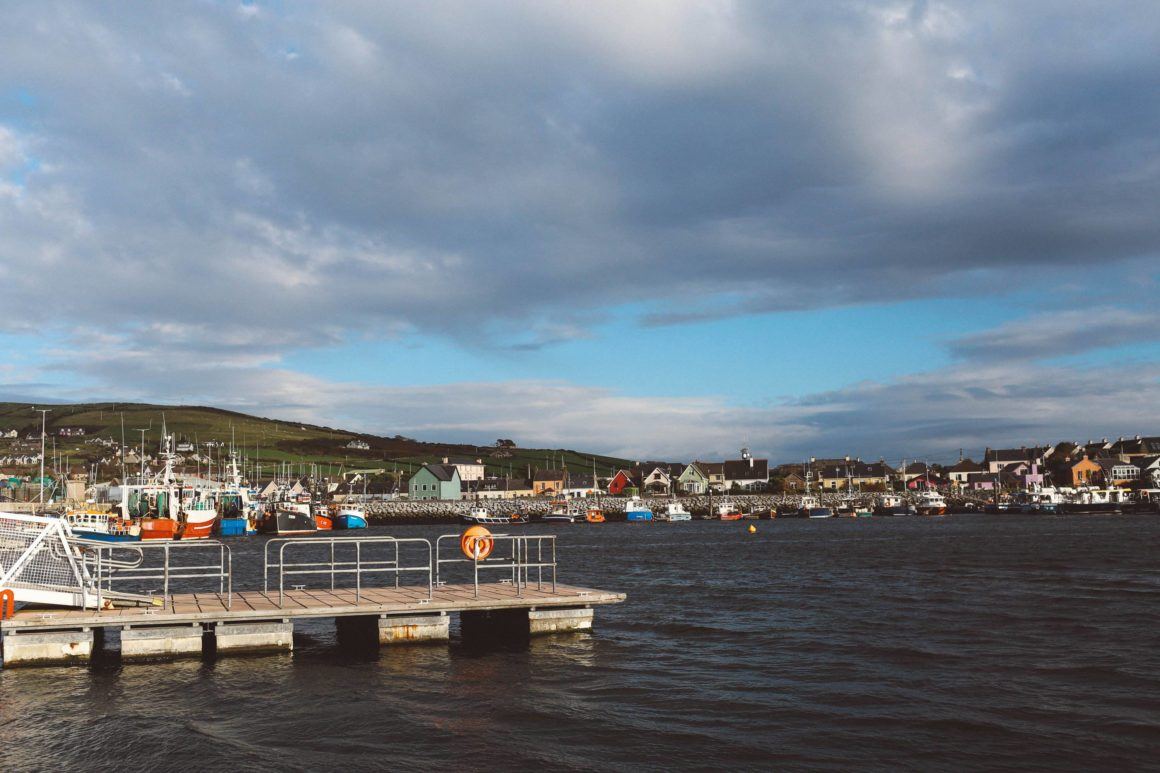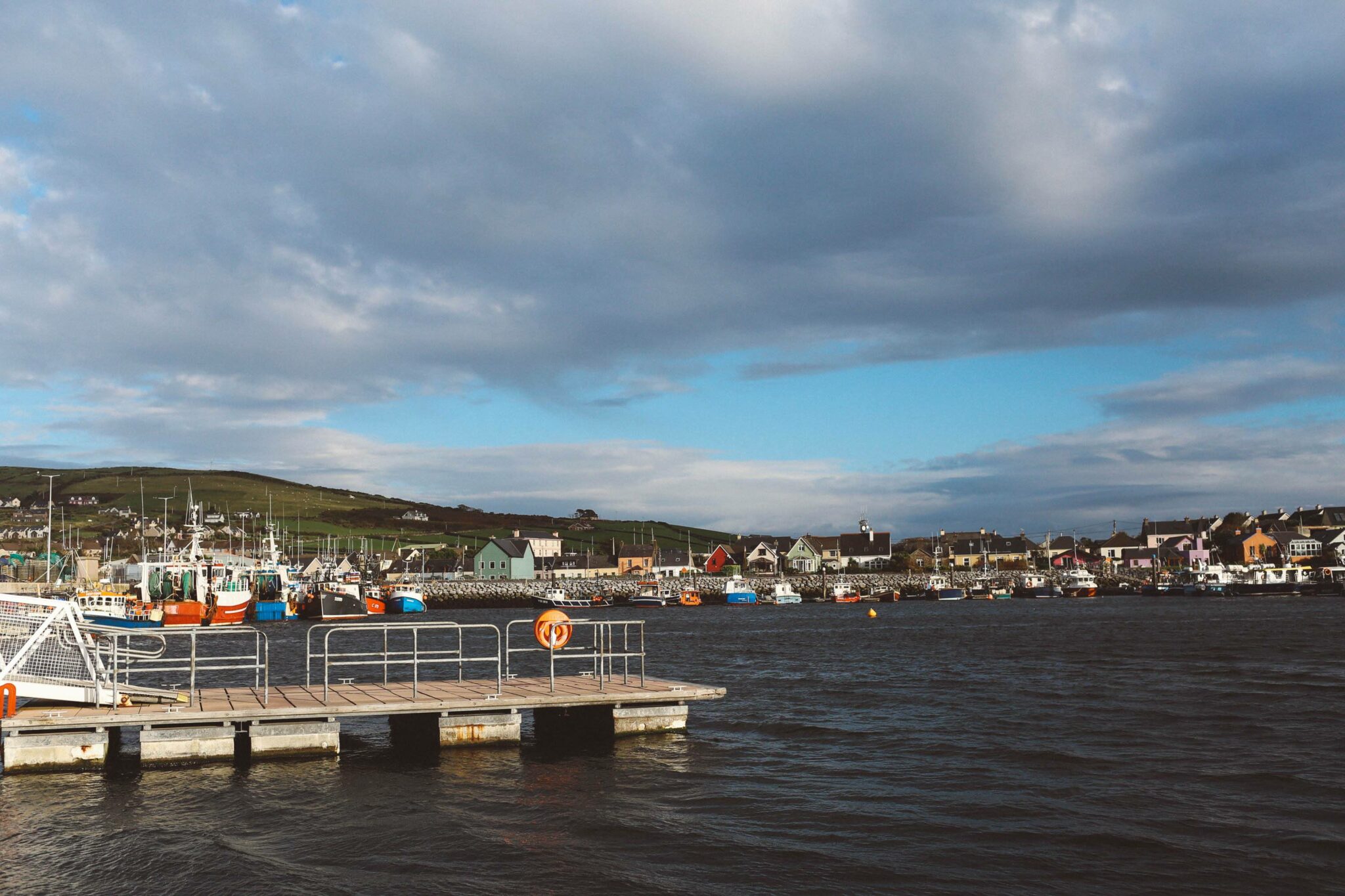 Day Four – Ring of Kerry
The Ring of Kerry was our most favorite part of Ireland. Beautiful doesn't do justice in describing how breathtaking the landscape of this region. It extends from a corner of Killarney National Park and the route takes the average person about 4-5 hours to drive around the ring… it took us almost 9 hours. Ha!
We stopped a lot for small hikes and to take photos, which is totally the best way to do it. We stayed on the North end of the ring because we wanted to easily drive to Dingle, though I recommend staying in Killarney, which is the major town on the Ring of Kerry. It has a way better night life!
Make sure to drive counter-clockwise as many tour buses drive clockwise, and this way you'll avoid being stuck behind one.
Aghadoe Heights or The Malton Hotel (now called the Great Southern Kilkarney)- are both luxury hotels in Killarney similar to Lyrath Estate in Kilkenny (these names all sound the same, right?) Or there's the Butler Arms Hotel, a decently priced hotel in the center of town.
Top Ring Of Kerry Sights
Again, make sure to spend a whole day driving the ring. We started at 9am. Bring water and snacks along and get a Harry Potter audiobook cued up for a kick-ass day.
Gap of Dunloe
Rossbiegh Beach
Ballycarby Castle + Stone Fort
Cliffs of Kerry (WAY less crowded than Cliff of Moher and just as pretty)
Staigue Stone Fort (a must stop!)
Sneem (a color town, stop for lunch here)
Torc Waterfall
Muckross House
Rose Castle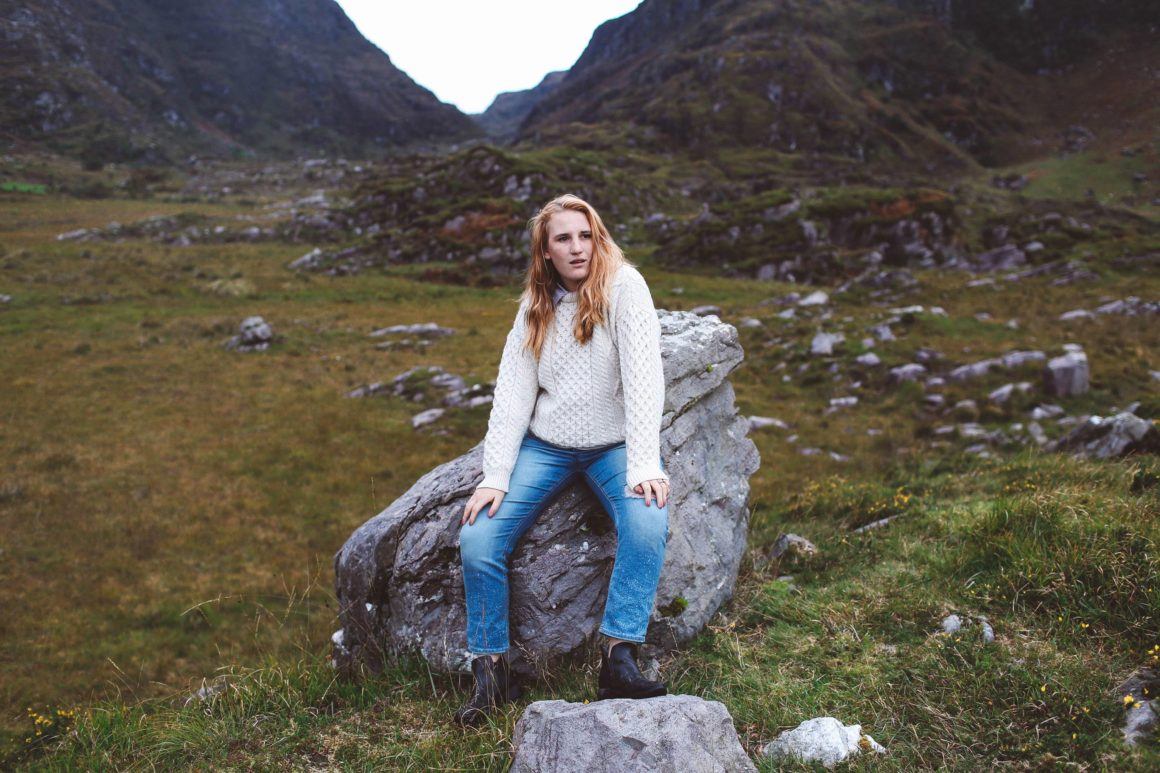 Day Five – Cliffs of Moher + Galway
All the best trips to Ireland include a stop at the Cliffs of Moher. Between you and me, I liked the Cliffs of Kerry much better as there was nobody else there and the cliffs looked *pretty* similar.
But you can't go to Ireland and not see the Cliffs of Moher, right?! On another personal note, we both had terrible colds at this point on the trip, so we didn't spend as much time here walking around as I would recommend for others because we were too tired. We also stopped by on a really windy day, so combined with not feeling well and the wind, we only spent about an hour here.
On a nice day, set aside a few hours to wander up and down the shoreline. I hear the best time to visit is at sunset when the cliffs are filled with stunning golden light. There is a castle you can pay a few Euros to climb up (not worth it in my opinion) and a large tourism center for bathrooms, wifi, etc.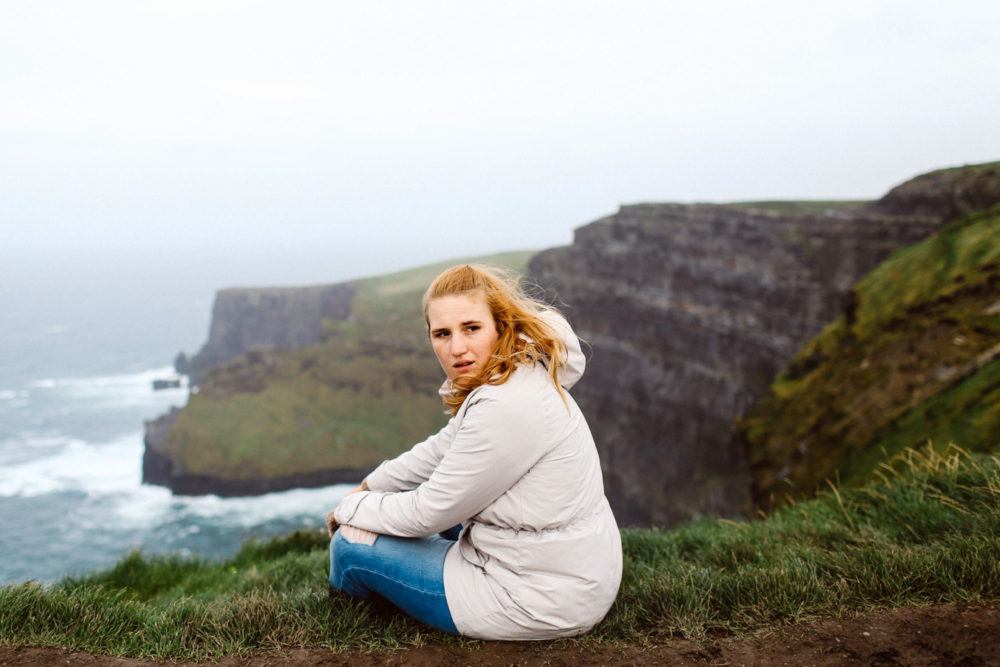 After, head to Galway! Galway is a charming seaside city. The downtown is small, but has lots of colorful houses, flags and cozy pubs. It's worth one night to give enough time to explore and eat. What makes Galway really unique are the swans – there are hundreds of swans that swim the river and are a fun sight!
If you have a few extra days, I highly recommend catching the ferry from Galway to the Aran Islands and spending a few nights on Inis Morr. On my first trip to Ireland 10 years ago, I spent a week just on Inis Morr and fell in love with the tiny island.
Stay somewhere near Eyre's Square or the river so you have easy access to the fun part of Galway. Try the College Crest B&B – we stayed here. The rooms are large, it's affordable, they give you breakfast and they have a cat!!
The Spanish Quarter along Quay Street has all the best food, so head there. Try the Pie Maker or 1520 Bar for a bite to eat and good drinks. If it's warm, grab a seat outside to people watch. As with most Irish towns, walking is the best way to view the city. Here's my favorite things to do
Spanish Arch/Spanish Quarter
Watch the swans on the river
Kirwan's Lane
Ferry to Aran Islands (I spent a whole week here on my first trip, it's a lot of fun!)
You may be tempted to visit Connemara National Park and Kylemore Abbey which are *sorta* nearby. I want to see both on our next trip! I'm not sure if you'll have time to visit in this 7 day trip, though. Let me know if you squeeze it in!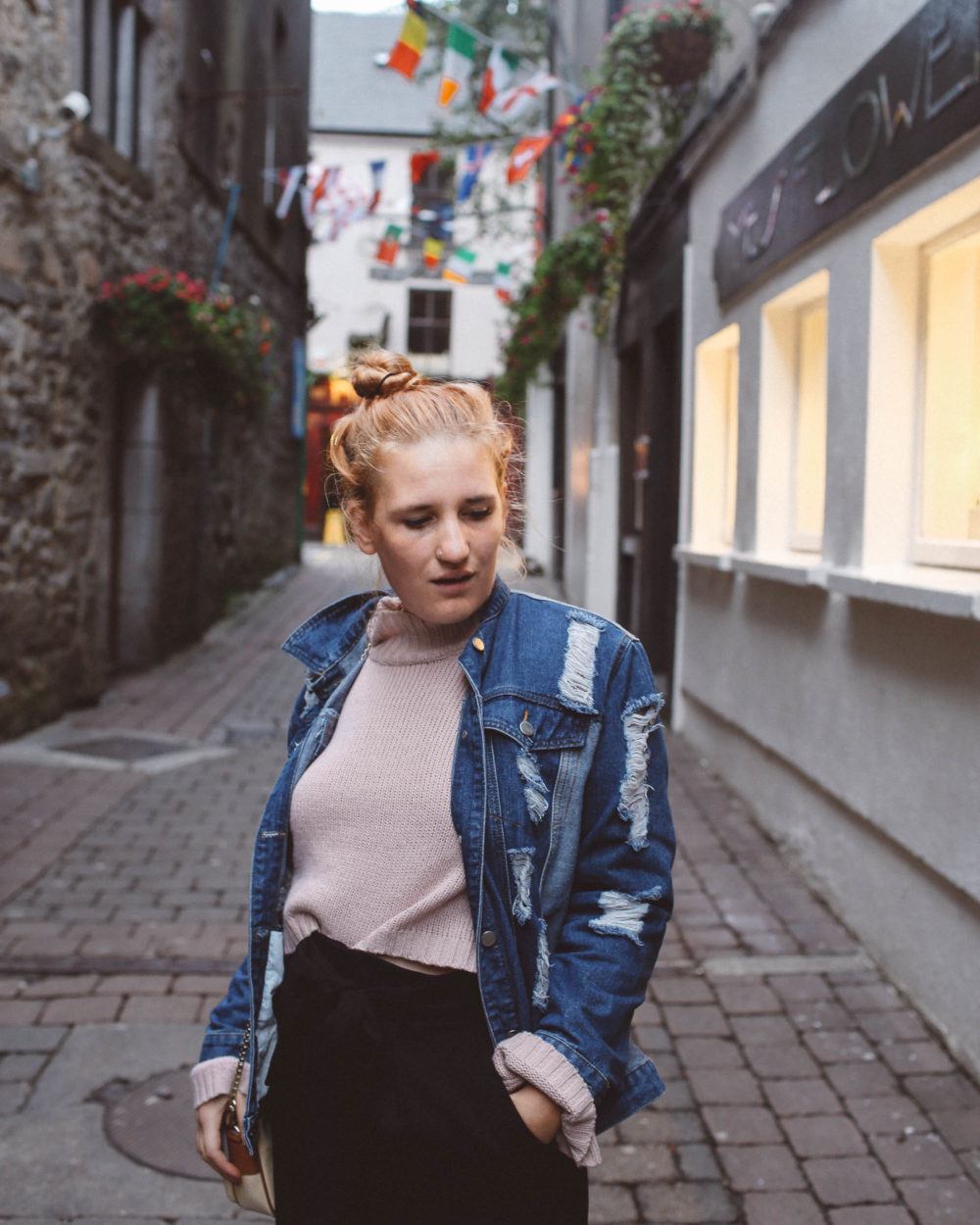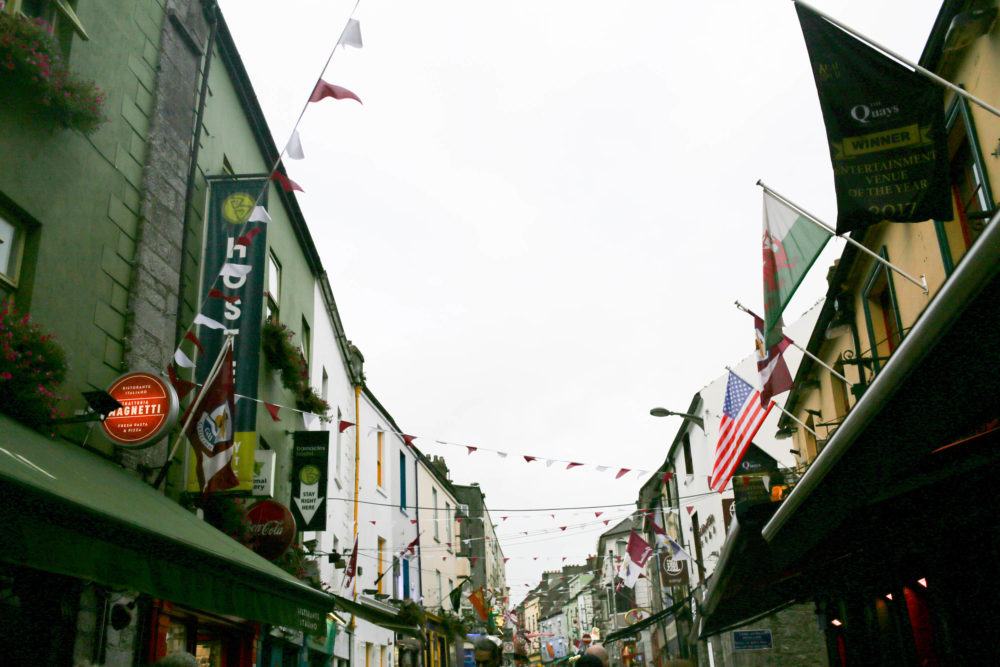 Getting a cold on any trip sucks, it is especially not fun on your honeymoon. This was my worst few days. Bless up for strong AF European cold meds. Thankfully, I have been to Galway before so while I didn't get to explore all that I wished I could, I didn't fully miss out.
Day Six – Giant's Causeway
Off to Bushmills is in Northern Ireland! This area is home to the Bushmills Distillery, Giant's Causeway, the Carrick-a-Rede Rope Bridge, The Dark Hedges and many castles. It's also where most of Game Of Thrones was filmed!
Wondering where they filmed Star Wars? County Donegal! Won't have time on this trip unless you skip other parts, so if you are like, a die-hard fan, go for it. Skip the Causeway and do that instead!
We could only spend one night in Northern Ireland, but I wish we did two as there are a lot of outdoor things to do. We also came on a day of bad weather and since we only were staying one night, we didn't have a backup and had to miss the rope bridge because it was closed due to wind! I was really bummed out.
We stayed at the Causeway Tavern B&B, a budget hotel. It's cheap and clean. The owners are very funny, so grab a drink or two here one evening, you won't regret it! If I ever return, I'll fork out for a nicer hotel like this one.
We loved our dinner at The Bushmill Inn. It's fancy and holy moly the food is amazing. It was just the thing we needed after a long day of driving and exploring!
So, everyone comes here for Giant's Causeway. I recommend you come close to sunrise or sunset for great light and fewer people. This was my favorite part of Northern Ireland. Read more here – I have a whole post detail all the insider tips! Here's other fun things to do in the area:
Carrick-a-Rede Rope Bridge – a small hike down but sweeping views on the bridge.
Dunluce Castle – in ruins but sits on the shore overlooking the water. Has an incredible history.
Bushmills Distillery tours – for anyone who loves Whiskey!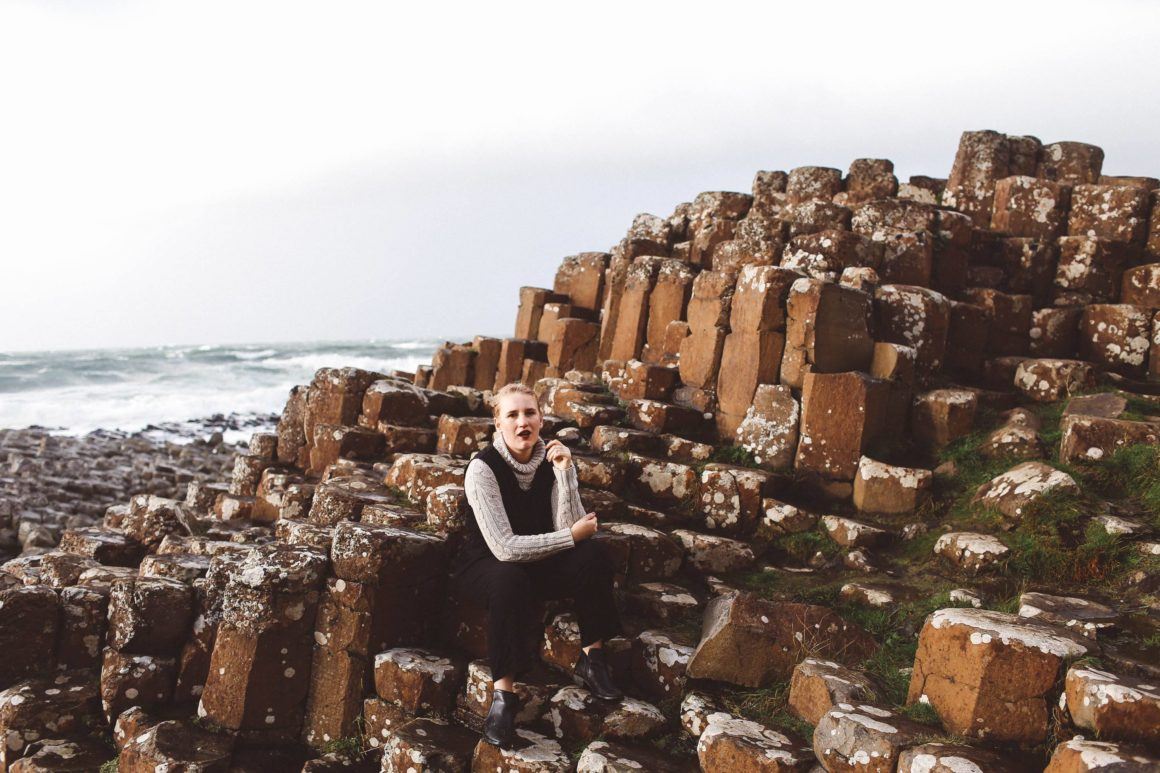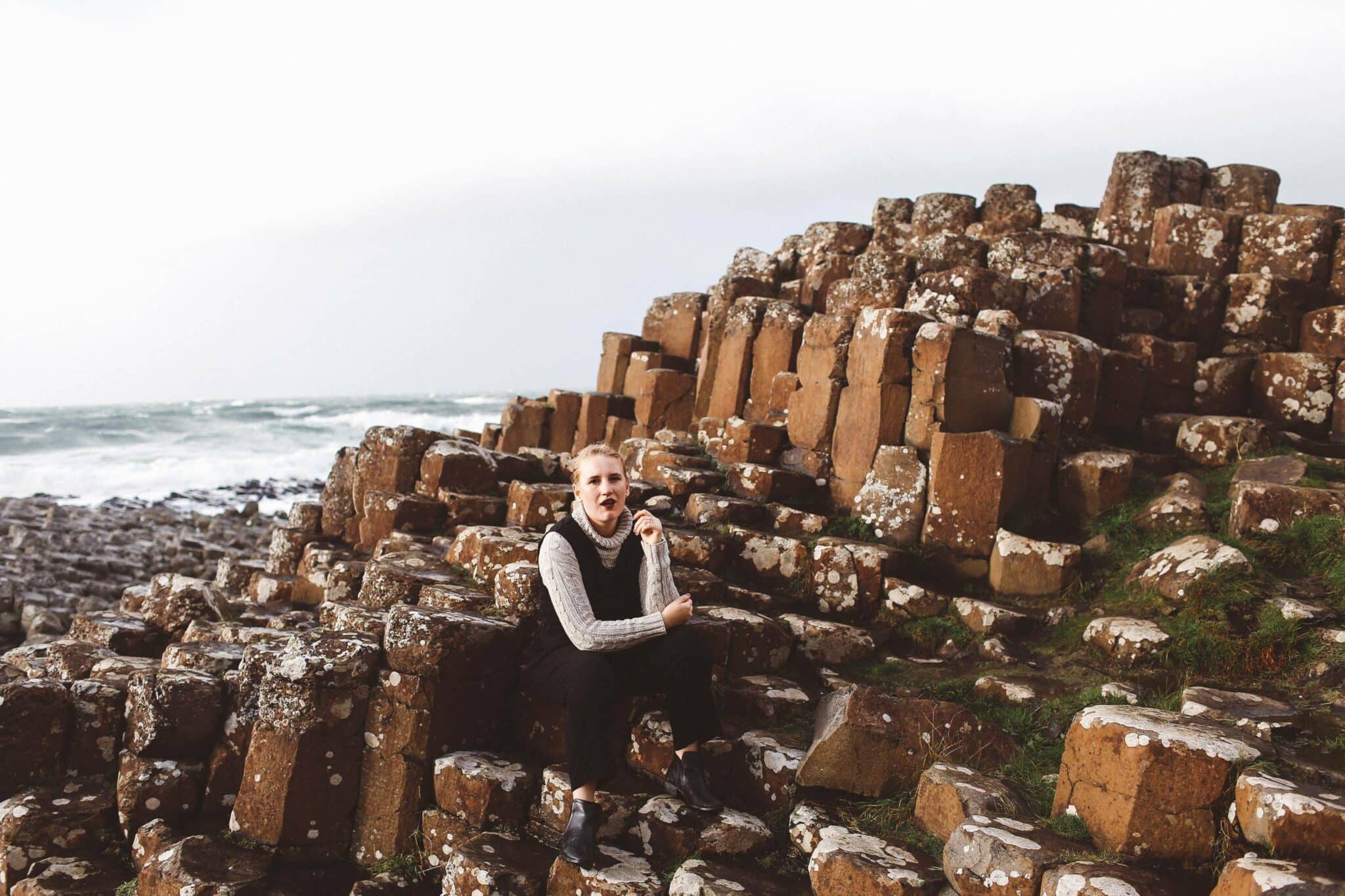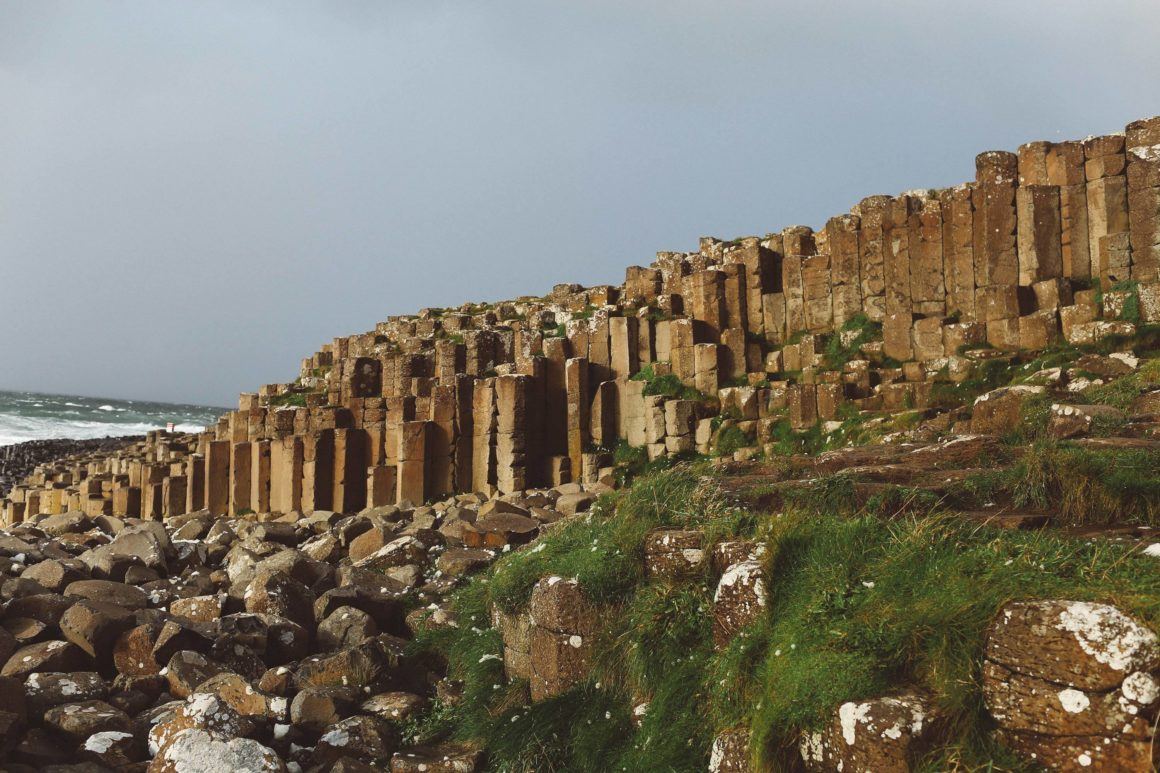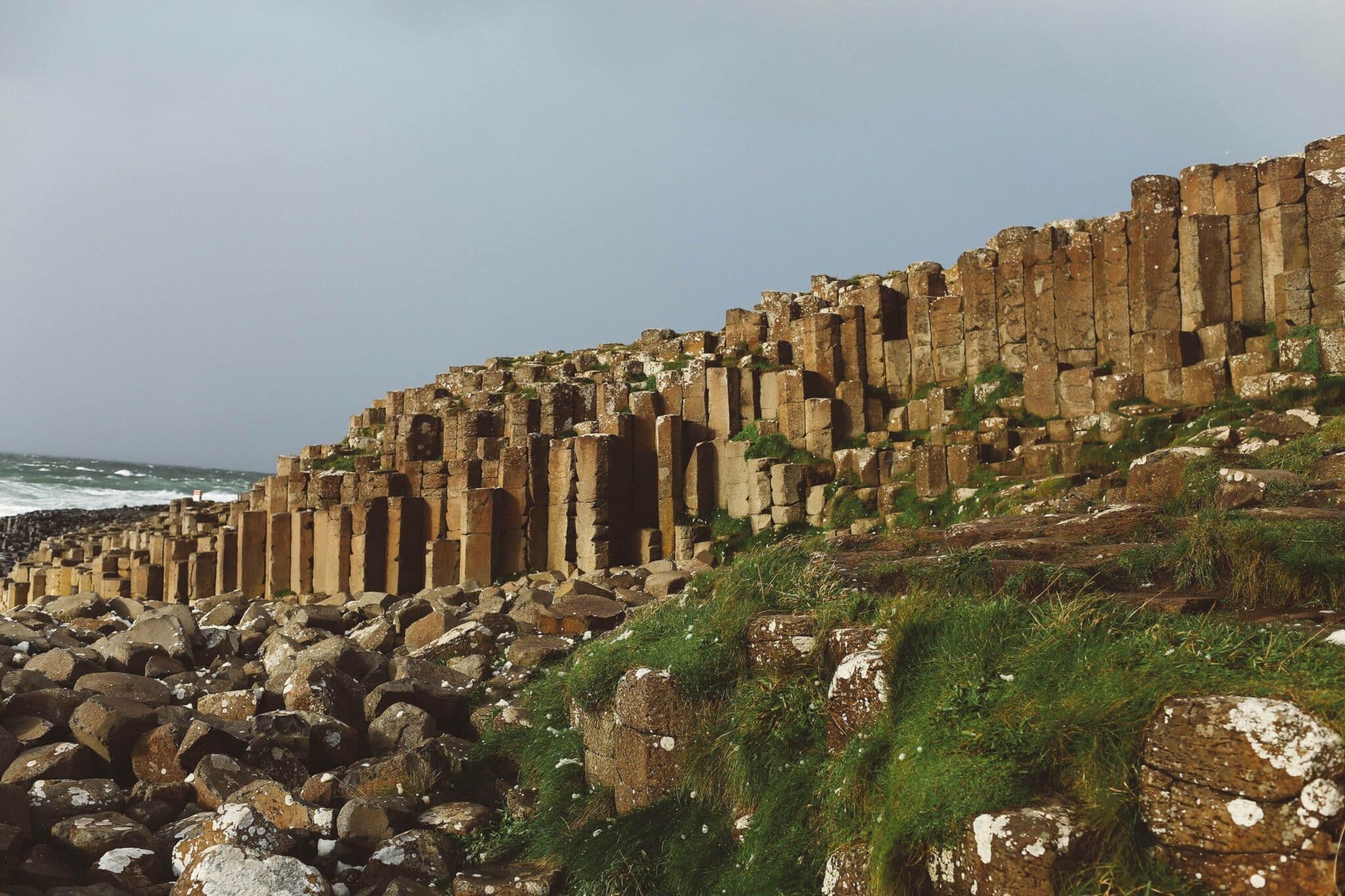 Day 7 – Dark Hedges, Belfast or Dublin!
The next morning, beeline to the Dark Hedges. It's best to arrive at sunrise or early morning people everyone else shows up. This was made famous because they filmed some scenes of Game of Thrones here. I just think it looks really cool, especially in the morning light!
So, now you either should drive to Belfast or drive back to Dublin. As a reminder, we went to Belfast so we could catch the ferry to Scotland. Other people may argue against my opinion of Belfast, but here are my thoughts: skip it.
Belfast is very industrial and not my favorite type of city. My thoughts are – if you are in Ireland or Northern Ireland, there are SO MANY other beautiful cities or town that are worth your time more. Belfast should be used as a place to catch ferries, trains or a flight, not actually tour in unless you have a lot of time.
Cue the outrage, but that's just my opinion.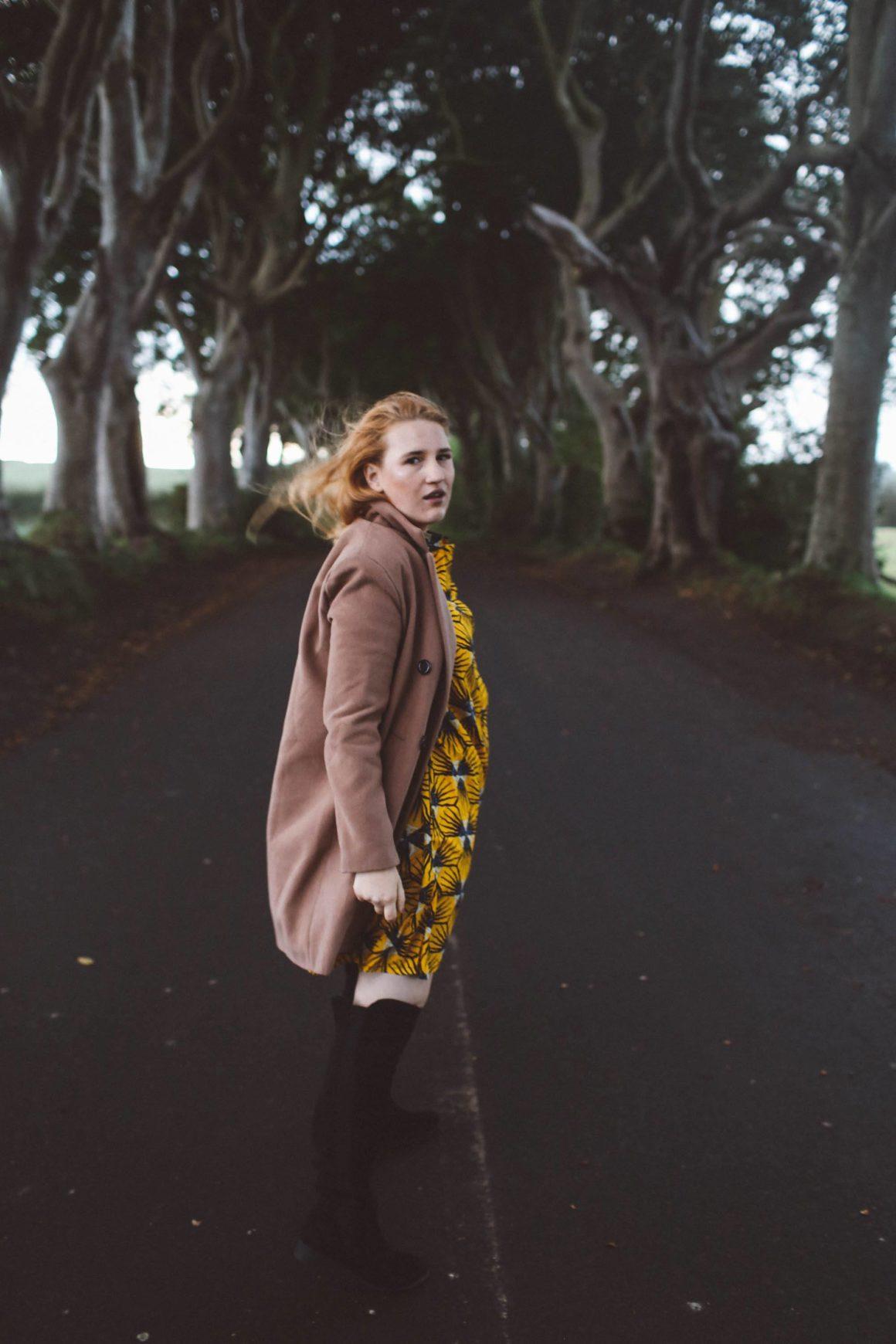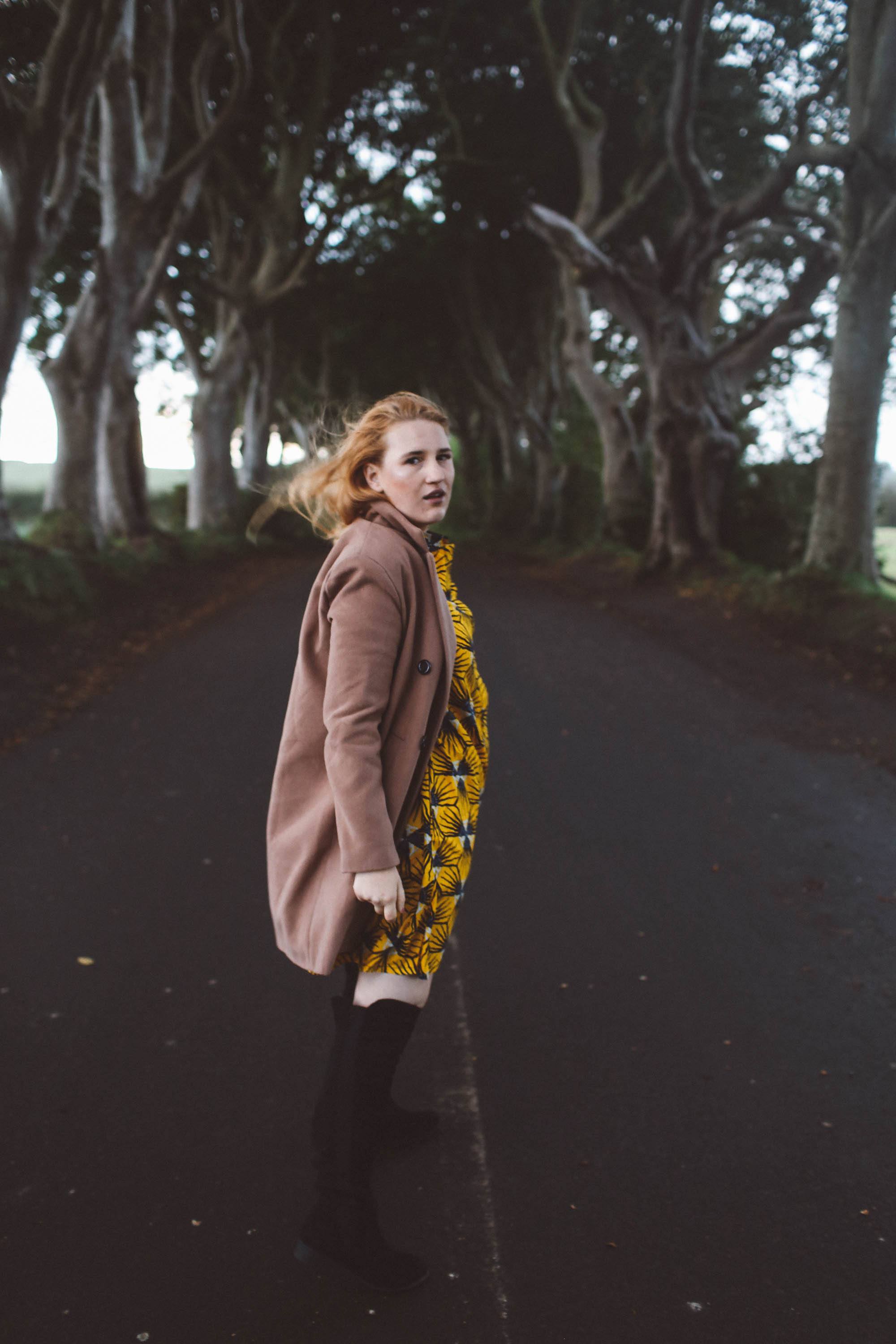 I hope this 7 Day Ireland Road Trip Itinerary helps you plan an amazing road trip around one of my favorite countries! Just writing about our Irish road trip makes me want to book a flight back, like right now.
One day I'll be back, until then, I'll be signing Galway Girl and drinking Guinness… I think this is the perfect Ireland itinerary, but if you have any tips to add to my Ireland itinerary 7 days list or questions, leave a comment below! You can also always DM me on Instagram @thewhimsysoul and I'll be happy to help!
Other Posts You May Like