Whenever I plan a trip to Palm Springs I always end up stuffing my suitcase to the brim. There's something about all those colorful doors, whimsical hotels, palm trees and flowers on every corner — I find it so inspiring fashionwise.
I want to wear every colorful swimsuit, dress, straw hat, and chunky earrings I've ever owned here! I've been to Coachella Valley countless times over the years and rounded up all the Palm Springs outfits I've worn so you can have style ideas along with the perfect packing list guide so you don't need to make any spur of the moment Target runs when you should be lounging poolside.
>> Got a question about Palm Springs that you need answered quickly? DM me on Instagram @thewhimsysoul and I'll be happy to help!
As you probably know, Palm Springs is all about color, mid-century modern houses that (when in doubt) are owned by fabulous gay couples, bougie hotels and of course, palm trees. Even in the winter when the air is cold, visually it also looks warm here. And it always sparks joy — I don't think it's possible to be sad while spending a weekend in Palm Springs.
This desert town is the place to be bold, sexy, and playful with your style.
What Is The Weather Like In Palm Springs
Before we chat about outfit ideas, let's go over what to expect with the weather in the desert! As you can probably imagine, summer is hot hot hot. It can easily get to 120 degrees at some point in the summertime. But the winter gets pretty chilly and can easily drop down to the 60's in the daytime, and the 40's or even cooler at night.
I made the mistake on my first trip to Palm Springs years ago in February by assuming it was always warm in this part of Southern California. (Wrong – so wrong!) Did I bring a coat or sweater? NOPE! I froze every evening.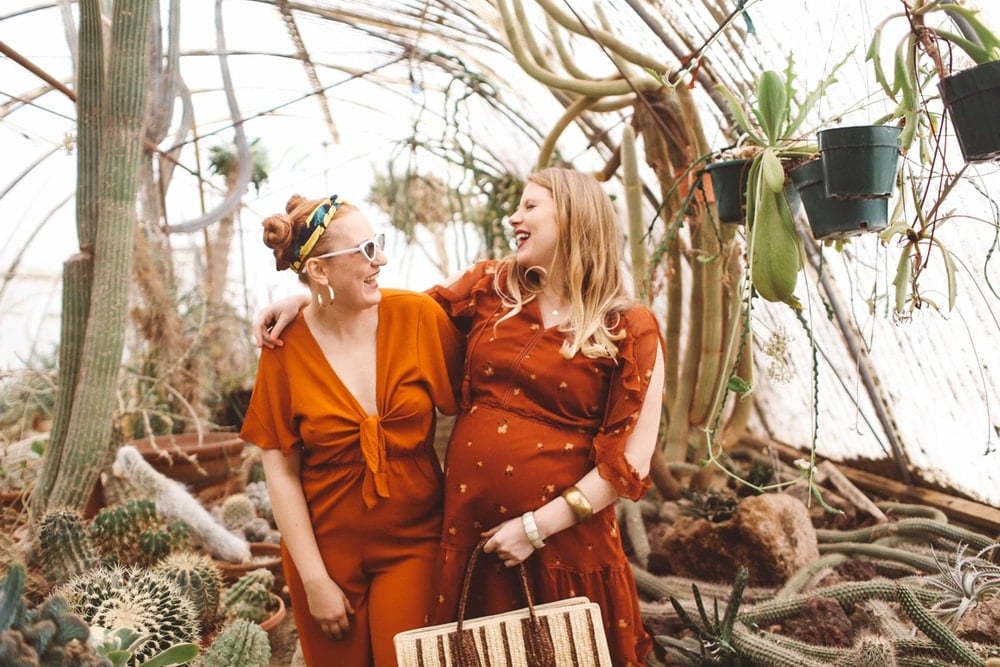 What To Wear In Palm Springs 2022
What to pack for Palm Springs based on season!
What To Wear In Palm Springs Summer
As little as possible, with lots of sunscreens! Plan on lounging by the pool during the day, so that means cute swimsuits and also covers-ups to match any Palm Springs dress code your hotel may have for the bar. In the evening you'll probably find yourself at the Cactus Garden or doing a self-guided colorful door tour, in which care you'll want your best Instagram-worthy outfit that's still a bit casual.
Come dinner time, is this your moment to SHINE. Get all glammed up for a night on the town. It'll still be warm at night during the summer, so no worries about layers.
What To Wear in Palm Springs Winter
Still pack your warm-weather things, as it can get warm in the day still. But also pack sweaters and at least one good coat. Palm springs fashion lends to color, so I always opt for long sleeve tops with prints, colorful midi skirts or jumpsuits during winter visits. Anything that could keep me warm but not overheated, just in case it jumps to the 70's.
The shoulder seasons can be a bit tough. What to wear in Palm Springs in November, or what to wear in Palm Springs in March is a bit of winter and summer vibes, and always changes depending on the climate that year. Grab both swimsuits and coats.
Palm Springs Outfits: What To Pack For A Trip To Palm Springs
Now, onto my Palm Springs outfit ideas! For reference, I'm a size 12/14 and about 5'5″. I also have a few photos of friends in this post, since they got good style. I've included everything on this Palm Springs packing list guide!
Hot dang, I love this dress from AFRM. It's the Meave Dress in their classic floral print, but it also comes in a sweater dress cut if you're looking for something playful yet cozy for a winter Palm Springs visit. I thought the little yellow flowers popped perfectly against this yellow door and the side cut just makes me feel HOT. This dress clings to your body, but in all the best ways. Paired with this dress are tinted sunglasses and green pointed flats. It just screams Palm Springs attire!
I knew from photos I've seen on Instagram The Parker Palm Springs hotel has tons of pops of yellow in the decor. So I decided to bring along a yellow dress to Palm Springs to wear at the hotel! I also wore this dress around Joshua Tree National Park, a color like this goes well in so many locations.
Here's the thing: I bought this yellow dress from Shein for a review/haul and I now think that company is utter trash. So don't buy this from Shein. Instead, invest in a yellow dress that won't fall apart after a few wears. This one is really similar to what I'm wearing. To keep things monochrome, I paired yellow heels from Modcloth with the dress.
My friend Bri of @designbybrianna is a vintage style QUEEN and she found this amazing Fuschia jumpsuit which we both wore for photos. I personally think she styled it so so much better though (look at those amazing white boots paired with the jumpsuit!!)
This jumpsuit is perfect for a trip to Palm Springs because it's breezy, so you can stay cool, but interesting and elegant, so you can wear it in front. of colorful doors or out to a nice dinner. This store has tons of cool retro Palm Springs style clothing if you want to shop for more. You can sometimes find interesting retro feeling things on Amazon, but it's better to niche down on stores.
Burnt orange is one of my favorite colors to wear and it goes SO WELL in the desert surroundings, especially here at the Morten Cactus Gardens in Palm Springs. I loved how this jumpsuit has a front tie for a bit of ~spice~ while the long pants keep my thighs from chaffing. It's sold out, but this one is super similar. I paired it with a large straw bag I thrifted (that's where I find the BEST straw bags!), retro sunglasses, and a floral headband that looks super cute with space buns.
On a warm night one summer, the girls and I borrowed bikes from our hotel and biked around the city hunting for all the best colorful doors. I found this striped cotton dress to be comfy and cute. It's currently out of stock but this Nap Dress has a similar look, and this dress also is similar (and much cheaper.) On this night, I paired the dress with a headscarf tied up, clear plastic heel sandals and pink sunglasses for an easy yet cute desert look.
On this particular pool day, it was a tad chilly so I went with a one-piece swimsuit and a cover-up. Some hotels have strict dress codes for bars so make sure you pack a cover-up along so you can still easily order drinks or snacks, or grab a table without changing. I'm extremely addicted to cute swimsuits. These are my favorite 70+ swimsuits for curvy women that I always keep updated with new suits I find while online shopping!
Bodysuits and shorts are an age-old combo, but when in Palm Springs, make it spicey! This dramatic flare/ruffle top is flirty and unique. It always makes me smile. The shorts are from Madewell (read my full Madewell jeans review here) and so are the shoes. The latter are comfy and seem to go with almost all my outfits so I wear these babies a LOT, even at home.
Dear LORDY, this red swimsuit from Cupshe is one of my favorite swimsuits, ever. It hugs my curves in all the right ways and makes me feel smokin' hot. You can't go wrong with a red swimsuit by a resort pool. You really can't.
Cupshe is starting to make so many cute things to wear in warm climates. They have dresses, loungewear and of course tons of swimsuits. Honesty, if you are shopping for Palm Springs clothing, you should look at them first since they are so affordable!
As you can probably tell, the above photos are from a winter trip to Palm Springs, so I carried a jean jacket around for when it got breezy. I love this jean jacket – I wear it at least 2 times a week at home, it goes with so many outfits. The pants are from Old Navy but the blouse is the show stopper. The bright yellow pattern is so fun and sunny feeling, perfect for palm springs! This top also looks really good with skirts and shorts for warmer months.
Can you tell I have a thing for florals? I saw this floral dress at Target and KNEW it would be perfect for exploring downtown Palm Springs at or hanging at a hotel. The bright colors have that touch of personality I love, but aren't overwhelming. Plus, it's easy to pair with different accessories, which is exactly what you want for a travel dress (veratily is key when packing!) I paired this with my favorite straw hat and sunglasses from above.
This spot totally looks like Tulum but it's just outside Palm Springs!! Indian Canyon is an easy hike and pincic spot. This red wrap dress was so flowy and breezy. Wearing this dress in this setting really made me half expect to stumble upon the ocean around these palm trees. Paired with a straw hat, it's complete.
Trying to figure out what to wear hiking in Palm Springs?
I recommend a red combo or a while combo — something that will POP against the brown of the desert. Black, green and tan get lost in photos.
Girlfriend Collective
is my favorite activewear brand, they're magic and fit every body I swear.
Palm Springs Fashion Inspiration – My Favorite Clothing Items To Shop
I always keep this post updated with clothes and accessories I discover while online shopping that just scream "Palm Springs" to me so I can shop this list for any personal upcoming trips, but I think you'll love these ideas, too!

Beauty Packing List – Palm Springs Essentials To Bring
Some beauty things you may not think to pack along.
Chaffing Cream: If you're also curvy, you KNOW how important chaffing cream is.
Face sunscreen: Wrinkles be gone!
Body sunscreen: I love SPF 50+ while in Palm Springs
Hair sunscreen: I got a nasty sunburn on my scalp once after sitting by the pool all day. Don't make that mistake.
Antiperspirant Deodorant: I love a good natural deo like the next gal, but Palm Springs summer doesn't play around. Get an Antiperspirant
Body mist/perfume: See above. Summertime = stanky time with all the sweating.
Dry Shampoo: I use this every day even at home. It also comes in my suitcase!
Endless Summer Spray: Spritz this on wet or dry hair for perfect waves. I LOVE this product!
Makeup setting spray: Your makeup WILL sweat off in the heat, trust me.
Curling iron & hair spray: For getting dressed up at night. I love this curling iron for big effortless curls!
Electrolytes: Not exactly beauty perse, but pack some electrolyte sticks along to prevent hangovers. I also add this to my gift guides idea posts, too, since you can never have enough.
I hope my Palm Springs style clothing guide helps you feel inspired for your own desert trip!!