Holiday lights, snow, cocktails, snowmen, sequin dresses, Christmas trees… Christmas is made for Instagram, don't you think?
If you're anything like me, you turn into a little kid again during December. Decorating the entire home with lights and nutcrackers, getting giddy when a Charlie Brown Christmas on TV, eating alllll the Christmas cookies… You love Christmas. But you hate the pressure of coming up with perfect Christmas Instagram captions. Social media captions are important for growing a following & engaging your followers.
So, I rounded up 57 genius captions about Christmas FOR you. They're so good, you'll want to use every single one this holiday season.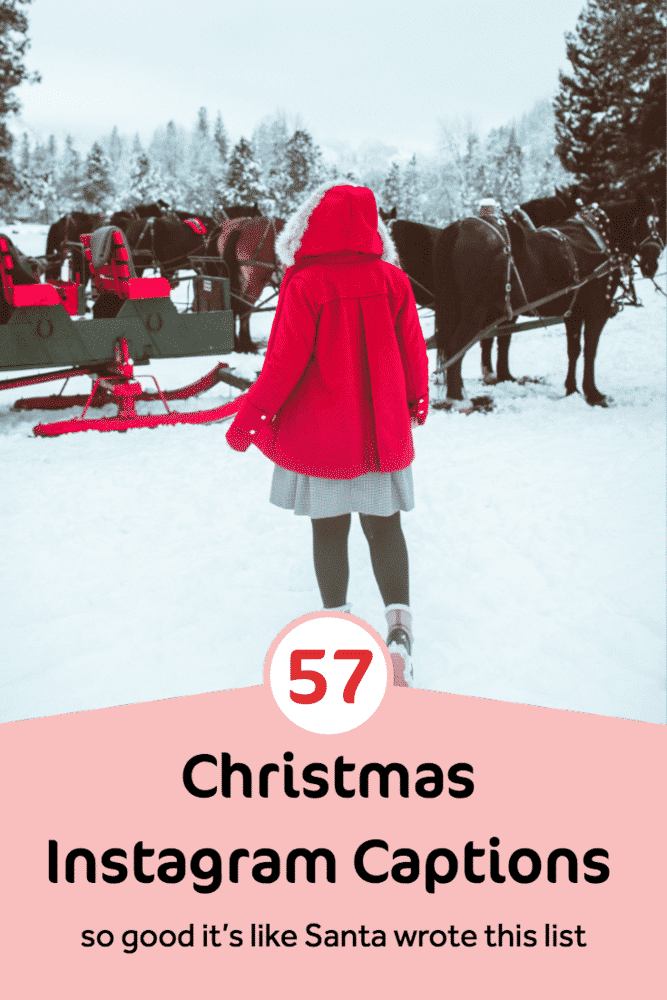 57 Christmas Instagram Captions 2021
I grew up over in Wisconsin but now I live in San Francisco, which if you're not familiar, basically never has seasons. Well, we have fog season and mild weather season (but those aren't what I'm missing!) I joke that I moved to California to escape the cold winters, but I really do miss having a white merry little Christmas with snow and real fires with the family. So, to counteract, I always fill my apartment with scented candles (getting lit on smells!) and live viciously through other people's snowy Christmas photos.
Whether you're looking for a caption for fun or you need good Christmas captions to grow your following this year, use this list of Christmas captions ( I won't tell anyone that you got your ideas from here!) Have yourself a merry Christmas (and lots of engagement!)
PS, these could be used as cute Christmas cards quotes too!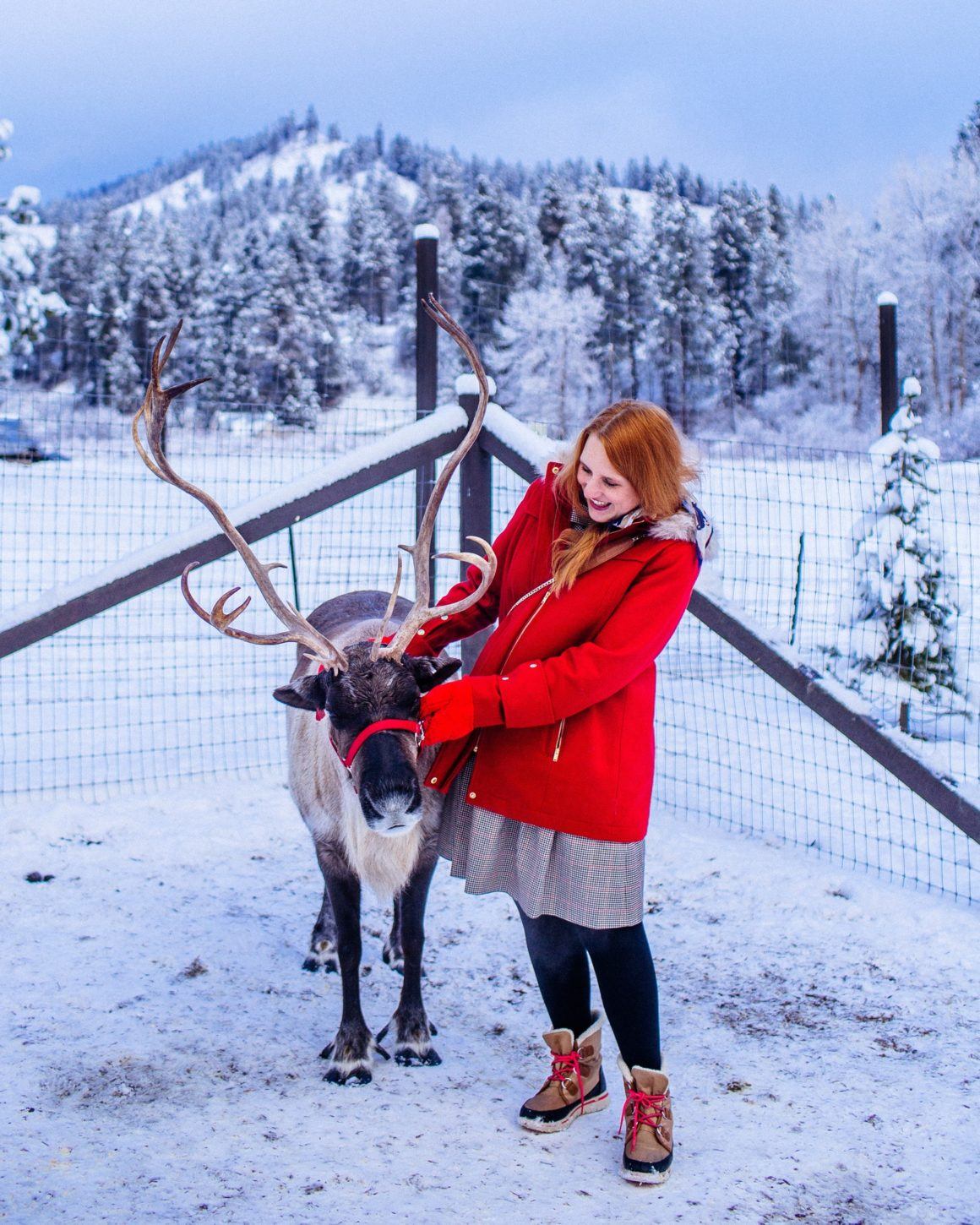 Funny Christmas Captions for Instagram
I'm dreaming of a white Christmas, but if the white runs out, I'll drink the red.
But first, let me take an elfie.
Santa Claus has the right idea. Visit people only once a year.
Gangsta wrapper
"Dear Santa, define 'nice.'"
The elf did it.
What did one ornament say to another? 'I like hanging with you.
Me every day: slay. Me in December: sleigh
Christmas cheer? I thought you said Christmas beer.
Christmas Tree Captions
The tree isn't the only thing getting lit this year.
Rockin' around the Christmas tree!
All spruced up.
Tis the season to sparkle.
My favorite color is Christmas lights.
"I never thought it was such a bad little tree. It's not bad at all, really. Maybe it just needs a little love." —Charlie Brown Christmas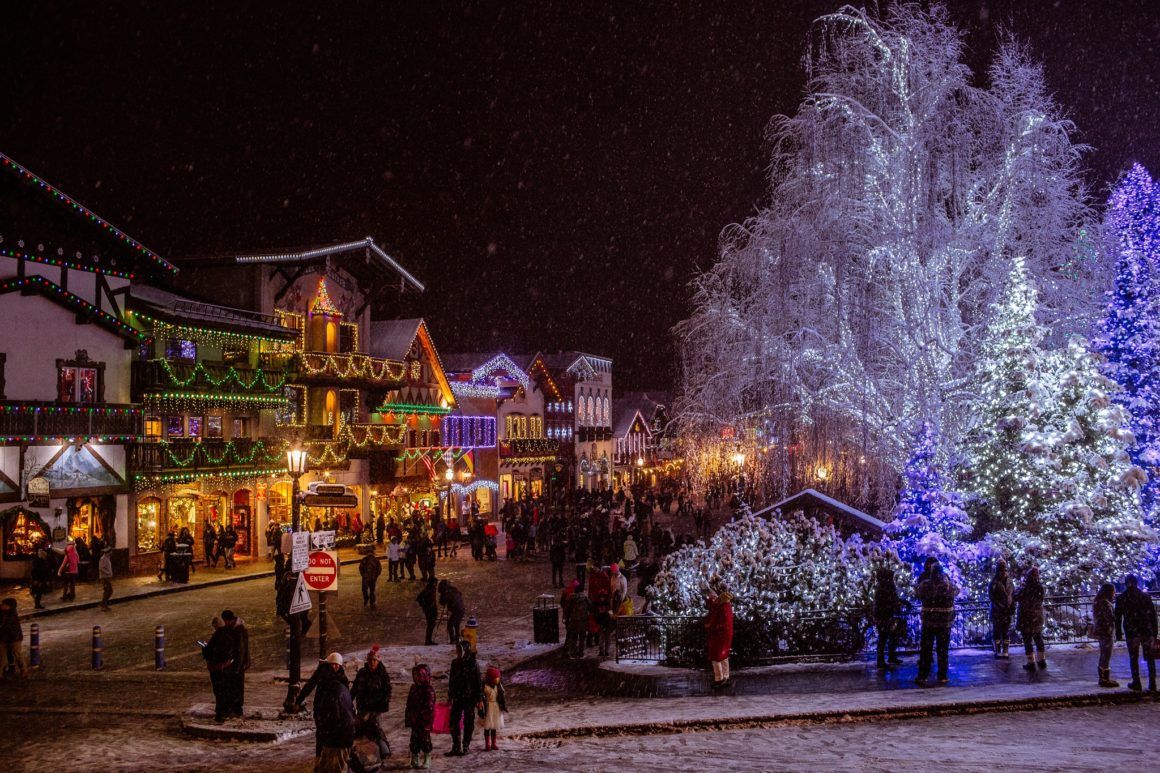 Simple & Cute Christmas Captions
Believe in your elf.
I'm only a morning person on December 25th.
Some people are worth melting for.
Warning: reindeer crossing.
Rudolph is my home boy.
The world changes when it snows.
But First, Christmas gifts!
There's snow place like home.
All roads lead home for the holidays.
This is my resting Grinch face.
Christmas Quotes from Movies & Songs
Have a holly jolly Christmas!
"The best way to spread Christmas cheer is singing loud for all to hear." – The Elft
Who said maybe Christmas he thought doesn't come from a store Maybe Christmas perhaps means a little bit more?" – The Grinch Stole Christmas
"It's beginning to look a lot like Christmas!" —Johnny Mathis
"SANTA! I know him!" —Elf
"There's no place like home for the holidays." —Perry Como
"Every time a bell rings, an angel gets its wings." —It's A Wonderful Life
"Do you want to build a snowman?" —Frozen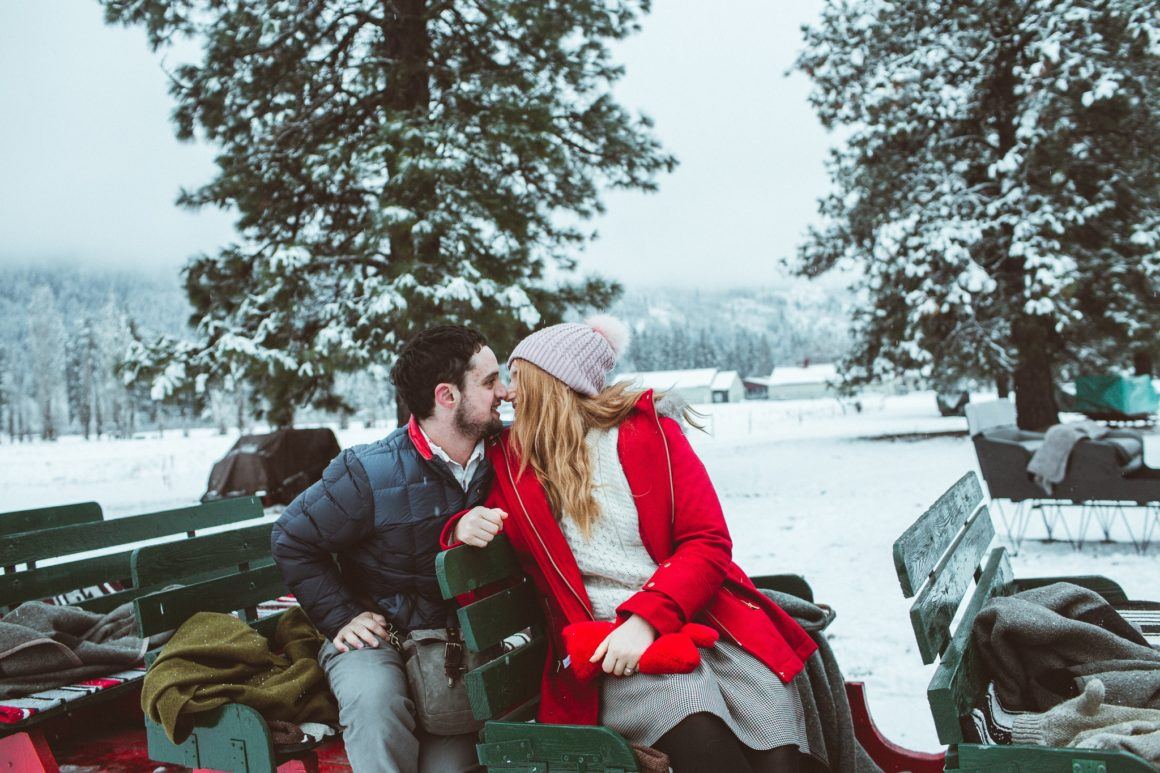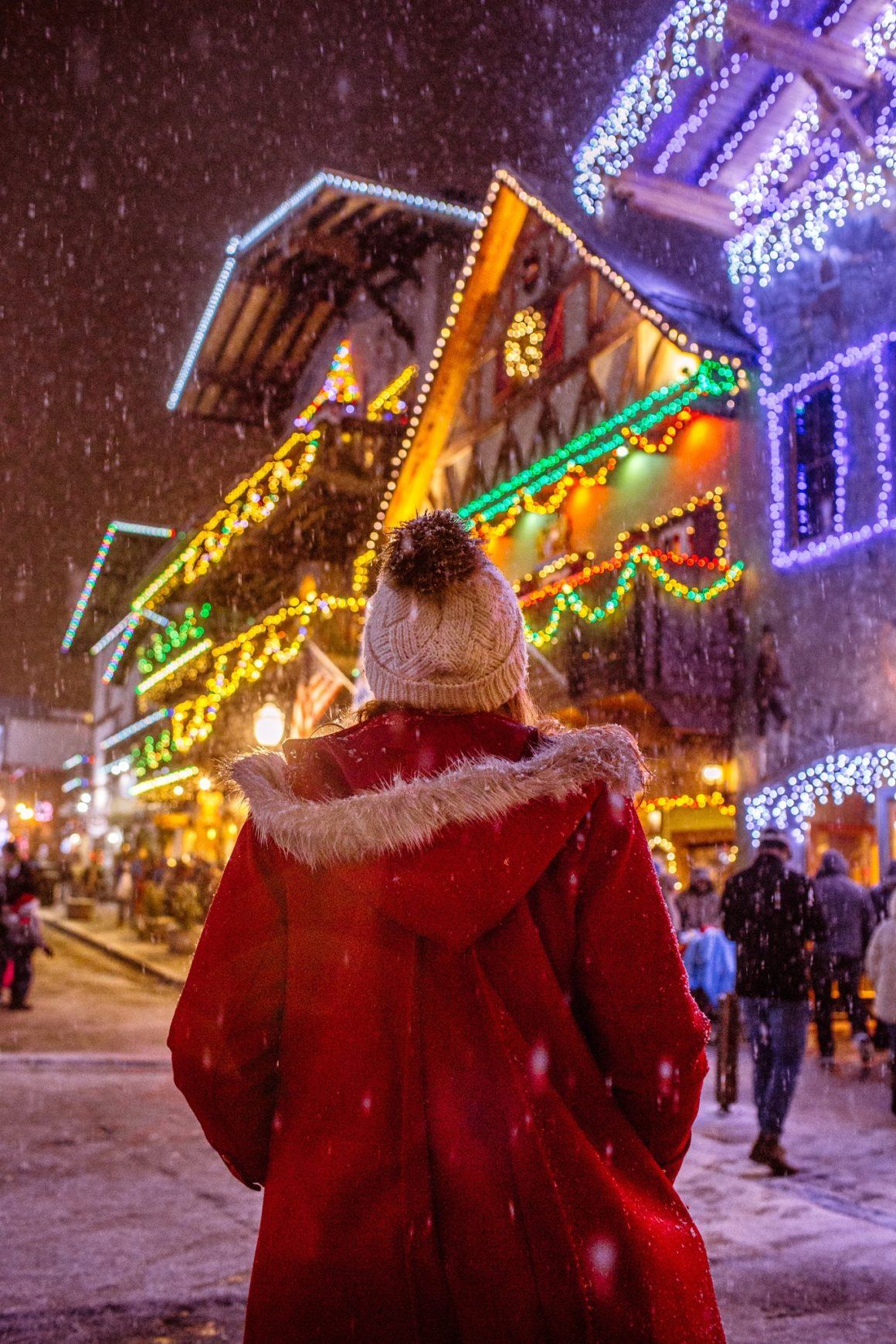 Christmas Captions With Boyfriends or Husbands (Or Girlfriends and Wives!)
You are the holly to my jolly
All I want for Christmas is you!
You are the nut to my cracker.
Sweater weather is better together.
What happens under the mistletoe, stays under the mistletoe.
You are the marshmallow to my hot chocolate.
Getting Christmas cozy with my baby
"First, we'll make snow angels for two hours, and then we'll eat a whole roll of Toll House cookie dough as fast as we can, and then, to finish, we'll snuggle."
>> All the images in this post were taken on our Christmas trip to Leavenworth, Washington ! It's a real-life Christmas town! LEARN MORE HERE.
Christmas Party Captions
All the jingle ladies.
Sleigh my name, sleigh my name.
Drink up Grinches, it's Christmas
We're all a bunch of candy canes: sweet, and slightly twisted.
I'm on the naughty list tonight!
I am so getting coal this year.
Wine time and holiday lights all month long!
Let's get blitzened
Dasher, dancer, prancer, vixen, rum, vodka, and whiskey.
Merry Christmas you filthy animals!
Christmas cheer? or Christmas Beer? The answer is all of the above
Christmas Tree Instagram Captions
Dear Santa, just leave your credit card under the tree.
"Nobody's walking out on this fun, old-fashioned family Christmas." — National Lampoon's Christmas Vacation
Tis the season to sparkle.
"We elves try to stick to the four main food groups: candy, candy canes, candy corns, and syrup." — Buddy the Elf
With candy canes and silver lanes aglow
"The weather outside is frightful, but the wine by the tree is so delightful.
Christmas In July Captions
Christmas in July? Doesn't December stress you out enough?
If Christmas in July can be a thing, Halloween in May can certainly be a thing.
It's Fourth of July weekend… or as I like to call it "Exploding Christmas!"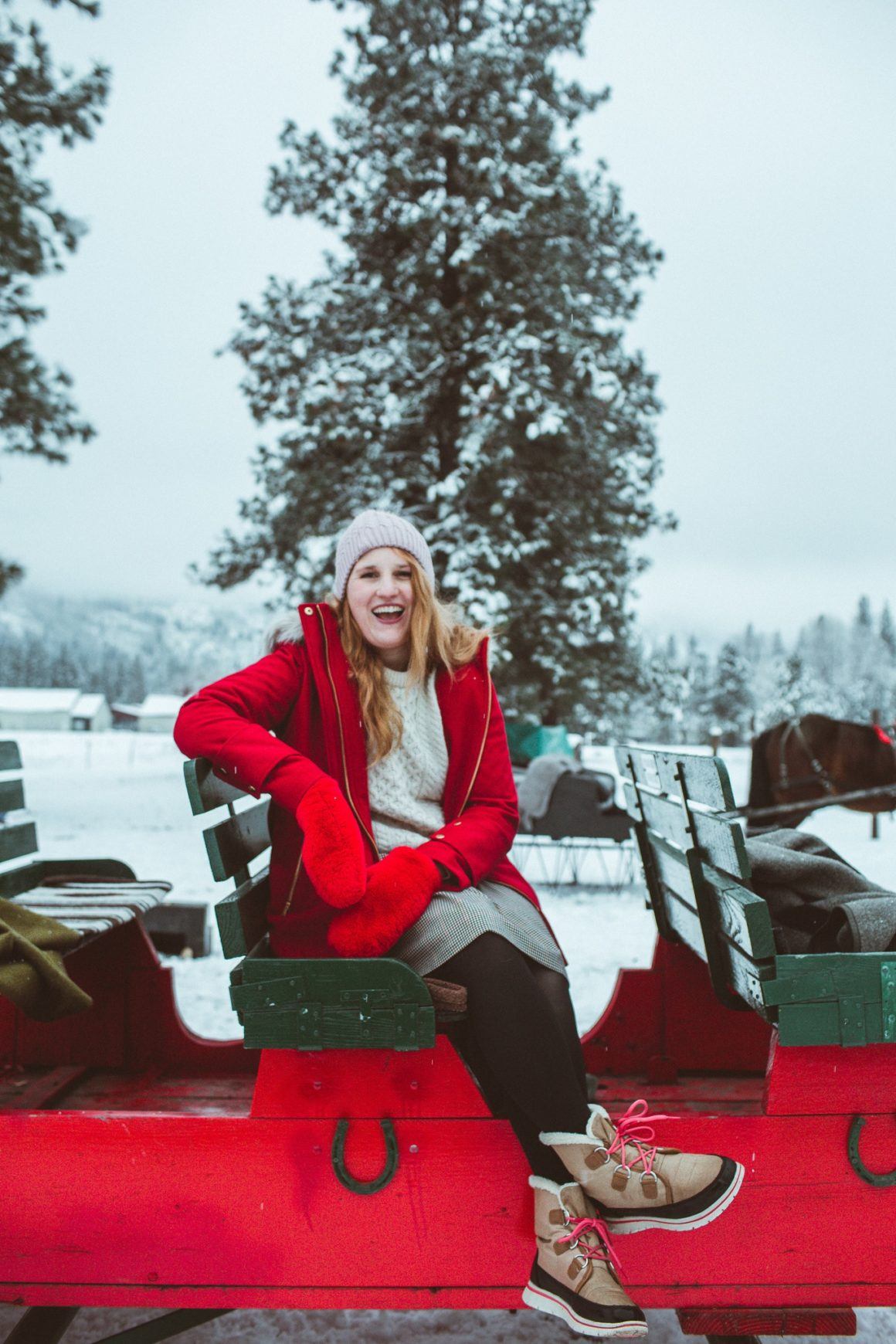 I hope these clever Christmas captions help you find the perfect witty caption for your next post! Christmas is always just so much fun and I love going all out for it!
Now that we live in San Francisco, we usually leave the city to get our holiday vibe on. In the past, if we're able to, we've visited Leavenworth, Lake Tahoe and Wisconsin. One day I want to get out to Germany during December to see their Christmas Markets in real life!! But I did find all the best San Francisco Christmas spots last year and that was such a fun piece of content to make.
If you use any of these Instagram Christmas captions, tag me @thewhimsysoul so I can see! Now, brb, you can find me watching the Grinch Stole Christmas with a glass of wine.