While on our campervan trip, we swung by the Point Arena Lighthouse for what we thought would be a quick visit, but turned into a long one because this place is just too cool! This is the tallest lighthouse you can climb in the state of California so we stayed for a tour. Plus, they have a lighthouse cat available for pets (double win!)
145 steps up from the ground, this is the tallest lighthouse you can climb in California!
We rolled up on a rare sunny June day and took the full lighthouse tour. I've been to many lighthouses in California and this easily is one of my favorites due to the history-filled museum, gift shop and property. We caught the tail end of wildflower season on the coast & were treated to stunning colorful flowers to wander around before our tour! Keep on reading for tons of Pt. Arena Lighthouse photos, tips for visiting and more!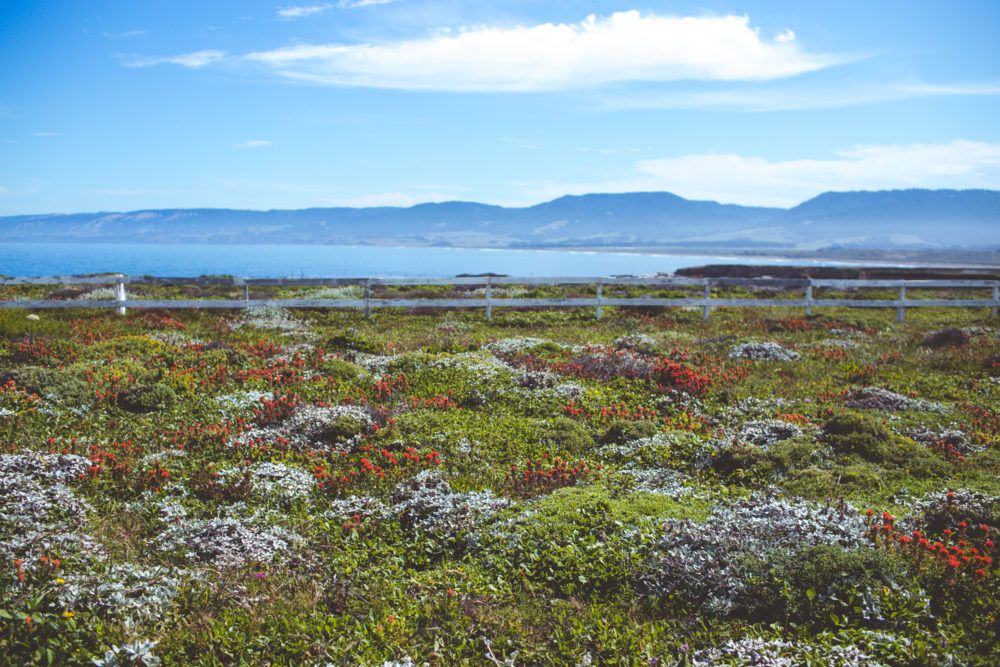 Point Arena Lighthouse History
Point Arena Lighthouse History is actually pretty interesting. As I've chatted in this post, California coast is one of the foggiest coastlines in the United States, so there is a huge demand for fog signal buildings up and down the coast to guide ships safely. This lighthouse was built in 1870 – but this original fell during the 1906 earthquake. The current standing lighthouse was built in 1908 & is over 115 feet tall!
The lighthouse used to have a huge Fresnel lens that took constant maintain & upkeep to run, so 4 families lived on-site to work as lighthouse keepers. The old Victorian house that provided lighthouse boarding to these families no longer stands. Eventually, the lighthouse was taken over by the California Coastal National Guard. The coast guard built barracks where the house used to stand, which are now available to rent if you want to spend the night at the lighthouse!
Between the head keeper, assistant keeper and all the other family members, the original Fresnel lens remained in operation until 1977 when a modern light was replaced. The lens is on display at the lighthouse museum and is incredibly impressive!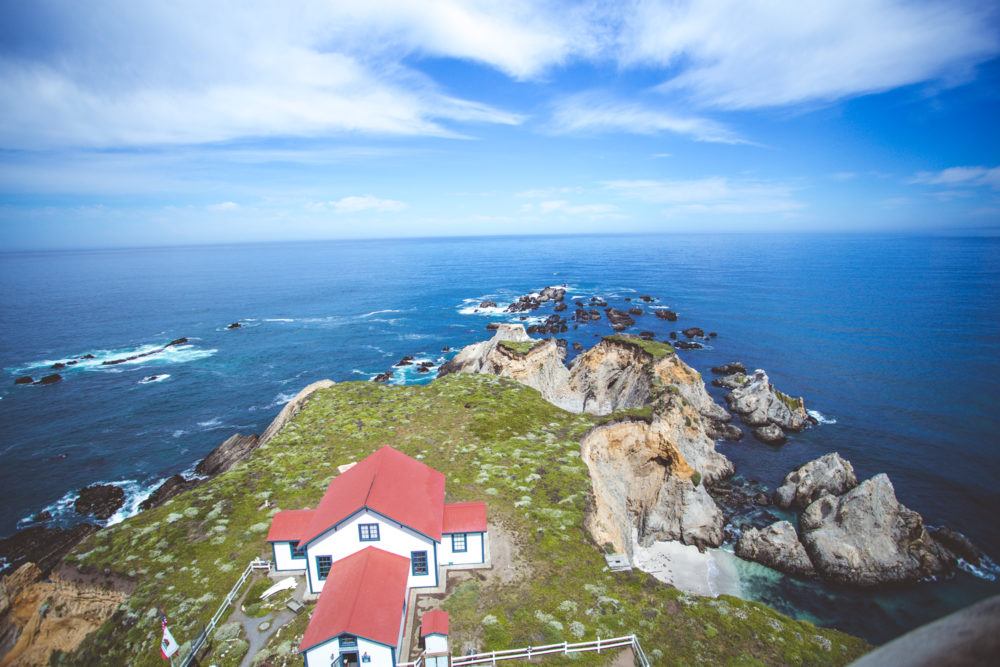 115 feet tall and 145 steps up, the tower of the new lighthouse is open to the public, which is really rare to find on California lighthouses (usually visitors aren't allowed in the towers.) It costs $8/adult for tickets to climb and I highly recommend it!
I did get a bit of vertigo climbing up, but we were treated to stunning coastal views that went on for miles and miles, North and South. Usually, summers are very foggy on the coast, but we lucked out on a warm day and clear skies. You can see the view in my pt arena lighthouse pictures below!
I would recommend not visiting on a weekend and if you can help it, avoid major holidays like memorial day or labor day weekend. This is so you can avoid the crowds and ensure you actually get to climb the lighthouse without having to wait all day for room in a tour.
We visited on a random Tuesday morning and were treated to a pretty empty lighthouse, just a few other families and one adorable biker group taking selfies with the cat in front of the lighthouse. The cat's name is Mina and she's adorable, but a little hard to catch for pets! This crazy cat lady found her, though (I always find them, hehe!)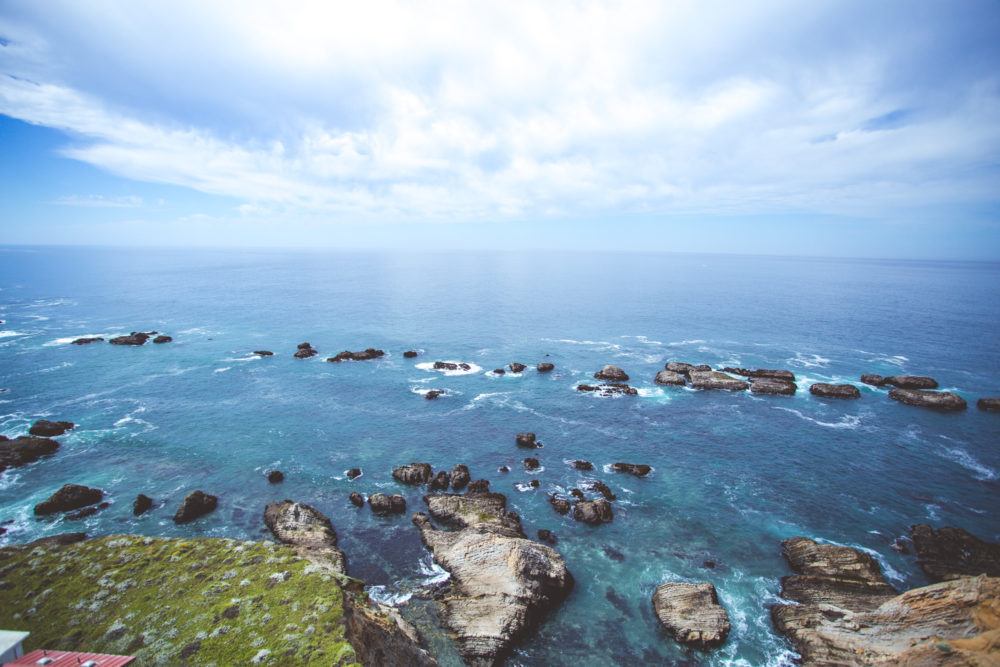 After we got down with our tour, we went for a stroll around the grounds to the gazebo. In January 2019, the point arena lighthouse sinkhole opened up and half this peninsula is blocked off for safety, but you can still sit in the gazebo, which has a fantastic view of the whole lighthouse and barracks.
Fun fact: the gazebo was built for a point arena lighthouse movie filming! They kept it because it's pretty.
Point Arena Things To Do
After your visit to the lighthouse, stick around the area for other fun things to do! Point Arena California is small but has some interesting hidden gems that are worth a visit.
Bowling Ball Beach (part of the Schooner Gulch State Beach) is named for it's huge round rocks scattered on the sand! We tried to visit after our tour guide hyped this beach up, but we couldn't find it. There's no cell service in this area and we must have missed a sign. I still think it would be fun to visit, so ask the tour guide at the lighthouse for exact directions!
Downtown Point Arena
It's not huge, but there are some cute stores and restaurants in the town of Point Arena! Park on one end and wander the shops to the other side before or after lunch!
North of the lighthouse is Manchester Beach, a long sandy beach adjacent o the Point Arena Highlands. If you're craving a long walk, sand dunes and wildflowers, head here!
Point Arena Lodging
The Sonoma coast is pretty rural. You may want to spend the night somewhere nearby!
Price: $166/night (book online here)
There are about 4 rooms right next to the lighthouse that you can rent out and sleep in! When we visited, they were all being renovated so I think that means they're nicer and more modern than ever on the inside, while still providing that prime location of being steps from the lighthouse! Reviews say the rooms are clean and everyone loved falling asleep next to the lighthouse.
Use THIS link for $40 off your stay!
I hope you find yourself on the Sonoma Coast soon and visit this stunning lighthouse! If you have any questions, leave a comment below or DM me on Instagram @thewhimsysoul and I'll be happy to help!
Other posts you may like
48 hours guide to Mendocino (home of the Point Cabrillo lighthouse)
Point Bonita Lighthouse Hiking Tips
Point Reyes Weekend Itinerary & Guide
Shucking Oysters At Hog Island
Inside the Smiley's Saloon in Bolinas
One Day In San Francisco – Your Ulitmate Guide