I just got back a four day trip to Los Cabos with girlfriends for a Mexican beach getaway. We stayed at Pueblo Bonito Blanco Los Cabos, a beautiful all-inclusive hotel family that includes access to over 25 different restaurants and bars. 25!!! While I sure love to eat and I came prepared to be constantly shoving fresh guacamole in my face 24/7, there's no way we could stop by each of the 25+ Cabo San Lucas restaurants.
So we tried our best to visit as many as possible but I came home wanting to share our discoveries with YOU guys so you know where to eat and where to drink when visiting Pueblo Bonito. Keep on reading for my top restaurants and bars, along with photos and my favorite things on the menu!
Pueblo Bonito Restaurants RANKED In Order Of Best To Worst (+ Photos!)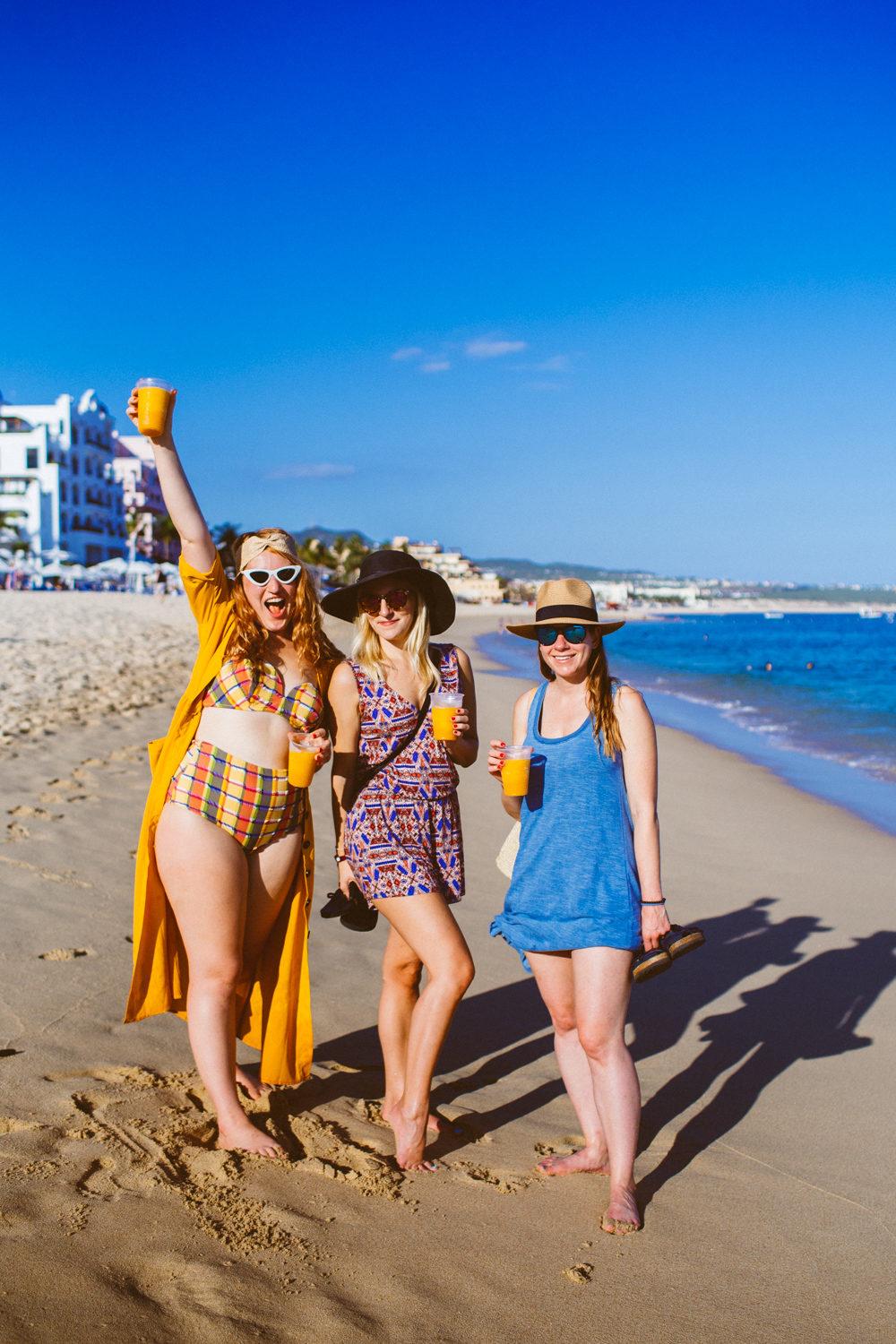 >> Got a question about Pueblo Bonito that you need answered quickly? DM me on Instagram @thewhimsysoul and I'll be happy to help!
We stayed at Blanco and as I raved about in this post, I think it's the best all-inclusive hotel not only in this family of properties but all of Cabo San Lucas. It's just so dang pretty, literally right on the ocean (you can swim here, too!) but not too far from downtown that we never felt to isolated. Plus, the food is great.
The Best Pueblo Bonito Resort & Spa All Inclusive Restaurants
As a quick reminder, the all-inclusive package Pueblo Bonito Los Cabos includes unlimited access to three resorts. the Bonito Rosé (pink hotel), Bonito Blanco (white hotel) and Bonito Sunset Beach Golf Resort (on the west side with sunset views!) Getting to Sunset required taking the shuttle and a 25 minute drive each way, so we only went over there one day due to the trek.
First I'm ranking the restaurants we personally ate at or visited along with photos & menu recommendations. At the bottom of this post is a list of all the restaurants ranked at each hotel.
We based our criteria on the atmosphere, views, food, drinks and service. We have priority on places with outdoor seating since Cabo is just so dang pretty, and really good food.
1. Tazuna Pueblo Bonito (Sunset)
This was our FAVORITE dinner of our entire trip and I highly recommend you eat here at least once. It's at Sunset and all open-air seating. While the actual sunset view was mostly hidden here, the entire patio is covered in pretty string lights and Japanese decor, which sort of made up for it.
We went ham on the sushi here (one of the perks of all-inclusive is ordering as much as you want!!) The entire menu is good, but our favorite dishes that you should try are the dumplings, the coriander sashimi (OMG!), poke bowl and citrus roll. Order the Mojito here, it's fantastic or the Cabernet wine.
2. Las Palomas (Blanco)
We ate at Las Palomas three times during our stay because we loved the food and vibe so much. It's a smaller restaurant with indoor and outdoor seating tucked to the side of Blanco. You can see the water from here, people watch what's happening at the pool and in the mornings, Blanco's bird cages are next to the patio and you'll be treated to the carnies signing songs.
For breakfast, I highly recommend you try the Green Juice and Veracruz Style Eggs and a chocolate crepe. Avoid the "smoothies" they're actually just sugary ice that during the day is mixed with alcohol to make cocktails.
For dinner, man, the entire menu is great at dinner so you really can't go wrong. But, our favorites were the Melted Cheese, Corn Cob, Al Pastor Fish and Half chicken in Two Moles. For dessert, order one of everything (my personal favorite was the guava and tequila ice cream!) For dinner here, stick to the Cabernet wine or a beer.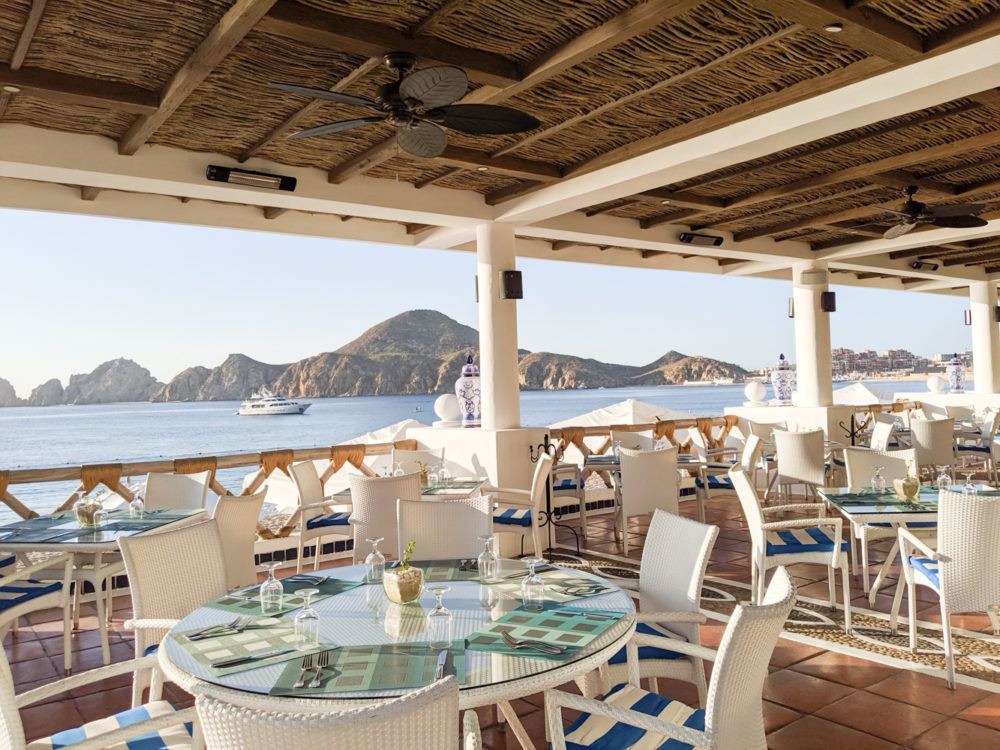 3. Cilantros (Blanco)
Cilantros is the beachside bar and grill. After checking into the hotel upon arrival, we beelined here and holy moly, it was the best way to start the trip. All outdoor seating but with plenty of shade for day time dining and probably one of the best views of ocean and Land's End of all the restaurants. Seriously – it's so dang pretty, I kept having to pinch myself that I was really there in real life!
Cilantros is best for lunch, day time drinks and happy hour snacks before dinner. The seafood is pretty good here, try the coconut shrimp, chips & guac, ceviche and tuna tostadas. For drinks, try a Titos & soda, beer or mango daiquiri.
4. Mare Nostrum Buffet (Rose)
The best of the pueblo bonito rose restaurants is Mare Nostrum aka the Buffet. There's indoor and outdoor seating, but we also chose to sit front row on the patio to have unblocked views of the ocean and beach.
The buffet is pretty good. I recommend stopping by the omelet station and/or Mexican cuisine station to try fresh-made Sopes or quesadillas. There's a lot of fruit here as well, so one morning I dinned on pineapple, papaya and melon. I would avoid the sushi, pasta and things like that — stick to the fresh fruits/veggies and Mexican dishes. For drinks, coffee and mimosas.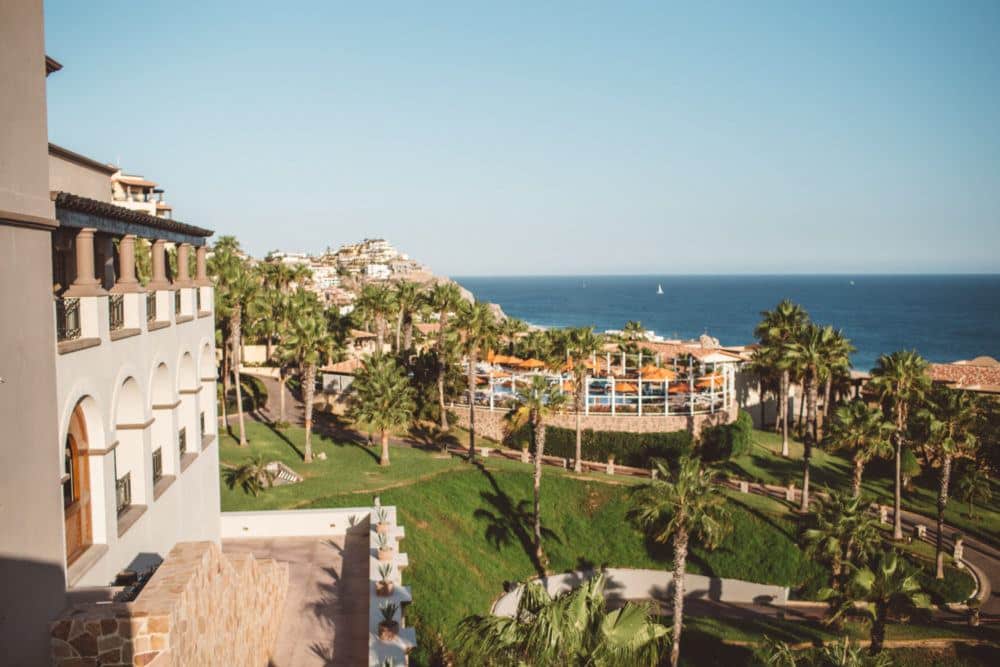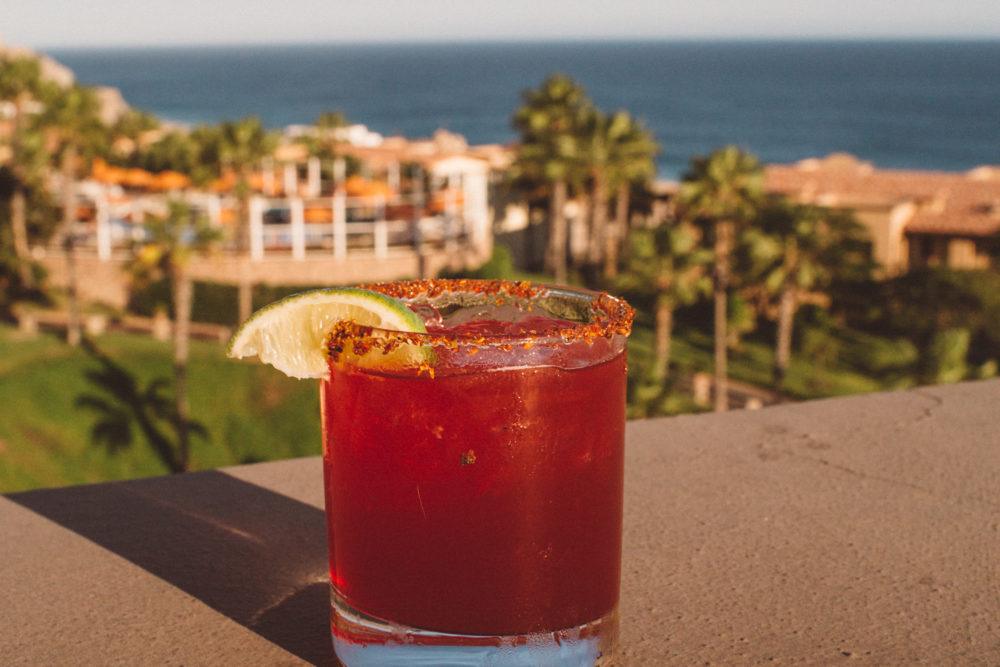 5. The Lobby Bar (Sunset)
Before our sushi dinner, we grabbed a couple of drinks at the Lobby Bar at Sunset. There's indoor and outdoor seating and we chose outdoor to enjoy the sunset and people watch on the beautiful grounds. This bar sits high up on the property so you can look down on the resort, which is really large and pretty.
There's no food here minus pretzels, so come for happy hour drinks. I HIGHLY recommend getting a Mojito here – it was my favorite cocktail I drank all trip! They also serve a great Strawberry Margarita here.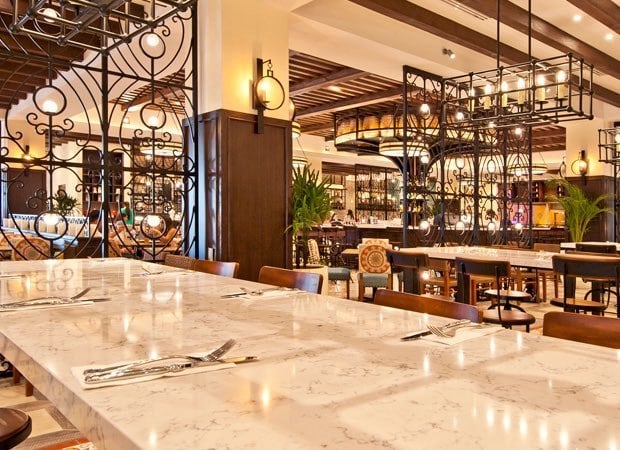 6. The Market (Sunset)
The Market is exatly as it sounds: a large market/food court style place. We stopped in here before catching the shuttle back to our hotel. It was loud and bustling with people. I grabbed a beer to go and one of the girls bought some fancy chocolates (extra cost, not included in the all-inclusive package.)
I think the Market is best for late night snacks, snacks in general or a quick lunch. There are so many great restaurants at Sunset that you should eat proper meals at instead.
7. The After (The Sunset)
We didn't eat or drink here but I popped in real quick while we were visiting The Market as they are right next door. The After is a bar and really focused on sports (I think I counted about 10 tvs.) Come here to catch a game or after dinner for a late-night drink in a bar feeling space.
8. Beach Service
There is beach service and I *think* also pool service at Blanco and Rose. (I'm an ocean gal so I never went swimming in the pools, only the ocean.) They were actually pretty attentive. A bit slow during rushed periods, but servers would make sure to deliver ice buckets to keep the water and beers cold. There's also guac and chips available to eat!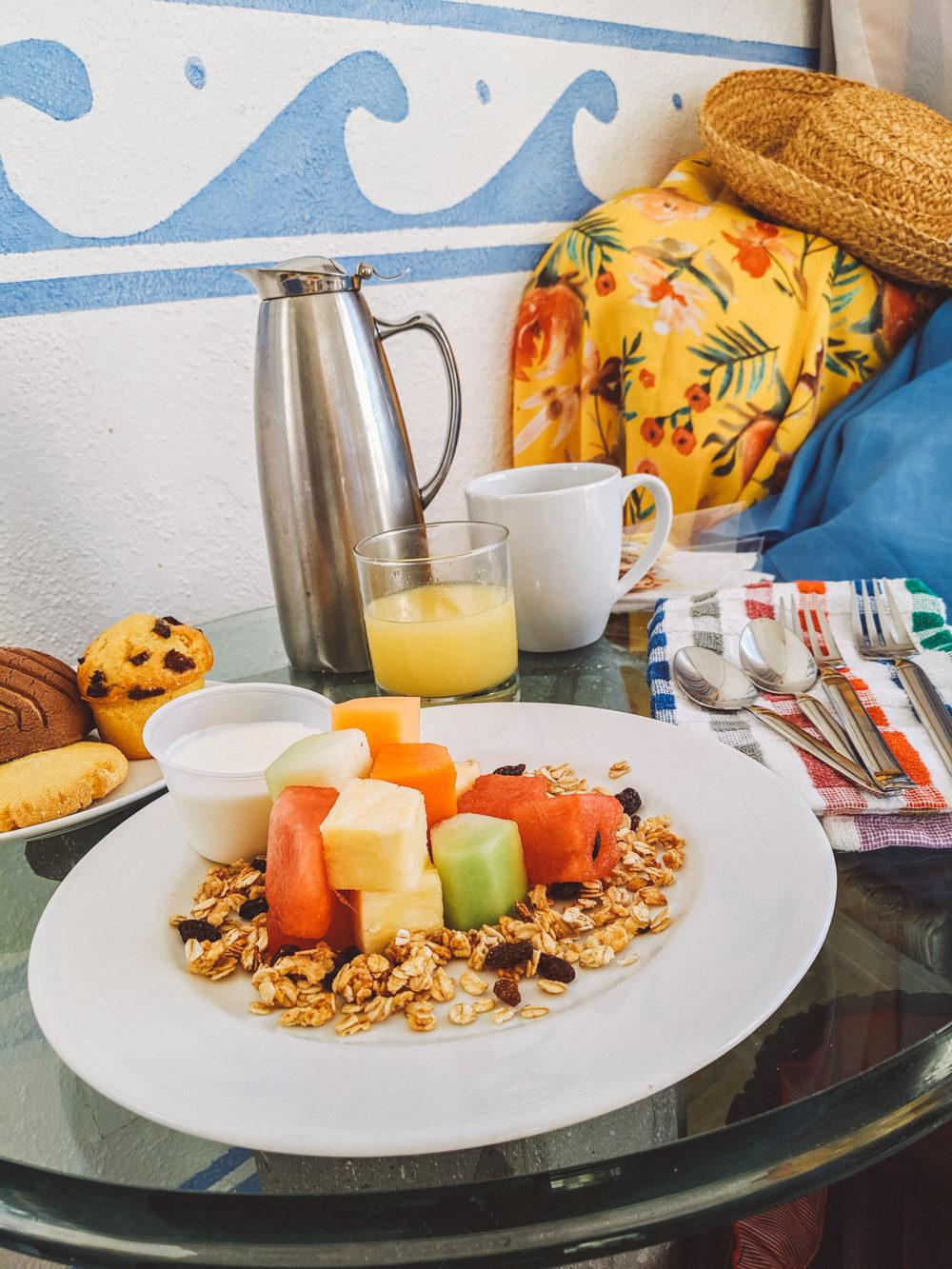 9. Room Service (Blanco)
We ordered room service the first morning in Cabo and I was pretty impressed with it. They came right on time and brought a LOT of coffee, which is always nice. We just got simple things like juices, fruits and bread to nibble on before a larger brunch.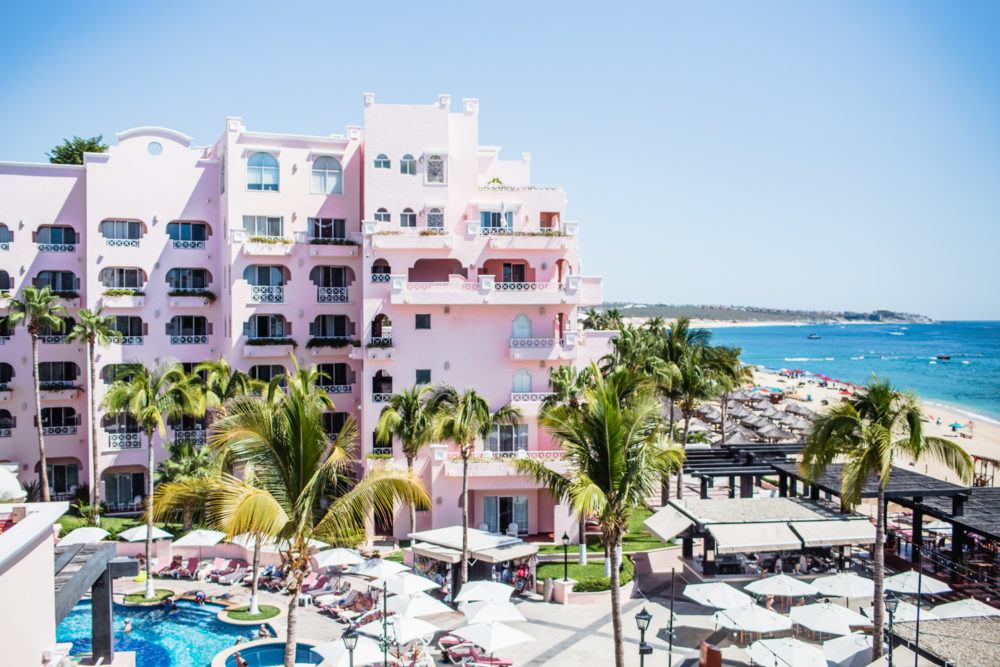 10. Sunsets & Sushi (Rose)
This is the other restaurant the Rose hotel. We stopped here after getting back from our sushi dinner at Sunset and only had drinks here. Honestly, I'm not sure how this place could have better sushi than Tazuna so we didn't even try to eat here.
I think this makes a great late night bar on the beach. They have 90's rock & classic playing (like Red Hot Chili Peppers) and paired with the twinkling lights on the boats in the water, it's a nice place to unwind from the day.
So, the 1-10 are the places we personally ate or visited at. That doesn't mean other restaurants I didn't mention aren't good as well, I just can't personally recommend anything from the menu, etc. BUT I did some more research on forums and looked at the menu of ALL the restaurants available in the all-inclusive. Below is a quick list ranking all the restaurants to use on the go!
Quick List of Restuarant Ranking At Each Hotel
*A star means we dined here!
Looking for a list of dining spots at other properties, like Emerald Bay Mazatlan or the best Pueblo Bonito pacific restaurants? Those other spa resorts were not part of our standard all-inclusive package between Rose, Blanco, and Sunset so we didn't visit them and I'm not including them in this round-up for that reason.
Hotel Pueblo Bonito Los Cabos Blanco Restaurants
*Los Palomas
*Cilantros
*Beach service
*Room Service
Pueblo Bonito Rosé Restaurants
*Mare Nostrum (buffet)
*Beach Service
Room Service
*Sunsets & Sushi
Pueblo Bonito Sunset Restaurants
*Tazuna
Zao Shen
*The Lobby Bar
Aqua Bar & Grill
*The Market
Manila Bar
The Bistro
*The After
La Nao
The Steakhouse & Clubhouse + La Frida + Fellini's require an extra $20-35 per person so I did not include that in this All-Inclusive list as a recommended place to dine. Trying to make the most of my package, yo!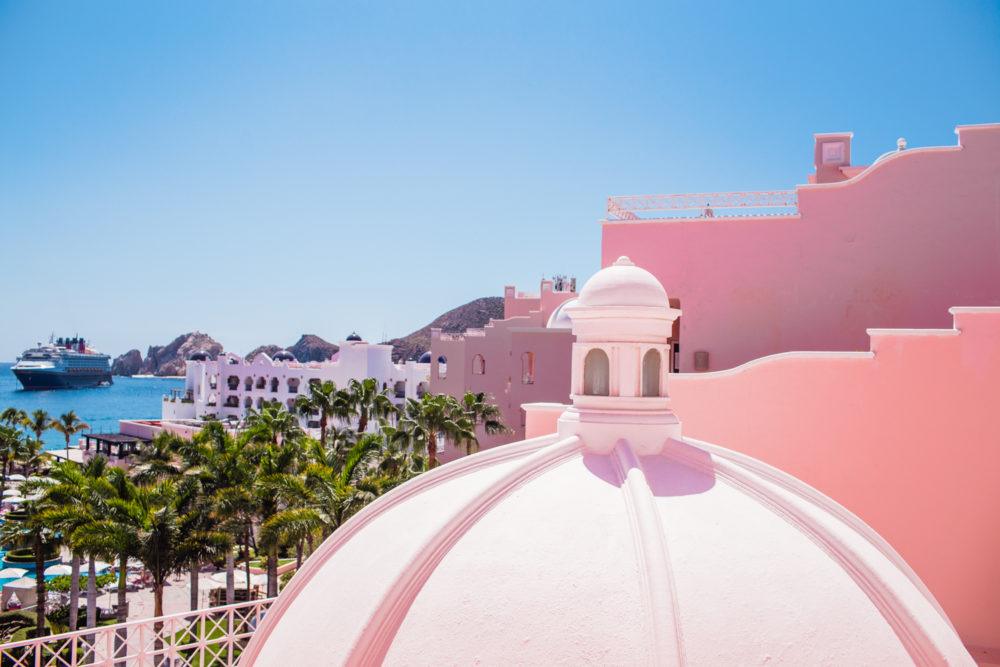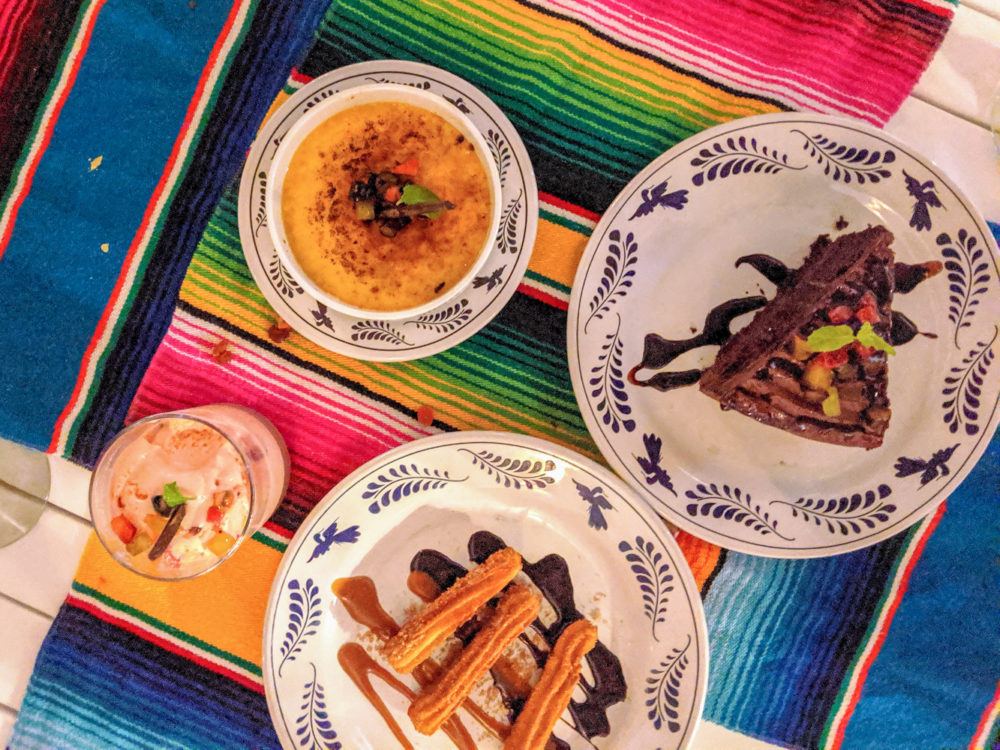 I hope this helps you find the best Pueblo Bonito all-inclusive restaurants to dine at during your stay! If you visited any of the resorts, I'd love to hear your thoughts on the restaurants! What was your favorite one? Any dish that really stands out?
Please leave a comment below so everyone can see it and know what to try when they visit! If you have any questions, also leave a comment or DM me on Instagram @thewhimsysoul and I'll be happy to help!
Other posts you may like