It was a 90-degree day in Cabo San Lucas but we had the wind in our hair and cold drinks placed in our hands within minutes of boarding our private sailboat.
I was down in Mexico with three girlfriends and we chartered a private sailing cruise experience for our last day in town. We saw El Arco, went sailing high waters, snorkeling with fish and soaked up the sunshine. Even though I got a bad sunburn, snorkeling and sailing in Cabo San Lucas ended up being one of my highlights of the whole trip!
Keep reading for my honest review about our Cabo sailing tour, a price break down, tips for where to ask your captain to take you sailing and tons of photos!
Sailing in Cabo San Lucas: Review of Cabo Sails tour + tips for making the most of your Cabo sailing trip!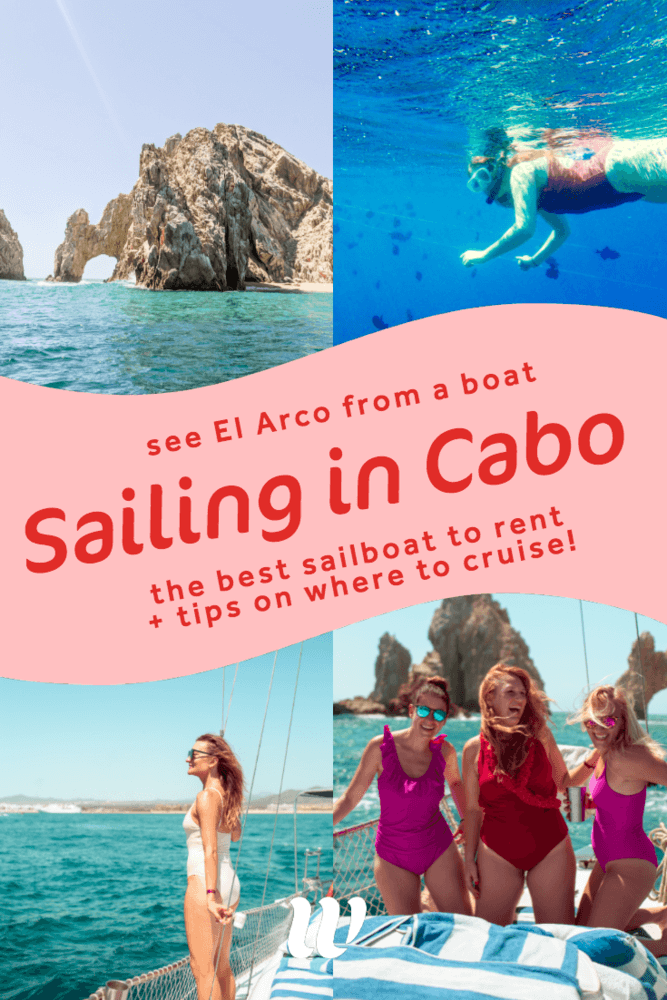 >> Got a question about sailing in Cabo or Cabo in general that you need answered quickly? DM me on Instagram @thewhimsysoul and I'll be happy to help!
Sailing in Cabo San Lucas: My Cabo Sails Review + Must-Know Tips
I've accidentally found myself sailing a lot these few years. From sunset cruises in Nicagargua, calm ones around the Pensacola bay or snorkeling cruises in Maui, day sailing is one of my favorite activities to do while traveling. So, I made sure we booked our group the best Cabo sailing cruise available (at an affordable price!)
We ended up with Cabo Sails, a reputable sailing ocean adventure company that offered private Cabo sailing boats at a good price along with the option to go snorkeling! It cost about $390 to charter a boat for 3 hours, so split between 4 friends that came to under $100 each (including food and drinks!)
There are a lot of sailing ocean adventures you can charter in Cabo. We saw everything from glass-bottom boat tours, covered pontoons, sailboats like ours, yachts and even fishing expeditions out on the water. BUT, I highly recommend you book a private sailboat for the best sailing experience. Here's why:
Sailboats are just really pretty & feel like luxury sailing due to the cute nautical design
A private boat means you have full control over where you sail (plus, no strangers photobombing your photos!)
Really attentive service
Time to bond together as a group in such a beautiful place
No stress over safety of belongings
Ability to go into high water (great for fishing or whale watching!)
Cabo San Lucas Sailing Experience: Getting To The Boat
Our boat docked at the Marina in downtown Cabo, so we took a cheap Uber (about $4) from our hotel to the check-in office. (This is about 45 minutes from Cabo San José.) It's in this little shopping mall area that's right by the docks where cruise ships are, so it's pretty touristy.
Just be prepared for a LOT of vendors yelling for you to come into stores, shoving photos of their tours in your face, asking if you need a Mexican boyfriend. Just a heads up that you WILL be bombarded, so keep your hand on your purse and ignore them and you'll be fine. What I did really appreciate was how the crew members walked you t the dock, which was behind a locked gate, which felt really secure.
The ONLY negative thing I have to say about this criuse was that the confirmation email sent to us had the wrong time of our cruise. It told us it started at Noon when it actually started at 1pm, so we showed up at the check-in office too early. The team was pretty good about it though and moved our start time to 12:30 so we only have to kill about 40 minutes instead of over an hour. But, just keep in mind that your confirmation email may be incorrect.
ALSO on the topic of bad things, the bathroom on the boat is very small (which is standard and normal for sailboats) BUT if you are plus size, you may not be able to easily use the bathroom. Just a heads up so you can prepare (and maybe plan on peeing in the ocean instead.)
But other than that, everything is positive!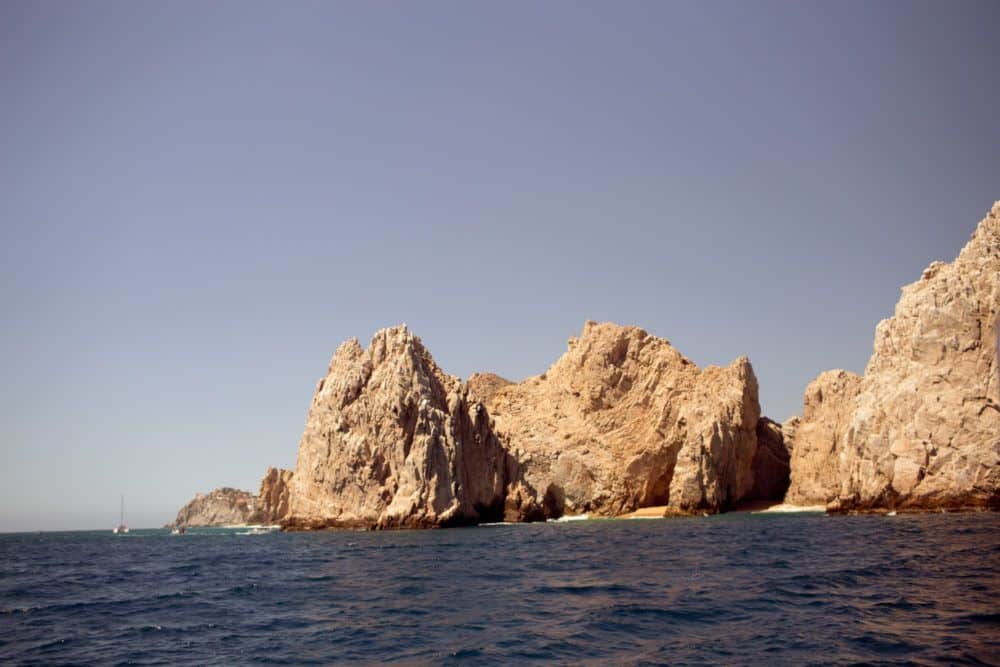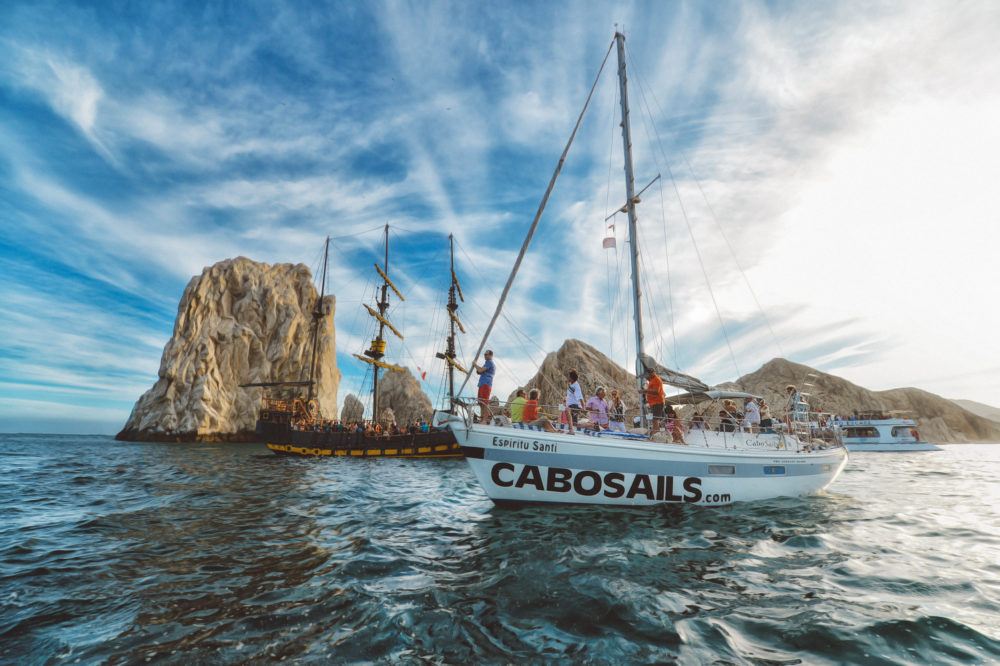 Above is NOT our boat but the same company (Cabo Sails) and looks very similar to the one we rented. But with just 4 instead of a whole group!
Snorkeling Los Cabos
One thing that I really loved about our Los Cabos sail was we had the option to go snorkeling! The crew brought us to Pelican Rock, a popular place to go snorkeling in Cabo. Guys, snorkeling here was AMAZING.
They don't have much if any coral reefs here in Cabo but we saw TONS of amazing fish species and I was blown away by the amount of fish we saw. We swam through schools of fish (have you ever done that?!) We found fish with rainbow colors and even got to witness a sea lion sunbathing up close. One of the girls swam towards the beach for a bit and this area also has a bunch of rocks you can climb if that's your thing.
If you are looking for Cabo adventures, snorkeling here is a must! They are really great about safety here. Everyone gets googles, but you can also use noodles or a life jacket if you are nervous about the water. And, your crew member will stay with your group the whole time to make sure everyone is safe, plus point out cool things.
These are my favorite swimsuits right now if you're looking to shop for new ones!

What To Bring & Expect Sailing In Cabo San Lucas Mexico
Hopefully, I've sold you on this boat but you're probably also wondering what to bring yourself. Here's what the boat has and doesn't have!
What does the boat have?
cute towels and pillows for comfort
cup holders on the side of the boat
a captain + crew member for service
Shaded seats if you get hot
Open bar with cocktails + drinks (pretty much anything you want to drink!)
Veggie plate
Chips & guac
Burritos, chicken salad + quesadillas
Cold bottled water
A bathroom
Snorkeling gear
Life jackets + noodles for swimming
You need to bring:
Sunscreen
sunglasses
hand sanitizer (after bathroom)
An extra towel
Camera
Come in your swimsuit ready to sail!
Also, just so you know, the food is pretty decent for a sailing cruise! We had unlimited drinks (yay!) and when we got hungry, a veggie platter with some fruit as well. Then we went snorkeling and during the last 30-40ish minutes, more food was brought out. We had guac, chips and a platter with things like burritos, quesadillas, and chicken salad. We had worked up an appetite swimming and that hit the spot!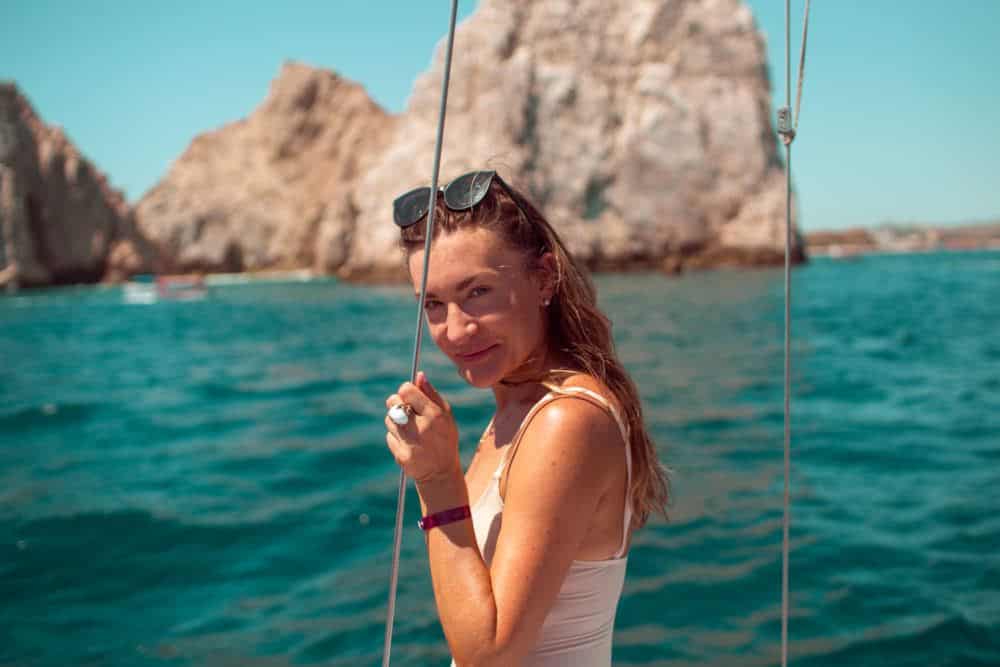 El Arco in Cabo
The most famous place to visit while sailing in the ocean in Cabo is El Arco! It's near Pelican Rock at the end of the peninsula that jets out from town. Boats aren't allowed *that* close to the arch for safety reasons (so don't expect to sail through the arch or anything) but as you can see from photos, we got pretty close.
This is another good reason to have a private sail: we asked our crew to turn the boat so El Arco was perfectly placed in the background, and also probably spent about 20 minutes taking a lot of photos. That wouldn't have happened if we were sailing in Los Cabos with a group of strangers!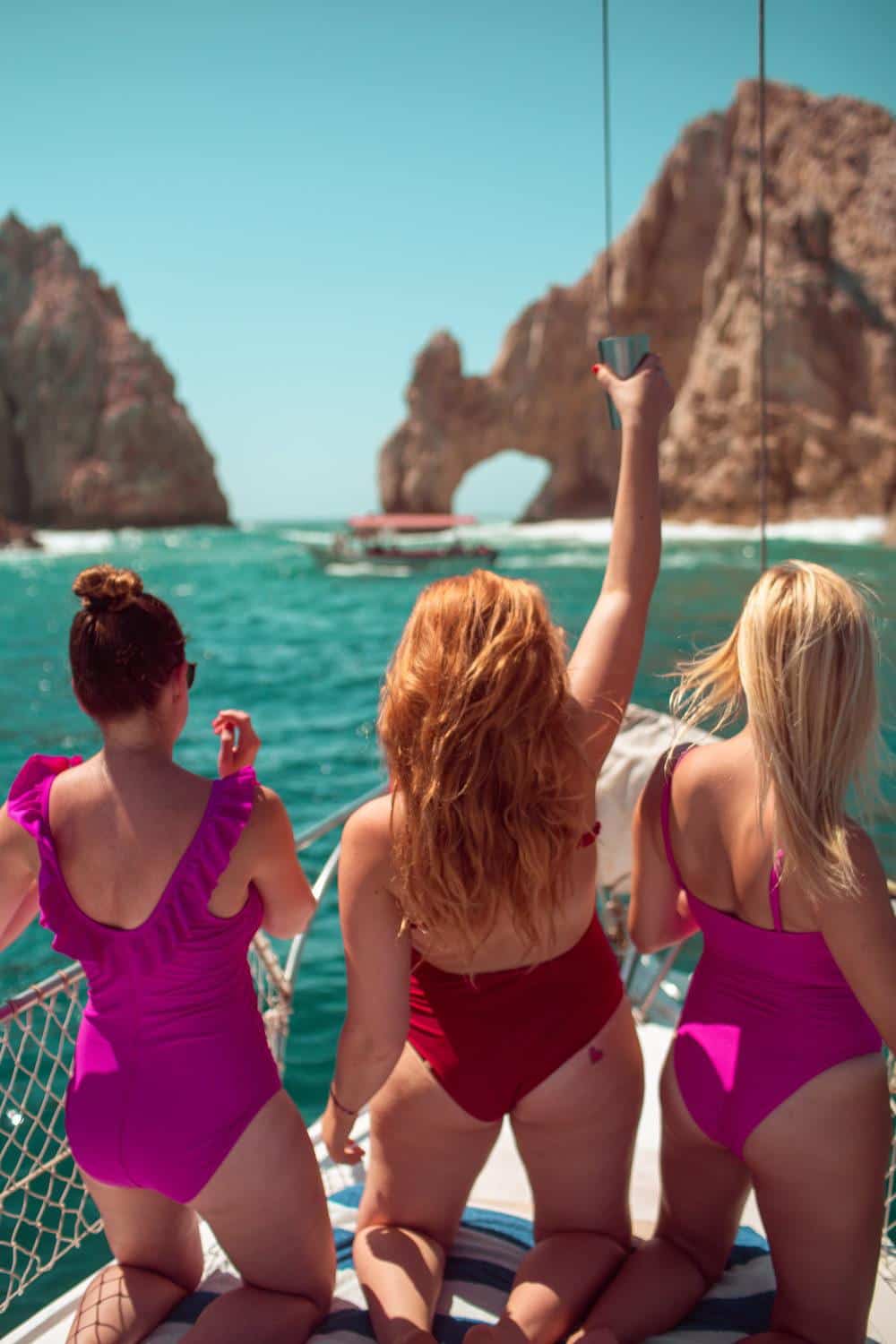 It's hard to find swimmable beaches in Cabo (though, this Cabo hotel has a lovely swimmable beach that I spent alll my time in).
(That is one of the reasons people love to visit Puerto Vallarta – way more swimmable beach access, though if you also go down the coast you should absolutely add sailing to your Puerto Vallarta itinerary.)
So, in conclusion: sailing Cabo San Lucas Mexico is really fun and I highly recommend you do a Cabo Sails expedition while you are visiting Mexico! If you have done any Cabo sailing ocean adventures, I'd love to hear how you liked that experience! Leave a comment below so everyone can see.
Got questions? Leave a comment below or DM me on Instagram @thewhimsysoul and I'll be happy to help!
other posts you may like