If you're looking for luxury in Napa Valley, the Solage Resort in Calistoga is just a mile outside town and literally right on the Silverado Trail. After a day wine tasting on the famous road, we pulled into the sprawling, tree-filled resort ready to park ourselves right by the pools (Yes, pools! They have 4 in total, including regular AND mineral pools!)
Location: Calistoga, CA
Type: Luxury Resort
IG Rating: 5/5 aesthetics
Good For: Couples, Romance, Splurges
For a luxury resort, the staff at the Solage has no air of snootiness to them, which makes it extremely easy to immediately feel welcomed. It's a pet-friendly resort, so you may find a dog or two on your way to your room to pet, if you're so inclined. But defiantly take advantage of the free complimentary glass of wine at check-in, the best way to start any wine country getaway.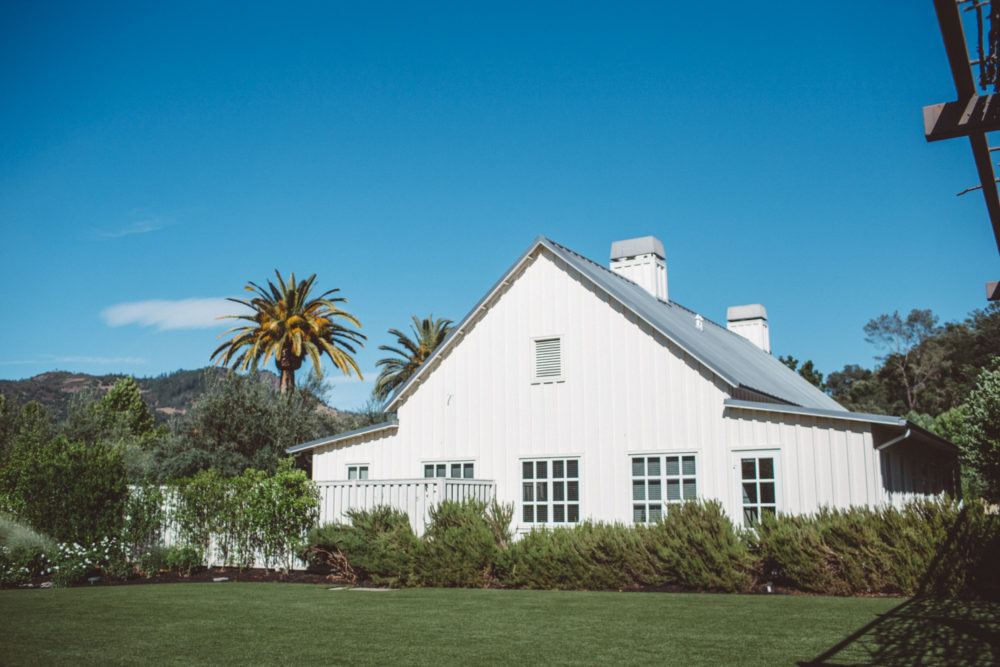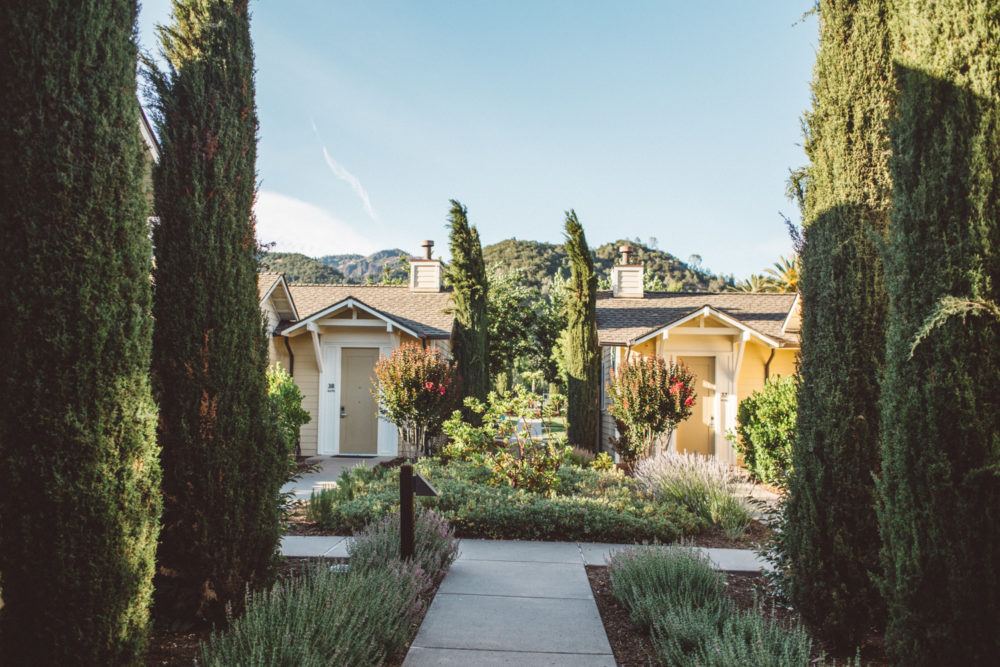 The Solage Calistoga is filled with beautiful flowers and trees, bikes for each guest to use, cute cottages tucked between trees and a stunning view of the mountains.
When we checked into our room, which is one of about 89 bungalows on property, we immediately took a walk around the property. Each bungalow is tucked among oak trees and flower beds. The evening sun looks beautiful filtering through the trees and come dusk, we were treated to the best sunset before the stars came out.
Guests have access to the Solage Spa mineral pools so in the morning I walked over for a swim. We didn't experience a spa treatment for ourselves but reviews say that the Solage Mudslide Treatment is legendary. The Solage Calistoga Spa is open to non-guests, so if you're craving a spa day at a beautiful spa, this is your haven.
Fun Fact: The hot springs in Napa Valley's town of Calistoga are world-famous. Unlike other natural hot springs you find in the United States, the hot springs mineral water at the spas and hotels in Calistoga California are all piped into pools.
We loved all the thoughtful details at the Solage, our favorite was the fridge stocked with complimentary drinks like milk, sparkling waters and club soda for cocktails.
Solage Hotel Amenities
Rooms with indoor/outdoor space with private garden patio
Two cruiser bicycles
Complimentary mini-bar
In-room coffee and tea
Pebble Floor Shower
Complimentary wine at check-in
On-site Spa
3 Mineral Pools
Olympic Size Pool
Pet Friendly
Free Wifi
Room Service
Locally made bath amenity products
Turn-down Service
Cabanas
Cable
Concierge
Cribs
Dry Cleaning
Fitness Center
Jacuzzi
Free fitness classes
We booked our stay on HotelTonight. Normally rooms are about $950 a night, but we scored a deal for just about $450. I highly recommend finding a deal if you are staying at the Solage. After a quick look, I just now found a room for $399 on Booking.com and Trip Advisor as well.
Use code KHarms11 for $25 on HotelsTonight
Though, you can usually earn resort credits if you book directly on the Solage site, so you can decide which is the best option to book at to save the most money.
NOTE: I do want to note that the A/C in our bungalow was broken and it took multiple tries and a few hours to fix it. The staff was very nice and prompt which was very appreciated, but it did really suck to have the inside of our room to be almost 80 degrees on such a hot summer day. We had to sit on our patio all evening because it was too hot inside. It was fixed in time for bed and our resort fee was waived as an apology, but it did put a damper on the start of our stay.
If you are able to visit Calistoga, the Solage Resort is a delightful way to unwind. Here's my suggested weekend itinerary if you are staying at the Solage hotel.
Friday
Wine tasting at Stag's Leap Wine Cellars
Lunch at Oxbow Market
Olive Oil Tasting at Darioush
Check-in to the Solage for a relaxing evening!
Saturday
Morning bike ride or hike
Lunch at a place in Calistoga
Afternoon spa treatment
Relax by the mineral pools
Happy hour
Dinner at Solbar
Sunday
Morning fitness class
Food & wine pairing at Davis
Head home!
Need more ideas of things to do in Calistoga? Read my full travel guide here!
If you have any questions, leave a comment or DM me on Instagram @thewhimsysoul and I'll be happy to help!
Other Posts You May Like
72 Hours in Calistoga Travel Guide
Romantic Napa Valley Wineries For Valentine's Day
One Day In San Francisco – the Ultimate Itinerary
The Best Santa Cruz Mountain Wineries
Is The Napa Valley Wine Train Worth It?