Target has done it again!! Jungalow teamed up with Target Opalhouse to drop a new line of home decor that is making my boho eclectic dreams come true.
I already have a fair amount of Opalhouse pieces in my apartment, and now I just added a massive haul to the collection. This wasn't a virtual Target shopping daze – our bedding has been in need of a refresh for a while now. I jumped at a chance to have Jungalow vibes home and can't wait to show you my bedroom and living room makeover with the new goodies!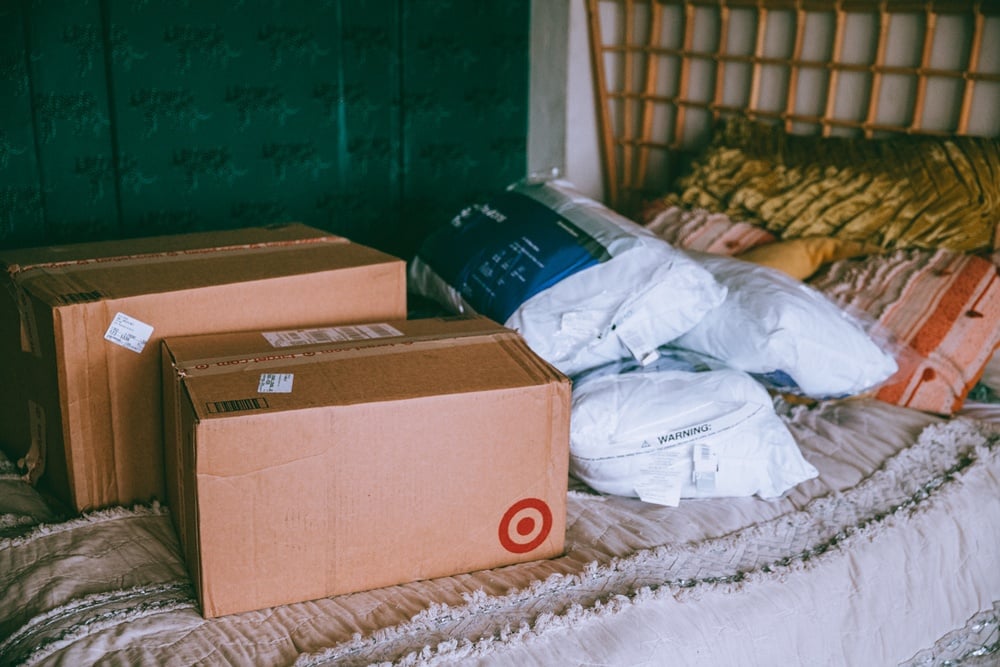 What Is Jungalow Style?
Jungalow is a home decor brand founded by Justina Blakeney back in 2009. I've been swooning over their products for years, especially their wallpapers. I just love the colorful eclectic style — a simple house is a boring one. I'm a sucker for designs that pack a punch.
The new Target Justina Blakeney Jungalow line makes it easier to shop for the masses. Jungalow's price points are higher than what the Jungalow Target collection is priced at. (ie a $110 for quilt vs about $40.) Which is great news for me since I wanted to upgrade with a lot of pieces.
See How I Styled The Target Jungalow Collection
First, I Needed To Upgrade Our Bedding
Our major pain point of living in our small studio is that every bit of space is used for storage. That means the space under our bed is crammed with camping gear, yoga mats, photoshoot equipment, our Christmas tree, even my wedding dress. And, from sitting on the couch, I can see all that stuff peaking out from under the bed, as our current quilt wasn't long enough to cover it.
To solve this, I looked through the new Target Jungalow bedding picked one of the scalloped quilts in a king-size (we have a queen bed)so it would be long enough to hang over the sides and cover more of all the stuff under the bed.
To match the salmon quilt color, I also bought a new sheet and pillowcase set (400 thread count, yass baby yass.) And then new pillows entirely since our old ones were sad and flat. I went with these $16 pillows that are surprisingly amazing. If you need new pillows, grab these! No need to drop a lot of coin.
Lastly, I saw this darling lumbar support pillow with a sun design on it. Since our bed has a moon and sun pillow already, I thought it was a great tie-in. It happened to match our other pillows and color scheme perfectly, too!
So, here's the before and after!
And….now that I'm thinking about it, our entire bed (minus that old sun and moon pillow) is from Target Opalhouse or the Target Jungalow Opalhouse collection…. seriously. Target, just sponsor me already, I'm clearly a fan!
I Also Grabbed New Throw Pillows For The Couch
Confession: years ago we bought a couch from Target and it came with these colorful chevron throw pillows. We have since upgraded to a beautiful emerald green couch from Interior Define, but I kept the throw pillows. I always meant to swap them out for something better but never did… until now.
Justina Blakeney pillows are famous for their tassels, textures and interesting designs. I saw these pillows with strong emerald green shades that matched the couch PERFECTLY. It's almost like they were designed just for my living room. I'm in love.
Shop My Jungalow Haul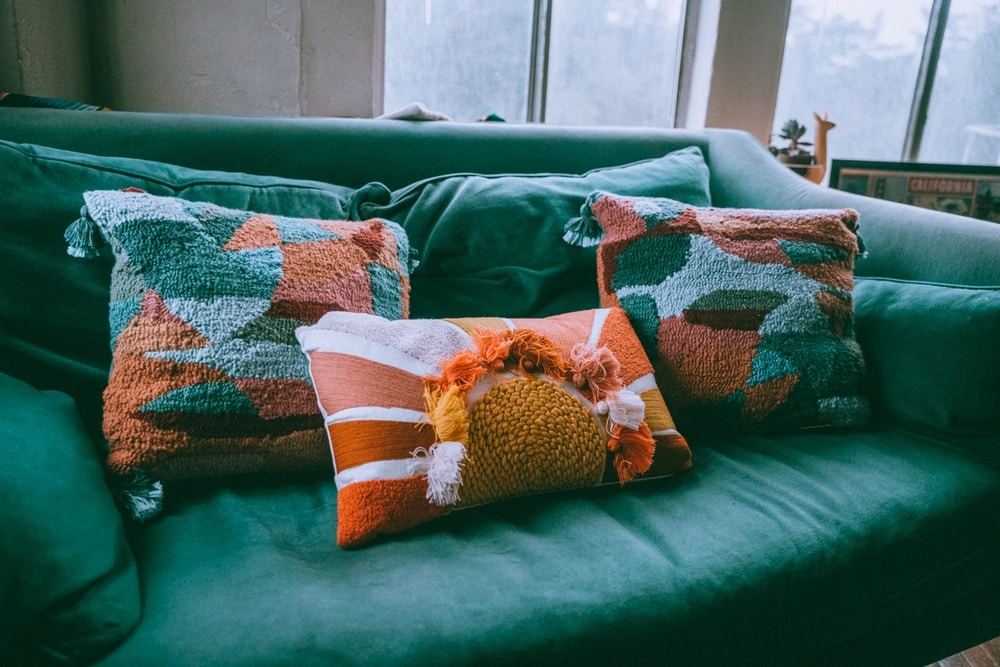 So, that's it! For now… I'm pretty sure next time I go into a Target I'll wander over to the home section and accidentally bring home something new from the Jungalow line. I have no willpower. Once I have a house, I'm totally getting one of these affordable egg chairs from Target, too.
Well, what are you waiting for? Time to shop the new collection and make your home a little more whimsical.