Denver is surprisingly packed with stunning street art. It's like a colorful rainbow city at the foothills of the Rockies. Throw in the craft beer, bike paths & nature, it's a little gem that makes the perfect long weekend getaway.
After stumbling upon a flash sale on flights, my husband and I decided to take book a long weekend trip to Denver to soak in the mountain air, drink craft beer, find street art and see what's in Colorado. I love helping my readers maximize time while traveling, so keep reading for my step-by-step guide for an EPIC trip to Denver, including all the best places to eat, where to drink, fun things to do & other insider travel tips.
3 Days In Denver Itinerary: Where to Eat, Stay & Play In the Mile High City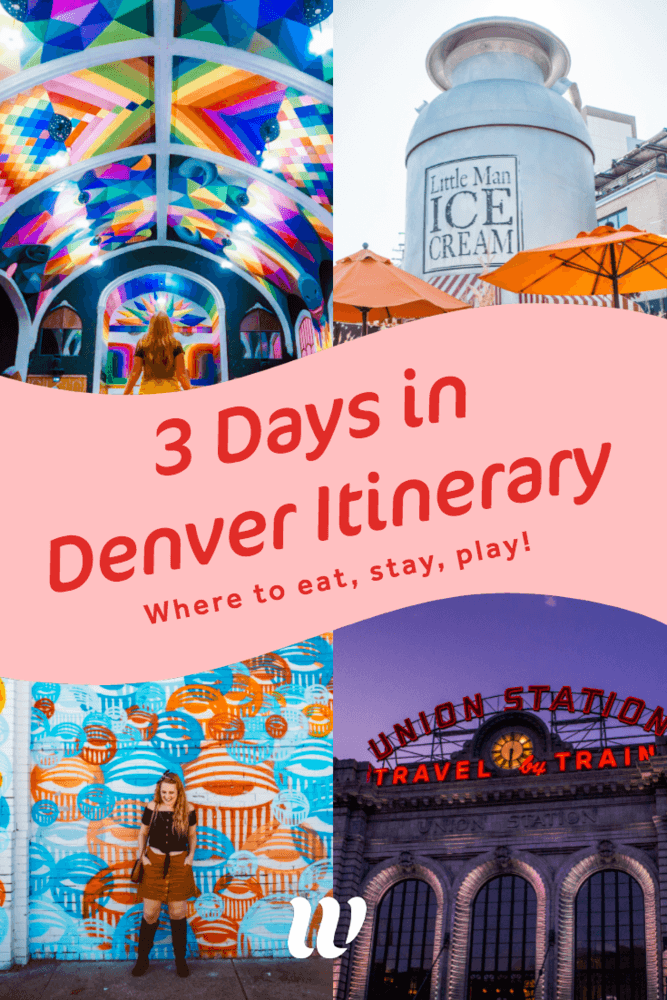 >> Got a question about Denver that you need answered quickly? DM me on Instagram @thewhimsysoul and I'll be happy to help!
I live in San Francisco, but I grew up in Wisconsin and (other than the high rent here in California) my only other real complaint is the lack of seasons. I really miss watching the leaves change colors each fall!!
So, when we saw these cheap flights to Denver, we thought "hey, they have seasons, let's go see some orange trees!"
Well, not so much. As I'll chat about towards the end of this post in my packing section, mountain weather changes quickly and is very unpredictable. Colorado had a huge blizzard 3 days before we flew out to visit, which meant all the trees were halted in their green state before they could turn orange. By the time we arrived, it was in the 70's and HOT (see, mountain weather is a beast!) and we only found a bit of fall foliage. *Sigh* There's always next year.
Planning a trip to Denver Colorado? Don't Go Overboard!
Despite missing the changing fall leaves, we still had a blast exploring Denver and I think 3 days is the perfect amount of time to really see the city. My major tip when planning a trip to Denver? Don't go overboard!
What to do in Colorado in 3 days: don't try to squeeze mountain trips and city things all into one day. There are a LOT of fun things to do in Denver Colorado. This guide does not include the Rocky Mountain National Park, Mount Evans, emerald lake Colorado Springs, Estes Park or even Red Rocks Park.
Literally every single Denver travel guide I found online recommends all these day trips from the city into the mountains, which is silly. You're coming to Denver to BE IN DENVER. I love the Rocky Mountains & nature travel photography opportunities up there, but they deserve time just as much as the Mile High City deserves time. If you want to go into the mountains, don't squeeze a day trip into your 3 days in Denver timeline, but instead add on extra days to go exploring and make a longer colorado itinerary! Otherwise, you'll be way to rushed and not see either mountains or city properly.
Rant over.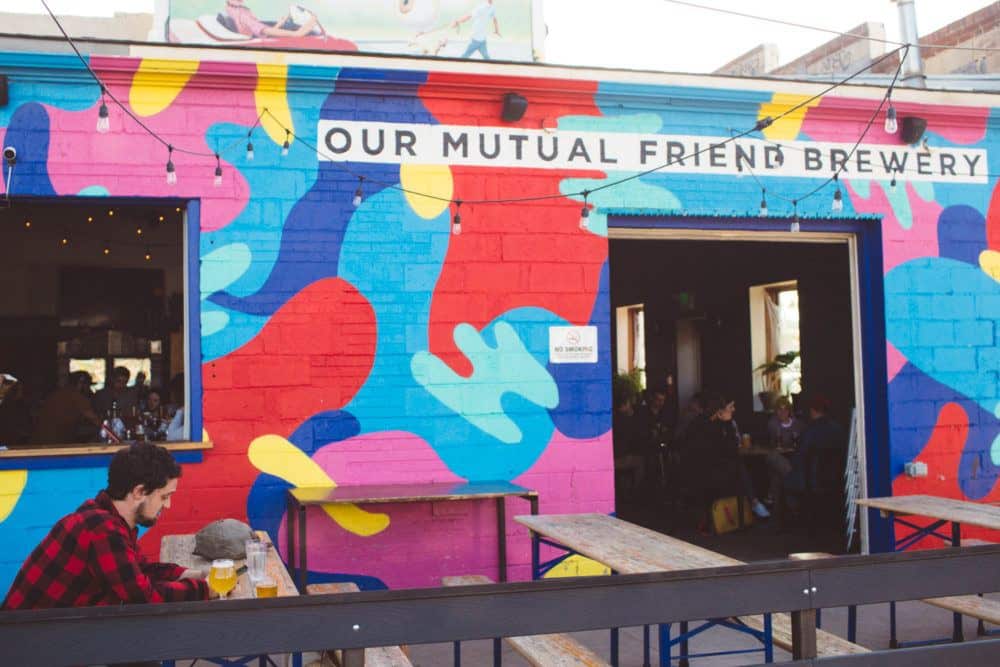 How To Spend 3 Days In Denver Itinerary
We visited in October so the sun was up at around 7am each day and set around 7pm. Tailor this itinerary as needed to match your season and keep in mind that in the wintertime, sunset is usually around 4:30pm-5pm, so plan around those daylight hours!
Where To Stay In Denver For A Weekend
Before we jump into your step-by-step guide for the city, let's chat Denver hotels! Denver is the Colorado state capitol yet pretty small in the sense you can walk or bike almost everywhere you want to go.
Kimpton Monaco Denver: This is where we stayed! We love Kimpton hotels, they're all over the country and are always cute, clean, have great staff and offer awesome perks like coffee in the lobby, free happy hour each night and bikes available to borrow. Book now.
Crawford Hotel Denver: The Crawford Hotel is located right in Union Station, making it a great location if you have to catch an early flight as the airport train is RIGHT THERE. I loved Union Station and the vibe there. Very old-timey cute! Book now.
Ramble Hotel: The Ramble is a newer hotel located in the trendy RiNo District. We walked by it and it's a small boutique hotel, but the decor is VERY cool. Our local friend says their hotel bar (Death & Co) makes one of her favorite cocktails in the whole city. Book now.
Airbnb: We love using Airbnbs when we travel, especailly when we are with larger groups or need more space to spread out. In classic hipster fashion, Denver has tons of super cute houses on Airbnb. My favorite is this cute trolly house!
Now, let's dive into your ultimate weekend guide to Denver!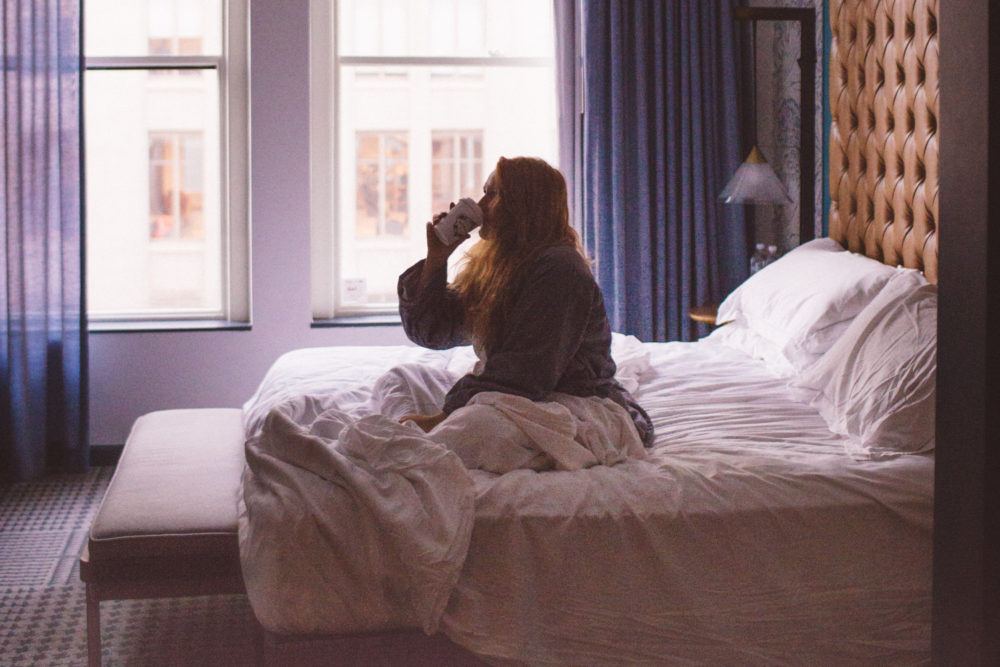 DAY ONE: RiNo, Murals, Craft Beer, Union Station, Downtown Denver
9am-10am Arrive At Airport
Aim to land at Denver International Airport or drive into the city by 9am-10am on day one. You want to maximize your time in Colorado! You can catch an Uber but I recommend taking the A Line train to Downtown Denver, it's efficient and just about 45 minutes.
Tickets are $10.50 each, there's machines next to the tracks that take cards
10am-11am Take Train Downtown & Check-In To Hotel
Head to downtown & check into your hotel. If you're staying at the Crawford, you won't have to carry your luggage anywhere, but most likely you'll have to walk or catch a bus to your hotel in downtown Denver. Don't worry! You can easily take the free 16th Street Mall bus from Union Station down to your hotel vs walking with your luggage! They come every 5-10 minutes.
We made the mistake on the way to the Kimpton, we dragged our luggage the 8ish blocks from the station to the hotel. That walk is easy on foot but not with a 45-pound suitcase! We discovered the free mall bus later and took that on the way home.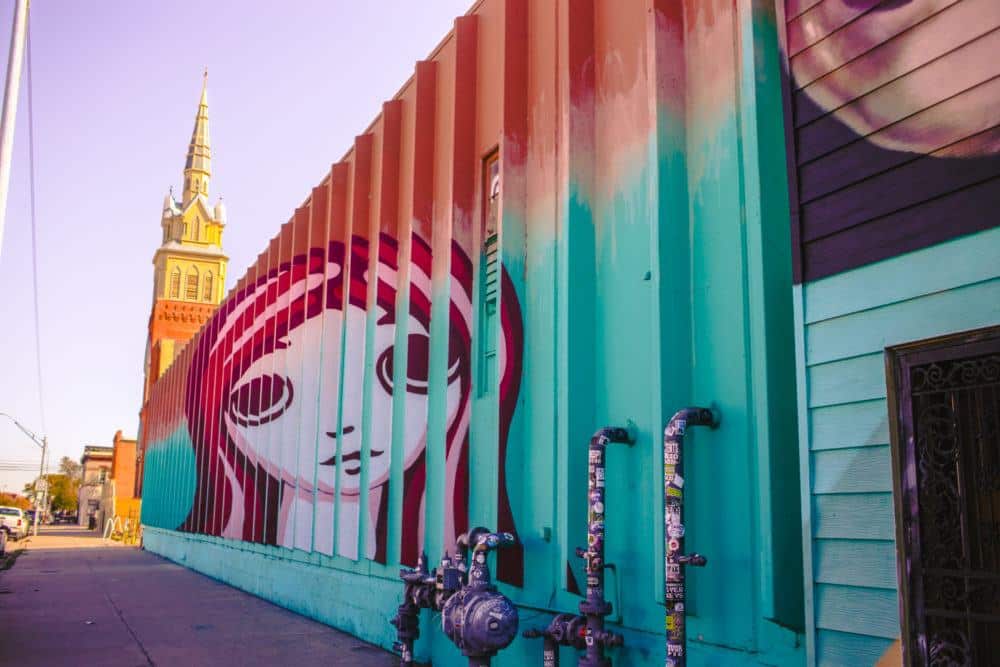 Noon Brunch/Lunch In RiNo
We were able to actually check into our Kimpton room, but if you can't, just tuck your luggage behind the hotel desk. It's time to go exploring! Walk over to RiNo for brunch or lunch, this neighborhood is right next to Downtown Denver and should take no more than 15-20 minutes to walk to.
We stopped by the Port Side for a brunch and holy moly, we loved their pork sandwiches! Nearby is also the Denver Central Market, a popular open market place with tons of restaurants, bakeries and butchers. On a different day, we stopped by a cheese shop in the Denver Market for a little snack.
1pm-4:30pm Explore River North Arts District
After filling up and resetting from the morning of travel, it's time to take it easy and do a self-guided tour of RiNo! RiNo stands for River North Arts District and you pronounce it like the animal Rhino (not Reno, the city in Nevada.)
This is my favorite area of Denver and I adored how you couldn't stumble and find yourself net to a stunning piece of street art. It's like a giant free art museum for the people. Take some time to just wander around and look at all the murals. I have a whole mural guide with addresses to my favorite pieces but most of them are located in RiNo, so just explore!
Between hunting down street art, this is a great chance to visit some of the breweries. Denver has a thriving craft beer scene and since my husband and I are both Wisconsinites, you can sure bet we love drinking craft beer. So, we went a little wild visiting as many as possible while in Denver. I ranked my favorite breweries from worst to best in this post, but I recommend starting at Epic.
Visiting Colorado in the winter and wondering what to do in Denver when it snows? Hit up breweries! They're all close to each other so you don't have to walk in the cold too long between brewery hoping.
5pm: Hotel Happy Hour & Freshen Up
We stayed at the Kimpton which has a nightly free happy hour for guests from 5pm-6pm and we always try to utilize that perk when we stay at these hotels. Hey, free wine guys, can't pass that up! Each hotel has a slightly different approach to the happy hour but always offer a few choices of wine and bites to eat.
But mostly, we used this time before dinner to rest a bit as we had gotten up at around 3am that day to catch out early morning flight. I freshened up a bit, Robin took a shower and we recharged before dinner!
7pm: Dinner Downtown
Now time for dinner! We dined at Panzano, the restaurant inside our hotel. Usually, on our first night of travels, we like to eat at our hotel because we're always tired from early flights and love rolling into bed afterward. Panzano is an Italian restaurant with outstanding cocktails (order the seasonal one, I had a pumpkin spice cocktail that was to die for!) Also order a pasta dish, at least one, as they do pasta very well here.
Traveling on a budget? Panzano has a great happy hour menu that offers bites at lower prices!
DAY TWO: City Park, Museums, Brunch, Larimer Square, Little Man Ice Cream, Beer
10am: Morning Walk & Brunch At OneFold
If you haven't figured it out already, Denver is really easy to walk around. It's all flat! Robin and I also really adore walking in new cities as it allows you to see more and really get a feel for the city. We woke up at around 8am this day, grabbed coffee in the lobby and set out for Onefold for brunch!
This brunch spot is cute, trendy and has great food. I loved my Moco Loco and Robin loved his breakfast sandwich. Our former neighbor from San Francisco moved to Denver a few years ago, so we met up with her here and she was kind enough to show us around a bit that day (which is great, because I get to pass all that local's knowledge to you guys!)
11am-1pm: Explore City Park!
No Denver trip is complete without a visit to City Park!! Onefold is a short walk away from Denver's City Park, their large park that has a few museums, a little lake and tons of trees. It's not as big as Golden Gate Park here in San Francisco but it's a great size for a post-brunch walk!
We walked around Ferrill Lake and it's on one side that you can find one of those classic "Instagram" shots of Denver with the water, skyline and mountains all in one view. We visited at high noon with harsh light, but if you are after a banger photo, come at golden hour for a better shot.
The park has the Denver Zoo, a golf course and the Denver Museum of Nature & Science if you love museums. We didn't visit it but our friend told us they have some fun exhibits.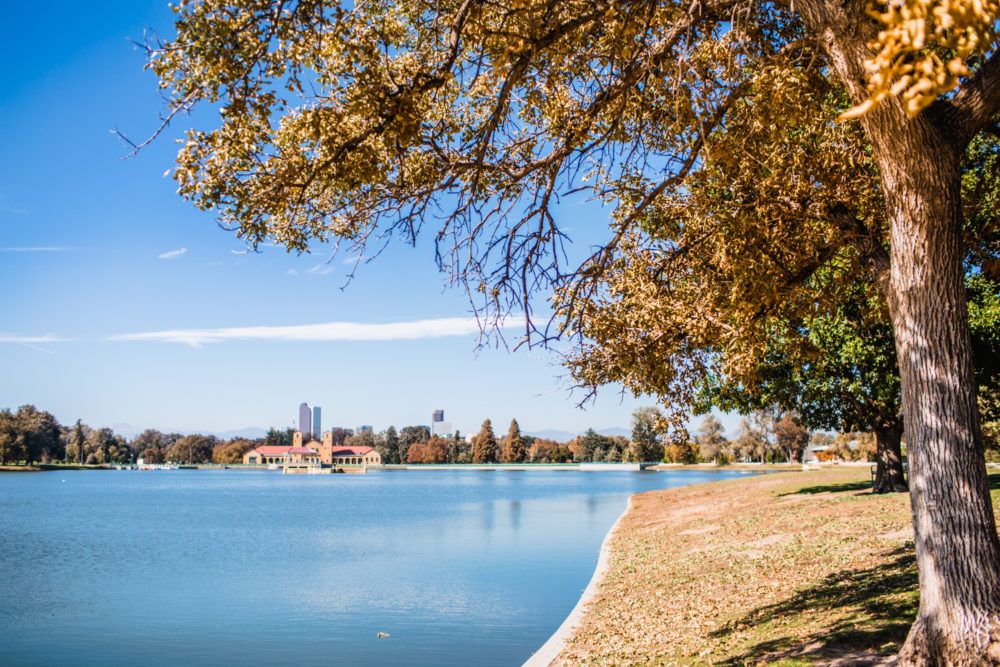 1pm-4pm: Explore Highlands, Eat Ice Cream, Denver Beer Co & Sightseeing!
After running around City Park, we headed across the river to the Lower Highlands neighborhood. This area has tons of fun places to eat and cute little boutique shops. We started at Denver Beer Co for cold beer on their sunny patio (this was one of my favorite breweries in the entire city!) If you're visiting and they have the Princess Yum Yum beer on tap, ORDER IT!
Walk across the Highland Arch Bridge next, that cool white bridge pictured below. This takes you across the highway and into the proper Highland neighborhood. Right now (in 2019) there's a lot of construction over here and new fancy apartment buildings being made. Everyone wants to live near all the hipster shops and trendy eats!
Beeline to Little Man Ice Cream. You can't miss it – the shop is shaped like a giant milk jug!! (Hello Instagramable moment!) I don't care if you're not vegan, we aren't, but you must order the Vegan Chocolate Salted Oreo flavor, which is hands down some of the best ice cream I've had in my ENTIRE life, and that says a lot because I love ice cream. It takes like a brownie, but in ice cream form.
Literally, right next door is Linger, an Instagram-famous rooftop bar and restaurant due to their large neon "O'linger Mortuaries" sign up there. I really wanted to stop by for an afternoon snack but they have odd hours and we missed their opening time by about 10 minutes. They close in the middle of the afternoon between lunch and happy hour for about 90 minutes, which I personally think is stupid. (I'm just a bit bitter, I wanted to see the rooftop in person!)
So, if you want to eat at Linger, make sure you check out their hours first to make sure they'll be open. Since they were closed, and we had more breweries in RiNo to check out for our Denver beer guide. we chose to Uber over to RiNo for the remainder of the day.
At this point in the guide, you have choose your own adventure. Keep reading on for what we did (spoiler alert: awesome pizza and murals in-store) or stick around the Highlands area. Our friend works in the restaurant industry and gave us a list of all the best places to eat in the Highland area along with some things to do, listed out in the black box below if you choose to stay.
REI Store (it's like, a thing here. Everyone loves to go visit it, apparently it's actually cool and had a rock climbing wall)
Prost Brewing Biergarten (for German beer vibes)
Avanti Food & Beverage Hall (great place to grab food)
Maria Empanada (affordable)
Williams & Graham (a speakeasy!)
The Wooden Spoon (for baked goods)
4pm-7pm: Dinner & Drinks (in Highland or RiNo)
We headed over to RiNo to check out two breweries before dinner. First up, First Draft Taproom, which is one of those places that you can pour your own beer and you are charged based on the amount you drink. We first discovered this concept while visiting Carlsbad earlier this year and love it because you can basically just sample everything on the menu for very cheap and without getting crazy drunk. I loved the outdoor patio here and they have tons of outlets if you need to charge your phone.
Then, when 4pm rolled around and Our Mutual Friend Brewery opened up, we headed there! You can miss this stop, it's probably the most colorful building in RiNo, which says a lot! Order a pint of Shrug & Destroy and sit outside under their string lights for a chill afternoon happy hour.
For dinner, we walked over to Cart Driver, which is a pizza shop located inside a shipping container. Its REALLY cool and also makes REALLY good Italian style pizza (think perfect, thin-crust!) They have happy hour specials as well, but we just shared a pizza to soak up all the beer we drank.
If you're anything like us, we love to eat and drink while traveling. Basically, pack stretchy pants!
DAY THREE: Bike Ride, Cherry Creek Trail, International Church of Cannabis, Union Station
10am: Check out & start bike ride
On your last day, it's time for a bike rider (weather permitting of course.) Check out of your hotel & grab a free bike in the lobby (the Kimpton offers free bikes which made it easy for us!) If your hotel doesn't offer bikes, you can easily find a rack and rent one on the go from Denver BCycle.
Head to the Cherry Creek Trail Ridge Road and start your bike ride! This trail runs along the river and is just for bikes and people, no cars! It's really pretty (think lots of trees, flowers, even murals on the walls.) Head towards Mutiny Information Cafe, about a 30-minute bike ride from downtown.
11am: Kombucha & records
Mutiny Information Cafe is an eclectic cafe with TONS of personality. There's a small corner for the cafe, but the store also has records, wacky art, books and comics. It smells like old books and totally feels like a place 90's punk rock wannabes would hang out. I loved it! Grab a cold kombucha and water to hydrate after your bike ride.
Noon: Lunch
We personally ended up having a later lunch but I wish we grabbed something quick near the cafe and I was STARVING at 3pmish when we ended up eating. The cafe is located on South Broadway Street which has a bunch of food options. I saw everything from a biscuit company to a pizza by the slice joint to fancy farm to table brunches, so take your pick!
1pm: International Church of Cannabis
This is a MUST do while visiting Denver! Before you think to yourself "I don't smoke weed" and keep scrolling, STOP! You don't have to use cannabis to enjoy this experience and it's not at all what you think it is.
The International Church of Cannabis is located in an old church that looks ordinary on the outside but is packed with magic on the inside. The ICC is only open to the public on select hours (see full hours here.) We chose to visit at 1pm. The door will open exactly at 1pm, as a heads-up, so just hang outside if you get there early.
You'll walk in, pay for your ticket ($15 each) and then be guided to their lobby, which is basically a little kids paradise. Think Teenage Ninja Mutant Turtle toys, arcade games and comfy couches. But that's not the real show – the real show is upstairs in the church.
The church looks like a rainbow threw up on the inside, it's one of the most stunning rooms I have ever been in. Every corner is painted and the pictures really don't do it justice. We sat down, got a little intro to space, did a guided meditation and then the laser light show started. You read that correctly – they have a laser light show, it's actually really really impressive and the music choices were awesome. After the 20is minute show, they turn on the lights so you can take as many photos as you want before heading out. And trust me, you'll want to put this on Instagram!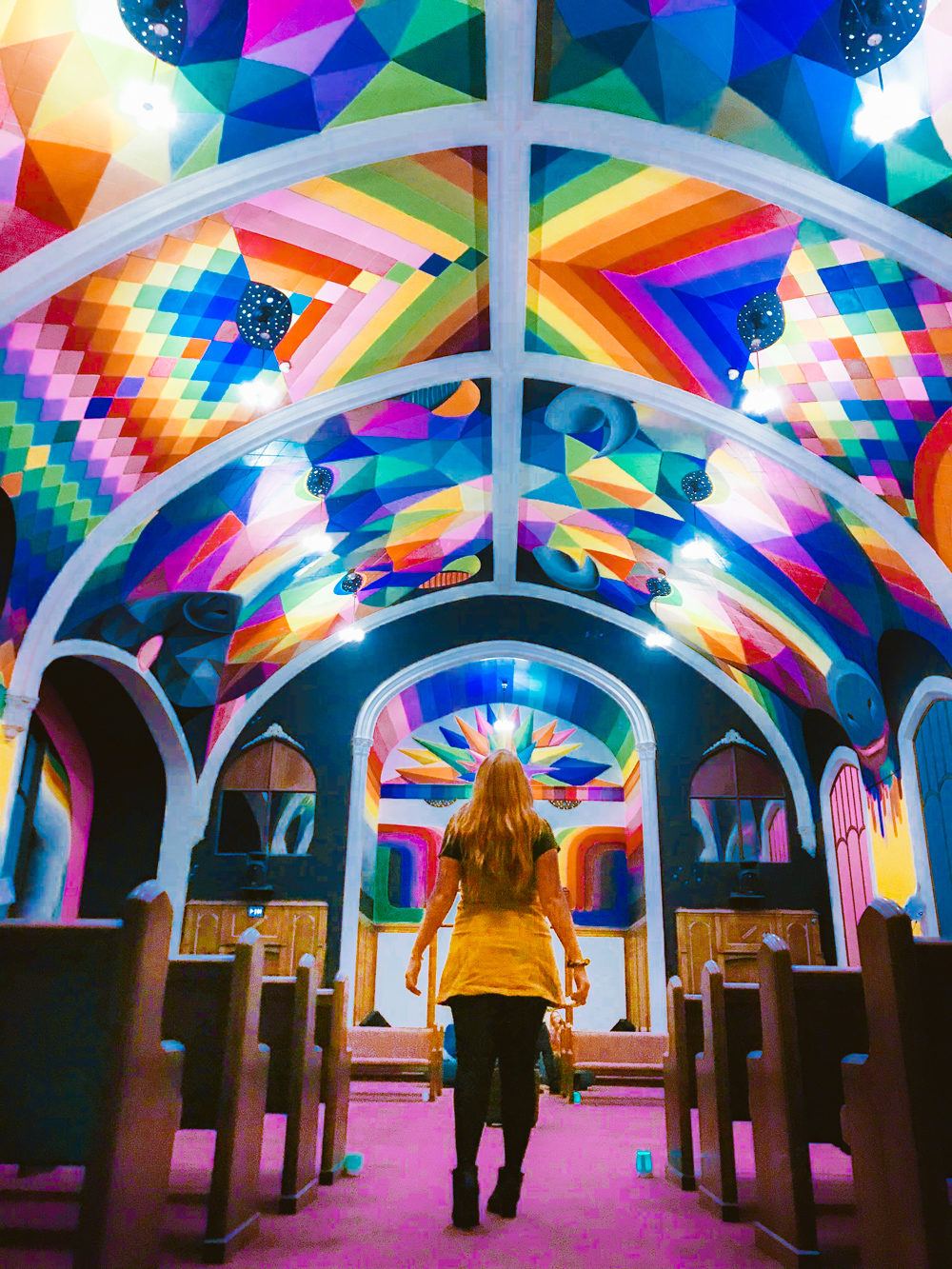 2:30pm: Bike back to hotel & Larimer Square
After the show, head back to your hotel or bike rental place to return the bikes. The trail is slightly uphill on the way to the church and downhill on the way back, so the bike ride took us under 20 minutes on the way home. We flew!
If you haven't stopped by Larimer Square yet, nows a good chance to pop by either before your after you return your bikes. It's a historic neighborhood with shops, restaurants and really pretty old buildings.
3:30pm-5pm: Grab luggage & Explore Union Station
We picked up our luggage and took the free 16th Street Mall bus to Union Station to kill a bit of time before heading to the airport. We hadn't yet really checked the space out, so we used this time to look at the artisan shops in the cute train terminal. If you're still hungry, grab a bite to eat, or grab a beer at the Terminal Bar.
In the center, there's a lot of open seating and even outlets and free wifi. I took advantage and also got some work done in the middle of the train station, a cool place to work for a bit! It's not a very large station but has tons of charm and I liked it a lot.
5pm: Head to Airport
We left around 5pm. The train takes 45ish minutes back to the airport. You'll for sure want TSA PreCheck for Denver, this airport is chaos, in my opinion. I was really happy we could skip the HUGE line.
And with that, our time in Denver Colorado just FLEW by! I think this itinerary makes for three perfect days Denver and I hope you find it useful when planning your trip!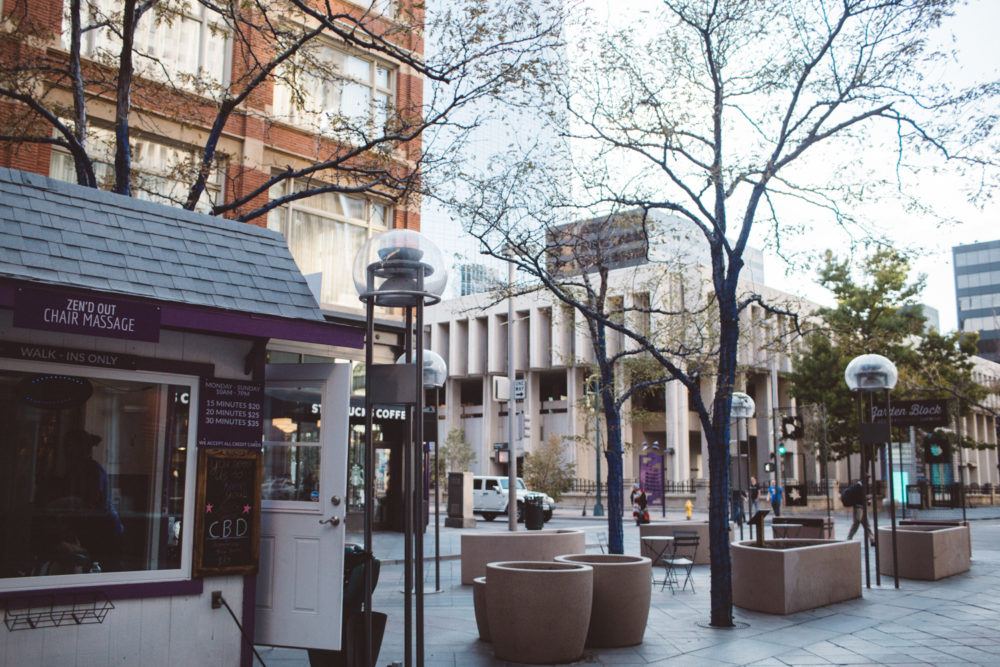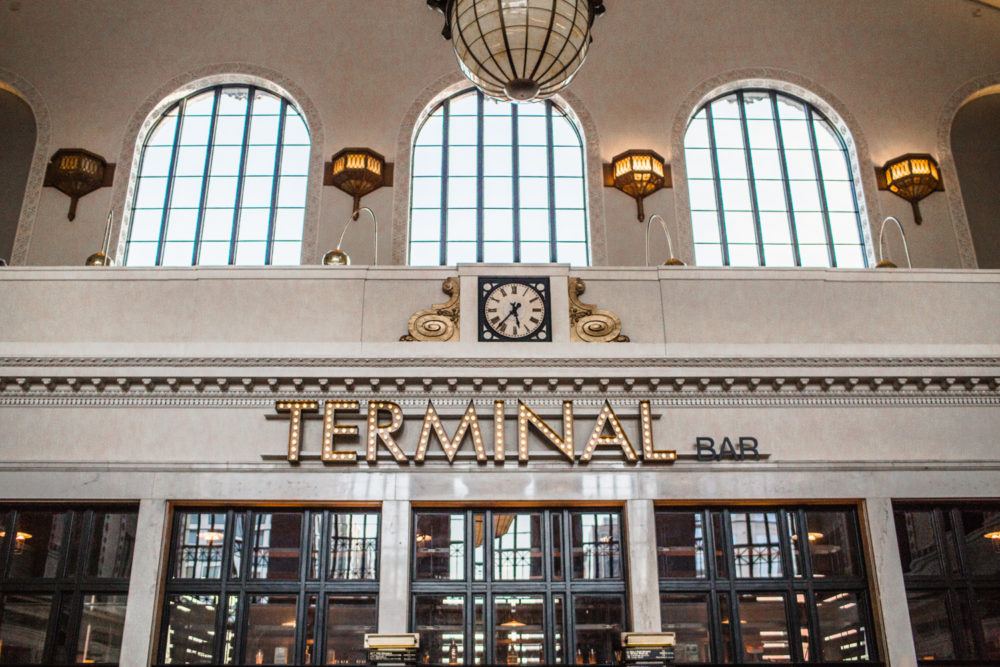 Can You Do Denver In A Day?
I actually think you could. Granted, you'll miss a lot and you'll be running around like crazy, but Denver is small. It's more like a Portland size, not a Seattle size, so you could, in theory, do a lot in one day.
I'm not sure it's a smart idea to go into the city if you have a long layover (until it's at least 7 hours of a layover) just because the airport is so far away from the city and their security lines can take a lifetime. But, if are planning on using Denver as a launchpad into the mountains, I think you could for sure squeeze some fun things in before heading out.
What To Pack For Denver
When picking out what to pack for your Denver weekend trips, keep in mind that Denver weather is CRAZY. There really isn't a best time to visit Denver, as they get four seasons but even with that, the weather is all over the place. It blizzard three days before we arrived in Colorado, with temps getting down to the low 20's. By the time we got there a few days later, it was in the high 70's and everyone was wearing shorts.
At the end of the day, folks in Denver dress casual – think more hipster than Parisian chic, so you'll do fine with your everyday clothes.
Denver 3 day itinerary packing list
Comfy shoes for walking
Waterbottle (the elevation will dehydrate you!)
Hand lotion
Portable charger
Jacket & layers
1-2 dresses
1 skirt
3 tops
A sweater
Hiking shoes IF you plan on visiting Red Rocks
A hat
Purse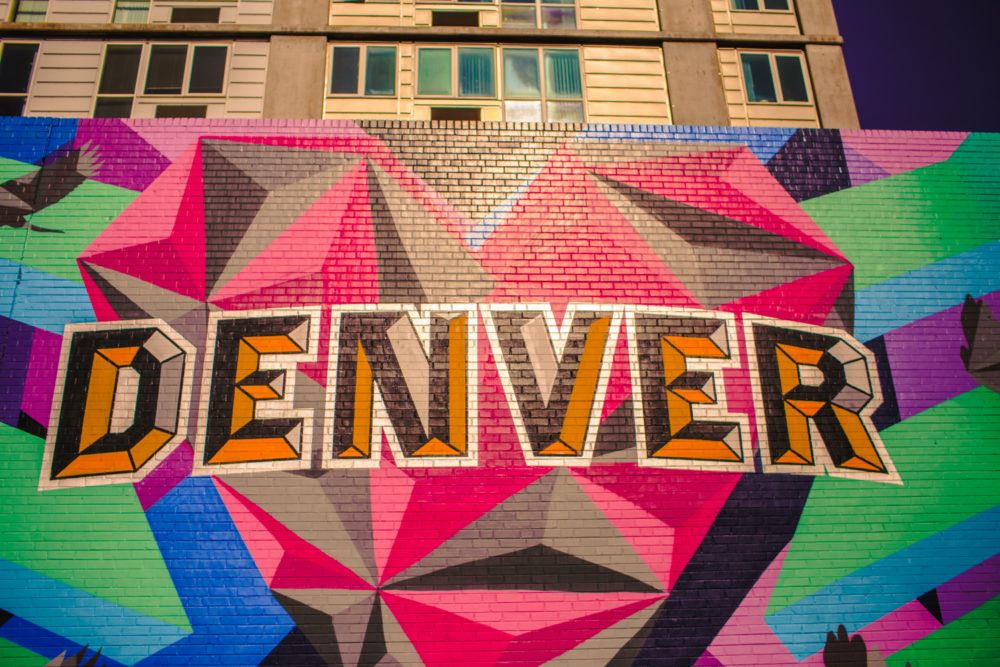 I hope this guide helps you figure out how to spend 3 days in Denver, Colorado! We loved exploring this mountain city and can't wait to return, especially to do some trips into the mountains. I think next time, we'll do something closer to one week in Denver / Colorado, like use the city as a launchpad to explore the mountains and fly in and out of. I've been to Keystone but really want to visit Aspen and stay at the Stanly Hotel in Estes Park!!
Got any tips to add to make an epic Denver weekend trip? Leave a comment below so everyone can see! Have questions? Leave a comment below or DM me on Instagram @thewhimsysoul and I'll be happy to help!