Somewhere deep in the mountains is a large cavern with a deep stream cutting through it. On a hot summer day, it's a wickedly cool (literally and figurately) place to hang out.
Every summer the girls and I love to run around California finding cool swimming holes and hidden waterfalls. After a failed attempt at Natural Bridges Trail last year due to wildfires, we finally made it to this special gem!
In this post I'm sharing exactly how to find this unique swimming hole along with must-know tips to keep you safe and preserve this gem.
>> Got a question about Natural Bridges that you need answered quickly? DM me on Instagram @thewhimsysoul and I'll be happy to help! I only accept DMs from followers, so hit the follow button before sending.
As a swimming hole and hot spring addict, the cave at Natural Bridges is truly unique and magical. I've never seen anything like it. A cave with a creek running through it?! YES PLEASE. And, thankfully, it's not crazy hard to get to but there are some quirks to keep in mind about this spot.
Upper Natural Bridges Trailhead & Swimming At A Glance
Address: 4988 Parrots Ferry Road, Vallecito, California
Fee: Free
Bathrooms: Yes, next to the parking lot
Hiking length: About 2 miles round trip. Steep.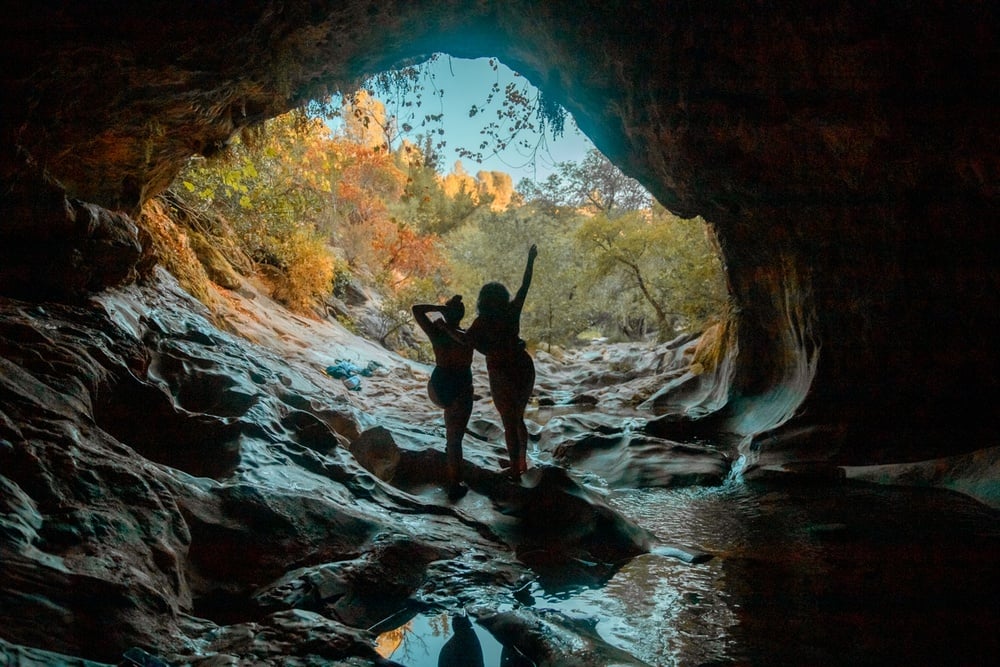 First – Download Maps Offline
First things first, download Google Maps offline before you go to the Natural Bridge Trail swimming hole as there is limited to no cell service out there. And, make sure to tell somewhere where you are going and when you plan on going back just to be safe.
Second – Don't Come If You Can't Pick Up Your Trash
There's almost 40 million of us in California alone. A garbage bag should be the #1 thing you put in your hiking backpack, every time. If you can't pick up your trash, do not come to this swimming hole. Period. Nobody but visitors like you are there to clean up and preserve this spot.
We sadly filled an entire trash bag with Starbucks cups, candy wrappers and cigarette butts on our visit. I encourage you to pick up your trash but also anything else you find on the hiking trail to help keep this spot clean and safe!
Exactly How To Find The Natural Bridges Sonora Swimming Hole (Swim I A Cave!)
Find Natural Bridges in Calaveras County about 30 minutes outside the town of Sonora and next door to New Melones Lake. Pop the address into your Google Maps and it'll to you the trailhead where this is a small parking lot. Park your car here, do NOT park on the main highway (you'll probably get towed.)
If the lot is full, you have to either wait for a car to leave or go home and try again. Safety of others and the natural area is the priority.
Get There Before 8am On A Weekend
For real! We arrived at around 6:30am on a Saturday and found the lot totally empty. We had the whole cave entrance to ourselves and it felt extremely magical this way. When we made it back to our car around 8:30am they were already about 5 people there starting their hike down the trails.
I've seen reviews on Yelp and Alltrails that by Noon on a hot summer weekend, the lot is totally full. So, plan ahead on this one and get there early if you want to enjoy this swimming hole!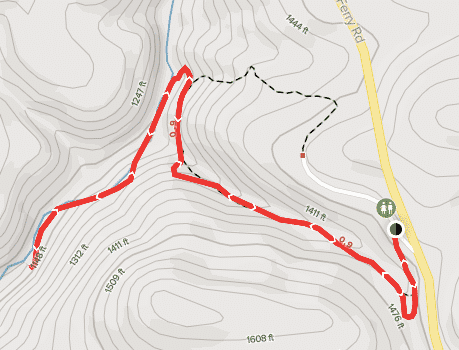 There Are Two Natural Bridges Trailheads
One of them is marked by signs and the other is at the very far end of the parking lot. It was hard to tell in early morning hours, but I think the trailhead was actually the main trail (in red lines in the above screenshot) We took the far trail (black dots) since we parked near that side.
The trail we took was about a 1.2 mile hike down and it was pretty easy with a cleary worn path. Just keep to the left if there's any breaks and you'll find the hole just fine! Just be on the lookout for poison oak.
Both trails are steep at the end and require sturdy shoes to manage safely. Do NOT wear flip-flops. I wore this pair of Tevas that were *chef kiss* perfect for gripping the rocks in the cave and hiking the trail.
Pick A Side OF The Cave And Hang Out!
The cave fully goes through with the creek running under it. The main trail dumps you on one end and I'm not sure what that side looks like as we didn't make it full through the cave (I was a chicken and didn't want to swim through the dark cave alone at 7am lol!)
I loved the side we were one, though. Very large with huge stalactites and smooth naturally forming pools that collect water. The water was cool and felt amazing on the already hot morning.
This side has lots of room to spread out and pick a spot if there's a lot of people down there. Again, please take everything back with you.
Bring Floaties For Extra Fun!
It's super popular to bring floaties and even sometimes kayaks or paddleboards to the Natural Bridges caverns. That's because the water in the middle of the cave is really deep (couldn't touch the bottom) and it's low-key creepy in the middle since it can get dark.
Instead of risking your feet being pulled under by cave demons, just bring a float to safely bounce from one end to the other. We brought a blow-up donut from Walmart but didn't end up using it. I wish we did, though!
What To Bring To This Swimming Hole – Important Tips!
Headlamps so you can easily see in the middle of the cave
Sturdy water sandals like Tevas so you don't slip on the rocks
Waterproof Phone Case so it doesn't get water damage
A towel
Floaties for fun!
All the water you need plus an extra bottle (it gets easily 115 degrees in Sonora in the summer!)
Snacks
Reef-safe sunscreen without chemicals that will harm the water ecosystem of the creek.
Trash bags for your trash and other's
A phone with maps downloaded offline
Check Alltrails first to see if anyone is reporting extremely low water levels or other important tips
Packing List To Shop

Anything else you may need for a fun swimming day! If you choose to drink beer down here, please practice caution as the rocks are very slippery! I would make someone a sober babysitter, honestly. If someone hit their head or twisted their ankle back up, you can't call for help. And you better pick up all those beer cans. 🙂
Don't get this confused with the Natural Bridges Santa Cruz trail (I guess there's two of the same name in California!) Natural Bridges Hiking Trail near Sonora is the one you want to aim for. If you aren't in the Sierra Mountains, you're at the wrong natural trail.
I hope this helps you find Natural Bridges California! It's about an hour way from Yosemite National Park where it's a few other swimming holes you can visit (more to come on that later). There's also Cleo's Bath near Pinecrest Lake and God's Bath, which is somewhere in the mountains (haven't visited that one yet.)
If you have safety tips to add, please drop a comment below so everyone can see. Got questions? Comment or DM me on Instagram @thewhimsysoul and I'll try and help! please note I only accept DMs from followers so just hit that follow button.