What the heck do you wear to a winery anyway?
As a self-proclaimed wine country addict (I live in San Francisco and visit Sonoma and Napa probably a little too much) I've got the wine tasting outfits on LOCKDOWN. I've learned from the past — on my first trip to Napa Valley years ago when I put on a tiny dress and high heels for a February visit… I ended up tripping around (since heels and wine don't mix!) and freezing my butt off. It's still chilly up there in the winter!
I'm here to help you learn from my outfit fails. In this post, I'm guiding you through exactly what to wear and what not to wear while wine tasting, along with tons of my real-life winery outfits that I've worn!
Before we dive into this winery outfit ideas and guide, let's talk dress code. Wineries don't have dress code (other than normal ones businesses have, like shoes and shirts are required sort of thing.)
But, it's expected you will dress nice when you visit one. At least when you are in California. You'll also receive better service if you dress up vs down.
What To Wear Wine Tasting: 8 Cardinal Rules No Matter The Season
It doesn't matter where I am wine tasting or what season, there are some cardinal rules I follow when styling wine tasting attire to make sure I'm comfy (and stylish).
1. NO HIGH HEELS
I gotta put that in caps because yes, I am internet shouting at you. Look, I've done it. More than once. I see women all the time-tripping around vineyards in high heels on their winery tours (one even twisted her ankle) and it's just not the shoe to wear.
Not all wineries seat you for tastings, so you have to expect you'll be standing for most of the day. Wine plus high heels and standing for hours already is a recipe for painful feet, but add in uneven terrain (like cobblestones or grass) and you're be wishing you wore something else.
I always wear flats like loafers or slides, or baby chunky heels that are super comfy (like this pair!). For winter winery visits, I may even wear boots without heels.
If you're looking for wine tour outfits, it's especially important to wear sturdy shoes as they'll probably be taking you all over the vineyards, fields and caves. The perfect wine tasting shoes are ones you can stand all day in. Go for the comfortable shoes!
Shop These Winery Friendly Shoes

2. Wear A Crossbody Purse
You'll be holding a wine glass and will need your hands free to open doors or take photos with your phone. Skip your Cult Gia bag and trust me when I say you'll be grateful for a small hassle-free purse like this crossbody bag. Make sure it has an easy open top for you to reach in and out of, as again, you don't have two hands to open a zipper or complicated button when you are holding a wine glass.
I love bags that are large enough to stick sunglasses, hand sanitizer, sunscreen, maybe even a foldable sunhat in case it gets hot!
3. Wear Smudge-Free Lipstick
Stay all day lipstick is KEY when wine tasting and eating cheese for 6 hours straight. I found this lipstick last year when looking for one that stays put under my facemask and I know it's going to be my favorite lippy when I go wine tasting again this summer.
Pro-tip: the key to making your lipstick last longer while wine tasting is to put primer on your lips, then apply the color, blott, top with a powder and do another layer of lipstick. It'll stay all day!
4. Wear White With Caution
Have I worn white dressed for wine tasting before? Yes! I have spilled red wine on myself? YES. Here's the thing: I love the look of white in vineyards. It's chic and timeless. But you have to wear white with caution. If you easily spill on yourself, only wear those white denim jeans to champagne houses like Mumm or Korbel.
This past fall I wore my favorite white maxi dress while wine tasting and I spilled a little red on it. I was so sad, but thankfully the winery had Wine Away.
This stuff is magic and makes wine stains disappear fast! So, if you do insist on wearing white summer fashion outfits or wear jeans that are light-colored, bring a bottle of Wine Away with you.
Life Saver!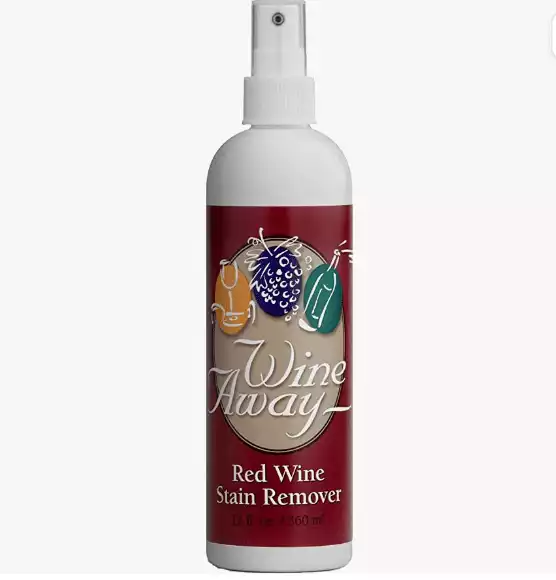 Wine Away Red Wine Stain Remover
This wine remover spray is magic, I swear. Not all wineries stock this, so you should bring your own on wine tasting trips. I once spilled red wine on my favorite white dress and with a few sprays, the stain was totally gone. MAGIC.
Buy Now
5. No Strong Perfumes
Wine tasting is so strongly rooted in your nose — sniffing the wine glass and tasting flavors. Strong perfume is going to mess with your taste buds, so just wear some good deodorant and skip the perfume.
6. Dress Up
Wine country casual is probably more upscale than "normal causal" but even so, I LOVE using wine country as an excuse to show off a really cool outfit. Tulle skirt? Bow top? Romantic maxi? Yes Yes YES!
Skip basic tank top and shorts – opt for something cute! Especially if it is a formal sit down tasting or dinner. Whenever I'm thinking about what to wear to a wine tasting dinner, I always aim for an elevated look.
Shop Winery Perfect Dresses


7. Layer Up Your SPF
I have walked away from wine tasting in January with sunburns. Always wear a good face sunscreen under your makeup (I wear this!) and good body sunscreen.
My backyard of Napa and Sonoma wine tasting both see all four seasons, but even if you are tasting in the winter expect you will be sunburnt as days are usually sunny in California wine country.
8. When In Doubt – Go With A Simple Outfit That's Elevated
Honestly, wine tasting is literally just fancy day drinking. You'll be tired and a wee bit drunk after a long day of sipping wines.
Skip the button-up romper that is hard to take on and off, or the wrap dress that likes to blow around and instead just wear something simple and/or hassle-free.
Now time for some major style inspiration!
Wine Tasting Outfit Ideas Winter
I don't think I've ever had a hot winter wine tasting experience. Maybe a few that are warmish but plan on it being chilly if you're visiting a winery in the winter (yes, even in California!) I always like to wear warm maxi or midi dresses, especially sweater dresses. Or jean with sweaters, coats and boots.
Anything that has layers and tons of warmth in case your wine tour takes you on a stroll through a cold wine cave or something.
Always pack an umbrella, too, as there's a good chance you'll get winter rain! Keep in mind the vines will be dead and brown, so you probably won't be taking too many wonder babe photos strolling the vineyards this time of year.
Shop Winter Wine Tasting Outfits

Wine Tasting Outfit Ideas Spring
Springtime at wineries usually means FLOWERS! And mud from rain, and sometimes chilly breezes. Vines will slowly be starting to blossom during the spring, but they'll still look mostly brown (with just a little bit of green.)
I always get inspired by winery gardens and go for white or floral dresses, midi skirts, espadrilles and of course, denim jackets in case I get chilly.
This will be the time of year that I wear shoes I'm ready to get dirty, since it may be muddy in the vineyards. But mostly I just get really inspired by the romance of winery gardens and dress to match.
Shop Spring Wine Tasting Outfits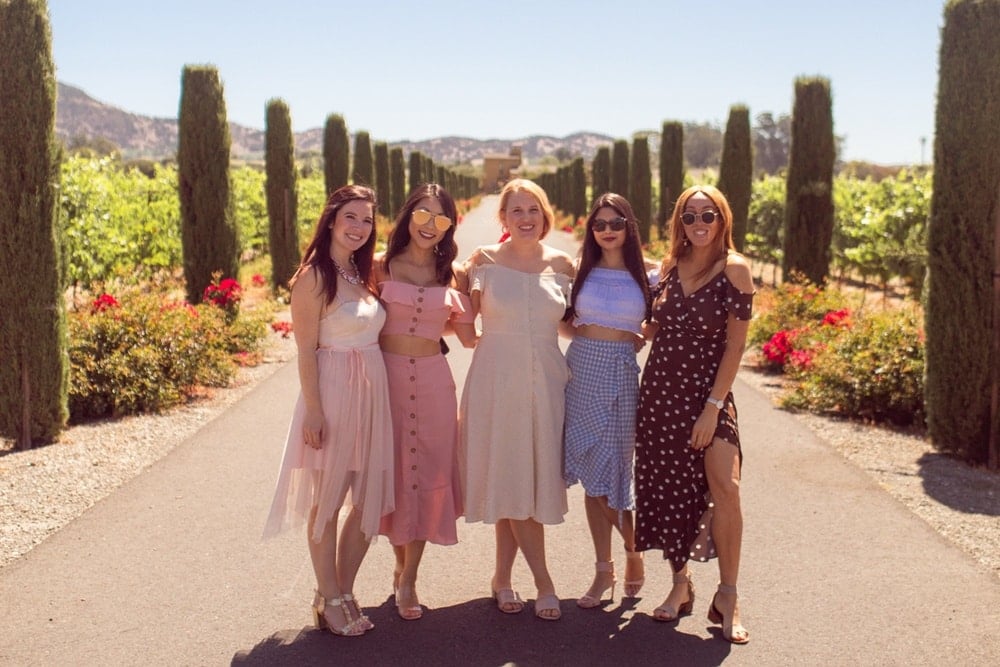 Wine Tasting Outfits For Summer
Oh boy, summer in wine country can get hot hot hot. On top of a top-notch deodorant, I always reach for sunglasses, sun hats, straw hats, flowy dresses, and linen jumpsuits. I like to channel Greek island vibes sometimes — big dresses that billow in the wind and help cool me off while still looking effortless.
Summer is when the vines will be covered in green leaves and purple grapes. If you're trying to take that classic photo walk through vines, this is the month to do it!
Pure white will probably glare too much in the bright sunlight, so opt for either cream, or a bold print. (Keep in mind, brown, black and green clothing will blend in too much so save those for another trip.) White in general doesn't make for the best dresses for wine tasting due to spills.
Shop Summer Wine Tasting Outfits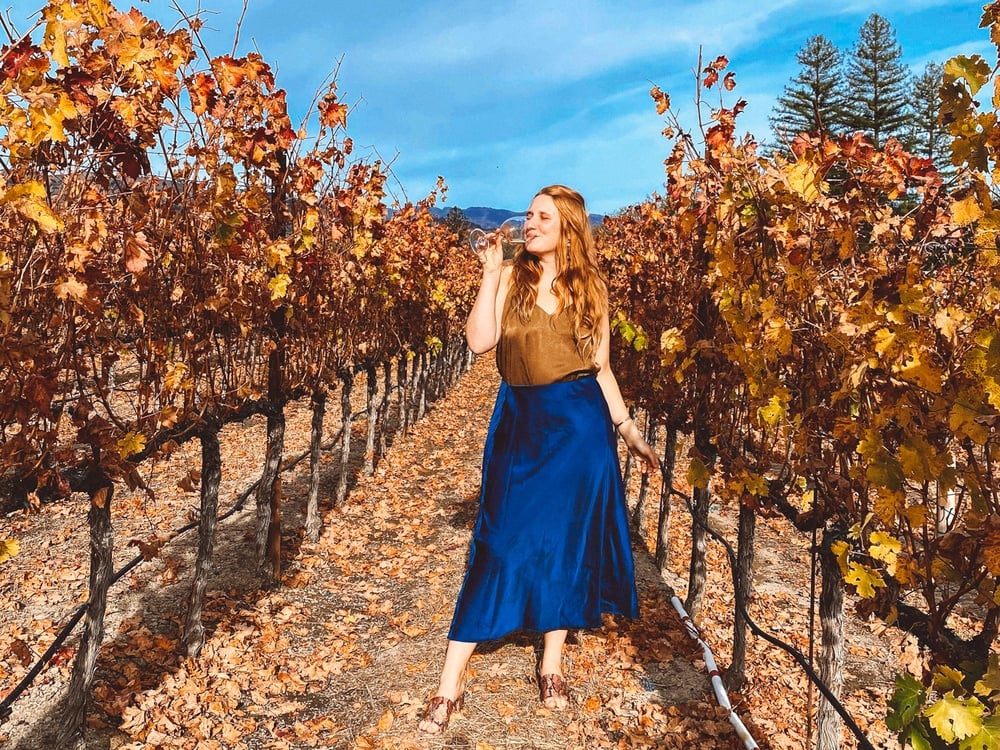 Fall Wine Tasting Outfit Ideas
Fall winery outfits are some of my favorites! Did you know grape vines get fall foliage like trees?! It's so dang cool to wander the vineyard rows during the fall and view the colors. It's just a sea of orange, yellow and red.
In California, fall is still pretty warm too, but not as crazy hot as summer. You may want to break out the skinny jeans and denim jacket for a fall look.
I love gingham print, though, to channel those classic fall vibes. I once wore a blue skirt during a fall visit to Healdsburg and it popped really nicely against the orange vines in photos so consider blue outfits!
Shop Fall Wine Tasting Outfits

What to wear to a wine tasting event
Trying to figure out what to wear to a wine tasting party or even a vineyard wedding? Dress up even more than you would if you were just doing a simple tasting.
Winery attire for special events = more room to get fun with outfits and fashion! I personally have rented outfits from Nuuly in the past for events and weddings, they have so many cool dresses (like this sequin dress!) that would look amazing in a winery setting.
Still be thoughtful about your shoes, since you may have to sit in the field for a ceremony or stand on the lawn for an event. But plan on having a seat to keep your purse or coat, so you won't have to be carrying those around.
This totally depends on the event, though. While in Portugal with Vinho Verde a few summers ago we did a mix of wine tasting fairs where you walk around to booths and network, along with seated dinners with producers. For the networking fairs I tried to dress more "smart" and professional.
I hope this helps you get ideas on what to wear to a winery! I'm not going to lie — I love looking at what other bloggers are wearing to get updated wine tasting outfit ideas.
Happy hour will always be fun, but there's something so special about grabbing your girls and heading to Calistoga, or Santa Cruz Mountains for a day of wine tasting together. And it's always more fun when you dress up in a cute winery outfit!