Welcome to San Francisco! As an almost-decade-long resident, I'm totally biased, but San Francisco is my favorite city on the planet. It's full of vibrant cultures clashing together to make this beautiful melting pot of cuisine, architecture and way of life.
Fisherman's Wharf is not really the place to see what makes San Francisco so unique. It's like Times Square – you of course have to visit it, but don't spend your entire visit there. And when you do wander down, make sure to use your time wisely, as there are some hidden gems that make for a fun day in the wharf area.
These are all my favorite things to do in Fisherman's Wharf San Francisco that you should do as well (and then like, move on to a different neighborhood to get an authentic feel for the city).
Arranging This List From West To East
To make this easy for you to follow along, I've arranged this list of Fisherman's Wharf attractions from West to East (roughly, at least) and suggest you start at the West end and move East to follow this guide.
My personal feelings towards the wharf (and I speak on behalf of most locals here) is that it's mostly a giant tourist trap. You can see things like the Madame Tussauds wax museum anywhere in the world, but only in San Francisco can you eat cioppino followed by Chinese Mai Thais in the oldest Chinatown in the country.
Of course, you have to visit when you're in town, but use this guide to show you the highlights and then go climb Coit Tower or see some bison in Golden Gate Park or do a culinary tour along Chinatown.
Best Things To Do At Fishermans Wharf According To A Local
PS – don't forget to wear a sweater when visiting San Francisco! It gets chilly here in the evening when the fog rolls in and even I, a local, sometimes forgets to throw one in my bag. I have a whole post on what to wear in San Francisco according to the season, so that can help you decide what to pack as well!
1. Get a Free Piece Of Chocolate From Ghirardelli Square
Literally, anytime I'm at Ghirardelli Square I swing by the chocolate store to get a free chocolate sample. Sometimes they give out physical chocolate squares, sometimes they pour delicious hot fudge into a little bowl for you to drink.
I believe they are now only doing free samples on weekend days, but ask if you're visiting on a week day!! I'm a huge fan of free and can never have enough chocolate.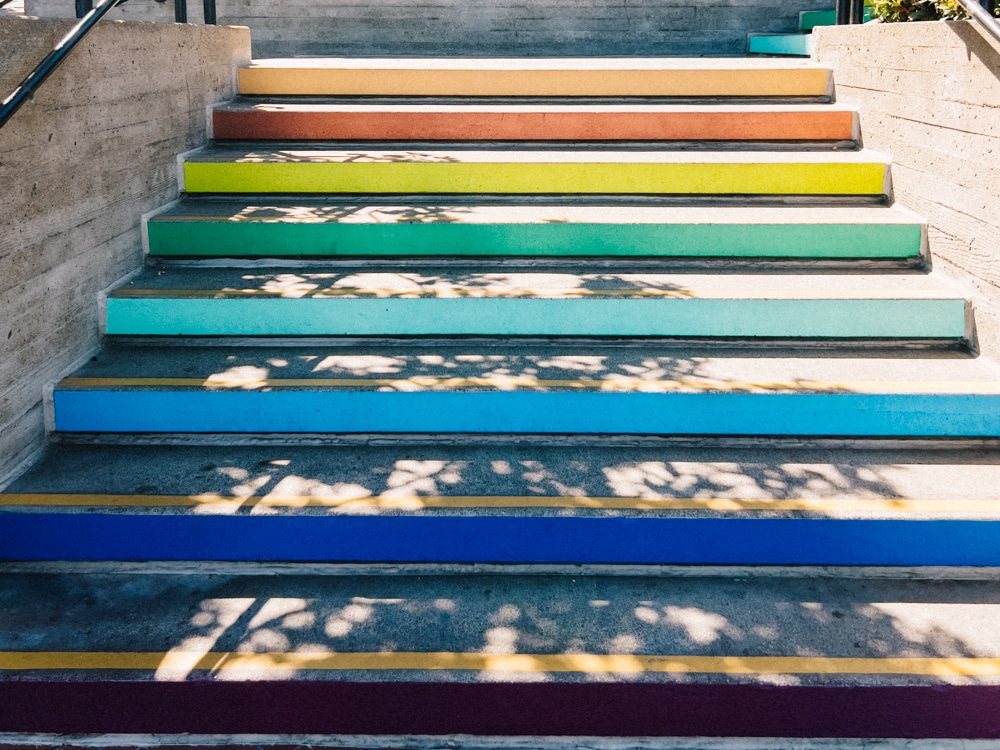 2. Photos At Rainbow Stairs
Take your chocolate sample and walk through Ghirardelli Square plaza to Beach Street. Here you can find a newish staircase that's painted with rainbow colors!
When this was first launched, I think every Instagrammer in the city flocked here so it was tourists AND influencers waiting in line for a photo. The lines thankfully have died down now.
I think it's a cute place to snap a pic and it's from this angle you can see the Ghirardelli Square marque sign, too!
Looking for another photo op? At this point you can head across the lawn to Aquatic Park Pier which stretches out into the Bay and has a killer view of Alcatraz Island, Angel Island, The Golden Gate Bridge, Sausalito and pretty much all of the Bay Area. And, when you turn around you'll get a beautiful view of the San Francisco skyline, too!

3. Umbrella Alley
From here, walk along Beach Street up a block or so to Umbrella Alley! This alley is full of murals from local famous artists, like Kate Tova who makes all the pretty hearts you see around town, and fnch, the Honeybear guy.
And of course, this is where you can find the "Greetings From San Francisco" postcard mural! There's a little iPhone tripod installed here so you can take the perfect group photo, too.
This alley wasn't here until a few years ago and I think it's such a fun addition to this area. They sometimes swap out the murals so there's always something new for me to see when I walk by which I like.
They can sometimes have wonky hours, so make sure to check out my guide for visiting Umbrella Alley but it's usually not too crowded.
4. Look At Cable Cars (Don't Ride Them)
Seriously. This is not the place to ride a San Francisco cable car. The lines will be long (easily 45+ minutes), the car will be crowded and you probably won't get a seat.
Plus, then you have to spend another $8 to take a trolly back to the Wharf since it's not a round trip ride.
Instead, head to Van Ness to hop on the California Cable Car there. It'll most likely be pretty calm, especially in the mornings, and you can take photos and have the whole car to yourself for a few minutes before it starts the route.
But, it's nice to see them in action when you pass by them in the Fisherman's Wharf.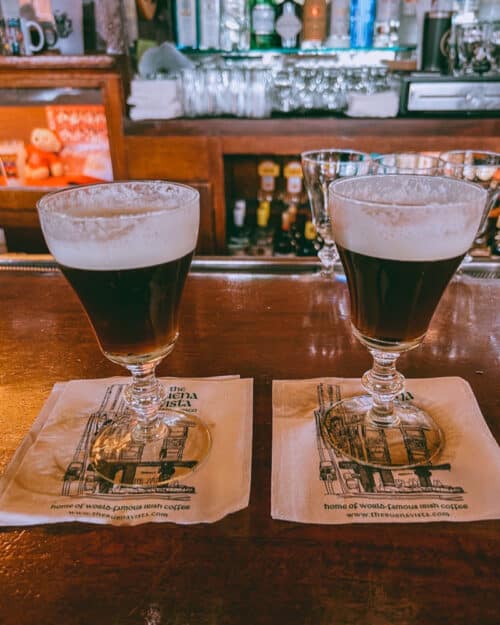 5. Buena Vista Cafe Irish Coffee
You can't come to San Francisco without stopping by the Buena Vista Cafe for at least one Irish coffee. This spot is credited for introducing America the famous Irish Coffee and I can attest – they're really really good.
It's best to visit on a random weekday since weekends can get a little crowded with long wait times. I suggest sitting at the bar so you can watch the bartender make all the Irish coffees since they line the glasses up in a row.
I asked our bartender how many coffees he makes in a day and he told me about 2,000. That's so many!!!
Optional: A block from Buena Vist ACfe is Hyde Street Pier at the San Francisco Maritime National Historical Park. Also the USS Pampanito down the street if you want. This national park is made of floating wooden barges, making it unique but also so it is paid but you can use your National Park Pass!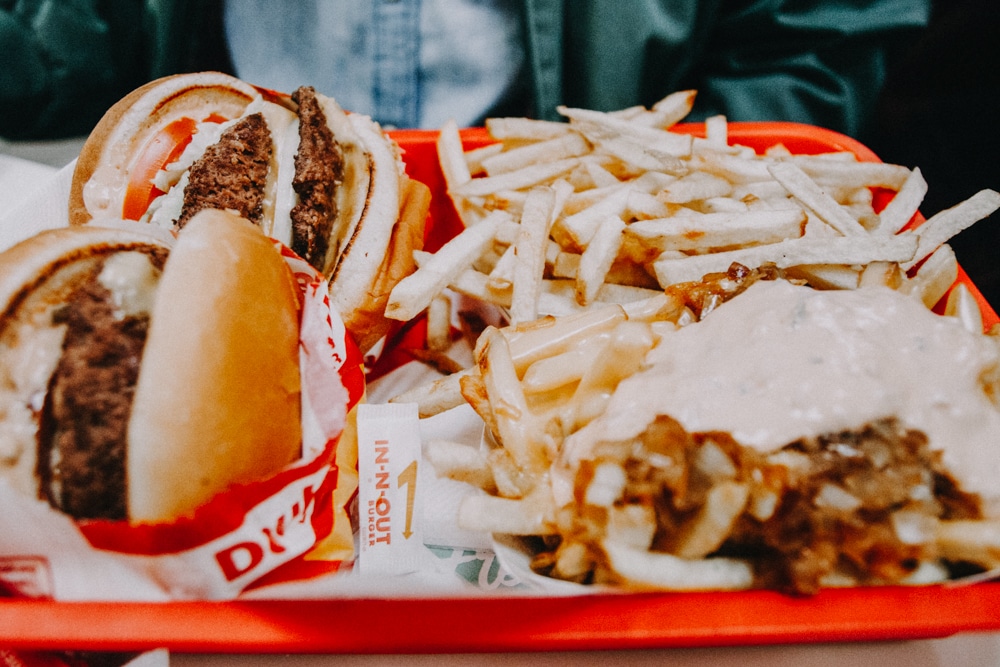 6. In-N-Out Animal Style Fries
Of all the Fisherman's Wharf San Francisco restaurants, In-N-Out Burger is the cult favorite. There's a lot of crappy chain restaurants here (sorry Bubba Gump Shrimp, but everyone can do better when visiting San Francisco.)
And to be clear, there are higher quality places to eat in Fisherman's Wharf than In-N-Out, but if you've never eaten at this classic California chain before, this is your chance. Otherwise, you'll have to drive to find one.
I recommend ordering the Animal Style Fries which is part of the secret menu (there's a lot of secret menu items but that's my favorite!) Also grab a burger while you're at it.
This place is right on Jefferson Street in the heart of the Wharf, so does get crowded around lunch time but moves pretty fast. You can eat inside or bring your food to go and sit by the water.
Pro-tip: Looking for a public bathroom? There's one around the corner from In-N-Out that you can use for free and usually without lines!

7. Musée Mécanique
From here, keep walking down the Wharf past the boats and pass by the Fisherman's Wharf Sign, which is a national historic landmark and a sight in itself, but we're heading to somewhere more special.
I want you to visit Musée Mécanique to find one of the most famous yet overlook San Francisco attractions. The Princess Diaries arm wrestler!
When I first learned this little arm wrestling machine was not only real, but a thing you can still really use I was thrilled.
In the movie, Mia takes the Queen out on a drive, heading over the Golden Gate Bridge North, back down South along the Great Highway and then back North again to the Cliff House (does that drive actually make sense in real life? No. But we'll go with it.)

They end up at an arcade where Mia teaches the Queen how to arm wrestle a game. That whole arcade is actually a real museum: the Musée Mécanique.
It used to be located in the basement of the Cliff House but in 2002 it was moved to Fisherman's Wharf where you can visit it totally for free. And yes, that arm wrestling machine is still there if you want to take a wack at it.
8. Clam Chowder In A Bread Bowl at Boudin Bakery
One of my favorite things to do at Fisherman's Wharf is grab a bowl of clam chowder! I used to joke that the only reason i would take friends visiting to the Wharf was if they could buy me a clam chowder bowl, otherwise it wasn't worth it.
But seriously, get yourself a clam chowder bowl!! There's a lot of cafes down in the Wharf and I haven't been able to try all of them myself.
My go-to was Tarantino's because they have a window so you could grab a bread bowl to go and eat by the water. Or sit in their upstairs dining room overlooking the bay, but they're currently closed.
Boudin Bakery is a great backup option, too. Boudin is a coveted San Francisco bakery and they make delicious high-quality bread. This is a fun stop regardless since they usually have something crazy like a bread-shaped Aligator in the store window to look at.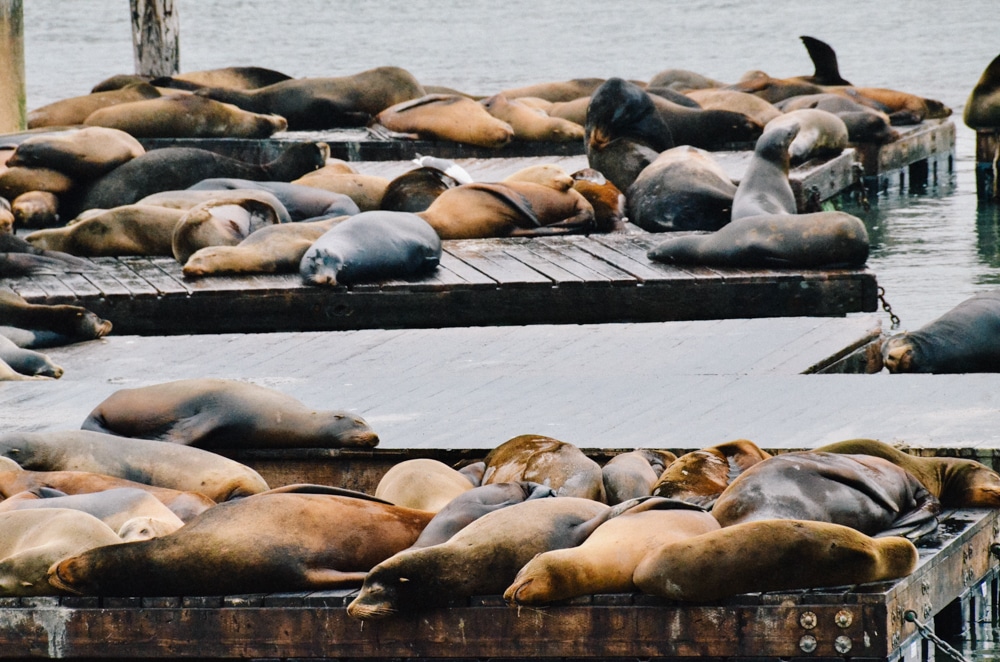 9. Sea Lions On Pier 39
The main Pier 39 attractions are the sea lions!!! Aka sea babies as I like to call them. I go kayaking in the Bay a lot and love the personalities of sea lions and seals. They're like giant water cats, with tons of sass and cozy nap times.
For generations now, every day 20-50 sea lions head to Fisherman's Wharf to take naps on the docks. They don't always smell the best, but they're cute and usually will do something funny and fight each other for the best reclining position or something. I always stop by to say hi!
There's a lot of things to do at Pier 39 that mostly revolve around shopping and eating at very overpriced restaurants. There's also a lot of the main Fisherman's Wharf tourist attractions here, like the aquarium if you have kids.
But as I mentioned above, Pier 39 is like, THE center of the touristy area in the city so nothing here is actually authentic to San Francisco and you will rarely find locals here. See the sea lions, take a poke around but then move on to something else.
10. Chamber Of Secrets Door
Yes, there is a Harry Potter Chamber of Secrets Door on the edge of Fisherman's Wharf!!
This is the type of thing for fellow Harry Potter nerds. Located on 2639 Leavenworth Street is a The Chamber of Secrets door. Created by Steve Penetti, this door is a little easter egg for visitors to find.
You can't go inside, but take all the photos you want! Maybe even bring your own Harry Potter robes and do a photoshoot?
11. Sunset Bay Cruise
ONLY do this on a nice night but if the fog is gone and it's not too chilly, one of my favorite San Francisco activities is taking a sunset cruise. Book one here.
You'll sail under the Golden Gate Bridge and depending on which cruise you book, you may go to Tiburon, around Angel Island, past Alcatraz and also under the Bay Bridge!
These tours happen daily and you can easily buy tickets online or at the ticket stand. You can't be late but don't feel like you need to get there early as they won't open the doors until about 5 minutes before departure and everyone moves around the trip so you can usually always find a great seat and a great view at some point.
Bring cash for drinks!
Ok, and now it's time to get out of Fisherman's Wharf. It's just next door to some of the most culturally diverse and interesting neighbhords in San Francisco, so make sure you have comfy walking shoes and explore by foot!
For real, those hills can be a workout haha.
Walk over to North Beach for Italian and Barbary Coast Era history. This is also where you can see the famous San Francisco Flatiron building which has a cool view of the Transamerica building behind it. I always end up taking a photo here when I'm in North Beach.
Then, head over to Chinatown and walk down Grant Street. This is where you'll find the Chinese lanterns hanging and tons of markets and shops. I swear half the time I'm in Chinatown there's a random festival happening so you may get to also see the dancing lions!
If you drink, please please stop by Li Po's for a famous Chinese Mai Thai. This is a grungy Chinatown bar (almost feels like a grotto) that Anthony Bourdain once visited and has been a local favorite for many many decades.
After happy hour, keep walking down to Market Street. You'll pass through Union Square and end up next to all the trains so from here you can easily bounce to any area of San Francisco!
If you need more ideas of things to do in San Francisco, I have a very detailed guide with my favorite restaurants, sights, museums, travel hacks and more. You can always drop a comment below and I'll try and help you out as well.