Oregon is one of my favorite states, partially because I feel like so many corners are low-key slept on.
Yes, we all know and love Portland and Cannon Beach, but not many people end up soaking in natural hot springs in the Cascades or chowing down on Dungeness crab in a Bandon fish shack or spelunking a mile deep in a lava tube cave.
42 Secret Oregon Bucket List Things To Do That You May Have Missed
If you think you've found all the things to do in Oregon, you're probably missing out on some of these hidden gems. From the coast to the high desert to the mountains, these are our favorite Oregon bucket list places to visit, eat and experience.
1. Last Blockbuster
Dive back into nostalgia at the last Blockbuster EVER! This is another Central Oregon (Bend) goodie that feels and smells just like the 90s.
The Bend Blockbuster just reached its 10-year anniversary of it becoming the last remaining operating location! Make sure to walk through the store for a little reminiscing and check out their special merch.
2. Painted Hills National Monument
You'll feel like you're on another planet at Painted Hills. It looks like what I imagine Mars to be like! The secret to the vibrant reddish landscape are layers of sedimentary rock that eroded over time.
There's over a dozen trails in the John Day Fossil Beds National Monument but the Painted Cove trail will take you through the most colorful parts of the hills.
My guide to Painted Hills tells you everything you need to know to plan your trip to one of the best places to see in Oregon!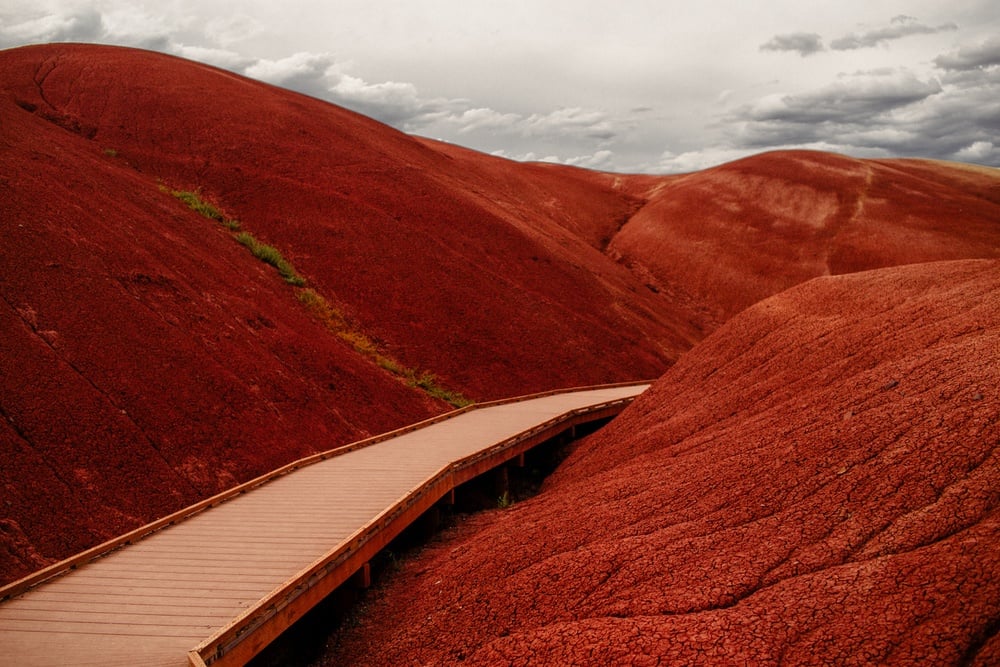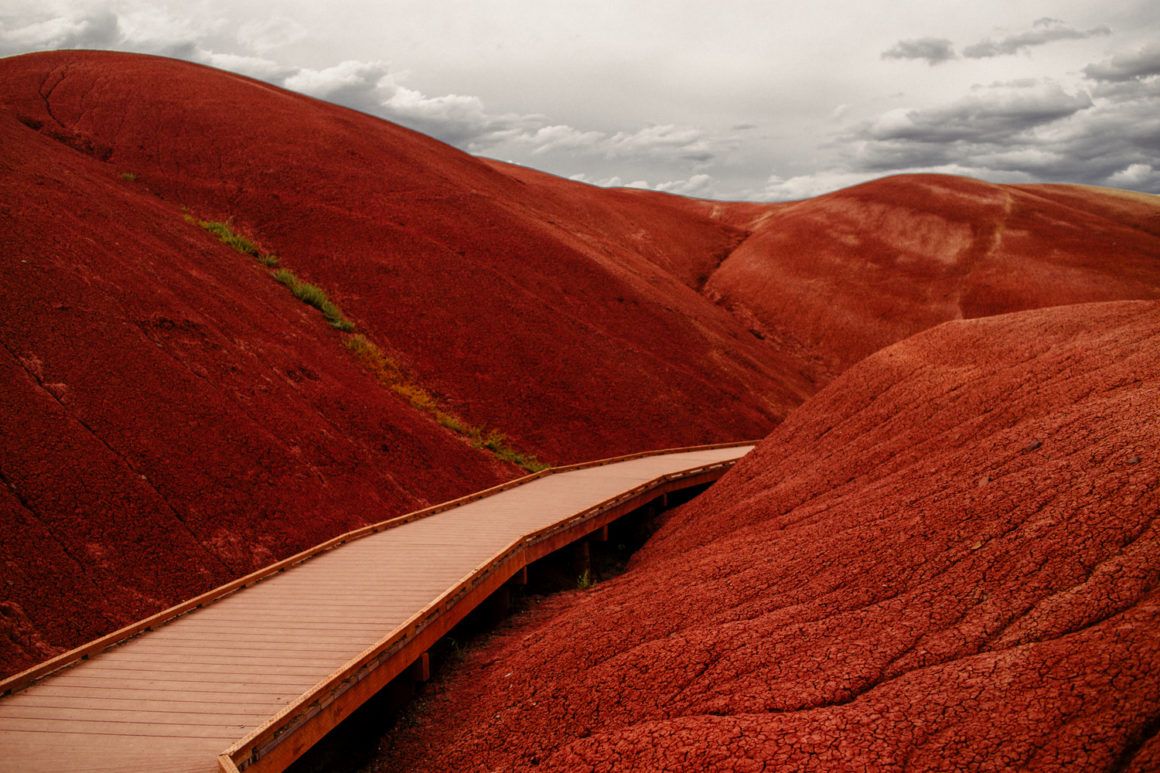 3. Heceta Head Lighthouse
Haystack Rock at Cannon Beach is a tried and true Oregon Coast classic, but there are so many gems further down the coastline that are just as stunning and unique.
You can visit Heceta Head Lighthouse north of Florence (you won't be able to miss its red top!) on the grassy cliff overlooking the ocean. It was first lit in 1894 and continues to operate today!
For those who aren't afraid of heights, I'd recommend taking the guided tour up the staircase to the top of the lighthouse for a full panoramic view.
The surrounding Heceta Head area also has dozens of trails and viewpoints to explore for a nice hike and picnic. You can even spend a night at the lighthouse keeper's house, which operates as a bed and breakfast.
4. Fresh Dungeness Crab in Bandon
If you're wondering what to do this weekend in Oregon, Bandon never disappoints. This city is home to a surprising number of hidden gems and offers year-round outdoor activities.
As a coastal town, it's also heaven for seafood lovers. Dungeness crabs are native to the west coast of North America and there's nothing quite like a Bandon fish or crab shack.
Head to Bandon Fish Market or Tony's Crab Shack for your fill! If you're in the mood for some surf and turf, try the Steak Oscar at Edgewaters restaurant for a steak filet topped with Dungeness!
PS – one of my favorite hotels in Oregon is nearby called Wildsprings Guest Habitat. It's super magical and full of ferns!
5. Lava Tube Caves
You wouldn't be able to tell by the high desert landscape, but there are actually hundreds of lava tube caves underground in the Deschutes National Forest area.
Exploring the caves is such a unique experience that's hard to replicate anywhere. I recommend taking a guided cave tour with Wanderlust Tours but they're also open to the public.
It was one of my favorite things to do in Bend, Oregon, especially since the tour ends with a stop at a local distillery for drinks! You can book it directly here.
6. Umpqua Hot Springs
I visited Umpqua Hot Springs on one of my West Coast road trips and it did not disappoint! There are about 8 pools that overlook the river and are surrounded by beautiful forestry. The springs can be found in Central Oregon near Crater Lake National Park.
It's super popular so expect crowds on weekends and with any hot spring, the morning is best to visit.
It's a long drive from any large city, so I'd recommend camping nearby to fully enjoy the hot springs and make your trip worthwhile. My post here covers everything you need to know before your visit, including where to find a secret pool!
7. Bend Brewery/Food Scene
Bend is home to dozens of great breweries and countless awesome dining options. It's like they took Portland's cart scene and took it to the next level! Beer gardens are all over the city and are a great place to hang out and enjoy a local brew. I loved the environment at Bevel Brewing and Deschutes Brewery is well-known for their IPAs.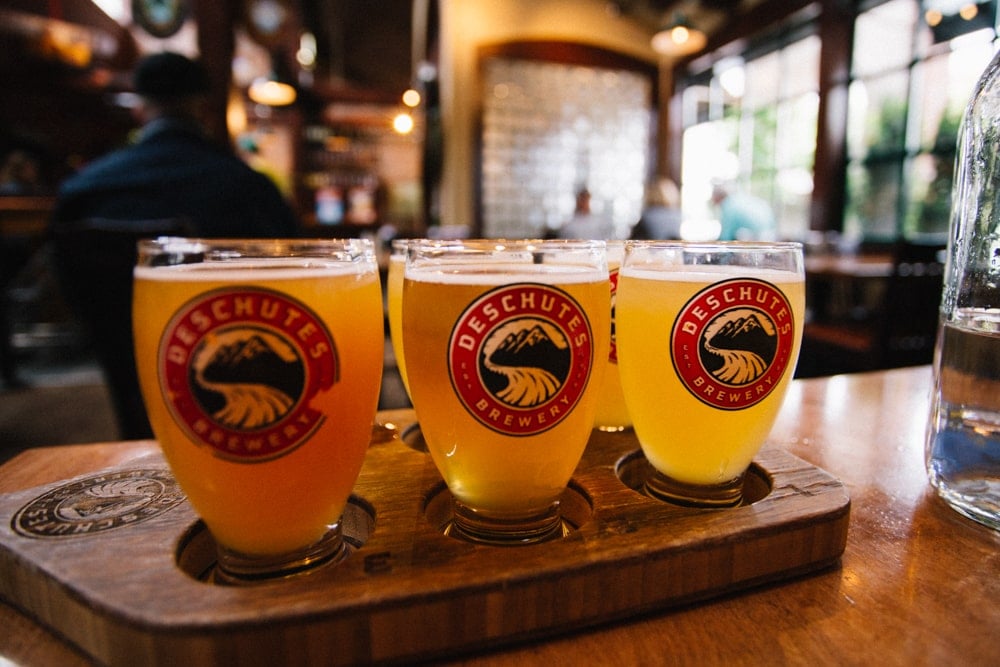 If beer isn't your drink of choice, there are just as many cute coffee shops and cafes spread around town.
The latte I had from Thump Coffee was one of the best I've ever had, and I never skip Nancy P's Cafe and Bakery when I'm in the area. For some more inspo on things to do in Bend, Oregon check out my short itinerary here!
But if you're looking for something adventurous to do, be sure to check out Newberry National Volcanic Monument.
8. Fat-Tire Beach Biking
Since the Oregon Coast isn't so pleasant to swim in (at least without a wetsuit), fat-tire biking is a great way to explore the beach landscape.
There's trails all throughout the coastline in cities like Newport, Cape Kiwanda, Lincoln City, and Bandon. The South Coast area is so underrated—they're not as crowded, which means you could have the whole beach to yourself!
9. Multnomah Falls
A visit to Multnomah Falls and the infamous Benson Bridge isn't considered an Oregon secret so much as a rite of passage. It's definitely up there with Haystack Rock as one of the biggest must sees in Oregon.
Located in the Columbia River Gorge area, these 620-foot super-photogenic falls are hard to miss and guaranteed to make your jaw drop. There's ample parking but it fills up quickly on weekends so time your trip well (and bring a rain jacket for all the mist!)
You can also take a guided tour to not stress about the parking!
10. Mount Hood National Forest
Mount Hood is heaven for outdoor enthusiasts year-round and has long been one of the top Oregon tourist attractions. It's a quick 45-60 minute drive from Portland making it super accessible.
In the snowy season, you have the luxury of three different ski resorts for downhill skiing and snowboarding. If you prefer to take things a little slower, I'd recommend snowshoeing or cross-country skiing. (Teacup Lake is great for the latter!)
Not a fan of the cold? Visit the area in the summertime for mountain biking, camping, fishing, and paddleboarding.
Trillium Lake is a favorite with its picturesque view of the mountain. If you're able to get a campsite at this popular spot, make sure you wake up early to catch the sunrise!
Or, you can take a guided wine and waterfalls tour from Portland to enjoy all the local wineries and sights!
11. Sugarpine Drive-In
Classic drive-through food gets elevated with locally-sourced goods at this busy spot right outside of Portland. Sugarpine is located on the banks of the Sandy River, so in the summertime you can go for a float or short hike before grabbing a delicious meal.
Their menu changes frequently to accommodate seasonal offerings, but there's always plant-based and vegetarian-friendly options so no one's left out. Psst… don't skimp on Sugarpine's dessert—their variety of specialty sundaes might be better than the super popular Salt + Straw!
12. Hood River Fruit Loop
This 35ish-mile long loop leads you to fruit orchards, vineyards, and farms through the scenic Hood River Valley.
Visitors can pick fruit at half of the participating locations or purchase fresh produce, including peaches, berries, apples, cherries, and more. Some spots even offer delicious farm-to-table meals and wine or cider tastings.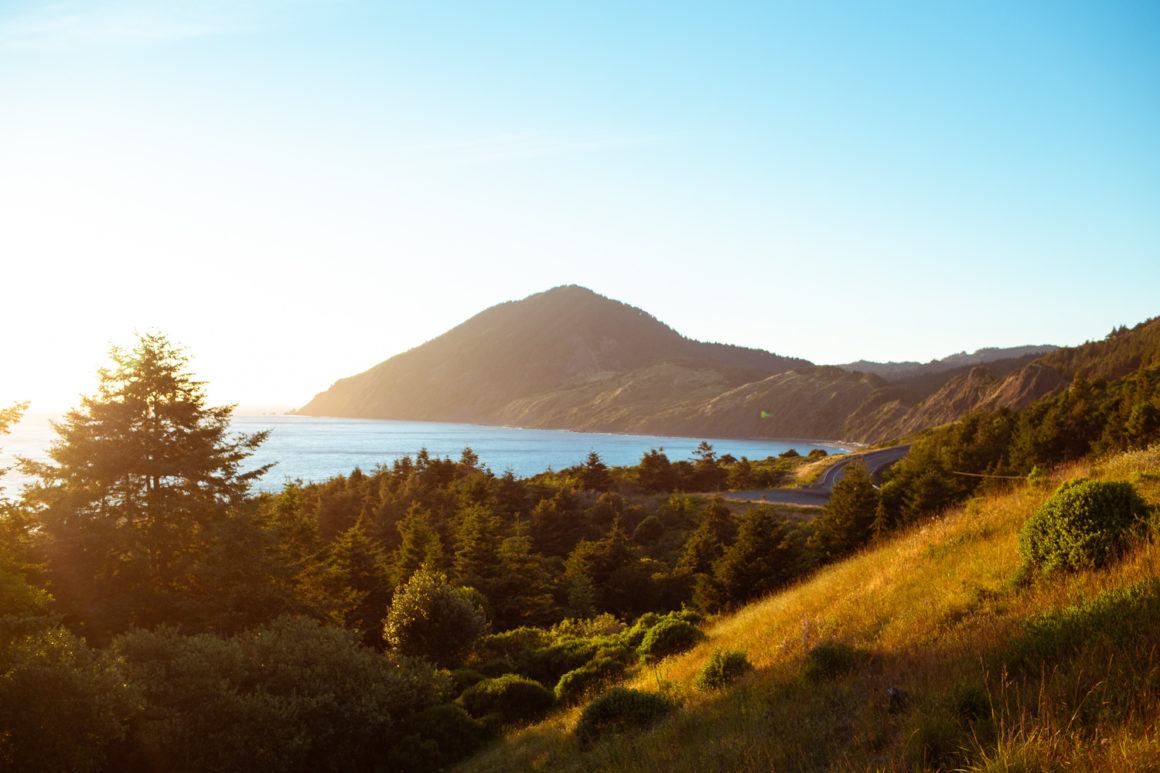 13. Mile Marker 28 Springwater
Oregon natives will be impressed if you know about this spot. Some might not even know about it themselves!
On highway 26 heading west to the Oregon Coast, there's a small tap around mile marker 28 built into a block of stone. If you're coming back from the coast, there's another tap on that side. Make sure to keep your eyes peeled since it's easy to miss!
The tap flows year-round with cold springwater with freshness and quality that thousands of visitors have vouched for. Sometimes you can see visitors filling up gallon containers with the water before they head home or hit their favorite Oregon Coast trail.
14. Tillamook Factory
You've definitely seen Tillamook cheese at your grocery store, but did you know it came from a small town on the Oregon Coast? No Oregon Coast bucket list is complete without a visit to their flagship location. You can take a self-guided through the factory and watch the cheese-making process through huge windows in the viewing gallery.
If you work up an appetite, end your tour at the dining hall with the perfect cheeseburger or classic cheese curds. Leave enough space for dessert though—you can't skip their ice cream counter. (Sometimes they serve new flavors before they're released in stores!)
15. Voodoo vs Blue Star
Settling the Voodoo/Blue Star donut debate is a must for any Portland bucket list. The two shops have completely different vibes but are just as loved by locals and tourists alike.
I don't want to influence anyone too much but personally I'm on team Blue Star. Their maple bourbon donut is the perfect companion to a cup of black coffee!
Don't skimp on the bakeries that are lesser-known by most tourists—Lauretta Jean's, Ken's Artisan, Baker and Spice, Soro Soro, and Kyra's Bakeshop are all within a 20-minute drive from downtown and worth a visit.
16. Smith Rock State Park
Smith Rock State Park near Redmond features stunning rock formations and attracts millions of visitors each year. It's also one of the top climbing destinations in the United States!
The park is busiest in the spring and summer, so a great way to avoid large crowds and busy trails is to go trail riding! We visited Smith Rock Trail Rides on the other side of the Crooked River Canyon and it was such a fun and relaxing way to experience Smith Rock.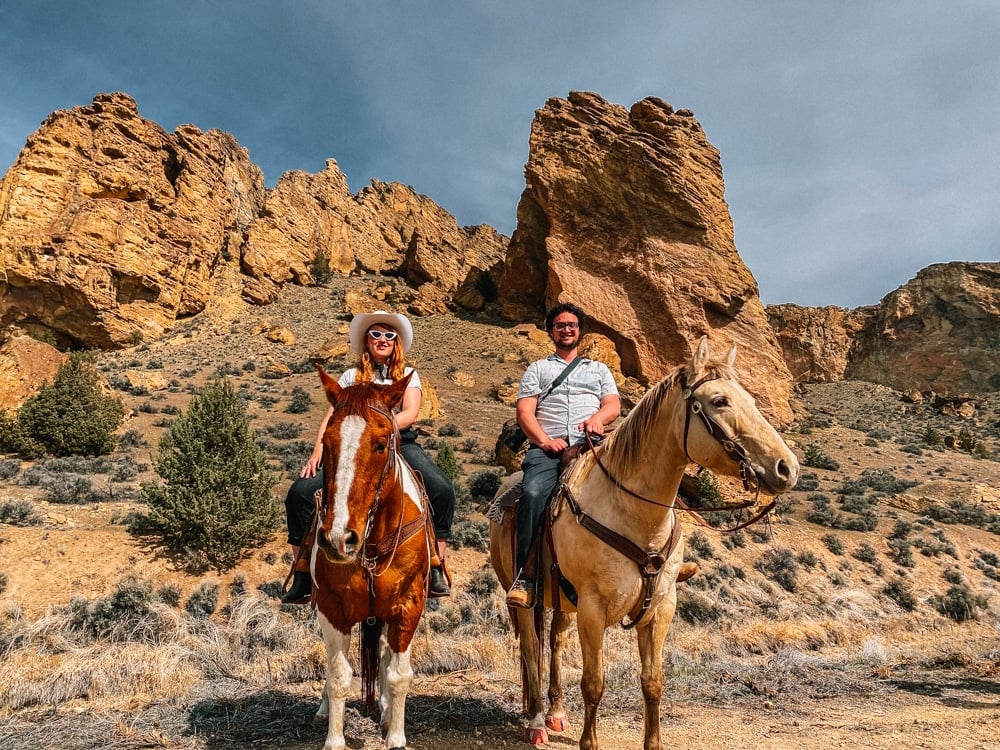 17. Wooden Shoe Tulip Festival
Not a secret, but well-known for a reason. You can't find this experience in many places outside of the Netherlands!
The Wooden Shoe Tulip Festival is one of Oregon's most highly anticipated spring events, with visitors able to enjoy huge fields of tulips of all kinds of colors. The farm also offers hayrides, wine tastings, and occasional traditional Dutch dancing and music.
18. Track Town
Beaverton might be the home of Nike, but Eugene has long been known as the "Track Capital of the World." Hayward Field, based on the University of Oregon campus, has hosted dozens of track championships and even Olympic trials since the 1970s.
You can visit Hayward Hall to learn more about Oregon's rich history in cross country and track and field. Make sure you carbo-load at a Eugene classic—Track Town Pizza!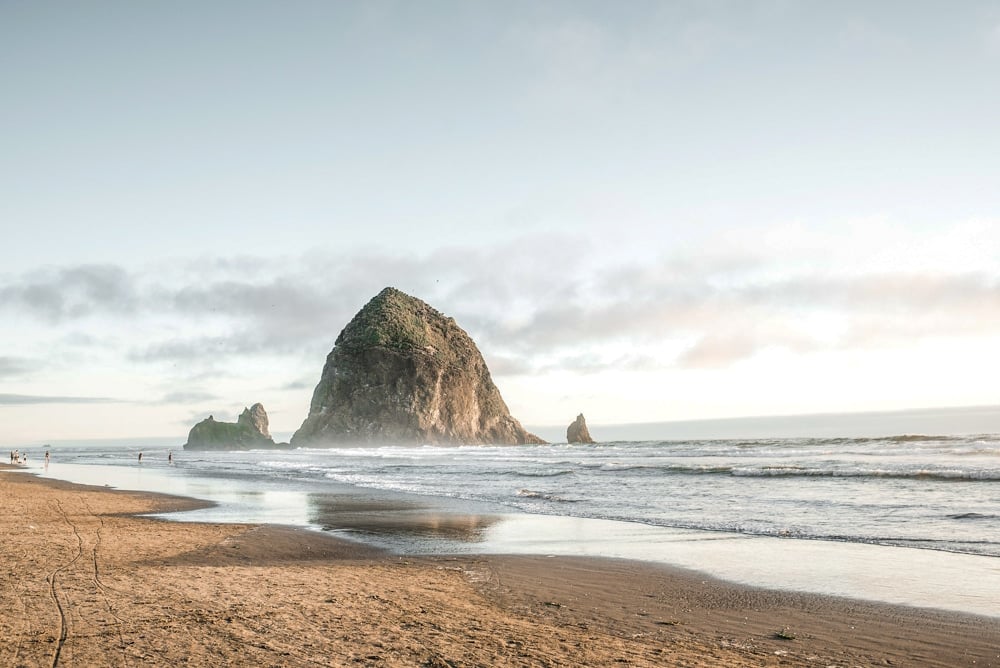 19. Cannon Beach
Haystack Rock is the biggest draw to Oregon's famous Cannon Beach, but the whole area is filled with fun things to do.
There's no shortage of fun boutiques and shops just a few blocks from the beach. Bruce's Candy Kitchen has been open in downtown Cannon Beach since 1963 and visitors can often observe employees making their special saltwater taffy through gallery windows!
There are also awesome oceanfront hotel options that offer beach access and killer views. The Waves hotel is on the quieter northern end of the beach but is still walking distance to restaurants and coffee shops.
The nearby Ecola State Park is also worth a visit. The paved walking trails to panoramic views are part of the Lewis and Clark National Historic Trail, where the explorers wandered in search of a beached whale back in 1806.
You can totally explore this by yourself but there's some fantastic guided tours of Cannon Beach if you wanted a local's take!
20. Paradise Park
There's no end to picturesque trails and hiking spots in Oregon but the Paradise Park trail is a longtime favorite for hikers and backpackers who can handle the 2000+ foot elevation gain.
Starting at the Timberline Trail, the 12-mile loop leads you past small waterfalls, occasional patches of snow, and up and down Zigzag Canyon to reach the picturesque Paradise Park.
If you visit earlier in the summer, you'll be able to catch stunning alpine meadows and dozens of types of wildflowers in full bloom.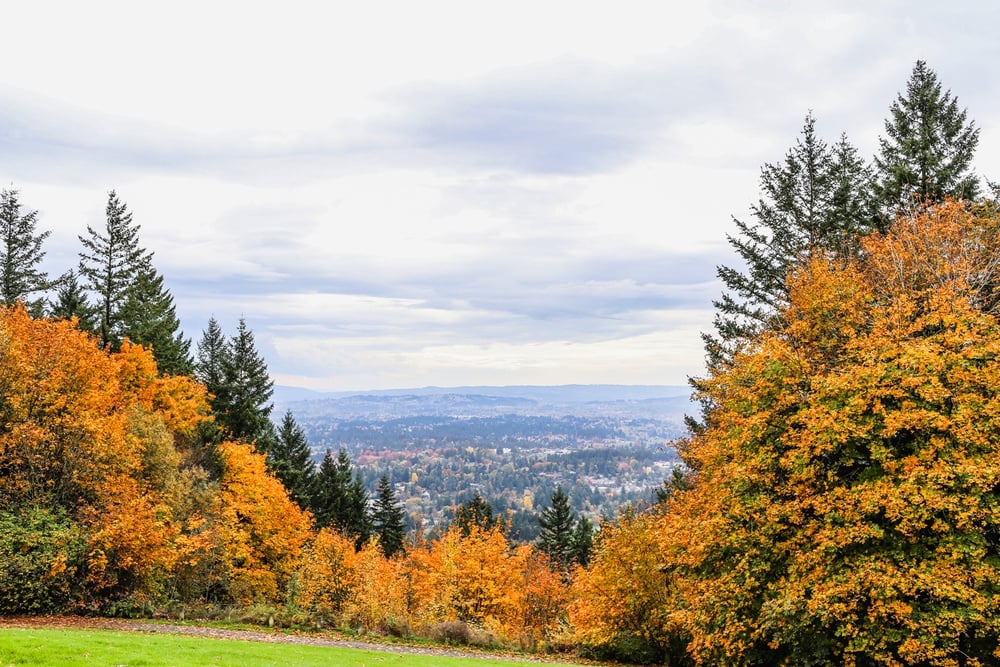 21. Mt. Angel Oktoberfest
Celebrate all things German at Oktoberfest in Mt. Angel! This small town is located a few miles northeast of Salem and offers delicious food, cold beer, and festive music every year in mid-September. Most of the events are free to attend and great for crowds of all ages.
It reminds me of Leavenworth, Washington's yearly Oktoberfest if you're ever up in Washington.
22. Crater Lake National Park
Crater Lake National Park is well-known but forever underrated. I think it's one of the greatest natural attractions in the West Coast and you should visit at least once in your life.
The lake was formed over 7,000 years ago and due to no riverflow in and out of the lake, snow and rainfall have resulted in the beautiful clear blue water.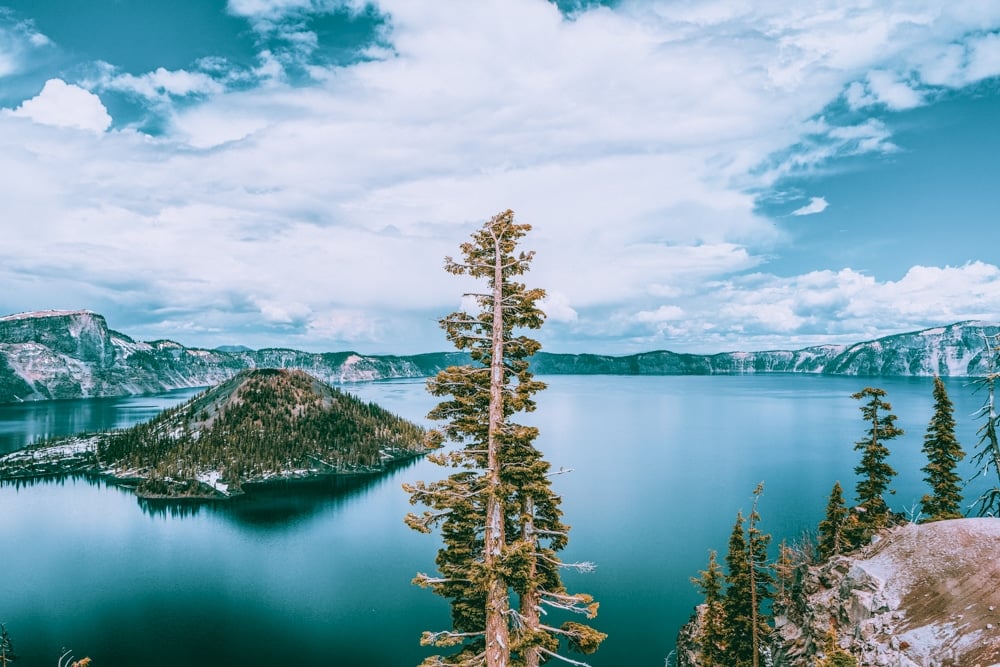 To make the most of your Crater Lake experience, I recommend hiking on one of the numerous trails or making the 33-mile scenic drive around the rim of the lake, complete with lots of pullouts and overlooks to stop for extra special viewpoints.
If you're there between mid-June through September, you can even take a boat tour in the lake itself and get up close and personal with Wizard Island.
23. Witch's Castle
Located in Portland's Forest Park, Witch's Castle is a grungy, nearly-medieval-looking stone structure that was originally built in the 1930s. What's left now are spooky ruins that make a perfect stop for mid-hike exploring! You can walk to Witch's Castle within a mile from both the Upper and Lower Macleay parks.
Bonus: the infamous Cullen House from the Twilight movies is actually right around the corner from the Lower Macleay Park trail entrance.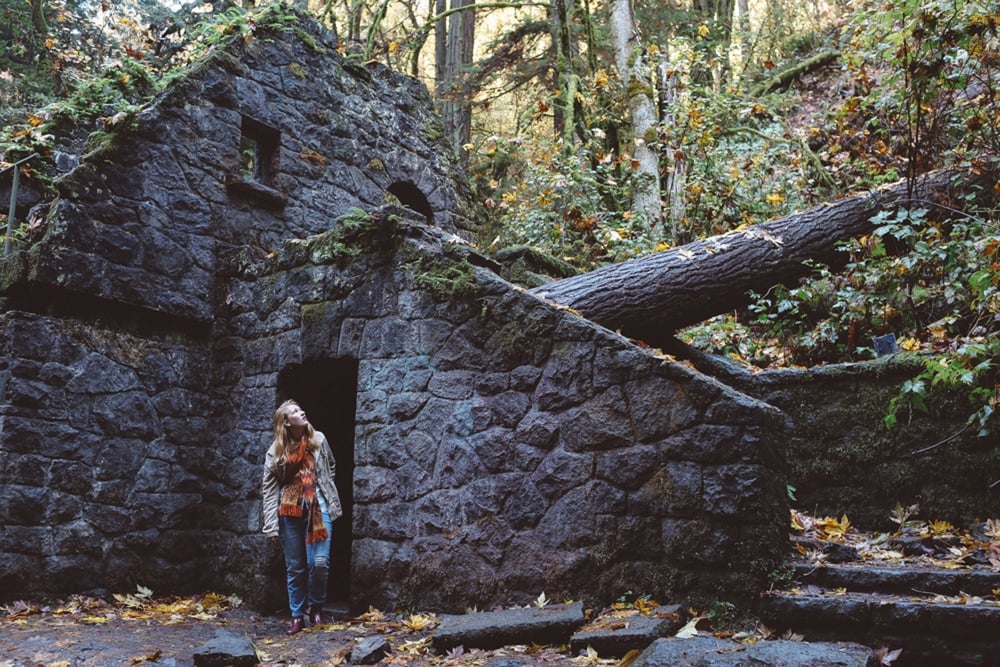 24. Yurt-Camping at Fort Stevens State Park
Fort Stevens State Park is on the Northeast Oregon coast close to Astoria. It used to be a military base that guarded the mouth of the Columbia River but is now home to countless beaches, trails, a fort, and even a shipwreck!
You can elevate the camping experience by staying at a yurt (with electricity and heat!) It sleeps up to 8 people so you can go with friends, and some of the yurts are pet-friendly too!
25. Columbia River Gorge
For those not familiar with the Columbia River Gorge, it can be a little overwhelming. There's so much to do and see in the Columbia River Gorge National Scenic Area!
There are miles and miles of great hikes for all experience levels. Angel's Rest is a favorite with its crazy panoramic view of the gorge at the top. The Wahclella Falls trail is a more relaxed hike that'll still reward you with access to gorgeous falls.
If you aren't a hiker, don't worry! Take a scenic drive through the Historic Columbia River Highway and stop by viewpoints at Rowena Crest and Vista House.
26. St. Helens Halloweentown
In case you didn't know, Disney's Halloweentown was filmed in Oregon and comes back to life in St. Helens every year!
Each October, this small town north of Portland fills with Halloween festivities and spirit, attracting thousands of tourists from all over the country.
There's everything from treats, live entertainment, and even a haunted house to leave every Halloween fan spooked and satisfied. Here's an in-depth overview of my experience at Halloweentown and all the must-see spots!
I went a couple of autumns ago after a visit to Olympic National Park to find all the Twilight spots. Bella's house is actually also in St. Helens so it's a double whammy for fandoms!
27. Elevator Street, Oregon City
A trip up Elevator Street is one of the most unique things to do in Oregon. This municipal elevator was first constructed in 1915 in the quaint riverside Oregon City and is the only vertical street in North America.
The reconstructed version today towers 130 feet high and the 15 second ride to the top is free to the public.
Oregon City is also home to where to Oregon Trail ended and they have a really neat museum here!!
28. Tamolitch Blue Pool
Tamolitch Falls, AKA Tamolitch Blue Pool, is one of the state's most beloved natural wonders.
Located in the Willamette National Forest, visitors can complete the roughly 2.5 mile hike to the falls and pool of shockingly bright blue water. It'll make you feel like you've teleported to somewhere tropical! In the summertime, you'll likely see people cliff jumping and swimming in the cool water.
If you're looking for warmer waters, Bigelow Hot Springs is a few miles south and after a short hike you can soak in the small thermal pool overlooking the McKenzie River.
29. Willamette Wine Tasting
Time Magazine just named Oregon's Willamette Valley the "next Napa" and one of the top 50 places to visit in 2023. There's so many vineyards scattered throughout the area and it's hard to go wrong!
Willamette Valley Vineyards is the largest producer of Oregon Pinot Noir. You can visit their dreamy estate in Tuner (a few miles south of Salem) for private tours and tastings (and Instagram pics, of course)!
Johan Vineyards is a smaller, family-owned winery located on the western side of the Willamette Valley. They specialize in high-quality, biodynamic wines using grapes that implement sustainable and organic practices. I especially love the aesthetic of their bottle labels!
If you want to stick closer to Portland, I'd check out Stoller Winery! They're committed to sustainability and are LIVE and LEED Gold certified. The property has gorgeous views of the vineyard and surrounding hills to enjoy with your tasting session.
30. Oregon Dunes National Recreation Area
The title of largest expanse of coastal sand dunes in North America goes to the Oregon Dunes, which boasts 31,500 acres of dunes that reach up to 500 feet above sea level!
The dunes cover 40 miles along the coast, from Florence to Coos Bay and visitors can enjoy activities like camping, horseback-riding, off-roading and even dune buggy rides!
The dunes are truly one of the seven wonders of Oregon and it's an experience you won't want to miss!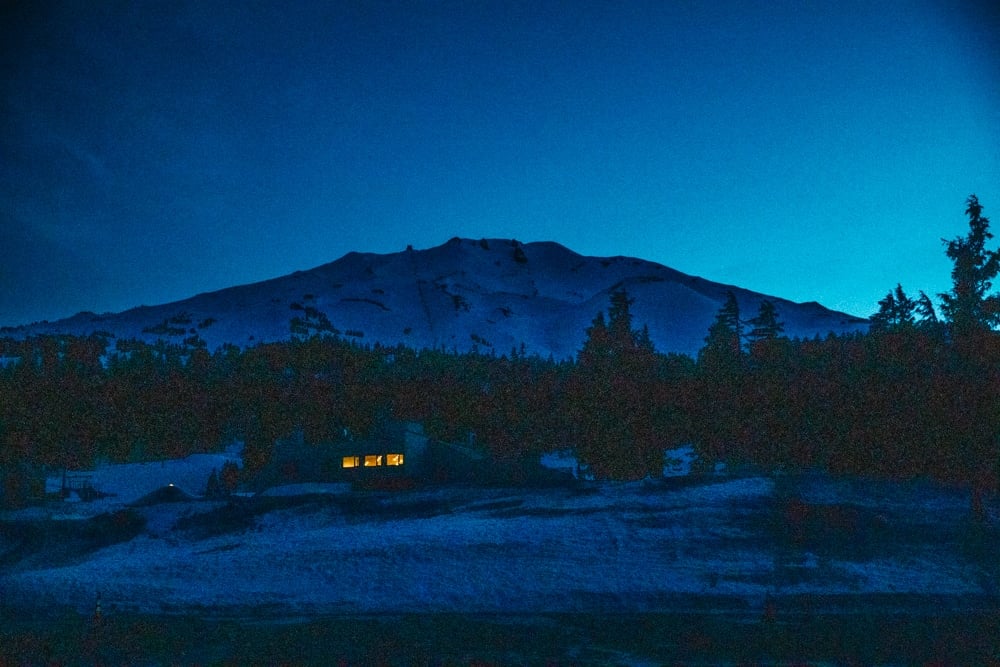 31. Snowshoeing around Mount Bachelor
If you're looking for things to do in Oregon at night, I highly recommend taking a bonfire snowshoe tour at Mount Bachelor!
Snowshoeing is a great winter activity if you're like me and don't ski or snowboard. We went with Wanderlust Tours and got to enjoy a warm fire and boozy hot chocolate underneath the stars.
Skiers and snowboarders can hit the slopes at the nearby ski resort, which is actually the 6th largest in North America!
32. Portland Eats
One of the best things to do in Portland is eat! Portland is a foodie-friendly city with constant new spots and unique cuisines to experience. I created a master list of the very best restaurants, food carts, bars, and coffee shops in the city that you can find here.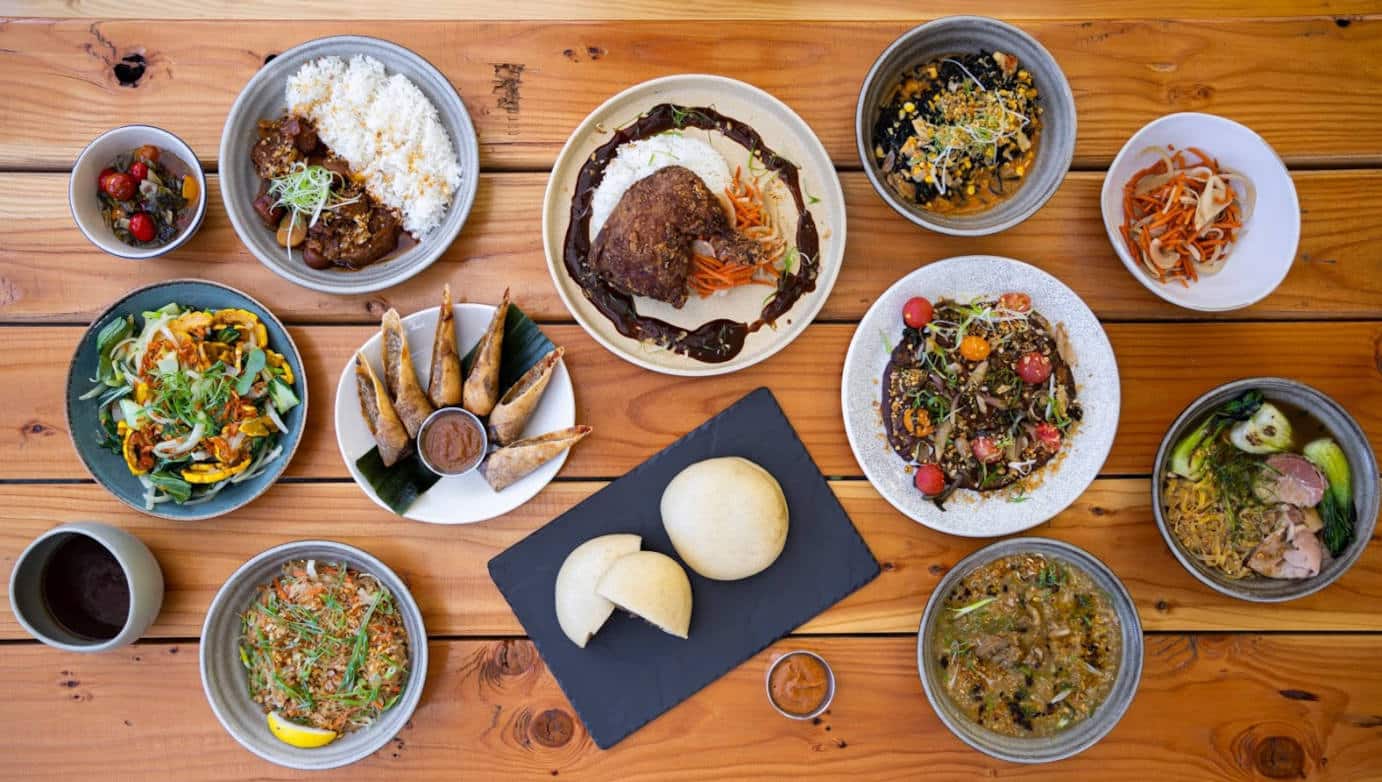 Throughout the year, certain restaurants and bars participate in events like Portland Pizza Week, Burger Week, and Highball Week. You can score delicious specialty meals or cocktails at prices like $8 per cocktail or burger!
33. Nude Beach at Sauvie Island
This bucket list item might not be for everyone, but all locals know about the nude beach at Sauvie Island! Collins Beach is a more secluded area where you can enjoy swimming and sunbathing alongside the Columbia River, clothing optional. (In the permitted areas!)
34. OMSI at Night
Who would've thought your next date night could be at a science museum? By day, OMSI (Oregon Museum of Science and Industry) offers lots of cool exhibits for all ages to enjoy, but during monthly OMSI at Night events you can hang out and explore after-hours with food, drinks, music, and entertainment.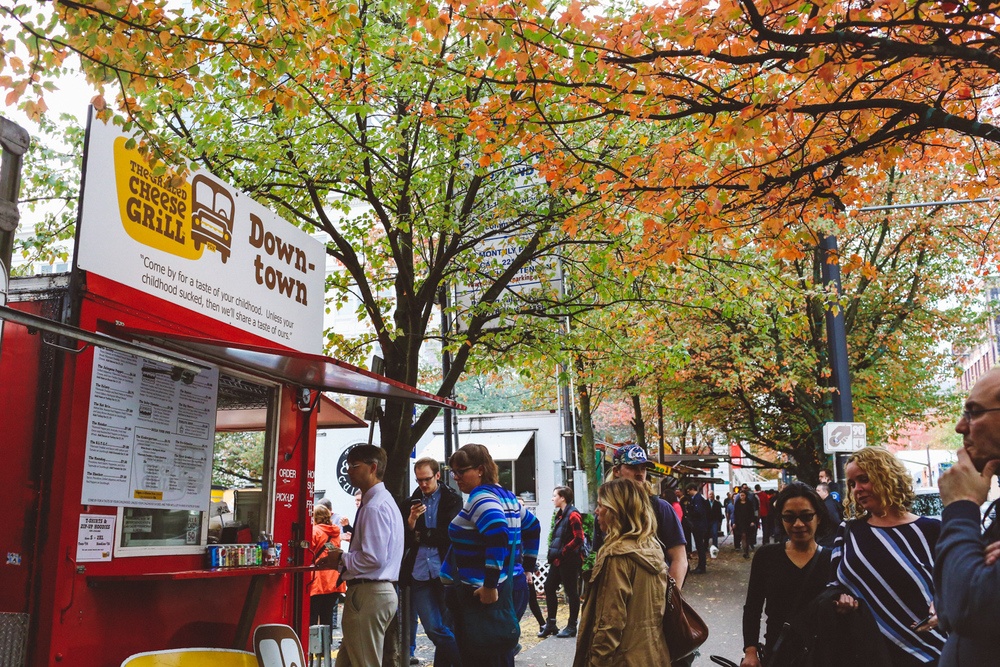 35. Hayden Homes Amphitheater
If you find yourself in Central Oregon, try to catch a concert at Hayden Homes Amphitheater! The open-air venue is close to Bend's city center and right on the banks of the Deschutes River (aka killer sunsets and mountain views). General Admission seating is on the huge lawn, where you can rent a lounge chair to relax and enjoy the beautiful weather and music.
36. Oregon Country Fair
For three days every summer just east of Eugene, you can visit the Oregon Country Fair and experience art, music, and overall great vibes with a great community.
The festival is set up like a small village with booths and stages for live entertainment and artisans. Visitors are encouraged to dress with color and flair so don't forget your favorite tie-dye!
37. 99W Drive-In
Channel your inner Sandy and Danny Zuko at the drive-in! 99W, located in Newberg off (you guessed it!) route 99W, is Oregon's most popular classic drive-in movie theater. This is a great spot for kids or even date night! You can bring your own snacks or stop by their concession stands for a treat.
It's open seasonally but can get super busy with good weather, so plan ahead and get in line early to make sure you get a good spot!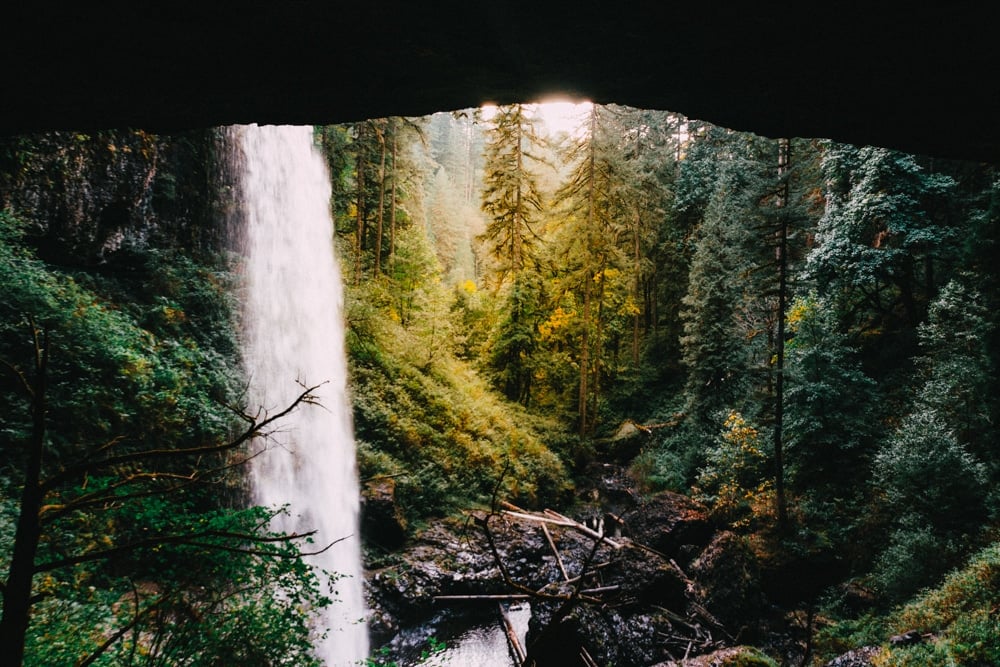 38. Silver Falls State Park
Silver Falls State Park is home to more than 24 miles of trails in its 9,000 acres but the Trail of Ten Falls gives you the biggest bang for your buck—what's a better deal than 10 stunning waterfalls in 7.2 miles?
The park is open year-round, but is busiest in the spring and summer. If you visit in the fall or winter, you could catch colorful Oregon foliage or even semi-frozen waterfalls!
39. Oregon Coast Aquarium
This place deserves a spot on your Oregon Coast bucket list! The Oregon Coast Aquarium is on the central coast in Newport and makes a fun outing for families or even when it's a bit too rainy to enjoy the beach.
They have an underwater tunnel where you can walk through the exhibit surrounded by swimming creatures like sharks and stingrays. There's also a touch pool to get up close and personal with sea animals like starfish and anemones.
40. Oregon Caves National Monument
There are not only countless opportunities for adventures in Oregon, but under Oregon too! Oregon Caves National Monument is located in Southern Oregon near the California border and visitors come from all over to hike and explore the marble caves. The infamous "Ghost Room" has creepy rock formations (haunting not guaranteed).
Don't worry, there's lots of guided tour options if you're nervous about spelunking. The National Park Service has information on making reservations here.
41. Oregon Shakespeare Festival
Wherefore art thou, Shakespeare fans? The city of Ashland is home to America's first Elizabethan theatre! The Oregon Shakespeare Festival was founded in 1935 as a place for people to be able to experience high-quality productions of Shakespeare and other playwrights' classics.
For every 8 and a half month-long season, they perform up to 11 different plays for nearly half a million visitors each year!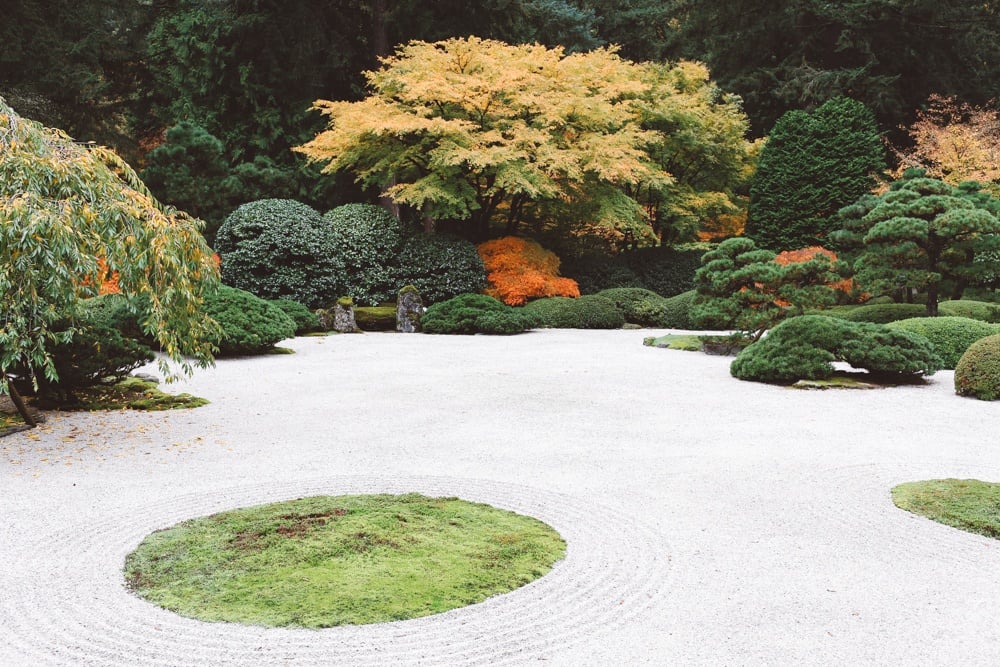 42. Portland Japanese Garden
If you're in Portland, you have to stop by the Portland Japanese Garden. Spend a hour or so exploring the beautiful gardens, and one of the best views of Portland! You'll leave feeling zen and refreshed for a day of exploring or eating your way through the city.
I hope this ultimate Oregon bucket list helps inspire your next trip! There's so much more to the state than the Portland area and it's amazing how diverse the landscape is. No matter where you go, you're pretty much guaranteed delicious food and stunning views.
Let us know if there's anything we missed! I'm always itching for another reason to visit, so comment below with your favorite Oregon attractions and hidden gems