I walked into the lobby of Timber Cove Resort and immediately felt like I was Gaston of Beauty and the Beast was going to pop out at any moment. With the vaulted wood beam ceilings giant fireplace roaring, antler chandeliers, full bar – the entire hotel oozes California cool meets rustic lodge totally up Gaston's alley. (Mine, too.)
And then I walked into the #47 room, where my friend Justina was already waiting with not one but two bottles of wine. She handed me a glass of Pinot and led me to our private patio overlooking the Pacific Ocean. Timber Cove stole my heart very fast.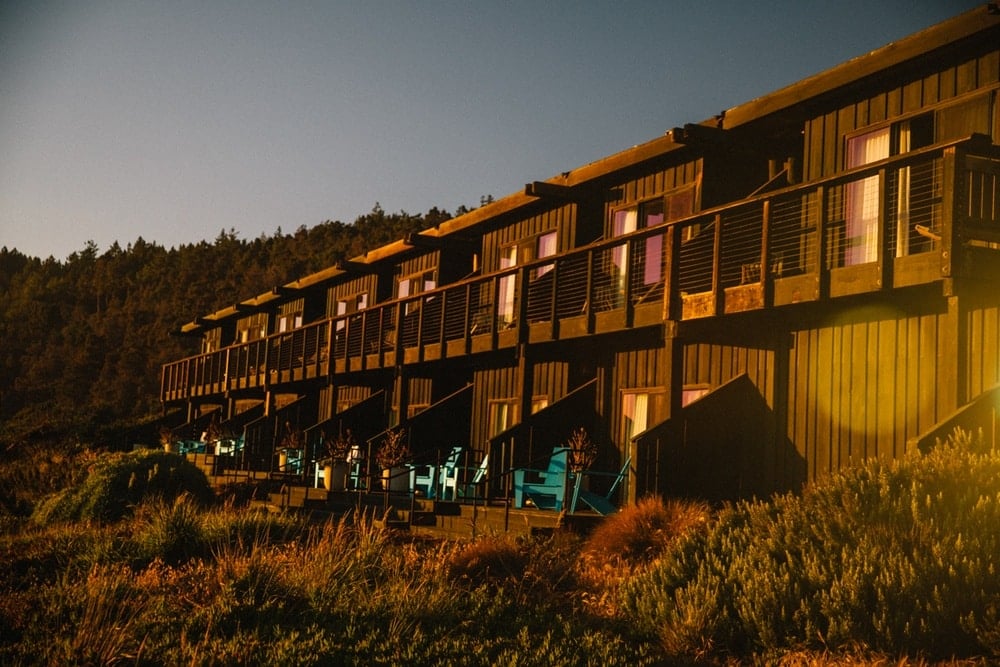 This Sonoma Coast hotel has been on my bucket list for AGES. Ever since driving past it on my van trip down the Pacific Coast Highway a few years ago, I kept promising myself I'd make it back up to this part of the Sonoma Coast. But of course, life happened and then 2020 happened.
Finally, just in time to kick off summer, I found myself up at one of the coolest Sonoma Coast hotels. On Wednesdays, there's live music in the lobby where you can also find a large corner filled with games and records. If staying inside isn't your thing, there's hiking trails on the property, or you can pop over to Fort Ross State Park or Sonoma Coast State Park and beach.
Each room at Timber Cove are impeccably decorated and have patios to lounge on. Ours had a private deck overlooking the coastline. We happened to spend the night on a full moon which meant the water sparkled at night. In the morning, from the same deck, we enjoyed room service while watching a whale play around in the waves. YES WHALES!!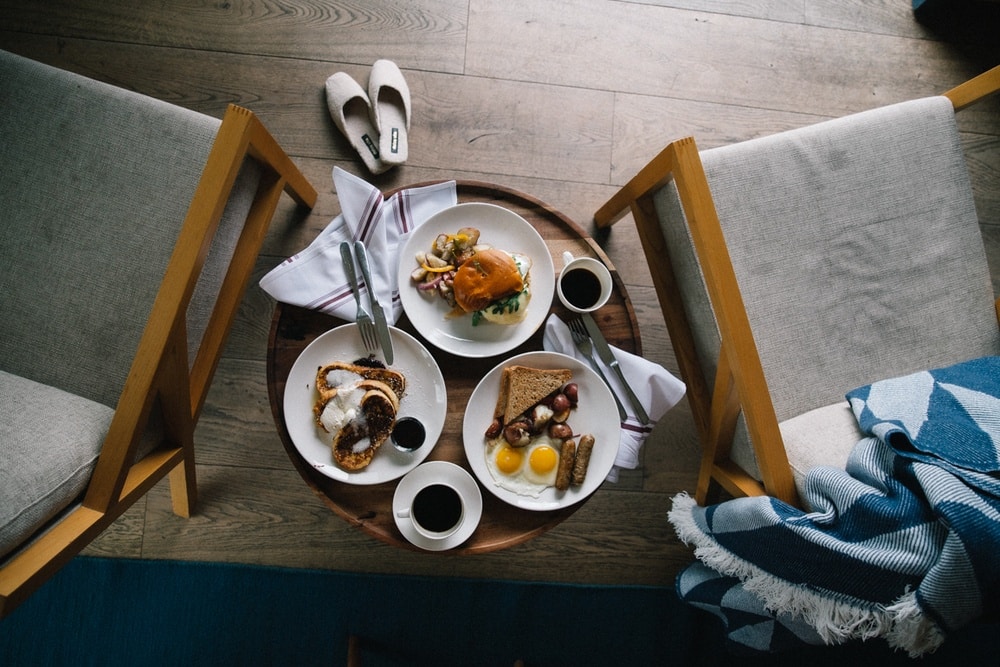 Coast Kitchen At Timber Cover
I've been burned by hotel restaurants before, but hot dang, I'm still drooling over the dinner we had at Coast Kitchen. We really lucked out — California has been getting insane winds lately up and down the state, so much it was sometimes impossible to sit outside.
But on that night, the wind ws light. The sun was hazy and the skies were clear. And the girls and I somehow snagged an outdoor table to watch the sunset over the ocean. Dinner here is a must and if you can, get an outdoor table (they give you blankets if it's chilly!)
Start with a cheeseboard of local cheeses, and a cocktail or two. The Georgia Peach Smash and Sunset Sour were group favorites. You can't go wrong with the menu, honestly, but the standout dish for me was their Sole with saffron risotto.
After dinner, stroll down to the firepit which has ocean views, and watch the stars come out over the ocean. Or, head back to your room, turn on the fireplace and get cozy.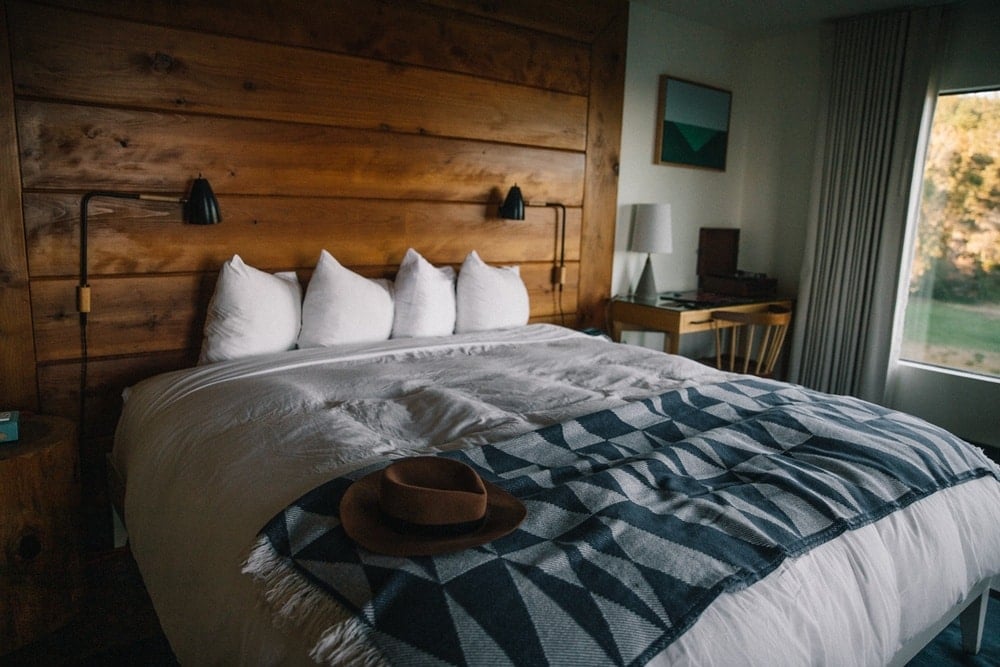 Timber Cove Amenities
Strong wifi
Robes
Rooms with ocean views
TVs
Soaking tubs in some rooms
In-room fireplaces
Pour-over coffee
Fridge
LATHER bath products
Record player
Board games
Free parking
Tesla parking
Dog-friendly
Outdoor seating
Outdoor firepits
Where Is Timber Cove Exactly?
Really tucked up there, that's for sure! Timber Cove is a Sonoma Coast resort just outside Jenner, California on the famous Hwy 1. It's about 25 miles North of Bodega Bay and about 50 minutes West of Guerneville, one of my favorite wine country gems in California.
Flying in? If you don't live in California, you should fly into the Santa Rosa Airport, Sonoma County Airport or San Francisco Intl airport and then drive up. Plan about 3.5 hours for the latter option.
Another popular nearby resort is the Bodega Bay Lodge (they have the Drakes Sonoma Coast restaurant on-site). It's in the town of Bodega, which is more lively if you're looking to be next door to cafes, bars and shops. But personally, whenever I'm escaping up to the Sonoma Coast, I want nature, no cell service, amazing food and even more amazing views. Timber Cove is the coastal hotel that hits all those marks.
If you're on the hunt for a relaxing digital detox in Northern California, you'll love Timber Cove. If for some reason it's all booked up for the dates you need, I suggest looking at the Inn at Newport Ranch near Fort Bragg up the coast in Mendocino County. It's smaller but has very similar vibes to Timber Cove.
Got questions? Drop a comment or DM me on Instagram @thewhimsysoul and I'll try to help!