San Luis Obispo is everything you want from a small town on the California coast. Seasonal menus with local ingredients, tons of wine, endless outdoor recreation and even some bizarre spots, like a 70-year-old bubble gum alley.
I keep finding myself on the Central Coast latley. I just can't stay away, so it's finally time for me to put together my SLO travel guide for you guys! This travel guide is more focused on fun things to do in San Luis Obispo (the town) but does also includes some of my favorite San Luis Obispo County activities as they're nearby and worth visiting on your road trip. It gets a little confusing when there is a town that's also the name of the county!
>> Got a question about the SLO? DM me on Instagram @thewhimsysoul and I'll be happy to help! I only accept DMs from followers, so hit the follow button before sending.
Wait – Explain The San Luis Obispo County Thing More?
You know how there is Napa County (aka Napa Valley) but also the town of Napa? Same thing here in San Luis Obispo County. It gets a little confusing sometimes. SLO County starts at the Southern end of Big Sur and stretches until Santa Maria / Los Padres National Forest. There are a lot of cool little towns in San Luis Obispo County/SLO County but the main 4 are:
San Luis Obispo (the town, also referred to as Downtown SLO)
Paso Robles (the wine region!)
Morro Bay (famous for the giant rock)
Pismo Beach (famous for its dunes)
Just wanted to make sure we're all on the same page! Ok, not time to chat about my travel tips so you can plan the perfect trip to SLO California! Let's start with where to stay.
Hotel Cerro: My Favorite Downtown San Luis Obispo Hotel
You're going to love this cute downtown SLO hotel as much as I do!! Hotel Cerro has a stunning rooftop pool with mountain views and colorful cabanas (plus an outdoor shower!) Rooms are bright and airy with pour-over coffee for breakfast that you can take to your outdoor patio.
Downstairs is Barrasire SLO, one of the best restaurants in town. It's also literally half a block off the main street of Higuera, so it's so dang easy to walk everywhere you'll need to go. When you visit San Luis Obispo, skip a hotel on the outside of town and stay here.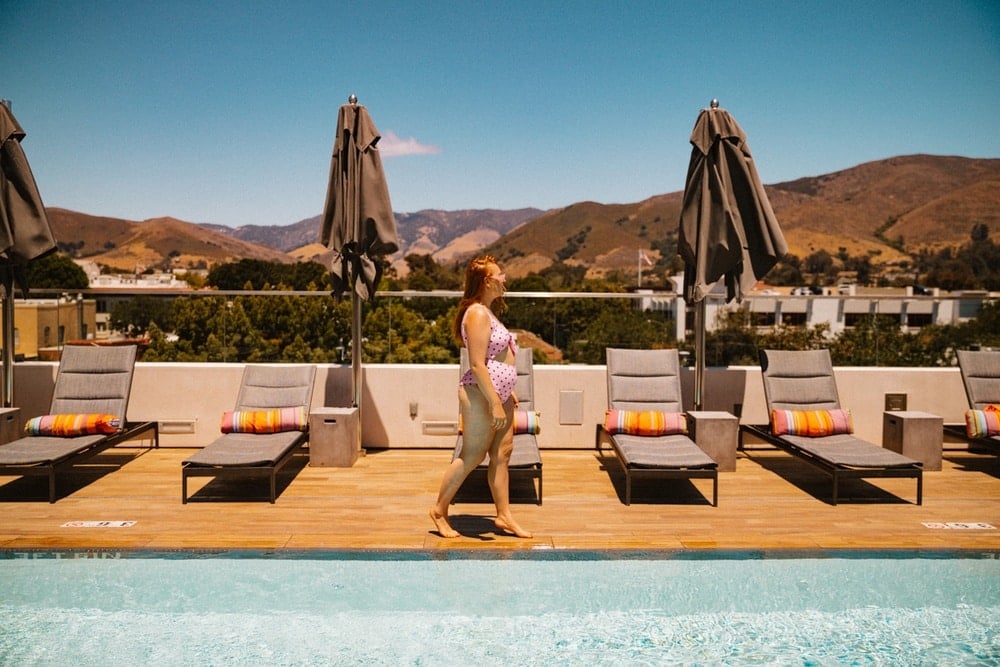 Unique Things To Do In San Luis Obispo (The Town)
Now onto all my favorite things to do in the town of SLO itself! If you're looking for what to do in San Luis Obispo downtown, this is your list:
1. Bubblegum Alley
I thought Seattle was the only town in the United States with a Bubblegum Alley but low and behold – there's an alley covered in old gum right in the heart of Downtown San Luis Obispo! Located on Higeruia Street near Garden Street is Bubblegum Alley, which is actually older than the one in Seattle.
The exact origins of the alley is a bit unclear, but it's thought to have started around the 1950's, so it's a 70+-year-old wall of gum that's equally cool and gross. I recommend swinging by the candy store down the block to pick up some Bubble Yum so you can blow your own giant bubble and add to the wall!
2. Rocket Fizz Candy Store
Speaking of bubblegum, the candy store you should buy Bubble Yum at is worth a stop even if you don't plan on visiting the alley. Rocket Fizz is packed full of nostalgia and candy you probably remember from your childhood days. It's also filled with just plain weird things — like enchilada flavored soda. I wasn't brave enough to try that, but I did stock up on candy to bring home.
4. Cal Poly Architecture Graveyard
It's one of the Instagram places in San Luis Obispo county and for good reason! I've never seen anything like the California Polytechnic State Architecture graveyard before. Located about a mile hike from campus is a field full of bizarre structures all built by former students. Shell houses, stone arches, something that looks like it's maybe a giant jungle gym?
If you're lucky you may even spot horses grazing nearby. We got to see a couple of horses on our hike up to the graveyard and it was magical. It's not a long hike but it can get really hot in the summer, so pack extra water.
And if you have a lot of energy, there's a secret rope swing hidden over here, too. Totally worth the trek and is super popular among Polytechnic State University students. It's a legand and one of the most unique free things to do in San Luis Obispo!
4. Mission San Luis Obispo de Tolosa
Usually, California Missions are way on the outside of town but the San Luis Obispo de Tolosa is smack in the heart of downtown. It was founded in 1772 and is the only Mission in the state that is an L shape. I wasn't able to tour the inside during my visit since it was still closed for the pandemic, but if you can, make sure to take a tour!
While I live in San Francisco now, I grew up in Wisconsin where there aren't any Missions, so I always find them fascinating and full of beautiful architecture. That being said, I find it important to point out the blatant lies all California Missions, but especially the ones in SLO, have around the Native peoples.
San Luis Obispo de Tolosa and Mission San Miguel up the road will tell visitors they lived in peace with local "Indians", employed them and even were thought of as saviors of helping them with things like killing local bears. In reality, the Spanish were colonizers who stripped the local Salinan and Chumash people of their land, brought in diseases that killed them and forced them into slavery to build these Missions in the first place. This doesn't mean you shouldn't visit the Mission – it's packed with important local history, just let's not forget the full history here.
6. San Luis Obispo Botanical Garden
I'm a sucker for botanical gardens and the San Luis Obispo Botanical Garden is pretty special. It's 150 acres big and sits in El Chorro Regional Park. There's so many beautiful flowers that bloom in the springtime, along with curated gardens and a children's area. Probably best to visit in the morning if you are coming in the summer as all the trails can get hot in the afternoon! Want even more nature and gardens? Visit the Leaning Pine Arboretum located on campus!
7. Shop Blackwater Boutique & Ambiance
Did I buy a giant air plant here? Yes, yes I did. I've been on the hunt for one for ages and was thrilled to find Blackwater Boutique, which is packed with house plants, sure, but also a ton of other beautiful things. Like hats and clothing, jewelry, boho-chic home decor and candles.
On the same block is Ambiance Boutique, another cool local store. This one is where you can find trending major labels like Free People, along with fun accessories like hats or jewelry. The staff here is super friendly!
8. Sunset Drive-In
Looking for romantic things to do in San Luis Obispo? There's a classic drive-in movie theater here! Grab your boo and some popcorn for a throwback date night in the car. The Sunset Drive-in usually plays all the same movies you can find in standard theaters but only $10 per adult (unlike many theaters here in California that start at $15+)
9. Museum of Art (SLOMA)
Yes, there's a Museum of Art downtown! This museum has permanent exhibits and also frequently swaps out temporary ones, so there's always something fun to see. Even if you never make it inside, I recommend you stop by for the murals on the outside (it's kitty-corner to the Mission so it's easy!) I loved the colorful murals on museum buildings and totally snapped some shameless Instagram selfies here.
10. Thursday Farmers Market
One of those non-touristy things to do in San Luis Obispo that locals love! Every Thursday night part of Downtown SLO is blocked off for the Farmers Market. While I found the town to be rather sleepy during the weekday, during this event it gets lively and has a block party feel. While they mostly sell produce, as a visitor you can totally shop things like olive oils or honey to bring back home.
11. Explore Madonna Inn
You probably have heard of the Madonna Inn and I'm here to confirm it's just as whimsical and kitschy as all the photos online. All the 100+ rooms here are decorated differently (one looks like Barbie's pink heaven, another looks like the Flinstones lived there, and so on).
The coolest rooms at Madonna Inn are competitive to book (and during high season it's not exactly a cheap hotel) so it's ok if you don't book a stay here. You can still come to the property for a brunch and look around a few of the buildings. That's what we did. I showed up in a pink glitter blazer to snap ~extra~ photos by the sign and in the Cooper's restaurant after my pancakes.
12. Vintage Shopping at A Satellite of Love
A Satellite of Love is a vintage shop tucked away off Higuera Street, and it's the perfect spot to find treasures for your home, closet and book shelf. You never know what you'll find and that's the fun part.
If you're planning to stop by, be sure to triple check their hours and there's tons of free street parking around.
13. Browse and Shop at Len Collection and Idlewild Floral
Both brick-and-mortar shops in Downtown SLO are relatively new, and right next to one another near Scout Coffee's Garden Street location.
Len Collective boasts a curated selection of handmade jewelry, natural apothecary and home goods that make great gifts (even it's just for you). The founder, Shannon Len, is the designer of Len Designs Jewelry, and you can take a peek at what they offer online as well!
I'm absolutely crushing on Idlewild right now. Idlewild Floral is a dried flower studio with some of the most beautiful dried flower bouquets, I've ever seen in my life! If you're not in SLO, you can order for delivery as gifts, but definitely stop by for a curation of home goods and dried flowers if you're in town!
14. Secret Garden Herb Shop
For my tea lovers, the Secret Garden Herb Shop is a must! It's the cutest outdoor shop situated along the San Luis Obispo Creek in Mission Mall downtown. It's adorable and has a wide selection of loose leaf teas which make the perfect thing to take home with you.
It's fun to browse their selection and place an order for what you want! The staff will pull the jars and put your tea in a takeaway bag. Such a fun experience!
My Favorite San Luis Obispo Restaurants
San Luis Obispo County really reminded me of Wisconsin, where I grew up. Lot's of farmland, winding backcountry roads, homes with large gardens. Of course with a California influence – no oceans in Midwest. Anyways, I found that pretty much all over SLO County you can find bangin' restaurants that serve up deliciously made farm-to-table meals. Come to the Central Coast hungry, that's all I can really say.
Avila Valley Barn
Avila Valley Barn is like, THE farm stop that locals and visitors alike love. It's on the outside of town on the way to Avila Beach but the short drive is worth it for the bakery, fresh produce and lunch menu from their Smoke House. I suggest getting a smoke artichoke and pulled pork sandwich! Over the course of the year they also hold seasonal hayrides, sell pumpkins, Christmas Tree farms and more!
Park 1039
If there's one restaurant I think you absolutely need to visit during your trip to town, it's Park 1039. I'm still daydreaming about the tomato salad I had here… it was fresh with balsamic, ponzu cheese and sourdough and – ohhh I think I need to drive back down the coast right now to order it again *sobs in foodie*.
Park 1039 is super unique for a few reasons. It's a restaurant and a store stocking some of the most amazing curated food goods from around the world (I took home a bottle of olive oil from Italy.) Everything they stock or use for ingredients are from ethical companies, which a focus on local ingredients for the food. Come either for lunch or swing by for a happy hour to try local wines. It's a good spot for elevated San Luis Obispo nightlife.
Brasserie SLO
OMG I'm still drooling over the food and cocktails at Brasserie SLO. Ask to be seated in the back area which has fire pits and vibey lights. Order the avocado hummus and Spanish G&T and you'll be in heaven!!
Scout Coffee
A chic, airy and modern coffee shop downtown that clearly was a local favorite. Scout Coffee opens at 6:30am for fellow early birds (heyo!) and have outdoor seating if the weather is nice. When I stopped in, they didn't have breakfast (just pastries) but it looks like on their menu they sometimes do serve breakfast options like avocado toast.
Novo
Tucked next to the San Luis Creek is Novo and while they have outdoor seating, you simply must sit on their back patio overlooking the water. They use locally sourced ingredients and make up the most amazing elevated plates like Lavender Lamb Chops and Diver Scallops. They're open for brunch, lunch and dinner!
Libertine Brewing Company
Right downtown is Libertine Brewing Company which is an airy brewery that focuses on sour beers. It's best for a happy hour before dinner. Ask for a flight so you can taste test a bunch of their brews! They're always changing the tap list so it's hard to recommend the best, but I did love the Peach.
Kreuzberg California
Kreuzberg is a sexy coffee shop/cocktail hang with artsy decor and all-around good vibes. It has plenty of outlets and wifi is you wanted to hole up and do some WFH with a cup of coffee. But you can also come in the night for beer, wine or cocktails. It's a vibe.
Want more food ideas? My friend Elise has a great list of restaurants in SLO!
Day Trips + 9 Best Things To Do In San Luis Obispo County
It's really hard to visit SLO County and only stick to the town of San Luis Obispo. There's just so many hidden gems and special things to do on the Central Coast! If you have a long weekend or are looking for day trips from town, these are some of my favorite nearby activities.
1. Hike Carrizo Plain National Monument
If you're visiting in the springtime, head to Carrizo Plains to catch thousands of wild California poppies in bloom! It's one of the best spots in California for poppy fields. This area is on BLM land and really makes you feel like you have all the park to yourself, it's stunning. It's one of the coolest naturey things to do near San Luis Obispo in the spring!
2. Sensorio Paso Robles
The coolest event on the Central Coast!! Sensorio is a magical field of lights that transports you to a dream. It's on the outskirts of Paso Robles and only happens at night. I recommend booking tickets for dusk entry so you can watch all the lights slowly turn on.
It was at first a temporary event but they keep extending it, now it's going until fall 2021 but I expect them to keep it around as it's so popular! This was one of my favorite things to do in San Luis Obispo at night.
3. Hike Bishop Peak
A medium-hard hiking trail with the reward of sweeping views of the coast. It's the tallest peak of the Nine Sisters in SLO County! Bishop's Peak is about 3.5 miles round trip and in the springtime has many wildflowers. Be aware, in the summer there can get to be a lot of poison oak on the trail so keep watch if you go!
4. Kayak Avila Beach + Hike To Lighthouse
This is one of those special places and my favorite of the hidden gems in San Luis Obispo. Rent a kayak in Avila and paddle about a mile to a secret beach. On the way you'll pass so much wildlife like otters, sea lions and birds!
Pull up your kayak up on the sand and hike the trail to the Point San Luis Lighthouse. Keep an eye out for a rope swing to your left — it's sturdy and overlooks the Pacific Ocean!! We visited during whale migration and were treated to some whale watching, too! Such a cool activity. Read more of my tip in this post.
5. Pirate's Cove Sea Cave
This spot has been on my Central Coast bucket list for years (and I still haven't been able to go *sobs*) Pirates Cove Sea Cave is a bit of a scramble to get to and the parking lot fills up fast on weekends, but if you make it, you'll be rewarded with an ocean-side sea cave you can access from the land. I want to go for sunrise one day!
6. Explore Pismo Beach Dunes
I know I say this a lot, but the Pismo Beach Dunes are possible one of the coolest things in California. I've seen nothing like them before!! Aka the Oceano Dunes State Vehicular Recreation Area (SVRA), the dunes stretch for miles and miles. It feels like you are wandering the desert.
But they're ocean side and at some points, you can see the water and waves crashing in the distance. It's wild. Right now dune buggies are not allowed, but sometimes they are so you have to be careful if you are walking by foot. I recommend coming at sunset!
7. Wine Taste in Paso Robles
There are just many wineries for tastings for day trips from Downtown SLO. You can do Edna Valley, sure, but I instead recommend driving the 40 minutes up to the city of Paso Robles for wine tasting some of the best of California. My favorite wineries are:
8. Hearst Castle
The Hearst Castle is a National Historic Landmark and is incredibly beautiful (think Roman pillars next to a blue pool, crazy ornate details and art everywhere inside, huge gardens with flowers. It's a THING.)
It's a bit of a drive from downtown SLO, but the tours are spot-on and it's one of those famous San Luis Obispo attractions that even my Midwest father has been to. Come ready to take photos!
9. Morro Bay Rock at Sunrise
Morro Bay is famous for their giant Morro Bay Rock, which is very similar to the Haystack Rock on Cannon Beach in Oregon. It's big, beautiful and a haven for wildlife. I loved coming here for sunrise one day for shell collecting on the beach. Worth the early wake up call!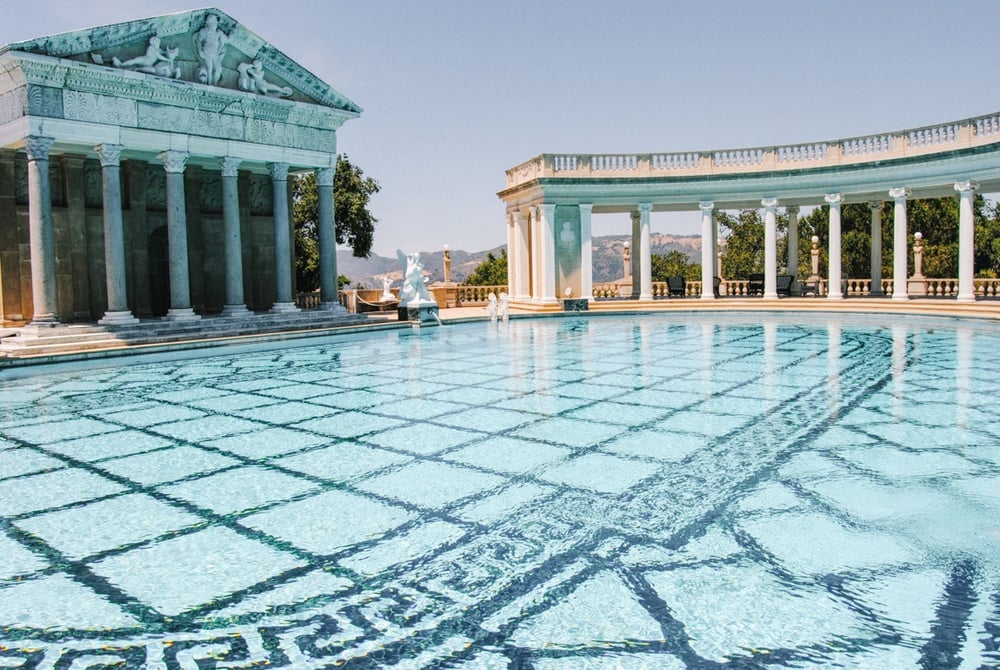 What To Pack For San Luis Obispo
This year I went down to Pismo Beach in the springtime and also again to Paso Robles and downtown SLO in June. The springtime is kinda chilly, especially on the coastal towns. I made the mistake of not bringing enough sweaters and was freezing every night during the spring. It's much warmer in the summer, but can still be very cool at night.
Pack accordingly! These are all the outfits I wore on my June trip to Paso and SLO if you want inspo. But no matter the season I suggest these staples:
Shop San Luis Obispo Style Inspiration

If you keep driving down the California Highway One Discovery Route route you'll hit up Santa Barbara, another one of my favorite Central Coast beach towns.
So many cool things to do in SLO, I know I'll be back soon. I'll keep this guide updated after future visits for any new cool gems I find! But, if your favorite restaurant, hike, etc didn't make the list, please drop a comment below so everyone can see. Got questions? Comment or DM me on Instagram @thewhimsysoul and I'll be happy to help!
More California Travel Guides You'll Love