It was that first evening when I stepped outside our restaurant to snap a photo of the sunset when a Sister of Perpetual Indulgence dressed in full drag walked by. That's when I totally fell in love with Guerneville.
This town is eclectic, woodsy, and laid back. When you're looking for a wine tasting trip that's totally different than other California wine country locations, drive a little bit further into the woods to Guerneville.
Keep reading for my 6 recommended wineries, my favorite Guerneville restaurants, the best hotels, packing tips and fun things to do in the area. Consider this your one-stop-shop for Guerneville planning!
6 Guerneville Wineries + HUGE Weekend Guide (Where to Eat, Stay, Play & More!)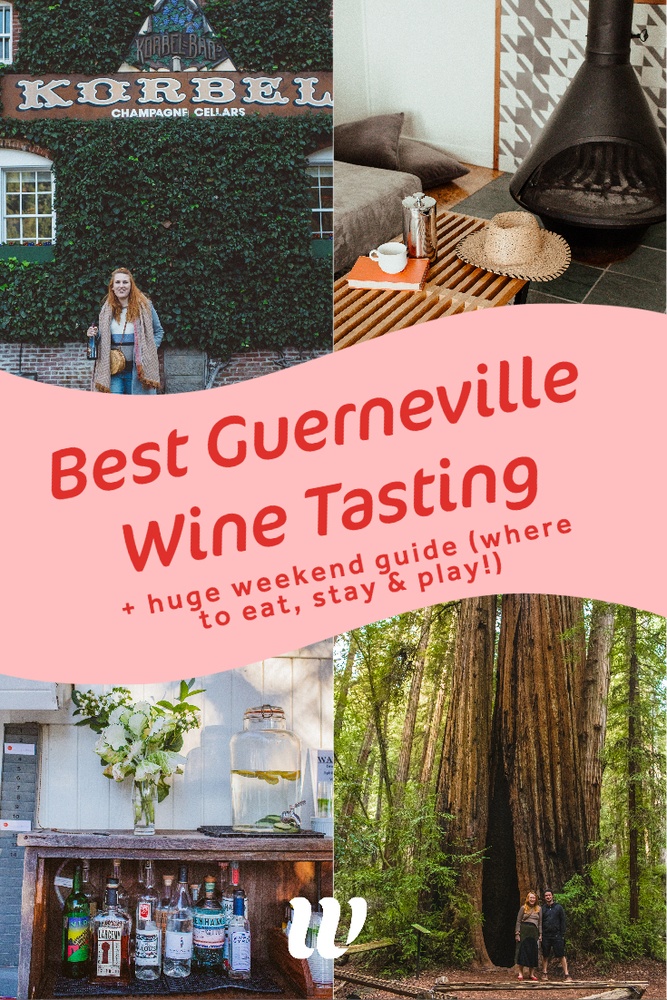 >> Got a question about Guerneville that you need answered quickly? DM me on Instagram @thewhimsysoul and I'll be happy to help!
Back to that first evening when I fell in love with Guerneville: I was incredibly confused why a Sister was in a rural former logging town in the middle of the forest / wine country.
The Interesting Logging & LGBT History of Guerneville
Before we dive into my favorite wineries (up next, I promise, stick with me,) I wanted to share a quick history of Guerneville with you, because I thought it was super interesting & this knowledge added to our trip.
First, this area was home to the Pomo Indians who sought shelter among the redwoods that are now the Armstrong Redwoods ( a stunning park that you simply must visit.)
Then, in the 1850's, logging business was booming thanks to the river access which made transporting logs easy. The town Guerneville was founded & named after the Guerne family, who owned the sawmill. You can still sort of see that era when you stroll downtown and you'll learn all about it if you take the Korbel tour.
Now, on top of being an under the radar wine destination, Guerneville has a huge LGBTQ community complete with a Bear weekend, Sisters of Perpetual Indulgence chapter, a Pride Parade and a few gay bars. This is a really great article to read if you want an in-depth history of how an ex-logging town turned gay.
Now, on to wine tips!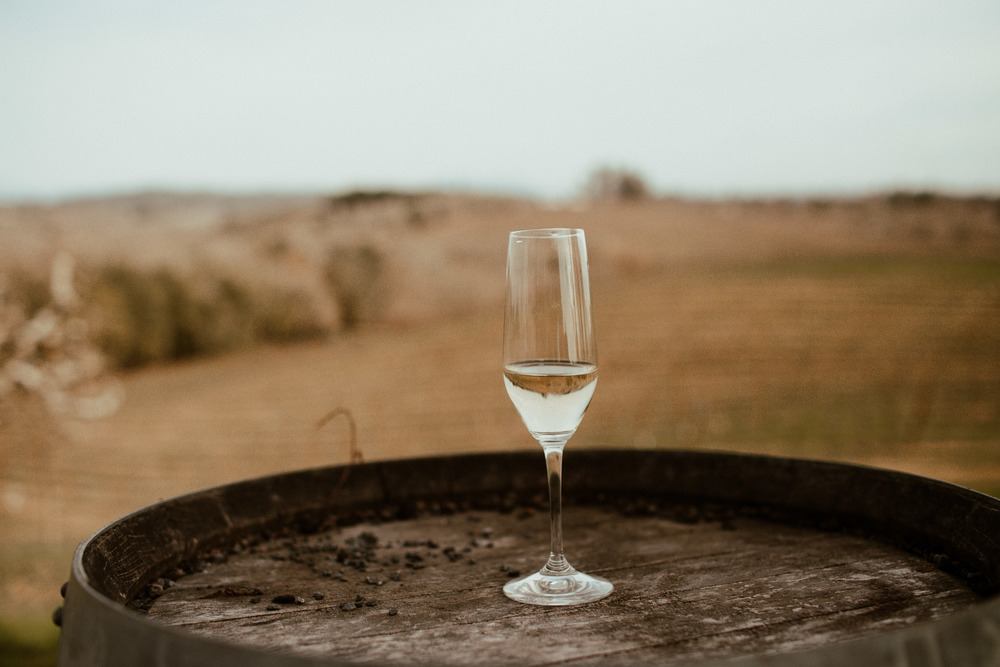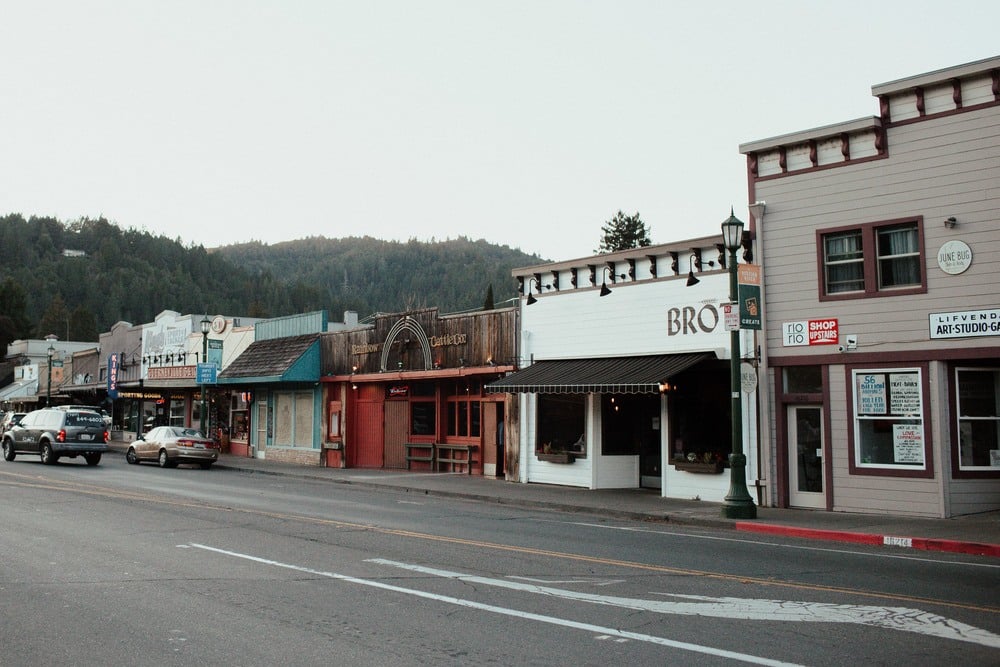 Do I Need A Car Or Should I Uber To Wineries
Omg, do NOT try to rely on Uber! Shout out for being responsible, but rideshares are basically non-existent out there in Guerneville. If you somehow manage to even get cell service, you'll be waiting close to an hour to get a ride (talking from experience here folks.)
Instead, drive and have a DD. That DD can still taste and just spit out in the bucket (this is what we usually do when Robin and I go wine tasting.) Or, hire a driver.
What's The Best Time Of Year To Visit Guerneville
Anytime is a good time! Each season brings something different. Winter is slow season and far less crowded. You can probably stroll right into boon eat + drink and find a table without any problem. Same with wineries: reservations may not be needed. But it's also chilly and you'll want to bundle up in sweaters.
Come summer, this place is hot hot hot! Most of the activity centers around the river, which is popular for river-tubing. Hotels book up fast, tasting rooms are full, and the town comes to life with tons of people.
Now, time to share my recommended Guerneville wineries with you! As you can gather, Guerneville is pretty small. Because of that, there are only a couple of tasting rooms and vineyards in the town of Guerneville proper.
I love wine tasting at vineyards best, surrounded by vines and views. We usually do a couple of wineries/vineyards in the day and then stop by an in-town tasting room on foot as our last stop right before dinner.
Most of the good spots are just outside Guerneville within a 10-20 minute drive into the forest. This is NOT like Downtown Napa where you have your pick of tasting rooms all within storefronts of each other. You'll need a car for your wine tasting appointments.
My 6 Favorite Guerneville Wineries For A Russian River Wine Tasting Weekend
Looking for the best Guerneville wineries & fun things to do in Guerneville for your weekend? These are my 6 favorite wineries to visit for the ultimate Russian river wine tasting weekend!
Guerneville Hotels: Where To Spend The Night
When spending a weekend in Guerneville, skip Airbnb and instead book your stay at Boon Hotel + Spa. This boutique hotel is a little oasis of color, fun and friendliness. Seriously – everyone who works here is so nice.
Highlights of this hotel are the chic, modern rooms that pack quirky touches like a mid-century wood burning fireplace and a record player. All guests are served a fresh breakfast featuring things like homemade pastries, yogurt and fruit and french pressed coffee.
Their pool and hot tub are open 24/7 for whenever you want to relax. There's also an honor bar with a pretty impressive cocktail setup if you want to mix up a drink. Robin's back was hurting him that week, so I treated him to a massage at the on-site spa, which is something I highly recommend you book yourself for the ultimate cherry on top to your wine tasting weekend.
I've visited Guerneville before and I can't imagine a better place to stay than Boon, so that's why I'm just recommending this hotel. When it comes time to planning your trip, make sure to book your room here first!
The Best Guerneville Restaurants & Bars
OMG does Guerneville have some amazing eats for a small town. A lot of this is thanks to Christa, the owner of Boon Hotel + Spa, who other than being a creative genius, is a Food Network star. She has built three amazing spots right downtown that you simply must dine at.
Most of the best Guerneville restaurants and eats are all the same block. Here's my favorites:
El Barrio
El Barrio is a Mexican cocktail/mezcal bar that looks more like something you would find in The Mission in the city versus a tiny country town (but I'm all here for it!) Bring your pup to the back patio if you have one, or take a seat at the bar for your craft margarita. I think there's every craft mezcal brand under the sun stocked here, so go wild.
Oh, and they probably the best toilet I have ever seen. I'm serious about this – go take a look when you're in town.
The Farmhand
Craving a gourmet sandwich for lunch? Head to The Farmhand Deli. It's unassuming from the outside, but inside you'll find an industrial-chic deli with a beautiful back patio for warm days. They also sell craft foods in their market, like locally made jams, hot sauces or olive oils. Skip the Safeway run and pick up your wine tasting snacks here!
boon eat + drink
Boon Eat + Drink (yes, the same Boon family as the hotel) has some of the best flash-fried brussels sprouts I've had in my entire life. I'm not sure what witch magic the kitchen uses on them, but they were perfectly zesty and salty. For your main course, I suggest the burger or the pork shoulder with polenta, the later which I ordered and was honestly the perfect savory dish to soak up wine from the day.
On weekends there may be a line, so come early if you want quick seating or put your name down on the list and head next door to El Barrio for a cocktail before dinner.
Big Bottom Market
Come here for the biscuits which are mind-blowing fluffy and tasty. I'm low-key drooling just thinking about the breakfast sandwich I had. If you're there for breakfast, get The Sneaky (which I gobbled up in mere minutes) or the BLT if you want something more lunchy.
Higher Ground Coffee
Skip the Starbucks on Safeway and instead grab a cup of coffee at Higher Ground Coffee. It's sort of the hangout spot for the town, with a nice back patio area and a bench out front that you'll spot a local reading on. If tea is your thing, come here for a tasty cuppa Earl Grey.
Brot
I swear to shoes this modern German restaurant has better schnitzel than the schnitzel I've had in Germany. If you've never tried this dish before, now is your chance! Wash it down with a pint of German bier.
Brot is another Boon family joint. They're always playing (on mute) an old black and white German film to set the mood. But instead of a Bavarian theme, the decor is sleek and modern. Can't recommend this place enough.
Rainbow Cattle Company
Rainbow Cattle Company is probably the most popular bar in town and the go-to late-night spot for everyone. Every Tuesday night they throw a charity event to raise money for a good cause (so come buy a drink and support!) Oh, and if you couldn't figure out, it's a gay bar but welcomes everyone.
Here's how I recommend you eat during your weekend trip:
Breakfast: at the Boon Hotel
Lunches: Big Bottom Market, Farmhand Deli
Happy hours: El Barrio
Dinners: boon eat + drink, BROT
Coffee breaks: Higher Grounds
Other Fun Things To Do In Guerneville
There's more to do than drinking wine!
Hiking Armstrong Redwoods
Oh my, this redwood park is probably one of the best-kept secret in California. (Up until last year I had no idea it was here.) As mentioned earlier, this area used to be home to the Pomo Indians. Unlike some other Redwood parks, this park is almost all flat which makes it easy to walk for all ages and abilities.
But that doesn't mean it's small – Robin and I just walked around a small portion and clocked almost 2 miles round trip. Since it's a hidden out there in Guerneville, it doesn't attract the hoards of tourists like Muir Woods does, which means (unless you visit on a holiday weekend) it'll be peaceful.
Pro tip: Bring $10 cash for the entry fee!
River Tubing on the Russian River
Come summertime, the Russian River will be the playground for locals and visitors alike. You can bring your own floats for a DIY Float Trip or rent from a local company. Russian River Adventures in Healdsburg offers guided tours. Guerneville 5 & 10 in town sells floats and they'll even blow them up for you for any last-minute river plans.
Most people just stick around Johnsons Beach but some choose to do proper floats down the river. I recommend Sunset Beach to Johnson's Beach for a 5-6 hour all-day float down the river, ending in Guerneville for happy hour and dinner. Just don't forget your sunscreen (and beer!)
Fourth of July Boats
Every Fourth of July, Monte Rio (just a few miles down the road from Guerneville) hosts a huge celebration. The highlight are all the boats that get dressed up with lights for a parade on the water, and the famous "Water Curtain" show, where they project images onto a small waterfall in the river.
What To Pack For A Weekend In Guerneville
Guerneville has all four seasons so make sure to check the weather before you head out. In the winter, it's cold and you'll want a good sweater and perhaps even a coat. We could see our breath in the mornings and for walks in the Armstrong Redwoods, you'll want to bundle up.

But the summers are HOT. You'll want sundresses or shorts, hats and sunscreen. Don't forget to bring your swimsuit so you can take a dip in the Russian River!

No matter what season, it's important to pack a pair of comfy flats that you can go hiking in at the Armstrong Redwoods. It's all mostly flat but I can't imagine heels would be enjoyable during your visit.
I hope this helps you find the best wineries near Guerneville and other fun things to do on your Russian River weekend getaway!
If you have suggestions to add that didn't make this list, leave a comment below so everyone can see. If you have questions about Guerneville, leave a comment or DM me on Instagram @thewhimsysoul and I'll be happy to help!
Happy wine tasting!!