By now, you probably know that Robin and I took a 9-day campervan from San Francisco to Oregon road trip and back down again. We've always talked about how one day we wanted to try the whole van life thing out by road tripping up or down the coast.
One night I was sitting on our couch and pretty much had a "fuck it" moment. I spent over 5 years talking about wanting to do this trip, so we decided to throw caution into the wind and book a campervan.
Two weeks later, we picked up our van rental in San Francisco, packed it up and headed out on an epic road trip that was packed with adventures, memories, a few fails and like, a lot of beer.
If you're thinking about planning a road trip from California to Oregon like ours? Or just any coastal van trip? Keep on reading for our exact route, the FREE campsites we stayed at, along with when we decided to pay and other helpful tips we learned along the way.
>> Got a question about our California to Oregon road trip that you need answered quickly? DM me on Instagram @thewhimsysoul and I'll be happy to help!
California to Oregon Road Trip
My husband and I rented a van from Outdoorsy. It wasn't the cheapest, but we picked it because of the size and the interior, which was built with almost everything you need while on a van life road trip.
If I did this again for this long of a trip, I would probably want to rent an RV that I can sit up in. The van we rented was perfect for short trips but by the end, I really just wanted to be able to sit fully up in our van (which we couldn't.) One of the downsides of van life that nobody tells you.
We had to bring lawn chairs and sit behind our van, which was very relaxing most days but sometimes it was very cold outside and not enjoyable. Thankfully it didn't rain, but that would have been an issue as well! If you want to do a road trip like this that's more than 5-6ish nights, I recommend finding a small RV or trailer instead. I think you'll be comfier!
Alright, let's chat our road trip route!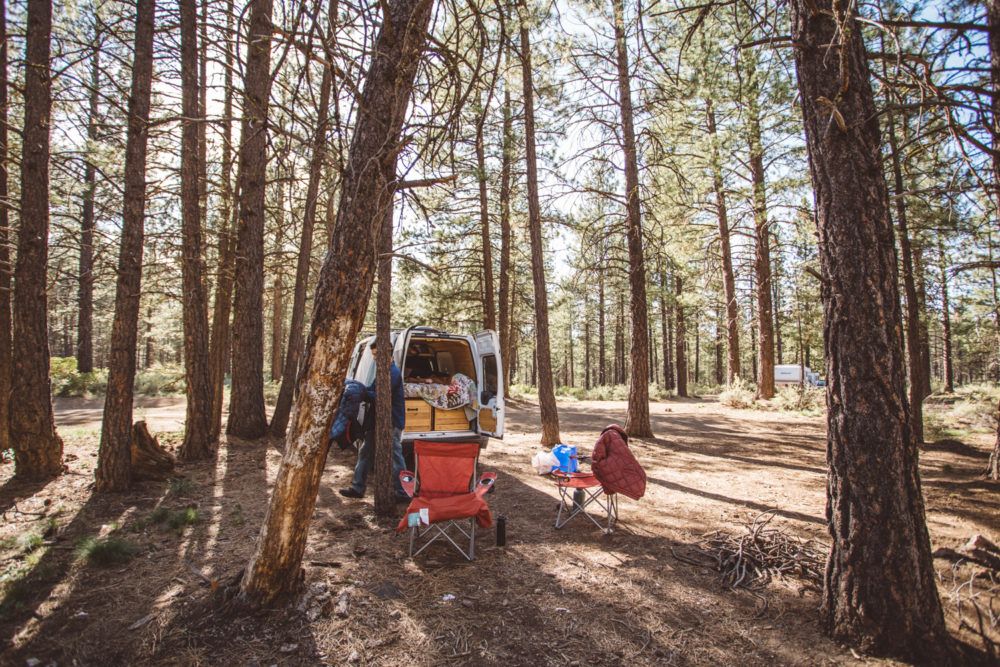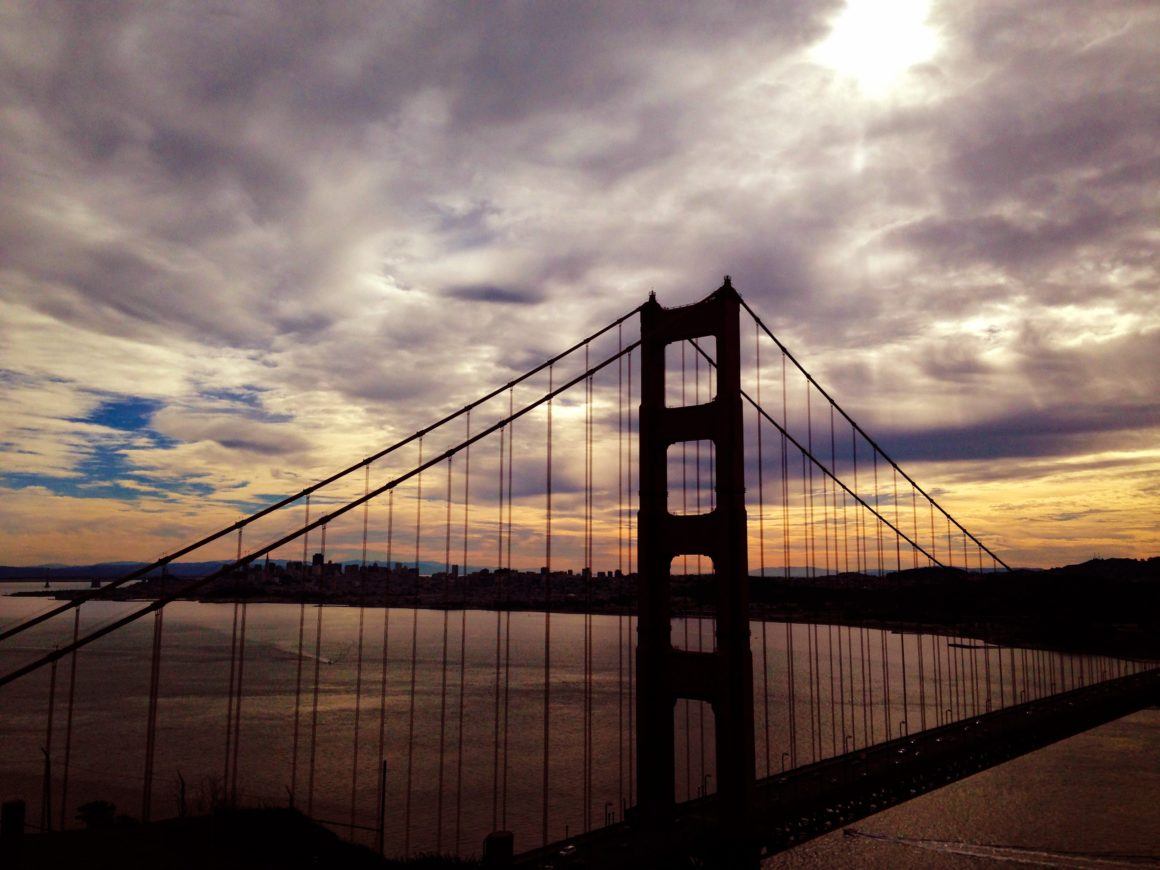 Stop One – San Francisco
We live in San Francisco, we obviously didn't spend the night here. We picked up our van, brought it back to our apartment and packed it.
And then off we went, across the Golden Gate Bridge and up North!
If we didn't live in San Francisco, I would have wanted to spend the day seeing some sights. IT's not exactly easy finding parking for a campervan, but you can easily see spots like Golden Gate Bridge and Painted Ladies which both have easy street parking. I have a whole San Francisco city guide full of tips of my favorite things to do in the city and other travel tips!
Where to Spend the Night
The only free place to park your van overnight is the Golden Gate Bridge overlook on the North Side. It gets crowded with tourists, but you can park your van with a direct view of the bridge, all for free. Watch the sunset with VIP seats and wake up at sunrise with the bridge RIGHT there!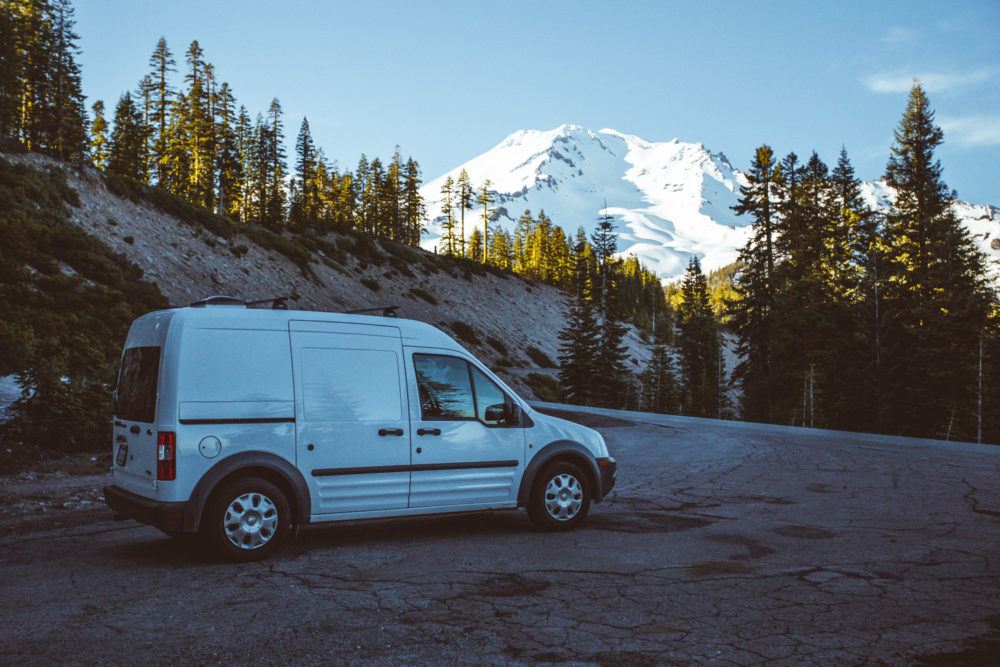 Stop Two: Mount Shasta
On the first day, we drove about 4 hours up the highway to Mount Shasta. We've done plenty of exploring California between Shasta and San Francisco, so we opted for one long day of driving to get to the peak.
I visited the area once before to hike to Mossbrea Falls but was eager to spend more time exploring Shasta. It's this mountain peek that sort of pops up out of nowhere. It looks lonely on the horizon as it's the tallest thing around.
The town of Shasta is small, this area is mostly filled with parks, lakes and hiking trails. It's totally stunning in the fall when all the leaves change color. We visited in June and everything was green. We walked downtown a bit and swung by the Mount Shasta brewery, which is totally cute and eclectic. think open-air garage with tons of random stuff hanging from the walls. Plus, the beer is tasty, I recommend asking for seasonal brews.
We brought along 3 different growlers, which may sound like overkill, but we loved stopping by breweries in all the small towns and filling up. Our campervan has limited space and since we did wild camping most of the time (without trash cans) it was easier to hold onto one growler instead of a mountain of bottles we would have to carry instead.
Where to Spend The Night
Anyway, we found this area called the Sand Flat on the actual Mount Shasta peek, that allows free overnight camping. There were a few other people pulled out on different stops along the way, but I think we got the best seat of the night because the mountain was JUST RIGHT THERE.
>> How to go free camping 101: a guide to finding the best spots to camp for free
On top of a beautiful sunset, this flat area was flat, had a good view, and cell service (hard to find lower down!) The road also got quiet once the sunset, so it was very private. I highly recommend parking your van here overnight! Do you need a hotel? I've always wanted to stay at the Railroad Park Hotel, it looks so fun (you sleep in an old train car!)
We woke up to sunny skies on the mountain, cooked a breakfast of bacon and eggs, and kept driving north to Oregon.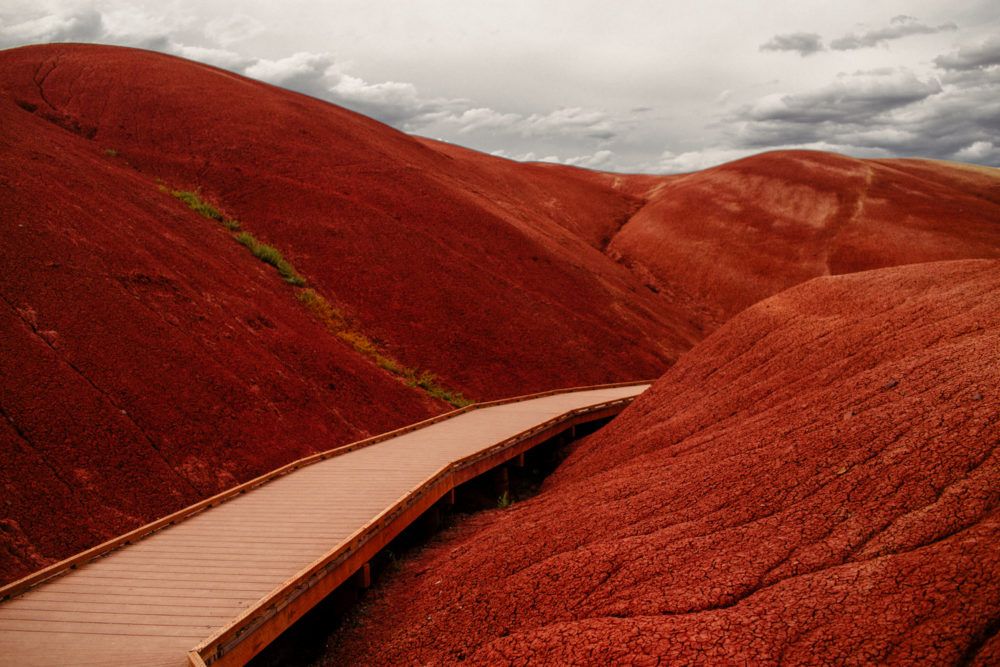 Stop Three: The Painted Hills
After our road trip from Mount Hood to Bandon a few years back, I learned about the Painted Hills from my state research. The Painted Hills basically look like Mars. You would never expect they are in the rainy pacific northwest!
The drive to Oregon wasn't too long, but to Eastern Oregon a bit longer. We left Shasta at around 10am and made it to the Painted Hills around 3pm-4pm, just in time for some golden hour exploration. It's beautiful any time of day, but especially
This national monument/park is really off the radar. Even some locals we chatted to in Bend, Oregon has never heard of it. We lost cell service on our way out and when we rolled into the park there were only a few other cars parked there.
This all added to the feeling that we just entered Mars on Earth. Seriously, the color really does look like this in real life. It gets more intense after it rains, which it did a bit during our visit. If you want to visit, I have a Guide to the Painted Hills post with so much information and even a video for you to watch!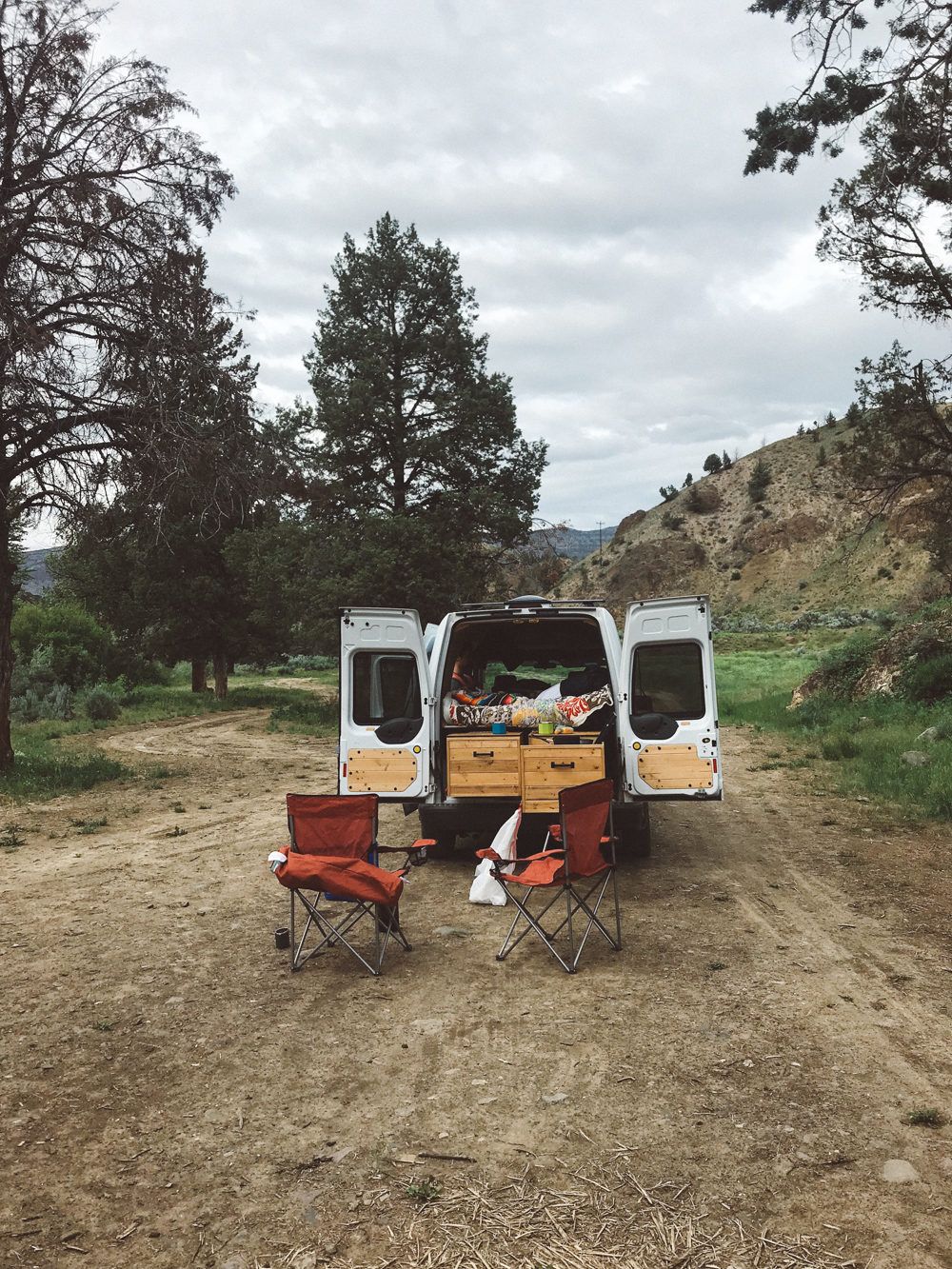 Where to Spend the Night
This free camping spot was one of the easier we found on our whole trip. Usually, we had to visit a few sites before finding "the one" but the Burnt Ranch area was right on the way into the park, flat, and private.
Nobody else was camping there on our night, we so had the whole place to ourselves so sprawl out, blast the Harry Potter audiobook and drink some beer. There are a few other free camping sites near here but they are North past the park about 45 minutes and too far away in our opinion. There are just one or two hotels in the nearby town of Mitchell, so camping is your best option here.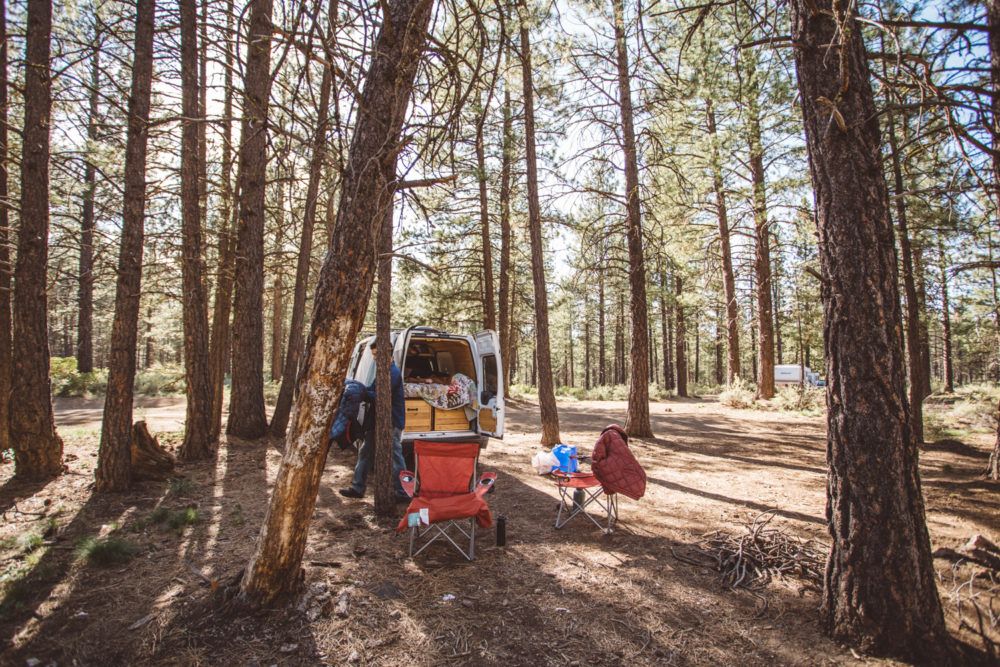 Stop Four: Bend, Oregon
After the Painted Hills, we drove back to Bend for a day exploring this famous Oregon city! As we really knew about this place was that it's home to Deschutes Brewery and has a vibe close to Madison or Boulder.
Bend is very sprawling and flat, with a lot of trees. I wasn't a big fan but Robin, my husband, really liked it. I did think their downtown area is super cute. There's the Deschutes River that flows through and the riverwalk is very pretty in the summer with all the flowers blooming. Downtown also has some old buildings to add to that charm.
>> Don't like beer? Check out Willamette Valley for wine tasting in Oregon!
We stopped here to catch up on some emails, explore downtown and, of course, drink beer at Deschutes Brewery! If you like beer, make sure to stop here. They have beers on tap that you can't find anywhere else
Where To Spend The Night
There's only one good free camping spot in the Bend area and it's on an old, unmaintained National Forest Road outside the city. It was sandy, but safe so we set up shop here for the night. If you're looking for a hotel, there are plenty in Bend! Try the Oxford Hotel right downtown.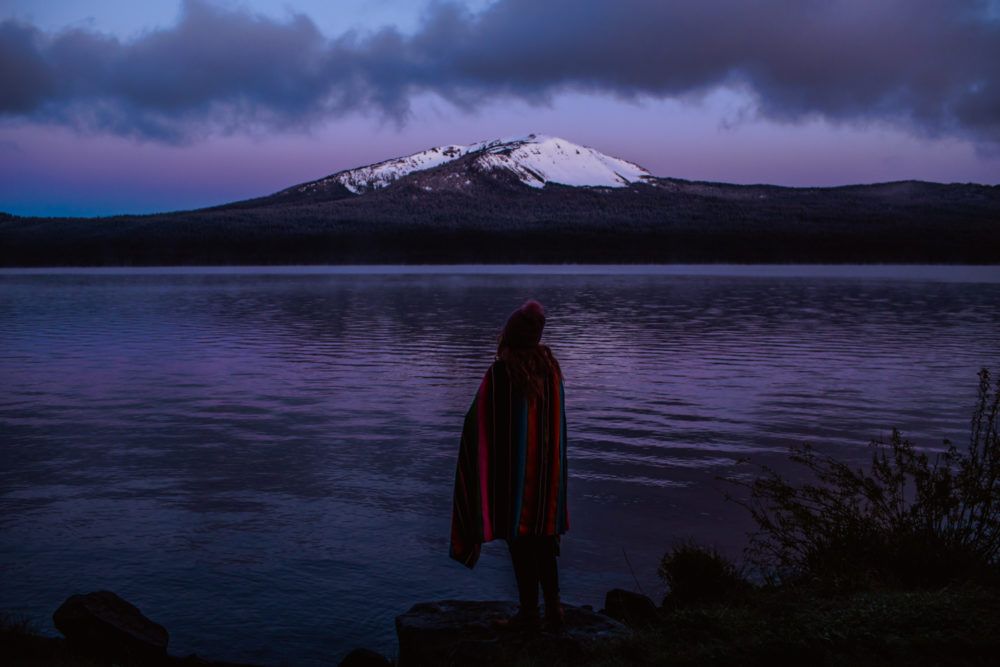 Stop Five: Diamond Lake
We had grand plans to visit Crater Lake National Park but those were derailed due to snow still being on the peek! Half the roads in were shut down and upon learning it was a grand total of 2 degrees by the lake…we opted to come back again another time.
Instead, we found a paid campsite right on Diamond Lake and I could have not asked for anything better. We lucked out on a $20 campsite steps away from the lake with stunning views of the peek. This was the best paid site we stayed in all trip. If you're camping in the area, I highly recommend this campground!
It was SNOWING during our visit here. It also hailed, rain and got really sunny. Weather is strange, right? This was the point in the trip that I wish we had a taller van so we could sit inside it at night since it was freezing once the sun went down.
This afternoon we decided to go check out the Umpqua Hot Springs.
I have an obsession with hot springs ever since we visited the Mammoth Hot Springs (aka Wild Willy's) outside of Mammoth in California. Since I've also visited the Travertine Hot Springs and now Umpqua. I love how these sites bring people together outdoors and they are such a unique thing to do in the Pacific Northwest and Sierra Nevadas. Can't do this in Wisconsin!
I have a whole guide to visiting Umpqua Hot Springs you should read before you go. But, the important thing, is to go! It's about 30 minutes from Diamond Lake and so worth it.
Where To Spend The Night
Camp at Diamond Lake! If you need a hotel, I recommend finding an Airbnb to book. There aren't a lot of hotels in the area since it's all in National Park or Forest Land. But, there are plenty of campsites and vacation rentals!
Use THIS link to get $40 off your Airbnb stay!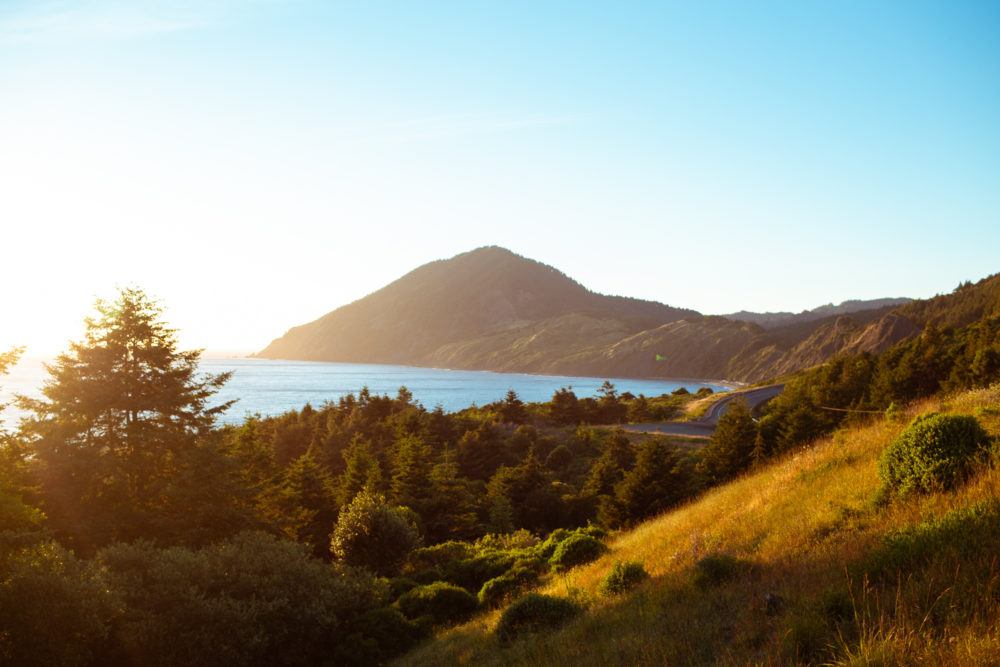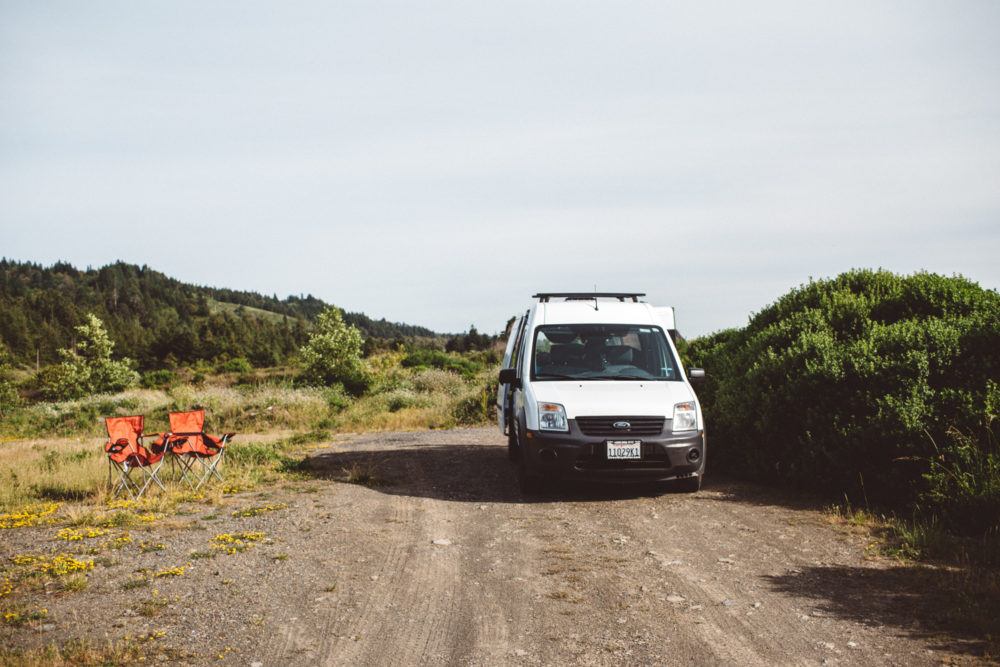 Stop Six: Port Orford
On our previous Oregon road trip from Mount Hood to the Oregon Coast, we spent a couple of nights near Bandon and the Port Orford area, so we swung by here again!
I love Bandon. It's a cute little seaside town nestled by a calm bay. They have a lighthouse, a brewery, tons of beaches, a cheese shop I adore, a bustling small downtown and like, some of the best seafood I've ever had. We especailly love their clam chowder and waited in a 45-minute line just to eat at the Bandon Fish Market again!
Make sure to spend a whole day exploring Bandon. You can go fat tire biking on the beach, visit the lighthouse, eat your way through downtown and more!
The Oregon Coast is simply stunning. Unlike the California Coast (which is also dang beautiful) I find that Oregon has more rocks right off the shore. It's a bit more interesting that way and always something to look at in the ocean on our pacific coast highway road trip.
>> I hear Cannon Beach near Portland is just stunning. On our next coast road trip or Portland adventure, I'll be visiting it!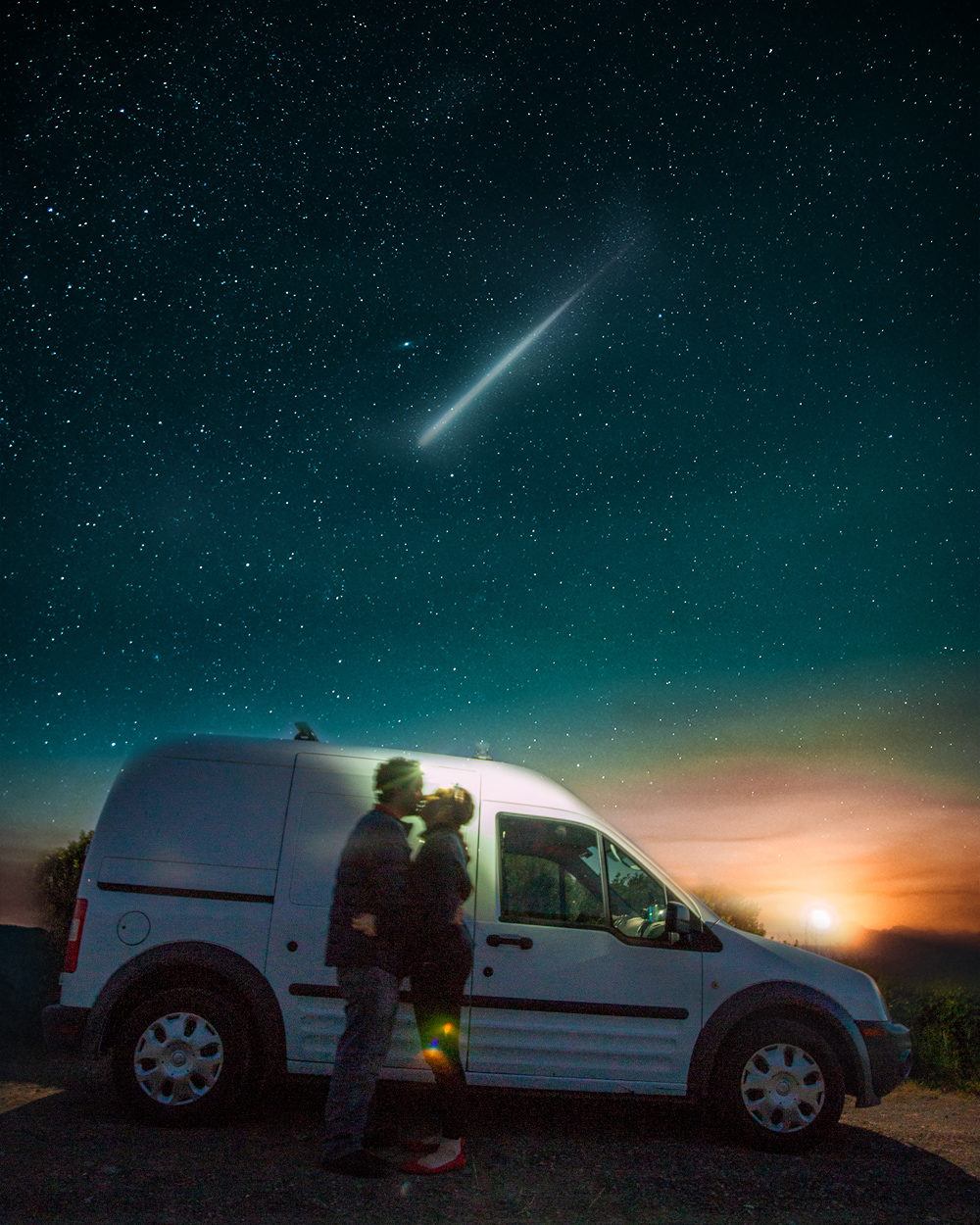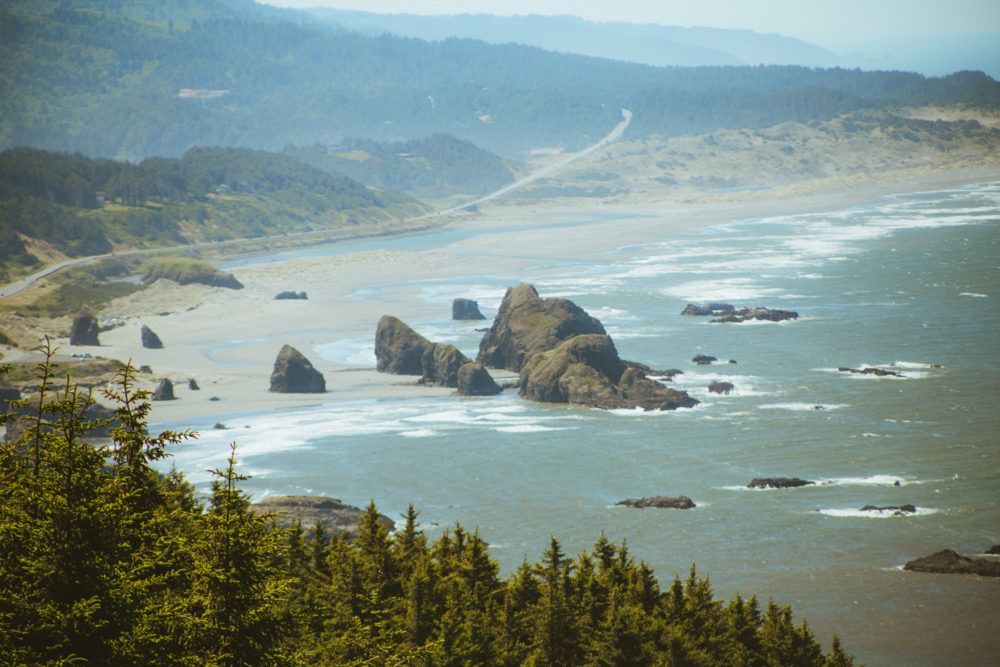 Where To Spend The Night
Since Bandon is a bit larger of a town, there aren't any good free camping sites in town. We checked out a few and ended up at the Lookout, which was our favorite free campsite of the trip!
Usually, the coast is really foggy in the summer but we lucked out on a heatwave when we visited, which really translates to 70's instead of 50's. This lookout spot is a large highway turnout that's tucked back and up a small hill, so it's really private despite being right off the highway.
Robin and I pulled out our chairs, basked in the sun and later were treated to a cotton candy sunset over the water. The photo above is from Golden Hour at our spot! I would 10/10 spend the night here again. It was a bit hard for me to want to leave! If you need a hotel, I highly recommend spending the night the Wildspring Guest Habitat. We stayed here on our first trip to the area and it's one of my favorite hotels, ever. Just pure magic happening over there.
Stop Seven: Smith River National Forest
Finally, we made it to the California coast! After our night at the lookout, we drove down the Oregon Coast and visited the Samuel H Boardman Scenic Corridor. I was on the hunt to find the famous archway area and failed pretty epically, but it was still a stunning place.
We showered at some random state park near the state border, grabbed more groceries and crossed into California to Crescent City! I wasn't a fan of this little town. Maybe I just didn't visit the right parts, but it's run down and lacks charm.
That being said, the Smith River National Forest right next door is a stunning redwoods state park that you should totally visit! We popped into town to fill up on gas, get ice and beer from a brewery, then headed into the forest. We had our hearts set on this specific free camping spot that had really good reviews due to a secret access spot to the river.
Where To Spend The Night
As we drove into this spot, I saw so many people lining the river below swimming (remember the heatwave I mentioned? It was close to 80 that day.) I was feeling major FOMO and was crossing my fingers that our site would deliver.
And boy did it deliver!! A short walk through the trees next to our van and BOOM, a totally private and secret swimming hole on the Smith River. I jumped in (cold AF!), we drank wine on the hot rocks and enjoyed a lazy afternoon after a day exploring. 10/10 would recommend this free campsite as well. If you need a hotel, check out this real life hobbit hole available for rent!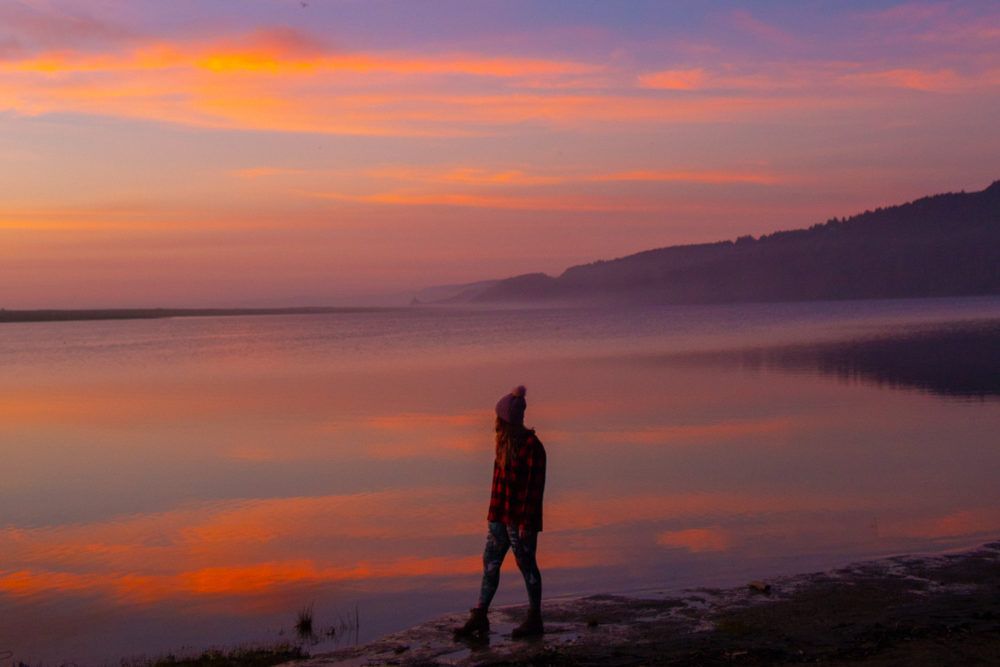 Stop Eight: Blue Lagoon
Driving the coast of California is relaxing, no doubt. After leaving the Smith River area, we lazily drove down the coast, stopped by the Klamath Drive-Thru Tree (one of those Redwoods you can drive your car through!) and ended up at the Prairie Creek Redwood Park.
I had my heart set on hiking the Fern Canyon trail! It was a bit of a process getting there but we were rewarded with an easy hiking trail that hosted more ferns in one place than I have ever seen in my entire life. It was simply magic. The heatwave was still in full force, so we opted to not do more hiking than the Fern Canyon trail, but this park has tons of other trails in and around the Redwood trees!
After our hike, we drove down to the Blue Lagoon campsite a bit north of Trinidad. I wanted to camp at the Gold Beach campground right next to Fern Canyon, but we ran out of cash and couldn't pay the fee (nope, they don't take cards at a lot of these California campsites!) Since the nearest ATM was over 45 minutes away, we decided it wasn't worth it to come back.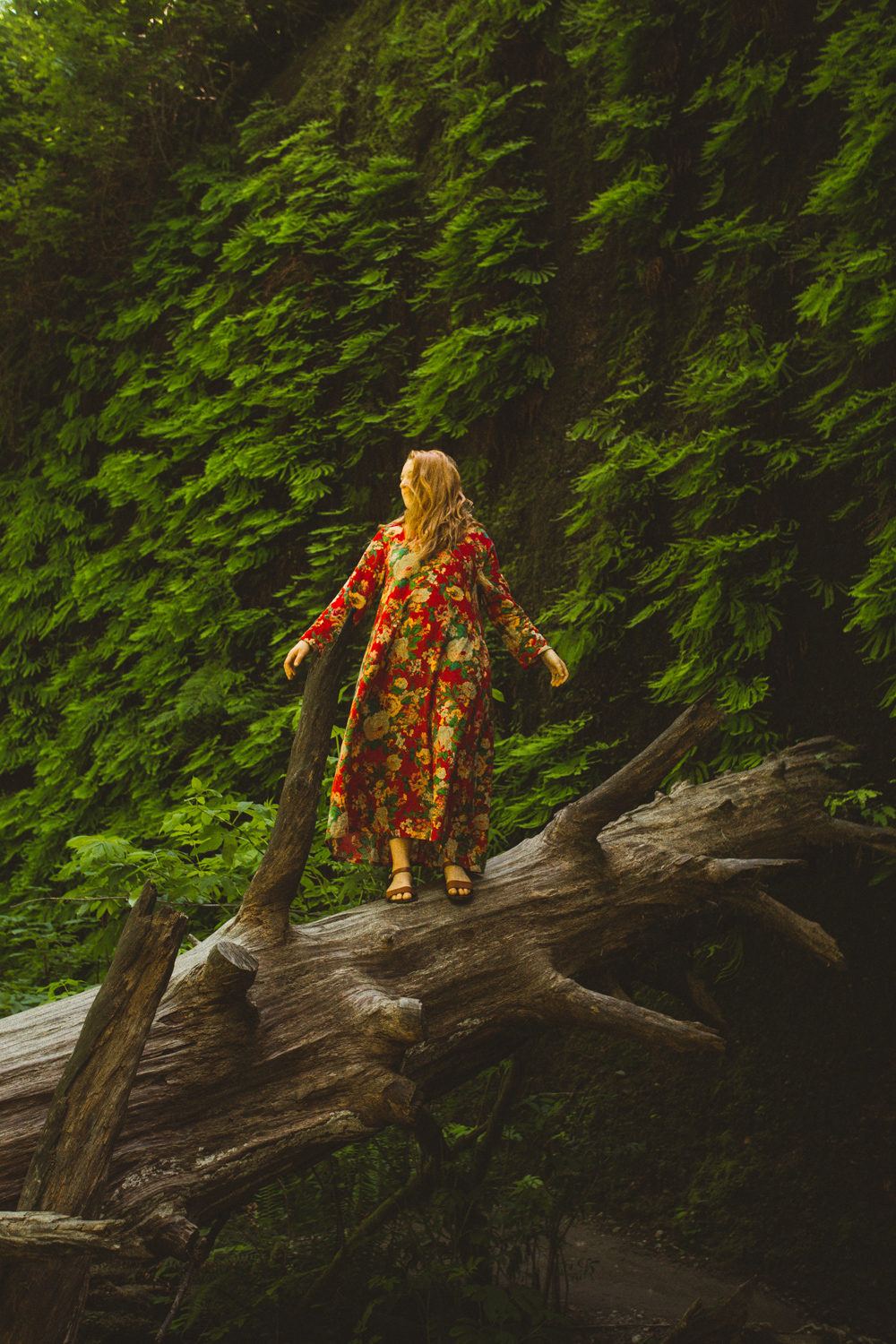 Where To Spend The Night
We learned that a road trip in California's coast is easy to do unless you're camping. Then it gets harder. There is a limited amount of free campsites compared to inland or even up the coast in Oregon due to local law enforcement cutting down on access.
The good campsites fill up quickly, or it cost $45+ just for a basic camping site. Smith River was the last place we were able to camp for free, sadly. Everything onwards is paid, and not a cheap price either! If you're thinking of camping on the coast, have lots of cash on hand and be prepared for most sites being $35+ a night.
We camped at the Blue Lagoon campsite, which was cute. It's a bit tight and the bathrooms aren't that great, but it's right on a very calm lagoon. We got this fantastic golden hour light streaming through the trees while cooking dinner and ended in a very pink sunset. Since the lagoon is so flat and still, it looked like a mirror reflecting the sunset on earth.
If you need a hotel, drive a bit further to Trinidad. We didn't get to spend much time exploring this cute town since we wanted to check out the Avenue of Giants the next day, but we drove through in the morning and like WHOA, this place is very unique! They have a few cute hotels and lodges you can rent out.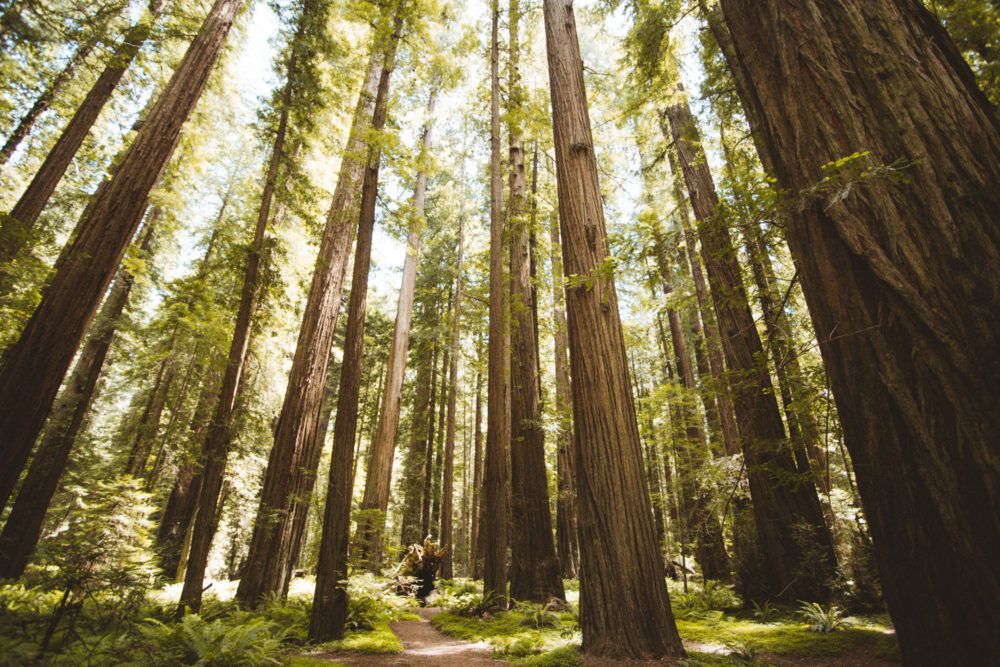 Stop Nine: Narravo River
After leaving the Blue Lagoon, we popped into Trinidad to go a quick Geocache, then on to Eureka. Eureka was not what I was expecting. It was flatter and more run down that I thought it would be. We didn't want to explore it, so we picked up beer at the Lost Coast Brewery and kept driving down past the Redwoods State Park in Humboldt County to the Avenue of the Giants.
This famous Redwood drive was a lot of fun. We did a bit of light hiking around some grove and it took a couple of hours for us to explore. Some people spend a few days running around the redwoods here, it's really all up to you and what you make of this area!
Our plans was to spend the night outside of Mendocino or Fort Bragg, a few hours down the coast. We love Mendocino and Fort Bragg, I low key want to move here. We also have spent a lot of time here, so we opted to skip it for now since I'm pretty sure we'll be back again later this year to try out some new luxury hotels.
In Mendocino, I love wandering the utterly unique downtown, eating mushroom candy cap ice cream (sounds strange but it's so good!), hiking the Russian River Gulch, kayaking, and visiting the lighthouse. In Fort Bragg, we love the glass beach and Shunk Train.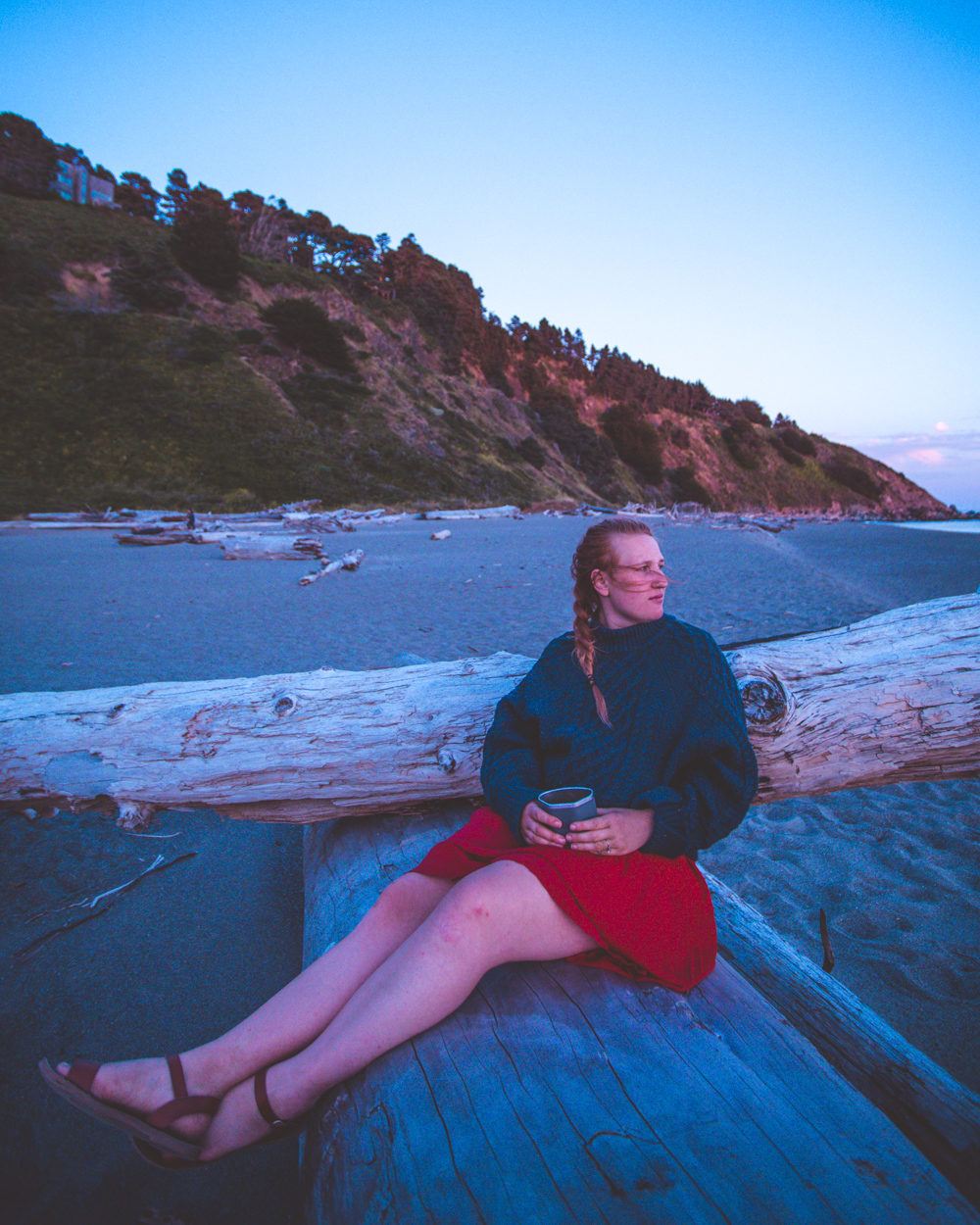 Where To Spend The Night
We had a hard time finding an affordable campsite. I wasn't up for paying $50 a night just to park the van! I learned from a ranger that the Narravo River campsite on the beach just opened up for the summer and was $35 a night, so we headed down the coast road to find it.
I have very mixed feeling about this campsite. It's small, only about 10 sites and you are basically rubbing shoulders with your neighbor. There's no cell service here, no nearby stores for supplies and the bathroom was overflowing with literal shit. BUT, it's literally right on the beach which was it's redeeming quality.
That evening, we headed to the beach and sat on a large washed-up log. We drank wine, listened to Harry Potter and watched the sunset. In the morning, we took a walk around the beach in the hunt for wildlife. I remember waking up in the middle of the night and opening the van door. It so was silent minute the waves crashing. I could see millions of stars in the clear skies and felt truly at peace.
If you need a hotel, I recommend the Inn at Newport Ranch (one of our favorite hotels, ever!) or Mendocino Glamping, an upscale glamping site that's also a lot of fun.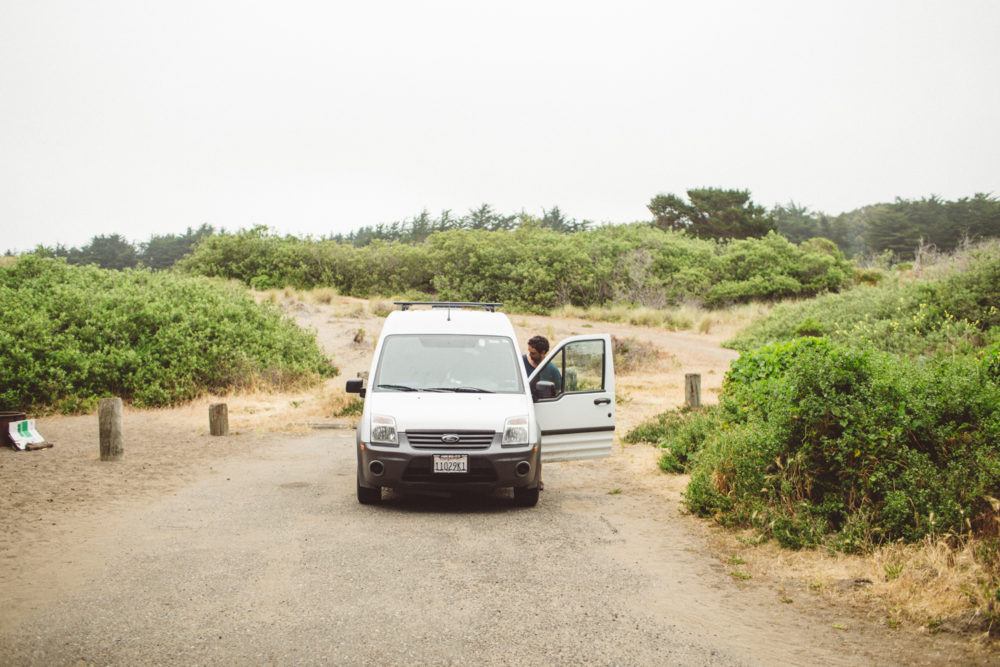 Stop Ten: Bodega Bay
We left Navarro early and headed down to the Sonoma County coast, an area we have yet to explore. Here's the thing: the Sonoma Coast is really pretty. Like, really really pretty. But beyond that, I wasn't impressed.
I'm sure there's a lot of good coastal hiking trails, but after a while they all sort of blend together, right? There's zero cell service here, a lack of small towns and other activities. Plus, the road here is SO dang windy I got a little car sick. It kind of felt like it would never end.
The only part I really enjoyed was the Point Arena Lighthouse! This is the tallest lighthouse that you can climb in the state of California. We pulled in and only meant to stay a bit but ended up staying a couple of hours so we could do the full tour.
We ended up in Bodega Bay. I will say, I think I need to visit again to truly get the full Bodega Bay experience. We were really tired at this point and sort of were ready to go home, which was just a couple hours away. So we didn't do too much exploring of the town. My impression was that it would be fun for a 1-2 night weekend stay from the city, but nothing more.
Where To Spend The Night
We did find a nice campsite, the Bodega Bay campsite, which is really large so we walked around it a bunch that afternoon and did some Geocaching. It doesn't have direct beach access, but I liked being snuggled up against the dunes. They have a lot of amenities and it also $35, so you got a lot more for your buck compared to the Navarro campsite. If you need a hotel, there are a few nice ones in Bodega Bay along with a lot of Airbnbs!
From Bodega Bay, there are two ways to get home to San Francisco. Either head down the coast to the Point Reyes National Seashore area or inland to 101 and a quick shot home. We've been to Point Reyes plenty of times, so we opted to just head home. I haven't showered for like, 4 days at this point and was just ready to be home!
BUT, for you dear reader, I highly recommend spending the day exploring Point Reyes. The hikes here are insanely pretty, looks a lot like Ireland. I love shucking oysters at Hog Island and exploring the oddball town of Bolinas. You can even go hiking Muir Woods and like, so much more! This area is basically our go-to playground when we want some nature time.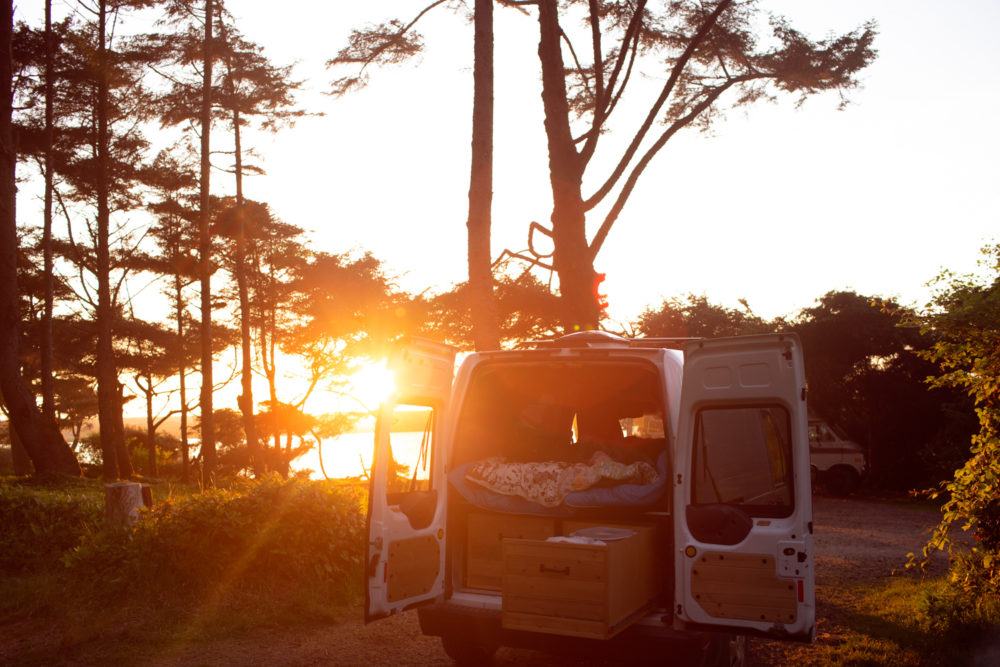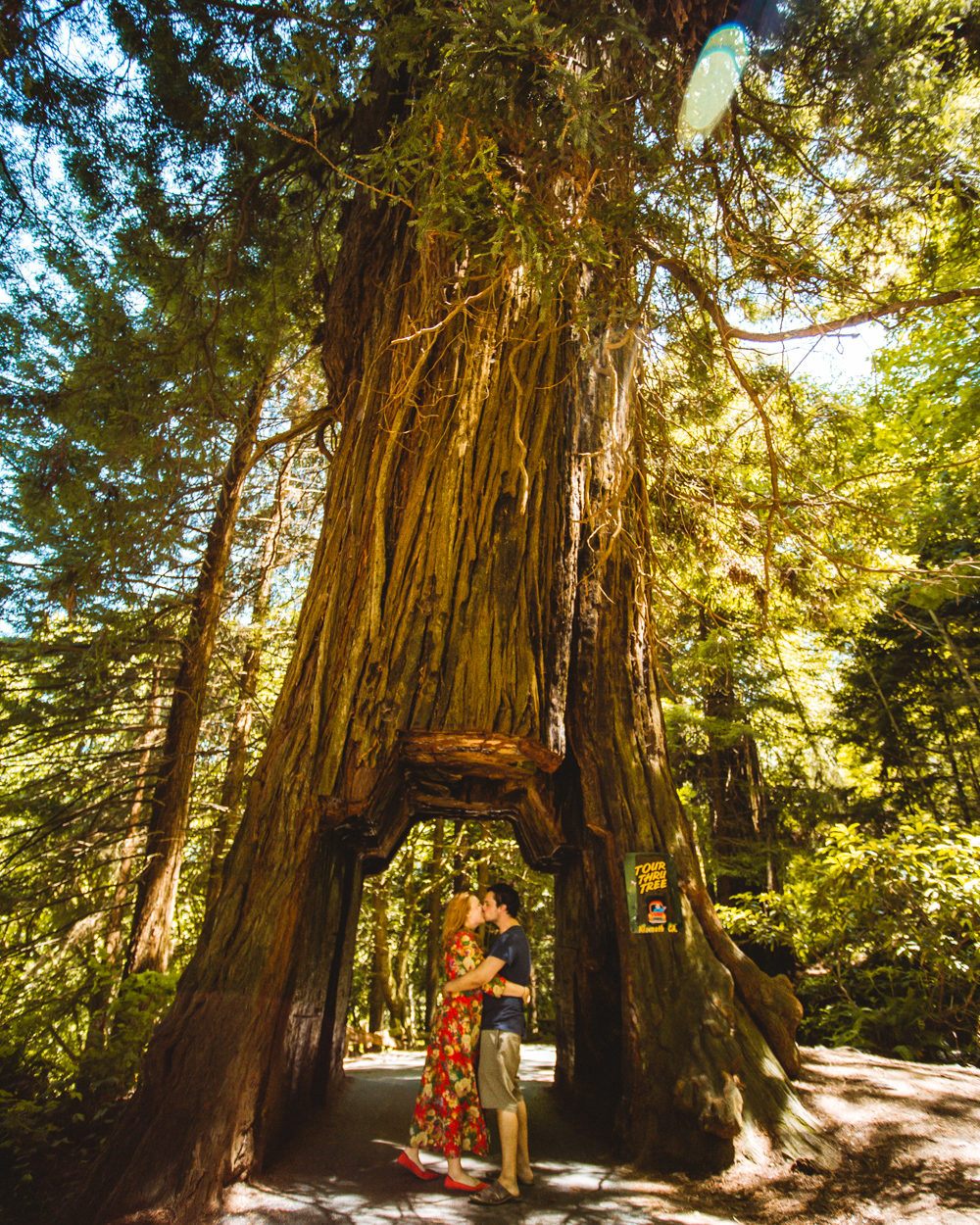 So, that's our van trip! We got home, took showers, unpacked the van, returned it and cuddled with our cat soooo hard!
California Coast Road Trip Itinerary
Whew, that's a long post, right? Here's my California Coast Road Trip Itinerary in a nutshell to recap.
Mount Shasta
Bend
Diamond Lake / Crater Lake
Eureka / Humboldt County
Bodega Bay
I think if we did this trip again, we would cap it at 7-8 nights. The last couple of nights we felt burnt out, but that's also because we had already been to the places we were visiting. Home felt really close and I really just wanted a shower! Ha. Or perhaps, it would have been better to do this reverse so we weren't tempted to jsut drive a short way back home.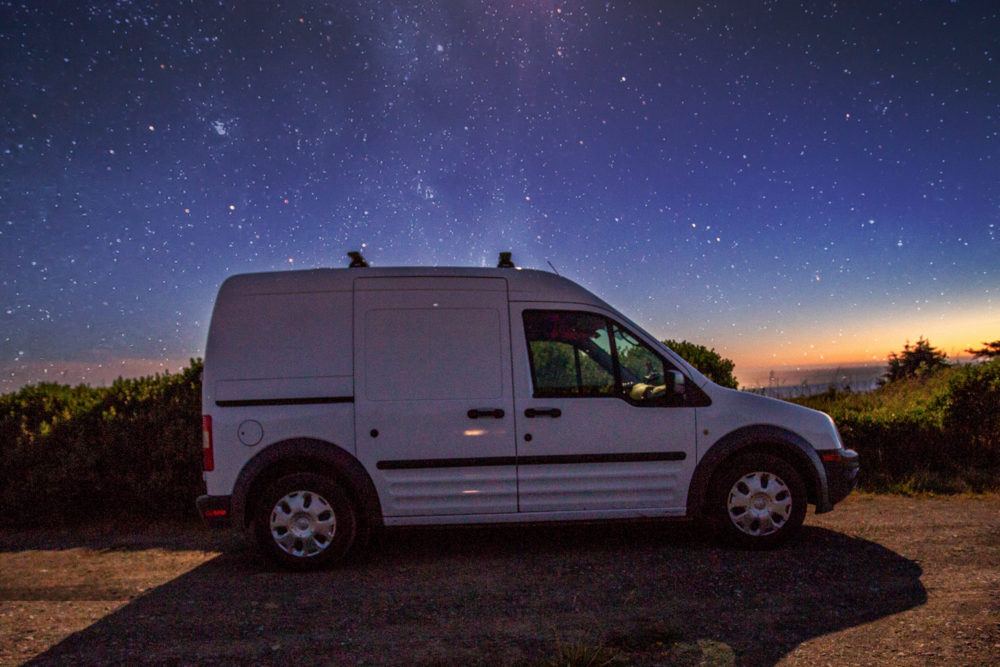 Regardless, I hope this helps you plane your Highway 101 Oregon to California (or vice versa) road trip! Bonus points if you're driving from California to Oregon in a campervan or RV. My eyes were opened to this whole new way of travel and I'm kinda hooked. I need to do more exploring of The Columbia River Gorge and Portland and I think a van trip would be great for that!
Driving from San Francisco to Portland can take a few days if you do the trip right. The San Francisco to Oregon border takes about 6 hours. Longer if you choose to only take the Pacific Coast Highway and quicker if you dart inland past Mount Shasta.
Not sure if I could do van camping long term but one day I totally want a cute little RV or trailer that we can use for a month every summer. There's just so much USA to see… and probably with another road trip to Oregon at some point because that state never gets old.
Other Posts You May Like
San Diego City Guide
A Local's Yosemite National Park Visiting Tips
Santa Barbara Travel Guide
Ultimate Seattle City Guide – from the Space Needle to Cute Coffee Shops
3 Days in Portland Guide