Well, Season 4 of Stranger Things sure took a dark turn, eh? I also think I still have "Running Up That Hill" stuck in my head (thanks Netflix!)
With Halloween around the corner, I drew upon everyone's favorite new TV villain for a spooky season drink recipe. I crafted up an original Stranger Things inspired cocktail that embodies Vecna himself. It's strong, smokey and little spooky. And incredibly addicting (seriously – we drank like 4 of these the night we made them and it quickly made my short list of favorite cocktails!)
Stranger Things Season Four Recap
Vecna aka 001 aka Henry Creel is the main antagonist from the fourth season of Stranger Things. After his family moved to Hawkins in 1959, young Henry discovered he had remarkable psychokinetic abilities and instead of deciding to dawn a superhero cape and do good with his powers, he chose the evil route.
He loved to toy with his family members and low-key haunt them. Things boil over and one night he snaps, murdering his sister and Mother. His father is blamed for the crime and all this attracts the attention of Dr. Martin Brenner, who took him to Hawkins National Laboratory and made Herny patient 001.
It's here that he meets Eleven as an orderly, and eventually, he tricks her into removing an ability-dampening device. He then proceeds to go on a murderous rampage and kills pretty much everyone in the lab, leadng to a battle between him and Eleven.
Eleven defeats him but opens up the portal to the Upside Down along the way, sending 001 inside. During his journey, his skin is burned and over time he transforms into the creepy Vecna version of himself.
How To Make The The Vecna Cocktail
I thought about making a Demogorgon cocktail (but that felt too gross) and even a The Upside Down cocktail but at the end of the day, October just screams Vecna and his red world. For my Stranger Things cocktail, we're getting nerdy about this.
My friend, Alice, is a huge Stranger Things fan for I asked for her advice on creating this recipe. I kept asking her all these questions like "is Vecna a vodka since you know, Russia?" "Or is he sour? Should I use lemon juice or lime juice?" Is he bourbon or spicy?"
Eventually, we landed on a cocktail that resembles a Martinez, but with Scotch instead of gin, and has a black licorice twist. Something about black licorice or star anise pairs perfectly with spooky season and we both agreed if Vecna had a flavor it would be black licorice and smoke.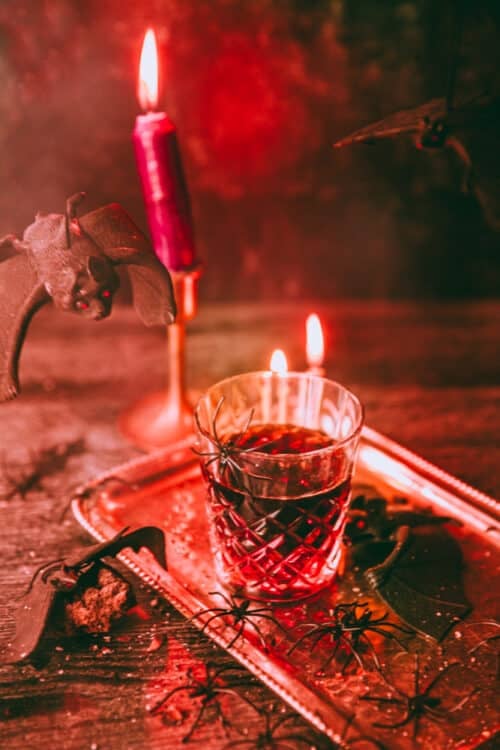 We used Jägermeister here, but there's some small local companies who make black licorice liquor that you should use if they're available (like this one from Valley Shine Distillers that's called Spider bite – like how perfect for a Vecna drink?!)
For the smokey flavor (because well, you know, his skin did burn off lolz) I used the For Peat's Sake Scotch Whisky which has a nice smokey flavor that doesn't get muddled when mixed with other ingredients.
This cocktail also uses some vermouth for a slightly sweet component instead of simple syrup and it's all topped with rhubarb bitters. Rhubarb pairs really well with Jager, or any black licorice flavor, to make it a little more fruity and sweet. And, since I just lived in Copenhagen where they are obsessed with rhubarb, I'm eager to add the flavor in anywhere I can. Even in cocktail recipes!
Robin and I love strong drinks that burn the hair off your chest and while this isn't that strong, it does pack a punch. If you want to make it a little less strong, instead of watering it down with ice cubes, use some Strawberry Rhubarb soda from Trader Joe's to top the glass off. *chef kiss*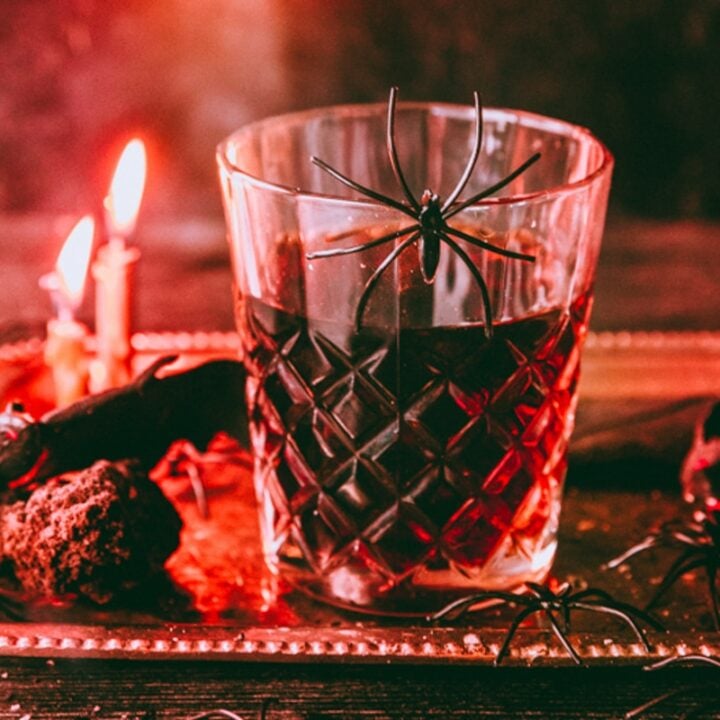 The Vecna: Stranger Things Cocktail Recipe
A smokey (and spooky) Stranger Things cocktail inspired by Vecna. Using black licorice liquor, smokey Scotch, rhubarb flavors and vermouth, this cocktail pairs well with October nights or Stranger Things watch parties.
Ingredients
Rhubarb Strawberry Soda (optional)
Instructions
In a cocktail shaker, add the Scotch whisky, Black Licorice Liquor and Red Vermouth.
Add ice cubes and shake to mix well.
Strain into a glass.
Top with 3-4 Rhubarb Bitters (more if you love the flavor as I do!)
If the drink is too strong for you, top the glass off with cold Strawberry Rhubarb Soda from Trader Joes.
Enjoy.
Notes
A smokey whiskey like the one mentioned really makes this drink shine!
Nutrition Information:
Yield:

1
Serving Size:

1
Amount Per Serving:
Calories:

607
Total Fat:

1g
Saturated Fat:

0g
Trans Fat:

0g
Unsaturated Fat:

0g
Cholesterol:

0mg
Sodium:

171mg
Carbohydrates:

86g
Fiber:

1g
Sugar:

21g
Protein:

2g
Looking for more fandom cocktail recipes for fall or the holidays? Our cocktail writer Meg last year made Bloody Jackie Daytona: A What We Do in the Shadows Inspired Cocktail Recipe which is PERFECT for nursing after Halloween party hangovers. Check it out!