Napa vs Sonoma – which is better according to a local? (Hey, that's me!)
I'm spoiled by living next door to Northern California wine country here in San Francisco and visit on wine tasting trips *probably* a little too much. I question I get asked all the time in my DMs is: "Kara, which is better? Napa Valley or Sonoma County?"
In this post I'll be walking you through the vibes of Sonoma and Napa, along with travel tips like recommended wineries, restaurants and hotels in each area so you can plan a fantastic wine tasting trip. Let's go!
Napa vs Sonoma: Which Is Better According To A Local?
>> Got a question about wine country that you need answered quickly? DM me on Instagram @thewhimsysoul and I'll be happy to help!
Wine Regions 101 (Aka a Quick Geography Lesson)
Real quick — Sonoma County and Napa County are next door to each other but there's a big mountain between them, so it takes a while to drive from one valley to the next. That's why it's not a good idea to book a morning tasting in Santa Rosa and then an afternoon tasting at a winery in Yountville. You'll just be spending the day in a car rushing and that's so not the vibe for wine tasting. You gotta take it slow!
Also, it's important to know that there is Napa Valley and the town of Napa. And there's Sonoma Valley and – you guessed it – the town of Sonoma. It can get kinda confusing sometimes, especially for people who haven't visited either before. To keep things simple, use the term "Downtown Napa" and "Downtown Sonoma" to refer to the towns themselves, and just "Napa" and "Sonoma" to refer to the regions.
Which Is Better Napa Or Sonoma?
So you're probably wondering: what's my favorite of the two? Well, it kinda depends on who I'm traveling with, the time of year and our budget. In general, I tend to favor Sonoma. It's more affordable and more laid back, without compromising style or good wine.
Want to go glamping and then take a tour in a wine cave before playing bocce ball at a local Italian restaurant? That's Sonoma. Healdsburg is my FAVORITE wine-tasting town and my favorite varietal of wine just happens to be a Russian River Valley Pinot Noir, so I love Sonoma wine country.
But Napa is simply stunning. Everything oozes glam and vineyard magic. It's kinda like going to France and never visiting Paris – everyone should visit Napa Valley at least once if not many many times during their life. Want to wake up at a stunning resort, have a spa treatment and then go tasting at famous wineries before dinner at award-winning restaurants? That's Napa Valley. I tend to go to Napa with my husband more than my girlfriends (it's just so dang romantic!)
SONOMA AT A GLANCE
Tends to be more laid back
Laid back can sometimes mean a less glamourous tasting room
More affordable tastings
Great for Pinot lovers
More woods & forest views
Gets better fall foliage
NAPA AT A GLANCE
Tends to be more upscale
Wineries are luxe & beautiful (feels like Italy!)
Tastings are $$$$
Great for Cab lovers
More vineyard & mountain views
More luxury resorts & hotels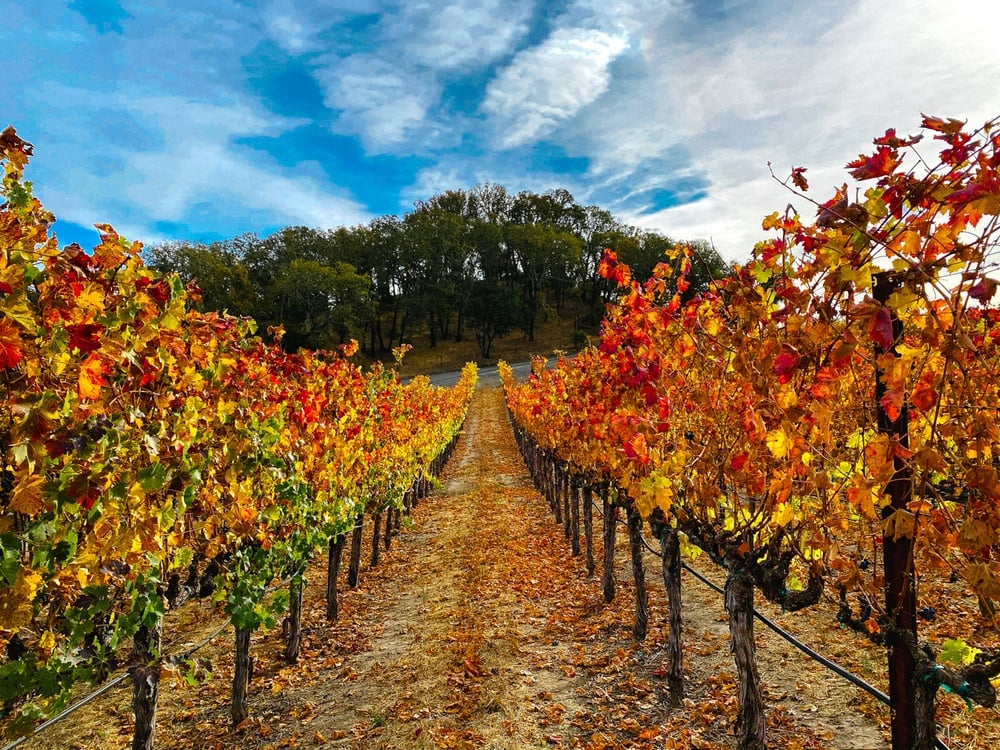 When deciding between Sonoma vs Napa Valley, it's important to consider a few things:
Your budget
Your vibe (luxury vs more relaxed)
Your favorite types of wine
Your experience & knowledge of wine
Time of year you are visiting
If you plan on renting a car
Next I'll be walking you through the basics of Napa and Sonoma and my favorite spots, addressing each of these things I bulleted to help you make an informed decision about which region is best for you. We'll start with Napa Valley!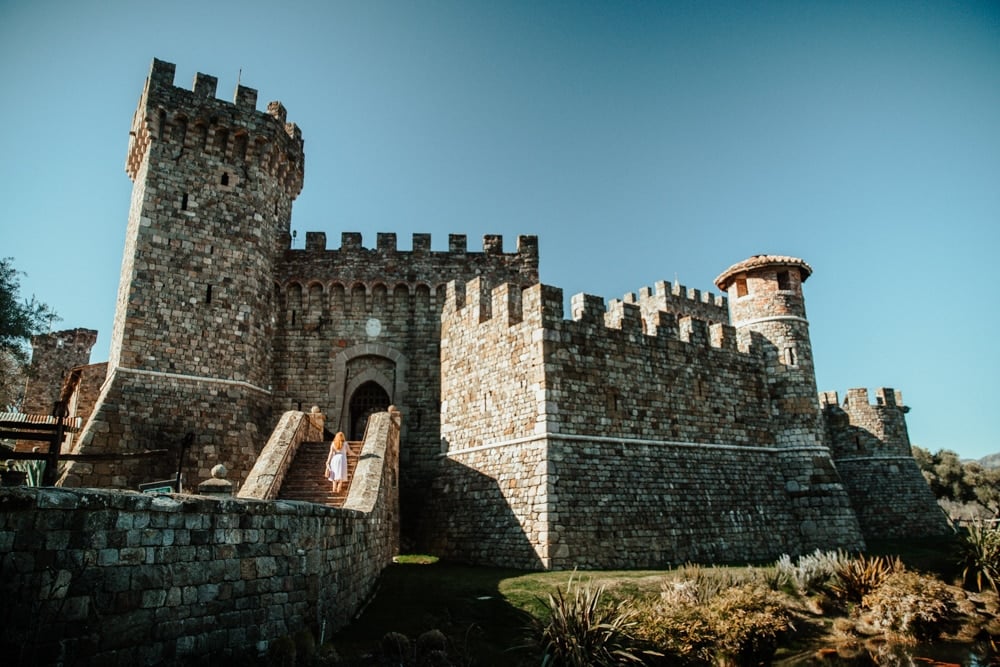 Napa Valley's Vibe Is Upscale & Posh
I mean, it is a world-famous wine region after all. They get to be upscale, they have the money to do so. Napa Valley is home to the famous Silverado Trail and some of the biggest names in the wine world (like Robert Mondavi, Sterling Vineyards and Sutter Home even. Not exactly recommending that last one but it's there.) Tasting rooms in Napa tend to be very Italian inspired, which posh interiors and sweeping views of vineyards.
Honestly, pretty much all the tasting rooms in Napa are beautiful, but these are my favorite Napa winery stunners if you want to pick based on that.
Though you can find vineyards growing grapes of all kinds, the most popular Napa Valley wines are usually a big bold cabernet sauvignon or a chardonnay. So if you love either of those varietals of wine, you'll love the wine menu at almost every winery.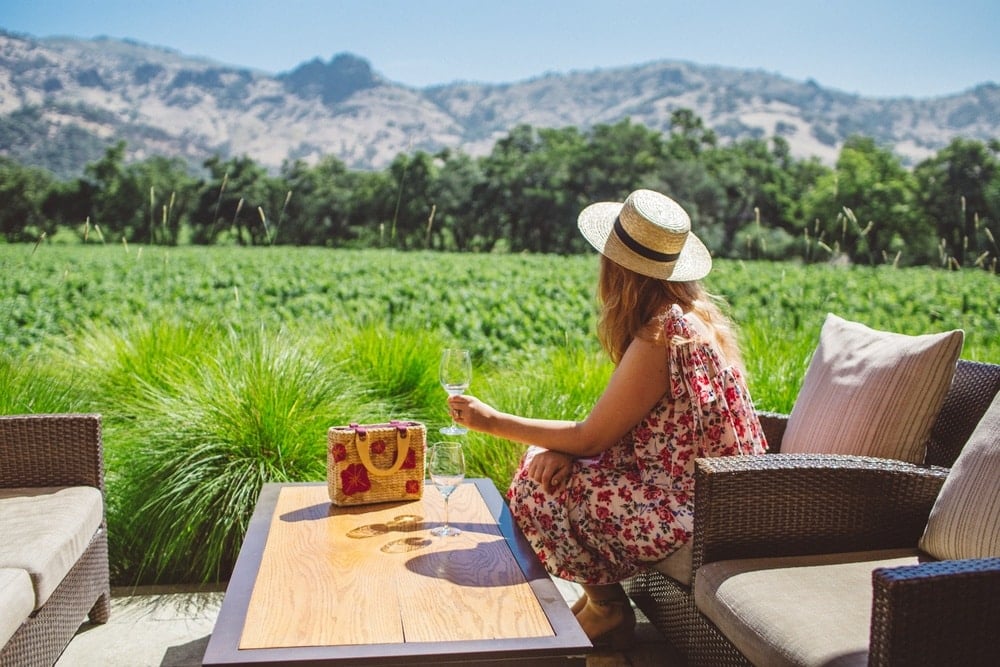 My Favorite Napa Valley Wineries
Ohh, I really hope I don't accidentally leave anyone out. Here's my favorites to visit:
Napa Dining
Along with the famous wine region, you'll also find world-famous restaurants by world-famous chefs, along with just general upscale dining. So, yes, meals will tend to run on pricy but they will be dang good meals. Some of the notable spots to eat here are:
The French Laundry
RH Yountville
La Taberna
Oxbox Market
Bouchon
Ad Hoc
The Grove at CIA Copia
Where To Stay In Napa Valley (Our Favorite Hotels & Airbnbs!)
I think it's important to pick a hotel near the region you'll be wine tasting in so you aren't stuck in a car for your entire trip. From romantic resorts to Airbnbs that can fit your whole bachelorette party, these are our favorite places to stay in Napa: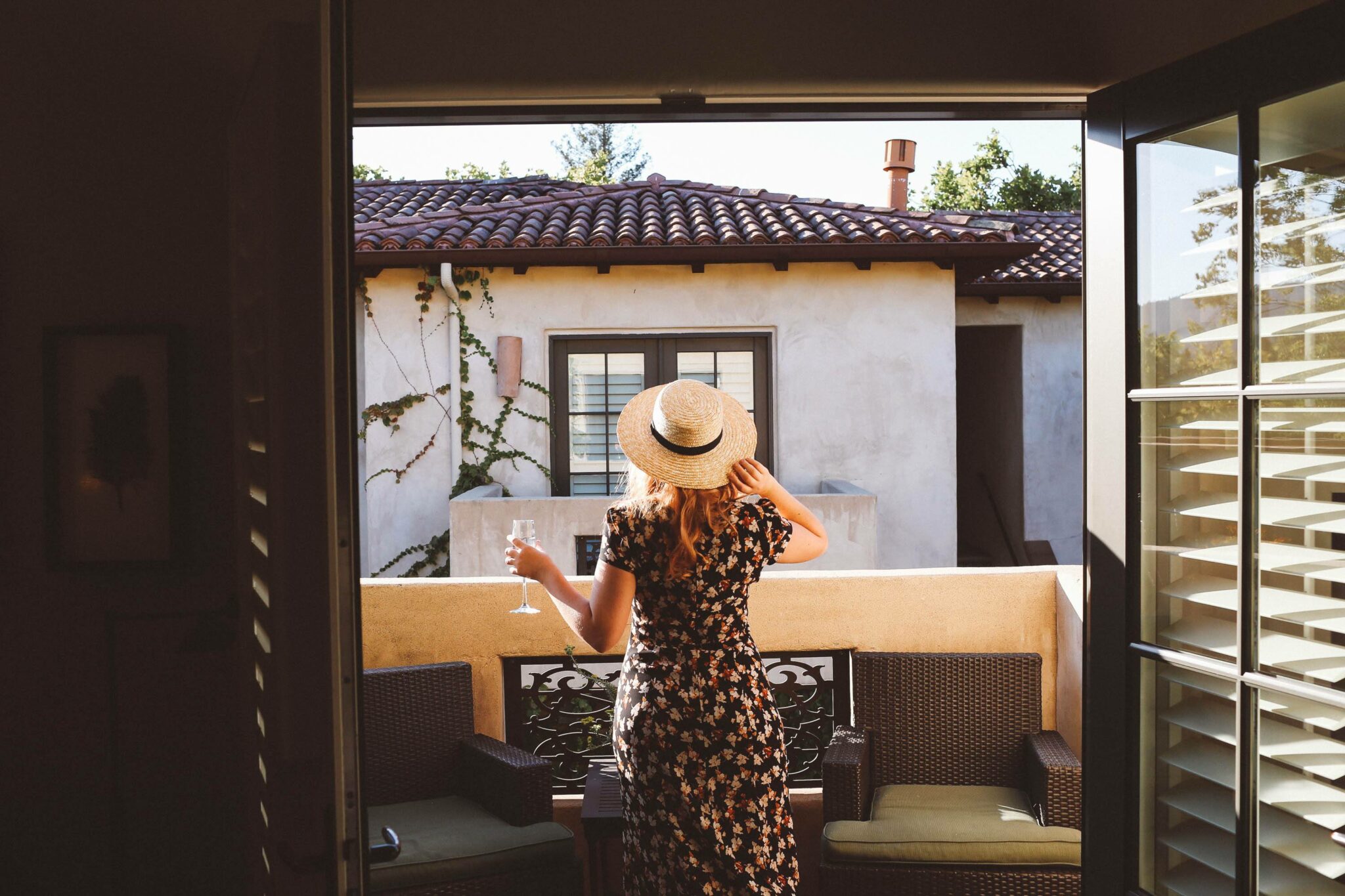 Sonoma Valley Is More Relaxed And Rustic
The Sonoma scene feels very different compared to Napa in my experience. It's more chill and down to earth. There's more forest coverage here and it can feel like the rural countryside in some spots. Yes, they still have huge wine family names and Michelin star restaurants but you'll also find things like small lot vineyards tucked in a barn, whimsical German joints and riverfront activities.
Sonoma County is HUGE compared to Napa County. It stretches all the way to the ocean, though most of the wine tasting area is around Guerneville, Healdsburg and Sonoma. Santa Rose does have a few spots, but I find it's a lot like a suburb vibe and not a great place to go wine tasting at the moment, so I'd advise to skip that area.
Sonoma Is Usually Cheaper
One reason I love visiting Sonoma Valley is that the wine tasting prices tend to be cheaper compared to Napa Valley. You still won't find a $5 tasting here, and other than Korbel in Guerneville, I don't know of any free tastings BUT, you'll save a lot of coin over in Sonoma.
My Favorite Sonoma Valley Wineries
I think some of the best wines in Sonoma can be found in the Dry Creek Valley, Russian River Valley area and Chalk Hill regions. Sonoma wineries tend to focus more on Pinots while Napa is all about that cab. When it comes to Napa vs Sonoma wines, both are award winning but I personally lean toward Sonoma being my faves.
My favorite Sonoma vineyards to visit are:
Where To Stay In Sonoma County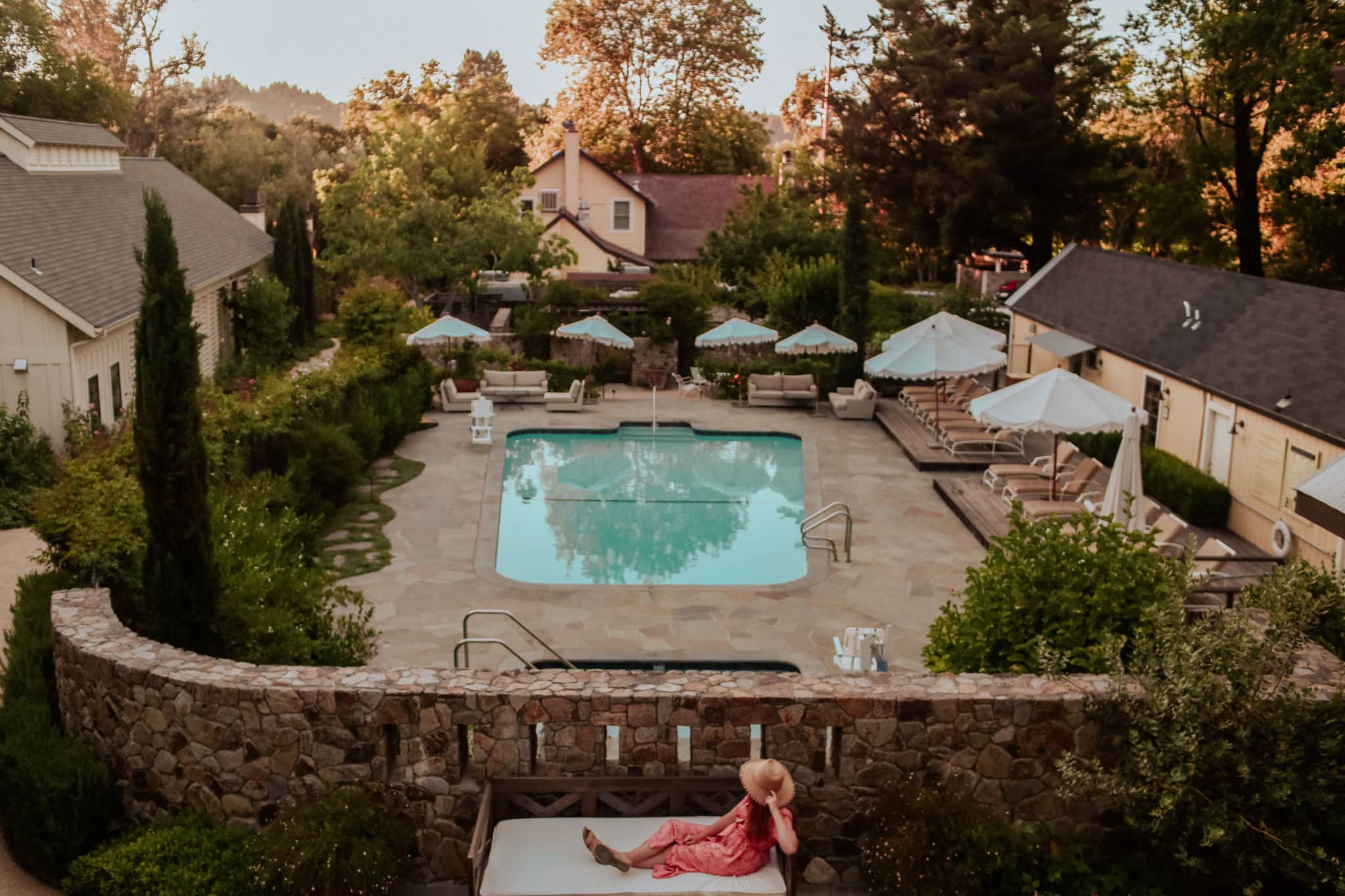 I hope this helps you decide if a trip to Sonoma or Napa Valley is best for you! If you still can't decide, drop a comment below or shoot me a DM on Instagram @thewhimsysoul and I'll try and help you figure it out! I love helping people plan trips.
Is your favorite hotel or winery not on the list? Leave a comment so everyone can see. Happy wine tasting in Sonoma and Napa Valley!