Maybe it's just me being a 90's kid who watched the Parent Trap too many times, but I love a Napa Valley winery that takes my breath away first with the aesthetics and the views, then with the wine itself. Living next door in San Francisco means I find myself popping up to go wine tasting all the time.
There are over 375 wineries Napa Valley has to offer. And to be honest, it's Napa – they all offer great wine, but not all of them have that epic breathtaking wine tasting experience you want when visiting this iconic California wine country valley.
If you also love to sip a 99 point cab in a chateau or on a patio with sweeping vineyard views, this post is for you. I'm sharing all the most beautiful wineries in napa along with some other handy travel tips only locals know (like how to get free wine tastings at some of these spots!)
Napa Vs Napa Valley
Real quick, because I always give this little lesson in all my Napa Valley wine tasting posts. Napa Valley is a region and it encompasses a few little towns and mirco-wine regions within that. The town of Napa is one of those towns, and it can get confusing. Generally, the town of Napa is referred to as "Downtown Napa" or "the town of Napa". If I'm writing "Napa" I mean the whole region, not the town.
Cool, let's go chat epic views and unique wine tasting you won't soon forget!
20 Most Beautiful Wineries in Napa Valley
Historic chateaus, sweeping estates, and even a Tuscan castle can all be found in the Napa Valley region of Northern California if you know where to look. Whether you're planning a bachelor/bachelorette party, a friend's reunion, or a romantic couple's escape, there's no need to turn to Pinterest for a guide on what to see and do. This list of the top wineries in Napa is all you'll need!
What Is The Best Time Of Year To Visit Napa Valley?
This depends on the vibe you are going for. Winter will be cooler weather, far less crowded and you can usually find discounted hotels or tasting specials at wineries. The downside is, the vines will be bare and you can encounter rain.
Summer is hot hot hot which can get overwhelming, but it's also so relaxing to sit in the sun on a warm summer day and sip a crisp white wine while overlooking green vineyards. It's also the most popular time to visit so you will have crowds and traffic to deal with. And, lately, there may be wildfires happening in the late summer. But, it is a super romantic time to visit if you are planning a Napa honeymoon, for instance, as all the vines will be green and full of fruit.
Springtime brings flowers and autumn is when all the vines turn orange and yellow. Yes – wine country is one of the best places to find fall colors in California! Really, you can't go wrong when visiting Napa Valley but do know there are all four seasons here.
How Can I Get Free Napa Valley Wine Tastings?
There are a few ways to secure free, or heavily discounted, wine tastings. When possible, I hate paying full price for a tasting. They can run pretty pricey in Napa. You could literally drop $1500 on wine tastings during a week visit, and that doesn't include bringing home any wine. Planning Napa Valley on a budget? Fret not, we locals have a secret to share with you.
1. Wine Clubs: If you become a member at a winery wine club, usually all of them allow free wine tastings for members and 1-3 guests. These tastings are always fun because they give you the VIP treatment (good seats, reserve wines, sometimes extra pours and snacks.) This is a great hack to get everyone in your group covered for a tasting. The downside is, you still have to pay for the wine club, albeit you do get wine with it. And you have to know which wine club you want to join.
2. Wine Passports: You can also use wine passports! This is my favorite way to get free wine tastings in Napa. There are a few different passports that run at different times and include different wine tastings. How they work are, you by the passport and then can use it to get a free tasting or two-for-one tastings at the posted wineries. The list of Napa Wineries that partake in this change every year, which is super fun.
Usually, you just have to visit 2-3 wineries to break even and these tend to be valid for a whole season. My favorite passports are:
Priority Pass: This program has over 400 wineries in it, and the passport is usually 70% off via Groupon!
Napa Valley Passport: This one is valid for two people so you only need to buy one!
St. Helens Passport: This is my favorite passport as it tends to cover most of my go-to wineries in Napa Valley.
3. Hotel free tasting coupons: Lastly, sometimes hotels will give out free winery coupons as a perk for staying at the hotel. If you don't see that listed in the offering, ask the front desk. Sometimes they have them stashed and can give them to you.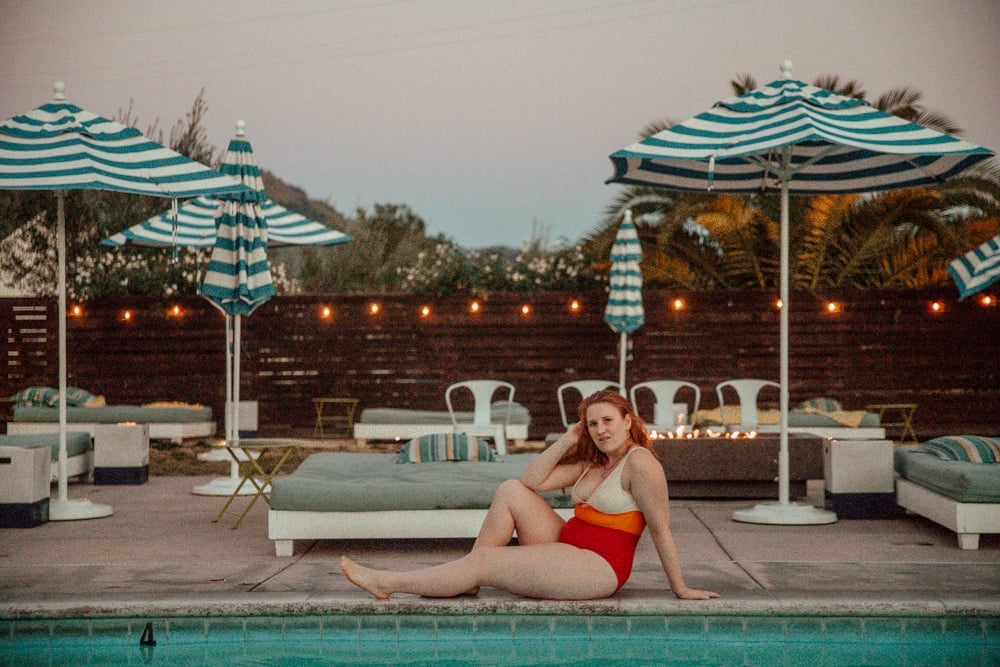 What Are The Best Napa Valley Hotels?
Speaking of hotels, where should you stay? You can of course, opt for a super budget hotel but this is Napa Valley. There is something about the hotels and resorts here that are just different. It would be a shame to sit in a dark budget motel room after a day tasting expensive wines at a castle. Instead, I urge you to stay at a nicer place with views, sunlight, pools an good vibes. Here are my favorite spots:
What Are Cute Wine Tasting Outfits I Should Wear?
I personally have so much fun crafting cute wine tastings depending on the season, winery we're visiting ad our Napa activities. Weather in the summer here gets hot hot hot, while the winters are cold enough for a coat and boots.
Beyond the right layers, there is an art the best wine tasting outfits and I have a whole post on what to wear wine tasting and what not to wear that you should consult. It features tons of outfit ideas you can copy, too!
What Are The Best Napa Valley Restaurants?
Ekk, there are so many good places to eat in Napa Valley but these are always the spots I hit up again and again for lunch or dinner after wine tasting at the beautiful vineyards:
Clif Winery Food Truck (St. Helena)
Long Meadow Ranch (St. Helena)
Grotts Roadside (St. Helena + Downtown Napa)
Cook (Downtown Napa)
Fleetwood (Calistoga)
Oxbow Market (Downtown Napa)
Oakville Grocery (Oakville)
Brasswood (St. Helena)
Other Frequently Asked Questions About Visiting Napa Valley
These are the questions I get a LOT from folk on Instagram so I thought I would round them up for you!
Is The Napa Valley Wine Tran Worth It?
I think the Napa Valley Wine Train is something everyone should do at least once. It is a touristy experience, but the train itself is beautiful and we loved our food pairing tour here. It's great for people who don't want to drive since the courtesy shuttle takes you from the train directly to wineries. The guides will also give you a major crash course on famous Napa wineries, the history of the valley and the basics of how wine is made.
They also have night events that I really want to attend – like a murder mystery night and a Harry Potter night! I'll let you know how those go when I attend.
Do you drive or shuttle when Napa wine tasting?
We live in San Francisco and own a car, so we just drive up whenever we are visiting a winery at Napa Valley. One of us decided to be DD and we still taste all the wine, but the DD will ask for a spit bucket. We also bring a lot of snacks and water to make sure the DD stays safe to drive. I've never had any problems with this method.
There are tour companies out there that will shuttle you from winery to winery. Platypus Wine Tours is the best one out there. The downside of these is, the companies usually won't let you pick your wine tasting spots, or heavily influence where you go since they get a commission cut for bringing visitors. This means you may not be visiting the best Napa wine tasting spots for you or your group. I prefer driving so we have full control over where we taste, but also any other stops on the way (restaurants, stores, etc).
What's The Difference Between Sonoma County And Napa Valley Wine Tasting?
Despite being next door to each other, Napa vs Sonoma wine tasting vibes are totally different. I love them both but which valley I visit depends on what I'm in the mood for. Russian River Pinot is my absolutely favorite varietal of wine, so Sonoma County (specifically Healdsburg wine tasting) is where I usually head.
Sonoma is more laid back, woodsy and friendly while Napa Valley is where you find the grand vineyards that take your breath away. I head here for special events, like Valentine's Day in Napa. But, the sommeliers can be stuffy or snooty in Napa at the really fancy wineries, plus everything costs more in Napa so it's not the valley I head to on a casual girls wine trip.
The best wineries in Napa and Sonoma in my opinion, are the ones where the views are good, the staff are friendly and the wine is estate grown.
Is Going To Napa Valley On Memorial Day Weekend A Bad Idea?
Yes and no. Holiday weekends in California are always crazy. We usually try and stay home on Memorial or Labor Day weekend if I'm being totally honest. But, wineries in Napa Valley these days all require advance reservations, so if you plan ahead and make reservations for tastings and restaurants you shouldn't have too much trouble visiting. Just leave
I think the best wine tastings in Napa are on a slow weekday when the staff aren't overwhelmed, but if you have to visit on Memorial Day Weekend, just plan on extra driving time to get from one spot to the other. The weather will be great that time of year, too.
When Do Napa Wineries Open?
Every winery is different but in general, tastings start at 10am and the winery will close at 5pm. This allows you time to visit 2-3 wine tasting appointments easily enough.
What Is The Best Wine From Napa?
Everyone is going to have a different opinion on which winery makes the best wine in the valley so I can't attempt to answer that. But in general, the best Napa wineries make Cabernet Sauvignon and Chardonnay. You can expect all sorts of varietals when tasting in Napa, but I most frequently see those two on menus.
I hope this helps you find some beautiful Napa tasting rooms to visit during your trip! Don't forget some sunscreen and wine away for any accidents, and you're set.
If you have any tips to add, drop a comment below so everyone can see. If my novel to Napa still left you with questions, drop a comment or DM me on Instagram @thewhimsysoul and I'll try and help you out!