Healdsburg is my favorite place to go wine tasting in California. Seriously! I go Healdsburg wine tasting multiple times a year (perks of living in San Francisco!)
I love the locals & the culture they created here. It's a mix of small farm-town friendliness with California luxury. I love how in October, the entire town turns bright orange, yellow and red with the fall foliage. I love that there's a cat named Jack who is always hanging out in a bookstore but most of all, I love the wine. Healdsburg wineries just do it right.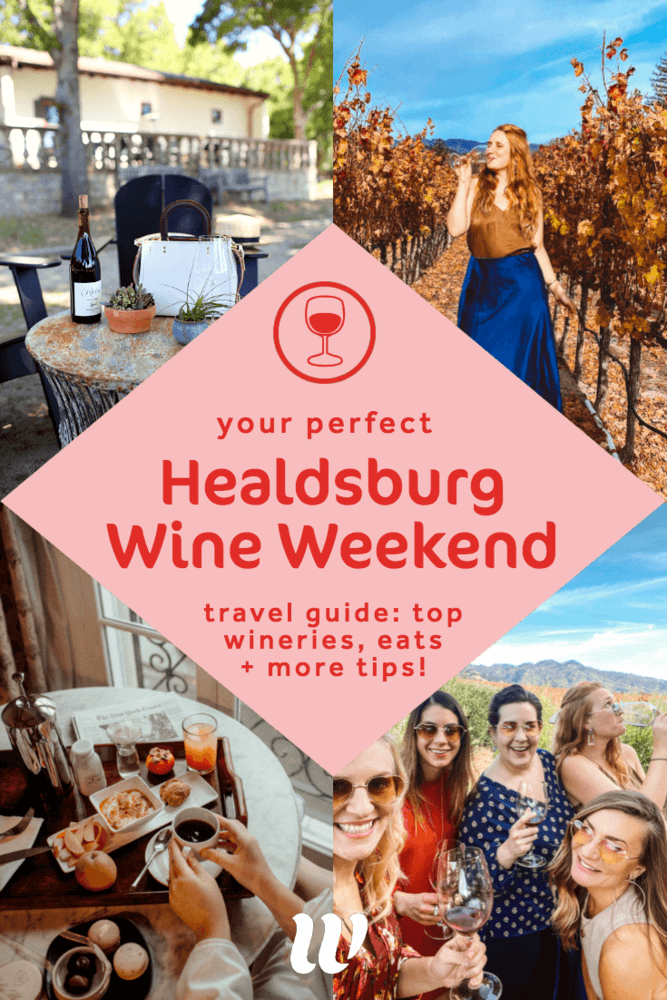 Your Perfect Weekend Guide To Healdsburg Wineries + Where to Stay, Eat & Shop!
Healdsburg is my favorite place to go on a weekend wine tasting girls trip. Robin, my husband, also loves Healdsburg wineries so we use it as our romantic escapes, too.
I've lost track of how many times I've visited, but some of my favorite memories of living in California were made in this small wine town.
Unlike some of the other Healdsburg wine tasting guides out there, which were made from one weekend visit, know that everything in my weekend wine tasting guide is thoroughly vetted over years of visits & places really I love.
Keep reading for how to spend your perfect weekend in Healdsburg — and hopefully will fall in love with the area as much as I have!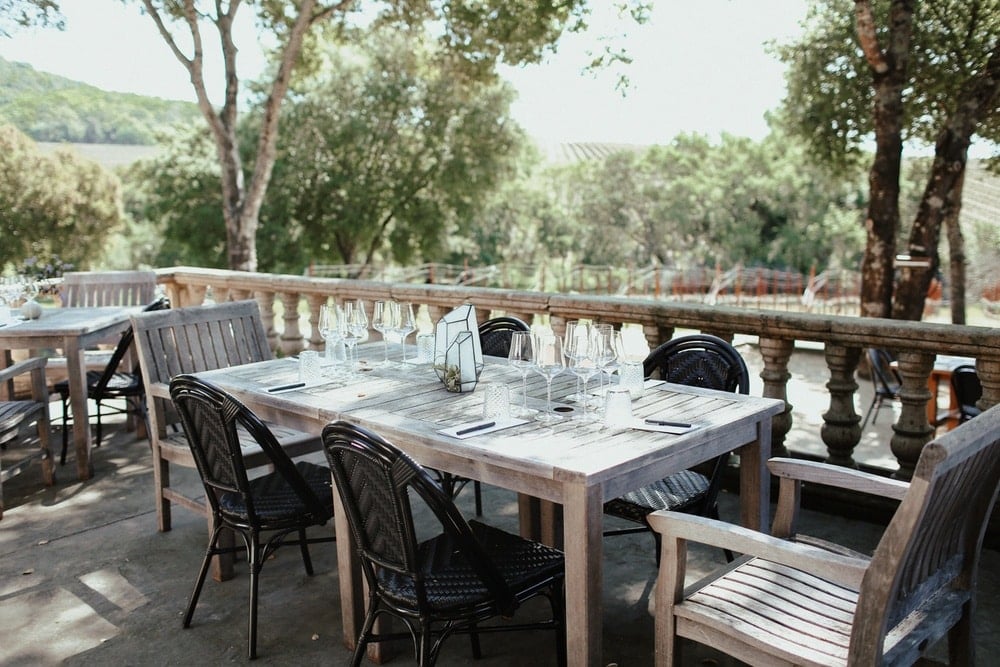 Got questions about Healdsburg you needed answered ASAP? DM me on Instagram @thewhimsysoul! & I'll help yout out!
Before we dive into my list, first…
Wait, is this Dry Creek Valley Or Russian River Valley, Alexander Valley or Healdsburg?
It's a bit confusing, eh?
Here's the thing: Sonoma wine country is really, really big and there are plenty of sub-regions that are very, very different. For example… Santa Rosa has a very different feel than Healdsburg which is very different from Sea Ranch on the coast, which are all technically inside Sonoma county.
Dry Creek Road, Russian River Valley and Alexander Valley are all AVAs surrounding the town of Healdsburg. Most of the Healdsburg wine tasting rooms downtown source their grapes from one of these areas and may also have their flagship vineyard tasting room in this area, too.
These regions are also pretty close to each other and when I go wine tasting in Healdsburg, I'm usually visiting at least one of these sub-regions on top of downtown Healdsburg proper. I love tasting at vineyards versus, small tasting rooms whenever possible!
So, a true wine snob may scoff at my list of recommended Healdsburg wineries for a weekend trip because some are technically in Russian River or Alexander Valley, but they are all in the same general area and these are the places I go when wine tasting. And not to brag, but I think this guide is pretty dang awesome. But I wanted to clarify in case you were wondering.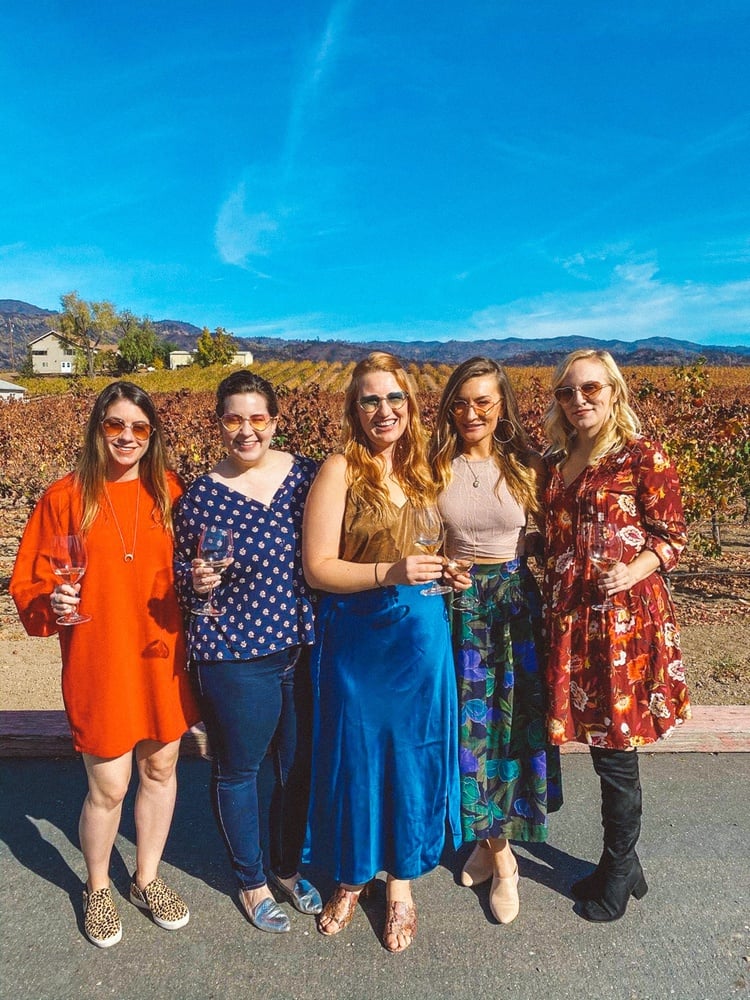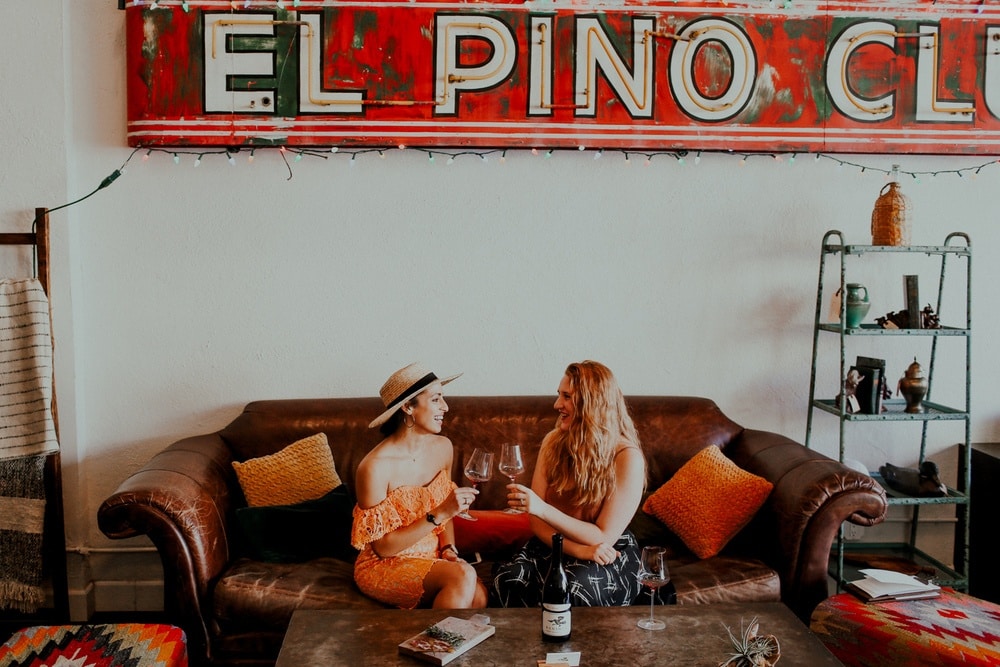 My Favorite Healdsburg Wineries (Aka the best places to go Healdsburg wine tasting!)
Now, onto my favorite Healdsburg wineries that I love to visit when I come to town! Since some of them are technically not in downtown Healdsburg, I have a map marking them all below for easy reference while planning.
Pro tip: It's usually a good idea to visit just 2-3 wineries a day. You can possibly squeeze in an extra one for happy hour if it's on the square so you can safely walk over to dinner after.
A block off the square, I think Banshee is one of the best tasting rooms in Healdsburg. The decor is just so much fun and it's decorated in a style you don't see too much at wineries. Think boho hipster chic with plenty of cozy seating so you can linger while you taste.
I visited here on a rainy day and it was the perfect colorful escape from the gloom outside. It's best to reserve a tasting experience ahead of time here. Tastings range from $20-$30 and last at least an hour.
I recently visited Cartograph and felt right at home. Hey, one of the founders is a fellow Midwesterner! Plus, Healdsburg wines are known for stunning pinot noirs, and Cartoprahs make some of the best pinots in Healdsburg (and pinot is my kinda my thing!)
The tasting room feels a bit sciency to me – think clean designs, stainless steel and sometimes even beakers on display for decoration (or use to serve wine!) My personal favorite wine we tasted is the 667, but all are super tasty and well-crafted.
Groups under 6 don't need a reservation, but if you want to taste before their opening time of 11am, just call ahead and one of the owners themselves may open up early for you. Tastings are $20.
VML
VML is one of the best wineries in Healdsburg (ok, one of the best wineries near Healdsburg as it's technically in Dry Creek Valley.) It's one of those places that you hear whispers about. Seriously – people who have visited always seem to whisper to me things like "omg, have you heard of VML?" with a big smile on their face because it totally feels like a secret gem.
VML is a winery Robin and I accidentally discovered on our very first trip to Healdsburg and it's now one of my favorite wineries ever. That's because the wine is super unique. I'm talking flavors like mushrooms, bark, marshmallows have all been things I've seen on their tasting menus. Their winemaker is always playing with blends.
If you are tasting with just a couple of people, you can probably do a walk-in just fine. But if you have a group of 4+, I recommend you make a reservation. Tastings are $20.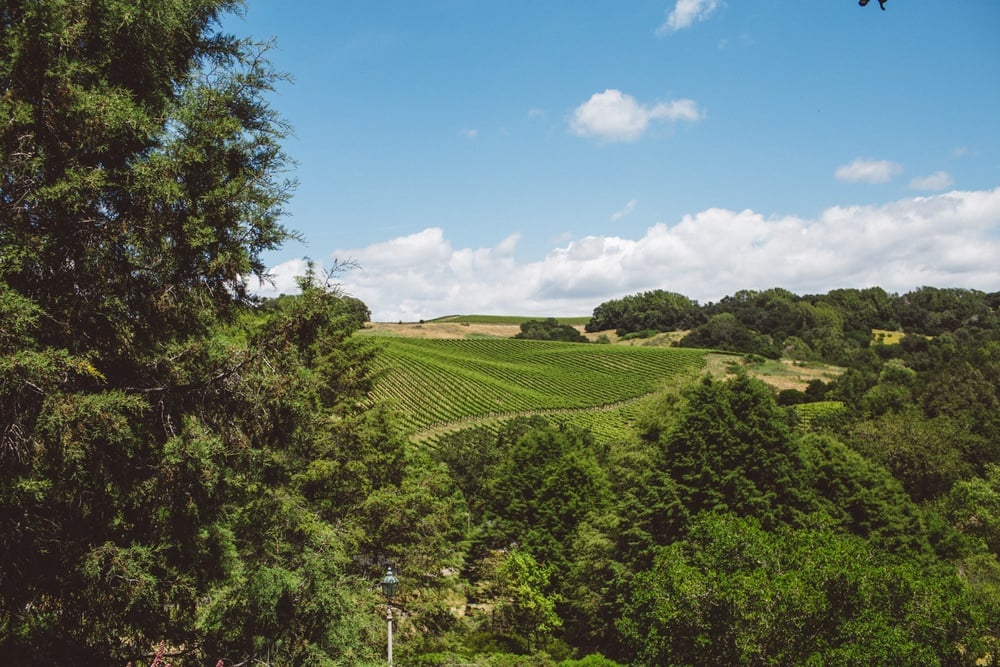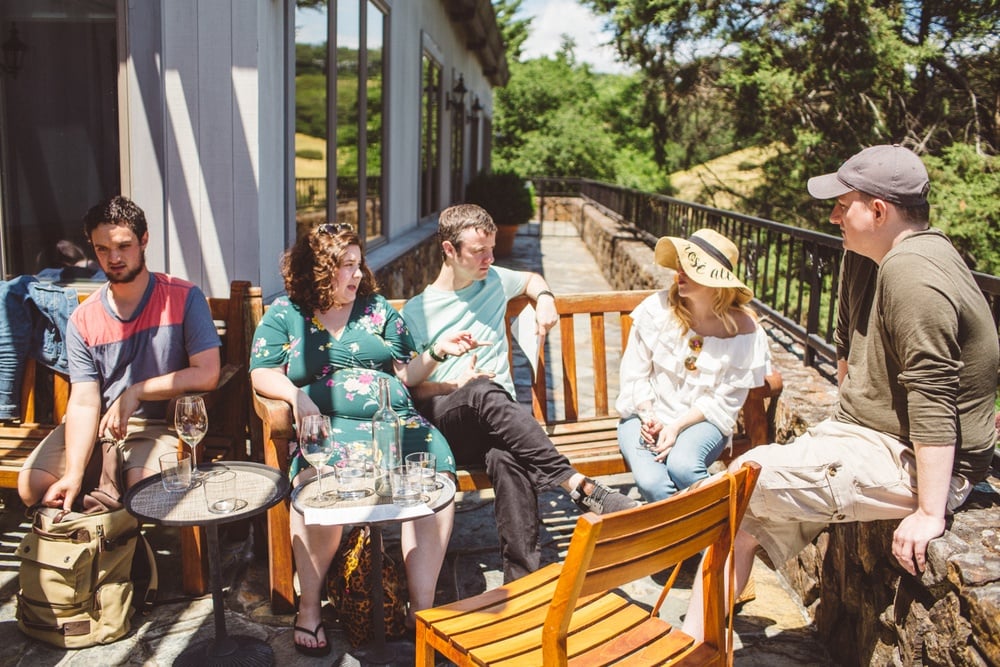 On a sunny day, Roth is my favorite place to visit with a group of friends. While there is a small inside area for indoor tasting, most of their seating is outside. Think lawn chairs and outdoor couches, umbrellas for the sun, corn hole toss stations, giant Jenga and more. It's like a giant backyard party over there!
Because of their outdoor space, I think Roth has one of the best wine tasting experiences. The staff is always really nice and lets us bring our own snacks, too! I think Roth has a wonderful Sauvignon Blanc, perfect on a hot day.
We've never needed reservations here and I've visited at least 5 times over the years. Tastings are $30 per person.
Chalk Hill Estate Winery
If you like views while sipping on your wine, Chalk Hill is the place to go! Located right across the road from Roth, Chalk Hill is another one of our go-to winery spots because I'm obsessed with their patio that overlooks the vineyards.
Wine tastings are $30, but I recommend doing an estate tour ($50) which is so much fun! You get to ride in a jeep and they tour you all around the 1300+ acre estate, including panoramic views and a beautiful church on the property!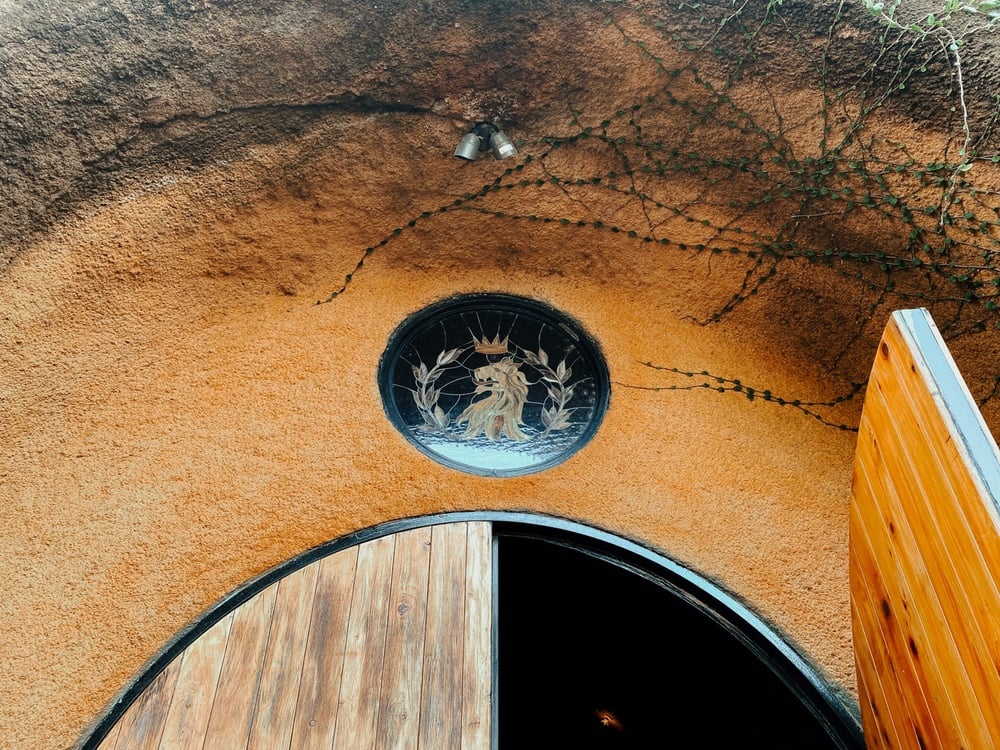 Aka, the Game of Thrones winery. Not really but kinda – the logo is a Lannister-looking lion and so the girls and I nicknamed it the GOT winery (plus Lancaster sounds pretty close to Lannister.)
Lancaster is another fantastic winery to visit on a sunny day because they have a beautiful outdoor seating area under the trees. Bring your own cheese and crackers, spread out for an hour or so and relax!
Pro tip: ask to see the wine cave, it's stunning!
Lancaster has some great Cabernet Sauvignon wines. Tastings are $30 and no reservations are needed.
This is another one of my favorite downtown Healdsburg tasting rooms! It's a well-decorated wine lounge with large maps, rustic-chic fixtures and basically is a spot you want to hang out in all afternoon
I really love when it's warm out and they open their large windows, which come with a window seat bench aka the perfect spot to wine taste with a fresh breeze!
Siduri has a lot of wine tasting options (everything from flights to single glasses to food and wine pairing experiences) and also sometimes require reservations based on the day. It's best to check out their info page before heading over.
DaVero Farms & Winery
Find Healdsburg vineyards just a mile or so outside of town at DaVero! You could walk here if you really wanted to. DaVero is a fantastic estate farm tours with a light food pairing of cheese and crackers. They have the mission of making sure everyone who visits leaves with learning something new.
I recommend doing a farm tour. While we visited in the winter and the gardens were all dead for the season, I can see how this winery comes to life with colors and smells in the spring and summer. Oh, and they have a wine cat by the way!!
You can't buy DaVero wine in-store anywhere, you can only taste it at the winery! So, if you are looking to switch up your tasting rooms with a proper vineyard winery in Healdsburg without the long drive to Roth, try this spot! Tastings start at $45, make an online reservation first.
Coursey Graves Winery
A new tasting room in downtown Healdsburg, Coursey Graves' decor is modern with a touch of rustic. And their tasting flight is POPPIN! We tried their Chardonnay, Pinot, Cab and Syrah flight (so there's something for everyone here, basically!)
I love their chocolate pairing for an extra elevated way to experience the wine. Tastings start at $25 and walk-ins are fine.
Reeve Winery
Reeve is technically one of those Dry Creek wineries outside of town in the countryside, but it's SO worth the drive you guys!! I grew up on a 16 acre Wisconsin farm and this tasting room really spoke to my nature-loving heart.
See, it's tucked back on the property so you're just surrounded by trees and vines. The tasting room is out of a small barn (that's decorated in farmhouse chic style of course) but there's also plenty of outdoor patio seating so you can sample their small-batch wines.
Reeve is romantic, relaxed and unique. Tastings start at $35, make sure to make a reservation beforehand.
Other Healdsburg Wineries I hear are good, but still haven't visited in person yet:
Jordan Winery Healdsburg
Seghesio Family Vineyards
Dry Creek Vineyard
Williamson Wines
Healdsburg Winery Map
Does Healdsburg Have Uber or Lyft?
Yes, Healdsburg has both Uber and Lyft BUT, rideshare apps are not ideal to use here. On my last girl's trip, we used ride shares the entire time and it was a major pain. See, there aren't many drivers to begin within Healdsburg and since wine tasting rooms are so spread out, it can take literally over 30 minutes for one to arrive to where you are.
And something rides just weren't matched all together and we were stranded 15 miles outside of town until it finally matched after 7 times of refreshing. With that in mind, I recommend you either have a DD who drives or book a local driver for the whole day. The only time you can get away with using rideshares if you are sticking to Healdsburg proper (but expect waits!)
Healdsburg Hotels: Where To Spend The Night
If you are coming up from San Francisco or Sacramento, it's always a good idea to spend the night in Healdsburg. Never drive home after drinking, plus Healdsburg has so many wonderful restaurants and bars that can't be missed! Here are my recommended hotels.
Hotel Les Mars
Smack in the middle of downtown Healdsburg, Hotel Le Mars oozes luxury and romance, but not in a standoffish way. Each room has a fireplace, four-poster bed and a jacuzzi tub with bath salts. You betcha that I took not one, not two but THREE soaks while staying there (I'm mildly obsessed with baths, ok?!)
If you're looking to park your car & never use it again, plus have super plush accommodations, Hotel Les Mars is the best fit for you!
Best Western Dry Creek Inn
If you're looking for a budget hotel, I'm always actually really surprised by how nice this Best Western is. The outside looks very Italian-style and the whole hotel always seems to be covered in ivy or surrounded by fall foliage. It's a bit off of Nothern Healdsburg Ave, a little far from the square so we usually Uber or drive down to the square on our night out.
While the rooms are a bit dark and your standard hotel rooms, the girls and I usually stay here during our Healdsburg wine trips. We all pile into one room together and make it a super affordable sleepover!
Where To Eat In Healdsburg, My Favorite Restaurants!
If you're a foodie, Healdsburg has no shortage of fantastic food. From 3 Michelin star dining, to take & go grocery store cafes with REALLY good sandwiches, there's everything for everything in this wine town. Everything on this list are places I've dined at before in Healdsburg!
Parish Cafe
Probably consider the best of Healdsburg brunch spots and my go-to breakfast when I have a wine hangover. It's all Louisiana style soul food and yes, the beignets are AMAZING. I always order the Shrimp & Grits or the Eggs Benedict.
Parish Cafe is located in this adorable yellow house on the edge of town and during the summer, their outdoor patio is a wonderful place to wake up & sip some Chicory coffee. The line can get a little long on Sunday mid-morning so I recommend you try to get there close to opening time if possible.
Flying Goat Coffee Shop
Open daily for all your caffeine needs, Flying Goat Coffee shop is a cute hipster shop right off the plaza with the best cup of craft coffee in town. Since I drive up to Healdsburg from San Francisco and I leave early to not get stuck in traffic, I love beelining to Fly Goat Coffee to get a fresh hit of caffeine before we start the weekend.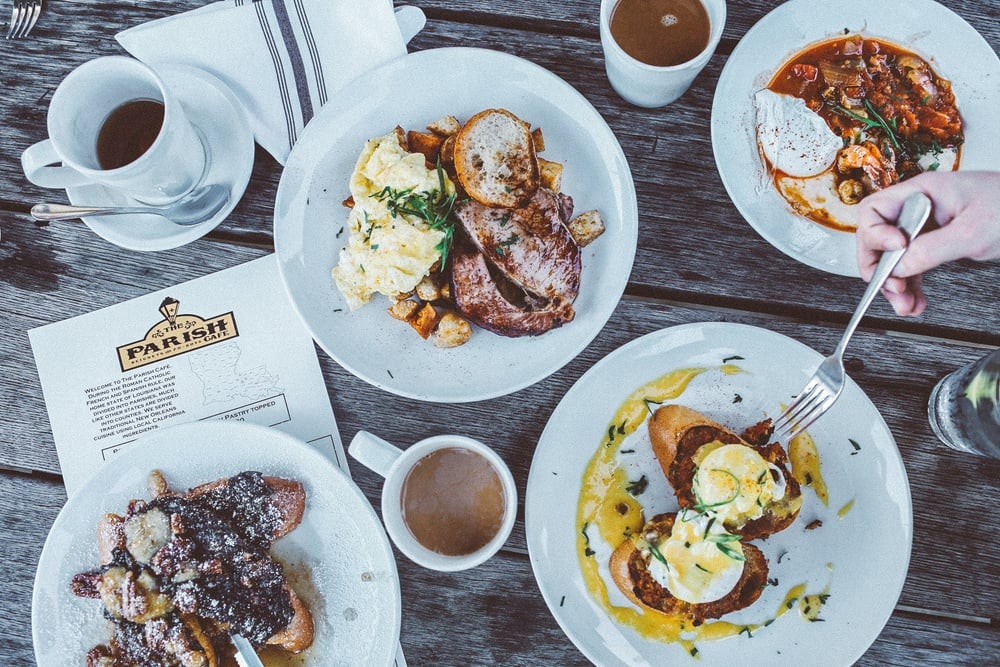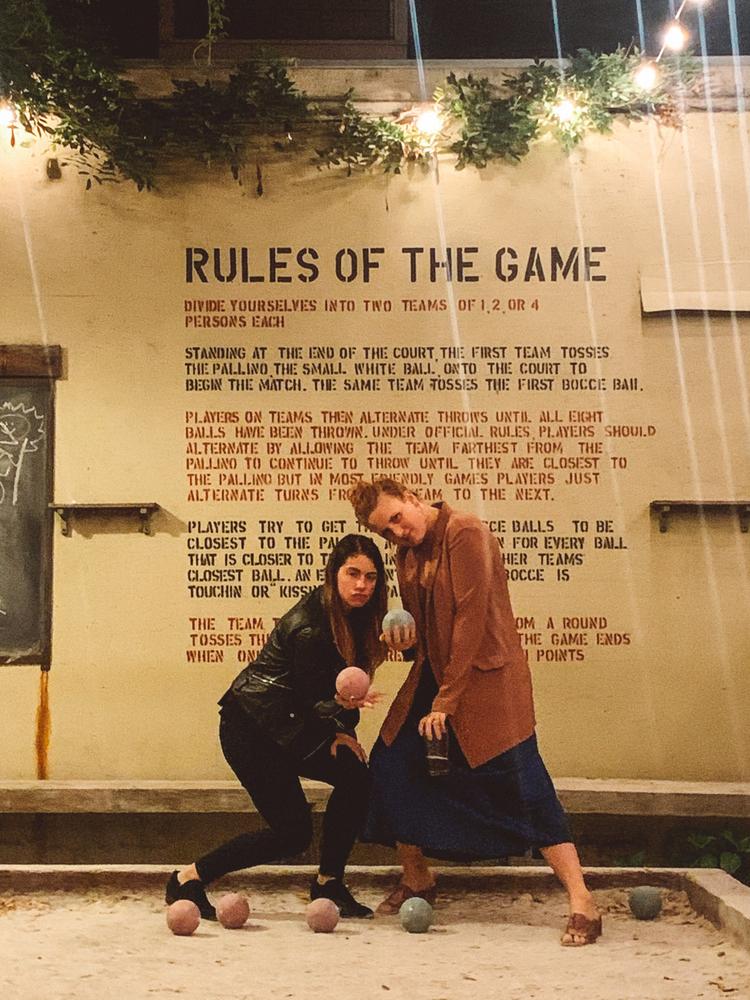 Costeaux French Bakery
This is one of the local's go-to spot, so it's always buzzing with activity. Located a few blocks down from the Square, Costeaux is a bright, cozy cafe serving one fantastic quiche (seriously, it's SO dang good!) I also adore their mocha lattes here for a chocolatey way to wake up.
Campo Fina
Oh my, Campo Fina is my new favorite dinner spot in the city! The girls and I discovered it on our fall Healdsburg trip after so many Uber drivers and winery staff recommended it. Campo Fina looks like a tiny bistro from the front, but what you can't see is the large outdoor patio (complete with a bocce ball court) that's hidden in the back!
Campo Fina makes fantastic Italian meets Californian wood fire style pizza and pasta. It's also one of the more affordable yet upscale dinner spots on the plaza. The restaurant gets busy during weekend nights but it's totally worth the wait to sit outside!
Chalkboard
My other new favorite spot for dinner in Healdsburg is Chalkboard (which is right next to Hotel Les Mars so it made it super easy to roll down from my room into the restaurant!)When I say everything, I mean everything on their menu is amazing BUT Chalkboard is really known for their homemade pastas.
It sounds a bit strange, but you NEED to order the chocolate pasta (Coco Trifoligio.) I also adored their fried chicken and you simply cannot miss their Candy Bar desert. I would drive the hour and a half up to Healdsburg right now just to eat that again.
Chalkboard's sister location is called Brass Rabbit a few blocks away. I have yet to visit Brass Rabbit but if it's anything like Chalkboard, I'm sure it's great!
The Wurst
The Wurst is my go-to affordable lunch spot in downtown Healdsburg! It's a funky little gourmet brat shop with outdoor seating (that's also dog-friendly!) Robin and I can usually grab lunch for under $15 in total here. I've been slowly trying the whole menu but so far my favorites are the Chicken Apple and Sheboygan Brat.
Oakville Grocery Store
Kitty-corner to the plaza, Oakville Grocery is an upscale artisan food store with AMAZING sandwiches. If you plan on being out wine tasting all day, I recommend stopping here first to pick up some lunch and cheese to take with you. They'll package it to-go for you! You can even opt for them to make you a picnic package that you can easily take to wineries.
Single Thread
This is the 3 Michelin Star restaurant I mentioned before. Single Thread has a very Japanese-inspired menu and decor, something totally fresh on the Healdsburg scene. They offer an 11-course meal (yes, 11 courses!) so come hungry to this one. Also, come a bit early so you can grab a glass of wine on their rooftop (it has a great view of the city and mountains!)
What Are The Best Bars In Healdsburg CA?
Sometimes the party just needs to continue on wine weekends, am I right?
Harmon House Rooftop
I love to drink on tall places. Seriously – if I still had a dating profile, it would probably say "I like to drink beer outside on tall places. And cats." Aka, I really love patios and rooftops, and Harmon House is the only rooftop bar in town!
Off the Healdsburg plaza, this rooftop bar is small but mighty, packing a fire pit and cozy seating. It gets competitive for drinks, especially during happy hour, but the cocktails are tasty and on a warm day, I could spend hours up there.
Dukes Spirited Cocktails
If you're looking for nightlife and a late-night drink spot with energy, this is it. It's a bit rowdy and clearly where the young locals come to mingle. Dukes is probably the most "bar-y bar" in downtown Healdsburg.
Spoonbar
Ok, this is the only one I haven't personally been to yet but it comes highly recommended for those looking for super pretty cocktails for happy hour. Just check out their craft cocktail menu! *drooling*
What To Pack for Healdsburg CA Wine Tasting
Healdsburg is in Northern Sonoma County and thus has 4 seasons (well, as close to four seasons as you can get in California if you're not in the mountains!) No snow, but the winters do get chilly and rainy. Summers are can get really, really hot (talking easily 90 degrees.)
My general rule of thumb when wine tasting anywhere is to wear flats or SUPER comfy kitten heels. More often than not, you'll be spending your day standing at tasting bars, day drinking and it may or may not be hot outside. So, skip the club-worthy heels.
Summer Outfits
I like dresses, flats, sunhats (and sunscreen!) in the summertime! Skip the all-white looks, red wine does NOT come out of those easily (yes I'm speaking from experience here.)

Winter Outfits
Winter is chillier. Pack a nice sweater or jacket to layer over your outfit. It may heat up mid-day if you are sitting on a patio outside, but the mornings and evenings will be cool.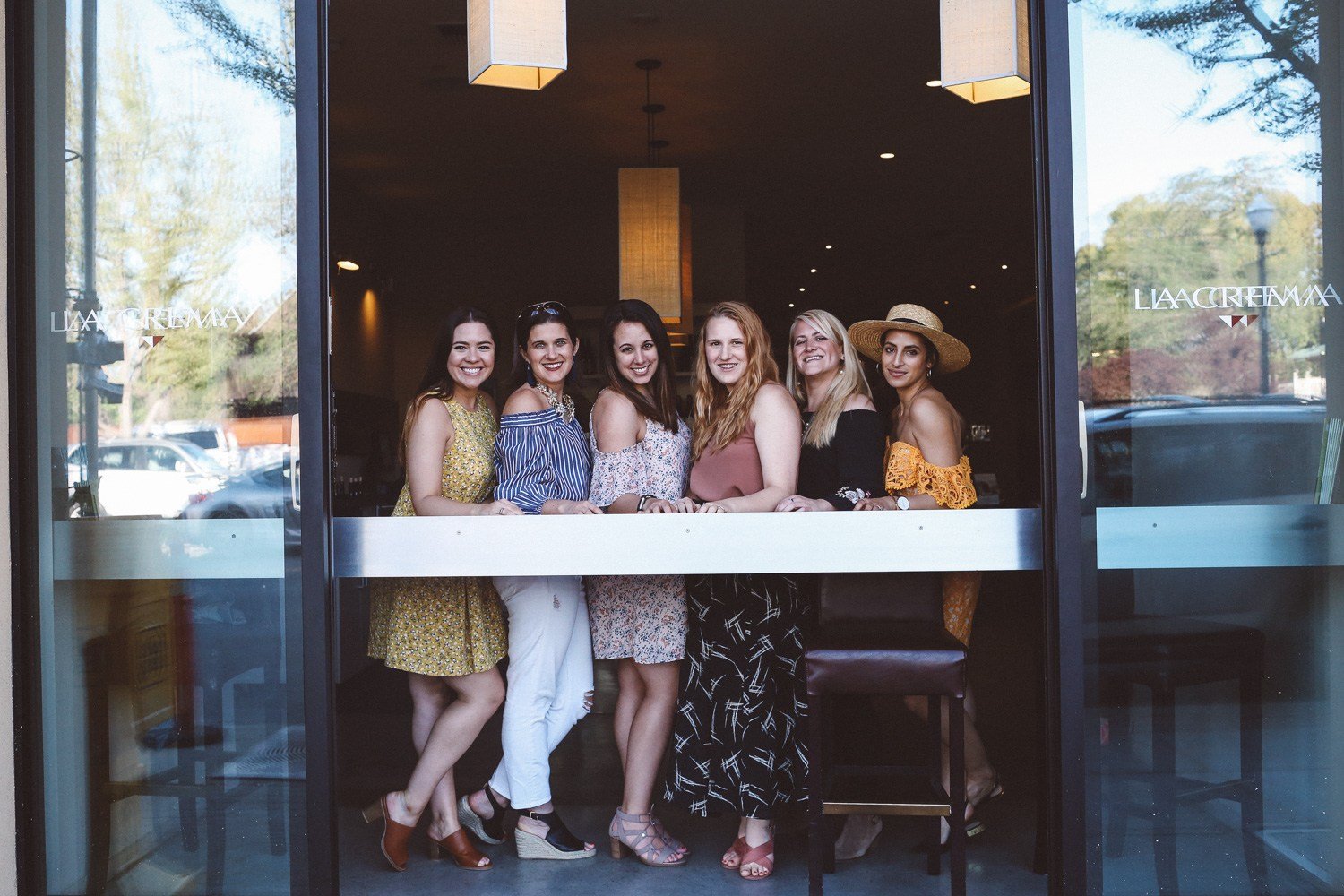 Healdsburg Events Not To Miss
There's always something fun happening in Healdsburg! Here's some notable events not to miss!
Tastemaker's Weekend
Tastemaker's Weekend is a new event happening at the end of January filled with workshops & events held by local tastemakers. From a foraged floral design class to dinner in a wine cave to a pastry-making class, this weekend is all about getting YOU to learn something new from local pros.
A portion of each ticket price will go to the Healdsburg High School's culinary program to support Healdsburg's future Tastemakers. Learn more or get your tickets here!
Healdsburg Jazz Festival
For 22 years, the Healdsburg Jazz Festival has been filling wine country with beautiful music. Usually, around the first weekend of June, this festival is the perfect excuse for any music lover! Learn more here.
Harvest Season
Not an actual event but an annual happening for all wine regions. Harvest season is when wineries start harvesting! And this can run anywhere from late August to early November depending on the vineyard.
It's this time of year that wineries will throw harvest parties or hold special events. It's fun to come up, watch grapes get crushed and see the county come to life with busy work of winemaking!
Is Healdsburg on Fire?
Nope! As you can tell from making it this far in my travel guide, Healdsburg and Sonoma are NOT on fire. News outlets did Sonoma County a huge disservice by telling the world about wildfires… but never followed up to spread the news when they were put out.
The entire area, not just Healdsburg, is currently suffering a lot from the bad PR. Don't cancel your wine tasting trip just because you heard about a wildfire here once!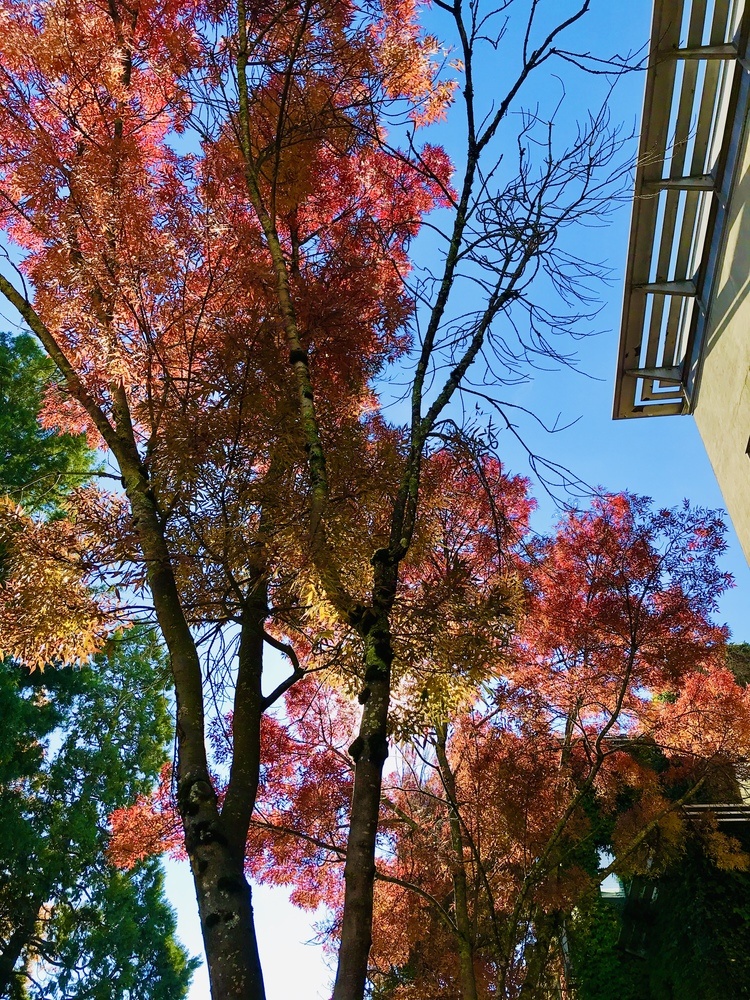 I hope this helps you find Healdsburg ca wineries to visit during your wine tasting weekend! I adore Healdsburgs and have made so many wonderful memories of wine tasting weekends in that cute little town.
If you have any tips to add, leave a comment below so everyone can see! If you have any questions, comment or DM me on Instagram @thewhimsysoul and I'll be happy to help!