For New Years Eve 2016, Robin and I drove up to Sonoma County for a relaxing day of wine tasting around Healdsburg. We visited Healdsburg before in the summer and fell in love with the cute town.
This time we headed to the surrounding valley to some wineries on our Priority Wine Pass. This magical pass is only around $40 on Groupon and in exchange, you get free tastings or 2-for-1 tastings at participating wineries (and discounts at some hotels!) Free wine is always a good deal in my book.
Since that fateful day in 2016, I've since been up to Sonoma County for wine tasting every few months. My favorite town is Healdsburg, but there's so many great wine-tasting gems around to visit.
Another hack for getting free wine tastings is becoming a member at one of the Foley Sonoma wineries. This wine family has wineries all over the state and if you are a member at one, you get free wine tastings at all of them for not only yourself but up to 3 guests!
My bestie is a member at one so we go to Sonoma 3-4 times a year and I never pay for any of the wine tastings!! It's amazing. More people need to take advantage of this free wine tasting hack because it's expensive out here in California!
Anyways, when you go wine taste come with a game plan! We headed up early as we always do. Most wineries are open 10-5pm, so you have to leave San Francisco early to make the drive up worth it.
I had looked up participating wineries the night before and made a list with addresses and phone numbers – most people don't get great service out in the hills so it's always a good idea to know exactly where you are going before you get up there.
Most of the ones on our list each visit are in the Russian River/Dry Creek River string and I never have service up there.Below are some of the wineries we like to go back to over and over again since I'm hooked on the wine and views!
1. Foley Sonoma
My all time favorite winery is Foley Sonoma (part of the free wine-tasting club). They have a beautiful front yard with lawn chairs to lounge on, a back patio with views of the vineyards and a cozy indoor space next to a fireplace if you're coming up in the winter.
The girls and I love to stop here in the afternoon and have a slow wine tasting in these comfy digs, sipping wine and eating their truffle popcorn.
I adore all their wine but they have a 100% Tennant which is super rare to find in Sonoma County, so make sure to try that when you visit!
2. Roth Estate Winery
On a sunny day, Roth is my favorite place to visit with a group of friends. While there is a small inside area for indoor tasting, most of their seating is outside.
Think lawn chairs and outdoor couches, umbrellas for the sun, corn hole toss stations, giant Jenga and more. It's like a giant backyard party over there! It's one of the only Healdsburg wineries with food parties (usually cheeses) which I love.
Because of their outdoor space, I think Roth has one of the best wine tasting experiences. The staff is always really nice and pre-panny, let us bring our own snacks, too! The girls and I like to start our day here sittin
Roth has a wonderful Sauvignon Blanc, perfect on a hot day. I usually end up bringing home one of their cabs, though. They also take a lot of pride in bold Bordeaux varietals – you really can't go wrong with anything here.
3. Reeve Winery
Reeve is romantic, relaxed and unique from all the other tastings out there. It's technically one of those Dry Creek wineries deep outside of town in the countryside, but it's SO worth the drive you guys!! I grew up on a 16 acre Wisconsin farm and this tasting room really spoke to my nature-loving heart.
See, it's tucked back on the property so you're just surrounded by trees and vines. The tasting room is out of a small barn (that's decorated in farmhouse chic style of course) but there's also plenty of outdoor patio seating so you can sample their small-batch wines. My favorite of theirs is Remy Saves the Sea Rosé of Pinot Noir.
PS: Reeves is part of a rare group of Healdsburg wineries that are kid-friendly AND dog friendly! It's always so hard for my friends with dogs to go wine tasting in Sonoma so I love that they can come here with thier pup since it's such a cool place and the wine is really good.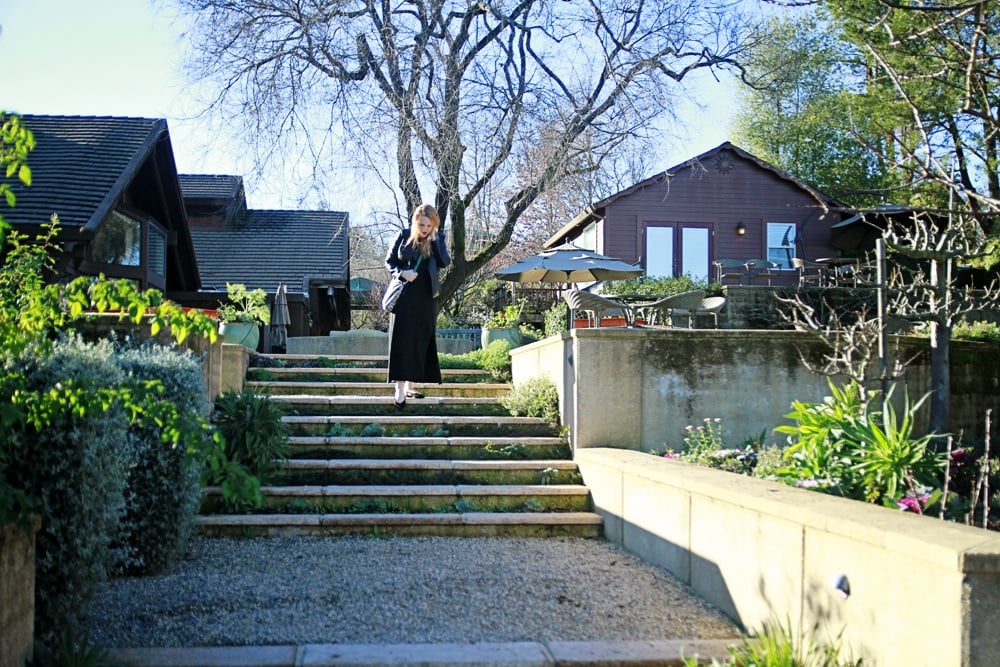 4. VML Winery – 2 for 1 tastings
One of my favorite hidden gems is VML Winery which for a while had 2-for-1 tastings with that Groupon pass. I really like the grounds of VML – plenty of cozy garden space and picnic tables so it's easy to get lost in nature.
The tasting room has a tall ceiling with windows, so it's bright and airy. They had some of my favorite wines of the day. I loved how their vinter has mastered subtle flavors from toasted marshmallows to mushrooms, producing wonderfully unique wines.
If you want to seem like a cool wine person, name-drop that you're going to VML. They're kind of like the cool kid on the block that all the wine experts love but it's still kind of secret. Most tourists don't visit here.
It's one of those places that you hear whispers about. Seriously – people who have visited always seem to whisper to me things like "omg, have you heard of VML?" with a big smile on their face because it totally feels like a secret gem.
5. Cartograph Winery
I visited Cartograph a few wintes ago and felt right at home. Hey, one of the founders is a fellow Midwesterner! Plus, Healdsburg wines are known for stunning pinot noirs, and Cartoprahs make some of the best pinots in Healdsburg (and pinot is my kinda my thing!)
The tasting room feels a bit sciency to me – think clean designs, stainless steel and sometimes even beakers on display for decoration (or use to serve wine!) My personal favorite wine we tasted is the 667, but all are super tasty and well-crafted.
They aren't part of any passes that I know of right now, and tastings are $25. If you're having dinner in downtown Healdsburg, I recommend doing a wine tasting here as your happy hour so you can walk over to dinner. That's what the girls and I do all the time!
6. Ferrari Carano Winery
Look it's a castle!!!!!
Ferrari Carano Winery is super romantic and looks like it should belong in Napa Valley, where usually you find all the chateaus that look like this. The girls and I love starting our day tasting here, as they start wine tastings at 10am. We ask to sit with a view and love watching the morning fog burn off over the vineyards.
Ferrari always has the cheapest wine bottles – sometimes with sales you can get a bottle of wine for just $13 here to take home. My personal favorite wine here is their Fume Sauvignon Blanc, which really hits the spot on a hot day. They always switch up their tasting menu, but expect a Rose, Sauv Blanc, Chardonnay, Cab and Zinfandel (sometimes a Pinot is in there instead.)
They're part of the Foley Sonoma family so we always get free wine tastings here, but I usually end up buying a few bottles since they're cheap. Don't forget to check out their rose garden when you're done drinking wine. They're so pretty!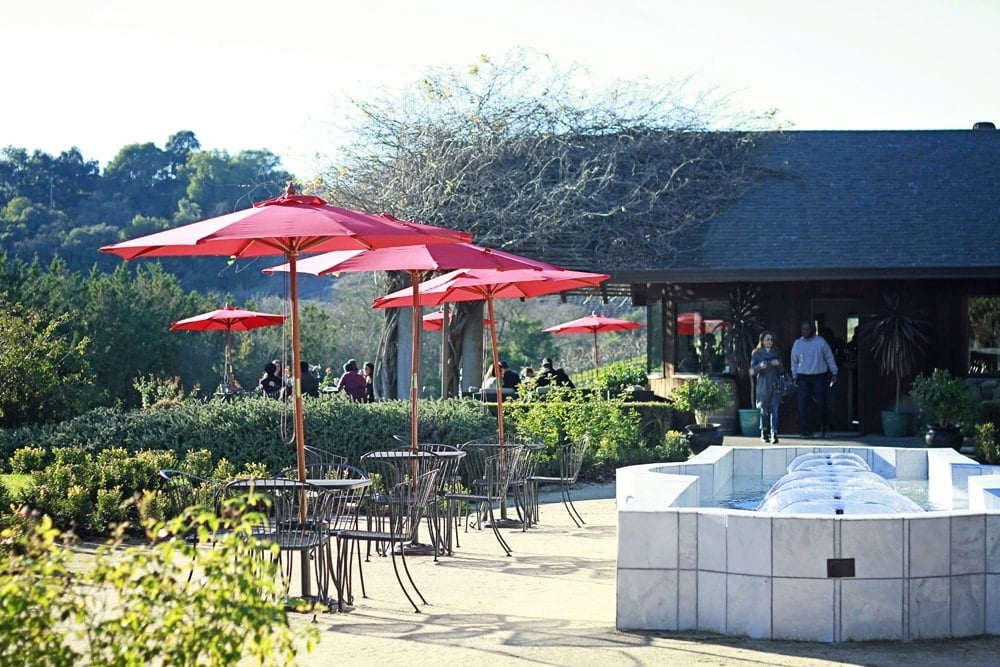 7. Matrix Winery
So, Matrix isn't a Priority Wine Pass vineyard, but our sommelier at HKG and other patrons at VML highly recommended we stop there. It was right down the road, so we sometimes our day at Matrix.
Matrix has this wonderful patio area with comfy furniture and a brilliant view of their vines. The temperature was a high of 55 that day, but felt a bit warmer that afternoon while sitting in the sun with flights of wine.
The tasting fee for the both of us was $20, so we decided to purchase a bottle to have the fee waived. I would love to come back here in the summer when the vines are green!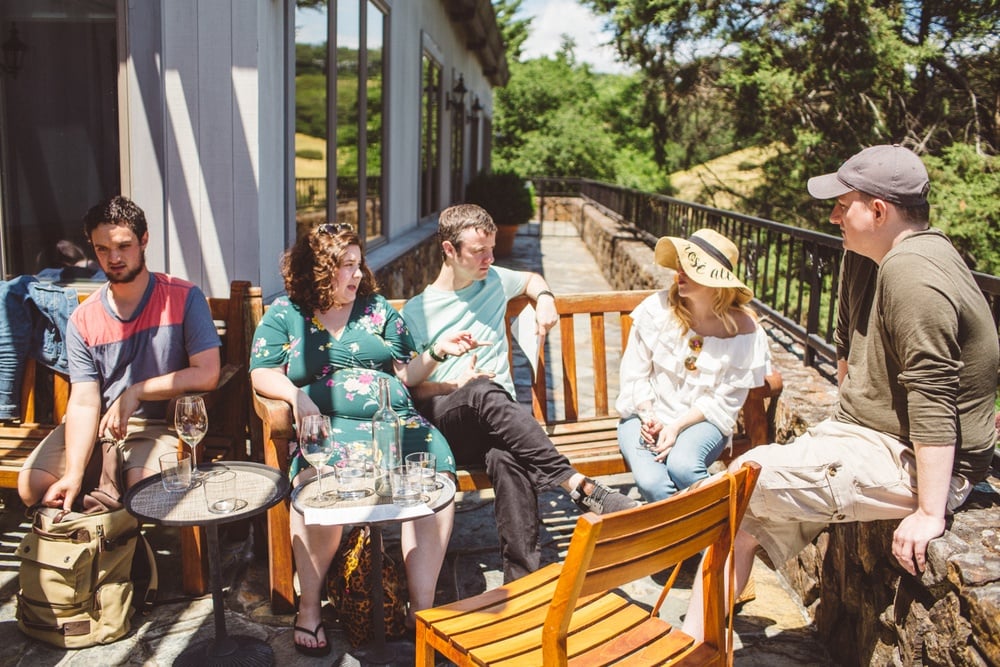 8. Chalk Hill Estate Winery
If you like views while sipping on your wine, Chalk Hill is the place to go! Located right across the road from Roth, Chalk Hill is another one of our go-to winery spots because I'm obsessed with their patio that overlooks the vineyards.
I always feel like a fancy Meredith Grey from Parent Trap or something when we wine taste here.
The winery is located in between the cool Russian River appellation, and the warm Alexander Valley, so they specialize in Chardonnay and Bordeaux varietals. I'm not always obsessed with their Chardonnay-heavy tasting list, but the sommelier has always been able to swap those out for pinots or sauvignon Blancs instead, so if Chards aren't your jam, don't worry.
Wine tastings are $40, but are part of the Foley Sonoma wine program. I recommend doing an estate tour which is so much fun! You get to ride in a jeep and they tour you all around the 1300+ acre estate, including panoramic views and a beautiful church on the property!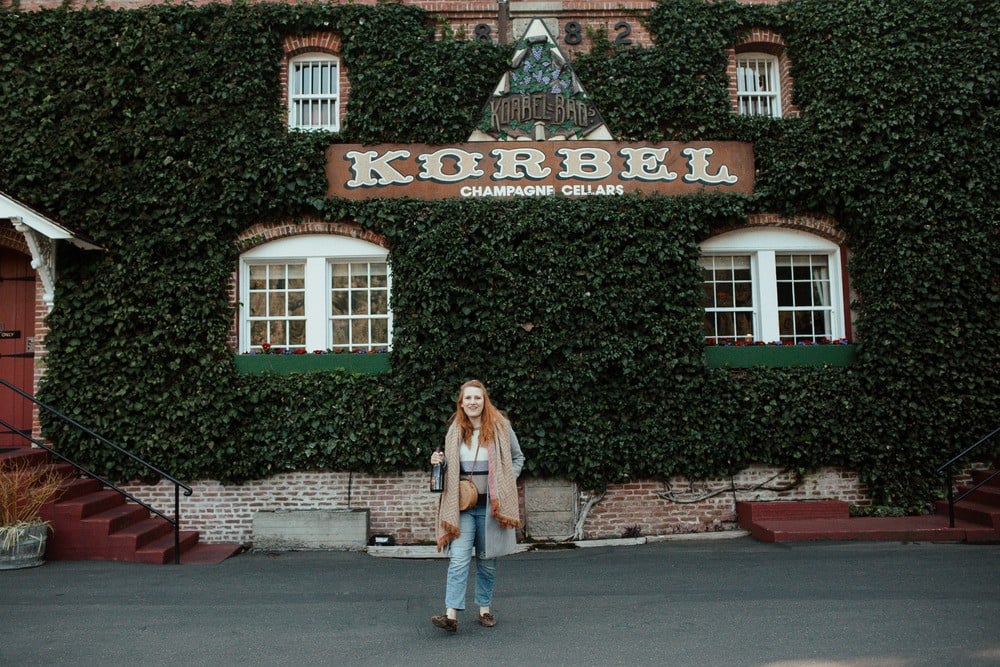 9. Korbel Winery
Korbel winery needs no introduction, but did you know they are the only winery that gets to label their wines as California sparkling champagne? They got grandfathered into using the word "champagne" on sparkling wine, that's how far back this champagne house goes into the history of Guerneville.
I recommend their (totally free) tour and tasting, which happen daily and don't need reservations. You'll learn about the logging industry and the champagne making process. This is great for groups and it's just a few miles outside of Guerneville, the cutest little Russian River town.
I did a big friend trip with like 8 people up in Guerneville a few years ago and it's really hard to find wine tastings that can take so many people, but Korbel can. We all went on the free tour and ended up buying some bottles to take back to our Airbnb and drink later that night over games.
You don't have to do a wine tasting here, as they have a cafe and a store. Whenever I'm driving past town, I always pop by to pick up a bottle or two of Korbel. I really love their Rouge, which pairs really well with meats in the winter. YUMMM.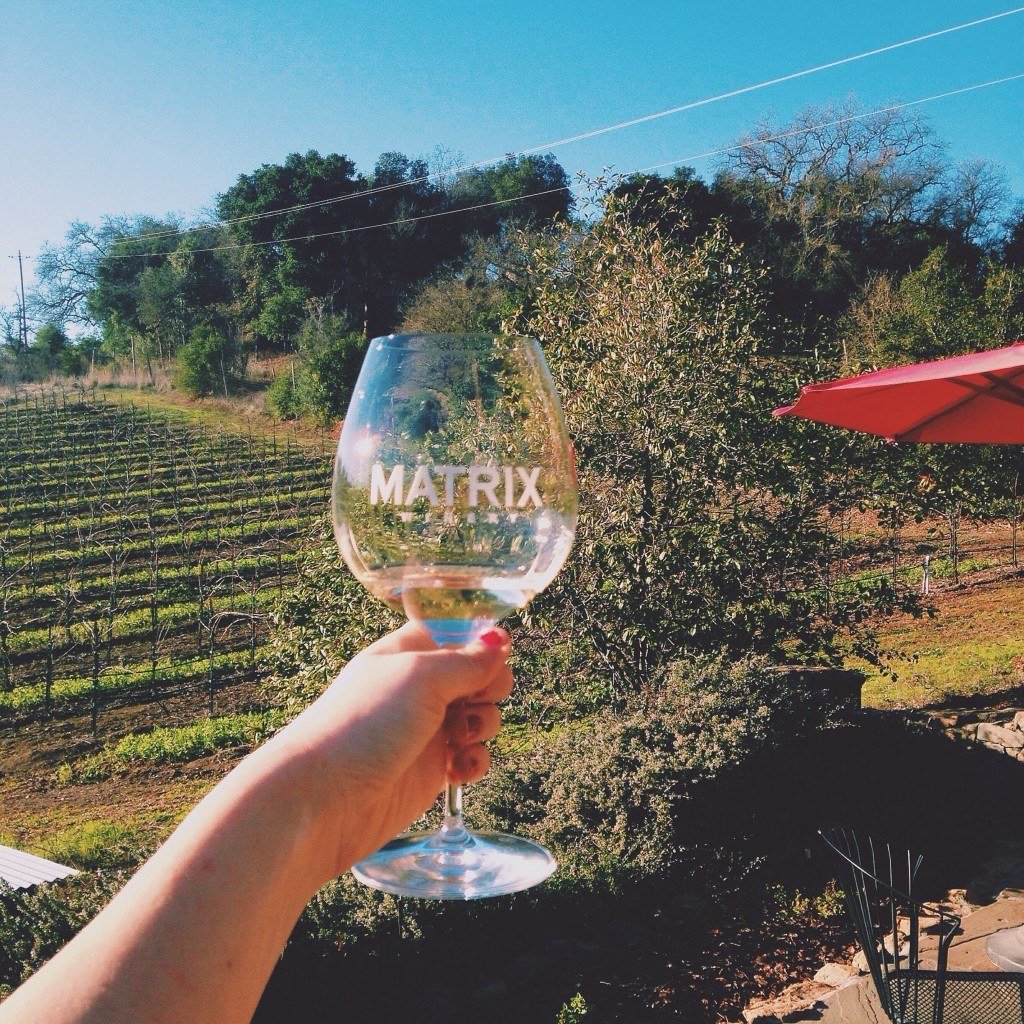 I've chatted about before how much I love Sonoma vs Napa and if I could afford a house up on the Russian River I totally would buy one. This area is dang beautiful and they make dang beautiful wines.
I'm so happy we went up to visit that day in 2016 and I'm lucky I get to come back to Sonoma all the time now. I'm constantly finding new wineries to visit and I'm trying to keep up with all the wine programs and discounts for you. And for me! I love free wine!
Oh, and are you wondering that to wear while wine tasting? I have a whole outfit guide for what towear wine tasting here but keep in mind that Sonoma county gets all four seasons.
I made a mistake my first time up to Napa in Feb 2015 and I wore a tiny dress thinking it would be warm but I was freezing! Winters and springs can be wet, so wear sweaters and cute cozy outfits. Save the dresses for summer when it'll be hot hot hot!