While hunting for fun things to do in Victoria for Christmas on our holiday trip last year, I stumbled upon a photo of the Butchart Gardens Christmas display and IMMEDIATELY set aside a day to go visit.
I love Christmas – it's my favorite time of year and I low-key turn into a child, I get so wrapped up in the magic. If you're traveling in December to British Columbia, or live in the area, this is everything you need to know about the Butchart Gardens Christmas lights (what time to arrive, what to wear, how to get the best photos and more tips!)
5 Butchart Gardens Christmas Things To Know BEFORE You Go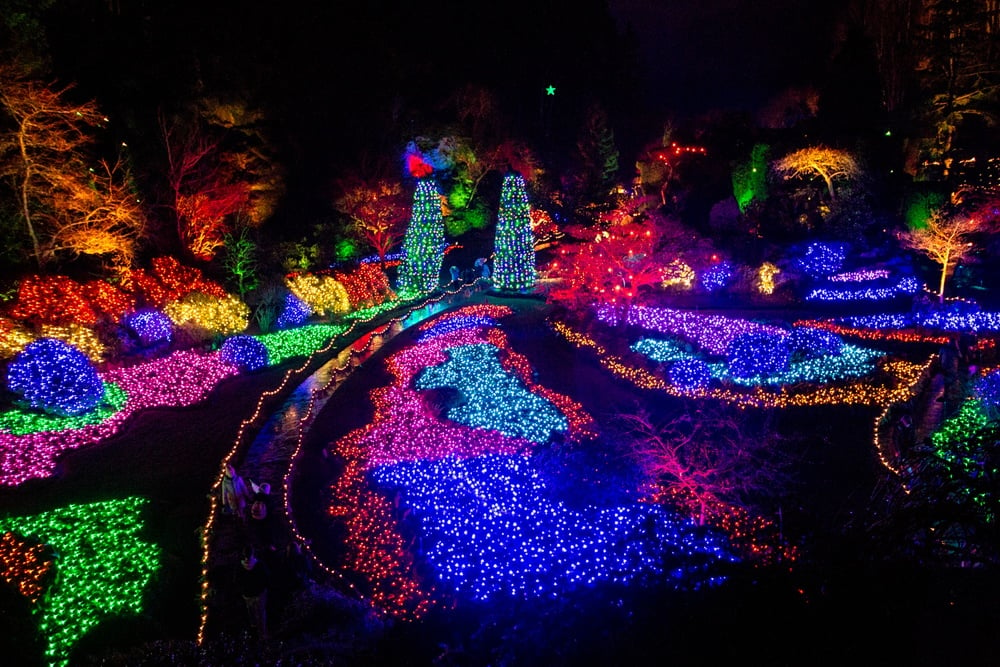 >> Got a question about the gardens or Victoria that you need answered quickly? DM me on Instagram @thewhimsysoul and I'll be happy to help!
Butchart Gardens Christmas 2022
My husband and I live in San Francisco but came up to British Columbia to explore for the holiday season. Canadians really go all out for the holidays, I'm telling you!!
I lost track of how many light displays I counted in Vancouver and the greater Victoria area has some, too. Add in festive things like holiday afternoon tea at the Empress hotels and historic castles getting all dressed up in wreaths and bows, British Columbia is basically Santa's Village IRL.
Located in the greater Victoria area, the Butchart Gardens Christmas lights display is a must-see during the holiday season. It's great for all ages and as two 20-something married folks, we had a blast running around these gardens getting in the holly jolly spirit. And, you don't have to be living in Vancouver or Victoria to go. Hop on the Victoria Clipper Ferry from Seattle for a day trip or overnight trip!
Now, onto the 5 things to know before you go! Seriously these tips will help you SO Much as you experience this wonderland.
Get There Before Sunset to Avoid a Parking Nightmare
Butchart Gardens does have a large parking lot to accommodate a lot of visitors but I found it to be chaotic during the holiday time, especially as we were leaving around 6pm, when most people chose to arrive.
I think the best time to arrive is around dusk, a bit before sunset. This allows you to park easily, buy your tickets without a wait and see some of the actual garden plants before nightfall. When we left, the entire parking lot was PACKED and there was a huge line to get inside. So, come early!
The magic of Christmas light up a bit before dusk, but you can't really see their full glory until it's totally dark out. I personally love the transition from light to dusk to dark. The best time to snap really great photos is at dusk, when the lights are on but it's not pitch black outside. (The gardens are in the middle of nowhere on a huge plot of forested land, so it gets DARK at night!)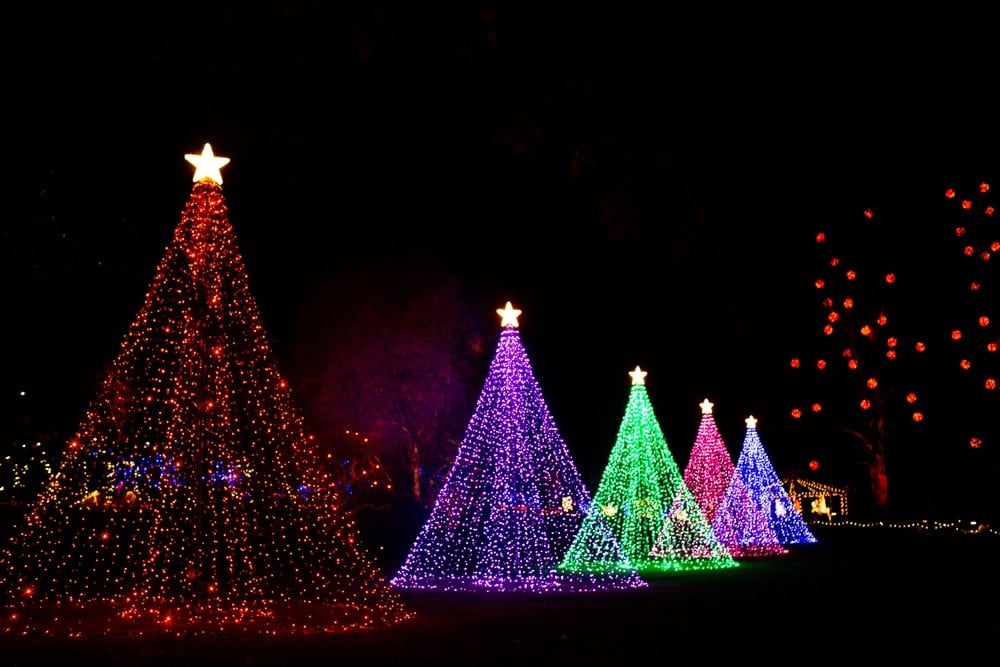 Don't Bring An Umbrella, They Provide Them!
Hey, it's the Pacific Northwest, you have to be prepared for rain, but skip your umbrella here. Even if the news says it'll rain. It sprinkled on and off during our visit and I was really happy to find that Butchart Gardens provides guests with clear umbrellas.
They put out stands all around the Christmas gardens stacked high with umbrellas. When it started to rain, we grabbed some, but when the drizzle stopped, we put them back so we could be hands-free and not carry around an umbrella the whole time.
It's A 12 Days of Christmas Theme
Ok, so maybe everyone else knows them coming into the gardens, but Robin and I didn't figure out it was a 12 Days of Christmas theme until about halfway through our walk. We randomly started exploring the gardens only to keep running into traffic jams of people walking in the other direction then we were.
Turns out, most of the light displays reflect one of the 12 days of Christmas song. It's actually really fun to see how the staff chooses to portray a particular day. I think the most clever theme was the 4 Birds A Calling (which were large parrots holding cell phones!!)
But my favorite area was the Sunken Gardens. You come down these stairs and it overlooks this huge light display below you. Utter magic! (The Sunken Gardens is what you probably see photographed most from the gardens!)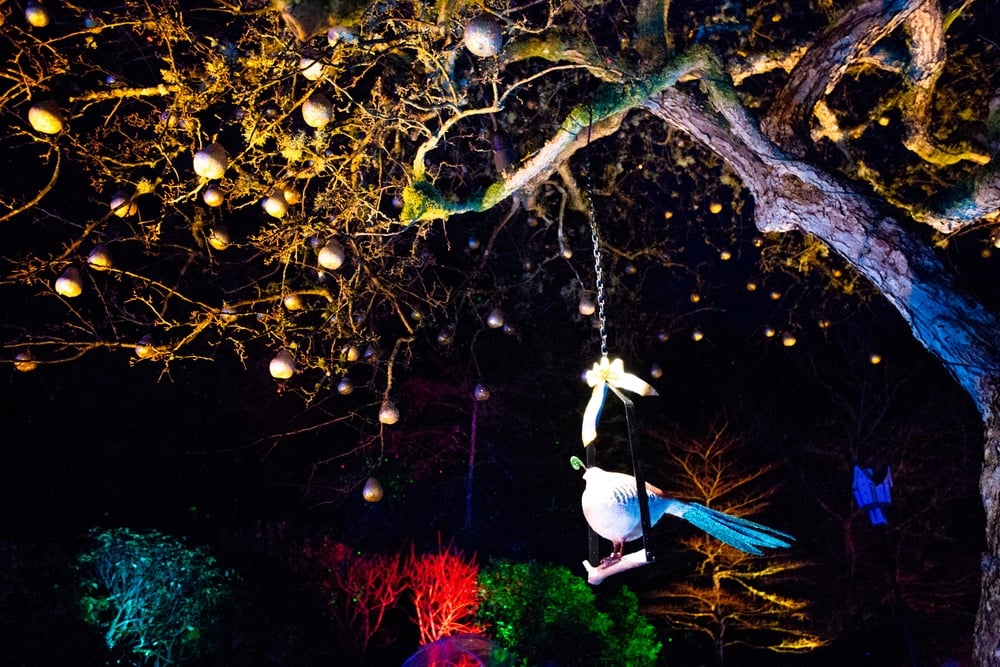 Start at the Partridge In The Pear Tree and Work Your Way Around Clockwise
We accidentally walked around randomly and then started over when we figured out it was a theme. Start at the Partridge in a Pear Tree display and work your way around clockwise!
Some of the themes are hard to figure out and may take some thinking to understand, which is half the fun!
I think we clocked walking at least 3 miles on our garden visit, but that's because we basically walked it twice. Expect your visit to take at least 30 minutes to see all the stops.
You Can't Get Close to the Lights Like You Can at VanDusen in Vancouver
The day before our visit to Butchart Gardens, we were in Vancouver and we stopped by the VanDusen Christmas lights show. What I loved about VanDusen is that you can get all up close and personal to the lights.
Just check out THIS light cave you can stroll through or THIS giant ornament that they set up for literally just for photo ops. It was a photographer's dream, plus I saw so many families snapping stunning family photos around the gardens, too.
But Butchart Gardens is not like that. You can't get close enough to any of the displays to get great photos as you can at VanDusen. That doesn't mean Butchart Gardens isn't fun and worth a stop – but it's much more of a place you look at vs. interact with if that makes sense.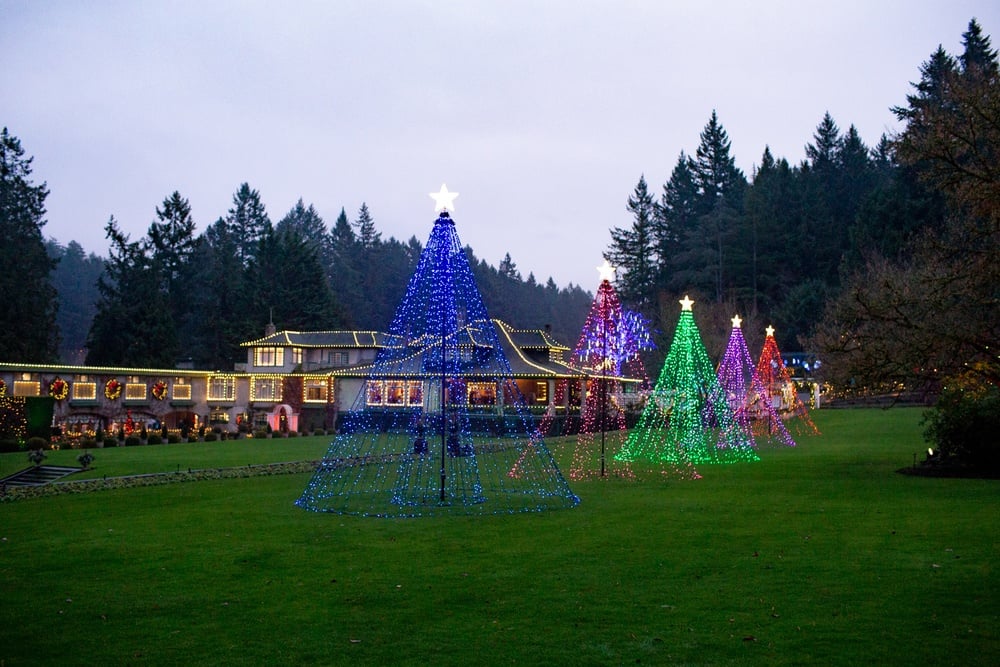 More Fast Facts About Butchart Gardens Holiday Lights
Butchart Gardens Christmas is open from December 1st-January 6th. Expect crowds every night, but especially on weekends as everyone gathers around the Christmas displays.
Feeling hungry? They coffee shop/cafe at the Butchart Gardens for any hungry tots (I say that because it was mostly overrun with small children.) I personally think there are far better places to eat in the city of Victoria so if you can help it, I recommend making dinner plans somewhere else.
There was also a fancy dining room restaurant that I know serves Afternoon Tea which would be fun for a daytime visit.
There's also an ice skating rink at the gardens. Tickets are $5 per adult and also $3 for a skate rental (really, they just should bundle those prices together because who on earth is bringing their own skates?) You have to reserve your time slot upon arrival to the gardens, so if you want to skate, beeline to the rink to make a reservation.
There's a festive brass band playing every 30 or so minutes along with carolers that sing old-timey Christmas songs. These guys are centrally located in the main plaza area.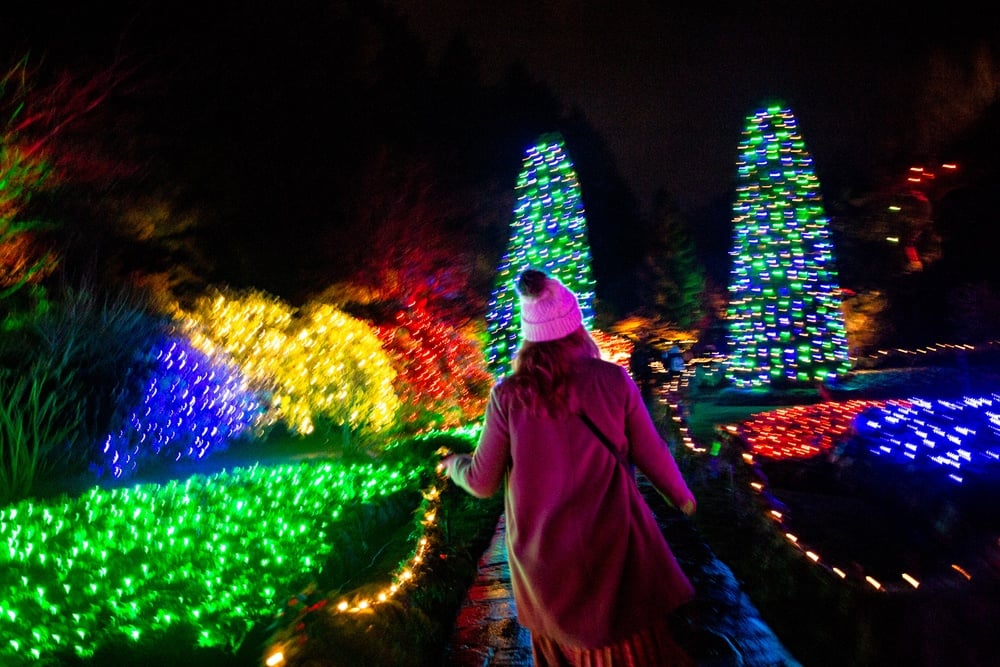 What to Wear To Butchart Gardens In Winter
British Columbia is in the Pacific Northwest, so expect it to be rainy, chilly and slippery during your visit. The gardens are inside a large forested area, so it wasn't very windy. Here's what I recommend:

We had a blast exploring the Butchart gardens Christmas season displays and hope you go visit while you are visiting Vancouver Island! If we lived in the area we'd be coming every year for Christmas.
If you have any other tips to add for Christmas Butchart Gardens, leave a comment below so everyone can see! And if you have questions about the gardens or things to do in Victoria, leave a comment or DM me on Instagram @thewhimsysoul and I'm happy to help!