Published in 2019. Updated 2022.
Victoria, BC doesn't skimp on Christmas. From boats decked with decor swaying in the harbor, to festive holiday teas, Christmas markets, gardens covered in string lights and almost every window adorning a wreath (or a bow) Victoria is probably one of the best places to visit for the holidays in Canada.
After spending a weekend running around Vancouver Island soaking up all the fun festive cheer, I'm bringing you the best round-up of holiday ideas. Keep on reading for all my favorite Christmas things to do in Victoria BC!
Victoria BC Christmas 2022
Since Robin and I live in San Francisco now, we're in love with exploring the West Coast, especially during the holidays. San Francisco isn't the *best* at getting me into the Christmas spirit (it's always a bit too sunny, warm and green! I grew up in Wisconsin where Christmas meant snow, grey skies and cold!)
Last year, we visited Leavenworth, Washington and totally fell in love with that cute Bavarian-style Christmas village in the Cascade Mountains. It snowed during our trip and combined with all their Christmas lights and events, I got right into the holiday mood.
This year, we're visiting all the British Columbia Christmas lights (from Vancouver to Victoria) to soak up all the hygge vibes. We traveled from Vancouver to Victoria via the BC Ferries and spent a weekend running around this historic city doing everything CHRISTMAS!
How Cold Does It Get In Victoria At Christmas?
The year we went, I thought the weather was pretty mild and comfortable enough to wander without tons of layers like you may need in other areas of the world. It is the PNW, after all! The nights were chilly so you'll want pack a good coat and a sweater to layer. Expect off-and-on rain but no snow.
One of my biggest travel tips is to pack a small umbrella or poncho to take with you everywhere in case it starts pouring. And, invest in some cute rain boots like this pair that I own which look great with outfits and will keep your feet dry in rainy Vancouver Island.
15 Festive Things To Do In Victoria, BC For Christmas
1. Butchart Gardens Christmas Lights
Of all the Christmas activities, this probably takes the cake. Every December Butchart Gardens transforms into a Christmas wonderland.
They have a theme of 12 Days of Christmas and it's really fun to start at the Partridge in the Pear Tree and walk clockwise through the gardens discovering the other 11 stops. It's neat seeing how they get creative with displaying each of the 12 Christmas things!
Bring a rain jacket and rain boots (winter is the rainy season, after all!) but don't worry about umbrellas. They provide them for guests!
PS: The gardens in the Greater Victoria area, so only be accessed via car or bus. We drove, but I know you can take the public bus or book tickets on a coach bus.
2. Holiday Afternoon High Tea at the Fairmont Empress
We adored our stay at the Fairmont Empress. Of all the hotels in Victoria BC this is the best one. I mean, the history alone is super interesting (the hotel is over 110 years old!)
Even if you don't choose to book your stay at the Fairmont, you MUST come and have holiday afternoon tea.
Robin and I fell in love with Afternoon High Tea during our honeymoon across Europe. We visited Sketch (probably the most famous afternoon tea place in the world) and were thrilled to sip tea and nibble on tiny sandwiches for 3 hours. Now, we try to do an afternoon high tea at least once every holiday season, so the Afternoon Tea at the Fairmont Empress was a no brainer!
Make sure to set reservations as it's really popular. I recommend you do a 3pm time slot so you can sort of use the tea as a late lunch AND a dinner (seriously, they fill you up, we weren't hungry at all for dinner after our 4pm tea time!!)
Splurge for the tea paired with bubbly for a super elevated experience and try to grab a table by the tree for super festive photos. We loved the Rose Tea best, so I also recommend grabbing a pot of Rose tea!
3. Tour Craigdarroch Castle
Craigdarroch Castle is fun to visit any time of the year, but the staff dresses it up for Christmas with wreaths, trees, decorations and sometimes even live piano music tapping out Christmas songs.
Craigdarroch Castle was built by a man who made his fortune in the coal industry. It's not really a castle, rather a super tall house with over 39 rooms and 4 floors. The castle has a great view of the city from the top tower, by the way!
Most of the rooms are stagged to look like this did when the house was lived in over a 100 years ago. We had a fun time wandering from room to room learning about the history of the building and Victoria. Put this on your list of things to do in Victoria BC for Christmas!
4. Victoria BC Christmas Market
Located at Victoria Public Market, the Chrismas Night Market is open every Thursday during the holiday season. Get little holiday shopping done here, drink some craft beer, listen to live music and wander the booths! If you miss the Christmas market, head over to the Bay Centre to get some holiday shopping in instead.
And, don't forget to visit the German Christmas Market if you'll be in in Vancouver, too. This market large and super authentic to the ones you find in Europe!
5. Ice Skating
If you're looking for Christmas stuff for kids, take them ice skating! There's an ice rink at Buchart Gardens that only cost a few dollars to skate at. Bundle them up and plan to stay at the gardens a little longer during your trip to the Christmas lights!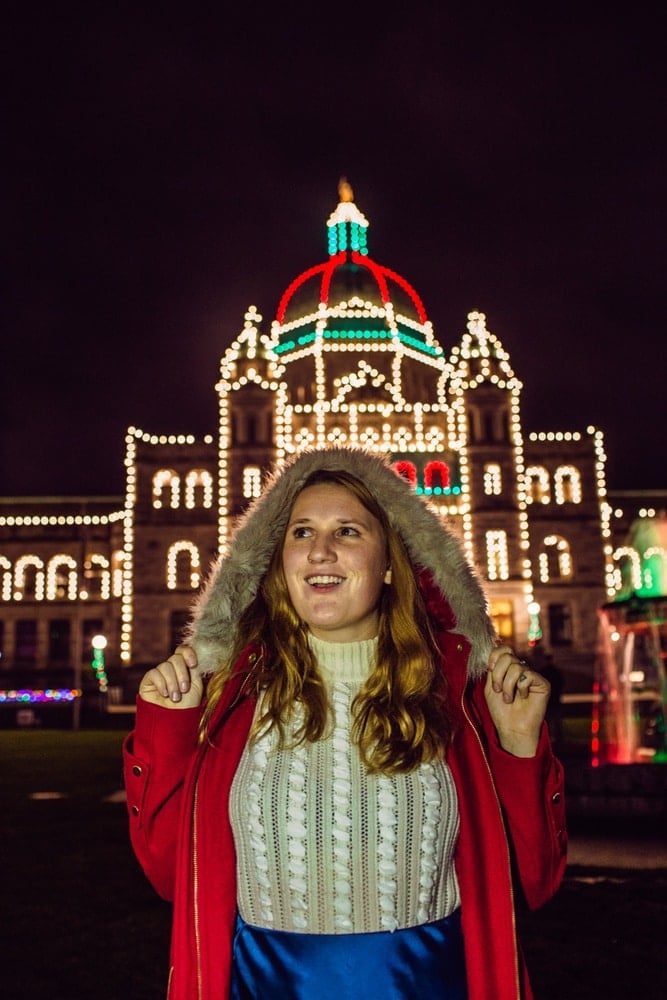 6. Christmas Lights at Parliament
Downtown Victoria gets dressed up for the holidays each year and it's stunning, but the Parliament and harbor have probably the best Christmas lights in Victoria BC.
The huge Parliament building is decked out with red, green and white Christmas lights that turn on around dusk and glow all through the evening. Many of the boats in the harbor in from of Parliament also string up lights, so it's super romantic and fun to walk around the harbor at night. Christmas in Victoria BC isn't complete without a stop by the Parliament.
7. Dickens Fair
There are a lot of Christmas events happening in Victoria this time of year. On the first Saturday of each December, the Dickens Fair comes to town! Dress up and see what a Victorian Christmas used to be like! Tickets are just $2.
(We didn't attend this one as we have a Dickens Fair in San Francisco that we're going to this year instead!)
8. Santa Claus Parade Victoria BC
Officially called the Canada Island Farms Santa's Light Parade, this parade happens usually on the last weekend in November each year to kick off the holiday season. There's tons of Santa and holiday cheer (and is a great thing to watch with kids!)
9. Ieoa Truck Light Christmas Convoy
The Christmas Truck Light convoy is a totally free parade that happens every year! We happened to be able to watch from our room at the Fairmont Empress and it was fun to witness (and I'm not normally a parade person).
As we were wandering around the harbor looking at lights one evening, we noticed a lot of people lining up on the sidewalk outside. We couldn't figure out why until about an hour later when we started hearing a lot of honking outside.
Turns out, tons of trucks turn themselves into Christmas light parade floats and drive down Government Street! A lot of them tried to honk out Jingle Bells, which was funny and festive. After the parade, I recommend you wander over to Whistle Buoy for a pint of local craft beer.
10. Annual Gingerbread Showcase
Every year, there is a massive free gingerbread showcase/ competition that takes place around the city. You and the whole family can pop into The Parkside Hotel & Spa, The Chateau Victoria, The Marriott Inner Harbour or The Doubletree to view gingerbread house creations to really get into the holiday spirit.
If you're looking for more gingerbread goodness, Laurel Point Inn usually also has a Gingerbread Lane exhibit open to the public to stop by! This is one of the best free Christmas events Victoria BC has.
11. Christmas in Old Town At The Royal BC Museum
The Royal BC Museum is a fun, educational museum with natural exhibits (think giant life-like statues of bears and sea lions) along with a few People Exhibits, like one dedicated to the history of the First Nation's citizens.
There's an exhibit called Old Town that made it look like a turn-of-the-century style Victoria and during Christmas, it gets a holiday makeover!
Lights and garland are strung, a Christmas tree is put up in the Grand Hotel Lobby and there was even a Santa Claus available for photos when we visited!
12. Pet Winston At The Fairmont Empress
Winston is the hotel dog (well, he's owned by the food and beverages manager but when she's working, Winston can be found in the hotel lobby!)
We LOVED giving him a pet every time we came in and out of the hotel. During Christmas, they put up a huge tree in the lobby and it's the perfect time to stop by, snap a pic and give some love to Winston!
13. Visit the Hatley Castle Grounds
Hatley Castle isn't open for tours in the winter but their grounds are still always open (and free!) to visit.
We came one afternoon to wander the grounds and the gardens. While there weren't any flowers, it was still super peaceful and beautiful. We even spotted a Christmas Tree in a window of the castle! After wandering the grounds, head over to the nearby Fisgard's Lighthouse, the oldest lighthouse in BC!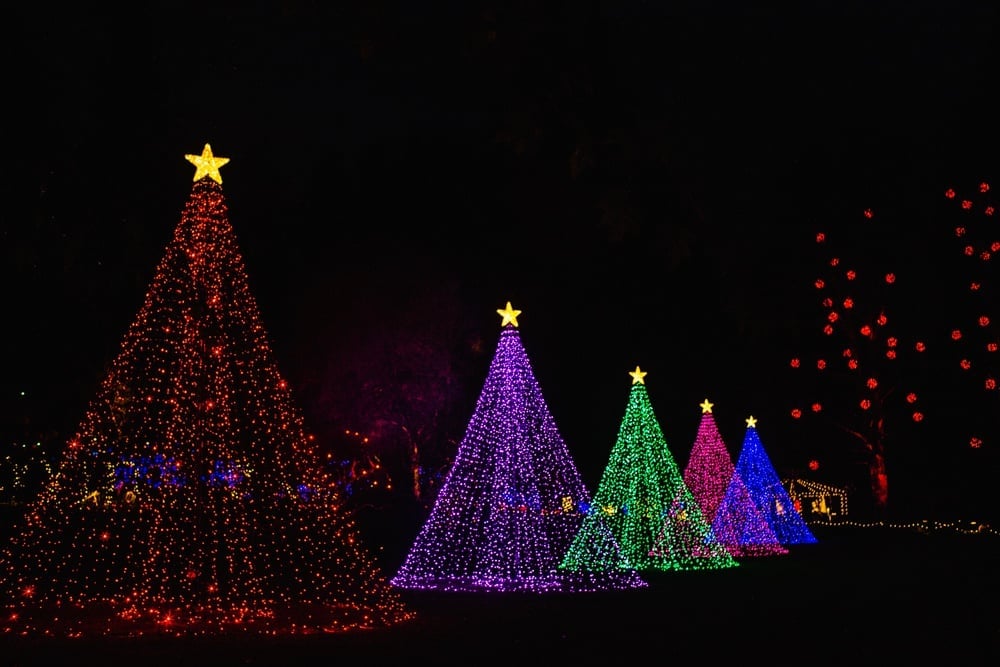 14. Centennial Square Christmas Lights
Once it's dark, head over to Centennial Square to see all the beautiful Christmas lights on display! The Christmas decorations Victoria, BC has are numerous, but this square is one of my favorites to visit in December. There's lots of space to sprawl out so you never feel over crowded.
15. Three Course Christmas Dinner At The Hotel Grand Pacific
Each Christmas Day, The Hotel Grand Pacific always serves up a sumptuous feast featuring three courses. It's one of the best Vancouver Island Christmas meals and always books out early, so make sure to make a reservation online first.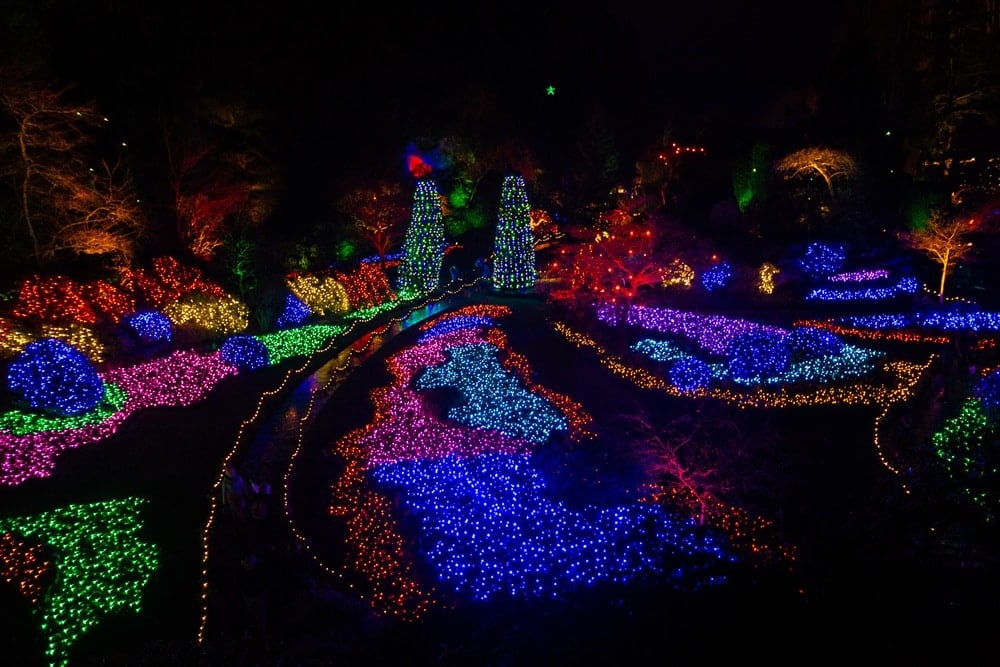 I hope this helps you plan a fun, festive trip to Victoria for Christmas!
There are so many fun holiday activities for Victoria Christmas. If you have a favorite event or activity that didn't make this list, leave a comment below so everyone can see it and learn about it!
Got any questions about Victoria or BC holidays?
DM me on Instagram
@thewhimsysoul
and I'll help you out!
Looking for more Christmas events in Victoria? Check out the Tourism Victoria website for more local ideas of things to do.