I'm low key obsessed with lighthouses. After growing up in Wisconsin, not anywhere near the Great Lakes, lighthouses have always been sort of exotic to me.
I love the history and the varied styles of lighthouses and always try to visit at least one when we're traveling anywhere on the ocean.
While in British Columbia on our winter trip, I looked up lighthouses in Victoria & found that the Fisgard Lighthouse is a short drive from downtown Victoria so I immediately set aside a couple of hours one day to go visit.
And boy, this lighthouse is super cute! Keep reading for everything you need to know before you visit Fisgard Lighthouse Victoria BC, along with photography tips & some fun things to do in the area!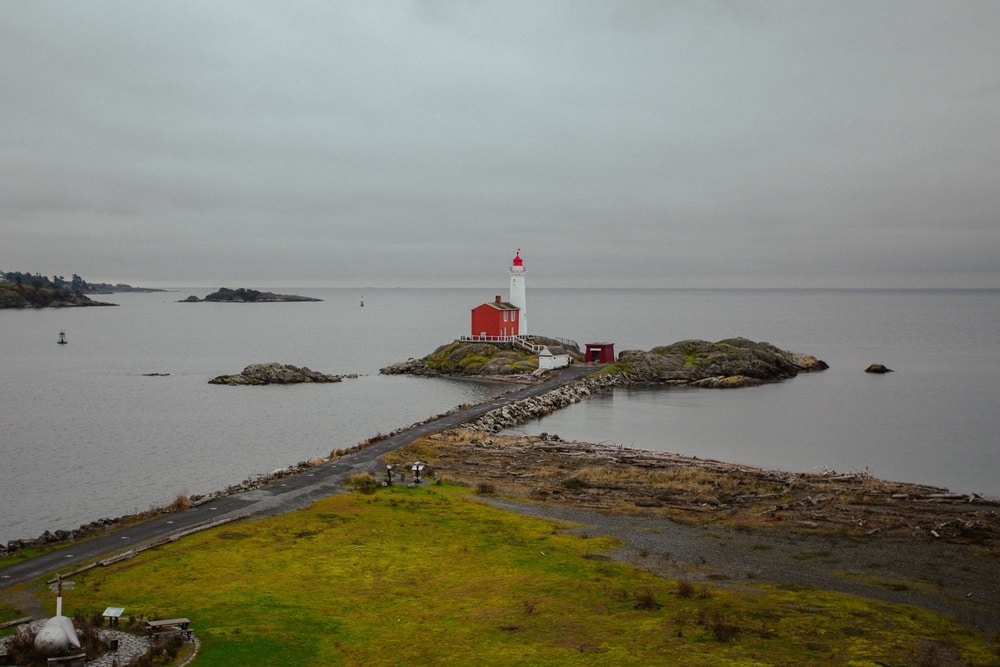 Fisgard Lighthouse: Everything To Know About This Charming & Historic Lighthouse in Victoria, BC
Aka the Fort Rodd Hill & Fisgard Lighthouse National Historic Site (whew isn't that a mouthful?) So we'll be calling it the Fisgard Lighthouse moving forward.
Robin and I were visiting Victoria during December and stopped by the lighthouse on a random Thursday afternoon. The parking lot was entirely empty and, minus a grounds crew member or two, we had the entire historic site and lighthouse all to ourselves.
I felt really spoiled because of that. I'm not sure if it gets busier on weekends in the winter, but I know it's busier in the summer months. On our trip, not rubbing shoulders with other tourists was a treat.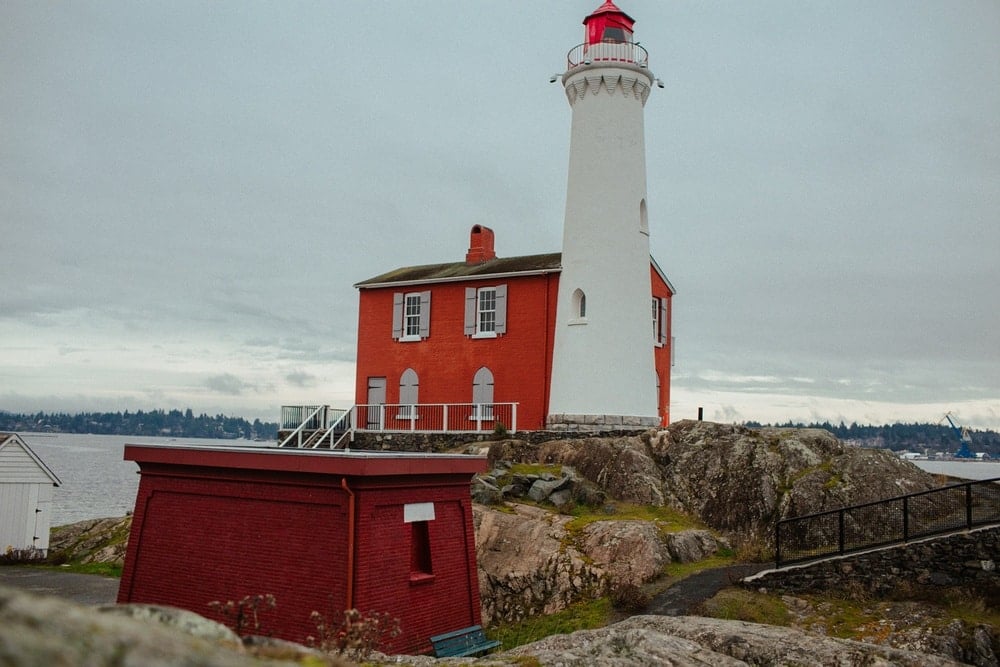 Got questions about Fisgard Ligthouse or Victoria that you need answered asap? DM me on Instagram@thewhimsysoul & I'll be happy to help!
Where Is Fisgard Lighthouse?
The Fisgard Lighthouse is located in Colwood, Victoria on a peninsula. From Downtown Victoria, it's about a 20-minute drive to get to. From the lighthouse points, you can easily view Esquimalt Harbour and the Esquimalt Lagoon.
While parking & admission is free at the lighthouse, there is a gate that shuts during the closed hour, so, unfortunately, this isn't a lighthouse you could visit 24/7 unless you want to walk all the way down from the gate (which is a hike!)
I highly recommend you drive there. It's far from public transportation stops and buses don't run to this area too frequently. Plus you'll probably want things like a jacket, umbrella, water bottle, maybe even a picnic that would be a pain to carry on the bus.
Fisgard Lighthouse Directions (Aka How To Get To Fisgard Lighthouse + A Map!)
Use this Fisgard Lighthouse map when you visit! The parking lots is up top and you have to walk down past the historical sites to reach the lighthouse itself. It's an all-paved walk that takes about 10 minutes.

At the lighthouse, there is a shed with a restroom and a covered area with a bench to take shelter in case it's raining (which happens a lot here in British Columbia!)
To the right, there are rocks that you can climb on to get a different view of the lighthouse. We spotted a couple of red lawn chairs facing the ocean, which looks like a lovely place to camp out in on a nice day.
If you are looking for a picnic, there are about 12 tables closer to the parking lot that are available to visitors to picnic at! I believe during the summer months the old Canteen building sells food as well.
Oh, by the way, you can even scuba dive off the base of the lighthouse! They recommend you bring a cart to transport your oxygen tanks, so if diving & exploring Canadian marine life is your thing, this is your chance.
History of the Fort Rodd Hill And Fisgard Lighthouse National Historic Sites
To know the history of the Fisgard Lighthouse, you first need to know the short history of Vancouver Island.
Built in 1860, this was the first lighthouse to be constructed on the West Coast of Canada! It was actually built by the British before Vancouver Island officially became part of Canada. (British Columbia was adopted by Canada in 1871.)
This lighthouse served as a beacon for the British Royal Navy's Pacific Squadron. It's now home base for the Royal Canadian Navy now (hence the gate) and became automated in 1929.
Looking for more Victoria lighthouses? Check out the Race Rocks Lighthouse (the second lighthouse in Vancouver Island to be built!)
What's Near the Fisgard Lighthouse?
What I really loved about Victoria is that we found no shortage of things to do. We spent 3 nights there and barely touched the list of things to do on Vancouver Island (a summer return trip is a must!)
Hatley Castle at Royal Roads University
Located about 10 minutes away is the famous Hatley Castle! This castle is part of the university so you can't just walk in whenever you want. Tours of the inside take place in the summer, when classes aren't held.
BUT, you can always wander the grounds outside and the even go into the gardens without a ticket price, even when tours aren't happening on the inside. Since we visited in the winter, we could only see the outside.
As you can guess, the gardens are dead in the winter but this castle is still super beautiful to visit. We found it pretty empty and I loved strolling the grounds taking in the sights & pretending like I'm living a Downtonw Abbey-style life.
Buchart Gardens
Located North of Victoria is Buchart Gardens, a large botanical garden that's one of them most popular places to visit on Vancouver Island. We stopped by after going to the lighthouse because during the holidays the gardens are transformed into a large 12 Days of Christmas festival of lights.
Think: tons of holiday lights and scenes from the song! It's super cool and a totally fun thing to do at night in December.
Downtown Victoria, BC
And of course, Downtown Victoria is packed with fun things to do! When my city guide is done, I'll place that link here but for now, these are my favorite things to do in Downtown Victoria:
What To Wear To The Lighthouse + Photography Tips
As you can see, the lighthouse is painted this beautiful red color that pops against the sky and water. There is some green grass at the base which I imagine is there year-round.
I chose to wear a yellow rain jacket both for function (since it was drizzling that day) but also to help make really beautiful photos. Yellow just POPS in nature. Black clothing (like leggings, jackets, etc) just get absorbed and you sort of disappear in photos.
If it's a cloudy day, any time of day will be great to visit for photos. If it's sunny, I recommend coming for sunrise or sunset for the stunning golden light.
Outfit Inspiration



Looking for even more detailed info? Check out the Parks Canada site.
On our next visit, I'll be looking up more lighthouses in Vancouver Island to see in person! If the rest of the Canada lighthouses are as cute and charming as Fisgard, then I'll be a happy camper.
Maybe next time we'll even stay at the Birds of a Feather Bed & Breakfast, which is right next door to the lighthouse for an extra special trip.
I hope this guide helps you plan a great visit to the lighthouse and Victoria! If you have any questions about the lighthouse or things to do in Victoria, BC, leave a comment below or DM me on Instagram @thewhimsysoul and I'll be happy to help!
Other posts you may like