Come springtime, orange poppies start popping up all over California. It's pretty common to spot the California poppy growing on medium strips on highways but they also bloom in the wild in parks.If you're lucky and time your visit right, you can go hiking amongst beautiful orange poppy fields all across the state!
There's nothing more magical than turning a corner on a trial and BOOM – orange for as far as your eye can see. I'm low-key addicted to hunting down all the best California flower fields and these are all the best spots to view California poppies!
15 Magical California Poppy Fields To Visit This Spring + Best Month To View Them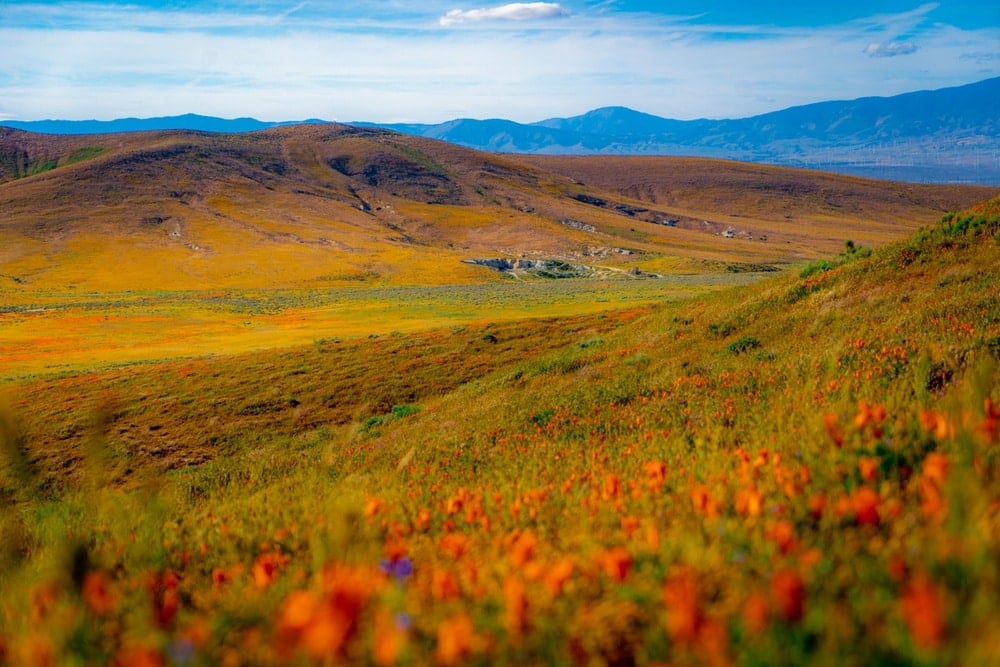 If you also love hiking and looking at wildflowers, this is your ultimate guide to finding poppies. If you want to see more than 2 fields in one year, I suggest buying the California Golden Poppy State Park Pass which is our annual park pass! You'll save money in the long run, and support the parks so it's a win-win.
Flowerfield Etiquette (It's ILLEGAL To Pick Poppies!)
As a reminder, unless the poppy is growing in your personal backyard it's illegal to pick a California poppy flower. Not like you should be picking wildflowers from state parks anyway, but don't plan on taking a bouquet home or picking one for a photo.
Poppies WILL die if you step or sit on them, so be mindful of where you walk and when in doubt, stick to trails and open clearings between flowers. You may remember the drama around the Lake Elsinore super bloom a few years ago during their super bloom — let's learn from that event and enjoy flower fields in a way that's safe for nature.
Pro tip: bring a compostable trash bag with you on hikes and pick up anything left behind by other hikers. Most visitor centers will have trash cans you can drop the bag off upon leaving. Pay it forward!
When Are Poppies In Bloom California?
Bloom season is going to vary year by year and also by location. It all depends on the weather, how much rain that region got, etc. Usually, poppies start blooming in March and will last until around May, but it's also good to check the bloom status of wildflowers before you travel to parks. Most parks will share this update somewhere on their website or Instagram pages!
15+ Best California Poppy Fields
The 15+ best California poppy fields to view these magical orange flowers and best bloom season month! California is covered with wild poppies flower fields. From Antelope Valley Poppy Reserve, Lake Elsinore, Secret hikes and more - put on a white dress and go hiking in the flowers.
Photo Credit: wildlife.ca.gov
Location: Butte County
Bloom Season: March-May
This park was formed by lava (California is on a fault line after all!) Come for wildflowers, sure, but also hit-up waterfalls, lava outcrops, and a rare type of vernal pool while you visit. There's cattle grazing the fields here, too, but you have to stay back 300 feet or will be fined.
You MUST carry a Land Pass to hike this park. That's good news if you are looking for a relatively empty park to embrace the flower fields.
Location: Lancaster
Bloom Season: Mid March - Mid-May
Antelope Valley poppies are probably the photo you've seen the most when people write about California poppy fields. Since this reserve is only 75 miles from Los Angeles County, it's is one of the most popular places to catch the California poppy bloom season for hikers.
The best time to visit Antelope Valley California Poppy Reserve carries on the rainfall that year. It's. in the Mojave Desert and as you know, desert weather is all over the place. On wet years, years you get endless orange fields, and on dry years not much color, so make sure to check the bloom report before you go for this one! I tried to visit this past spring (2021) but thankfully read reports and saw the poppies were minimal, so we're saving it for next year.
Also pack layers, since this is the desert and temps are wildly unpredictable in this Lancaster poppy reserve.
Location: Lancaster
Bloom Season: Mid March - Mid-May
The Ripley Desert Woodland State Park is right next door to Antelope Valley so they'll have pretty much the same bloom season. If Antelope Valley is really packed, or you're looking for a different trail to hike, visit Ripley!
Admission is free here, too!
Location: El Dorado County (near Sacramento)
Bloom Season: April-May
I just went hiking at Cronon Regional Hills State Park a few weeks ago and fell in love with this hidden gem about 30 minutes outside Sacramento! This park has tons of hiking trails, mountain biking trails and even horseback riding trails! And of course, wildflowers.
Take the Down and Up Trail and hike to the top of the large hill. Yes the hike hurts but the view of the American River below is SO worth it. Plus, this is where you can find not only poppy fields but wild lupine, too. It's my new favorite places to find poppy fields Northern California. If the weather is hot during your visit, pop by the Auburn Confluence for an afternoon swim after your hike!
Location: Lake Elsinore
Bloom Season: February - April
Aka the Poppy Fields Lake Elsinore spot that you probably remember from Instagram a few years ago.  About an hour away from San Diego, Walker Canyon is like THE most magical place to visit when there's a super bloom of poppies.
There's so many hiking trails on these rolling hills. If there is a super bloom in progress, try to visit on a weekday or early in the morning to avoid crowds.
Location: Santa Margarita (San Luis Obispo)
Bloom Season: February - May, but only after a lot of rain
I LOVE the California Central Coast, especially the cute beach town of Pismo Beach. There's so many amazing natural gems in this part of the state and of course, a large poppy field. It only blooms really strong after a heavy rainfall, so keep your eyes out on weather and bloom reports.
The national monument also has been known to have fields of wild daisies, and blue valley phacelia flowers. It's on BLM land, so totally free, but that means you also have to pack out whatever you bring in since there's no on-site staff here like at National Parks or State Reserves.
Location: Borrego Spring
Bloom Season: March-May
YES those are giant dinosaur sculptures! Anza-Borrego Desert State Park is a wild place full of metal sculptures on top of hiking trails and of course, wildflowers come spring.
This is another desert park that you need to check flower reports on before you go, as not every year will have a strong bloom. But if you get lucky, you can be treated to a show. Nearby is Palm Springs, so you can extend your poppy hunting a few days in that colorful town!
Location: Walnut Creek
Bloom Season: April-May
Looking for California poppy fields in the Bay Area?Tucked in the mountains near San Francisco is Mount Diablo State Park which is one of my favorite local-to-me parks to hike in year round, but it's extra pretty during the summer.
Poppies will be blooming all around the park. It gets windy here and really hot so make sure to pack a hair tie and extra water!
Location: Malibu
Bloom Season: March-May
Near the beach in Malibu, this state park can treat you to coastal views on top of flower fields! Head to La Jolla Valley or the Satwiwa Native American Indian Natural Area to catch poppy fields in bloom.
Location: Colusa County
Bloom Season: April-May
Bear Valley Meadows is all paved and driveable, so if you are traveling with kids or non-able bodied folks, this is a great park to visit to spot flowers! It'll take about an hour to drive around. There's cattle here, too!
Location: Los Padres National Forest (Near Santa Barbara)
Bloom Season: February - April
Picture this: You're chilling in Santa Barbara for a few days, then go wine tasting in Santa Ynez Valley and sneak in a trip to a poppy field on the way back to your hotel? Figueroa Mountain's Midland School Trails has so many stunning wildflowers each spring, not just poppies. There's about 20+ different wildflower species that bloom here around the same time as poppies!
Location: Gorman
Bloom Season: March-May
This is a super under-the-radar park that allows off-road vehicles. So if that's your thing, head here to zoom around trails that feature tons of wild California poppies every spring! Temps here in the evenings rapidly fall, so if you plan on exploring around sunset, bring layers for the drive back.
Location: Joshua Tree
Bloom Season: February - March
A few springs ago I was in Joshua Tree National Park in February and witnessed an incredible super bloom of spring flowers! On top of tons of orange California poppies, I saw rosettes and cacti flowers starting to pop.
You can find them all over the park and on the trails, they're hard to miss but do have a shorter bloom time.
Location: Los Osos
Bloom Season: March-May
This park is named "Mountain of Gold" aka Montana de Oro literally because of all the wildflowers that bloom every spring. The park has trails, beaches, streams and canyons to explore.
The poppies are usually found around the Bluff Trail.
Location: Yosemite Valley
Bloom Season: March-April
A stunning trail that winds around a river and features amazing orange poppies around March-April. It's near Yosemite National Park, but not in it, so that means you can take dogs on this trail! Make sure to check AllTrails for updates on if the flowers are visible or not.
What To Wear To A Poppy Field
Coming to the flowers for a photoshoot? I suggest wearing a white dress or white trousers so you POP out against the orange flowers and blue sky. Pair with a sunhat and retro sunglasses to complete the look. Don't forget to wear lots of sunscreen and depending on where you are viewing flower fields, hiking boots and a warm jacket may be needed.
Shop Poppy Field-Perfect Outfits

Most California State Parks have poppies blooming in them somewhere – even if it's just a little patch. So if you live far away from these parks, I encourage you to get out and explore somewhere close by. You may be surprised, mother nature could treat you to some stunning California poppy fields! (If you do discover a field not on this list, drop a comment below so everyone can see it.)
I hope you get out this spring to soak up the sunshine, see some flowers and get a good hike in. California has so many cool spots and flower fields are some of my favorite ways to experience different parts of the state.
Got questions? Drop a comment below or DM me on Instagram @thewhimsysoul and I'll be happy to help!