I crammed my Away suitcase with every fun outfit I could find for my trip to Paso Robles and San Luis Obispo a few weeks ago. Despite being a professional travel and style writer — I still ALWAYS overpack. It's a curse.
I just posted a Reel on Instagram sharing 4 of my favorite curvy girl vacation outfits that I wore down during my SLO trip and after like, the 8th DM and comment asking for outfit links, I thought It would be just easier to put them all in a blog post for you!
These are the 4 shoppable outfits from the Reel (plus one bonus one that didn't make the Reel cut, but was probably my favorite dress of my whole trip.) Keep scrolling for links and tons of vacation style inspiration!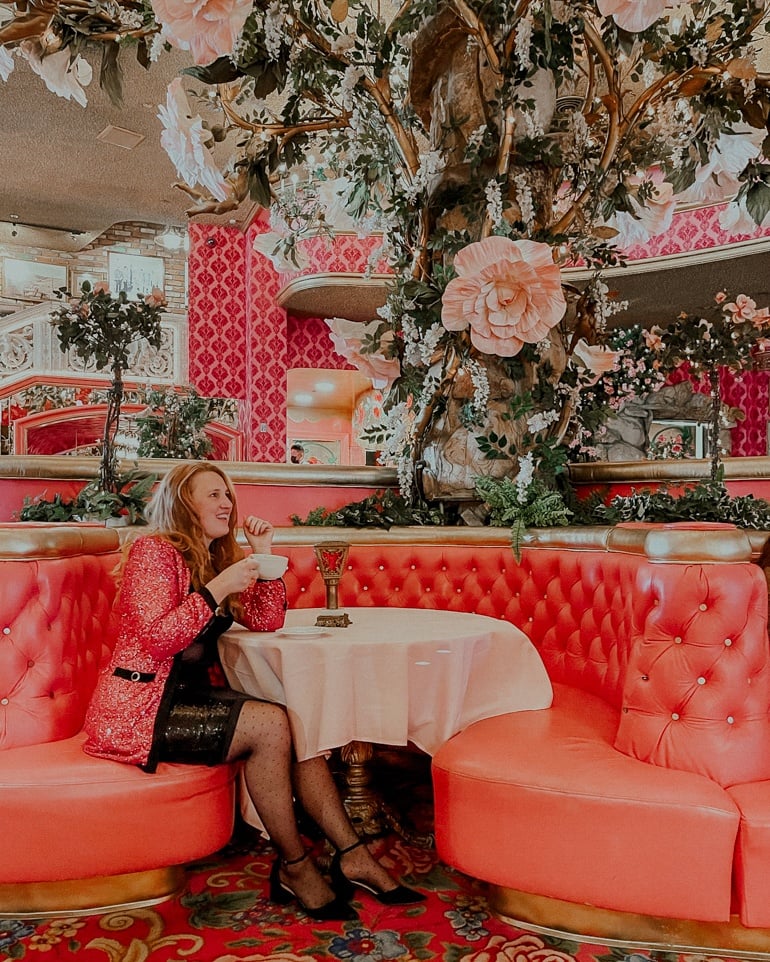 5 Outfits I Wore On My San Luis Obispo Trip (Curvy Girl Vacation Style Ideas!)
I wore WAY more than just these 5 outfits but totally forgot to take cute videos in all of them. But if you remember something specific from my Stories or see something else in another one of my travel guides that you like, just shoot me a DM on Instagram @thewhimsysoul and I'll find a shopping link for you!
Note: I rented a few pieces
from Nuuly
for this trip. As a person, I loved having fun new things to wear, but as a blogger it's a tad hard since most of the things Nuuly stocks aren't sold in stores anymore. So, you can rent these pieces but I also try to find similar pieces that you can actually shop!
1. White Linen Pants + Red Crop Top
UG, I keep remembering how dang cozy and easy this outfit was. I felt breezy and elevated while wearing this, and I felt like this look naturally fit in so many situations (wine tasting, lunch, hanging at the hotel, wandering downtown Paso Robles, etc.) Here's the details:
Silver Glitter Ballgown
The second I knew we'd be having a tasting and dinner at Tooth and Nail winery (aka a freaking castle!) I immediately added this amazing silver ballgown to my Nuuly cart. I wanted to feel like a princess!
The Pink Blazer In Bubblegum Alley
I had originally got this pink blazer for our lunch at Madonna Inn, but the second I walked past the Bubblegum Alley in San Luis Obispo, I got this grand idea to put on that sparkly outfit, buy chewing gum from the local candy shop down the street and have a little bubblegum retro photoshoot. It was pretty fun.
All White Head To Toe
I shared the story behind this all-white outfit over on TikTok but I'll recap it for you again here. Elise and I stopped by Ambiance in downtown SLO, a cute little local boutique. We tried on a bunch of outfits and each picked out new dresses. Then we headed to the Mission to take photos! I grabbed a white hat at the last minute from the shop that I think really pulled the whole thing together. Sometimes, an all-white look doesn't work since white shades are never really all the same, but this worked. At least I think it did, what do you think?
Pattern Slip Dress
This is the extra outfit that I just had to share since I got so many questions during my trip from you guys! This is another Nuuly one BUT it's actually still sold in stores! As a curvy gal, I normally don't pick out slip dresses while shopping, but I wanted to try one out for the heat of the Central Coast. And hot dang, I felt like I was on FIRE (in a sexy way, not a literal way) when wearing this dress. It's so fun I could keep the rest of my outfit simple.