Seattle isn't the only city with a huge bubble gum wall! The famous Bubble Gum Alley in San Luis Obispo is a must-see when you visit SLO.
I was so inspired by the wall and a particular outfit I packed, that I did a little retro photoshoot in the alley with my friend! In this post, I'm sharing that photoshoot inspiration along with the history of the Bubble Gum Alley and where to buy gum to stick on yourself!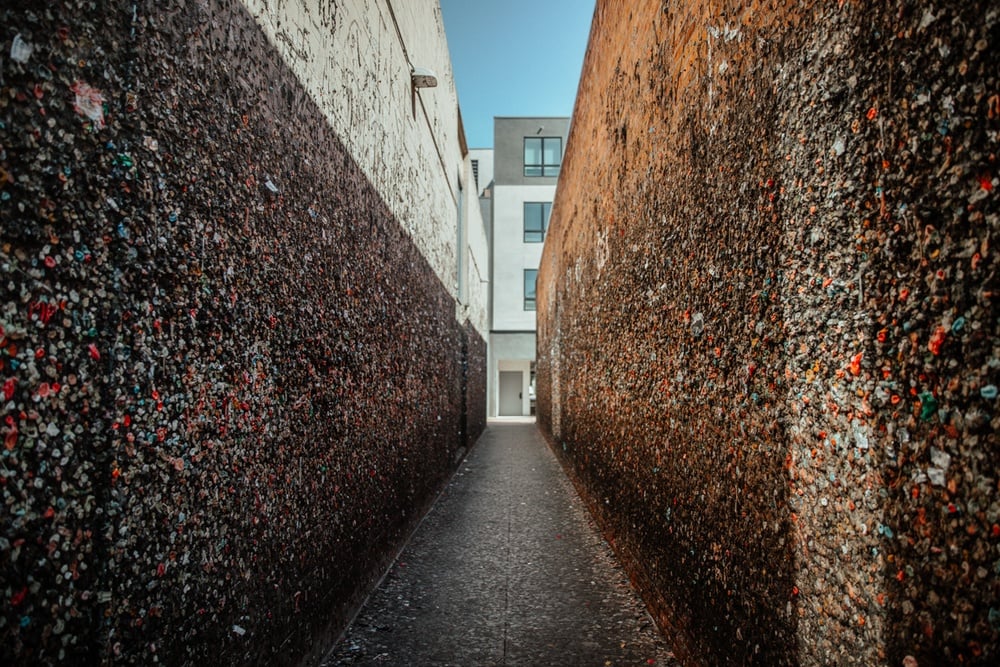 Address: 700 block of Higuera Street in Downtown San Luis Obispo (next to Ambiance)
Fee: Free!
The Bubblegum Alley is one of the top San Luis Obispo attractions. It has a history that dates back to the 1950's and at the end of the day, it's just really cool (and a tad gross.) Here's what I know about the history of the bubblegum wall:
History of San Luis Obispo Gum Wall
The origins of the bubblegum alley are a little clouded. We do know it was first started around 1950's. Some sources say the wall was created by a graduating high school class in celebration of of WWII. Others claim the Bubblegum Alley history actually comes from a rivalry between San Luis Obispo High School and California Polytechnic State University.
Personally, I don't know why college kids would care about high schoolers. And, riveraly between my schools never were as whimsical as sticking a bunch of gum on a wall together. Regardless, the tradition of chewing gum and placing it on the wall has lasted over 70 years.
It has been totally cleaned off twice: once in the 1970's and once in the 1990's. But the alley wall came back in full force each time, and local businesses love it there (it brings foot traffic.)
And as a visitor, I found the bubblegum alley to be one of my favorite things to do in San Luis Obispo on an afternoon exploring the city. I loved adding my piece of gum to this piece of San Luis Obisposan history and culture.
My Retro Photoshoot At Bubblegum Alley in San Luis Obispo
My friend and I were visiting Paso Robles and then spent a few nights in San Luis Obispo downtown, staying at Hotel Cerro which is just next to the bubblegum wall. While I was exploring the town by foot, I came across the alley. And then one block down, I pasted a vintage candy store that sold all the favorites I remember from childhood, including Bubble Yum gum (remember that stuff?!)
I love to support local shops. So I bought a pack, went back to my hotel, pulled on this pink glitter outfit blazer, and grabbed my friend. I wanted to do a retro photoshoot in this alley!
We took photos around 6pm, so the alley was in full shade. I forgot how much time it takes to chew gum before it's ready to blow a bubble and get a giant gum bubble ready for a photo. But finally we both got picture-worthy bubbles blown and had a fun time being goofy in the alley. At the end, we each added our chewed gum to the historical wall.
What I'm Wearing
I rented a glitter jacket from Nuuly. (You can shop a similar one here.)It's actually supposed to be a dress but it's too small so I styled it like a blazer. Under I wore a sequin mini skirt with black polka dot tights, black bandeau bra, and black heels. I topped it all off with white retro sunglasses from Amazon.
Shop My Outfit

Looking for more wacky and cool photoshoot spots around downtown SLO? Check out these places:
Museum of Modern Arts: they have a huge mural on the side of the building!
Cal Poly Architecture Graveyard: A 9-acre outdoor museum of art and structures made by Cal Poly students (it's super cool). No guided tours, you do this on your own.
Madonna Inn: Packed to the brim with color and whimsy. It's one of the top San Luis Obispo attractions and top hotels.
Sensorio Paso Robles: This enchanting light installation takes place at night and is one of my favorite events in California!
I had so much fun dressing up and taking bubble gum pictures. I love the Central Coast of California and will be planning more trips down here. I live in San Francisco so it's only a few hours away down the Pacific Coast Highway. Next time, I'll make sure to stop by that candy store again, and add another bit of Kara chewed gum to the wall. It is tradition, after all.
Have you stopped by Gum Alley San Luis Obispo? Did you add your own gum to the wall? I'd love to hear from you, drop a comment below!