This past week the girls and I loaded up into a car and drove off into the mountains for a weekend getaway of swimming holes, hiking, antique shopping, cute coffee shops and wine – like, lots of wine.
I've gathered cute weekend trip outfits for you and photographed them all on my girls trip so you can have all the major vacation packing inspiration for your upcoming summer adventures (because let's be real — after hunkering down in 2020, it took me a hot minute to remember how to pack again!) Everything is super affordable and under $50, too!! (save that coin for more iced lavender lattes!)
6 Curvy-Approved Summer Weekend Getaway Outfits + Packing list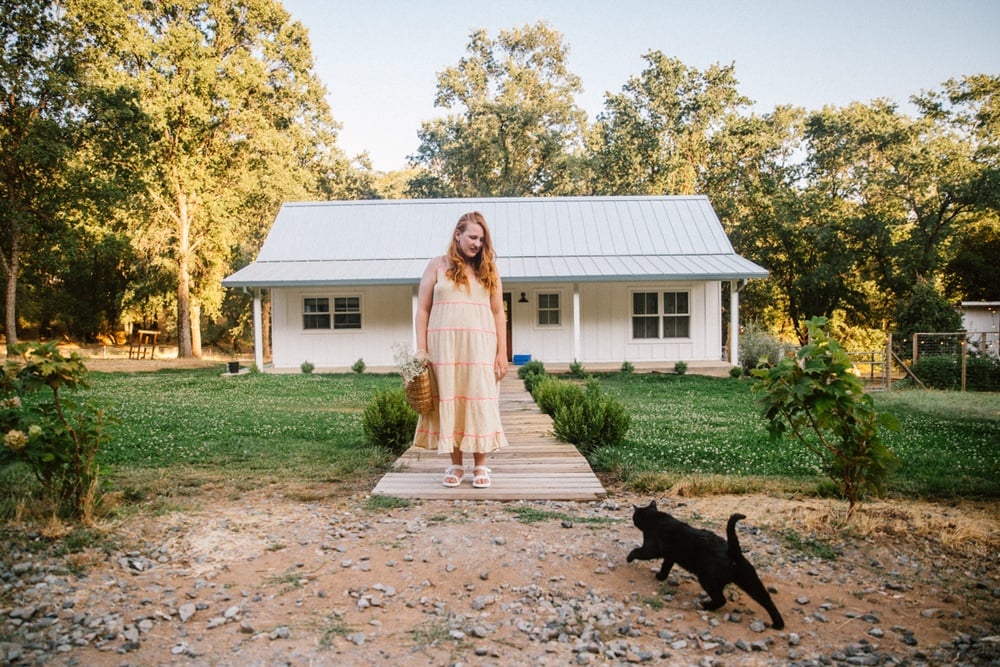 Living in San Francisco means our summertime is actually more like winter — think 50 degrees and fog so chilly it's not uncommon to see locals pull out giant puff jackets to run errands. But the girls and I were headed to Sonora for a weekend of swimming and soaking up the sunshine in the 90+ degree heat.
After hunting online for cute 2021 weekend getaway outfit ideas I landed on 6 really cute styles for the trip. I can't wait to show you these cute outfits for vacation, everything is ultra-affordable and approved for all my fellow curvy ladies.
I wear a size L + XL or 12 + 14 for reference.
Let's go!
6 Perfect Summer Outfit Ideas To Pack 2021
1. Chic One-Piece Swimsuit That Doubles As A Bodysuit
When packing for summer weekend getaways, I love to keep things as simple as possible. Both to keep my weekender bag as light as possible, but also because in the summer heat I'm aiming to wear as little as possible.
That's why I love this leopard one-piece swimsuit from Walmart that totally doubles as a bodysuit!! Normally I don't gravitate towards animal print but something about this one made me really excited. Wear it on its own at the pool, perhaps style it with some simple gold necklace as I did. At night, pull on a skirt, shorts or black leggings and heels and BOOM – you have a cute night look to wear to dinner or out on the town.
In fact, after taking these photos near the Golden Gate Bridge, I pulled on black leggings and boots and met a friend out for drinks in the Castro. Nobody knew this wasn't a bodysuit!
Shop This Outfit

2. Stripped Baby Doll Dress For Hot Days
I almost want to call this a popsicle dress – does it remind anyone else of a push pops from the 90's? While up in Sonora, it was almost 100 degrees each day so I was grateful I packed a few light dresses like this 24/7 dress to wear around our rental home.
I think curvy and plus-size women often fear baby doll dresses (I know I certainly overlooked them a lot in life) but I really loved how this one fit. It's called the 24/7 dress and the name is so accurate – you can wear this for slow mornings at home, pool days as a coverup or dinner out!
While inside I didn't wear shoes but outside I styled this dress with white sport sandals. It also looks great with slides and heels.
Shop This Outfit

3. Bright Red Bikini Swimsuit With Sporty Sandals
For me, cute outfits for the summer always start with at least one bikini and a pair of sporty sandals. Bikinis make great day trip outfits! Pull-on a pair of shorts and I'm ready to enter cafes or stores. Otherwise, any given summer you can usually find me rocking Tevas in just a bikini and scrambling around to hidden swimming holes in California.
I love the UniversalTevas (the ones I'm wearing) since they grip really well in the water. I didn't slip at all while exploring this cave outside Sonora. If you follow me on Instagram, you know I adore red outfits, especially red swimsuits. The color makes me happy, but red really POPS in photos. If you're looking for vacation outfit ideas that will look *chef kiss* great in photos, grab this red swimsuit from Walmart!
Shop My Outfit

4. Breezy Maxi Dress With Sandals
This dress is one of my favorite summer outfits of the year! I have a soft spot for maxi dresses (they're like wearing socially acceptable blankets!) and are especially comfy for hot summer days. This dress from Walmart is the perfect weight and it is a fun twist on the standard white linen-style dresses you see on the market. The pink stripes are so fun!
Our rental house had a little farm, garden and the cutest cat named Harvey. For an evening before dinner, we walked around the property with him and later he joined us for our alfresco meal of take out Thai. Felt like I was living my best cottagecore girl life.
Shop My Outfit

5. Cute & Comfy Yellow High Waisted Bikini
Where my curvy women at?! You're going to love this style of swimsuit. Everything about this swimsuit is comfy and stretchy, plus the color is perfect for summertime!
After exploring the sea cave, we drove over near the entrance of Yosemite National Park to go swimming at Rainbow Pools, a magical little waterfall with a large basin you can swim at! Even though we arrived at 9:30am, there were already a ton of people there sneaking in a quick splash before heading into the park for hikes.
This bikini held up great while swimming and again, double really well as a bandeau top when I pulled shorts on to pop into a cafe later. I would honestly also wear the top as a bandeau bra under overalls, it's that good.
Shop My Outfit

6. Retro Swimsuit With White Paperbag Shorts
If you're looking for a cute day at the beach outfit, try this retro swimsuit and white paper bag shorts from Walmart. There's something about a classic black and white one-piece next to the ocean that's just so timeless and chic. If I were at the beach, I would top this look off with a giant floppy hat and retro sunglasses to really lean into the vibe.
Paperbag shorts are also timeless. I was wearing this style in 2014 and still wearing it now. They just fit so well on a curvy figure like mine and don't pinch at all. The fabric on this pair of white shorts from Walmart is really light and breezy, which was perfect for my hot hot hot day outside.
Shop My Outfit

I hope this helps you get major inspiration for outfits for this summer! After the chaos of last year, it felt so nice to be back road tripping around California with my besties and having tons of adventures (and looking good while doing it!)
Which outfit is your favorite? Drop a comment below so I can see. And make sure to follow me on Instagram @thewhimsysoul for more curvy fashion inspiration.
Need More Travel Fashion Ideas? Read These Posts Next!