Swimming, mountain views, waterfall hikes, kayaking, boating, movie nights — Pinecrest Lake is a truly special gem in California that's been a summer tradition for generations of families.
And we accidentally stumbled upon it during a mad dash to book a campsite – any campsite– this summer. (As you probably know, finding a free campsite reservation in California is a legit extreme sport!)
In this post, I'm sharing insider tips on the best campsites at Pinecrest Lake Campground, fun things to do in the area, good restaurants and more camping tips to make sure you have the best visit possible to the lake!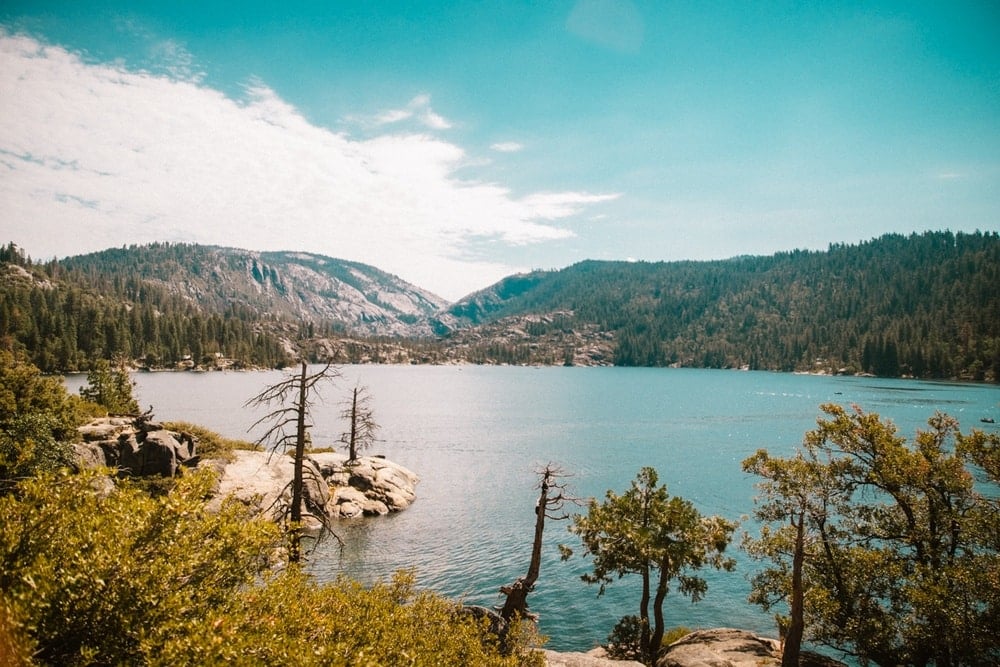 >> Got a question about the camping that you need answered quickly? DM me on Instagram @thewhimsysoul and I'll be happy to help!
Pinecrest Lake is the epitome of nostalgia. Generations of families go here every summer – so many followers on Instagram told me how they've been going to the lake yearly since a small child. It reminded me a lot of the lakes I grew up visiting "Up North" in Wisconsin. A true classic with spectacular hiking trails, fishing, boating and all that stuff you want from a weekend camping trip in the mountains.
Where Is Pinecrest Lake Campground?
Address: 18 Pinecrest Lake Road, Pinecrest in Tuolumne County
Price: $22 / per night
Pinecrest Lake is tucked in the Stanislaus National Forest about 30 minutes past the town of Sonora. Think: somewhere in the mountains North of Yosemite but South of Lake Tahoe. (Pinecrest Lake is actually called a "mini Lake Tahoe" sometimes!) I've driven this way before on my way to Travertine Hot Springs and June Lake via the Sonora Pass. I had no idea Pinecrest Lake was just off the highway, though!
Pinecrest Lake Camping: Best Campsite + Fun Things To Do At This Epic California Alpine Lake
Pinecrest is a large lake about 1.5 miles long, with a 4-mile hiking loop around the shore, with plenty of campgrounds and cabins to rent. We went with Pinecrest Lake Campground since we wanted to be as close to the water as possible since I love swimming, but there are a few other nearby Dodge Ridge corporation campsites and forest service campgrounds to choose from if Pinecrest is all booked up:
Meadowview Campground ( it's further away from the lake but still close.)
Pioneer Trail Group campground
Clark Fork campground
Sand Flat campground
Fraser Flat Campground
Pro tip: snagging a campground reservation in California is hard, especially during the summer. And Pinecrest campground reservations go FAST. If a campground you want is full for your dates, simply check back on the Recreation.gov website twice daily until a site opens up from someone's cancellation. If you time it right, you can be the first to get that site!
There are also Pinecrest Lake cabins you can rent along with a couple of hotels nearby if camping or cabins isn't our thing. They aren't the best hotels. Pinecrest Lake Resort is an outdated motel, but it's there if you need it!
What Are The Best Pinecrest Lake Camping Sites?
It's a little hard to tell from the Pinecrest campground map, but there are absolutely amazing sites and then some kinda meh ones. I think loops E, D and C are great options since they're closer to the lake. Loops B and A are further away from the lake (at least a 20-minute walk) but, since they are further away, they are more peaceful.
I also saw more RVs in the A and B loops, so those I think are slightly bigger if you are hoping to go camping at Pinecrest Lake with a rig. If you are van-lifing it, your van can totally fit find in any of the normal campsites.
Note: the campground sites cannot fit a 34 foot + trailer or RV. We saw many smaller RVs fit (just barely).
My main suggestion is to stay clear of the Pinecrest movie theater area, which is in a corner of the E and D loop. The move can get REALLY loud at night. It starts at 8:30pm and runs until about 10pm, and if your site is right next door to that, it's too loud to enjoy hanging by your campfire.
Pinecrest Campground Amenities
Standard Flush Toilets
Concrete parking spot (1 per site)
Advanced reservations
Ice and firewood sold nearby
Firepit with grill
Picnic tables (1 per site)
Water pumps with potable water
Trash cans
Lake access
Quiet hours
Large campsites perfect for groups
Movie nights
Nearby dump station on Highway 108
Hookups area available in some sites
Ranger station
Dog friendly ( I even saw someone brought an adventure cat!)
Nearby general store and small shopping center
Note: I wanted to give a heads-up about the General Store. While checking out the owner of the store got into a verbal argument with a BIPOC man and his daughter, eventually kicking them out. (They didn't do anything wrong, by the way.) After, the same owner chased after me outside because he thought I was stealing firewood, despite just paying for it. It's the only general store in the area and it's well-stocked, just plan on getting in and getting out fast, especially if you aren't white.
Top Things To Do At Pinecrest Lake California
Now, onto some of the fun things to plan during your trip to the lake! Please note that cell service is really spotty up here, so if you want to reserve something in advance (like horseback trail rides) make sure to call at home when you service. There is a payphone near the General Store if you need it, just make sure to bring coins.
Hike The Pinecrest Lake National Recreation Trail
One of the most popular things to do at Pinecrest Lake is hiking the loop around the lake! It's about 4 miles round trip and pretty easy for most people to accomplish, though there are a few spots that require scrambling over rocks and going up steep trails.
That being said, most people can easily do it in a couple of hours. I recommend hiking in the morning or later afternoon when the heat of the day isn't so harsh. But the trail is shaded pretty well and you can jump into the water at any time to cool off if needed.
Swim in Cleo's Bath Waterfall
If you're up for something more adventurous, head to Cleo's Bath, a waterfall with a swimming pool at the bottom. My husband and I attempted this hike, but we failed. (A combination of a grueling hangover, starting at 10:30am because of said hangover, and my boots broke about a 1 mile in.) It was doomed from the start, but I'm set on hiking to this waterfall again in the future.
It's about a 7.5 mile round trip hike with a fair amount of bouldering required at the end. Start early and pack a lot of water!
Movie Night
A classic tradition that Pinecrest Lake campground has held for generations is their Movies Under The Stars. It takes place about every other day in the summer, so you ar sure to be around for at least one movie night. Tickets are $7.50, you can buy them a the outdoor theater. When I was there, they were playing two old animated movies. It's a great option if you have kids who are a little bored come nightfall.
Rent A Boat Or Bring Your Own
The Pinecrest Lake boating marina offers a few different types of rentals like party boats, sailboats, paddleboats and kayaks. Large boats will need advanced reservations, but I was able to walk up and rent a 2 hour kayak on the spot. Sadly, they do not offer Stand Up Paddle Boards, so bring your own SUP if you want to do that.
There's also a boat loading dock if you have a boat you want to bring! I've heard whispers of a 2:30 pm boat race that takes place daily on the lake. I wasn't around the lake to see if happen, so I'm not sure if it's still going on, but it may be if that's of interest!
Go Kayaking
As mentioned above, I'm a kayaker. Boating and sailing are always fun, but I love kayaking. I go a few times a week in Sausalito, so I was pumped to paddle around Pinecrest. It was glorious. I paddled out to the opposite end of the lake and found a large rock area to pull on. Cue: sunbathing.
It was hard coming back, through. I encountered a really strong wind towards the second half of my paddle that made it hard to paddle since mini waves were forming on the water, crashing in my kayak. I was prepared since I kayak a lot at home, but if you are new to the sport, check wind forecasts and stay closer to the main area of the lake.
Swim At The Beach
As you can maybe tell from these photos, I spent a LOT of time at the beach swimming! I have a weakness for alpine lakes. This one reminded me a lot of Summit Lake in Lassen National Park. I found the lake water to be cool but refreshing, but I think if you visit towards the start of June it may be freezing. It is an alpine lake after all!
The beach area is pretty large, though it will fill up fast during hot weekends. There's a swimming-only section, but you can hop in the lake from any point. There's a series of logs near the Marina that are popular for kids to play on, and further up the shore, I saw a lot of people with dogs swimming.
Go Fishing
Every morning around breakfast time, I would see tons of fathers and sons headed to the lake with fishing equipment. The lake is stocked well with rainbow trout and I don't *think* you need a fishing permit here. Just make sure you aren't fishing in the swimming area or Marina, pretty much the rest of the lake is fair game!
Horseback Riding
I was really sad we didn't get to go horseback riding (it just didn't work out for us this trip) but it's one of the top things to do in Pinecrest Lake. Aspen Meadows is just 10 minutes from Pinecrest and offers 1 hour, 2 hour, half-day rides and even overnight pack options. Trails go through meadows and offering sweeping views of the area which is harder to reach by foot. I 100% will be reserving a half-day experience next time we visit the lake.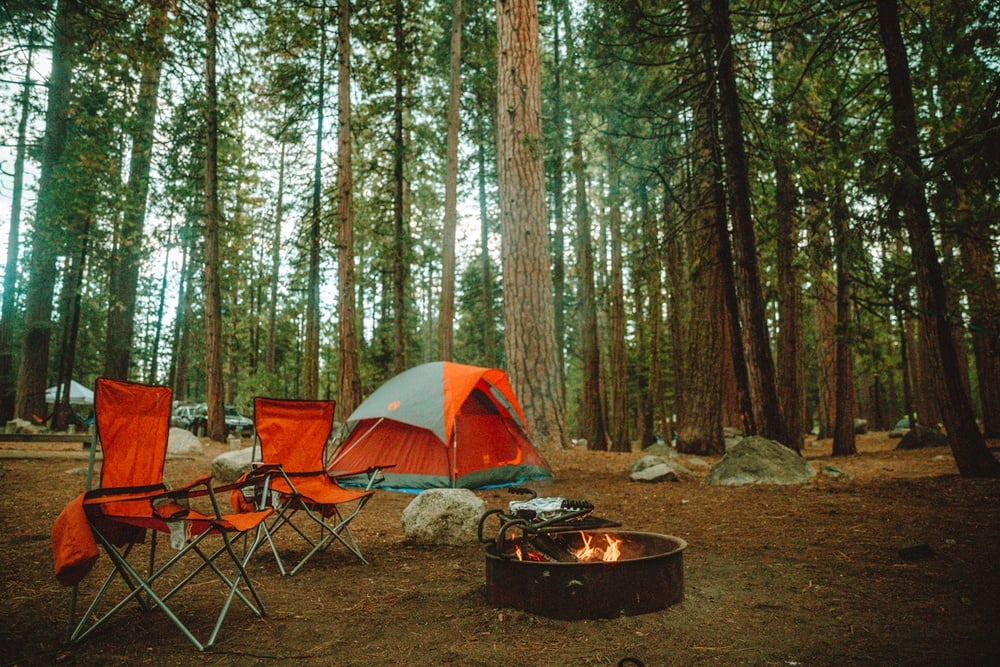 Hang By The Campfire
One of my favorite parts of camping is sitting by the campfire – beer or wine in hand – and just hanging out. My husband and I always listen to audiobooks while camping. We listened to Harry Potter books 1-5 on our van trip a few summers ago and since have kept up the tradition with a new audiobook every trip. (This one was Ready Player One.)
Beers And Sunsets On The Beach
Or, instead of sitting by the fire, head to the beach about 30 minutes before sunset. It'll probably be pretty empty, so pick a good spot and watch the colorful show display. We were treated to an insane sunset our first time, I even went for a little swim under the pastel clouds.
Dine At Alicia's Sugar Shack
We didn't get a chance to eat here, but multiple Instagram followers were raving about this place. Alicia's Sugar Shack serves up tasty breakfast items if you don't feel like cooking something over the fire, and also lunch.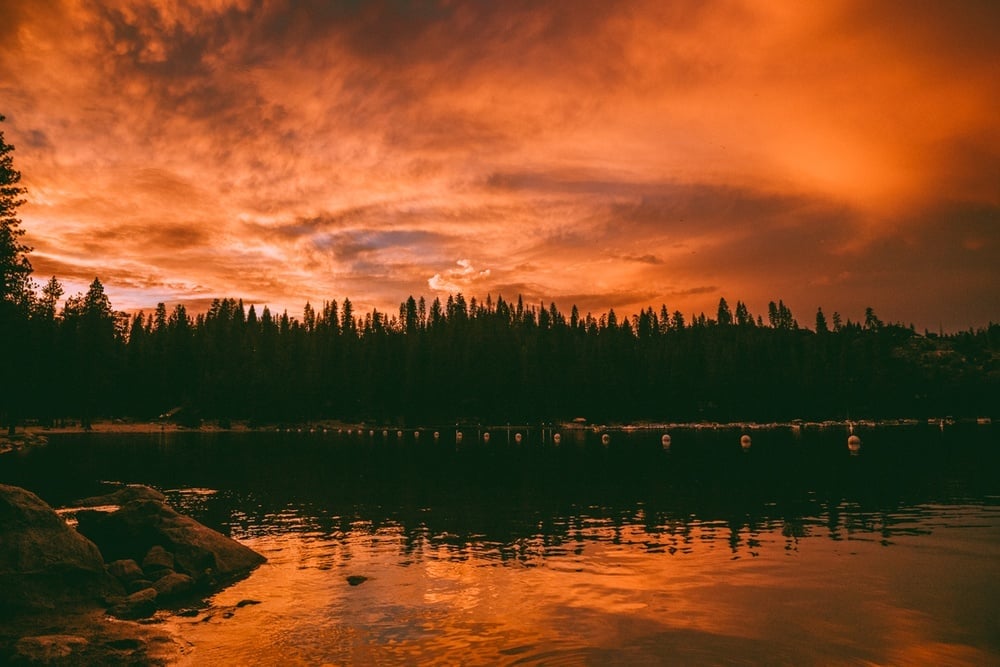 Why Do People Should Elmer At Night?
When you go to Pinecrest camping you'll probably hear children and adults alike start shouting "Elmer" around sunset. Robin and I were super confused but brushed it off as a kids thing (all the sites near us had children playing together.)
It wasn't until I got home and posted a video about the lake on TikTok when I learned "Elmer" is a tradition that dates back almost 100 years. Here's what I found out:
Stretching from Tuolumne County down to Bass Lake outside Oakhurst (aka, in the mountains surrounding Yosemite National Park), every evening at campgrounds and lakes around sunset time you'll probably hear people yell out "ELMER!" to each other. Nobody knows who or what Elmer is, though, and there's been various historians on the case. But, here are the theories:
Elmer was a pesky bear in the Yosemite Valley that stole people's food.
Elmer was the name of a lost hiker.
Or, Elmer was a lost child.
Perhpas Elmer was the name of a man who threw a birthday party in the park in the 1930s but got lost on his way to his cake cutting.
But Elmer could be a reference to a World War I nickname soldiers gave to lazy peers.
Lastly, it could have come from a popular movie that came out in the early 1930s.
Honestly, people have no idea where this legend came from, all we know it's been going on for almost 100 years. So, next time you are in the area and hear "ELMER" being shouted, join in. And if don't hear it, start the chain. Humans are insanely cool, and I think it's our duty to pass this tradition on for another 100 years.
What Should I Pack For Pinecrest Lake?
I overpacked too much for our visit. Lately, we've been camping in spots around California that get much colder at night than it does in Pinecrest. During our visit, temps got to the low 90's in the day and the high 50's in the evening. It was hot enough we were roasting in our tent and I felt very comfy just wearing a bikini and shorts during the day.
Of course, it's always smart to pack a sweater and pants just in case a cold front comes through, but plan on it being a classic hot summer up at the lake. Here are my favorite camping gear items you should remember to bring!
Tent (I love this $60 one)
A lighter for fire
Firestarters (I swear by these, they're tiny and the pack lasts forever!)
2-3 packs of Wet Ones as the campsite is dusty
Water jug
Your favorite food and snacks
Towels + beach gear
Bug spray with DEET
Well, that's it! I hope this helps you prepare for your Pinecrest Lake camping. You'll have an awesome time. Just remember, weekends will be more crowded so if you can go on a weekday, that will help a bit!
If you have any tips to add, drop a comment below so everyone can see! Got questions? Comment or DM me on Instagram @thewhimsysoul and I'll try to help!